Trans fats, found in hydrogenated oils and shortenings and some animal sources, have been used since the first part of the last century in manufacturing as a replacement for saturated fats. Although they impart crispness, creaminess, stability, and flavor to many common foods, trans fats are earning a reputation in some circles as a secret killer, responsible for increasing blood cholesterol levels and causing premature death.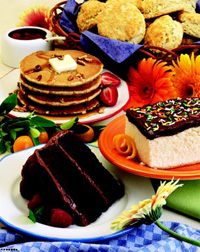 A quick search on the Web pulls up page after page of articles warning of the dangers of trans fat consumption, most targeting America's favorite foods, such as French fries, crackers, and snacks.
Where did all this concern about trans fats come from?
Nutritional studies in the 1980s comparing the diets of Scandinavian subjects to those of Americans found that the Scandinavians, while consuming large amounts of saturated fats, had relatively low levels of coronary heart disease (CHD). The American group, with lower dietary levels of saturated fats, but consuming higher levels of trans fats, had significantly higher occurrences of CHD. Thus started the course that eventually led to legislation passed in June 2003 that will require the Nutrition Facts panel on all food labels to indicate trans fat content by January 1, 2006.
It's possible that trans fats are indeed just as dangerous as, and maybe even more dangerous than, the saturated fats that we all expelled from our diets two decades ago (only to welcome them back in the form of diets such as Atkins). But it's much more likely that trans fats are just one more element that needs to be considered when designing an eating program for life.
Data from the Institute of Shortening and Edible Oils (ISEO) indicate that high levels of trans fats in the diet may raise LDL (bad) cholesterol levels and lower HDL (good) cholesterol levels, but that moderate consumption of these fats has no significant effect. "The media is biased on the subject," says Robert Reeves, President of ISEO. "They give confusing, sometimes misleading information. Trans fat consumption amounts to only 2–4% of dietary fats, while saturated fats constitute 12–14%. Trans fats must be looked at realistically, and manufacturers must keep their eyes open to the situation."
Confused Consumers
The issue of trans fats is confusing, conflicting, and downright confounding to the average consumer. Most consumers don't even know what trans fats are, much less how they are made and how much of them they should eat.
--- PAGE BREAK ---
A recent survey found that one in five consumers recalled recent media coverage about trans fats, but 61% didn't remember what that coverage was about. And when asked which was healthier, trans fat or saturated fat, 41% said trans and 30% said saturated. There are even some individuals who believe that a fat-free diet is the way to go.
Nothing could be farther from the truth. "Fat is essential for cell regeneration," says Rick Francis, Vice President of Marketing, Bunge Foods Oil Div., St. Louis, Mo. "While both saturated and trans fats are issues that have 'stand alone' elements, they are a subset of a larger, overarching issue—nutrition."
Most consumers claim to want to eat better, but the popularity of super-sized portions and edible indulgences proves that although the acknowledgment is there, the desire to eat foods that taste good and are perceived as a good value is in the forefront of most diners' minds.
In a recent survey by the National Restaurant Association, consumers' "intent to purchase" healthy alternatives was high, while their actual purchasing practices were often significantly different.
"Taste and texture still rule," says George Manak, Director of Marketing, Southeastern Mills, Rome, Ga., a manufacturer of biscuit, bread, sauce, and gravy mixes. "We are not seeing a groundswell of demand for trans fat–free products."
Proactive Producers
The food industry itself is acting on the trans fat issue, in light of the labeling regulation and as a proactive response to a general concern about healthy lifestyles, rather than being driven by the consumer at a grass-roots level. The "good-for-you market" is increasing significantly, with a 7% increase in products labeled "light, lean, low, and less" last year, according to Information Resources Inc.
The interest can be seen across the food industry. Factors indicate that a nutrition strategy that addresses obesity and/or trans fat is timely.
Producers such as Frito-Lay have been reducing the trans fats in their offerings for a long time. "Our Lay's® and Ruffles® potato chips, Fritos® corn chips, and Rold Gold® pretzels have never been made with oils that contain trans fats," says Jared Dougherty, Manager, Public Relations, Frito-Lay, Plano, Tex., "and we have changed the oils for Cheetos®, Doritos®, and Tostitos® to oils without trans fats." The oil conversion also means that all Frito-Lay chip lines will now be cooked in oils without trans fat.
--- PAGE BREAK ---
"Frito-Lay was the first company to remove trans fats," he adds, "and the first to include trans fat information on the nutrition labels of our products—prior to the Food and Drug Administration mandate to require the information." The company announced its plan to eliminate trans fats from Doritos, Chee.tos, and Tostitos in September 2002. The oil conversion was completed in early 2003.
In September 2003, Frito-Lay launched a print ad campaign in major newspapers across America to share the news with consumers that "America's favorite snack chips have zero grams of trans fats," says Frito-Lay's Dougherty. "The full-page ads appeared in the top 25 newspapers by circulation, in both English and Spanish. This ad was part of Frito-Lay's ongoing effort to help consumers make informed and healthier snacking choices."
Kraft Foods, Northfield, Ill., is also addressing the trans fat issue. "We wanted to provide healthier foods for our consumers," says Kris Charles, Director of Corporate Affairs. "We're always looking for ways to improve the nutritional profile. Above all, though, the quality and taste have to be at parity with the original product. We have to meet or exceed our customer's expectations of the products they have come to know and love. An Oreo® has to taste like an Oreo."
Kraft is rolling out trans fat labeling on an ongoing basis and will be fully in compliance by January 1, 2006. "Kraft manufacturers a vast number of products and it takes time to implement labeling changes on this scale," says Charles. "The process is already under way, and consumers will begin to see some Kraft products relabeled with trans fat information soon.
"Kraft Foods has always been a leader in providing consumers with food choices that fit their preferences," she adds. We have a significant effort under way to reduce or eliminate trans fats in our products wherever possible, while still maintaining the taste and high quality consumers expect. Those efforts are continuing, and we're making good progress. For example, with our cookies and cracker categories, we believe we'll be able to roll out reduced- or zero-trans products beginning in 2004. We currently offer a variety of reduced-fat products, including cookies, crackers, cheeses, and salad dressings, as well as fat-free products, for consumers who are interested in moderating intake of total fat, as well as saturated fat and trans fat."
Proactive Suppliers
The demands of the food processing industry require that suppliers provide leading-edge science to deliver ingredients that answer the needs of food product manufacturers. "Oil manufacturers must deliver the lipid profiles that meet the needs of their customers," says Bunge's Francis. "As manufacturers of ingredients, lipid suppliers must help deliver on what individual companies' research tells them their customers are looking for, in terms of product attributes and overall performance."
--- PAGE BREAK ---
Bunge is addressing increased interest in reducing trans fat through the research done at its recently created Oil Center of Excellence. As the world's largest oilseed processor, Bunge has experts who work with customers to ensure that the company delivers the functionality its customers need in their consumer products. Bunge offers Vreamay RighT® and Vream RighT® shortenings that deliver an 85% reduction in trans fats compared to their Vreamay® and Vream® conventional shortenings.
It's also important to remember not to get too far ahead of the consumer, Francis warns. "The fat-free boom of the early '90s went bust when consumers realized flavor and texture were taken out of the foods along with the fat. Consumer backlash led to the crash of the fat-free segment and saw it replaced it with the total indulgence market. The trans fat issue may be replaced in five or ten years by another nutrition hot button."
Consumers want good-tasting foods that they have "nutritional permission" to use, says Francis. "They're telling us they want food they enjoy, and they want someone to tell them it's okay to eat it.
"Good nutrition is a continuum," he adds, with ongoing effects from all dietary sources, and producers need to address all of the issues. For instance, replacing hydrogenated oils with palm or cottonseed oils may get rid of the trans fats, but will increase the saturated fats in products, which is nutritionally detrimental. Formulators have to be mindful of the overall lipid profile as well as the process reliability when making the decision to switch, he says. "There are a range of solutions available today, and manufacturers must work with their customers to decide what best suits their needs."
Foodservice Issues
The trans fat issue has yet to make a huge impact on the restaurant industry. "Except for markets like health care, foodservice and institutional operations don't see a whole lot of demand for fat-free or trans fat–free products," says Southern Mills' Manak. "We find that sometimes offering reduced-fat options fights the image of the base product. The issue just doesn't translate well into foodservice."
Food giant McDonald's must agree. After much fanfare stating that its famous French fries would be prepared in trans fat–free oil, management reversed its position, staying with the current frying medium, at least for the time being. French fries, no matter what oil they are cooked in, will never be considered a health food. Instead, to appeal to the healthy and fresh market, McDonalds introduced an expanded salad menu, which enhances the company's core burger/fries/soft drink offerings.
Nevertheless, some foodservice venues are taking the plunge into trans fat–free territory. Ham's Restaurants, Chapel Hill, N.C., recently hosted a taste test for its famous home-fried potato chips prepared in a new trans fat–free oil from Whole Harvest, Raleigh, N.C. Surveys indicated that the "new" chips were just as tasty as the standard, with 92% of subjects claiming they would order the chips again. The majority of the tasters were college students who were interested in eating better-for-you foods, with 50% of the respondents stating that they had heard of the dangers of trans fats in foods.
Seasons 52 is a new-concept restaurant in Florida that focuses on healthy foods with seasonal flavors and healthy portions. At this new addition to Darden Restaurants, Inc.'s Olive Garden, Red Lobster, Smoky Bones, and Bahama Breeze restaurants, servers equipped with handheld devices can provide supplemental menu, wine, and nutrition information to their customers. The nutrition information is provided by a U.S. Dept. of Agriculture database.
--- PAGE BREAK ---
Educating the Consumer
Providing nutrition as well as functionality, fats have been reevaluated as part of a healthy diet. A recent suggested version of the Food Pyramid includes plant oils, including olive, canola, sunflower, soy, corn, peanut and other oils, on the lowest food tier, sharing space with wholegrain foods. The new pyramid, designed by Walter C. Willett, Professor of Medicine at Harvard School of Public Health and Principal Investigator for the Nurses Health Study II at Brigham and Women's University, rests on a base of daily exercise and weight control. This pyramid has at its apex white rice, white bread, and pasta, along with red meat and butter.
It is clear that the marketing of trans fat–free foods is going to have to begin with education. When trans fat content starts to appear on food labels, most manufacturers expect questions from their customers about the new addition. The lack of nutrition knowledge by the average consumer needs to be addressed. Companies such as Frito-Lay and Kraft have in place detailed Web sites that inform, educate, and entertain consumers on their way to better nutrition knowledge. Frito-Lay's Web site (www.fritolay.com) provides a list of all of the trans fat–free snacks and other products produced by the company. Kraft's extensive Web site (www.kraft.com) includes a Q&A page about trans fats, and gives pertinent information that is easily understandable. These types of promotional/educational campaigns will be key to communicating the positive changes that companies will be making in the years ahead.
All of this, however, does not come cheap. With an average cost of $2,600 per SKU for a label change, plus additional advertising and communication development expenses, the label mandate is going to take a chunk out of corporate budgets. The challenge is to make the requirement to label trans fat content work for manufacturers by helping consumers put together a nutrition strategy that makes sense. Consumers have to learn, says Francis, that "good nutrition is not a fad."
The author, a freelance writer, is Communications Specialist, Lalich Resources, Inc., 105 N. Main St., Grant Park, IL 60941, [email protected].