Bond and Peterson Named IFT Congressional Science Award Winners
Recognizing their achievements and efforts in making food-related policies based on sound science, the Institute of Food Technologists has named two distinguished members of the United States Congress, Senator Christopher Bond of Missouri and Representative Collin Peterson of Minnesota, this year's winners of IFT's Congressional Support for Science Award.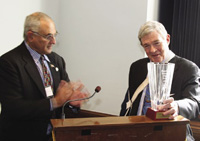 IFT President Herbert Stone presented the award, represented by a crystal vase, to them at a reception in the United States Senate on the evening of May 10, 2005.
Senator Christopher Bond, shown below with IFT President Stone, has been an active member of the U.S. Senate since 1986. Throughout his distinguished career of public service, Senator Bond has been a tireless proponent of science-based policies. He has consistently been a premier advocate of the responsible development of biotechnology and a vigorous advocate for the development of education, including science education.
He currently serves on the Senate Appropriations Committee, the Senate Committee on Environment and Public Works, the Select Committee on Intelligence, and the Small Business and Entrepreneurship Committee.
Senator Bond's leadership in support of food and agriculture research led him to become the sponsor of a bill (S. 767) to establish a Division of Food and Agricultural Science within the National Science Foundation and to authorize funding for the support of fundamental agricultural research of the highest quality. IFT is proud to play a leading role in supporting this important legislation.
Representative Collin Peterson entered Congress in 1990 and has been an aggressive advocate for food and agriculture research, as well as science-based food regulation. Representative Peterson has an excellent record of working with the various constituencies of the agricultural community and knows the importance of science as a means of achieving lasting improvements to the nation's agricultural system for today and tomorrow. As a result, he has been at the forefront of addressing challenges facing agriculture.
As the Ranking Democratic Member on the House Agriculture Committee, which has jurisdiction over agriculture-related subjects, Representative Peterson is in a pivotal position for advancing food science in research and food regulatory programs, as well as activities regarding conservation, rural development and, of course, federal food and nutrition programs. IFT is thankful that a leader so dedicated to science-based food policy occupies such an important leadership position.
Many IFT members attended this year's reception, including Executive Vice President Barbara Byrd Keenan and several past presidents of IFT. Senior government officials from several agencies, along with congressional members and representatives of scientific societies and the legal profession, also attended.
---
The Congressional Support for Science Award
was established by IFT in 2001 to recognize outstanding contributions to science-based food policies and to increase the role of science in policy development to enhance the safety, nutritional value, affordability, and variety of foods available to consumers. Each year, IFT honors two members of Congress, in recognition of their achievements and efforts in making food-related policies that are based on sound science. Last year, IFT honored Senator Debbie Stabenow of Michigan and Representative Henry Bonilla of Texas (see
Food Technology
, June 2004, page 20, for details).
by TED CARTWRIGHT
IFT Director of Science & Government Relations
Office of Science, Communications, & Government Relations
[email protected]