Time to Change the Oil?
The world of fats and oils is changing. An ACNielsen review of 2004 sales in 89 food categories across 59 countries revealed that consumers worldwide are opting for healthier and more-expensive cooking oils.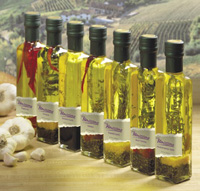 With three-quarters of households trying to prevent heart disease and with the vast majority of the two-thirds of shoppers who are trying to treat a health condition with food focused on heart, it's not surprising that fat has topped the list of nutrition concerns in the United States for more than a decade.
The Natural Marketing Institute reports that 72% of consumers frequently check food labels for fat, 70% calories, 57% sugar, 45% sodium, 40% total carbs, 30% fiber, and 25% trans fat. Low-fat remains the most influential health claim, according to the Food Marketing Institute: 63% of grocery shoppers purchased foods promoted as low fat in 2004, 62% whole grain, 55% low in saturated fat, 52% low calorie, 48% low sodium, and 40% low carb. Fat content is also the No. 1 reason shoppers put a new product back on the shelf.
With trans fat labeling mandatory beginning in January 2006 and trend-setting retailers like Whole Foods Markets refusing to stock products that contain trans fats, marketers are moving quickly to develop trans-free options. ACNielsen reports that sales of U.S. products bearing a "no trans fat" claim (appearing in 133 categories) grew to $6.4 billion in 2004, up from $4.8 billion in 2000. While industry leaders like Frito-Lay and Gorton have removed trans fats from of all of their snacks and frozen seafood, respectively—and others like JM Smucker's Crisco shortening and Unilever's Promise margarine now offering trans-free versions—it is the new generation of organic food products that are completely trans-free that is most impressive.
Some examples are Clif Bar Inc.'s Clif's nectar Organic Fruit and Nut Bars and Clif Kids Organic Z Bar. Healthy Handfuls' Oatmeal Raisin Crocodile Cookies for kids; Cascadian Farm's new Organic Cinnamon Raisin Granola; and nSpired Natural Foods' MaraNatha Honey Peanut Spread and Honey Almond Butters.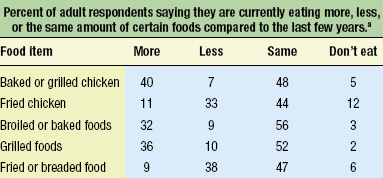 According to the Hartman Group's Trans Fat survey, eating less fried products (cited by 42% of respondents) and eating less chips (39%) top the list of consumer strategies for avoiding trans fats, followed by eating fewer processed foods (35%), packaged desserts (33%), margarine (29%), and baked goods (21%), and eating more fruits/vegetables. Technomic, Inc. reports that restaurant patrons are opting for more grilled rather than fried preparations. Simplot's Infinity Fry and Ventura Foods' Mel-Fry Free, Cargill's zero-gram-trans-fat canola oil, Dow AgroSciences' Natreon canola oil, and ADM's Novalipid soybean oil are among the leading foodservice trans-free oils. McDonald's has also added a new fat-free BBQ dipping sauce and fat-free Sweet BBQ Sauce.
At the same time, imported and flavored specialty oils—the 5th-largest specialty food category—are moving mainstream. Almond oils, avocado, tea, rice bran, pistachio, macadamia nut, and pumpkin seed are among the latest popular oils. Hongar Farms' Benissimo Basil Tomato and Mediterranean Garlic oils for dipping, cooking, marinating, and salad dressings look as good as they taste.
Oils are debuting as menu descriptors, too, with cutting-edge culinary chains like the Olive Garden promoting use of "extra virgin" and other specialty Italian oils. Chefs are drizzling warm flavored oils onto French fries, salads, and finished entrees, while creative new products like Tulocay & Co.'s Garlic Parmesan Dipping Oil with Capers are taking bread and veggie dipping to a new height.
The United Soybean Board reports that 91% of consumers rank olive as a healthy oil, 87% soybean, 82% sunflower, 82% canola, 79% safflower, and 67% corn oil, but that two-thirds did not know a specific health benefit of an oil. Perhaps of more concern, 86% believe that saturated fats are unhealthy and 63% believe that trans fats are unhealthy (up 13% in 2004), but 53% believe that polyunsaturated fats and 49% monounsaturated fats are unhealthy, too. About half of consumers say they are very/somewhat unlikely to buy foods with hydrogenated vegetable oil in the ingredient list. Thus, changing consumer views about oils will create some educational challenges.
by A. ELIZABETH SLOAN
Contributing Editor
President, Sloan Trends & Solutions, Inc.
Escondido, Calif.
[email protected]