With the aging of the population, the number of people with major eye diseases is increasing. By the year 2020, the number of people who are blind or have low vision is projected to reach 5.5 million, according to a study by the Eye Disease Prevalence Research Group.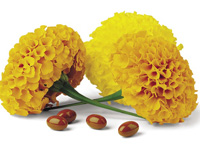 The study reported that low vision and blindness increase significantly with age, particularly in people over age 65 (EDP Research Group, 2004). People age 80 and older currently make up 8% of the population, but account for 69% of blindness. Age-related macular degeneration (AMD), glaucoma, cataract, and diabetic retinopathy were reported as the most common eye diseases in Americans age 40 and over.
AMD is a disease that blurs the sharp, central vision. It affects the macula and is the leading cause of vision loss in Americans age 60 and older. Glaucoma is a group of diseases that can damage the eye's optic nerve and result in vision loss and blindness. Cataract is the leading cause of low vision among all Americans, responsible for about 50% of all cases. Most cataracts are related to aging.
With the growing number of Baby Boomers and increased awareness of nutrition affecting health, eye health has become a growing market. "A recent HealthFocus survey shows eye health is the 4th most important health concern to shoppers in the United States, with 47% of shoppers extremely or very concerned about their eye health," cited Scott Backman, Market Development Manager, Functional Food and Food Technology, Cognis Nutrition and Health, LaGrange, Ill. "As the population ages, we can expect to see even more interest in eye health ingredients."
Most eye health products in today's market are in supplement form, but ingredient innovations are making it possible to find popular eye health ingredients in functional foods and beverages. Next to antioxidants, such as vitamins A, C, and E, the main ingredients associated with eye health are lutein and zeaxanthin. Here is a brief look at some recent research on these and other potential eye health ingredients.
Antioxidants and Zinc
The Age-Related Eye Disease Study sponsored by the National Eye Institute (AREDS Research Group, 2001a, b) looked at the effects of zinc and antioxidants on patients with cataracts and on those with varying stages and types of AMD; they also studied patients without evidence of cataract or AMD. The results showed that the AREDS formulation, while not a cure for AMD, may play a key role in helping people at high risk for developing advanced AMD keep their remaining vision.
--- PAGE BREAK ---
The specific daily amounts of antioxidants and zinc used in the study were 500 mg of vitamin C; 400 IU of vitamin E; 15 mg of beta-carotene; 80 mg of zinc as zinc oxide; and 2 mg of copper as cupric oxide. The researchers found that people at high risk of developing advanced stages of AMD lowered their risk by about 25%. In the same high-risk group—which included people with intermediate AMD or advanced AMD in one eye but not the other eye—the nutrients reduced the risk of vision loss caused by advanced AMD by about 19%.
"The landmark AREDS trial perhaps best demonstrated the public health impact of antioxidants, including vitamin E on eye health," stated Backman. "The public health impact of AREDS is enormous, according to published reports. Approximately 8 million people are estimated to be at risk of developing advanced AMD. Should all these individuals take AREDS supplements, it is estimated that 300,000 could be saved from developing advanced AMD in the next 5 years."
Lutein
Lutein is an antioxidant whose eye health benefits are becoming better known among consumers. "We know that consumer awareness is at about 34% for lutein esters, a powerful carotenoid shown in published clinical studies to reduce the risk of AMD and cataracts," said Backman. Lutein is one of the carotenoids found in the macula of the eye that is believed to protect against oxidative damage and filter blue light. Recently published research highlights lutein's beneficial role in AMD.
A small trial showed that lutein supplements may increase macular pigment in people at early stages of AMD (Koh et al., 2004). The findings suggest that a much larger group of at-risk individuals than previously thought may gain some benefit from taking lutein supplements.
Researchers from the Dept. of Optometry and Neuroscience at the University of Manchester, UK, evaluated the effects of a lutein esters supplement (20 mg of Xangold® from Cognis) over a period of 18–20 weeks, in seven patients with early stages of the disease and six age-matched controls.
Macular pigment density and levels of lutein in blood plasma were measured at regular intervals throughout the study. Both increased significantly and to the same extent in the controls and in the ARM patients, providing evidence that the macula can accumulate lutein, not only in healthy eyes but also in those with the early stages of AMD.
Another study showed that lutein supplementation may be an effective approach in improving symptoms of AMD (Richer et al., 2004). In the study, 90 AMD patients were supplemented daily with an OcuPower supplement capsule containing 10 mg of crystalline FloraGlo® Lutein (Kemin Health, Des Moines, Iowa), 10 mg of lutein plus a mixed antioxidant formula, or a placebo for 12 months. Results showed that patients who took the lutein supplements experienced improvements in several symptoms, including glare recovery, contrast sensitivity and visual acuity, compared to patients taking the placebo. Patients also experienced a 50% increase in macular pigment density relative to those on placebo.
--- PAGE BREAK ---
Lutein suppliers are making it easier to incorporate this antioxidant in more than just supplements. "Xangold was the first source of lutein to complete the Food and Drug Administration's GRAS notification process, paving the way for its use in a broad range of foods, including baked good and baking mixes, soy milk, frozen dairy desserts, processed fruit and vegetable products, egg products/substitutes, breakfast cereals, fats and oils, beverages, hard candy, fruit snacks, and dairy products," said Backman. The company recently introduced its first vegetarian lutein ester beadlet, Xangold 10% GFB. "It's great for a range of baked goods including bars, crackers and cereals, offering manufacturing advantages along with nutritional value to dry food formulators worldwide," he said.
Xangold natural lutein esters are extracted from marigold flowers grown specifically for Cognis. The company has petitioned FDA for a qualified health claim linking consumption of the esters to a reduced risk of AMD and cataracts.
Kemin Health, another lutein supplier, has made it possible to use lutein in clear beverages. In early 2004, the company announced that its purified lutein, FloraGlo lutein, delivered in combination with a sucrose monolaurate emulsifier, disperses lutein in clear, water-based beverages while maintaining optical clarity. FloraGlo Lutein with ClearTec® coating makes a new delivery method for purified lutein without clouding, clumping, settling, or ringing. The approved applications for these combined ingredients cover 13 product categories, including bottled water, carbonated beverages, ready-to-drink tea, and energy, sport, and isotonic drinks.
FloraGlo lutein is purified from marigold extract using patented processes. According to the company, it is chemically identical to lutein found in spinach, kale, collard greens, and other green leafy vegetables.
Zeaxanthin
Zeaxanthin, another major carotenoid found in the macular region of the eye, has also been associated with benefiting eye health. Two new zeaxanthin supplements were introduced to the eye health market this year. Launched by ZeaVision LLC, Chesterfield, Mo., the EyePromise™ brand includes EyePromise Complete and EyePromise Five. The former combines zeaxanthin and a modified AREDS formula, and the latter provides 5 mg of dietary zeaxanthin.
In conjunction with lutein, zeaxanthin has been associated with a reduced risk of cataracts. For example, research at Ohio State University showed that lutein and zeaxanthin helped protect human lens cells from exposure to ultraviolet light, a leading cause of cataract formation (Chitchumroonchokchai et al., 2004). The researchers compared the effects of these antioxidants to vitamin E. Their work showed that lutein and zeaxanthin were nearly 10 times more powerful than vitamin E in protecting the cells from UV-induced damage.
--- PAGE BREAK ---
Another study showed that zeaxanthin and lutein appeared to restore eye cell health (Neuringer et al., 2004). The animal study, sponsored by DSM Nutritional Products, Switzerland, showed that supplements of lutein and zeaxanthin restored levels of the antioxidants in the blood, as well as the density of macular pigment. In addition, the supplements also appeared to normalize distribution of retinal pigment epithelium (RPE) cells disrupted by a lack of these nutrients in the diet. RPE cells are responsible for the proper functioning of photoreceptors, key to vision.
Other Beneficial Ingredients
Other ingredients also offer eye benefits:
• Astaxanthin. An algae-derived antioxidant, astaxanthin is also thought to help protect the macula by providing protection to UV light. Guerin et al. (2003) reviewed the antioxidant, UV-light protection, anti-inflammatory, and other properties of astaxanthin. The results supported the assumption that protecting body tissues from oxidative damage with daily ingestion of natural astaxanthin might be a practical and beneficial strategy in health management.
A commercial form of astaxanthin, Zanthin (Valensa International, Eustis, Fla.), was approved in June by FDA for use as a dietary supplement to slow the development and ameliorate the effects of eye and/or central nervous system diseases.
• Omega-3 Fatty Acids. Some epidemiological evidence exists for a reduced risk of AMD with higher intake of fish and/or docosahexaenoic acid (DHA). For example, Cho et al. (2001) found that the consumption of larger amounts of fish was associated with a decreased risk of development of AMD. DHA is naturally concentrated in the retina of the eye and is thought to promote healthy retinal function.
• Broccoli Compound. Researchers at Johns Hopkins University have produced evidence that may help support a new entrant in the eye health market—sulphoraphane, an indirect antioxidant found in broccoli and broccoli sprouts (Gao and Talalay, 2004). Sulphoraphane protected eye cells from damage caused by UV light. The researchers divided human adult retinal pigment epithelial cells into two groups, treating one with sulphoraphane for a 24-hr period. The other acted as control. After the cells were exposed to UV light, survival in the sulphoraphane group was much higher; this protection was dose-dependent.
by Linda Milo Ohr,
Contributing Editor,
Denver, Colo. 
[email protected]
References
AREDS Research Group. 2001a. A randomized, placebo-controlled, clinical trial of high-dose supplementation with vitamins C and E, beta carotene, and zinc for age-related macular degeneration and vision loss: AREDS Report No. 8. Age-Related Eye Disease Study Research Group. Arch. Ophthalmol. 119: 1417-1436.
AREDS Research Group. 2001b. A randomized, placebo-controlled, clinical trial of high-dose supplementation with vitamins C and E, beta carotene, and zinc for age-related macular degeneration and vision loss: AREDS Report No. 9. Age-Related Eye Disease Study Research Group. Arch. Ophthalmol. 119:1439-1452.
Chitchumroonchokchai, C., Bomser, J.A., Glamm, J.E., and Failla, M.L. 2004. Xanthophylls and á-tocopherol decrease UVB-induced lipid peroxidation and stress signaling in human lens epithelial cells. J. Nutr. 134: 3225-3232.
Cho, E., Hung, S., Willett, W.C., Spiegelman, D., Rimm, E.B., Seddon, J.M., Colditz, G.A., and Hankinson, S.E. 2001. Prospective study of dietary fat and the risk of age-related macular degeneration. Am. J. Clin. Nutr. 73: 209-218.
EDP Research Group. 2004. Causes and prevalence of visual impairment among adults in the United States. Eye Diseases Prevalence Research Group. Arch. Ophthalmol. 122: 477-485.
Koh, H., Murray, I.J., Nolan, D., Carden, D., Feather, J., and Beatty, S. 2004. Plasma and macular responses to lutein supplement in subjects with and without age-related maculopathy: A pilot study. Exp. Eye Res. 79 (1): 21–27.
Gao, X. and Talalay, P. 2004. Induction of phase 2 genes by sulforaphane protects retinal pigment epithelial cells against photooxidative damage. PNAS 101: 10446-10451
Guerin, M., Huntley, M.E., and Olaizola, M. 2003. Haematococcus astaxanthin: Applications for human health and nutrition. Trends Biotechnol. 21: 210-216.
Neuringer, M., Sandstrom, M.M., Johnson, E.J., and Snodderly, D.M. 2004. Nutritional manipulation of primate retinas. I: Effects of lutein or zeaxanthin supplements on serum and macular pigment in xanthophyll-free Rhesus monkeys. Invest. Ophthalmol. Vis. Sci. 45: 3234-3243.
Richer, S., Stiles, W., Statkute, L., Pulido, J., Frankowski, J., Rudy, D., Pei, K., Tsipursky, M., and Nyland, J. 2004. Double-masked placebo-controlled, randomized trial of lutein and antioxidant supplementation in the intervention of atrophic age-related macular degeneration: the Veterans LAST study (Lutein Antioxidant Supplementation Trial). Optometry 75: 216-230.