In early times, the poor and widowed were given the privilege of gleaning—going through harvested fields to find overlooked grains. Now it means finding value in discarded and leftover food and putting it to good use.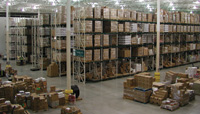 This article is about some of the organizations that are working effectively to feed hungry people and how they do it.
America's Second Harvest
America's Second Harvest—The Nation's Food Bank Network was formed in 1979 to provide the food and grocery industry a single point to which unsalable or distressed but still edible food could be diverted with assurances that it would be handled safely and delivered where it was needed. Today, America's Second Harvest helps provide food to about 25 million people each year, according to Diane Letson, Director of Food Sourcing (phone 312-641-6508).
The organization supplies more than 200 food banks across the United States and is the major source of food for many people. The food comes from large, medium, and small food and grocery companies and may be available because it is mislabeled, underweight, close to expiration of shelf life, or an overrun.
According to Letson, the Chicago-based national office of America's Second Harvest has no warehouses and no trucks of its own. Rather, it arranges for food and grocery supplies to be delivered or picked up by the member food banks. With some product donations, it supplements delivery costs or may even hire trucks for delivery to member food banks.
The organization's major achievement has been in convincing sources of food and grocery items that they will not be subject to liability, that the food banks will handle the food safely, that the product can be tracked in the event of a recall, and that it is going to a good cause.
This has been accomplished, in part by the passage of the national Bill Emerson Good Samaritan Food Donation Act, which protects companies from criminal and civil liabilities as long as they donate in good faith. But it has been primarily accomplished by the establishment of food-handling training and certification programs, developed in cooperation with the Food Marketing Institute and the Grocery Manufacturers of America.
America's Second Harvest distributes an Operating Membership manual which all food banks must follow and against which they are monitored for compliance. In spite of the vulnerable population served (older, poorer, often in poor health), there has not yet been a case of foodborne illness traced to a food bank served by America's Second Harvest.
In the aftermath of Hurricane Katrina last September, the organization arranged for shipment of 53 million tons of food, many pooled from member food banks, to the surviving food banks in the area and those affected by the influx of thousand of evacuees. Because power was disrupted, it was not helpful to send refrigerated or frozen food, so much of the supply was canned or dry. When it was realized that there were not enough can openers, a retailer donated 3,000 upscale can openers.
America's Second Harvest thus is a logistics organization, giving food companies and other sources of food a reliable and trustworthy place to which to donate food that might otherwise need to be landfilled, at substantial cost. It relies heavily on private, corporate, and foundation contributions to support its relatively low annual costs of $26.5 million and welcomes new partners.
Greater Chicago Food Depository
The Greater Chicago Food Depository is one of the largest and most sophisticated, food banks in the U.S., if not the world. Mike Mulqueen (phone 773-843-5425), Executive Director, proudly pointed out the features of the Depository's new facility on my recent visit.
The Depository was founded in 1978 and so slightly predates America's Second Harvest. Some of its original members were firms from Chicago's Produce Market who wanted to see that their leftover fresh fruits and vegetables could go to a useful and safe purpose. The Produce Market firms accept rail-car or truck loads of fresh fruits and vegetables and sell them by the case to small stores, restaurants, and caterers. They have limited refrigerated storage, so every day they have perfectly good food that must be moved to make room for more. Paying for disposal is more expensive than arranging for hungry people to benefit, if that can be done efficiently.
About 11% of the Depository's supply comes through America's Second Harvest system, which makes them an exception in the network, since other members of the network receive a higher fraction of their needs through the system.
Another significant source of food is U.S. Dept. of Agriculture commodity distribution programs. In these, cheese, non-fat dried milk, peanut butter, and some other commodities are provided for distribution, and fees for handling the distribution are paid by USDA to the Depository. The commodities are the result of price-support programs for agricultural crops, such as milk and peanuts. The commodities are collected and packaged by USDA or firms contracted to do so.
Most of the food handled by the Depository comes from direct relationships with food producers, grocery stores, and restaurants. Each category of food is handled differently. For some categories of food on which the 600 client food pantries depend, it is critical to ensure a reliable supply, so the Depository has formed partnerships with producers by which foods such as pasta, milk, bread, and peanut butter are supplied regularly at costs close to actual production costs. This imposes a drain on the Depository's limited resources, but, in some cases, the costs are reduced by contributions from corporate foundations. The Depository's annual operating budget is about $11 million. About $50 million worth of food flows through the system each year.
The Gleaning Process
The Food Depository assembles about 55 products in the form of boxes of foods which its clients can order for 7¢/lb. Examples include 55 lb of mixed beverages, 10 lb of breakfast cereals, 20 lb of coffee, a box of health and beauty aids, a box of soups, a box of canned fruits and vegetables, and many others. The boxes typically are reused banana boxes which the Depository gets for free and values because they are strong, come with lids, and are water resistant.
Most of the facility is used for storage, but the processing area is interesting. Incoming material may be from a food drive, which will be highly variable, or from a store or manufacturer. A conveyor belt delivers the mixed material to 16 stations, with three levels of belts leaving. One level goes to trash, one goes to the next station, and one goes to the packing and weighing area of each station. Each station is responsible for building one or two types of boxes and consists of a scale and an exit conveyor. As material comes by, the person working selects those items that are appropriate for the types of boxes, rejects items that should not be used at all, and lets the rest go by to the next station. Bar codes help track the inventory. Finished boxes are transferred to a designated spot in the five-high-racked storage area.
Some products such as cereals and pasta, come in bulk and are repacked in a clean room. Produce, such as lettuce, needs to be sorted and stripped of its outer leaves as it ages, but the remainder is safe, healthy, and valuable. Fresh produce is repacked in boxes.
The Depository also picks up and delivers ready-to-eat food from restaurants and grocery stores every day, using refrigerated trucks and trained drivers who can determine where best to use their harvests. The food is delivered directly by the trucks the same day.
About 8,000 people each year volunteer close to 90,000 hr of service at the Depository. Volunteers range from high school students and community groups to people performing community service for minor offenses.
Double-Benefit Programs
In an industrial-quality kitchen that would be the envy of any cooking school, the Depository trains about 20 people in a 12-week course to be qualified catering staff while preparing meals for its Kids Cafes in Chicago's poorest neighborhoods. The students have been successful in getting well-paying jobs at commercial caterers, restaurants, hospitals, and other foodservice employers and have a high rate of retained employment.
The Depository also trains its agencies—local food pantries, soup kitchens, and shelters—in management, grant writing, and information technology in its Pantry University. Since most of the agencies operate with volunteer staff, the Depository helps them improve their skills in operating often-complex human service agencies.
One other creative program is the Depository's Agency Mart, which looks like a convenience store and stocks low-inventory and highly perishable goods received by the Depository. There qualified agencies can spend their scant money at 7¢/lb to buy items they can use but might not be on the daily menu of standard products. The daily menu is sent to the agencies by fax or e-mail each day, and orders are placed by phone, fax, or e-mail.
Think About Helping
If your company is not already participating in America's Second Harvest and local member food banks, urge the company to participate, and consider being a personal donor.
The Depository has more than 45,000 individual donors who provide a major portion of its modest operating budget, and America's Second Harvest also values its individual donors. We can make a difference.
---
Food Expo Exhibitors Donate to Food Banks
Each year, the Institute of Food Technologists arranges for companies exhibiting at its Food Expo
®
to donate leftover product to local hunger-relief agencies. Last year, companies exhibiting at IFT's Food Expo in New Orleans, La., donated 7,130 lb of product to the Second Harvesters Food Bank, part of the America's Second Harvest system. That brought the total donated by exhibitors over the past eight Food Expos to 107,555 lb.
by J. Peter Clark,
Contributing Editor,
Consultant to the Process Industries, Oak Park, Ill. 
[email protected]