Both prebiotics and probiotics benefit intestinal health as well as immunity. Although they do not receive as much consumer attention as other nutritional ingredients like soy and antioxidants, both prebiotics and probiotics have broken into mainstream products, like yogurt.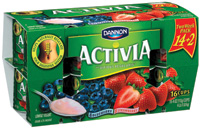 Evidence of the growing consumer awareness and appeal of these prebiotics and probiotics is the fact that as ingredients, they have stepped out of the dairy realm into products such as juices and snacks.
Probiotic Popularity
Probiotics are live microorganisms administered in adequate amounts which confer a beneficial health effect on the host. "Several years ago, consumers thought that all bacteria was bad," observes Gregory D. Miller, Executive Vice President, Science & Innovation, Dairy Management Inc.™/National Dairy Council. "Today, they know that there are good bacteria as well as bad bacteria." A 2005 Business Communications Co. report, "Probiotics: Ingredients, Supplements, and Foods," confirms the increasing consumer appeal. It estimates that total sales of probiotics were worth $764 million in 2005, with foods such as yogurts, kefirs, and cultured drinks accounting for 65.2% of the total. With an estimated annual growth rate of 7.1%, probiotic sales are predicted to reach $1.1 billion by 2010.
Unique products, such as Activia®, recently launched by Dannon Co., White Plains, N.Y., are contributing to the growing consumer knowledge of probiotics. A 4-oz serving of the yogurt contains beneficial probiotic cultures, including Bifidus regularis™, which helps to regulate the digestive system. Probiotic applications have even extended beyond dairy, to products such as Finland-based Valio's Gefilus® brand of probiotic juices. The range contains Lactobacillus rhamnosus GG. In the dietary supplement arena, probiotics are available in Probio'Stick, small, thin tubes similar to individual sugar servings, from Institut Rosell, Montreal, Canada.
Research that supports the benefits of individual probiotics and furthers the understanding of their mechanisms will continue to drive innovation in probiotic offerings. Generic organizations, like DMI, are taking a broad look at probiotics, focusing on the more pre-competitive issues that will be valuable to the whole industry and position dairy foods as the best delivery vehicle for probiotics, says Miller. DMI-supported research includes understanding the genome of Lactobacillus to further understand what aspects provide health benefits.
--- PAGE BREAK ---
"DMI is centered around the relationship between milk and milk components, such as probiotic survival within dairy products," he says. "We are working to determine whether there are specific components within a dairy product that interact with or enhance activity of probiotics, such as oligosaccharides, lactose as a potential prebiotic, and other dairy protein components."
In contrast, private companies are working to find specific proprietary probiotics and conducting research to show the health benefits of that particular organism, adds Miller. Work that some of these companies have done include uncovering additional health benefits and expanding probiotic applications.
• Biogaia, Sweden, showed that supplementation with Lactobacillus reuteri eradicated Helicobacter pylori in 60% of the patients suffering from indigestion caused by a confirmed H. pylori infection (Saggioro et al., 2005). Tubelius et al. (2005) showed that workers who took a daily dose of L. reuteri were 2.5 times less likely to take sick leave than workers who took a placebo.
● Chr. Hansen, Milwaukee, Wis., announced in 2005 that it had developed a flexible formulation system for adding probiotics directly to finished products. Tetra Pak's aseptic dosing machine, Flex Dos, allows bacteria to be added to liquids just before they are filled into cartons. With Chr. Hansen's Direct Liquid Inoculation solution, probiotics can be added to milk or juice after heat treatment in a closed and sanitary system.
● DSM Food Specialties, France, at Food Ingredients Europe last year discussed its work using LAFTI® probiotic strains in a range of cheeses. The series included Lactobacillus acidophilus LAFTI L10, Bifidobacterium lactis LAFTI B94 and Lactobacillus casei LAFTI L26. Results indicated that cheese offered a number of advantages as a delivery system for viable probiotics. All of the strains showed excellent survivability until the end of the commercial life of the product. L. casei LAFTI L26 and B. lactis LAFTI B94 will be showcased at this year's IFT Food Expo by DSM Nutritional Products, Parsippany, N.J.
● Danisco, Ardsley, N.Y., recently developed strawberry yogurt–filled chocolates and vanilla wafers along with dark chocolate bars that contain the probiotic culture Howaru™Acidophilus and the prebiotics Litesse® and lactitol. The combination creates a symbiotic effect with digestive health benefits. Howaru Acidophilus has been shown to balance intestinal microflora, improve digestive health, and ferment prebiotics. The company also offers Howaru Bifido and Howaru Rhamnosus, recognized for immune-modulating properties.
--- PAGE BREAK ---
Prebiotic Potential
Prebiotics are nondigestible substances that when consumed provide a beneficial physiological effect on the host by selectively stimulating the favorable growth or activity of a limited number of indigenous bacteria.
Inulin currently reigns as one of the most commonly recognized prebiotics. Organizations such as the California Raisin Marketing Board are now highlighting the inulin content of certain whole foods, as consumers become more aware of this prebiotic. For example, a standard ¼-cup serving of California raisins contains 0.2 g of inulin, according to the marketing board.
Other prebiotics are also gaining notoriety, such as oligosaccharides, polydextrose, and resistant starch. In addition to promoting the growth of favorable bacteria, prebiotic suppliers are busy highlighting additional health and functional benefits.
• Inulin and Oligofructose. Inulin is a soluble fiber extracted from chicory roots. In addition to its gut health benefits, research has shown that it can also boost bone strength and help control blood sugar levels.
Work at Leatherhead Food International showed that a commercial form of inulin lowered the glycemic index of dark chocolate (Sensus, 2005). Chocolate containing Frutafit® inulin from Sensus America LLC, Monmouth, N.J., and other carbohydrates had a significantly lower glycemic response (between 4 and 26) than the control chocolate (44).
Another commercial form of inulin, Oliggo-Fiber® from Cargill, Minneapolis, Minn., was recently shown to develop softer high-protein nutrition bars, which can help extend shelf life and improve mouthfeel.
Oligofructose is another prebiotic derived from chicory root. An oligofructose-enriched inulin, Beneo™ Synergy 1 from Orafti, Malvern, Pa., was shown to increase calcium absorption and enhanced bone mineral density among teenagers by about 15% (Abrams et al., 2005).
In the study, 100 adolescents were given either 8 g of the oligofructose-enriched inulin or an equivalent amount of placebo every day for a year. Calcium absorption and bone mineral density were far higher in those who consumed the enriched inulin. After one year, the increase in bone mineral density in the test group was 45% higher than in the controls.
The researchers also measured bone mineral content and found that in the Beneo group, the bone calcium accretion increased by an extra 30 mg/day, proof that extra calcium was actually deposited in the bones.
--- PAGE BREAK ---
Orafti also showed that its oligofructose ingredient Beneo P95 could promote satiety (Orafti, 2006). The human pilot intervention study included ten healthy men and women age 21–39, all with normal body mass index values. After breakfast and dinner, they took either 8 g of Beneo P95 oligofructose or a placebo (maltodextrin). After both meals, the Beneo P95 showed significantly increased satiety. Hunger was also reduced, as were prospective food consumption and total energy intake during the day.
The feeling of satiety is believed to be due to hormones induced by the fermentation of the oligofructose in the colon. These hormones send signals to the brain that influence satiety and, as a consequence, food intake.
Orafti is currently investigating other aspects of oligofructose, including calcium absorption, and its effects on colorectal cancer growth, chronic inflammatory bowel disease, and ulcerative colitis.
• Fructooligosaccharides. A commercial short-chain fructooligosaccharide (scFOS®), NutraFlora® from GTC Nutrition, Golden, Colo., is a natural prebiotic fiber derived from cane or beet sugar. By supporting the growth of probiotics, it provides health benefits such as improved calcium absorption and a strong immune system. In addition, the company holds two patents for the use of scFOS to inhibit Salmonella infections.
The company has also published a study on NutraFlora's reducing the duration and severity of colitis, which causes inflammation and ulcers in the colon (Cherbut et al., 2003), and another study concluding that introducing scFOS in the diets of young children suffering from diarrhea may be an easy and cost-effective way to reduce the severity and symptoms caused by diarrhea (Correa-Matos et al., 2003).
• Polydextrose. A commercial form of polydextrose, Litesse® from Danisco Sweeteners, was used in Danisco's Mind Body confections and snacks as a prebiotic fiber, in combination with the company's Howaru Acidophilus and lactitol.
The strawberry yogurt–filled chocolates and vanilla wafers and dark chocolate bars demonstrated a convenient, portable option for adding beneficial cultures and fiber to many snacks and food products. They retain their digestive benefits at room temperature for 6 mo and are ideal for use in chocolate bars, coatings, fillings, nutrition bar chips, and inclusions in cereal and ice cream.
According to the company, recent studies also showed that reduced-calorie foods made with Litesse imparted an increased feeling of fullness or satiety. In addition, consumers did not overcompensate at their next meal by eating more calories.
• Resistant Starch. Resistant starch derived from high-amylose corn has been shown to have benefits in intestinal/colonic health, as well as metabolically important benefits in glycemic management and energy. According to National Starch Food Innovation, Bridgewater, N.J., Hi-maize™ 5-in-1 Fiber improves the health of the bowel by encouraging the development of strong, healthy cells and beneficial bacteria. It increases the levels of short-chain fatty acids, particularly butyrate, which is considered to be vital for optimum bowel health. It also has a mild laxative effect and suppresses harmful compounds such as phenols and ammonia. Additional benefits include aiding in energy balance after a meal and helping to maintain healthy blood sugar levels in healthy individuals.
by Linda Milo Ohr,
Contributing Editor,
Denver, Colo. 
[email protected]
References
Abrams, S.A., Griffin, I.J., Hawthorne, K.M., Liang, L., Gunn, S.K., Darlington, G., and Ellis, K.J. 2005. A combination of prebiotic short- and long-chain inulin-type fructans enhances calcium absorption and bone mineralization in young adolescents. Am. J. Clin. Nutr. 82: 471-476.
Cherbut, C., Michel, C., and Lecannu, G. 2003. The prebiotic characteristics of fructooligosaccharides are necessary for reduction of TNBS-induced colitis in rats J. Nutr. 133: 21-27.
Correa-Matos, N.J., Donovan, S.M., Isaacson, R.E., Gaskins, H.R., White, B.A., and Tappenden, K.A. 2003. Fermentable fiber reduces recovery time and improves intestinal function in piglets following Salmonella typhimurium infection. J. Nutr. 133: 1845-1852.
Orafti. 2006. Beneo™ P95 shown to promote satiety and to limit energy intake in humans. Press release. Jan.
Saggioro, A., Caroli, M., Pasini, M., Bortoluzzi, F., Girardi, L., Pilone, G. 2005. Helicobacter pylori eradication with Lactobacillus reuteri. A double-blind placebo-controlled study. Digest. Liver Dis. 37(Supp. 1): S88.
Sensus. 2005. Prebiotic inulin lowers GI of dark chocolate. Press release. Nov.
Tubelius, P., Stan, V., and Zachrisson, A. 2005. Increasing work-place healthiness with the probiotic Lactobacillus reuteri: A randomised, double-blind placebo-controlled study. Environmental Health: A Global Access Science Source 4: 25.