Heart health and weight maintenance are conditions that top the list of consumers' main health concerns. Other health conditions include immunity, cancer, and mental health. While soy protein, omega-3 fatty acids, and fiber have proven themselves to be effective ingredients in foods and beverages that target these conditions, researchers are discovering and developing additional nutraceuticals and other ingredients that may prove to be beneficial as well, including pomegranate, botanicals, cinnamon, flax lignans, and conjugated linoleic acid.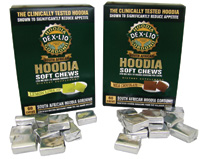 Heart Health
Ingredients like soy protein, phytosterols, and omega-3 fatty acids all boast Food and Drug Administration-approved health claims related to cardiovascular disease. Recent research indicates that two novel ingredients—pomegranate and cinnamon—may provide heart-health benefits as well.
Pomegranate is used in products ranging from beverages to more unexpected applications such as chewing gum. Research indicates that pomegranate may be good for the heart, as it is rich in polyphenols and anthocyanins. de Nigris et al. (2005) found that pomegranate juice reduced the progression of atherosclerosis in hypercholesterolemic mice. Sumner et al. (2005) investigated whether daily consumption of pomegranate juice for 3 mo would affect myocardial perfusion in 45 patients who had coronary heart disease (CHD). In this study, the extent of stress-induced myocardial ischemia (decrease in blood supply to the heart) decreased in the subjects taking the pomegranate juice but increased in the subjects in the control group. Researchers concluded that daily consumption of pomegranate juice may improve stress-induced myocardial ischemia in CHD patients.
Rosenblat et al. (2006) suggested that pomegranate juice could offer heart-health benefits for diabetics. The researchers observed that consumption of 50 mL of pomegranate juice/day for 3 mo by diabetic patients did not worsen the diabetic parameters but rather resulted in antioxidative effects on serum and macrophages, which could contribute to attenuation of atherosclerosis development.
Cinnamon is proving to be more than a flavorful spice, recently exhibiting a beneficial effect on blood pressure. Preuss et al. (2006) examined the effects of dietary cinnamon on systolic blood pressure (SBP), and various glucose- and insulin-related parameters in spontaneously hypertensive rats. In a series of experiments, rats fed sucrose-and non-sucrose-containing diets were given various amounts of cinnamon, cinnamon extracts, or chromium. The presence of cinnamon in the diet decreased the SBP of the rats consuming a non-sucrose-containing diet, suggesting that cinnamon reduces more than just sucrose-induced SBP elevations. The researchers concluded that cinnamon may have additional roles in glucose metabolism and blood pressure regulation.
Integrity Nutraceuticals International, Sarasota, Fla. (phone 941-342-0007, www.integritynut.com), offers a standardized cinnamon extract, Cinnulin PF™, that, according to the company, supports healthy glucose management, helps optimize healthy cholesterol levels, and bolsters healthy blood pressure.
--- PAGE BREAK ---
Weight Management
Several ingredients such as botanicals, chromium picolinate, conjugated linoleic acid, and white kidney bean extract are finding increased application in weight-management products. For example, Hoodia gordonii, a botanical often used as an appetite suppressant, is present in Dex-L10 Hoodia Soft Chews available from Delmar Labs, Tampa, Fla. (phone 727-547-8740, www.hoodiadexl10.com). The milk chocolate and lemon-lime chew contains 250 mg of certified South African H. gordonii and are marketed to "Chew away at hunger pains."
Studies that show the weight-management benefits of chromium picolinate continue to increase. Martin et al. (2006) showed that a daily supplement of chromium picolinate, in combination with a common anti-diabetic medication, sulfonylurea, could improve blood sugar levels as well as cut weight gain. Subjects administered the combination of sulfonylurea and a placebo had a significant increase in body weight, percent body fat, and total abdominal fat compared to the subjects who took the combination of sulfonylurea and chromium picolinate. The chromium picolinate, Chromax, was provided by Nutrition 21, Purchase, N.Y. (phone 914-701-4500, www.nutrition21.com).
Research already supports the weight-management benefits of conjugated linolenic acid (CLA), but Watras et al. (2006) showed that CLA may serve a critical role in preventing weight and fat gain in adults who are susceptible to adding weight and fat. The researchers designed a study to determine if 3.2 g/day of CLA Tonalin® from Cognis Nutrition and Health, La Grange, Ill. (phone 708-579-6150, www.cognis.com), would help overweight adults significantly reduce body fat over a 6-mo period and prevent weight gain during the November–December holiday season. Compared to the group administered CLA, the group given a placebo showed a greater rate of weight gain, and the weight change was significantly greater than in the pre-holiday period (August– October). The subjects who took the CLA has an improved 6-mo change in body composition and significantly reduced body fat.
Earlier this year, Pharmachem Laboratories, Inc., Kearny, N.J. (phone 800-526-0609, www.pharmachemlabs.com), launched StarchLite®, a standardized, all-natural extract of the white kidney bean (Phaseolus vulgaris) that has been shown to delay the digestion and adsorption of carbohydrates, and reduce caloric impact, glucose impact, and the glycemic index (GI) of starchy foods. It is believed to inhibit the digestive enzyme alpha-amylase, which is responsible for the digestion of complex carbohydrates. Udani (2006) showed that the GI of white bread was significantly reduced by the addition of 3,000 mg of the white bean extract in powder form.
Mental Health
Mental health is a growing concern, especially among the aging Baby Boomers. At this year's IFT Food Expo, HortResearch, a New Zealand–based research company (phone +64-9815-4200, www.hortresearch.co.nz), showcased a red-fleshed apple juice beverage developed to offer increased mental acuity and alertness. The apple, packed with health-promoting antioxidants, has a rosy color from the peel to the core thanks to its high concentration of anthocyanins. The company also introduced another beverage concept designed to improve gut health and enhance the body's natural defenses. The "Belli" fruit shot was based on HortResearch's baby kiwifruit, Actinidia arguta, and provided more vitamin C than an orange.
Soy-derived phosphatidylserine carries a qualified health claim for dietary supplements, linking it to a reduced risk of cognitive dysfunction. This past September, Lipogen Ltd., Israel (phone +972-54452-2355, www.lipogen.co.il), announced that FDA approved the GRAS notification of its patented Lipogen PS product line. The product can be used in such applications as milk, yogurt products, breakfast cereals, biscuits, and meal replacements.
--- PAGE BREAK ---
Cancer
Flax lignans have been shown to benefit both men and women with regard to the development of cancer, specifically prostate cancer and breast cancer. Flax is the richest source of lignans, providing 75–800 times more lignans than most other plant sources, according to the Flax Lignan Information Bureau (www.flaxlignaninfo.com). Lignans are phytoestrogens that can have a balancing effect on hormones and exhibit strong antioxidant activities.
Thompson et al. (2005) showed that postmenopausal women with newly diagnosed breast cancer who ate 25 g of flaxseed-containing muffins/day for 32 days exhibited reduced tumor cell growth. A significant increase in mean urinary lignan excretion was observed in the flaxseed group as well. The researchers concluded that dietary flaxseed has the potential to reduce tumor growth in patients with breast cancer.
Denmark-Wahnefried et al. (2004) put men undergoing repeat prostate biopsy on a low-fat diet for 6 mo. The diet included 30 g of flaxseed/day. The results showed decreased growth rates of benign prostate tissue and decreased levels of prostate-specific antigen.
The main lignan in flaxseed is secoisolariciresinol diglucoside (SDG). Acatris Inc., Minneapolis, Minn. (phone 952-920-7700, www.acatris.com), offers a standardized lignan extract from flax, LinumLife® that provides 20% SDG. LinumLife Extra is a product extension, providing 50 mg of lignans/250 mg.
by Linda Milo Ohr,
Contributing Editor, Denver, Colo. 
[email protected]
References
de Nigris, F., Williams-Ignarro, S., Lerman, L.O., Crimi, E., Botti, C., Mansueto, G., D'Armiento, F.P., De Rosa, G., Sica, V., Ignarro, L.J., and Napoli, C. 2005. Beneficial effects of pomegranate juice on oxidation-sensitive genes and endothelial nitric oxide synthase activity at sites of perturbed shear stress. Proc. Natl. Acad. Sciences 102: 4896-4901.
Demark-Wahnefried, W., Robertson, C.N., Walther, P.J., Polascik, T.J., Paulson, D.F., and Vollmer, R.T. 2004. Pilot study to explore effects of low-fat, flaxseed-supplemented diet on proliferation of benign prostatic epithelium and prostate-specific antigen. Urology 63: 900-904.
Martin, J., Wang, Z.Q., Zhang, X.H., Wachtel, D., Volaufova, J., Matthews, D.E., and Cefalu, W.T. 2006. Chromium picolinate supplementation attenuates body weight gain and increases insulin sensitivity in subjects with type 2 diabetes. Diabetes Care 29: 1826-1832.
Preuss, H.G., Echard, B., Polansky, M.M., and Anderson, R. 2006. Whole cinnamon and aqueous extracts ameliorate sucrose-induced blood pressure elevations in spontaneously hypertensive rats. J. Am. Coll. of Nutr. 25(2): 144-150.
Rosenblat, M., Hayek, T., Aviram, M. 2006. Anti-oxidative effects of pomegranate juice (PJ) consumption by diabetic patients on serum and on macrophages. Atherosclerosis 187: 363-371.
Sumner, M.D., Elliott-Eller, M., Weidner, G., Daubenmier, J.J., Chew, M.H., Marlin, R., Raisin, C.J., and Ornish, D. 2005. Effects of pomegranate juice consumption on myocardial perfusion in patients with coronary heart disease. Am. J. Cardiol. 96: 810-814.
Thompson, L. U., Chen, J.M., Li, T., Strasser-Weippl, K., and Goss, P.E. 2005. Dietary flaxseed alters tumor biological markers in postmenopausal breast cancer. Clin. Cancer Res. 11: 3828-3835.
Udani, J. 2006. Novel method of lowering the glycemic index of white bread using a proprietary white bean extract. StarchLite Web site, www.starchlite.com/studies/jan2006_1.html, Jan.
Watras, A.C., Buchholz, A.C., Close, R.N., Zhang, Z., and Schoeller, D.A. 2006. The role of conjugated linoleic acid in reducing body fat and preventing holiday weight gain. Intl. J. Obesity advance online publication, Aug. 22. www.nature.com/ijo/index.html, doi: 10.1038/sj.ijo.0803437.