Americans snack nearly as often as they eat regular meals. On any given day, nearly 90% of United States consumers have a snack, a figure comparable to those who eat breakfast (75%), lunch (88%), and dinner (96%), according to research from the International Dairy-Deli-Bakery Association, Madison, Wis. (phone 608-310-5000, www.iddba.org). Combine the frequency of snacking with the growing trend toward leading healthier lifestyles, and it is no wonder that there is an increasing demand for healthy snacks.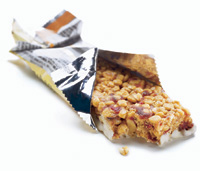 "Consumers are expecting more health out of snacks, only so long as health doesn't compromise taste," says Laura Crosby, Senior Marketing Manager, Snack and Cereal Category, Cargill, Minneapolis, Minn. (phone 952-742-4068, www.cargill.com). But what exactly is a healthy snack? She cites a recent Packaged Facts report on snack food trends in the U.S., "Currently the market for 'healthy' snacks includes products that are or deliver the following benefits: organic/ natural, diet/weight management attributes, fortified/functional (e.g., high fiber, omega 3)." Additionally, she adds, consumers want less trans fatty acids and fewer calories in snack foods.
The manufacturers of snack foods such as chips, bars, and crackers are taking advantage of the demand for both health and convenience. Hain Celestial Group, Boulder, Colo. (phone 800-434-4246, www.hainpuresnax.com), introduced Soy Munchies, an excellent source of calcium that is high in protein and low in fat and calories. Kellogg Co., Battle Creek, Mich. (phone 269-961-3799, www.smartstart.com), introduced Smart Start® Healthy Heart Bars containing oat bran and potassium and a low sodium content to help lower blood pressure and cholesterol.
Heart health and weight are two areas often targeted by snacks, but others are gaining recognition. "We are seeing a lot of requests and inquiries on products and formulations for products that target skin health, digestive health, stress relief, energy boosters, and calming nutrients," observes Mark Fanion, Communications Manager, Fortitech, Schenectady, N.Y. (phone 518-372-5155, www.fortitech.com).
Crosby adds that they are receiving an increasing number of requests for snacks that have balanced nutrition, including more fiber, whole grains, protein, healthier oils (low in saturated and trans fatty acids), and more complex carbohydrates. "The health benefit for balanced nutrition is simply that—a snack that will provide the energy to help people get through their busy days, while also satisfying hunger," she says.
--- PAGE BREAK ---
The ingredients that boost the health appeal of snacks range from fruits to vitamins to more in between. "A few of the high-demand ingredients being used are taurine, antioxidants, and lycopene, which fulfill the desire of consumers for added energy and healthier options," notes Fanion. "Soy, in particular, is still growing in popularity. Yogurt and oils containing DHA/EPA as well as mixed tocopherols and antioxidants, which have a health benefit, also have solid market potential in the coming years. In addition, phytonutrients and sterols are becoming popular additions to many emerging products, maintaining taste, texture, and stability. Other ingredients poised for growth include fibers, proteins, soy isoflavones, coenzyme Q10, plant extracts, and probiotics."
The following is a look at some of the ingredients that promote healthy snacking.
Fruits
Fruits, from the exotic açai berry to the more traditional cranberry, are healthy snacks on their own, in addition to being used in dried fruit snacks, trail mixes, and bars. They provide not only vitamins and minerals, but also phytochemicals and antioxidants. Halvorsen et al. (2006) showed that on the basis of typical serving sizes, blackberries, strawberries, cranberries, raspberries, and blueberries were among the fruits topping a list of foods and beverages commonly consumed in the U.S. ranked for their antioxidant levels.
• Cranberries. Researchers gathered at the Cranberry Health Research Conference convened by the Cranberry Institute in November 2006 to discuss on-going research on the mechanisms of action of cranberry phytochemicals on several cancers and cardiovascular disease, cranberry polyphenols as effective anti-inflammatory compounds, and the effects of cranberry consumption on cholesterol levels.
• Açai. The açai berry has been shown to have powerful antioxidant properties, especially for superoxide and peroxyl scavenging. Schauss et al. (2006) measured the inhibition of reactive oxygen species formation in freshly purified human neutrophils and showed that antioxidants in a freeze-dried, patent-pending form of this berry, OptiAcai™ from K2A LLC, Provo, Utah, were able to enter human cells in a fully functional form and perform an oxygen-quenching function at very low doses.
• Cherries. According to the Cherry Marketing Institute, Lansing, Mich. (phone 517-669-4264, www.cherrymkt.org), tart cherries are high in fiber and potassium and contain iron, magnesium, vitamins C, B-6, and E, and folic acid. Studies have also shown that tart cherries contain a natural combination of 17 antioxidants, including melatonin, anthocyanins, and superoxide dismutase.
• Pomegranate is enjoying consumer attention, thanks in part to research indicating that it is rich in polyphenols and may be good for the heart. For example, Rosenblat et al. (2006) suggested that pomegranate juice could offer heart-health benefits for diabetics.
--- PAGE BREAK ---
Protein and Fiber
Protein and fiber promote satiety, weight management, muscle building, and heart health. Thanks to innovative advances in food science, food formulators can add the health benefits of soy and whey proteins and fiber, along with a crispy texture to snack food products. Here are a few examples.
In November 2006, Cargill introduced Fiber Krunch™ crisp, a proprietary ingredient system that delivers great taste, crunchy texture, and high fiber content in many applications, such as extruded snacks, bars, cereal, confections, trail mix, and clusters. The extruded crisp contains 35% dietary fiber, allowing food manufacturers to easily achieve "good" to "excellent" dietary fiber source claims in many applications. Fiber Krunch, whose ingredients include modified food starch and chicory fiber, resembles crisped rice. The company also offers Prolisse™ Soy Crunch™ soy protein crisp, which is available in a range of protein levels and sizes, according to Lori Fligge, Director of Media Relations for Cargill ([email protected]).
Grande Custom Ingredients Group, Lomira, Wis. (phone 800- 772-3210, www.grandecig.com), offers WPCrisps®, a combination of high-quality whey protein with natural carbohydrate in a patented extrusion process. The company recently announced that it can customize the whey protein crisps with protein levels from 25% to 80%, as well as customize the color, flavor, and size/shape to suit a formulation.
Zumbro River Brand Inc., Owatonna, Minn. (phone 507-446- 9097, www.zumbroriverbrand.com), recently introduced a nutritious snack base made from potato and soy flour with protein levels of 18–45%. The product is low in fat, has an appealing crunchy texture, can be produced in a variety of shapes, and lends itself well to a variety of flavors.
Vitamins and Minerals
"A conservative approach of adding nutrients into snack foods and confectionery products is an ideal way to improve nutrient density," says Fortitech's Fanion. "Moderation is key. Rice-based snacks, for example, are an excellent vehicle to add vitamins like B-1, B-2, B-3, B-5, and E, to name a few."
Over the past few years, Fortitech has formulated custom premixes for many different snack products. For example, a fortified slice apple is an excellent way to add vitamin C and other nutrients to a finished product. An enriched pudding contains moderate amounts of antioxidants and energy-boosting nutrients. Fanion cites several examples of interactions that should be considered when fortifying foods, including snacks.
--- PAGE BREAK ---
Vitamin C has been shown to improve the absorption of iron. Other studies have indicated that iron and other trace minerals increase the rate of ascorbic acid destruction. This reaction was dependent on there being sufficient moisture to facilitate the mobility of the trace mineral ions. Calcium has also demonstrated an inhibitory effect on iron absorption.
The presence of vitamin E has been shown to increase the bioavailability of vitamin A. One explanation of this is that tocopherol as a liquid-phase antioxidant stabilizes vitamin A in the gastrointestinal tract.
Degradation products of vitamin B-1 have also been shown to accelerate the rate of degradation of folic acid and vitamin B-12. Whereas the presence of iron salts in solution seems to have a stabilizing effect on vitamin B-12. In solutions of the B vitamins, riboflavin can cause oxidation and consequent loss of thiamin. If ascorbic acid is included in the solution, the reaction does not occur. This observation is of practical significance in cases where solutions of water-soluble vitamins are sprayed on foods during the fortification process.
Whole Grains
The health benefits of whole grains can be attributed to the fact that they are a rich source of phytochemicals, bran, fiber, minerals, and vitamins. Whole grains are not only heart healthy but also show promise in promoting weight management and reducing the risk of other diseases such as cancer and diabetes. Whole-grain crackers, chips, and bars are increasingly appearing on the market shelves. Such products include Pomegran™ Cherry and Orange Chocolate Optimum™ Energy Bars from Nature's Path Foods, Richmond, B.C., Canada (phone 888-808-9505, www.naturespath.com). The bars are an excellent source of whole grains and contain organic oats.
Recently, Horizon Milling, Minneapolis, Minn. (phone 800-742-4506, www.horizonmilling.com), introduced two whole grain–based ingredients that will aid in formulating healthier snacks. GrainWise™ Wheat Aleurone is an all-natural ingredient derived from the aleurone layer of the wheat kernel. It contains 45% dietary fiber and is a concentrated source of essential vitamins, including B-6, niacin, and E, as well as important minerals such as potassium, magnesium, calcium, iron, and zinc. A typical inclusion ratio of 20% gives foods a nutrition profile similar to that of whole wheat. WheatSelect ™ white spring whole-wheat flour delivers the health benefits of whole-grain nutrition but with a lighter color, softer texture, and milder taste that consumers prefer.
by Linda Milo Ohr,
Contributing Editor,
Denver, Colo. 
[email protected]