Since IFT has been polling members on "hot topics" for inclusion in our Annual Meeting program, I suggest that we look no further than food packaging. In perusing the 200+ papers, presentations, posters, and assorted other events with the appellation of packaging, I noted the key words and phrases sustainability, nanotechnologies, biodegradability, omega-3 fatty acids, flavor scalping, edible coatings, safety, migration, active, and intelligent—all reflective of the headlines of today's many packaging summits.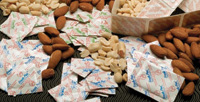 So look no further, IFT leaders, than those sessions on food packaging to satisfy our colleagues with information on the contemporary research and development of packaging. Let's look at some of the packaging-related papers, sessions, and exhibits at this year's IFT Annual Meeting & Food ExpoSM.
Packaging Course and Symposia
Preceding the main events is a two-day short course on Friday and Saturday, July 27–28, on "Food Packaging for the Non-Packaging Professional," taught by Claire Sand of Ameripak, Maria Rubino of Michigan State University School of Packaging, and me.
In the Scientific Program beginning on Sunday, IFT's highly active Food Packaging Div. has as usual assembled a multitude of important sessions, both oral and poster, designed to inform and enlighten, and other Divisions are also presenting various papers on food packaging.
• Critical Issues. The Food Packaging Div.'s Sunday afternoon symposium, "Packaging: MAP, Recycling, and Migration from Resins" (session 049) is a smart way to learn about these critical issues in contemporary food packaging. Under the stewardship of Sara Risch and Carol Harper, five international papers are on the schedule, including one from the Food and Drug Administration on regulatory updates and reviews regarding use of recycled plastics in food packaging—a recurring theme as we strive to meet the elusive goal of "sustainability."
The FDA guidance document is discussed in the perspective of incidental chemical contamination in "super clean" polyester and other processes. Included is information on the application of diffusion and migration models for calculating dietary exposures to incidental chemicals, certainly a hot topic today.
--- PAGE BREAK ---
From Norway, Morten Sivertsvik will relate soluble gas (carbon dioxide) stabilization (SGS) to muscle foods' product quality retention, including pathogen reduction, and package size reduction. From Canada comes an intriguing paper on pectin-based emulsion coating, also for shelf life extension, of mangos. And a paper from Iran discusses vapor-phase migration into liquid food from plastic, including from closure liners.
• Nanocomposites. On Tuesday afternoon, Kay Cooksey of Clemson University and Haiqiang Chen of the University of Delaware oversee the Food Packaging Div.'s session 206, "Antimicrobial and Nanocomposite Films"—two topics that are headlining world food packaging. On this program are papers by both Cooksey and Chen and by others on chitosan-based antimicrobial films, one on pectin/ nisin film from the U.S. Dept. of Agriculture's Howard Zhang and Kevin Hicks, a paper on the benefits to be derived from nanocomposites in gelatin film by Scott Whitehead of Clemson University, and one on lactoperoxide antimicrobial in alginate films.
"Storage Stability of Foods Packaged in LDPE Films Embedded with Nanoclay" will be presented on Sunday afternoon during the Food Engineering Div. poster session (session 008) by a team from the University of Missouri-Rolla, Auburn University, and the U.S. Army Natick Soldier Center. And "Effect of High Pressure and Heat Processing on the Barrier Properties of Nylon 6, Nylon/EVOH, and Nylon/Nanocomposite Materials" will be presented on Tuesday morning during the Food Packaging Div. poster session (session 143) by Mel Pascall and coworkers from Ohio State University.
Perhaps the most significant paper in the entire Scientific Program is one by Michigan State University's Susan Selke on "Ethics and the Use of Nanotechnology in Food Packaging" during a symposium on "Making Ethics Visible: Participation, Governance, and Corporate Social Responsibility" (session 202) on Tuesday afternoon.
And USDA's Tara McHugh is presenting a review paper on nanotechnologies as applied to food packaging during the IFT International Food Nanoscience Conference (session 229) on Wednesday.
--- PAGE BREAK ---
• Active Packaging. The Tuesday morning poster session (session 143) includes a Japanese offering on antimicrobial films derived from blue marlin muscle protein; active packaging to reduce cholesterol; controlled release of "natural" and other antioxidants by Rutgers University's Kit Yam and Karen Schaich; and "Functionalization of Food Contact Polymer Surfaces for Active Packaging Applications" from Cornell University's Joe Hotchkiss and his collaborator. It is interesting to note that active packaging—so visible at previous IFT Annual Meetings and in the food packaging industry—was not regarded as a "hot topic" by organizers this year.
• Sustainability. Late Monday afternoon, the ubiquitous Sand and Brody will again team up for a panel discussion on "Food Packaging and the Quest for Environmental Sustainability" (session 102), one of at least three sessions devoted to this subject. With Cryovac's Ron Cotterman, we will discuss the impact that sustainability goals will have on food packaging and the inevitable complexities of meeting protection requirements and environmental targets based on contemporary package materials and structures, as well as the food distribution infrastructure. Although food packaging plays a tiny role in environmental insult, it is a highly visible and frequent target in the current sustainability movement.
Two symposia on Monday morning are devoted to sustainability. Session 071, "Sustainability Considerations in the Food Industry," will include another appearance by me plus Nancy Nagle, from sustainability leader Wal-Mart, who will discuss sustainability from the retailer's viewpoint. In session 086, "Sustainability Tools for the Food Industry," Nagle will review her company's initiatives, such as the well-publicized packaging scorecard, in "Sustainable Packaging—How Can We Change the World and Sell Products?"
• Packaging Regulations. Mark Itzikoff of Olsson, Frank and Weeda will host and speak at a Monday afternoon panel discussion, "Is There Life After Food Contact Notification? What Are the Legal/Regulatory Alternatives to Food Additive Petitions for New Food Packaging?" (session 122). Among the subjects are chemical and toxicological data requirements for threshold of regulation exemptions and alternatives to food contact notifications.
• New Products and Technologies. Tuesday morning's New Products & Technologies Session, "Innovations in Processing" (session 181), is highlighted by a paper, "In-Container Food Sterilization in Minutes," on the Shaka™ post-packaging sterilization process employing agitation produced by reciprocating actuation. Presented by representatives from Packaging Technologies and Inspection (PTI), the French Steriflow, and British Zinetec, the paper claims that the system thermally sterilizes food 20 times faster than static retorts, e.g., 10 minutes total cycle time for metal cans, glass jars, and retort pouches and trays. Typical speeds are for 400-g cans, with the further claim that foodservice cans are similarly benefited. PTI is also presenting "Food Pouch Inspection—Airborne Ultrasound Technology for Better Process and Quality Control."
--- PAGE BREAK ---
Poster Sessions
Among the many subjects to be presented during the Food Packaging Div. poster session on Tuesday morning (session 143) are "Antifungal Activity of Chitosan-Based Films," a paper on gas permeability of chitosan film and effect on oxidation of frozen salmon, and another on microbiological shelf life evaluation of yogurt based on barrier-treated polypropylene packages of different oxygen transmission rates.
Bruce Harte and his colleagues at Michigan State University are offering two presentations, one on extending refrigerated shelf life of fresh-cut asparagus with MAP and vacuum skin packaging (VSP) and another on the same product in microwavable trays. And Natick Labs will present a paper on deterioration of broccoli in MAP.
Mel Pascall and his colleagues at Ohio State University are presenting "Development of a Mathematical Model to Predict the Shelf Life of Modified-Atmosphere-Packaged Soy Bread," which, we hope, is applicable to other breads. And the University of Florida's Bruce Welt and his students present "Design of Modified Atmosphere Packaging for Fresh-Cut Produce with Microperforated Films." A presentation from Turkey's Kemal University on MAP of carrots is also scheduled.
Perhaps at some future IFT Annual Meetings, recognition of the significance of MAP—which encompasses a greater volume of food in this country than either canned or frozen foods—will lead to sessions dedicated to this terrific technology so that attendees need not trek from one venue to another to gain the latest information.
But let us not tarry as we note a presentation on moisture uptake in multilayer ethylene vinyl alcohol (EVOH) coextruded and analogous multilayer structures in retort food sterilization from Washington State University and EVAL Co. of America. In reality, this paper encompasses the kinetics of moisture uptake at high temperature and relative humidity.
--- PAGE BREAK ---
If you seek a controversial subject, look no further than "Safety Assessment of Polycarbonate Bottle in Microwaving" from Catholic University in Taiwan. The paper addresses measurements of extraction of polycarbonate precursor bisphenol A from the plastic in the presence of hot coffee, tea, and water after microwave heating. Apparently, the core issue of the linkages, if any, of bisphenol A to human health is not discussed in detail and might perhaps represent a "hot topic" for 2008.
And for those interested in package seal integrity, the Tuesday Food Packaging Div. poster session (session 143) includes another presentation from Norway's Morten Sivertsvik on retort-pouch sealing quality (also in part utilizing PTI ultrasonic scanning equipment) and one from the Illinois Institute of Technology and FDA on nondestructive high-voltage detection of pinholes in flexible pouches.
Sunday afternoon's Education Div. poster session (session 004) is highlighted by an intriguing paper by Cal Poly's Maria Omary entitled "Using a Learner-Centered Approach to Build Student Confidence in Food Packaging Knowledge and Skills."
On Monday morning, the Food Microbiology Div.'s poster session (session 058) includes a paper from the University of Delaware on the application of nisin coating of plastic films to control Listeria in vacuum-packaged, cold-packed smoked salmon.
The Dairy Foods Div. poster session (session 054) on Monday morning includes a presentation from Ohio State University on shelf life extension of cottage cheese by vacuum packaging plus natural antimicrobials. And the Citrus Products Div. poster session (session 140) on Tuesday morning contains a presentation on MAP of ready-to-eat grapefruit sections.
A Challenge for Next Year
Those of us who study the indispensable world of food packaging know that the IFT Annual Meeting is the venue to enhance our information and knowledge base and interact meaningfully with our colleagues. This brief preview of selected papers and sessions related to packaging cannot begin to describe the energy and data that flow and sparkle from podiums and posters and their enthusiastic authors. It only hints at the exciting prospects for future food packaging that are percolating and the people who are going to implement the concepts being aired at this year's Annual Meeting. The challenge is to do an even better job of unifying and integrating food packaging into next year's Annual Meeting in New Orleans.
--- PAGE BREAK ---
Exhibits
Here are brief descriptions of some of the processing-related exhibits at this year's Food Expo:
• Container-emptying system, Air-Evac®, increases the amount of fluids such as mayonnaise, caramel, ice cream mixes, and other high-viscosity products that can be extracted from bag-in-box packages. The hands-free system differs from conventional methods of emptying liquid from bag-in-box liners by replacing the volume of liquid pumped out of the inner chamber of the bag with plant air introduced to chambers on the outside of the bag. The inflating air chambers push the liquid content toward the bag outlet. Air volume is increased as the liquid content decreases. As product pools around the drain opening, it can be easily pumped out to achieve very low residual levels, virtually eliminating waste. The plant air does not contact the bag contents, preventing product contamination. The Air-Evac liners are available for use with the Arena 330 Shipper™ and can fit a variety of intermediate bulk containers. A top-transfer pump mechanism, the AES-3, helps maximize the performance of the liner. A. R. Arena, www.arenaproducts.com, Booth 365
• Oxygen-sensing patch, RedEye (photo above), noninvasively measures oxygen level in food and beverage packages. The patch is integrated into the inside of the package during the packaging manufacturing process. When used with a blue-light-emitting diode and a fluorometer, it quantitatively reports the amount of oxygen in the package. The patch consists of a sensor coating formulation trapped in a sol-gel matrix, immobilized and protected from the package contents. When an optical probe connected to a blue LED is pointed at the part of the package where the patch has been applied, the light causes the formulation to fluoresce, and the fluorescence is measured by a multifrequency phase fluorometer and related to the partial pressure of oxygen. The patch can be manufactured with any of three oxygen sensor coatings. Ocean Optics, Inc., www.oceanoptics.com, Booth 4161
• Sorbent technology helps maintain product freshness. This is especially relevant as major food manufacturers and retailers extend their product offerings to include organic foods, which have inherently longer distribution times and thus need extended shelf life without using preservatives. Oxygen-absorbing technology, such as the FreshPax® oxygen absorber, protects foods against spoilage, mold growth, color change, rancidity, loss of nutritive values, and loss of quality. It irreversibly absorbs oxygen inside sealed packaging to less than 0.01% and maintains this level. In addition, moisture adsorbers control moisture content within a package and keep dry foods dry and crisp; new "moisture management" formulations can hold the humidity within the package constant and maintain the water activity of the product while limiting condensation—an important step forward for moist and semi-moist foods. Multisorb Technologies, www.multisorb.com, Booth 1972
• Contract packaging is available for foods, nutraceuticals, supplements, pet foods, and other products. More than 50 production lines are available for packaging dry and liquid products in packets, cans, bottles, and tubes. They include horizontal and vertical form/fill/seal packaging lines, can seamers, automatic folding cartoning lines, dry-product bottling lines, tube-filling lines, tablet and capsule packaging lines, hot- and cold-fill rotary liquid bottling lines, plus liquid processing production lines and support equipment. American Copak Corp., www.americancopak.com, Booths 665, 1247
• Sustainability issues will be discussed and demonstrated at Tetra Pak's exhibit. The commitment to sustainability is indicated by the company's incorporation of several key components of sustainability—recyclability, renewability, and resource management—into its cartons. Although no package today is 100% sustainable, the company's cartons are among the most sustainable liquid food packages on the market, while also providing taste, freshness, and convenience. The company's brochure, "Sustainability goes much deeper than recycling," will be available at the booth. Tetra Pak, www.tetrapak.com, Booth 3332
by Aaron L. Brody, Ph.D.,
Contributing Editor,
President and CEO, Packaging/Brody, Inc., Duluth, Ga.
[email protected]