Even though our world appears very diverse, many of our core issues remain the same. The economy, health, job security, and global warming are the major concerns cited by consumers worldwide (ACNielsen, 2007a). Two-thirds feel that the pressure to look good is much greater than it was in their parents' day, while 60% of women worldwide agree that 60s are the new "middle age" (ACNielsen, 2007b). Two in five consumers around the world want their government to invest in environmentally friendly and energy-saving solutions.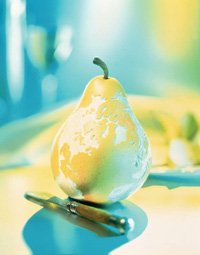 Health, convenience, private label, and, of course, taste, remain the major drivers of the global food industry. The food categories with the fastest overall growth worldwide in 2006, according to ACNielsen (2006a), were drinkable yogurt (up 18% in global sales), fresh soup/bouillon (18%), fresh herbs/spices (17%), fresh fish/seafood (12%), alcoholic "cider" (11%), fresh ready-to-eat salads (10%), frozen meal starters (10%), baby formula (10%), and dairy-based drinks (10%).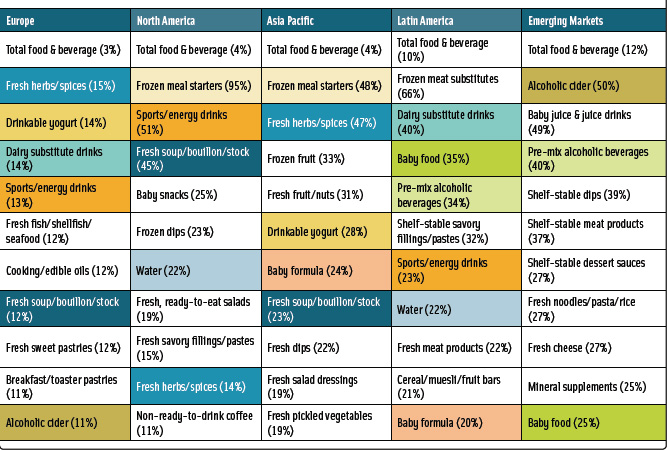 Coffee, cooking sauces/marinades, frozen fruit, water, ice, meat substitutes, fresh fruit and nuts, sports/energy drinks, fresh complete ready meals, baking/cooking aids, baby snacks, and fresh dips also showed significant growth above the global average (Table 1).
Most important, we can all learn from our international neighbors. For example, Japan has one of the highest life expectancies, and 21% of its population are already age 65 and older as of April 2007. So it is not surprising that Japan has set a rapid pace in the functional food/beverage area. Likewise, Europe is a strong barometer for environmental/humane issues and organic/natural foods.
After reviewing hundreds of products and dozens of trends, this article will present innovative new product concepts, positionings, flavors, and foods sure to catch consumer attention around the world.
Flavorable Directions
While flavor preferences often dramatically differ by culture and/or country, a number of international flavor trends, concepts, and product positionings are well worth watching, particularly in the snack, dairy, beverage, and confectionery segments, where flavor is a key differentiator.
Mealtime flavors—savory flavors that represent a mouthwatering recipe —are one of the hottest new arrivals on the international snack scene, although Innova (2007) reports that traditional flavors—salted, "original," cheese, nut, onion, potato, and fruits/vegetables—still dominate new snack product activity around the world. In the United Kingdom, Walker's Sensations chips/crisps come in such flavors as Slow Roasted Lamb & Moroccan Spice, Thai Sweet Chili, and Vintage Cheddar & Red Onion Chutney.
With 39% of new global ethnic products launched in 2006 containing Asian flavors, according to Innova (2007), it's not surprising that Far Eastern snack flavor combinations such as Thai Sweet Chili & Lemongrass, Wasabi & Soy, and Peking Duck & Hoi Sin Sauce are grabbing the global spotlight.
Authenticity and provenance are other emerging flavor directions for snacks and ready meals (i.e., convenient fresh and frozen meals). Watch for savory snacks made with a "sweet blend of Tuscan spices & herbs," Greek-style yogurt and mint flavor, or more-exotic-destination flavors such as Moroccan Chicken flavored chips. And snack flavors that provide contrasting taste sensations, such as Balsamic Vinegar & Mint and Cool Yogurt & Cucumber crisps are repeatedly getting the nod.
--- PAGE BREAK ---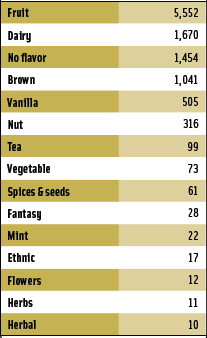 Vegetables, mint, tea, flowers, and herbs are exciting new flavor trends in the dairy sector (Table 2). In Italy, Yomo's Frutta e Verdura contains fruits and vegetables. The yogurt comes in Strawberry and Tomato, Pineapple and Fennel, and other flavors. In the Netherlands, Friesche Vlag Milk and Fruit comes in a Cherry, Tomato and Pumpkin combination. Corn, spinach, cucumber, and carrot are other popular vegetable dairy flavor additions. Moreover, these veggie-containing products are positioning themselves as substitutes for a meal.
Low-fat yogurt comes in lemon and mint flavors in Italy, with green tea and pieces of lychees in Spain, and with roasted sweet potato and coconut fruit in China. In Portugal, Nestlé used a healthy combination of green and white tea for its Longa Vida Bem Estar milk drink, which comes in Melon and Green Tea and Fig (another rising flavor trend) and White Tea flavors.
Coffee is another flavor crossing into milks and yogurts. Germany's Caffreddo Yogurt Espresso yogurt from Schwälbchen Molkerei Jakob Berz is made with real espresso, and coffee is now a chewing gum flavor in France.
Drinkable cheese is a very exciting new beverage concept emanating from Japan. Bocca Ltd.'s Drink Cheese is a fresh, natural, drinkable cheese made from fresh milk. At the same time, Lassi, an ancient dairy-based Indian beverage made with yogurt, salt, water, and spices, and now with fruit, is catching on worldwide. Coop Fine Foods offers Green Tea Lime Lassi with lime juice and green tea powder in Switzerland.
Flavored butters are a welcome new dimension. In Germany, retailer Plus sells Rela GourmetButter in a range of flavors, including Mild Mustard Seed, Tomato and Parsley, and Black Olive. In France, one healthy spread is enhanced with a hazelnut flavor.
Chocolate, sweet chili, mushroom, wine, vegetables, and cucumber are among the interesting flavors moving into cheese. In the Philippines, Kraft extended its Eden Cheese spread line with a Hotdog flavor.
Using flowers as flavors is another fast-emerging trend. In Spain, Danone's Vitalinea yogurt line has gone floral with the advent of Mango and Orange Blossom and Strawberry and Rose flavors. In Austria, Red Bull's Carpe Diem line of Botanic Waters makes great use of hibiscus, dandelion, marigold, passion flower, rose petals, and lime flowers. In Malaysia, Seasons' Rose Flavored Soy Drink is well established. In Japan, Nakazawa offers Rose Bouquet, a yogurt with rose petal sauce.
Scented confectionery is another exciting concept. In Japan, Kanebo Foods markets a crunchy functional candy rich in collagen, vitamin C, and hyaluronic acid that is flavored with linalool from citrus oil. When it is eaten, the person excretes a rose or lemon aroma for 30 minutes. The candy also acts as a perfume alternative.
Strong dark chocolate continues to emerge as the flavor preference in the global confectionery arena, and the source of the cacao bean becomes an even more important flavor differentiator. Sentis' premium Genevier Rich Chocolates touts that the sources of its fine chocolate is São Tomé in Africa and Java in Indonesia.
--- PAGE BREAK ---
Surprisingly, Colombian, Kenyan, etc., are about as far as coffee companies have gone in labeling their beans' origin, and most coffees remain blends. Medellin's Secret, a premium coffee sourced from one plantation in the Colombian mountains, was introduced into the Dutch market. Could non-blended coffees be far away?
Apple, plum, banana, mango, raisin, apricot, strawberry, pineapple, and fruit blends lead the list of flavors for the 1,300 new fruit snacks launched globally from January 2006 to May 2007, according to Mintel (2007). Honey recently received attention globally for use in fruit snacks, while green tea and sesame continue to thrive in Asia and cranberry and yogurt gain popularity in Europe.
Innova (2007) reports that citrus dominated new global introductions of flavored water earlier this year (January–April), followed by exotics, berries and summer fruit, orchard fruit, peppermint, and cucumber.
And if international interest in exotics is any indication, we're likely to see even more, less-known, superfruits beyond pomegranate and açai. Watch for goji berry, mangosteen, acerola berries, honeybush, buchu, yuzu, noni, caja fruit, guanabana fruit, and prickly pear to move into the spotlight. Innova (2007) reports that African flavors and health extracts will also see a dramatic rise in applications. Examples include baobab (Adansonia digitata), "the upside down fruit," a potent antioxidant with high levels of calcium, vitamin K, thiamin, nicotinic acid, and a natural prebiotic activity, and marula (Sclerocarya birrea), long used in liqueurs and candy in South Africa. Berry Co. offers a Goji & Passionfruit drink in the UK.
Cunning and Convenient
Around the globe, the demand for convenient meal solutions that don't compromise health, taste, or culinary adventure and for packaging developments that make meal preparation easier continues to accelerate, as does eating away from home.
The ready-meals market in Germany, France, the UK, Italy, and Spain was estimated by Datamonitor (2007) at €8.4 billion in 2006 (up 5% over 2005) and is projected to rise 18% to reach €9.9 billion by 2011. Germany is expected to enjoy the fastest growth, 44%, from 2006 to 2011. The UK is Europe's largest ready-meal market—€2 billion in 2006—reflecting the increasing number of adults dining alone.
Premium products with more-sophisticated recipes, using high-quality, fresh, natural ingredients—and those that are organic and/or lower in salt, fat, and calories—will enjoy the strongest growth. In the UK, Waitrose's new Deliciously Different line of chilled prepared meals for one are additive-, preservative-, and hydrogenated oil–free and offer at least one serving of vegetables; upscale recipes include Salmon Marinated in Ginger with Quinoa and a Pineapple Chili Dressing. Birdseye added Omega 3 Fish Fingers, and Sainsbury added five organic ready meals to its SO line in August 2007, and will introduce a Bistro line this fall.
Products that make preparation of fresh fruits and vegetables easier and/or deliver one or more servings of the day's fruit or vegetable requirements are increasingly in demand. Apéribilles in France is a fresh product consisting of mini-spuds and a sauce packet, easily microwaved as a snack or starter.
--- PAGE BREAK ---
Hero's Fruit2Day drink/shot in the Netherlands promises to deliver two of the 5-A-Day recommended servings for fruits and veggies. In Denmark, Scandic's Fruit2Go All Day Fruit Meal is a new, satiating, fruit-based drink with added natural fibers and milk protein that can replace a light breakfast or snack meal. Similarly, in the UK, Innocent's Breakfast Smoothie is a natural "breakfast thickie" yogurt, with oats, fruits, calcium, and probiotic cultures; it is sold with a wide straw for on-the-go appeal.
"Presentation" is a new and exciting global new product dimension. In France, La Fermiére offers Une Montagne de Plaisir yogurt in a package shaped like a mountain peak, with a layer of fruit at the summit. Instead of eating the yogurt out of the package, consumers turn it over onto a plate, and the fruit topping runs down the side of the yogurt, making a very attractive dessert. In Brazil, Lactalis sells its President butters in small upside-down "frilly" tubs designed to be opened so that the lid functions as the plate.
With explosive demand for on-the-go beverages, self-heating cans are a welcome innovation. Perkett's launched its line of self-heating drinks in Australia in April 2007, using OnTech's technology for self-heating drinks, soups, and shelf-stable foods. Innova (2007) reports that another self-heating concept using a metal rather than plastic exterior will appear on the market in Spain in October 2007.
Jatecx has launched Honcha-Green tea drink in Japan. The bottle cap contains green tea powder, which is released into the bottle when the cap is twisted. Amcor has developed a new single-serve pouch for alcohol that resembles a miniature bottle, with a tear notch for easy opening. Cadbury Schweppes chewing gums—Hollywood in France and Trident in Spain—are sold in a new spherical/globe pack containing 70 pieces of gum.
Bakx Foods' Rodje Sate Peanut portable meat snacks in the Netherlands include 10 sate 100% chicken sticks packed in peanut sauce in an easily microwavable container. Gyros and kebabs are also available in cafeterias. In Wales, Real Crisps' premium Chip n'Dip provides both chips and a dip, such as honey mustard, in a tray. 
Happy, Healthy Kids
Providing healthier foods for kids is fast becoming a government mandate around the world. In November 2006, 53 European health ministers endorsed the World Health Organization's charter to fight obesity, calling for laws to ban advertising of less-healthy foods to kids. Furthermore, while the UK has already banned advertising of foods/beverages high in fat, sugar, and salt on child-related programming and the Internet—and banned red dyes—its Food Standards Agency has recently advised parents of hyperactive children to eliminate foods with artificial colors and the preservative sodium benzoate.
Around the world, "healthier for my children" is fast becoming a strong motivation for purchasing organic/natural foods and products free from additives, preservatives, artificial colors, gluten, GMOs, hydrogenated oils, and artificial sweeteners and low in sugars, fats, and sodium (ACNielsen, 2006b). Just-food.com (2006) projects that global organic sales will reach $55.5 billion in 2007 and $96.8 by 2010. In South Korea, Maeil Dairy's new organic "children's cheese" is made from skim milk and contains iron, calcium, DHA, inositol, and various nucleotides good for brain, bones, teeth, and immunity.
Ensuring that children also get their daily requirement of fruits and vegetables is another universal problem. In France, Nestlé Foodservice's Davigel brand offers carrot-and-broccoli fusilli to schools; 100 g of the product delivers 62 g of fresh vegetables and more than 30% of the RDA for fiber.
--- PAGE BREAK ---
Around the world, pears, bananas, apples, and mandarins are popular fruits for children, especially when combined with cinnamon, vanilla, bay rose, mint, or lemon flavors. In France, Creno launched Merci Mama, a bag of fresh mini fruits in colorful bags for kids. Fruit-puree snacks and freeze-dried fruit chips such as organic apples are gaining in popularity. Creative dried fruit mix snacks are another strong direction.
Vegetable snacks for kids beyond carrots are another new direction. In the Netherlands, Rain Bow's Vita Minis for children are crispy fresh cocktail cucumbers, sweet snack capsicums, and honeysweet cherry tomatoes, and Hak's HaxMiXxx is a jar of traditional Dutch mixed vegetables cut into fun shapes for kids, with no preservatives or colors.
Products that improve kids' mental and vision development, brain function, learning, and cognition with DHA, omega-3s—and in the case of infants, ARA—are another hot opportunity. In Spain, Danone introduced Danonino Petite yogurt drink in mini shot bottles with omega-3 DHA for young children. In South Korea, Maeil Dairy's Organic Children's Cheese contains iron, DHA, inositol, and nucleotides, and Pasteur's Mother's Milks helps kids with exams.
But it's not all about health. In Italy, Nestlé's Motta Chûpate el Dedo Cacao Vaniglia ice creams are chocolate-covered ice cream novelties that fit on the thumb for fun, interactive enjoyment. In Japan, Snow Brand Milk Products makes a microwavable cheese fondue called Heidi A Girl of the Alps for kids; the lid of each cup has steam holes for safe handling when microwaved.
In Malaysia, King's Dairies markets chocolate-coated vanilla ice cream novelties in the shape of a donut. In Finland, Lahden Vientikerma yogurt and pudding dessert multipacks can be made into a farm house, with cardboard figurines of dairy cows included. In Poland, Rupp's Cheese offers a real cheese snack for kids, consisting of five bite-size cheese portions shaped like soccer balls, packaged in a small net bag. In the UK, Bel Group's Laughing Cow cheese spread comes in a squeeze bottle.
Looking Good
With 1.6 billion adults overweight and 400 million obese worldwide and with ACNielsen (2007c, 2004) reporting that in many Pan-Asian countries more people are trying to lose weight than are actually overweight, it is not surprising that the international weight-loss market is on fire (WHO, 2006).
Satiety is the hottest—and likely sustainable—global weight-control trend, with products also carrying claims for appetite suppression, lasting satisfaction, and sustained energy. Innova (2007) estimated the world market for satiety products at $7.5 billion in 2005.
Dannon's Shape Lasting Satisfaction yogurt in the UK utilizes a unique blend of fibers (guar gum) and protein. Dutch Campina's Optimel Control is a daily-dose milk-based shot made with DSM's Fabuless, a mix of oat and palm oils. Fabuless is also sold in France in small cups so it can be added to other foods.
Prebiotics are also being added to a wide range of foods, including cookies, ice creams and breakfast cereals, to increase satiety. Dutch Lipid Nutrition's PinnoThin suppresses appetite by stimulating the release of a satiating hormone, cholecystokinin. Unilever has a proprietary satiating extract from cactus, Hoodia gordonii.
Fat-burners and metabolism boosters, such as green tea's epigallocatechin gallate (EGCG) and alpha-lipoic acid, are another popular approach. In Japan, Ezaki Glico offers a calorie-controlled green tea ice cream. In Norway, CoffeeSLENDER is an innovation with an extract from green coffee beans that is said to help people lose weight by lowering peak blood sugar levels after meals. In the UK, Bio-Synergy offers Skinny Water with chromium and L-carnitine.
--- PAGE BREAK ---
Low-glycemic-index foods are another popular approach, particularly in Australia, where products may carry a low-GI symbol. Low-GI milk chocolate is available in the UK, low-GI honey in Mexico, and low-GI fruit drinks in Germany. Japan's Yakult Honsha created the first low-GI sports drink, Yakult Thorpedo.
Conjugated linoleic acid, which reportedly converts body fat into lean muscle mass, is also gaining momentum. In Spain, Corporación Alimentaria Peñasanta SA's NaturLínea milk, juice, and yogurt with CLA enjoyed sales equivalent to $400 million in its first two years (NNB, 2007a).
Other popular Asian weight-control products suppress post-meal sugar or oil absorption by the body. Oacac's weight-control chocolates in Japan contain mushroom chitosan, which blocks the absorption of fat and oil.
Foods and beverages that promote "inner beauty"—healthy skin, hair, and nails from the "inside out"—are another fast-emerging opportunity. Danone's Essensis yogurt, designed to "nourish your skin from the inside," contains omega-6/borage oil (a good source of gamma-linolenic acid), vitamin E, and green tea polyphenols. Innova (2007) estimates that Nestlé's Perrier Vittel's Contre Beauté water, which promises to preserve the beauty of your skin, will enjoy sales of €100 million this year.
Austria's Magic Fruits' Beauty Snacks contain dried fruits naturally high in antioxidants/phytochemicals that promote healthy skin. Innova (2007) reports that Coca-Cola and Nestlé (quarter owner of L'Oreal) are planning to introduce Lumaé, a new beauty drink, in 2008. Vitamin C, vitamin E, aloe vera, coenzyme Q10, beta-carotene, astaxanthin, collagen, and dimethylaminoethanol (DMAE) are among the global beauty food ingredients in the spotlight.
Functional Favorites
Although regulations differ across the globe, a bevy of nutritional ingredients and a strong focus on enhanced bioavailability are leading functional food marketers internationally to an exciting end list of health benefits.
Super-high-calcium cookies tempt kids in New Zealand, while high-calcium milks have gained popularity in France. In Australia, where "protein = power," high-protein milks are targeted to teens. In New Zealand, dairy products fortified with vitamins D and A and minerals promise greater bone strength for older women and athletes. Magnesium is a heart-healthy addition to milk.
Dairy products and eggs that are naturally high in omega-3s (from use of high-omega-3 feeds) are breaking new ground in Ireland, England, and Canada, and fortification with omega-3 in products ranging from extra virgin olive oil to frozen meals and baked beans continues to accelerate in the UK. Coming on strong are omega-6 and -9, omega fatty acids from flaxseed/plant sources, and alpha-linolenic acid (ALA) and gamma-linolenic acid (GLA), particularly in spreads.
Also gaining in popularity are fortified milks, beverages, and bars for pregnant women, such as Agusha's Agu-Mama drink in Russia, with vitamins, taurine, and omega-3s, and "follow-on" fortified milks for toddlers, such as Farley's with omega-3 and DHA in the UK.
Although it's rare to see a yogurt drink positioned for very young children, Nestlé launched in France Yoco Peach Flavored Drinking Yogurt in portions suitable for infants; the product, with a "cool sensation," has added calcium and vitamin D and is low in sugar. Danone's Mon Premier Danone au Lait infantile for babies 6–24 months old and Danonino Petit Genio with DHA for toddlers are other strong concepts.
--- PAGE BREAK ---
In Japan, iron is added to milk for extra energy, along with lacto-ferrin for increased iron absorption and an immunity boost. Coenzyme Q10, already one of the best-selling supplements in the United States for heart health, energy, and skin care, is flourishing in Japanese beverages and has begun to appear in Europe in products such as LactoTab.
Red and blue foods tout their anthocyanin content for its antioxidant and anti-inflammatory activity. In Japan, corn-derived indigestible dextrins are used in Dr. Drink's yogurt to slow sugar absorption into the blood, and casein phosphopeptide (CPP) and immunoglobulin G (IgG) are added to Stolle's milk powder to boost immunity.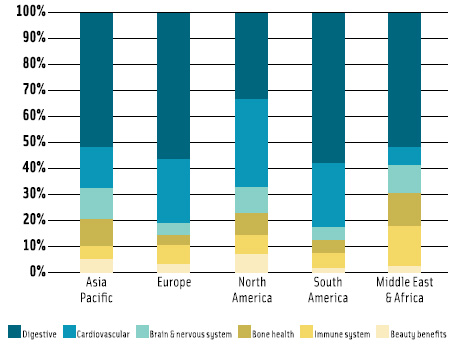 According to Mintel (2007), digestive health is set to become the biggest segment of the functional food market worldwide (Figure 1). While Dannon's Activia yogurt, focusing on probiotics/digestive health, had a very successful launch in the U.S., the bulk of the probiotic market remains overseas.
Yakult's Bifiene, among the first probiotic products to target a specific part of the gastrointestinal tract, is now available in Europe. Nestlé) and New Zealand's BLIS Technologies are targeting probiotics for infant nutrition. Pilgrim's Pride offers a new probiotic Cheddar cheese in the UK, and Cuinneog Farm offers ProBiotic butter in Ireland. Kagome's Labre is a pace-setting juice beverage—the first to use lactic acid bacteria from a plant source—with the same digestive and health benefits of dairy probiotic drinks (NNB, 2007).
Daily health shots in little bottles (<200 mL), many of which contain probiotics and/or offer cholesterol and blood pressure reducing benefits, are another hot category, with international sales reaching $2.1 billion in 2005, according to Innova (2007); 525 new shots were introduced in 2006. In Ireland, Glanbia/Yoplait's Essence daily-dose drinkable yogurt line is condition specific and includes shots designated Healthy Digestion, Lower Blood Pressure and Cholesterol, Lose Weight, and Immunity Boost.
Heart-healthy foods are the second-largest global category, with Japan and Spain among the strongest markets. In Spain, Danone's Danaten containing dairy peptides, calcium, and potassium is a new dairy blood pressure—lowering drink. In Germany, Emmi's Benecol 1 A Day yogurt lowers cholesterol using phytosterols. In Japan, Calpis's drink contains AmealS Peptide to reduce blood pressure, and Yakult's Pretio is a FOSHU-approved fermented milk for hypertension.
Prebiotics, nondigestible fibers that stimulate the growth of good bacteria in the colon, are increasingly being added to probiotic foods, called synbiotics. ASDA's PrO + pre-biotic with Omega 3 yogurt drink was recently launched in the UK, and Campina's VifitMulti Vezel yogurt with five varieties of fiber in the Netherlands.
Functional foods and beverages that enhance brain health, mental sharpness, cognition, and enhanced learning in children are the third-largest functional food category, according to Mintel (2006). Choline, lecithin, taurine, phosphatidylserine, guarana, ginseng, and flavanols are other frequently used brain boosters. Japan, which already has moved on to mood foods, usesB other key ingredients, such as theanine and GABA, found in Glico's Mental Balancing Chocolates.
With half of American adults suffering from sleep problems several nights a week and mounting concerns about the side effects of prescription sleep aids, keeping an eye on the fast-emerging sleep category is a very good idea. In Japan, product concepts range from a night-time yogurt with relaxing theanine and collagen for healthy skin to Midori Night Milk, taken from cows milked at night when their melatonin levels are 3—4 times higher.
And the demand for products free of gluten, wheat, dairy, and lactose continues to gain. In the UK, Gluten Free Foods offers Barkat gluten-free pretzels. In Scandinavia, suppliers are leading innovation in lactose-free products. In Germany, Omira's MinusL lactose-free dairy products include sour cream, and Muh Fit Milllch is a 1% fat lactose-reduced milk with calcium and 10 vitamins.
Opportunities Ahead
Today's emerging markets will become the core markets over the next few decades. By 2050, Western and Eastern Europe are projected to have 37 million fewer people than they do today, while Africa will have as many as 1 billion more. India will overtake China in terms of population before 2050, to become the two largest populations in the world. Needless to say, there are opportunities ahead.
by A. Elizabeth Sloan, Ph.D., a Professional member of IFT and Contributing Editor ofB Food Technology, is President, Sloan Trends & Solutions, Inc., P.O. Box 46119, Escondido, CA 92046 ([email protected]).
The author thanks Innova Market Insights (www.innova-food.com) for use of its presentations at the 2007 IFT Annual Meeting & Food ExpoSM, for access to its Innova Food & Beverage Database, monthly newsletters, and photos. The author also thanks Mintel International (www.mintel.com) for use of its IFT presentations.