A pet peeve of mine is hearing people say, "Fats are bad." In a current exercise video, the instructor nonchalantly comments that fats are not good for you. Comments like these can influence the typical consumer and sway them away from the benefits of fats and fatty acids.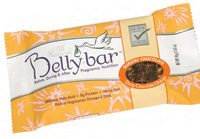 Consumers benefit greatly from fatty acids like omega-3 and conjugated linoleic acid, and from healthy oils like canola and soy. Even lipid-based nutritionals like phosphatidylserine offer benefits in cognition. Here is a brief look.
Omega-3 Fatty Acids
No longer viewed as a niche ingredient, omega-3 fatty acids are adding their health benefits to a diverse range of foods and beverages. Bimbo Bakeries USA, Fort Worth, Texas (phone 817-864-2500, www.bimbousa.com), recently introduced Oroweat 9 Grain Bread with docosahexaenoic acid (DHA) while NutraBella, Palo Alto, Calif. (phone 800-952-3559, www.bellyproducts.com), offers a Bellybar™ line of all-natural snack bars (50 mg of DHA/bar) for women. Both products contain life'sDHA™, offered by Martek Biosciences, Columbia, Md. (phone 410-740-0081, www.martekbio.com). Kemps LLC, St. Paul, Minn. (phone 800-322-9566, www.kemps.com), offers Kemps Plus Healthy Lifestyle Milk and Kemps Plus Healthy Kids Milk, both of which contain 32 mg of eicosapentaenoic acid (EPA) and DHA from fish oil/236 ml serving. Aristo Wellness Bars from Aristo Health Inc., Morristown, N.J. (phone 973-537-7972, www.aristohealth.com), provide 100 mg of EPA and DHA. Both products are fortified with MEG-3™ from Ocean Nutrition Canada, Nova Scotia, Canada (phone 888-980-8889, www.meg-3.com,www.ocean-nutrition.com).
The diversity in omega-3 fortified products can be attributed to the sophistication of ingredient offerings by omega-3 suppliers. For example, Martek Biosciences recently announced the availability of a new protein-free powder form of life'sDHA that features a minimum of 100 mg/g of DHA. It contains no soy or milk proteins, making it ideal for applications where allergens and labeling are concerns.
Denomega Nutritional Oils, Boulder, Colo., (phone 303-581-9000, www.denomega.com), recently introduced Omega-360™, offered to manufacturers as a co-branded product. National Starch Food Innovation, Bridgewater, N.J. (phone 800-743-6343, www.foodinnovation.com), offers Novomega™, an encapsulated menhaden oil, while AarhusKarlshamn, Sweden (phone +46-454-820-00, www.aarhuskarlshamn.com), offers Specidol, an omega-3 formulation stabilized through the exclusion of oxygen.
Research also continues to provide mounting evidence for omega-3's benefits. Using a diabetic rat model and cultured human cells, Ma et al. (2007) showed that DHA (Martek's life'sDHA) decreased an important risk factor for late-onset Alzheimer's disease. Research summarized in the March 2008 Fats of Life and PUFA Newsletter highlighted omega-3 fatty acids and their benefits for heart and motor skills. Wang et al. (2007) showed that after 8 weeks, fish oil supplementation (3 g/day) improved large arterial elasticity in overweight hypertensive patients, which allows for more rapid blood flow. In a study of 306 children at 7 years of age, Bakker et al. (2007) showed that those with the highest levels of DHA at birth had significantly higher total motor scores than children born with less DHA.
--- PAGE BREAK ---
Conjugated Linoleic Acid
Conjugated linoleic acid (CLA) is a fatty acid that boasts benefits in reducing body fat and increasing lean muscle mass. For example, in a recent meta-analysis, Whigham et al. (2007) concluded that at a dose of 3.2 g/day, CLA produced a modest loss in body fat in humans.
Gaullier et al. (2007) showed that CLA (Clarinol™, Lipid Nutrition, Channahon, Ill., phone 815-730-5200, www.lipidnutrition.com) not only helped reduce body fat, but it did so in specific areas of the body where fat loss is most desired. A total of 118 overweight and obese subjects were randomized into two groups supplemented with either 3.4 g/day of CLA or placebo for 6 months. The subjects taking the CLA showed a marked reduction in hip-waist ratio, as well as in overall body weight and body mass index. Reduction of the fat mass in these subjects was primarily in the abdomen and legs for women, and for men, mostly in the abdomen.
Another commercial form of CLA, Tonalin®, from Cognis Nutrition & Health, LaGrange, Ill. (phone 708-579-6150, www.cognis.com), also has studies supporting its fat-reduction benefits. For example, Pinkoski et al. (2006) looked at the effects of CLA supplementation (5 g/day) during resistance training in 76 healthy men and women. After 7 weeks, the subjects taking the CLA had greater increases in lean tissue mass and greater losses of fat mass and percent fat compared with those in the placebo group. Watras et al. (2007) showed that CLA supplementation (3.2 g/day) among 40 overweight adults significantly reduced body fat over 6 months and prevented weight gain during the holiday season.
Functional Oils
• Soybean oil is low in saturated fat, contains no trans fat, and is high in poly-and monounsaturated fats, according to information from the United Soybean Board (www.talksoy.com). It is also a source of omega-3 fatty acid, alpha-linolenic acid, vitamin E, and a number of phytosterols. Thanks to research and improved processing technologies, soybean oils with enhanced traits are now available for reducing trans fats and improving overall nutritional profiles of foods.
Vistive™ low-linolenic soybean oil from Monsanto, St. Louis, Mo. (phone 314-694-1000, www.monsanto.com, www.vistive.com), enables food companies to reduce or eliminate partial hydrogenation, so they can produce fried foods, baked goods, snack products, and other processed foods with lower or zero trans fats. Vistive low-lin soybeans contain less than 3% linolenic acid, resulting in a more stable soybean oil and less need for hydrogenation.
Asoyia® Mid Oleic Ultra Low Lin Soybean Oil from Asoyia, Iowa City, Iowa (phone 319-339-4645, www.asoyia.com), is produced from 1% linolenic soybeans. Asoyia is also the maker of Ultra Low Lin Soybean Oil, currently used in applications like crackers and baby foods.
Cargill, Minneapolis, Minn. (800-227-4455, www.cargill.com), offers Advantage™ Low Linolenic Soybean Oil, which delivers zero trans fat per serving without compromising shelf life. The company also offers the TransEnd™ line of zero trans solid shortenings developed for the manufacture of pastries, biscuits, crackers, pie crusts, and dry mixes. It has a lower saturated fat content (~20%) and contains no tropical oils, explains Bob Wainwright, Technical Director, Cargill Dressings, Sauces & Oils. TransAdvantage® shortening systems are designed as low trans alternatives to traditional shortenings. Clear Valley® specialty shortening and oils are high-stability canola oils with 0 grams of trans fat. Other brands in the portfolio include Preference™ salad and cooking oils and Odyssey™ high-stability sunflower oils.
--- PAGE BREAK ---
Enova® oil from ADM Kao LLC, Decatur, Ill. (www.enovaoil.com), is created from a blend of soy and canola oils processed to contain higher concentrations of diacylglycerol (DAG). In the patented process, glycerol and fatty acids from natural soy and canola oil are linked in the presence of an enzyme to produce an oil that is 80% DAGs, which are more likely to be broken down and used for energy rather than stored as fat.
• Canola oil is high in healthy unsaturated fats (93%), free of cholesterol and trans fat, and low in saturated fat (7%). Johnson et al. (2007) examined the effect of substituting canola oil for selected vegetable oils and canola oil-based margarine for other margarines and butter in the diets of nearly 9,000 adult Americans. They showed that substitution of canola oil for common dietary fats would increase compliance with recommended intakes of saturated, monounsaturated, and plant omega-3 fats.
• Cranberry seed oil made by AHD International, Atlanta, Ga. (404-233-4022, www. www.ahdintl.com), recently received GRAS status. Luravida™ Omega 3 Cranberry Seed Oil provides an all-natural source of balanced omega-3 and omega-6 essential fatty acids as well as omega-9 fatty acids.
• Flaxseed oil is rich in omega-3 fatty acids, especially alpha-linolenic acid, which appears to be beneficial for heart disease, inflammatory bowel disease, and arthritis. It also contains omega-6 fatty acids. Flaxseed also contains a group of chemicals called lignans that may play a role in the prevention of cancer.
• Safflower oil with high levels of gamma-linolenic acid (GLA) from Arcadia Biosciences Inc., Davis, Calif. (phone 530-756-7077, www.arcadiabio.com), will be commercially available in late 2008. GLA is an omega-6 fatty acid with anti-inflammatory properties. Schirmer and Phinney (2007) indicated that GLA supplements (890 mg/day) may help maintain weight loss in formerly obese adults. Arcadia's safflower oil has a 40% concentration of GLA.
• Rice bran oil contains gamma-oryzanol, tocopherols, and tocotrienols. Gamma-oryzanol is believed to benefit cholesterol levels, while tocopherols and tocotrienols are powerful antioxidants.
• Chia oil, derived from the chia seed, is a rich source of plant-derived omega-3 fatty acids (63%) and contains no cholesterol or trans fat and is very low in saturated fat. It has a mild aroma and nutty flavor. Chia has other components for human nutrition: antioxidants, fiber, vitamins B-1, B-2, B-3, plus minerals such as phosphorus, calcium, potassium, iron, zinc, and copper. Functional Products Trading S.A., Las Condes, Santiago, Chile (phone +56-2-378-6091, www.benexia.com), offers Benexia chia seed oil in bulk for the food industry. One liter provides 635 g omega-3 and has an omega-3:omega-6 ratio of 4:1.
Specialty Lipids
Specialty nutritional lipids include Neobee® Medium Chain Triglycerides (MCTs) from Stepan Co., Northfield, Ill. (phone 847-446-7500, www.stepan.com). Kosher and Halal-certified, Neobee MCTs contain no trans fatty acids and provide a readily absorbed, low-calorie source of fat for use in foods designed to have nutritional benefits.
A powdered version of structured lipid Delta Dry from Bunge North America, St. Louis, Mo. (phone 314-292-2000, www.bungenorthamerica.com), consists of an inner core of medium chain triglycerides, high-oleic canola oil, and phytosterol ester. To create the powdered product, the liquid center is surrounded by an outer layer of whey or soy protein followed by an outer layer of carbohydrate, starch, or gum Arabic, delivering protein and a nutritional lipid in a convenient, easy-to-use form.
Phosphatidylserine (PS) is a natural phospholipid found in the membrane of the brain cells. It boasts a Food and Drug Administration-approved qualified health claim for dietary supplements that it "may reduce the risk of cognitive dysfunction in the elderly." In April of last year, Israel-based Lipogen Ltd. (phone +011-972-5445-22355, www.lipogen.co.il), launched a proprietary Lipogen PAS for mental and psychological stress control. It is a patented vegetarian complex of soy lecithin phosphatidic acid (PA), and GRAS PS. The company also designed a PS milk powder and an advanced delivery system for its PS for safe and effective use in infant formula and baby foods.
In early 2008, another commercial form of PS, Sharp-PS™, from Enzymotec, Israel (phone +972-4-654-5112, www.enzymotec.com), received "No Questions" from FDA for its GRAS notification. Other lipid-based health ingredients include SharpPS Gold for cognitive performance improvement of seniors, CardiaBeat™ for cardiovascular disease, and InFat™ for balanced nutrition in infant formula.
by Linda Milo Ohr,
Contributing Editor,
Denver, Colo.
[email protected]
References
Bakker, E.C., Hornstra, G., Blanco, C.E., and Vles, J.S. 2007. Relationship between long-chain polyunsaturated fatty acids at birth and motor function at 7 years of age. Eur. J. Clin. Nutr. doi:10.1038/sj.ejcn.1602971.
Fats of Life. 2008. www.fatsoflife.com/pufa/newsletter.asp?nid=1&edition=this.
Gaullier, J.M., Halse, J., Høivik, H.O., Høye, K., Syvertsen, C., Nurminiemi, M., Hassfeld, C., Einerhand, A., O'Shea, M., Gudmundsen, O. 2007. Six months supplementation with conjugated linoleic acid induces regional-specific fat mass decreases in overweight and obese. Br. J. Nutr. 97: 550-560.
Johnson, G.H., Keast, D.R., and Kris-Etherton, P.M. 2007. Dietary modeling shows that the substitution of canola oil for fats commonly used in the United States would increase compliance with dietary recommendations for fatty acids. J. Am. Diet. Assoc. 107: 1726-1734.
Ma, Q.L., Teter, B., Ubeda, O.J., Morihara, T., Dhoot, D., Nyby, M.D., Tuck, M.L., Frautschy, S.A., and Cole, G.M. 2007. Omega-3 fatty acid docosahexaenoic acid increases sorLA/LR11, a sorting protein with reduced expression in sporadic Alzheimer's disease (AD): Relevance to AD prevention. J. Neurosci. 27: 14299-14307.
Pinkoski, C., Chilibeck, P.D., Candow, D.G., Esliger, D., Ewaschuk, J.B., Facci, M., Farthing, J.P., and Zello, G.A. 2006. The effects of conjugated linoleic acid supplementation during resistance training. Med. Sci. Sports Exerc. 38: 339-348.
Schirmer, M.A., and Phinney, S.D. 2007. γ-Linolenate Reduces Weight Regain in Formerly Obese Humans. J. Nutr. 137: 1430-1435.
Wang, S., Ma, A.Q., Song, S.W., Quan, Q.H., Zhao, X.F., Zheng, X.H. 2007. Fish oil supplementation improves large arterial elasticity in overweight hypertensive patients. Eur. J. Clin. Nutr. doi: 10.1038/sj.ejcn.1602886.
Watras, A.C., Buchholz, A.C., Close, R.N., Zhang, A., and Schoeller, D.A. 2007. The role of conjugated linoleic acid in reducing body fat and preventing holiday weight gain. Intl. J. Obesity 31: 481-487.
Whigham L., Watras, A., and Schoeller, D. 2007. Efficacy of conjugated linoleic acid for reducing fat mass: A meta-analysis in humans. Am. J. Nutr. 85: 1203-1211.