The safety of imported foods has become a key issue for consumers as well as regulators around the globe. Several Scientific Program sessions will address this issue at the upcoming IFT Annual Meeting & Food Expo in New Orleans, La.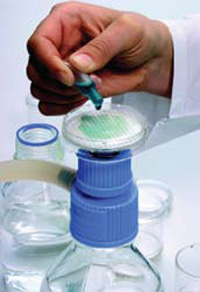 On Sunday afternoon, June 29, session 022 will provide a global perspective on the chemical safety of imported foods, describe analytical methods and technologies that are currently being developed to monitor and screen foods and food ingredients for chemical contaminants, and also outline important toxicological and risk assessment considerations when dealing with chemical contaminants in foods.
Presenter G. R. Prince (retired from Kroger) will describe the scope of the problem that the U.S. food industry is currently facing on imported food/ingredient safety and will also address the reasons why this issue appears to be growing in importance and in public visibility. J. A. Scimeca, Director of Global Regulatory Affairs, Cargill, will address important toxicological approaches, techniques, and considerations involved in determining whether the level of a chemical contaminant and its degree of toxicity pose a significant risk to the health of consumers. Risk assessment as a process and the use of sound scientific principles will be highlighted.
On Tuesday morning, July 1, in session 168, M. Lin with the University of Missouri will discuss "A new approach to measure melamine and its analogues using surface enhanced Raman spectroscopy (SERS) coupled with gold nanosubstrates." SERS could be a fast, accurate, and ultra-sensitive tool for detection and characterization of melamine and its derivative compounds in foods.
On Tuesday afternoon, session 184 will focus on the development of a system to assure the safety of imported foods and ingredients. J. R. Coughlin with Coughlin & Associates believes the identification of food/ingredient vulnerabilities and the subsequent risk analysis and assessment, which have always been the focus of food toxicologists' expertise and efforts, could greatly assist in preventing unwanted contamination and the resulting human morbidity and mortality. Such a risk-based system has proved itself in the food additive approval process as well as in the processes that are used to discover and minimize inherent food contaminants and environmental contaminants, and this system can guide the focus away from foods/ingredients that pose only a minimal risk to those that may cause the greatest harm. This comprehensive, risk-based approach would be the foundation upon which the industry and regulators can maximize the effectiveness of their resources by focusing on those food products and ingredients that have the greatest toxic potential.
D. Sullivan, Director of Scientific Affairs for Analytical Chemistry at Covance Laboratories, will discuss how a group of laboratories have formed a consortium to develop a testing program for imported products. He will outline the concept of a laboratory consortium and the process to be used for analysis of imported foods. He will also outline current activities and future plans.
--- PAGE BREAK ---
R. E. Brackett, Senior Vice President and Chief Science and Regulatory Officer at the Grocery Manufacturer's Assn., will discuss the food industry's role in the import process. The process by which the food industry assures that imported products meet both legal and consumer expectations has evolved over several decades as the global market has developed. Some companies rely strictly on their own representatives to audit and inspect exporters to be sure that they are meeting company standards. Other, typically smaller, companies employ trusted auditing or testing firms to act on their behalf to assure product quality and safety. Although both systems can work, there is increasing demand by commercial customers to have a more standardized process that not only meets company standards, but that meets both governmental regulatory requirements and maintains consumer confidence in the safety of imported products.
Pathogens
Several sessions will address the identification and control of pathogenic bacteria in the food supply. On Sunday afternoon, session 038 will address "Microbiology of produce consumed fresh: Current knowledge and uncertainties." M. Brandl with the USDA Western Regional Research Center will discuss the behavior of microorganisms on plant tissue. The presentation will describe recently acquired knowledge on the behavior of enteric pathogens on produce, with an emphasis on Salmonella enterica and Escherichia coli O157:H7. The persistence of enteric pathogens on produce in the field and in the post-harvest environment has been demonstrated. However, it is still unclear whether this survival is sufficient to cause epidemics or whether amplification on pre- or post-harvest produce is necessary for enteric pathogens to reach the infectious dose required for illness to occur. Various plant, microbial, and environmental factors that affect the attachment, growth, and survival of enteric pathogens on pre- and post-harvest produce will be discussed.
A. Castillo, Associate Professor of Animal Science at Texas A&M University, will review food safety programs in the field and packing houses, including the latest research on sanitizing procedures. Research on alternative methods for reducing pathogens in and on fresh produce will also be presented. This includes, but is not limited to, the use of electron beam irradiation for food safety purposes.
On Monday afternoon, June 30, session 104 will examine the post-processing control of Listeria monocytogenes in ready to-eat meat and poultry products.
The USDA's Food Safety and Inspection Service (FSIS) tests both raw and ready-to-eat (RTE) products for different microbial pathogens. FSIS began testing RTE meat and poultry products for Listeria monocytogenes in the 1980s. Early sampling projects were designed around common product groupings such as luncheon meats or small diameter sausages. After 2003, sampling and testing strategies changed dramatically in response to three events. These were (1) a product risk ranking conducted by FDA and FSIS, (2) a processing risk assessment conducted by FSIS, and (3) the publication of an interim final rule addressing post-lethality exposed RTE products. FSIS now utilizes a risk-ranking of establishments that produce post-lethality exposed RTE meat and poultry products to determine the scheduling of Listeria monocytogenes testing. This risk ranking is a multivariate equation (algorithm) that was formed by previously developed peer-reviewed risk assessments (FDA-FSIS 2003, FSIS 2003) and the sampling history of each establishment.
--- PAGE BREAK ---
The objective of the multivariate risk-ranking methodology is to ensure that the Agency uses its resources to sample establishments and products with the greatest probability of being contaminated by Listeria monocytogenes. The presentation, by L. Lange with USDA-FSIS, will address how well this is working and what further developments are being considered.
J. N. Sofos, Distinguished Professor at Colorado State University, will discuss the need for control of Listeria monocytogenes post processing. Antimicrobial interventions applied during processing, as required by regulation, should be able to control contamination introduced at any link of the chain and during the total acceptable product shelf life. In addition to research with antimicrobials applied during processing and packaging, researchers have also examined the fate of contamination introduced at various stages during the shelf life of the product and effects of potential interventions that may be applied by foodservice and consumers. An overview of the issues related to this post-processing contamination as well as results of such studies will be presented.
Part 2 of the post-processing control of Listeria monocytogenes in ready-to-eat meat and poultry products will take place later on Monday afternoon in session 126. J. Hollingsworth with the Food Marketing Institute will focus on initiatives that the retail industry has initiated to minimize L. monocytogenes in RTE meat and poultry products at retail and control its growth to reduce the risk of listeriosis. J. Krause with USDA-FSIS will focus on the development and use of several quantitative risk assessments to guide various types of regulatory decisions to mitigate foodborne listeriosis. Using retail contamination data from either the National Food Protection Association or more recent data from the National Alliance for Food Safety and Security, deli meats sliced and packaged at retail posed the greatest risk of listeriosis. Additional studies are needed to identify how cross-contamination occurs at retail. This information will be used in future risk assessments designed to evaluate which retail interventions would be most effective in preventing foodborne listeriosis in the U.S.
P. A. Kendall with Colorado State University will discuss consumer behavior and enhancement of Listeria control messages for at-risk populations. Both health professionals and dietary managers indicate strong interest in receiving training on minimizing the risk of listeriosis among high-risk patients—pregnant women, elderly in nursing homes, and immune-compromised individuals—and preferred to receive the training via the Web or a CD-ROM.
Exhibits
On the show floor at Food Expo, a special area will house the Food Safety & Quality Pavilion. This exhibition area will host about 40 companies offering a range of products and services from analytical instruments, independent testing, and environmental sampling to online analyzers, sanitation audits, and test kits for allergens, GMOs, and toxins. Here's a sampling of what some exhibitors will be highlighting at their booths throughout the exhibition.
• Fats and oils analyzer handles high sample volumes in the QC environment and meets the exacting demands of oxidative stability measurement and antioxidant effectiveness. Applications include vegetable fats/oils—soy, sunflower, corn, canola, coconut, peanut, palm, etc.; animal fats/oils—butter, fish oil, lard, etc.; fat- or oil-containing products—direct measurements such as margarine; after fat extraction—cereals, biscuits, cookies, nuts, bacon, sausages, meat, etc.; and antioxidant research. Rancimat 743 features a wide temperature range (50–200°C); 8 independently controlled sample positions; 2 heating blocks; and Windows software for creating sample-specific methods, parameter modifications, data storage, and control of up to 4 separate units (32 samples) and 8 separate temperatures. It is accepted for the AOCS Air Oxidative Methods. Brinkmann Instruments, www.brinkmann.com, Booth 609
--- PAGE BREAK ---
• Sophisticated software for sensory science and consumer product research features innovative methodology for optimal panel training. The company's latest system, Compusense at-hand, is built on web-based technology to deliver cost-effective and actionable consumer testing, anywhere. Special features allow users to design studies using intuitive multiple-choice options, skip features, and more. New flexible testing tools allow you to customize studies and conduct multiple designs in the same test. Consumers can easily update their contact information to stay connected. This secure web-based tool allows worldwide sharing of results and test execution. Compusense, www.compusense.com, Booth 1625
• Water activity instrumentation aids with food safety, microbial growth prediction, and shelf life. AquaLab Series 4TE instrument maintains the accuracy, repeatability, and temperature control of the Series 3TE, but adds additional options including the ability to log and save data. The Series 4TE is also 21 CFR Part 11 compliant with full administrator access control. The AquaSorp Isotherm Generator provides rapid and detailed moisture sorption isotherms. Decagon Devices, www.decagon.com, Booth 2613
• R&D, product development, and labeling software (Genesis Version 9.0) introduces the addition of Child Labeling and Supplement Facts label formats to the program. In addition, the software incorporates a streamlined user interface for the Preference and Label settings. Visitors to Booth 2732 can watch demonstrations of the new features and will receive a free demo copy of the software. Each visitor also can register for a chance to win a full Genesis R&D program. At the core of Genesis R&D is an extensive database of more than 26,000 foods and food items tailored specifically to the needs of the food industry. Included in the database, for instance, are raw foods and processing items such as gums, bases, and colors. For each item in the database, information on up to 120 nutrients and nutrient factors is provided. The foundation of the information comes from the USDA data sets. ESHA Research, www.esha.com, Booth 2732
• Sterile polyethylene laboratory sample bags for QA testing and other microbiological applications hold liquids or solids and have a leak-proof closing tab. All bags have patented puncture-proof tabs; tape covers the wire ends minimizing bag puncture and scratching of hands. New products include two sizes of bubble bags for shipping fragile sample containers. The bag contains a bubble liner that protects the container during shipping. Also, an adjustable sponge pole up to 12 ft (3.66 m) for sampling inaccessible surfaces contains an autoclavable sponge holder and is ideal for testing air ducts, window ledges, large tanks, and other hard-to-reach areas. Nasco, www.whirl-pak.com, Booth 2415
• Expanded state-of-the-art laboratory houses a broader scope of services, including advanced analytical chemistry capabilities. Spacious laboratory also increases the capacity of the company's special projects and research divisions. All company laboratories are ISO 17025 and USDA accredited and provide complete microbiological and chemical analyses of foods, beverages, and environmental samples. Food Safety Net Services, www.food-safetynet.com, Booth 702
• Full-service laboratory provides clients with chemistry, microbiology, sensory, consumer research, pilot plant, nutrition labeling, and information research services. Lab is ISO 17025 accredited and recognized as a reference laboratory by AOAC for conducting validation studies. Expert in dairy analysis, the lab performs a broad range of routine testing as well as specialty assays. Sensory/consumer research group offers difference testing, acceptance testing, descriptive analysis, and consumer guidance testing. Pilot plant can produce small batch runs in many product categories across a broad range of processing conditions. rtech Laboratories, www.rtechlabs.com, Booth 2919
--- PAGE BREAK ---
• Instruments provide solutions for quality control of liquids and gases using a variety of analytical measurements. Critical measurements for density, viscosity, and rheology can improve the quality of samples in your lab. Anton Paar USA, www.anton-paar.com, Booth 1565
• Texture analyzer offers quality and value and features both compression and tension test modes. CT3 analyzer comes with a choice of five load cells to match your needs: 100 g, 1000 g, 1500 g, 4500 g, and 10 kg. Test modes include Normal Test—peak load, deformation at peak, energy input in Joules, final load, and sample temperature; Hold Time Test—hold time, peak load, deformation at peak, final load, and sample temperature; Cycle Count Test—no. of cycles, peak load, mean and standard deviation of all peaks, final peak load, and sample temperature; Bloom Test—grams bloom and sample temperature; TPA Test—Hardness 1 and 2, cohesiveness, springiness, adhesiveness, and sample temperature; Tension Test—peak force, deformation at peak, energy input in Joules, final force, and sample temperature; Static Load Test—total load as each weight from the calibration set is added. Brookfield Engineering, www.brookfieldengineering.com, Booth 4701
• Physical testing instruments for the food industry include refractometers, moisture meters, thermometers, thickness gauges, color meters, texture analyzers, viscometers, and balances. Paul N. Gardner, www.gardco.com, Booth 1912
• Compact digital benchtop refractometer measures refractive index (RI) and Brix of organic and aqueous samples. Unit comes with PC connectivity to synchronize measurements and load custom scales. The r2i300 refractometer does not use a water bath circulator. It has a full Brix scale (0.0–95.0%; accuracy to 0.1%), a wide RI scale (1.3330–1.5600; accuracy to 0.0001), and seven additional scales. Every scale has automatic temperature compensation to ensure accurate readings at various temperatures. Unit comes with a CD that contains a library of custom measurement scales, including high-fructose corn syrup and salinity. Reichert Inc., www.reichertai.com, Booth 1406
• Selected ion flow tube mass spectrometry (SIFT-MS) enables the routine detection and quantification of volatile organic compounds (VOCs) at part-per-trillion concentrations (by volume) in real time. Voice200 SIFT-MS detects trace VOCs from whole-air samples in real time by utilizing well characterized gas-phase reactions of multiple soft chemical ionization agents. Since VOCs are often the compounds responsible for imparting flavor and aroma to foods and beverages, SIFT-MS has many applications in the food industry—from routine process monitoring and quality control through to the research and development laboratory. These applications include characterization of the headspaces of cheese and chocolate, early detection of rancidity in edible oils, and real-time flavor release from confectionery as it is chewed. Syft Technologies Ltd., www.syft.com, Booth 809
• Rapid protein analyzer provides a protein determination in 2 minutes that is more accurate than Kjeldahl and does not use harsh chemicals or high heat. The simple, compact system utilizes CEM's advanced iTAG protein-tagging technology, which "tags" only the protein in a sample for analysis. Unlike other methods of determining protein, Sprint analyzer is not affected by non-protein sources of nitrogen. The method is AOAC- and AACC-approved for many food products. CEM Corp., www.cem.com, Booth 2360
--- PAGE BREAK ---
• Gluten is the common name for a combination of water-insoluble proteins (gliadins and glutenins) found in the seeds of wheat, rye, and barley. Sensitivity to gluten affects nearly 1% of the populations of Europe and North America. EZ Gluten Test is an easy to use test that will quickly detect the presence of gluten in foods. It is sensitive enough to detect levels of gluten as low as 10 ppm. It can be used to test individual ingredients in foods or to test finished and cooked products. ELISA Technologies, www.elisa-tek.com, Booth 603
• Listeria test provides presumptive results for the most common Listeria species within 30 hours. Listeria indicator broth is intended to be used in the food processing environment on food-contact surfaces to detect the presence of Listeria species. Simply swab the surface, add the Listeria indicator broth to the sample and incubate. No complicated sub-culturing or specimen transfers are required. A color change from yellow to brown or black is considered presumptive positive. Hardy Diagnostics, www.hardydiagnostics.com, Booth 5520
• Portable refractometer (Quick-Brix 60) is ideal for fruit and vegetable growers to determine the right time for harvesting. For measuring the sugar content (Brix) directly in the orchard, vineyard, or field, juice is squeezed onto the measuring prism and the result is available at the touch of a button. Quick-Brix 90 has a wider measuring range and a higher accuracy and is well suited for food and drink manufacturing. Whether incoming raw materials have to be analyzed upon unloading of the delivery vehicle or quick checks have to be performed next to the production line, Quick-Brix 90 is the ideal tool to make sure that food ingredients such as jam or honey have the right quality or that juice concentrates or canned food have the right sugar content. Both instruments come in a rugged splash-proof design and can be used in dusty or challenging environments. Mettler Toledo, www.mt.com, Booth 2066
• The extrusion of food is playing an increasingly important role in the food processing industry. Production processes that were once, more or less, sporadic in function are now being performed through constant extrusion. Since efficient production practices depend upon the accurate test results of raw materials, an extrusion product line is designed to investigate parameters within a laboratory environment in order to better understand production conditions, such as extruder speed, temperature, pressure, and torque. These parameters are monitored and controlled through the implementation of the Intelli-Torque torque rheometer that utilizes the newest developments in CAN field bus technology. Unit is equipped with a powerful and reliable serial data communication system for the exchange of messages between different control units. In combination with a single/twin screw extruder, all types of extrusion processes (e.g., cold forming, gelatinization, cooking and expansion, texturization, extrusion of bio-degradable polymer-starch compounds, etc.) can be simulated under production-like conditions. C.W. Brabender Instruments, www.cwbrabender.com, Booth 4632
• Microbiological monitors are presterilized and very versatile. They are ideal for monitoring contaminants in liquid samples from raw materials to finished products. After the filtration is complete, 2 mL of microbiological media is added and the unit is converted into a Petri dish for culturing the contaminants collected. Microbiological monitors offer significant workload reduction. The presterilized and ready-to-use units for filtration and subsequent incubation of microbiological samples eliminate many time consuming daily activities in the laboratory. Qorpak, www.qorpak.com, Booth 1502
• Automatic spectrophotometers feature an Internet-based calibration service, which gives the customer control over the calibration of their instrument, with a calibration certificate e-mailed to them on satisfactory completion of the calibration process. Devices offer a RS232, USB, and Ethernet connection, allowing customer initiation of the calibration service. Other features include multiple color scale readings from one measurement, use of flow cells, and visual spectral data & CIE diagrams on screen. Tintometer Ltd., www.tintometer.com, Booth 1261
• Science-based sensory research is invaluable in the drive to identify optimized products that fit your marketing messages, match your target consumers' expectations, and provide new market opportunities for brand growth. In addition, the company provides a variety of fundamental sensory services, including discrimination testing, descriptive analysis, guidance panels, large-scale consumer testing, and sensory-based advertising claim substantiation. Tragon Corp., www.tragon.com, Booth 1525
by Bob Swientek
is Editor-in-Chief of Food Technology and Director of Publications at IFT 
[email protected]