In the book SuperFoodsRx, polyphenols are listed as one of the 14 "super nutrients" associated with reducing a wide range of chronic ailments (Pratt and Matthews, 2004). The authors define polyphenols as a class of phytonutrients or "nonvitamin, nonmineral components of foods that have significant health benefits." Chemically speaking, polyphenols are a group of substances found in plants and characterized by the presence of more than one phenol unit per molecule. Some of the more notable groups of polyphenols include tannins, flavonoids, and anthocyanins.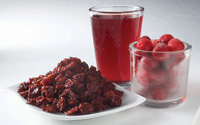 Research has shown that polyphenols have several health benefits, including reducing the risk of cardiovascular disease, cognitive decline, and cancer. Cocoa flavonols have been linked to a reduced risk of cardiovascular disease, while blueberry anthocyanins are associated with benefiting brain health. Here is a look at some sources of polyphenols, including grapes, green tea, cranberries, and other foods.
Grapes and Red Wine
Consumers are increasingly becoming aware of red wine polyphenols. A novel beverage, Embodi™, from Vitalita Nutritional Products, Chicago, Ill. (phone 888-436-2634, www.drinkembodi.com), is made from a proprietary red wine pomace extract (from red wine grapes, stems, and seeds). It provides more than 400 polyphenols, including resveratrol.
Two recent studies linked red wine polyphenols to reduced health risks and cognitive health. Gorelik et al. (2008) showed that consuming red wine polyphenols simultaneously with high-fat foods may reduce health risks associated with these foods. The researchers gave 10 healthy subjects 250 g of turkey cutlets prepared in three different ways along with a beverage. The options included: (a) plain turkey with a glass of water (control); (b) turkey soaked in red wine after heating plus 200 ml of red wine; or (c) turkey soaked in red wine prior to heating plus 200 ml of red wine. The subjects who ate the control meal had increased levels of plasma cytotoxic lipid peroxidation product (MDA). The subjects who ate meal b had a 75% reduction in the absorption of MDA, and those who ate meal c had no elevated levels of plasma MDA. The researchers suggested that red wine polyphenols exert a beneficial effect by inhibiting the absorption of MDA.
Wang et al. (2008) found that grape seed - derived polyphenols such as MegaNatural®-AZ from Polyphenolics, Madera, Calif. (phone 559-661-5556, www.polyphenolics.com), significantly reduced cognitive deterioration in mice. They gave mice with Alzheimer's disease either water containing grape seed extract or water alone for 5 mo. They found that mice treated with grape seed extract had significantly reduced Alzheimer's disease-type cognitive deterioration. This was due to the prevention of amyloid beta plaque forming in the brain.
Resveratrol is a widely recognized red wine polyphenol. A study conducted by LifeGen Technologies LLC, Madison, Wis. (phone 608-441-8390, www.lifegentech.com), in collaboration with DSM Nutritional Products, Parsippany, N.J. (phone 800-526-0189, www.dsm.com), found that low doses of resveratrol in the diet of middle-aged mice mimic the effects of caloric restriction (diets with 20-30% fewer calories) (DSM, 2008). In addition, the research also revealed that resveratrol helped to prevent the decline in heart function as a natural result of aging. DSM Nutritional Products offers Resvida™, a high-purity form of resveratrol.
--- PAGE BREAK ---
Cranberries
Cranberry anthocyanins are responsible for health benefits related to cancer and heart health. Milbury et al. (2008) showed that in patients with coronary artery disease, cranberry anthocyanins are bioavailable and improve endothelial function. Neto (2007) reviewed research on the anticancer properties of cranberry fruit. Results from in vitro studies using a variety of tumor models showed that polyphenolic extracts from Vaccinium macrocarpon, also called American cranberry, inhibited the growth and proliferation of breast, colon, prostate, lung, and other tumors. Possible chemopreventive mechanisms by cranberry phytochemicals include induction of apoptosis in tumor cells, decreased expression of matrix metalloproteinases associated with prostate tumor metastasis, and anti-inflammatory activities.
Found abundantly in cranberries, proanthocyanidins (PACs) are natural plant compounds with antioxidant, anti-adhesion, and anti-bacterial health promoting properties. Last year, Decas Cranberry Products Inc., Carver, Mass. (phone 508-866-8506, www.decascranberry.com), showed that 1 oz of Decas Sweetened Dried Cranberries had twice the PAC levels of an 8-oz glass of cranberry juice cocktail (Decas, 2007).
Botanic Oil Innovations Inc., Spooner, Wis. (phone 715-635-7513, www.botanicoil.com), uses a proprietary NatureFresh-Cold Press™ manufacturing technology to extract oils from fruit seeds. The oils have been shown to have very high ORAC values and are rich in polyphenols.
Blueberries
Blueberries are commonly associated with cognitive health. Shukitt-Hale et al. (2008) investigated whether polyphenols in blueberries can reduce the effects of inflammation in the brain and improve cognitive performance in 4-month-old male Fischer-344 (F344) rats. A 2% blueberry diet for 8 weeks was shown to improve cognitive performance, indicating that blueberry polyphenols attenuate learning impairments following neurotoxic insult and exert anti-inflammatory actions.
FutureCeuticals Inc., Momence, Ill. (phone 815-472-6853, www.futureceuticals.com), offers VitaBlue®, a standardized blueberry extract that was found in a recent study to inhibit angiotensin converting enzyme (ACE) up to 98% at a concentration of 0.3% (Future-Ceuticals, 2008). High ACE levels are associated with increased risk of cardiovascular health concerns.
Cherries
Cherries are a rich source of anthocyanins. Seymour et al. (2008) for 90 days pair-fed Dahl Salt-Sensitive rats (with insulin resistance and hyperlipidemia) AIN-76a-based diets supplemented with either 1% (wt:wt) freeze-dried whole tart cherries or with 0.85% additional carbohydrate to match macronutrient and calorie provision. The cherry-enriched diet was associated with reduced fasting blood glucose, hyperlipidemia, hyperinsulinemia, and reduced fatty liver. Researchers concluded that physiologically relevant tart cherry consumption reduced several phenotypic risk factors that are associated with risk for metabolic syndrome and type 2 diabetes.
Fruit Mixtures
Although specific fruit sources have been highlighted, companies are also focusing on polyphenol mixtures from a combination of different fruits. Hwang and Yen (2008) evaluated the protective effects of pretreatments (6 h) with citrus flavanones - hesperidin, hesperetin, and neohesperidin (0.8, 4, 20, and 50 μM)—on H2O2-induced neurotoxicity in PC12 cells. H2O2 formation induces cellular oxidative stress associated with neurodegenerative diseases. The results showed that the flavanones, at all test concentrations, significantly inhibited the decrease of cell viability and prevented membrane damage. The researchers concluded that the citrus flavanones are potential candidates for use in the intervention for neurodegenerative diseases.
--- PAGE BREAK ---
Earlier this year, FutureCeuticals announced the development of AnthoComplete™, a high-anthocyanin nutritional blend that includes anthocyanins from wild bilberry extract, wild blueberry extract, açai, blackcurrant extract, sweet cherry, raspberry, elderberry, blackberry, black soybean hull extract, and blue corn extract.
Two companies recently announced that they are expanding their polyphenol portfolios. ChromaDex Corp., Irvine, Calif. (phone 949-419-0288, www.chromadex.com), entered into an agreement with the Research Foundation of the State University of New York, on behalf of the University at Buffalo (SUNY Buffalo), to produce and market three classes of plant-based ingredients: anthocyanins, leucoanthocyanidins, and anthocyanidins. Naturex, South Hackensack, N.J. (phone 201-440-5000, www.naturex.com), formed a partnership agreement with France-based Scalime Nutrition to accelerate the marketing, commercial, and technical development of Scalime's polyphenolic extracts, which include onion and lettuce extracts.
Green Tea
Green tea leaves are rich in polyphenols, most notably epigallocatechin-3-gallate (EGCG). Bose et al. (2008) investigated the effects of EGCG on high-fat induced obesity, metabolic syndrome, and fatty liver in mice. They found that EGCG treatment (3.2 g/kg diet) for 16 weeks significantly reduced body weight gain, percent body fat, and visceral fat weight in the high-fat-fed mice. In another experiment, short-term EGCG treatment (3.2 g/kg diet, 4 weeks) significantly decreased mesenteric fat weight and fasting blood glucose in high-fat-fed obese mice.
According to information from DSM Nutritional Products, numerous scientific studies have addressed the correlation between green tea consumption and cardiovascular health, suggesting that green tea and green tea extracts high in EGCG are associated with a decrease in certain risk factors for heart disease, such as serum triglycerides. The company offers caffeine-free Teavigo®, which provides a minimum of 94% EGCG on a dry basis.
Cocoa
Proprietary processes help retain the polyphenols in cocoa, which have cardiovascular benefits. Mars Botanical, Rockville, Md. (www.marsbotanical.com, www.healthycocoa.com), developed a patented and proprietary process called Cocoapro® that helps retain the flavanols normally destroyed during processing. Sorond et al. (2008) showed that adults age 59-83 who regularly drank a cocoa flavanol-rich beverage made using the Cocoapro process had an 8% increase in brain blood flow after one week, and 10% increase after two weeks. Balzer et al. (2008) showed that a diet rich in cocoa flavanols reversed vascular dysfunction in medicated diabetic patients.
Barry Callebaut, Zurich, Switzerland (phone +41-43-204-04-04, www.acticoa.com), developed the Acticoa™  process that preserves up to 70% of the naturally present polyphenols in the finished product. A study has linked the consumption of Acticoa cocoa polyphenols to longevity in rats subjected to the same stress levels (Barry Callebaut, 2007). The study concluded that the lifespan of rats consuming the cocoa polyphenol powder was 30% longer than that of rats not given cocoa polyphenols.
by Linda Milo Ohr,
Contributing Editor,
Denver, Colo.
[email protected]
References
Balzer, J., Rassaf, T., Heiss, C., Kleinbongard, P., Lauer, T., Merx, M., Heussen, N., Gross, H.B., Keen, C.L., Schroeter, H., and Kelm, M. 2008. Sustained benefits in vascular function through flavanol-containing cocoa in medicated diabetic patients: A double-masked, randomized, controlled trial. J. Am. Coll. Cardiol. 51: 2141-2149.
Barry Callebaut. 2007. Exciting new research points to the potentially life-prolonging effects of Barry Callebaut's Acticoa™ chocolate: Chocolate that makes you live longer. Press release, Barry Callebaut, Zurich, Switzerland, Jan. 17.
Bose, M., Lambert, J.D., Ju, J., Reuhl, K.R., Shapses, S.A., and Yang, C.S. 2008. The green tea polyphenol, (–)-epigallocatechin-3-gallate, inhibits obesity and metabolic syndrome in high-fat-fed mice. FASEB J. 22: 702.9
Decas. 2007. Research shows Decas Sweetened Dried Cranberries pack twice the proanthocyanidin punch as cranberry juice cocktail. Press release, Decas Cranberry Products Inc., Carver, Mass., Dec. 13.
DSM. 2008. New study by DSM Nutritional Products and LifeGen Technologies show that a compound in red wine is found to keep hearts young. Press release, DSM Nutritional Products, Parsippany, N.J., June 5.
FutureCeuticals. 2008. New blueberry extract research points toward heart health benefits. Press release, FutureCeuticals Inc., Momence, Ill., Aug. 5.
Gorelik, S., Ligumsky, M., Kohen, R., and Kanner, J. 2008. A novel function of red wine polyphenols in humans: prevention of absorption of cytotoxic lipid peroxidation products. FASEB J. 22: 41-46.
Hwang, S. and Yen, G. 2008. Neuroprotective effects of the citrus flavanones against H2O2-induced cytotoxicity in PC12 cells. J. Agric. Food Chem. 56: 859-864.
Milbury, P.E., Vita, J.A., Finnerty, K.A., Holbrook, M., Palmisano, J., Hamburg, N.M., and Blumberg, J.B. 2008. Anthocyanin bioavailability from acute cranberry juice consumption and evidence of effects on endothelial function in patients with coronary artery disease. FASEB J. 22: 460.5
Neto, C.C. 2007. Cranberry and its phytochemicals: A review of in vitro anticancer studies. J. Nutr. 137: 186S-193S.
Pratt, S. and Matthews, K. SuperFoodsRx. 2004. Fourteen foods that will change your life. Harper Collins Publishers. New York, N.Y.
Seymour, E.M., Singer, A.A., Kirakosyan, A., Urcuyo-Llanes, D.E., Kaufman, P.B., and Bolling, S.F. 2008. Altered hyperlipidemia, hepatic steatosis, and hepatic peroxisome proliferator-activated receptors in rats with intake of tart cherry. J. Med. Food. 11: 252-259.
Shukitt-Hale, B., Lau, F.C., Carey, A.N., Galli, R.L., Spangler, E.L., Ingram, D.K., and Joseph, J.A. 2008. Blueberry polyphenols attenuate kainic acid-induced decrements in cognition and alter inflammatory gene expression in rat hippocampus. Nutr. Neurosci. 11: 172-182.
Sorond, F.A., Lipsitz, L.A., Hollenberg, N.K., and Fisher, N.D.L. 2008. Cerebral blood flow response to flavanol-rich cocoa in healthy elderly humans. Neuropsychiatr. Dis. Treat. 4: 433-440.
Wang, J., Ho, L., Zhao, W., Ono, K., Rosensweig, C., Chen, L., Humala, N., Teplow, D.B., and Pasinetti, G.M. 2008. Grape-derived polyphenolics prevent Aβ oligomerization and attenuate cognitive deterioration in a mouse model of Alzheimer's disease. J. Neuroscience. 28: 6388–6392.