I am not a farmer—far from it—but thanks to the Farmer to Farmer (FTF) program of the U.S. Agency for International Development (USAID), I spent almost five weeks during 2008 in the beautiful but struggling country of Moldova. Moldova is a newly independent state (NIS), a former member of the Soviet Union that has been free and democratic since 1991. It is one of the poorest countries in Europe.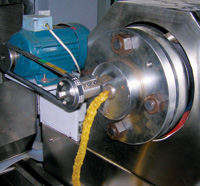 The Farmer to Farmer program is funded by the Farm Bill but administered by USAID. It has a relatively modest budget because it relies on volunteers to provide expert advice to hosts or counterparts in about 20 countries in Africa, the Middle East, and Central Europe. Non-government organizations (NGOs) are contracted to identify hosts and manage logistics for volunteers. In my case, the Citizens Network for Foreign Affairs (CNFA) recruited me, provided an interpreter while I was in the country, and supplied me with an office in which to work.
Most volunteers for FTF missions learn about the program and offer their services through the CNFA (or other NGO) Web sites. In my case, a CNFA staff person in Washington, D.C., seeking an expert in breakfast cereal, recruited me. Observing my wife's numerous contributions to community organizations, I had been seeking a way to apply my 40 years of experience in food engineering, but with little luck. The call from CNFA seemed a good answer.
An Emerging Business Opportunity
The local staff had been working with a small firm called Triodor LLC, owned by two brothers who had obtained a formerly state-owned winery in the privatization following the fall of the Berlin Wall. Triodor had been canning fruits and vegetables, but had trouble marketing their products because the European Union (EU), to which Moldova does not yet belong, favors products from its own members. In addition, Russia, where Moldovan products had been sold in the past, was boycotting products from the NIS as a sign of Russian irritation over the states' new independence.
Triodor decided to go into the ready-to-eat breakfast cereal business because, while cereals were sold in Moldova, few were made there. Somehow, company representatives located and purchased a set of equipment made in China by the Jinan Darin Machinery Co. of Shandong that was said to have a capacity of 120 kg/ hr. The equipment, I later learned, cost about $120,000, which is a lot of money in Moldova, but seemed to me a great bargain for an entire line. The equipment arrived in the middle of 2007, and I was recruited to help Triodor operate it well.
In addition to corn flakes, the company hoped to make muesli-like mixes and fruit-filled biscuits. When I got to Moldova, I learned that the equipment had not been unpacked and that the building in which it was to be installed was still being repaired. More on that later.
Moldova has an Institute of Food Technology, which does research on food processing and safety, and which had been helping Triodor develop cereal products, at least in concept. During my visit, the institute received a small extruder of the type often used in cereal manufacturing.
When I arrived and was having my first briefing, local staff members were apologetic in telling me that not only was the equipment not operating at Triodor, but the building was not yet ready. At the time (May 2008), they thought that technicians were to arrive in June and were planning to stay about 10 days. Hearing this, I felt the highest priority was to help Triodor get ready and do everything they could before the technicians arrived. I shared my previous experience with installation technicians, who often (maybe not always) are fond of directing others, but reluctant to break a sweat.
Triodor had about half the electric power that would be needed to operate the new equipment and agreed to install more power once I told them that it would be necessary. They had purchased the ingredients for an epoxy coating for the concrete floor, but were planning to install it after the equipment was in place. I pointed out that this would leave areas under the equipment that were unprotected and that water would soon enter and destroy the expensive coating. They agreed to coat the floor first. They also agreed to finish the ceiling.
These and other tasks were listed on an Excel spreadsheet along with estimated durations and suggested sequence. This created a Gantt chart, a well-known tool of project management, familiar to my interpreter, but a new concept to the owners. Once they had the Moldovan version, they treated it like Scripture and assured me they were faithfully following it.
Food Processing in Albania
Between my trips to Moldova, I was in Albania on another USAID mission to local food companies as a paid consultant. Many of the same conditions and observations apply to Albania. It is small, poor, with much of its population working elsewhere. It never was part of the Soviet Union, but it was governed by a Communist dictator for many years and was isolated from the West for most of that time. It also suffers from corruption within its institutions. Its entrepreneurs struggle to manufacture safe foods in privatized former collective factories.
In Albania and Moldova, fruits and vegetables are acidified and packed in glass jars, with boiling water pasteurization after the jars are closed. There is not much of a domestic market because of the poor economies, but the products are not very competitive for export either. Nonetheless, several of the small companies in Albania hope to expand their plants and looked to me for concepts that satisfied their plans within the constraints of available land. Despite not being an architect, I was able to provide site-specific sketches for three companies and visited a total of nine plants there. Most of the firms I saw would be challenged to satisfy U.S. or EU food safety practices today, but their operators hope to improve.
After my trip to Albania concluded and I returned to Moldova, I was dismayed to find that the Chinese installation technicians had arrived in Moldova later than anticipated. In addition, I found that few of my earlier suggestions had been executed, primarily because Triodor lacked sufficient funds. The floor was not coated, the equipment had not been painted, and the ceiling was not finished. The technicians spoke only Chinese and kept precise hours, taking an hour for lunch and a nap, and leaving exactly at 5 p.m. each day.
I took the opportunity to begin work on a cereal market analysis. I gathered data on available cereals and bought samples of 13 of them to create a marketplace snapshot. I suggested that the owners develop products that utilized available ingredients such as dried fruits and nuts and that they emphasize the local manufacture. They are concerned with educating Moldovans to use breakfast cereal, as it is not common now and is relatively expensive.
We also created a financial model that showed Triodor that they needed substantial working capital because they had to pay expenses before they realized any income from sales. They understood, but were not sure where they would get the money.
The day before the technicians left, all the equipment was operated. Remarkably, it was all assembled, the rusted shafts rotated, the motors and fans functioned, and we actually produced edible, if plain, extruded corn pieces and flakes. The equipment had been sitting for more than a year, after an ocean voyage, and much of the carbon steel was rusty, so its successful operation was a welcome surprise.
The extruder and two dryers are heated electrically. The extruder, bag former, and digital scales look as if they have been copied from French, German, and Japanese models, apparently a common practice in China. The frames of most of the equipment are bare carbon steel, which I recommended painting. Most of the units are not well designed for wet cleaning.
The cereal flakes are toasted in a "salt cooker," a rotating, perforated iron drum filled with rock salt that is heated by burning fuel—diesel in this case. The salt is separated on a reciprocating screen and returned to the drum.
Air lift conveyors are used for transfers from the extruder to the flaking rolls, from the rolls to the first dryer, and from the dryer to the salt cooker. Each lift has a small fan to supply pressurized air. These need to be protected from ingesting dust and contaminating the food.
There is still much remaining to be done. I left Triodor with a punch list that included about 20 items and suggestions.
Lessons Learned
There is a large demand in developing countries for expertise in many fields. Food production and processing is especially relevant. Whether as a volunteer in a program such as Farmer to Farmer or as a paid expert, there are many ways for people with experience to assist those in other countries while expanding their own knowledge of other cultures. While on any USAID mission, it is essential to be flexible and adapt to the circumstances. Experts are encouraged to prepare before their trip and often are asked to make presentations, but, almost always, things change. Creativity and the ability to think on one's feet are essential.
by J. Peter Clark,
Contributing Editor,
Consultant to the Process Industries, Oak Park, Ill. 
[email protected]