Sen. Richard Burr, R-N.C., and Rep. Allen Boyd Jr., D-Fla., were the 2010 honorees when the Institute of Food Technologists marked the 10th year of its Congressional Support for Science Awards with a reception in Washington, D.C.
The awards recognize the two legislators' significant roles in supporting science-based food policies. Using science as a foundation for food policies augments the safety, nutritional value, affordability, and variety of foods available to consumers.
In addition to their congressional efforts highlighting food safety, Sen. Burr and Rep. Boyd "share IFT's vision to ensure a safe and abundant food supply and support funding to achieve this goal," according to IFT Executive Vice President Barbara Byrd Keenan.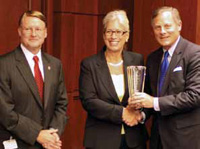 Sen. Burr began his career in federal legislation as a five-term member of the U.S. House of Representatives, becoming a senator for North Carolina in January 2005. He is a ranking member of the Senate Veterans' Affairs Committee and also sits on the Senate Armed Services Committee, the Intelligence Committee, the Energy and Natural Resources Committee, and of particular importance to food science, the Health, Education, Labor and Pensions Committee.
Sen. Burr cosponsored a Senate bill to strengthen and modernize the U.S. Food and Drug Administration's tools to protect the nation's food supply. The FDA Food Safety Modernization Act is designed to improve the FDA's ability to detect and respond to foodborne illnesses and includes provisions for evaluating safety threats at food facilities, exploring ways to track foods during an outbreak, and increasing the scrutiny of imported foods. The American Farm Bureau Federation endorses this legislation in part because it would ensure consultation, education, and outreach to farms, businesses, and farmers who sell directly to consumers.
Sen. Burr also champions food research by supporting a $2 million appropriation to build a new agriculture research service food nutrition center at North Carolina Research Campus in Kannapolis, North Carolina. The center will use progressive biotechnology to develop innovative methods for developing healthier agricultural products to study the role of diet and activity in normal brain development, cancer prevention, and weight management.
Remarking on how the center will evaluate the link between nutrition and human health, IFT President Marianne Gillette commented that such emphasis will allow "researchers to obtain a more comprehensive understanding of how diet and exercise impact cancer, type 2 diabetes, and obesity." In his remarks on Sen. Burr, IFT member Duane Larick, Dean of the Graduate School at North Carolina State University, said, "As a food consumer and as a professional member of IFT, I'm really thankful for the work that Sen. Burr has done on behalf of food safety and food research. … He certainly understands the relationship between federal research and graduate education."
--- PAGE BREAK ---
Rep. Boyd, a fifth generation farmer, became a member of the U.S. House in 1997, representing Florida's rural 2nd Congressional District. He serves on the Committee on Appropriations, where he is a member of the Subcommittee on Agriculture, Rural Development, Food and Drug Administration, and related Agencies as well as the Subcommittees on Defense and Financial Services.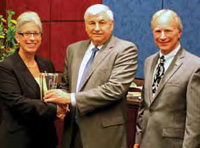 He uses his appointment to the Committee on Appropriations to explore ways to provide funding to ensure a safe food supply and a healthy agricultural economy. His voting record reveals that he has supported legislation benefitting not only Florida but also the Minnesota Farm Bureau and interests of the National Farmers Union, the National Association of Wheat Growers, the United Fresh Produce Association, and the American Farm Bureau Federation. And the University of Florida credits Rep. Boyd with aiding research that contributed to the development of a type of grass that will save farmers money on supplemental feeds during winter months.
Rep. Boyd is a businessman for whom fiscal responsibility is imperative. Accordingly, he is a 12-year member of the Blue Dog Coalition—54 democratic House members who promote fiscal responsibility and accountability and offer bipartisan solutions to key issues facing the U.S. Congress. In addition, he is the current chairperson of the coalition's Budget and Financial Services Task Force, which advocates sustainability and responsible fiscal reform.
Giving a personal account of Rep. Boyd, Mark McLellan, a former IFT President and Dean and Director of the Institute of Food and Agricultural Sciences at the University of Florida, said the following: "This is someone who is extraordinarily passionate about agriculture and its role in America and how important it is to our fundamental structure, the fabric of who we are and what we stand for. This man is someone who believes that food safety begins on the farm. Allen is … very passionate about trying to make sure [farmers] come with him, with all of us, as we ensure that our food supply is the best in the world—the safest in the world."
Also in attendance at this year's event were IFT board members and member volunteers, senior government officials, and representatives of allied and partner organizations that parallel IFT's commitment to food science and food safety. A video of the 2010 awards ceremony is available on the IFT website.
---
A Decade of Congressional Support for Science
Previous winners of the Congressional Support for Science Award are as follows:
2009
U.S. Sen. Kent Conrad, D-N.D.
U.S. Rep. Bob Goodlatte, R-Va.
2008
U.S. Rep. Rosa DeLauro, D-Conn.
U.S. Rep. Ed Whitfield, R-Ky.
2007
U.S. Sen. Saxby Chambliss, R-Ga.
U.S. Sen. Blanche Lincoln, D-Ark.
2006
U.S. Sen. Robert Bennett, R-Utah
U.S. Rep. Bob Etheridge, D-N.C.
2005
U.S. Sen. Christopher Bond, R-Mo.
U.S. Rep. Collin Peterson, D-Minn.
2004
U.S. Rep. Henry Bonilla, R-Tex.
U.S. Sen. Debbie Stabenow, D-Mich.
2003
U.S. Rep. Rush Holt, D-N.J.
U.S. Rep. Frank Lucas, R-Okla.
2002
U.S. Rep. Nick Smith, R-Mich.
U.S. Rep. Charles Stenholm, D-Tex.
2001
U.S. Sen. Thad Cochran, R-Miss.
U.S. Sen. Richard Durbin, D-Ill.
by Toni Tarver, Senior Writer/Editor
[email protected]