Yogurt Incorporates CLA


Old Home Foods, St. Paul, Minn., has launched a new product called Safflower Power yogurt for the U.S. dairy market that contains Clarinol CLA (conjugated linoleic acid) from Lipid Nutrition, Channahon, Ill. Labeling on the yogurt cup touts the product's ability to "increase muscle tone" and "reduce body fat". The yogurt comes in eight varieties—Strawberry, Black Cherry, Blueberry, Banana-Mango, Marionberry, Peach, Pomegranate-Blueberry, and Red Raspberry—and is and high-fructose corn syrup-free. Containing as few as 160 calories, the 6-oz cup is designed to fit into consumers' on-the-go lifestyles. By eating two 6-oz servings/day of the yogurt, along with a healthy diet and regular exercise, consumers can see improved body shape and tone in as little as 8–12 weeks.
"We are excited to be the first company to offer yogurt with CLA in the United States and the support Lipid Nutrition provided in terms of marketing information and application knowledge was much appreciated in preparation for our product launch," said Geoff Murphy, CEO, Old Home Foods.
Indian Meets Italian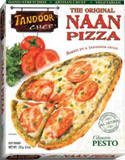 Tandoor Chef, Union City, N.J., a leading manufacturer of restaurant-quality, all-natural Indian cuisine, has introduced an authentic naan pizza to its popular line of all-natural frozen Indian products. The Original Naan Pizza features a naan-style crust and is fired/baked in a tandoor oven at 1,000°F. It is distributed in the United States in Whole Foods stores and other major grocery chains. The frozen vegetarian pizza comes in four gourmet varieties—Cilantro Pesto, Margherita, Roasted Eggplant, and Spinach & Paneer Cheese. "We're genuinely excited to bring this new product to the freezer aisle," said Deepak Amin, Vice President for Tandoor Chef and Deep Foods. "Innovation will continue to drive our success in 2010, and we're sure this product, hand-stretched and made of all-natural ingredients, will further innovate the growing frozen specialty pizza category."
DHA Added to Bread


Sara Lee North American Fresh Bakery, Downers Grove, Ill., has expanded its Soft & Smooth bread line with the introduction of its new Sara Lee Soft & Smooth Plus breads made with DHA omega-3 fatty acid. Based on a growing body of scientific evidence, docosahexaenoic acid (DHA) omega-3 fatty acid helps to support healthy brain development in children. Martek Biosciences Corp., Columbia, Md., supplies the DHA omega-3 fatty acid, sourced from microalgae. A two-slice serving of the bread provides 12 mg DHA omega-3, which is at least 10% of the Institute of Medicine's suggested daily amount for kids, depending on age, ranging from 1–13 years old.
"We understand the need to ensure proper nutrition through all stages of life especially in younger children," said Tim Zimmer, Vice President, Sara Lee North American Fresh Bakery. "Bread with DHA omega-3 is an excellent and simple way to provide moms with a great-tasting, nutritious option their little ones will love."