The statistics have become all too familiar. An estimated 81.1 million American adults (more than one in three) have one or more types of cardiovascular disease (CVD), which includes high blood pressure, coronary heart disease (myocardial infarction, angina pectoris), heart failure, and stroke. Nearly 2,300 Americans die of CVD each day, an average of one death every 38 seconds.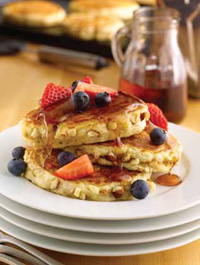 Because of the prevalence of CVD, it is not surprising that foods and beverages have continued to target heart health. "If you walk down any supermarket aisle, you will see a variety of products that are either endorsed by the American Heart Association (AHA) or have some type of label claim alluding to the heart-healthy benefits of a particular product," observed Ram Chaudhari, Sr. Executive Vice President, Chief Scientific Officer, Fortitech Inc., Schenectady, N.Y. (phone 518-372-5155, www.fortitech.com). "Currently, the top three product categories for healthy-heart products are dairy, beverages, and bakery," said Chaudhari. He added that he also sees healthy confectionery coming into play, although perhaps not being as much of a force. "Numerous research studies have been published on the heart-healthy benefits of chocolate, which is an ideal vehicle in which to deliver additional nutrients that offer heart-healthy benefits. The strong flavor profile of chocolate makes it a good flavor-masking agent, and it has wide consumer appeal, extending across all age and gender demographics."
Heart-healthy ingredients used in today's products include fiber, soy protein, sterols, and omega-3 fatty acids. But as heart health continues to be a growing concern, other ingredients will come into play. CoQ10, resveratrol, and vitamin D are three  that Chaudhari pointed out. "I think that others we will want to watch will be omega-3s from plant-derived sources such as flax or chia, selenium, vitamin B-6 to reduce homocysteine levels in the blood, and phytoestrogens, which can help reduce excess cholesterol.Other nutrients such as L-carnitine, soluble and insoluble fibers, policosanol, beta-glucan, conjugated linoleic acid, vitamins E and C, soy isoflavones, etc., are also beneficial."
These ingredients affect heart health in a variety of ways, from lowering blood pressure and cholesterol to benefiting arterial health. Here is a closer look at some of these heart-health ingredients and the conditions that they are said to mitigate.
Blood Pressure
• Grape seed extract. Sivaprakasapillai et al. (2009) showed that grape seed extract (GSE), MegaNatural® BP, from Polyphenolics, Madera, Calif. (phone 559-661-5556, www.meganaturalbp.com), lowered blood pressure in subjects with high blood pressure when combined with lifestyle modification. The researchers randomized 24 subjects into 3 groups. For four weeks, one group received 150 mg of GSE/day, the second group received 300 mg of GSE/day, and the third group received a placebo. Both the systolic and diastolic blood pressures were lowered in the subjects who took the GSE. In addition, the subjects given 300 mg of GSE had a significant decrease in the concentration of oxidized low-density lipoprotein (LDL) cholesterol in plasma.
The cardiovascular benefits of another grape seed extract, resVida® trans-resveratrol from DSM Nutritional Products Inc., Parsippany, N.J. (phone 800- 526-0189, www.dsm.com, ww.resvida.com), were presented at both the 2009 4th International Conference on Polyphenols and Health and the 2009 Nutrition Society of Australia and Nutrition Society of New Zealand Joint Annual Scientific Meeting. The data demonstrated the ingredient's cardiovascular health benefits in humans. Analyses found that there was a significant effect of trans-resveratrol supplementation on increasing flow-mediated dilation (FMD). FMD was linearly related to plasma trans-resveratrol concentration.
--- PAGE BREAK ---
ResVida has recently been added to two new products. Winetime™ Bar from ResVez, Inc., Rancho Santa Fe, Calif. (phone 888-756-2184, www.winetimebar.com), is a 190-calorie, dark chocolate-flavored nutrition bar. ResForte from Bricker Labs, Phoenix, Ariz. (phone 800-274-2537), contains 50 mg of trans-resveratrol in a softgel capsule.
• Grape juice. Research presented at the 2009 AHA meeting showed that Concord grape juice contributes to healthy blood pressure regulation (Welch, 2009). The study included 64 men and women with blood pressure levels classified as pre-hypertension or stage 1 hypertension. The subjects did not take anti-hypertensive medications during the study period. The results showed that drinking Concord grape juice improved the nocturnal dip in blood pressure (blood pressure at night), while body weight, blood glucose, and fasting insulin levels were not affected. The results from the subjects who took the placebo showed the opposite outcome with a negative effect on nocturnal blood pressure and a rise in fasting glucose.
• Dairy peptides. Specific, naturally occurring dairy peptides called lactotripeptides are found in tensVida™ from DSM Nutritional Products. The ingredient supports the natural processes of the body by relaxing and expanding blood vessels, which, in turn, helps to keep blood pressure within a healthy range. The active peptide responsible for the beneficial effects in blood pressure is isoleucine-proline-proline. Although lactotripeptides are present in dairy products, they are inactive within the original milk protein. DSM developed an enzymatic technology to release and activate the peptides. According to the company, a recent human clinical study using tensVida has shown a statistically significant reduction of systolic and diastolic blood pressure in subjects with mild hypertension.
Arterial Health
• Vitamin K. Vitamin K2 is the form of vitamin K associated with the vitamin K-dependent matrix gla protein (MGP) in human calcium metabolism. According to information from PL Thomas & Co. Inc., Morristown, N.J. (phone 973-984-0900, www.plthomas.com), studies show that vitamin K2 is required to activate MGP and therefore restrain circulating calcium from depositing within the vessel walls. Without adequate vitamin K2 status, the biological function of MGP is impaired, contributing to the development of arterial calcification that results in stiffness and fragility of blood vessels. The company offers MenaQ7™, which provides natural vitamin K2 as an extract of natto, a fermented soy food from Japan.
• Vitamin D. Artaza et al. (2009) reported that emerging studies suggest that hypovitaminosis D is an independent risk factor for all-cause and cardiovascular mortality, reinforcing its role as a public health problem. The researchers stated that there is a need to advance the understanding of the biologic pathways through which vitamin D affects cardiovascular health and to conduct prospective clinical interventions to define the cardioprotective effects of nutritional vitamin D repletion. DeBoer et al. (2009) tested whether circulating 25-hydroxyvitamin D concentration associates with coronary artery calcification (CAC), a measure of coronary atherosclerosis. The 1,370 subjects included 394 with and 976 without chronic kidney disease. Among the subjects free of CAC at baseline, 135 developed incident CAC during three years of follow-up. Lower 25-hydroxyvitamin D concentration was associated with increased risk for developing incident CAC.
• Omega-3 fatty acids. According to information from the Fats of Life website (www.fatsoflife.com), which  is sponsored by DSM Nutritional Products, the development of heart disease includes low-level inflammation of the blood vessels. This increases the risk of heart disease and impairs blood vessel function. High blood levels of C-reactive protein (CRP) are linked to the inflammation observed in heart disease. Some studies have reported that the consumption of omega-3 fatty acids reduces CRP in people with heart disease. Omega-3 fatty acids are well known for their antiinflammatory properties. Marine omega-3 fatty acids also improve blood flow and make red blood cells more flexible so they pass through tiny blood vessels more easily.
The AHA has established recommended intakes for omega-3 fatty acids; people without documented coronary heart disease (CHD) should eat a variety of fish (preferably fatty) at least twice a week as well as consume oils and foods rich in alphalinolenic acid (flaxseed, canola, and soybean oils; flaxseed; and walnuts). People with documented CHD should consume about 1 g eicosapentaenoic acid (EPA) + docosahexaenoic acid (DHA)/day, preferably from fatty fish. People who need to lower triglycerides should consume 2–4 g of EPA+DHA/day in capsule The AHA has established recommended intakes for omega-3 fatty acids; people without documented coronary heart disease (CHD) should eat a variety of fish (preferably fatty) at least twice a week as well as consume oils and foods rich in alphalinolenic acid (flaxseed, canola, and soybean oils; flaxseed; and walnuts). People with documented CHD should consume about 1 g eicosapentaenoic acid (EPA) + docosahexaenoic acid (DHA)/day, preferably from fatty fish. People who need to lower triglycerides should consume 2–4 g of EPA+DHA/day in capsule form under a physician's care.
--- PAGE BREAK ---
• Whey peptides. Whey protein is a potential source of bioactive peptides. Ballard et al. (2009) showed that supplementation with a novel whey-derived peptide, NOP-47, from Glanbia Nutritionals Inc., Monroe, Wis. (phone 608-329-2800, www.glanbianutritionls.com), in healthy subjects improved vascular function. Ten healthy men and 10 women participated in tests of their vascular function for two days, each preceded by two weeks of supplementation with a single dose of 5 g of NOP-47 per day or a placebo. The researchers measured the vascular function in the forearm and circulating oxidative stress and the inflammatoryrelated biomarkers serially for two hours after ingestion of NOP-47 or the placebo. Supplementation significantly improved FMD responses at 30, 60, and 90 minutes post-ingestion. NOP-47 significantly increased hyperemia blood flow.
• Chitin-glucan. In March 2010, Stratum Nutrition, St. Charles, Mo. (phone 636-926-7461, www.stratumnutrition.com), introduced Artinia™, a patent-pending vegetarian ingredient called chitin-glucan, which combines the benefits of both soluble and insoluble fibers to promote arterial health. According to the company, studies have shown that the ingredient supports the body's natural antioxidant system to help defend against the damaging effects of free radicals and oxidized LDL. A clinical trial showed that Artinia lowered triglyceride levels in the blood, as well as decreased oxidized LDL. Another study showed that Artinia   effectively protected cells and tissues from oxidative stress and decreased lipid deposits in arteries.
• Tea. The maintenance of endothelial function and vascular homeostasis and an associated reduction in atherogenesis and CVD risk are among the proposed benefits of green tea. Moore et al. (2009) reviewed the published data with regard to the effects of green tea catechins on vascular function. The researchers concluded that a positive effect of green tea catechins on vascular function is becoming apparent and that further studies in animaland cell models using physiological concentrations of catechins and their metabolites are warranted.
Teawolf LLC, Pine Brook, N.J. (phone 973-575-4600, www.teawolf.com), lists on its Web site several studies that link green, black, rooibos, and hibiscus tea to heart health. Grassi et al. (2009) showed that consuming black tea dose dependently improved FMD and decreased peripheral arterial stiffness in healthy subjects.
Cholesterol
Omega-3 fatty acids, plant sterols, dietary fiber, and soy protein are most commonly found in foods and beverages targeting cholesterol and heart health. Marine omega-3 fatty acids improve blood lipids by lowering the amount of triglycerides and increasing the amount of HDL cholesterol. Plant sterols, with chemical structures very similar to cholesterol, decrease the absorption of cholesterol into the blood stream. Dietary fiber lowers blood cholesterol and attenuates triglyceride levels. There are several Food and Drug Administration–approved health claims for soluble fiber and heart health: one for oat beta-glucan, one for barley beta-glucan, and one for psyllium seed husk. Soy protein also boasts an FDA health claim for its heart health benefits, particularly for its LDL cholesterol-lowering effects.
• Walnuts. Walnuts are rich in polyunsaturated fatty acids, which may improve blood lipids and other cardiovascular disease risk factors. Banel and Hu (2009) showed that diets supplemented with walnuts resulted in a significantly greater decrease in total cholesterol and LDL. Rajaram et al. (2009) showed that including walnuts and fatty fish in a healthy diet lowered serum cholesterol and triglyceride concentrations, respectively. Serum total cholesterol and LDL cholesterol concentrations in subjects who followed the walnut diet were lower than in those who followed the control diet and the fish diet. The ratios of total cholesterol:HDL cholesterol, LDL cholesterol:HDL cholesterol, and apolipoprotein B:apolipoprotein A-I were lower in those who followed the walnut diet compared with those who followed  the control and fish diets.
• Almonds. The Almond Board of California's Web site (www.almondsarein.com) lists nine clinical studies that helped influence the first qualified health claim for nuts and heart disease. Some of the studies discuss almonds' effect on lowering LDL cholesterol while preserving HDL cholesterol. The Almond Board of California, Modesto, Calif. (phone 209-549-8262), is currently conducting more studies on almonds and heart health. The first is a controlled feeding trial where all foods are provided to 50 subjects, including 1.5 oz of almonds/day for six weeks. The second study is comparing the consumption of 1.5 oz of almonds/day vs 1.5 oz of a control snack cracker/day for four weeks as part of a typical American diet. The final study involves giving 1.5 oz of almonds/day for 12 weeks to 260 subjects with high cholesterol.
--- PAGE BREAK ---
• Flaxseed. Researchers at Iowa State University showed that consuming at least 150 mg of flaxseed lignans/day (about three tablespoons) decreased cholesterol in men, but not women, by just less than 10% for the three mo that the subjects were given the flaxseed (ISU, 2010). The 90 subjects included twice as many men as women, and all of the subjects had high cholesterol but no other underlying health conditions. The subjects were divided into three groups and were randomly assigned to consume tablets that contained 0, 150, or 300 mg of flaxseed lignans/day for 12 weeks.
At the 2010 SupplyExpo, Glanbia Nutritionals highlighted its flax-based alpha-linolenic acid (ALA) ingredient and its heart-health benefits. Studies indicate that ALA omega-3 fatty acids may protect against cardiovascular disease by altering the omega-3 fatty acid content of cell membranes, which improves blood lipids and endothelial function. ALA could also reduce inflammation. The company's MeadowPure™ ALA omega-3 fatty acid ingredient is converted in the body into EPA and DHA. According to the company, the two ways by which ALA may protect the heart is through improvements in abnormal heart rhythms and a reduction of blood platelet stickiness. More recently, studies have shown that ALA lowers C-reactive protein, an inflammatory compound produced in the body.
• Niacin. This B vitamin can increase HDL cholesterol and decrease LDL and triglyceride levels. Under a physician's care, niacin is used for its cholesterolloweringeffects at an average dose of 1.5–3 g/day for the immediate release form and 1.5–2 g per day for other forms. Information from Lonza Inc., Allendale, N.J. (phone 888-403 8772, www.lonza.com), notes that subjects with pre-existing coronary artery disease who were on a niacin therapy regimen had LDL reductions as high as 60%, while subjects with high LDL levels but no signs of disease had a 20% drop in LDL. Niacin therapy has also been shown to reduce the level of triglycerides in the blood by 20%–50%.
• Berry anthocyanins. Qin et al. (2009) showed that berry-derived anthocyanin supplementation improved lipid risk factors for CVD. The researchers gave 120 dyslipidemic subjects either 160 mg of anthocyanins or a placebo two times/day for 12 weeks in a double-blind, randomized, placebo-controlled trial. The capsules contained 17 different purified anthocyanins derived from bilberry and black currant. The results showed that serum HDL-cholesterol increased by 14% and serum LDL cholesterol decreased by 14% in the subjects who took the anthocyanin capsules.
References cited in this column are available from the author.
by Linda Milo Ohr,
Contributing Editor,
Denver, Colo. 
[email protected]