In the current global market, consumers have become more adventurous and have increasingly sought greater variety in their diet. This shift in consumer appetite has created a marketplace in which consumers are seeking out foods and beverages from around the world that are popular and more readily available. Food and beverage imports have increased by more than 13% in the United States and by more than 20% in Europe during the past decade (Nucci et al., 2008; European Commission Eurostat). These numbers are significant and show a greater increase in the appetites of American and European consumers for the variety and ethnic flavor that global products provide. However, with increased imports and global sourcing, food safety and quality assurance are more vitally important than ever before.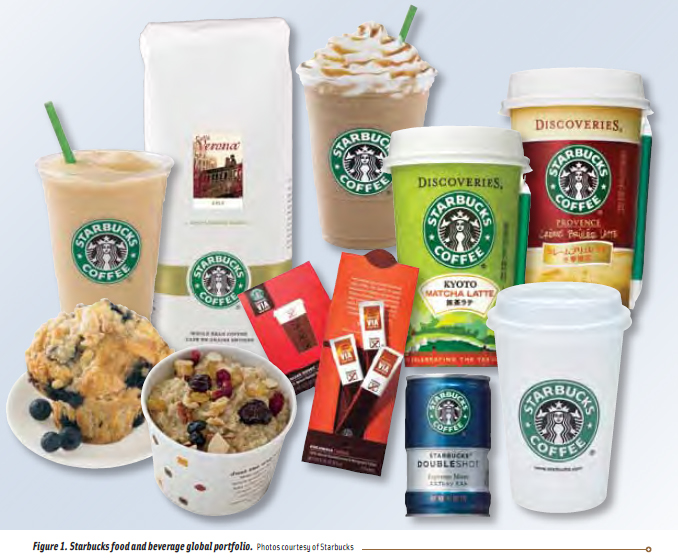 Consumers Are Focused on Food Safety
The shifts in consumers' choices, in addition to several other factors, have had a significant impact on the global marketplace. First, these changes have increased awareness and sensitivity to food safety. Second, we have seen a significant rise in food safety recalls in the U.S. and many other parts of the world in recent years. Finally, these product recalls have created a lack of consumer confidence in the food industry, its policy makers, and its supply chain.
Within the past two years alone, numerous food safety issues have occurred, some resulting in major recalls, such as peanut butter. In addition, the melamine milk scandal in China reminded consumers that food tampering can cause serious illness or even death (The Lancet, 2009). A Consumer Reports survey conducted in 2008 showed that consumers were greatly concerned about harmful bacteria and chemicals in food (Consumer Reports, 2008). This trend has continued as shown in a 2009 IBM survey, which reported that approximately 60% of consumers are very concerned about the safety of the food they purchase (IBM, 2009). In addition, the survey found that more than 80% of consumers do not trust food companies to develop and deliver food products that are safe and healthy for themselves and their families.
In order to ensure customer safety and gain back consumer trust in the food industry, it is necessary to have a robust food safety system in place. The global marketplace demands it.
What Is Needed?
Protecting one's product from safety problems is equivalent to protecting the brand. So what is needed to safeguard our customers, which, in turn, will safeguard the brand? First, there must be a food safety system in place to mitigate risk. The reputation of a corporate brand—and that of the company that brings it to market—hinges on the safety of its products. All food sales today take place in an environment in which customers are extremely aware and highly sensitized to the safety of food. These food products are made from ingredients sourced from all over the world. Therefore, in order to maintain high product safety requirements, it is important to have a system that has a global reach in monitoring these standards.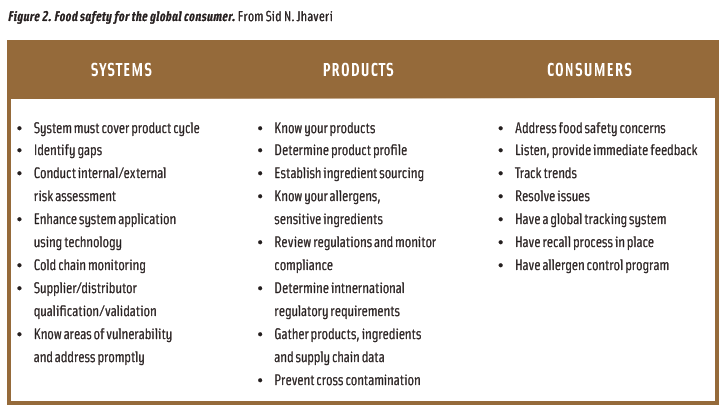 The Starbucks portfolio features a wide range of products, including hot and cold coffee and tea beverages; instant coffee; baked pastry goods, including muffins, donuts, and scones; a variety of sandwiches; salads; fruit offerings; and dairy-based foods such as ice cream (Figure 1). In order to support such a broad product portfolio and to maintain food safety standards, the ideal food safety system includes key procedures and practices at the systems level, product level, and consumer level and provides ongoing feedback for the continuous monitoring and reduction of risk (Figure 2).
--- PAGE BREAK ---
Setting Up Systems
It is important for a company to set up a food safety system that covers the entire product cycle—from product development to the retail/consumer level. In order to achieve this objective, you must know your products. One of the prerequisites is to conduct a risk assessment of the products and the suppliers. This enables us to determine the level of risk and the types of procedures and due diligence one needs to have in producing these products. Conducting a regulatory review of the types of ingredients in the products is also critical. This enables the company to determine the importing eligibility of the products as well as the presence of allergens, sensitive ingredients, etc.
Recent advances in technology can also help to make implementation easier, so it is important to use the tools that are available. Cold chain temperature monitoring devices using radio frequency identification (RFID) techniques, online and real-time product information databases, and global emerging regulations tracker are some examples that can be incorporated to support the system needs.
In setting up a food safety system, it is also important to form strong relationships with suppliers and to have realistic expectations of them. Qualification and validation processes must be in place to ensure the reliability of the suppliers. These steps should include complete transparency in the requirements and accountabilities. The information provided by suppliers must be validated by physical inspections and audits against the food safety standards. Questions that need to be asked include the following:
• Were the products manufactured and handled in a hygienic and safe manner?
• Were good manufacturing practices (GMPs) followed and in place?
• Was there a cold chain in place, and, if so, how was it monitored?
• Did the products receive proper care and handling throughout the production, distribution, and retailing cycle until they were received by the consumers?
It is key to have the suppliers be a part of the process, and, in fact, their engagement is very important during the development and commercialization process. This is essential in order for both client and supplier to succeed. One must take responsibility for enforcing the food safety requirements throughout the product manufacturing and distribution cycle.
Another important area of product distribution is the final destination—the point of sale where consumers purchase products. At Starbucks, customers purchase products either to consume them on site or for takeout. Therefore, we need not only to ensure the safety of the products sold but to make sure that our retail stores are clean and meet local, regional, and federal health and safety requirements. Having a system in place ensures that these requirements are met.
Finally, the most important aspect of setting up a food safety system at any company is to realize that it needs to be continuously examined and probed for gaps and vulnerabilities. These areas of improvement and gaps must be addressed promptly and in a systematic way.
--- PAGE BREAK ---
Safeguarding Products
As discussed above, knowing your product is the foundation for ensuring food safety. This becomes increasingly complicated when sourcing ingredients from around the globe. Procuring food products and ingredients in an ongoing global market expansion poses new and challenging risks. Increasingly, more ingredients are sourced from developing countries and regions around the world where the food safety regulations and subsequent adherence to standards are limited.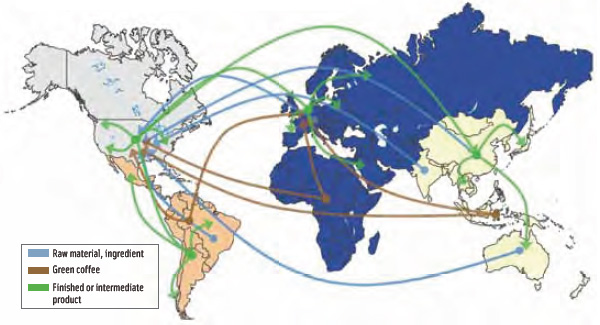 The ingredients used in formulating a product may originate in several different countries. These ingredients ship to suppliers in different countries and are then produced into finished products. Then, these finished products are shipped to retail outlets throughout the world (Figure 3). Starbucks, for example, operates retail stores in more than 50 countries. Such broad reach increases the challenge to provide consistently safe and quality products for the consumer. This complex challenge to food safety exists not only because ingredients are sourced globally, but because suppliers span the globe, as do the retail outlets. As pointed out above, all food products must be produced using the standards and requirements established by the company to ensure safety.
This once again points to the importance of forming a strong relationship with suppliers, so that you can rely on them to provide safe ingredients. This is particularly important in a global market when dealing with suppliers with varied standards and guidelines. If the suppliers do not meet established requirements, one must not conduct any business with them in order to protect your customers and your brand.
Starbucks requires an ingredient assessment from its suppliers. This includes queries on the source and the traceability of ingredients. This important task is supported by the team based in the United States and in key regions around the world.
International Regulatory Compliance
An area that is likely to pose continuing challenges is that of international regulatory compliance. Due to different import and export requirements on ingredient acceptability and product classification in each country, one must know and stay up to date on several sets of regulations. Additionally, documentation preparation moves at various speeds depending on the country. All pose a challenge to a product's universal launch time. Therefore, it is important to ensure that the food safety system includes mandatory requirements at each critical point of product distribution throughout the supply chain.
To add to this marketplace milieu, one must recognize consumer sensitivity to allergens. The population is more aware of food allergies and sensitivities than in previous years, thus making it the food manufacturer's responsibility to report the presence of any potential "trigger" ingredients.
Responding Effectively
When it comes to consumers, the most critical aspects are listening and providing immediate feedback. Even with a food safety system in place, problems can, and probably will, arise. In order to act quickly during a food safety crisis, one must have a well documented and realistic recall or product withdrawal plan. In the age of the new social media, it's necessary to be prepared to act quickly during a food safety crisis. Here are some basic steps that will allow your company to respond quickly should an emergency arise (Figure 4).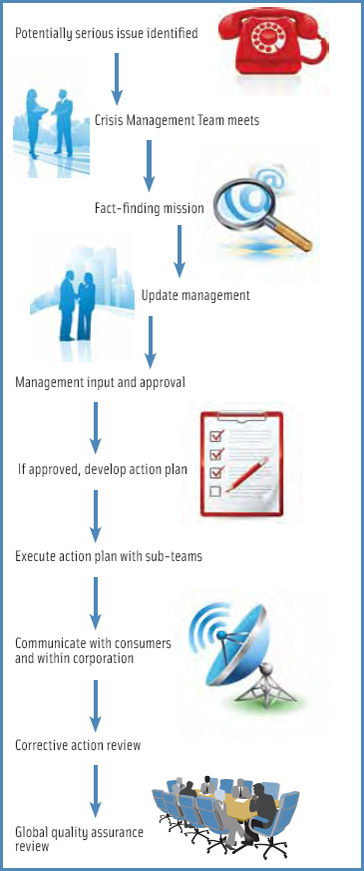 • Have a crisis plan in place that is validated and executable.
• Gather facts of the reported incident. Inform management and the appropriate regulatory agency.
• Convene your product crisis management team.
• Develop and approve a corrective action plan; inform management.
--- PAGE BREAK ---
• Execute and communicate plan.
• Make improvements to your plan based on lessons learned.
During the process of moving through these steps, make sure to stay in regular communication with the regulatory agency. In addition, here are some simple tips that one must not ignore.
• Be upfront with your customers.
• Report any noncompliance issues to the regulatory authority in a timely manner.
• Make sure there is clear communication to customers, media, authorities, suppliers.
• Manage media issues and potential reputation damage.
• Coordinate, communicate, and cooperate with regulatory agencies.
• Look at signals and trends.
• Talk to your peer groups.
Similar criteria are used to develop and build a product withdrawal and recall process at Starbucks. Simply put, our approach is to plan now for incidents to happen.
In conclusion, it is fair to say that we are all responsible for ensuring the safety of food and beverage products. One also needs to recognize that the landscape of government regulations on food safety is changing with strict enforcement and penalties if, indeed, one is not in compliance. To minimize food safety risks in a global market, an organization needs to have supplier and customer transparency and fundamental corporate responsibility. If you outline your expectations with suppliers, communicate effectively with customers, and—most importantly—make food safety your company's No. 1 priority, you will succeed in what has truly become a global marketplace.
by Sid N. Jhaveri, Ph.D., a Professional Member of IFT, is Director, Global Product Safety & Regulatory Affairs, Starbucks Coffee Co., 2401 Utah Ave. South, Seattle, WA 98134 (s[email protected]).