Reducing the sodium content of processed foods is the hottest trend in food right now, as regulatory pressure is pushing the issue further into the spotlight. Back in January, New York City announced a partnership of U.S. cities and national health organizations to promote a voluntary program of salt reduction in packaged and restaurant foods. Proposed reductions in sodium range from 10–40% within 61 classes of packaged foods and 25 classes of restaurant foods.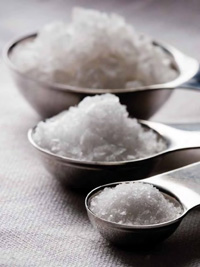 According to the New York City group, The National Salt Reduction Initiative, Americans consume roughly twice the recommended limit of salt each day—causing widespread high blood pressure and placing millions at risk for heart attack and stroke. Consumers cannot control sodium intake on their own. Only 11% of the sodium in Americans' diets comes from their own saltshakers; nearly 80% is added to foods before they are sold. The goal of the initiative is to cut the salt in packaged and restaurant foods by 25% over five years—an achievement that would reduce the nation's salt intake by 20% and prevent many thousands of premature deaths. The American Heart Association reports that one-third of U.S. adults have high blood pressure and 76% are aware of it. About 44% have it under control but 56% do not. A worrying trend is that the death rate from high blood pressure has increased 19% between 1996 and 2006.
Industry Response
Major food companies have recently outlined voluntary initiatives to curb the salt content of their foods. In March, Kraft Foods announced plans to reduce sodium by an average of 10% across its North American portfolio over the next two years. Kraft claims that this amounts to the elimination of more than 10 million pounds or more than 750 million teaspoons of salt from some of North America's most popular foods. The company's goals call for sodium to be lowered in a number of products up to 20% by the end of 2012. For example, Oscar Mayer Bologna is slated to reduce sodium by 17% and some flavors of Easy Mac Cups are scheduled to reduce sodium by 20%. Meanwhile, as part of Pepsi's global goals in the areas of "nutrition, the environment, and workplace practices," the company said it would reduce the average sodium per serving in key global food brands in major markets by 25% by 2015.
Last year, Unilever claimed to be the first company to set worldwide goals for salt reduction across its entire foods portfolio of over 22,000 products, but there have also been significant changes by major companies on a regional level. One of the most recent initiatives highlighted in early 2010 has been Kellogg's announcement of its 30% reduction in salt levels in Rice Krispies and Corn Flakes cereals and snacks across Europe, although it claims this is part of an ongoing reduction process, started in 1998, that has already seen at least a 50% reduction in salt levels in their major cereal brands.
Although Kellogg's initiative is European-wide, it will clearly have the most impact in the UK, where per capita consumption of breakfast cereals and cereal snacks is much higher than in Continental Europe. Britons consume nearly 7 kg of breakfast cereals and snacks per person, compared with about 2 kg in France and Germany. Developments in salt intake reduction in the UK have been driven by reduction targets issued by the Food Standards Agency (FSA), which revised these downward in mid-2008, to the professed concern of some manufacturers in terms of the technical challenges associated with maintaining safety and quality.
--- PAGE BREAK ---
Declining Sodium Levels
Despite some objections, there have been successful implementations of FSA's reduction goals. For example, the Association of Cereal Food Manufacturers (UK) announced in January that following calls from the FSA that, on average, breakfast cereals contain no more than 0.3 g sodium per 100 g by the end of 2010; these targets have now been met. According to the group, total reduction in sodium has been almost 50% since 1998.
Meanwhile, according to the Food and Drink Federation, new formulations are making a difference to consumers, with the salt content of food bought in UK supermarkets reduced by the equivalent of nearly 8,000 tons over two years (from Sept. 2007 to Sept. 2009). Kellogg claims that its recent salt reduction initiatives will further reduce the UK's annual salt intake by about 300 tons. Overall levels of salt reduction activity in the UK are also reflected in the fact that one-fifth of all the 2009 launches marketed globally on a low-sodium platform recorded by Innova Market Insights were in the UK.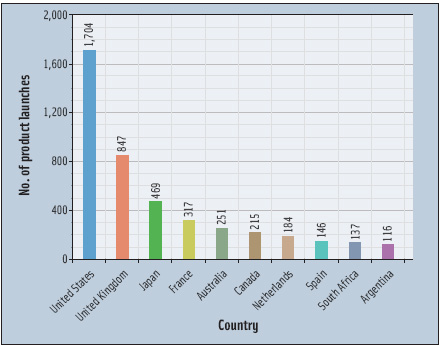 In the U.S., the reduced-salt foods market is more developed than in Europe, reflecting the larger processed foods market as a whole, as well as high levels of interest in health. The U.S. accounted for nearly one-third of the low-sodium launches tracked globally by Innova Market Insights, Duiven, The Netherlands, in 2009 (Figure 1), and another source values the market for sales of foods claiming to be low in salt or sodium to be worth about $12 billion annually.
One of the high-profile salt reduction sectors has been soups, pioneered by market-leading Campbell Soup, whose reduced-sodium lines launched in 2006 were highly successful. These were subsequently extended to include "low sodium," "25% less sodium," and "Healthy Request low-fat soups with less sodium" ranges, but more recently, with the summer 2009 launch of a low-salt version of its flagship condensed tomato soup brand. Campbell has also been active in salt reduction for other key brands in the U.S., with 2010 initiatives already including a 12% reduction in the sodium content of its original V8 100% vegetable juice and its Spicy Hot V8 variant. These products now contain 480 mg of sodium per serving, enabling them to bear a "healthy" claim.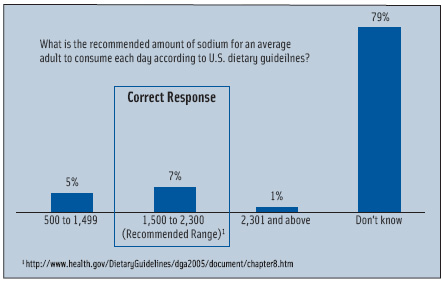 Consumer Understanding
The notion of sodium reduction is undoubtedly in the product development limelight, but there is clearly some way to go when it comes to encouraging consumers to curb salt intake. HealthFocus International (HFI), St. Petersburg, Fla., recently undertook an extensive online survey of 800 Americans in diverse demographic groups regarding their attitudes and actions concerning salt and sodium in their diets. Noteworthy findings were that 65% of consumers have some degree of concern over sodium intake and 44% regularly "pay attention" to their sodium intake. However, HFI reported significant confusion and concern among consumers regarding acceptable sodium levels in the foods and beverages they regularly consume. While nearly two-thirds (65%) of all consumers express some concern about sodium intake, 79% do not know the recommended daily intake of 1,500–2,300 mg (Figure 2).
HFI reported that a low number of shoppers look for the sodium content consistently in each individual food they eat and those consumers that monitor sodium do so intuitively, mostly by avoiding certain foods or categories, rather than by actually understanding their total daily sodium intake. One reason for this lack of diligence is likely that a large number of consumers, while concerned about sodium, are not concerned for health reasons, but rather for cosmetic and personal reasons. The perception among women that excess sodium causes water weight gain is a greater motivator for avoiding sodium than high blood pressure.
--- PAGE BREAK ---
The HFI survey found that consumers seem to evaluate sodium content in a very intuitive, non-quantitative manner. The majority believe they know which foods are too high in sodium and half compare similar products to each other to evaluate levels. Only 7% know the recommended intake of sodium. Even among shoppers with high blood pressure, an overwhelming majority don't know the correct amount. Despite the campaigns to lower salt/sodium consumption, those who are extremely or very concerned about it are considerably fewer than those concerned about things like trans fats and saturated fats in food.
Consumer concerns about sodium are lowest when they cook from scratch at home, which allows them to better monitor their sodium intake by reading nutritional labels and controlling the amount of salt they add while preparing food, the survey found. However, their task is much more complex with fast food and certain prepared foods because these information labels often don't exist. Overwhelmingly, in the HealthFocus study, consumers correctly identified processed packaged foods and fast food restaurants as the two big contributors to sodium intake.
Some specific foods and beverages of concern include: fast-food French fries and hamburgers and frozen meals and cured/processed meats at retail. And, even though most consumers are able to correctly identify foods high in sodium, only approximately one-third of consumers are likely to avoid these foods. Forty different food categories were analyzed to determine which are most likely to be avoided because "they have levels of sodium that are too high." The main categories chosen were "fast foods & processed meats" (32%). Women feel that processed foods are more of a contributor to sodium in their diets than do men (36% vs 18%) and considerably more women are trying to limit them (49% vs 36%).
Taste Issues
The taste issue is present among all consumers, and companies need to carefully consider how they market their reduced-sodium products to consumers, if they wish to do so at all. HFI found that for package/label statements on sodium, there is a negligible difference among many statements but that reinforcing the taste assurance creates the largest positive force by far. The idea of "no salt" is the least positive message, with just 13% being much more likely to buy such a product. Consumers clearly want to be assured that lower sodium does not mean less taste.
On the positive side for product developers, over half of consumers (55%) think that reduced sodium products taste better than they used to and a lot are on the fence (31%). But few disagree outright (6%), so many consumers may be receptive to reduced-sodium products. On the other hand, mixed messages still reign. Sea salt was rated as healthier by a large margin vs other alternatives. Sea salt is seen as generally healthier for many, even though it is not necessarily lower in sodium.
Overall, HFI concluded that consumers need far more education on the topic of sodium intake and even those who are interested haven't really found an effective way to understand and monitor sodium. They avoid some products and compare products within a category. A simplified measure of units (i.e., Weight Watchers points) for daily intake may be one option to consider.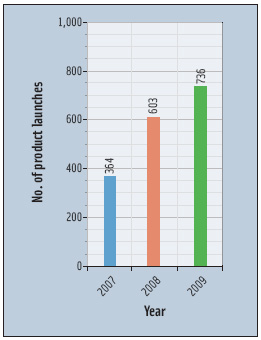 Product Development Activity
What has the industry done so far in addressing the hot topic of sodium reduction? A scan of new product launches from around the world with a low-sodium claim indicates that the trend is already well underway. Innova Market Insights (www.innovadatabase.com) recorded nearly 3,000 global food and drink launches marketed on a low-sodium platform in 2009, double the level in 2006. Reduction in salt levels in products has been apparent across a wide range of product types, including traditionally high-salt products such as salty snacks, as well as bread, breakfast cereals, ready meals, and prepared foods of all kinds, including soups, sauces, and gravies, the researcher found. Innova Market Insights tracked 736 new U.S. products in 2009 carrying a low-sodium claim, up from 603 in 2008 and a doubling of the 364 tracked in 2007 (Figure 3). An increased use of seasonings such as chili, oregano, and garlic was reported to boost the flavor of products, while still reducing the salt content. There were 339 global product launches with seasonings with a low-sodium positioning tracked in 2007. This figure jumped to 596 in 2008 and hit 764 in 2009.
--- PAGE BREAK ---
But while "low sodium" is a growing claim to make, the actual number of products that have reduced their sodium content in recent years without claiming it is significantly higher, as many will not be marketed with this positioning on their labels. Several companies are taking a stealth and graduated approach, whereby the sodium content of products is gradually reduced by several percentage points over a number of years, so consumers become accustomed to it. For example, Europe's leading meat company, Vion Food Group, has already been working on gradually reducing the sodium content of some of its meat products.
Innova Market Insights notes that cooperation between manufacturers in jointly reducing the sodium content is key for industry-wide success, as consumers may well switch to brands with a higher sodium alternative if the partnership route is not followed. For example, the five major bakeries who produce 98% of the bread marketed in The Netherlands successfully agreed to gradually reduce the sodium content of their bread. Prior to the agreement, Dutch breads contained an average of 2% sodium, which was lowered to an average 1.8% beginning January 1, 2009. If cooperation between competing companies takes place on this issue, the consumer will become accustomed to the slightly altered taste of their favorite brands and continue to purchase them.
Ingredient Solutions and Innovation
Food manufacturers need new solutions in the reformulation of low-sodium products and the ingredients industry is duly answering these demands. Major flavor companies including Givaudan and Symrise are promoting sodium-reduction programs, while ingredients as diverse as yeast extract and lactic acid are showing potential in reducing salt in products. For example, Galactic recently introduced Promeat Plus, an ingredient based on lactic acid with the functional characteristics of salt, including taste, texture, color, and shelf life, claimed to have the ability to reduce the sodium content of processed meat by up to 40%. In November 2009, Purac launched its new natural ingredients Purasal Plus and Opti. Form PPA Plus, which are claimed to effectively replace salt in food products by controlling both water activity and maintaining the overall flavor of the product. Meanwhile, two Dutch companies (researcher TNO and ingredient supplier Vaessen-Schoemaker) announced in February that they are working together to reduce the salt content of meat products by 50%, while maintaining taste and quality.
Consumer misconceptions and reformulation challenges will certainly test the food industry's abilities to address the need for lower-sodium products. As more major companies make salt reduction commitments, the ingredients segment will need to develop further solutions to reduce salt, while maintaining the taste that consumers expect. Both regulatory and product developer pressure is encouraging the ingredients industry to innovate, and we can expect high levels of development in this arena in the coming months and years.
Barbara Katz, a member of IFT, is President of HealthFocus International ([email protected]).
Lu Ann Williams, a member of IFT, is Head of Research, Innova Market Insights ([email protected]).