A recent report by Global Industry Analysts Inc., San Jose, Calif. (phone 408-528-9966, www.strategyr.com), Kids' Food and Beverages: A Global Strategic Business Report, projects the global kids' food and beverages market will reach about $89.3 billion by the year 2015. The report states that growth in the market is driven by factors such as rising population, established fast food and snacking habits, higher discretionary income, and greater availability of vitamin-enriched products and better-for-you snacks.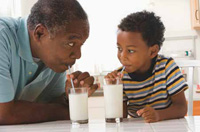 When it comes to the kids' food and beverage market, products that address immunity, cognitive health, bone health, and obesity are of increasing interest. Just take a look at today's parenting magazines and websites, and you will find information and articles addressing these areas. Nutraceuticals that address these concerns include omega-3 fatty acids, probiotics, yeast fermentates, vitamins, minerals, prebiotics, and whole grains. Here is a closer look.
Immunity
Yeast extracts, probiotics, and prebiotics have been popping up in products that promote kids' immune health. For example, in July 2010, two new products (citrus and pom-blueberry) were added to the Dr. Sears Family Essentials™ line of Immune Plus Fruit Chews for children. The supplements contain vitamins C and D, zinc, selenium, and Wellmune WGP®, a gluco-polysaccharide isolated from the cell walls of a proprietary strain of yeast (Saccharomyces cerevisiae). Wellmune WGP® is available from Biothera, The Immune Health Company, Eagan, Minn. (phone 651-675-0300, www.wellmune.com). The yeast-derived beta-glucan naturally activates and directs innate immune cells to more quickly identify and kill foreign challenges, enhancing immune function without stimulating the immune system.
Feldman et al. (2009) showed that Wellmune WGP reduced the incidence of fever and eliminated the need for study subjects to miss work or school due to colds. Conducted during the cold/flu season, 40 healthy subjects, ages 18–65, were treated daily with either WGP (500 mg/day) or a placebo (500 mg rice flour) for 90 days. While there were no significant differences in the incidence of symptomatic respiratory infections, the duration and severity of symptoms were alleviated in subjects receiving WGP. None of the subjects in the WGP group missed work or school due to colds, while subjects with colds in the placebo group missed an average of 1.38 days.
A yeast-based ingredient, EpiCor® from Embria Health Sciences LLC, Ankeny, Iowa (phone 515-964-9004, www.embriahealth.com), is also found in children's supplements such as EpiCor for Kids and EpiCor Junior. The S. cerevisiae fermentate is manufactured using a proprietary technology that produces metabolites, vitamins, minerals, and antioxidants that help the body balance the immune system. Clinical studies have found EpiCor's immune-balancing properties provide year-round support by helping the body boost or suppress immune response as needed, increase the anti-inflammatory marker IL-10, and activate crucial defense cells (Wallace, 2009).
--- PAGE BREAK ---
Moyad et al. (2010) recently concluded that EpiCor® significantly reduced cold and flu-like symptoms in non-vaccinated individuals. The study focused on 116 test subjects with no recent history of seasonal influenza vaccination. Test subjects were given either a once-daily 500 mg dose of EpiCor or a placebo over a 12-week period. Subjects who were given EpiCor experienced a statistically significant reduction in the incidence of cold or flulike symptoms.
Probiotics are becoming more commonplace in foods and beverages, making their immune benefits more easily accessible. For example, Abunda Functional Foods, Salt Lake City, Utah (phone 801-550-6962, www.abundahealth.com), recently launched a probiotic chocolate milk mix, MojoMilk™ with the probiotic GanedenBC30™ from Ganeden Biotech Inc., Mayfield Heights, Ohio (phone 440-229-5200, www.ganedenlabs.com). At this year's IFT Food Expo, Ganeden announced a new partnership with Tropical Nut & Fruit Inc., Charlotte, N.C. (phone 704-588-0400, www.tropicalfoods.com), that will produce a series of four functional confection mixes with GanedenBC30.
Recently, Kimmel et al. (2010) evaluated the effect of GanedenBC30 on immunological marker levels following viral exposure. Ten healthy subjects' baseline immunological marker levels were analyzed. They consumed 1 capsule/day of 500 million CFU of GanedenBC30 for 28 days and returned for post-treatment evaluation. Results showed that this regimen may be a safe and effective option for enhancing the immunological response to common viral respiratory tract infections.
Leyer et al. (2009) demonstrated the benefits of a probiotic formulation HOWARU® Protect from Danisco USA Inc., New Century, Kan. (phone 913-764-8100, www.danisco.com), in maintaining immune health in children. The combination included Lactobacillus acidophilus NCFM® and Bifidobacterium lactis Bi-07. For six months, 326 children, ages 3 to 5, were given supplements twice a day. One group received a single strain of Lactobacillus acidophilus NCFM®. One group received a combination of Lactobacillus acidophilus NCFM® and Bifidobacterium lactis Bi-07. The third group received a placebo. Compared to the placebo group, the groups that received the single and combination probiotic supplements reduced their fever incidence by 53% and 72.7%, respectively. The duration and severity of cold and flu symptoms were also significantly reduced in the children receiving the probiotics.
Prebiotics are believed to function as a source of nutrients for the colonic microflora via fermentation, selectively stimulating the good bacteria, promoting intestinal function and immunity. For example, Vivinal® GOS, a prebiotic, dairy-derived galacto-oligosaccharide manufactured by FrieslandCampina Domo, Rolling Meadows, Ill. (phone 847-981-5032, www.frieslandcampina.com), bears great similarity to the protective oligosaccharides found in mother's milk. It is fermented in the colon by key probiotic bacteria to produce short-chain fatty acids. This fermentation produces digestive and immune health effects that could be beneficial to children. Information from the company states that scientific studies have shown that Vivinal GOS not only has the opportunity to mimic the composition of human milk, it also has been shown to create a microflora closer to that of breastfed infants. In addition, the usage of galacto-oligosaccharides in infants has been shown to have a potential role in allergy prevention and reduction of infectious diseases.
--- PAGE BREAK ---
Cognitive Health
Omega-3 fatty acids have long been shown to be important in children's health, particularly for eye and brain development and function. Docosahexaenoic acid (DHA) is an omega-3 fatty acid that is an important structural fat in the brain and eyes. According to information from Martek Biosciences, Columbia, Md. (phone 410-740-0081, www.martek.com), DHA is the predominant omega-3 fatty acid found in the brain. Between birth and five years of age, the human brain increases approximately 3.5 times in mass, and it is important that children consume adequate amounts of DHA to support this period of rapid growth and development.
Life'sDHA™ from Martek is derived from microalgae and is the only source of DHA used in U.S. infant formula. Earlier this year, Sara Lee Corporation, Downers Grove, Ill. (phone 800-323-7117, www.saralee.com), introduced Sara Lee® Soft & Smooth Plus Bread with life'sDHA™, and WhiteWave Foods Co., Broomfield, Colo. (phone 888-494-3020, www.whitewave.com), introduced Horizon Organic Lowfat Chocolate Milk Plus DHA.
A recent clinical study in children with attention deficit hyperactive disorder (ADHD) showed that krill phospholipid EPA & DHA from Superba™ Krill Oil, Aker BioMarine, Norway (phone 877-206-8282, www.akerbiomarine.com), significantly improved brain function (Aker BioMarine, 2010). In the study, 18 boys (ages 7–11 years) with ADHD were supplemented daily with krill oil for 13 weeks. The EEG patterns for the study participants were compared to a database of more than 400 children with an established ADHD diagnosis. Researchers noted significant improvements in both clinical scores and in identified EEG patterns as compared to the typical ADHD EEG pattern. Superba Krill is a natural source of DHA and EPA omega-3 essential fatty acids and the naturally occurring antioxidant astaxanthin.
Bone Health
To maximize bone development in children, many nutrients are needed, including calcium, phosphorus, and magnesium (key bone mineral components) and vitamin C, vitamin D, and vitamin K (important vitamins needed in bone metabolism) (Chaudhari, 2006).
This past August, ICL Performance Products LP, St. Louis, Mo. (phone 800-244-6169, www.icl-perfproductslp.com), introduced Mag-nificent®, which can help in the formation of bone and teeth by assisting with the absorption of calcium and phosphorus. Mag-nificent supplies magnesium and another essential mineral, phosphorus, in one ingredient to support the recommended dietary guidelines.
Vitamin K is needed for the body to properly utilize calcium in bone growth. The vitamin K-dependent proteins, including osteocalcin and Matrix Gla Protein, cannot function to put calcium into healthy bone tissue and keep it from accumulating in arteries and soft tissues without adequate vitamin K, explains information from PL Thomas & Co. Inc., Morristown, N.J. (phone 973-984-0900, www.plthomas.com). The company offers MenaQ7®, a natural vitamin K2 as an extract of natto, a fermented soy food from Japan.
Van Summeren et al. (2008) showed that a better vitamin K status was associated with more pronounced increase in bone mass in healthy children. The researchers followed 307 healthy children over a two-year period and measured skeletal bone mineral content. They found improved status of the K vitamins over the two-year period resulted in better mineral content and improved bone mass of the whole body.
--- PAGE BREAK ---
Most recently, Danisco announced a new ingredient, ActivK™, its brand for long-chained menaquinone vitamin K2. It is a fermented and purified vitamin K2 ingredient using bacteria naturally occurring in natto.
Prebiotics also function to aid in absorption of minerals essential for bone health. Van den Heuvel et al. (2009) showed that a short-chain fructooligosaccharide (NutraFlora® scFOS® from GTC Nutrition, Golden, Col. (phone 303-216-2489, www.gtcnutrition.com), increased magnesium absorption in adolescent girls. The study investigated short- and long-term intake of scFOS in adolescent girls with low habitual calcium intake. Fourteen girls ages 12–14, were instructed to exclude prebiotics and probiotics from their diets during the study. In a randomized crossover design, separated by a 12-day washout, the subjects received two treatments to include either scFOS or a placebo. Data showed that magnesium absorption did not increase in the first eight days. However, long-term magnesium absorption increased by 18% after 36 days with an average of 7 g/day of scFOS.
GTC, in partnership with Marigot Ltd. of Ireland, also offers CalciLife® prebiotic mineral blend, a combination of NutraFlora and Aquamin® calcified mineral source. Aquamin® contains an array of more than 70 trace minerals, including a dairy- and allergen-free calcium source.
BENEO-Orafti, Morris Plains, N.J. (phone 973-867-2140, www.beneo-orafti.com), also offers an oligofructose-enriched inulin, Orafti®Synergy1, which has been shown to increase calcium absorption and bone density. Abrams et al. (2005) gave 100 adolescents either 8 g Orafti®Synergy1 or an equivalent amount of placebo every day for a year. Calcium absorption and bone mineral density were improved in those who consumed the oligofructoseenriched inulin. At six-week and one-year interventions, calcium absorption had increased significantly. After one year, bone mineral density was significantly higher. The fermentation of Orafti®Synergy1 in the colon stimulates the production of short-chain fatty acids. It is believed that the acidity in the large intestine increases significantly, making the calcium in the colon more soluble and therefore increasing its bioavailability.
Weight Management
A recent report from Datamonitor, Kids Nutrition: New Perspectives and Opportunities, points out that two out of every five U.S. children between the ages of 5 and 13 are currently obese or overweight and this number is expected to climb to 43.4% by 2014.
Racine et al. (2010) demonstrated the body fat-lowering effects of conjugated linoleic acid (CLA). Sixty-two children ages 6 to 10, who were overweight or obese but otherwise healthy, were randomly assigned to receive 3 g/day of 80% CLA (Clarinol™) from Lipid Nutrition, Channahon, Ill. (phone 815-730-5244, www.lipidnutrition.com), or a placebo in chocolate milk. The children consuming the chocolate milk with Clarinol CLA showed a significant decrease in body fat and an increase in lean mass vs the placebo group.
Whole-grain foods have been associated with a lower body mass index and healthier weight in observational studies. In a review article, Slavin (2004) discussed several factors that could explain the relationship between whole grains and body weight regulation. "The high volume, low-energy density and the relatively lower palatability of whole grain foods may promote satiation (regulation of energy intake per eating occasion through effects of hormones influenced by chewing and swallowing mechanics)," Slavin states. "Additionally, whole grains may enhance satiety (delayed return of hunger following a meal) for up to several hours following a meal."
Linda Milo Ohr,
Contributing Editor, Denver, Colo. 
[email protected]
References
Abrams, S.A., Griffin, I.J., Hawthorne, K.M., Liang, L., Gunn, S.K., Darlington, G., and Ellis, K.J. 2005. A combination of prebiotic short- and long-chain inulin-type fructans enhances calcium absorption and bone mineralization in young adolescents. Am. J. Clinical Nutr. 82: 471-476.
Aker BioMarine. 2010. ADHD study with SuperbaTM Krill Oil shows significant positive effects. Press release, Oct. 12.
Chaudhari, R. 2006. Developing healthy foods for kids. Fortitech Technical Paper, Feb. 13.
Feldman, S., Schwartz, H.I., Kalman, D.S., Mayers, A., Kohrman, H.M., Clemens, R., and Krieger, D.R. 2009. Randomized Phase II clinical trials of Wellmune WGP® for immune support during cold and flu season. The J. of Applied Research 9: 20-42.
Kimmel, M., Keller, D., Farmer, S., and Warrino, D.E. 2010. A controlled clinical trial to evaluate the effect of GanedenBC30 on immunological markers. Methods and Findings in Experimental and Clinical Pharmacology 32(2): 129-132.
Leyer, G.J., Li, S., Mubasher, M.E., Reifer, C., and Ouwehand, A.C. 2009. Probiotic effects on cold and influenza- like symptom incidence and duration in children. Pediatrics 124(2): e172-e179.
Moyad, M.A., Robinson, L.E., Zawada, E.T., Kittelsrud, J., Chen, D.-G, Reeves, S.G., and Weaver, S. 2010. Immunogenic yeast-based fermentate for cold/flu-like symptoms in nonvaccinated individuals. The Journal of Alternative and Complementary Medicine 16(2): 213-218.
Racine, N.M., Watras, A.C., Carrel, A.L., Allen, D.B., McVean, J.J., Clark, R.R., O'Brien, A.R., O'Shea, M., Scott, C.E., and Schoeller, D.A. 2010. Effect of conjugated linoleic acid on body fat accretion in overweight or obese children. Am. J. Clinical Nutr. 91: 1157 – 1164.
Slavin, J. 2004. Whole grains and human health. Nutrition Research Reviews 17: 99-110.
Van den Heuvel, E.G., Muijs, T., Brouns, F., and Hendriks, H. 2009. Short-chain fructooligosaccharides improve magnesium absorption in adolescent girls with a low calcium intake. Nutrition Research 29: 229-237.
Van Summeren, M.J., van Coeverden, S.C., Schurgers, L.J., Braam, L.A., Noirt, F., Uiterwaal, C.S., Kuis, W., and Vermeer, C. 2008. Vitamin K status is associated with childhood bone mineral content. Br. J. Nutr. 100(4): 852-8.
Wallace, E. 2009. Establishing efficacious dosage of EpiCor® in products consumed by children. Science Report, April 8.