Restaurants offer a range of products, from quick meals at an inexpensive price to indulgent foods and beverages that represent a "fine dining experience" to everything in between. For years, the emphasis has been on convenience, flavor, and taste, with the healthfulness of menu offerings often taking a back seat. There have been exceptions: The Subway sandwich chain's long-running advertising campaign featured Jared Fogle, who reportedly lost a significant amount of weight by eating certain Subway sandwiches and exercising.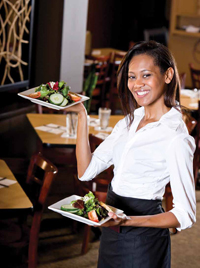 In recent years, though, consumer advocacy groups and health associations have criticized the restaurant industry for offering food that is high in calories, sodium, cholesterol, and fat and low in other nutrients, and they have called on the industry to make a concerted effort to improve the nutritional quality of the food and beverages available in restaurants. Books like Fast Food Nation and movies like Super Size Me have drawn attention to the nutritional quality of restaurant menu offerings. Many in the restaurant industry were critical of these books and movies but were nonetheless prompted to add healthier foods and beverages to their menus or to reformulate current offerings.
First Lady Michelle Obama in September 2010 spoke to the board of directors of the National Restaurant Association (NRA) to recognize some of the efforts that the NRA and the restaurant industry have taken to provide adults and children with healthy menu options in support of her Let's Move initiative to reduce childhood obesity. These include supporting the national menu labeling standard that became law in March 2010; developing a website (HealthyDiningFinder.com) that lists more than 70,000 restaurant locations offering healthy menu items; partnering with the Produce Marketing Association and the International Foodservice Distributors Association to promote the use of fruits and vegetables in menu offerings; and helping to partner chefs with schools to educate parents and students about nutrition and develop school lunch menus that offer healthier foods and beverages as part of the Chefs Move to Schools program (NRA, 2010).
Obama reminded the NRA board of directors that the restaurant industry should be commended for taking these steps, but she said that there is still much more that can be accomplished in developing healthier restaurant fare, explains Joy Dubost, Director of Nutrition and Healthy Living, NRA. Research shows that consumers want healthier menu options, even if they may not always purchase those items, she said. Still, many restaurants are formulating more healthful new offerings or making tweaks to current foods and beverages to improve their health profile.
Give Consumers What They Want
Restaurant patrons want information about what is in their food, and they want restaurant operators to provide them with this information (Unilever, 2011). Restaurant menu trends reflect this, as noted by more than 1,500 professional chef members of the American Culinary Federation surveyed by NRA for its Chef Survey: What's Hot in 2011 (NRA, 2011a). They identified the top 20 foods, beverages, cuisines, and culinary themes as menu trends for fullservice restaurants, with six of the top 20 related to health and nutrition. These menu trends include nutritionally balanced children's dishes; children's nutrition; gluten-free food/food for the allergy conscious; half portions/smaller portion for a smaller price; nutrition/health; and fruit/vegetable children's side items. There is similar emphasis on health and nutrition in the 2011 trends for quickservice restaurants, as reported in the Quickservice Operator Survey. Healthy options in kids' meals, gluten-free items, snack-sized items, low-sodium items, low-calorie items, low-fat items, whole-grain breads, and entrée salads all make that list (NRA, 2011b).
It is interesting to note that while some of the quickservice restaurant trends refer to health and nutrition—like low-sodium, low-calorie, and low-fat—the top 10 list of perennial quickservice favorites noted by quickservice restaurant operators includes such items as French fries, hamburgers/cheeseburgers, chicken sandwiches, soft drinks, chicken strips/nuggets/bits, and milkshakes (NRA, 2011b). Even though people love burgers and fries, NRA found that 71% of adults are trying to eat healthier at restaurants than they did two years ago (NRA, 2011b). Other research shows that consumers have ordered less of foods high in sugar or fat like soft drinks, hot dogs, fried chicken, and French fries, and have ordered more milk, grilled chicken, non-fried fish, breakfast cereals, fruit, and yogurt (NPD, 2010).
--- PAGE BREAK ---
In some cases, remarks Dubost, restaurant operators are making changes to improve the health profile of some of these foods with approaches such as lowering the sodium content of the breading on chicken nuggets, using 100% white meat in the chicken nuggets, or using oils to reduce trans and saturated fats.
"The challenge is that some consumers say they want healthful food but when given the choice they may not always choose it," says Dubost. "But the options are there where you may not have found them before."
Addressing the Obesity Epidemic
The number of people who are overweight or obese continues to rise, with many believing that the restaurant industry shares some of the blame and looking to the overall food industry to do something. Restaurant operators and chefs can take this opportunity to play a role to help curb or even reverse this trend by providing nutrition and calorie information on menus and menu boards, providing smaller portion sizes, offering a variety of reduced-calorie items, and more, according to the Culinary Institute of America (CIA) (CIA, 2011).
At the annual Worlds of Healthy Flavors event presented Jan. 19–20, 2011, by CIA and the Harvard School of Public Health, nutrition researchers and chefs provided some practical tips for making menus more healthful. They suggested such strategies as using whole grains instead of refined grains; offering more foods and beverages with less added sugar; reducing sodium without telling consumers; making gradual reductions of salt levels in foods; using other ingredients in place of salt to enhance flavors; offering more poultry, fish, nuts, and beans as alternatives to red meat; and focusing on fat quality rather than on low-fat (CIA, 2011). In addition to these suggestions for developing healthy menu offerings, chefs are encouraged to "think strategically about flavor," concentrating on long-term flavor trends and consumers' interest in ethnic cuisines; incorporate more fruits and vegetables, especially those not found in traditional salad bars, into their recipes; increase the focus on quality rather than quantity; and use small amounts of indulgent ingredients or serve small portions of indulgent menu offerings, often combining these with healthier options that become the focus of the overall dish (CIA, 2007).
When asked "How can chefs/restaurants best promote health and nutrition?," 21% of chefs responded "create diet-conscious menu selections (e.g., lower sodium, lower calories, lower fat)," 19% said "increase fresh produce options on menus," 17% said "get involved with school nutrition/children's education efforts," 16% said "provide nutritional information to guests to make their own decisions," and 16% said "reduce portion sizes" (NRA, 2011a).
While some restaurants are taking a stealth health approach by reducing the amounts of sodium or other components and not telling consumers (because in the past consumers often equated healthy with tasting bland or bad), others are making it easier for consumers to identify healthier choices and are calling out healthier attributes of menu offerings, report Dubost and Eric Giandelone, Director of Foodservice Research, Mintel International, both of whom were interviewed for this article and were speakers at the Institute of Food Technologists' Wellness 11 Conference in March 2011. Many chains now offer meals that are lower in calories, fat, sodium, or carbohydrates and identify them by names or icons.
Applebee's offers its Under 550 Calories Menu™; Noodles & Company has 16 items at 400 calories or less (as well as items that have 10 g of fat or less and 700 mg of sodium or less); Chili's features several Guiltless Grill meals at less than 750 calories, 25 g of fat, and 8 g of saturated fat; Olive Garden offers low-fat or low-carbohydrate Garden Fare options; and Ruby Tuesday has Fit & Trim selections that contain less than 700 calories on its dinner menu and Fit & Trim Petite Plates on its lunch menu. The portion sizes of these offerings are more reasonable, and they feature grilled meats and seafood, sauces and dressings that are lower in fat or calories, more vegetables and fruits, and in some cases, whole-wheat pastas. The menu descriptions also emphasize the use of herbs, spices, and seasonings.
--- PAGE BREAK ---
Flavor is important in developing these menu items. "Too often restaurant operators use traditional markers of healthy like low fat or low sodium, and while those items are healthier, they don't really deliver on a high flavor profile," says Giandelone. "That's why you see restaurants using 'under X calories' as a strategy. In many cases, it's the same ingredients that are found on the core menu, and even the same dishes, just in a more reasonable portion size. In that way, the consumer is able to eat healthier in terms of calories without sacrificing taste."
Panelists at the Worlds of Healthy Flavors event also emphasized the need to develop ways to reduce or reverse the growing numbers of children becoming overweight or obese (CIA, 2011). Children's nutrition represented several trends pointed out in the NRA's Chef Survey: What's Hot in 2011 and Quickservice Operator Survey, including fruit and vegetable side items, smaller versions of adult menu items, and meals made with less fat or sugar (NRA, 2011a; NRA, 2011b).
Many quickservice restaurants like McDonald's offer parents the choice of purchasing better-for-you food items like apple slices, low-fat milk, or apple juice for their children. Debe Nagy-Nero, Director of Quality Assurance, Nutrition & Safety, The Holland Inc./Burgerville, told attendees at the Wellness 11 conference that her company has reduced the portion size of milk to 8 ounces, switched to 1% milk, and added apple slices to children's menus. Most important is for chefs to engage children by being innovative and creative. For example, giving fruits and vegetables creative and descriptive names that appeal to children can actually help to increase sales of those items, said Dubost.
Other restaurants offer children more than fried chicken strips, French fries, and burgers. Chipotle Mexican Grill lets children customize their "taco kits" with two soft or crispy taco shells filled with their choice of three ingredients. The restaurant also features a small quesadilla with a side of rice and beans or one taco with a side of rice. All items on the children's menu come with a small order of tortilla chips and juice or organic milk. Corner Bakery Café offers kid-favorite fare like peanut butter and jelly sandwiches and grilled cheese sandwiches as well as pasta marinara, turkey sandwiches, ham sandwiches, cheese ravioli and marinara sauce, and the Kid's Scrambler (scrambled eggs and toast with a choice of apple-wood smoked bacon or fresh fruit). All of its sandwiches on the children's menu are served with a fresh fruit medley or cookie, and a soft drink or milk. Panera Bread also offers a variety of sandwiches (peanut butter and jelly, grilled cheese, ham, smoked turkey, and roast beef) served on white whole-grain bread and with a squeezable organic yogurt.
Counting Calories Gets Easier
In its survey of 3,500 people (500 people each from the United States, UK, China, Germany, Russia, Brazil, and Turkey) who eat out at least once a week, Unilever Food Solutions reported that a majority of respondents replied "yes" to "Do you think that knowing about the nutritional content of meals will influence the choices you make when eating out?" (Unilever, 2011). The actual numbers ranged from 49% (Germany) to 87% (China). About two-thirds of the respondents agreed with the statement "Food labels including low fat and calorie content would be a welcome addition to the menu when eating out."
The Nutrition Facts Panel and list of ingredients are familiar to anyone who purchases packaged food and beverages from stores, and legislation requires food manufactures to provide this information. Typically, restaurants have shared this information on a limited basis or upon the request of the consumer, but this was at the discretion of the proprietor or company. With the signing into law of the Patient Protection and Affordable Care Act in March 2010, certain types of restaurants, specifically restaurants or similar retail food establishments with 20 or more locations doing business under the same name, must post calorie amounts of foods and beverages on menus and menu boards (Patient Protection and Affordable Care Act, 2010). The restaurants must post on menus and menu boards that additional information about total calories and calories from fat and amounts of fat and saturated fat, cholesterol, sodium, total and complex carbohydrates, sugars, dietary fiber, and protein is available by request. Restaurants will need to place signs that list the calories per serving next to each product sold at salad bars, buffets, cafeteria lines, or similar self-service facilities.
The U.S. Food and Drug Administration continues to work on the implementation and enforcement of the provisions. It issued a proposed rule on April 1, 2011, and reportedly will issue the final rule before the end of 2011 (FDA, 2011). Full implementation is expected by summer 2012.
--- PAGE BREAK ---
Some state and local governments like California, King County in Washington, and New York City already had menu labeling laws on the books, some of which have requirements more extensive than the federal standards. The federal menu-labeling law will replace these different regulations and laws, something the NRA approves as a way to eliminate confusion among consumers and to make it easier for restaurant chains that operate different locations around the country to follow one uniform law (NRA, 2011c).
Providing consumers with nutrition information for the food and beverages they purchase at restaurants can help them make more informed choices, according to the FDA (Federal Register, 2010). There is debate among researchers as to whether this is actually happening though. Some researchers say that posting calorie information on menu boards increases the number of people who see the information and who use the information to make informed choices (Dumanovsky et al., 2010). Other research has concluded the contrary: that the calorie information does not affect or minimally affects what consumers purchase (Elbel et al., 2009; Elbel et al., 2011; NPD, 2011a). While researchers have taken a number of different approaches to determine if calorie labeling on food choices at restaurants affects consumer purchases, there is still a need for better-designed studies to evaluate this, said Dubost.
Food choices at restaurants continue to evolve as consumer demands and preferences change. As more consumers request healthier restaurant food, restaurant operators and chefs must innovate to develop creative and flavorful healthy and better-for-you menu options to attract and keep customers and increase sales.
---
Restaurants Are Rebounding
More and more Americans rely on restaurants to feed them: Consumers spend 49% of their food budget in restaurants now compared with spending 25% in 1955, according to the National Restaurant Association (NRA) (NRA, 2011b). Restaurant sales are predicted to reach $604.2 billion in 2011, a 3.6% increase over 2010, reports the NRA in its 2011 Restaurant Industry Forecast (NRA, 2011b). According to the organization's Restaurant Performance Index, a monthly composite index that tracks the health of and outlook for the U.S. restaurant industry, the overall outlook for the industry improved in March 2011 based on strong increases of same-store sales and customer traffic levels (NRA, 2011d).
NRA also claims that the worldwide recession did not lead to a prolonged decline in restaurant activity but represented "a pause in the industry's long-term positive trajectory," and says that it expects that as economic conditions improve, growth in the restaurant industry will increase as consumers "satisfy a hunger for restaurants" (NRA, 2011b). The NRA report points out that in 2000, the economic conditions were much better: Unemployment was low and people had more disposable income. But by the end of the decade, people were cutting back on spending as the numbers of unemployed people grew, people who had jobs were worried about losing them, and consumers lost confidence in the economy. As a result, many independent and chain restaurant units went out of business. From Fall 2009 to Fall 2010, 5,551 U.S. restaurants closed, a decline of 1% (NPD, 2011b).
The NPD Group noted some improvements in the U.S. restaurant industry in the second half of 2010 (NPD, 2011c). While the overall restaurant traffic was flat for the quarter ending December 2010, there was a 3% decline for the quarter ending December 2009. Quickservice restaurants registered an increase in customer visits during the second half of 2010 (NPD, 2011d). The number of visits to fast casual restaurants increased 17% over the last three years, "while the rest of the industry experienced its steepest traffic declines in decades, and consumer demand for fast casual offerings exceeded the unit growth of leading fast casual chains."
Restaurants have had to adjust to the current economic conditions. There is still a segment of the population that has money to spend and will spend it, but for so many consumers, that is not an option. People want value, and restaurants can give it to them. Restaurant operators reported in a survey conducted by NRA in November 2010 that their customers expect more for their money, with more than nine out of 10 fullservice operators and 98% of quickservice operators agreeing that their customers are more value-conscious than they were two years ago (NRA, 2011b). In addition to getting a great deal for their money, consumers also want quality. Eighty-one percent of fine dining operators and 74% of casual and family dining operators reported noticing an increase in customers expecting a quality restaurant experience. In addition, 75% of fullservice operators said that their customers have higher expectations regarding the quality of food, and 79% of quickservice operators said that the number of consumers expecting better food quality has increased (NRA, 2011b).
--- PAGE BREAK ---
---
IFT Offers Menu Labeling Webcast
The Institute of Food Technologists and the IFT Washington, D.C., section offer an on-demand version of its webcast, New Menu Labeling Requirements, which was held live on May 17, 2011. A representative from the U.S. Food and Drug Administration discussed the proposed labeling requirements for restaurants, similar retail food establishments, and vending machines and provided an explanation of the guidance proposed by FDA and the current requirements proposed under Section 4205 of the Patient Protection and Affordable Care Act.
Visit www.ift.org and click on Knowledge Center—Learn Online for a link to this on-demand webcast.
Karen Nachay, a Member of IFT, Associate Editor of Food Technology magazine ([email protected]).
References
CIA. 2007. Principle of healthy menu research & development. Culinary Institute of America, Hyde Park, N.Y. www.ciaprochef.com.
CIA. 2011. Worlds of healthy flavors, 2011 program summary. www.ciaprochef.com/wohf2011/index.html?source=Home&segment=WOHF2011. Accessed Feb. 15, 2011.
Dumanovsky, T., Huang, C.Y., Bassett, M.T., and Silver, L.D. 2010. Consumer awareness of fast-food calorie information in New York City after implementation of a menu labeling regulation. Am. J. Public Health 100(12): 2520-2525.
Elbel, B., Kersh, R., Brescoll, V.L., and Dixon, B. 2009. Calorie labeling and food choices: a first look at the effects on low-income people in New York City. Health Aff. 28(6): w1110-w1121.
Elbel, B., Gyamfi, J., and Kersh, R. 2011. Child and adolescent fast-food choice and the influence of calorie labeling: a natural experiment. Int. J. Obesity. 35: 493-500.
FDA. 2011. FDA proposes draft menu and vending machine labeling requirements, invites public to comment on proposals. Press release, April 1. U.S. Food and Drug Administration, Washington, D.C. www.fda.gov.
Federal Register. 2010. Disclosure of nutrient content information for standard menu items offered for sale at chain restaurants or similar retail food establishments and for articles of food sold from vending machines. Federal Register, 75(129), DOCID: fr07jy10-67, docket no. FDA-2010-N-0298, July 7. U.S. Food and Drug Administration, Washington, D.C. http://edocket.access.gpo.gov/2010/2010-16303.htm. Accessed on March 9, 2011.
NPD. 2010. Americans are making gradual shifts toward more healthful eating at restaurants, reports NPD. Press release, Nov. 30. NPD Group Inc., Port Washington, N.Y. www.npd.com.
NPD. 2011a. Calorie counts on menus likely to cause few long-term changes in customer ordering patterns, NPD reports. Press release, March 22.
NPD. 2011b. U.S. restaurant count down by 5,551 from last year; independents declined by 2 percent and chain units remained stable. Press release, Jan. 24.
NPD. 2011c. U.S. restaurants see visit losses ease and spending increase in fourth quarter of 2010. Press release, March 2.
NPD. 2011d. Leading fast casual restaurant chains not only weathered the economic storm, they prospered, reports NPD. Press release, March 16.
NRA. 2010. National Restaurant Association welcomes First Lady Michelle Obama to speak about "Let's Move" initiative. Press release, Sept. 13. National Restaurant Association, Washington, D.C. www.restaurant.org.
NRA. 2011a. What's hot chef survey.
NRA. 2011b. 2011 Restaurant Industry Forecast.
NRA. 2011c. National Restaurant Association statement on publication of proposed menu labeling requirements. Press release, April 1.
NRA. 2011d. Restaurant industry outlook gained strength in March as same-store sales, customer traffic levels continued to improve. Press release, April 29.
Patient Protection and Affordable Care Act. 2010. Public law 111-148, Stat.119, Section 4205 Nutrition Labeling of Standard Menu Items at Chain Restaurants, March 23, 2010.
Unilever. 2011. World Menu Report What's in Your Food? Unilever Food Solutions, Lisle, Ill. www.unileverfoodsolutions.us.