Immune health and digestive health are often associated with each other because of their relationship. The gastrointestinal (GI) system plays a role in both areas, resulting in the condition of the digestive system affecting the functioning of the immune system. Immune health and digestive health are also tied together by the food ingredients such as probiotics and prebiotics that are believed to aid in these areas. Prebiotics affect the beneficial microflora population in the GI, which in turn contributes to a healthier system. Other nutrients such as yeast fermentates, antioxidants, and botanicals also are being looked at for the effects on the body, particularly in the alleviation of digestive symptoms and balancing of the immune system.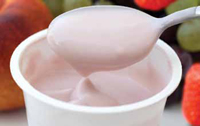 Probiotics
Probiotics have been shown to benefit both immunity and digestion. Fitzpatrick et al. (2011) demonstrated that Bacillus coagulans GBI-30 6086, GanedenBC30 from Ganeden Biotech, Mayfield Heights, Ohio (phone 440-229-5200, www.ganedenlabs.com), prolonged the survival of, and improved the stool consistency of, Clostridium difficile-induced colitis in mice. C. difficile is a bacterium that causes inflammation of the colon, known as colitis. People who have other illnesses or conditions requiring prolonged use of antibiotics and the elderly are at greater risk of acquiring C. difficile. In this study, administering only GanedenBC30 to C. difficile-infected mice resulted in an improvement in the consistency of their stool and reduction in the severity of the disease.
DuPont Nutrition & Health, Madison, Wis. (phone 800-255-6837, www.daniscosupplements.com), offers a proprietary line of probiotics under the HOWARU® brand name, including HOWARU Bifido (Bifidobacterium lactis HN019™) and HOWARU Rhamnosus (Lactobacillus rhamnosus HN001). Waller et al. (2011) showed that daily B. lactis HN019 supplementation was well tolerated, decreased whole gut transit time in a dose-dependent manner, and reduced the frequency of functional GI symptoms in adults. One hundred subjects with functional GI symptoms were randomized to consume a proprietary probiotic strain, B. lactis HN019, at daily doses of 17.2 billion colony forming units (CFU) (high dose), 1.8 billion CFU (low dose), or placebo for 14 days. Decreases in mean whole gut transit time over the 14-day study period were statistically significant in the subjects who took a high dose and the low dose, but not in those who took the placebo. Time to excretion of all ingested markers was significantly shorter in those in both experimental groups. Of the nine functional GI symptoms investigated, eight significantly decreased in frequency in those who took the high dose and seven decreased in those who took the low dose, while two decreased in those who took the placebo.
--- PAGE BREAK ---
Wickens et al. (2012) showed that the protective effect of L. rhamnosus HN001 against eczema, when given for the first 2 years of life only, extended to at least 4 years of age. The researchers investigated the associations of L. rhamnosus HN001 and Bifidobacterium animalis subsp lactis HN019 with allergic disease and atopic sensitization among high-risk children at age 4 years, 2 years after stopping probiotic supplementation. The results showed that L. rhamnosus HN001 had protective effects against these conditions but B. animalis subsp lactis HN019 did not.
Prebiotics
Prebiotics are fermented by probiotic bacteria in the gut to produce fermentation products like short-chain fatty acids, which in turn positively impact the health of the gut. There are several forms of prebiotics available today, including oligosaccharides, inulin, and polydextrose.
A dairy-derived prebiotic galactooligosaccharide, Vivinal® GOS, from FrieslandCampina Domo, the Netherlands (phone +31-33-713-3333, www.domo.nl, www.vivinalgos.com), is fermented by the key beneficial probiotic bacteria in the large intestine. The short-chain fatty acids produced by fermentation of Vivinal GOS aid in lowering colonic and fecal pH, which further contributes to overall health of the colonic environment. The ingredient is said to inhibit the adherence of pathogens to the colonic mucosal lining, thereby enhancing the robustness of the colonic cell wall, and to induce laxation.
Fastinger et al. (2008) showed that supplementation with a resistant maltodextrin ingredient, Fibersol®-2, from ADM/Matsutani, Itasca, Ill. (phone 217-451-4377, www.fibersol2.com), was well tolerated, resulted in favorable fermentation characteristics in the large bowel, and resulted in a change in bacterial populations. Resistant maltodextrin has been shown to increase fecal bulk by resisting digestion and being partially fermented by colonic bacteria to short-chain fatty acids. The subjects were assigned to one of three daily treatments: 15 g of maltodextrin; 7.5 g of maltodextrin plus 7.5 g of resistant maltodextrin (Fibersol-2®); and 15 g of resistant maltodextrin. The experiment lasted 7 weeks (a 2-week baseline period, a 3-week treatment period, and a 2-week washout period). During weeks 3–5, the subjects consumed their assigned treatments. Resistant maltodextrin supplementation tended to increase fecal Bifidobacterium populations during the treatment period, altered bacterial populations from baseline to treatment, and resulted in very minor effects in gastrointestinal tolerance. There was a shift in molar proportions of short-chain fatty acids toward butyrate, the preferred energy substrate of colonocytes.
--- PAGE BREAK ---
A highly purified polydextrose, Litesse®, from DuPont Danisco is a complex branched polymer of glucose. Its unique arrangement of glycosidic linkages makes it resistant to hydrolysis by human digestive enzymes. It passes intact into the colon, where it is partially fermented. Research findings have indicated that the ingredient enhances saccharolytic (carbohydrate) fermentation, thus reducing colonic pH; promotes the generation of short-chain fatty acids, including propionic and butyric acids, which have specifically documented colonic health benefits; and enhances mineral absorption from the colon.
Beards et al. (2010) assessed non-digestible carbohydrate sweeteners, selected for use in low-energy chocolates, for their ability to beneficially modulate fecal bacterial profiles in human subjects. Forty subjects consumed a test chocolate (low-energy or experimental chocolate) containing 22.8 g of maltitol, maltitol and polydextrose, or maltitol and resistant starch for 14 consecutive days. The dose of the test chocolates was doubled every 2 weeks over a 6-week period. The results showed that the numbers of fecal bifidobacteria significantly increased in all subjects. The subject who took the chocolate blended with maltitol and polydextrose also had significantly increased fecal lactobacilli, propionate, and butyrate after 6 weeks.
According to Ingredion Inc., Westchester, Ill. (phone 708-551-2600, www.ingredion.com), the short-chain fructooligosaccharide NutraFlora® and high-purity galactooligosaccharide Purimune® have been shown to benefit digestive and immune health. Derived from beet or cane sugar, NutraFlora is a 95% short-chain fructooligosaccharide that increases bulk, prevents constipation, alleviates occasional diarrhea, promotes regularity, and increases calcium absorption.
Purimune is derived from lactose and contains a minimum of 90% galactooligosaccharides. It supports immune system strength and overall wellbeing by nourishing and stimulating the growth of beneficial microflora in the GI system. This helps to reduce the number of pathogenic bacteria. The ingredient can provide immunostimulation and reduction of inflammation related to immune response, and it has anti-infective and allergy-preventative properties.
Yeast Derivatives
A natural beta 1,3/1,6 glucopolysaccharide, Wellmune WGP®, from Biothera, Eagan, Minn. (phone 651-675-0300, www.biothera.com, www.wellmune.com), has been clinically proven to prime key immune cells that keep the body healthy (Biothera, 2012). Derived from the cell walls of a proprietary strain of yeast, the glucopolysaccharide acts as a biological response modifier. It activates neutrophils, the most abundant population of immune cells in the body, and enhances certain chemical messengers that help coordinate the body's immune defenses.
--- PAGE BREAK ---
Carpenter et al. (2012) demonstrated that Wellmune may have potential to alter immunity following a strenuous exercise session. The researchers evaluated whether supplementation with the ingredient for 10 days could minimize post-exercise immunosuppression. Sixty recreationally active subjects completed two 10-day trial conditions using a cross-over design with a 7-day washout period: placebo (rice flour) and Wellmune (250 mg/d of beta 1,3/1,6-glucans derived from Saccharomyces cerevisiae) before a bout of cycling (49 ± 6 min) in a hot, humid environment. Those taking Wellmune had a higher degree of immune support before and after exercise, as measured by monocyte concentrations and enhanced cytokine production during a simulated immune challenge.
Two studies suggest that another yeast derivative, EpiCor, from Embria Health, Ankeny, Iowa (phone 877-362-7421, embriahealth.com, www.epicorimmune.com), may help modulate multiple acute and potentially chronic immunologic and inflammatory control mechanisms (Embria Health, 2012). Researchers at KGK Synergize of Canada and Embria Health Sciences noticed significant differences in inflammation in both rats and mice used in the studies. The results also reaffirmed five other human clinical studies that showed EpiCor might address cold, flu, and allergy symptoms.
EpiCor is comprised of protein, fiber, vitamins, amino acids, and other metabolites that help balance the immune system. It is manufactured via a fermentation process using S.cerevisiae, producing a complex fermentate. It supports the body's natural process for boosting or suppressing the immune system as needed.
Vitamins and Minerals
Chaudhari (2009) showed that vitamins C and E influence innate and adaptive immune functions by altering functional capacity of innate immune cells, lymphocyte (T-cell) proliferation, and delayed-type hypersensitivity response. The researchers also noted that vitamin A helps immune system maturation and B-cell antibody production, vitamin D boosts innate immunity and protects against bacterial infection, and copper, zinc, and selenium modulate damage caused by reactive oxygen species, regulate redox sensitive transcription factors, and affect cytokines.
--- PAGE BREAK ---
Botanicals
An aged garlic extract, Kyolic® Aged Garlic Extract from Wakunaga of America Co., Ltd., Mission Viejo., Calif. (phone 949-855-2776, www.kyolic.com), was shown to reduce the duration of the symptoms associated with common cold or flu by as much as 61% (Wakunaga, 2012). The researchers found that the garlic extract appeared to enhance the function of two specific types of fluand cold-fighting immune cells: natural killer cells and gamma-delta T cells (a type of immune cell found in the intestinal tract). They attributed the immune benefits to the glutathione-boosting ability of the sulfur-containing antioxidant compounds naturally present in aged garlic extract. What makes Kyolic different from other garlic supplements is an aging process that converts the organosulfur compounds responsible for garlic's odor into beneficial compounds like S-allyl cysteine and S-allylmercaptocysteine. It also contains specific immune-stimulating compounds such as lectins, fructooligosaccharide, apigenin, and N (alpha) fructosyl arginine.
Frutarom Switzerland Ltd., Wädenswil, Switzerland (phone +41-44-782-64-64, www.frutarom.com), in May 2012 launched a comprehensive portfolio of ingredients to address three key stages connected to immune health: prevention against infection and reinfection, infection fighting, and recovery and relief (designed to relieve common symptoms of cold and flu) (Frutarom, 2012). The ingredient line includes highly bioavailable forms of minerals such as copper and zinc that have gained European Food Safety Authority claim approval for immune health support, and echinacea-and pelargonium-based ingredients that are scientifically supported for effectiveness. Echinacea EFLA®894 is a dry pressed herb juice traditionally used as an immune tonic and to treat cough and cold symptoms. Pelargonium EFLA®956, a root extract from Pelargonium sidoides DC, is a safe and effective ingredient that can help speed recovery from cold and flu while reducing the severity and duration of the associated symptoms.
Antibodies
IGY Immune Technologies & Life Sciences Inc., Thunder Bay, Ontario, Canada (phone 807-343-6013, www.igylifesciences.com), offers antibodies derived from eggs to enhance the body's natural immune system through direct supplementation of actual antibodies. The company has the proprietary ability to commercially extract and process immunoglobulin Y antibodies from hen eggs. The resulting ingredient, IGY4life, is a cost-effective concentrated source of immunoglobulins that is available as a daily supplement and as a functional food ingredient for branded foods and drinks.
Linda Milo Ohr,
Contributing Editor,
Denver, Colo.
[email protected]
References
Beards, E., Tuohy, K., and Gibson, G. 2010. A human volunteer study to assess the impact of confectionery sweeteners on the gut microbiota composition. Br. J. Nutr. 104(5): 701-708.
Biothera. 2012. Wellmune WGP® increases immune function in athletes. Press release, May 21. Biothera, Eagan, Minn.
Carpenter, K.C., Breslin, W.L., Davidson, T., Adams, A., and McFarlin, B.K. 2012. Baker's yeast beta-glucan supplementation increases monocytes and cytokines post-exercise: implications for infection risk? Br. J. Nutr. 10: 1-9.
Chaudhari, R. 2009. Immunity-boosting nutrients. Fortitech technical paper. September. www.fortitech.com.
Embria Health. 2012. Two new studies reaffirm the potential benefits of EpiCor for inflammation symptoms. Press release, April 18. Embria Health, Ankeny, Iowa.
Fastinger, N.D., Karr-Lilienthal, L.K., Spears, J.K., Swanson, K.S., Zinn, K.E., Nava, G.M., Ohkuma, K., Kanahori, S., Gordon, D.T., and Fahey Jr., G.C. 2008. A novel resistant maltodextrin alters gastrointestinal tolerance factors, fecal characteristics, and fecal microbiota in healthy adult humans. J. Am. Coll. Nutr. 27(2): 356-366.
Fitzpatrick, L.R., Small, J.S., Greene, W.H., Karpa, K.D., and Keller, D. 2011. Bacillus coagulans GBI-30 (BC30) improves indices of Clostridium difficile-induced colitis in mice. Gut Pathogens 3: 16.
Frutarom. Frutarom targets immune health market. Press release, May 15. Frutarom Switzerland Ltd., Wädenswil, Switzerland.
Wakunaga. 2012. University of Florida study determines Kyolic may address cold and flu symptoms. Press release, March 8. Wakunaga of America Co., Ltd., Mission Viejo., Calif.
Waller, P.A., Gopal, P.K., Leyer, G.J., Ouwehand, A.C., Reifer, C., Stewart, M.E., and Miller, L.E. 2011. Dose-response effect of Bifidobacterium lactis HN019 on whole gut transit time and functional gastrointestinal symptoms in adults. Scand. J. Gastroenterol. 46(9): 1057-1064.
Wickens, K., Black, P., Stanley, T.V., Mitchell, E., Barthow, C., Fitzharris, P., Purdie, G., and Crane, J. 2012. A protective effect of Lactobacillus rhamnosus HN001 against eczema in the first 2 years of life persists to age 4 years. Epidemiology of Allergic Disease. First published online Feb. 6, 2012, doi: 10.1111/j.1365-2222.2012.03975.x.