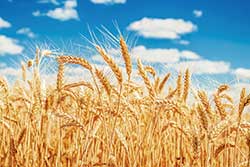 New insights into bread wheat genome
A draft sequence of the bread wheat genome published in
Science
by the International Wheat Genome Sequencing Consortium provides new insight into the structure, organization, and evolution of the widely grown crop's complex genome.
This blueprint will enable plant science researchers and breeders to rapidly locate specific genes on individual chromosomes throughout the genome, cutting the time needed to mere minutes, according to Jorge Dubcovsky, professor at the University of California, Davis. Additionally, another article in the same issue of Science presents the first reference sequence for the largest chromosome, 3B, which establishes a proof of concept and a template for sequencing the rest of the chromosomes. According to the researchers, the full genome sequence should be available within three years.
"With a chromosome-based full sequence in hand, plant breeders will have high quality tools at their disposal to accelerate breeding programs and to identify how genes control complex traits such as yield, grain quality, disease, pest resistance, or abiotic stress tolerance," according to a press release. "They will be able to produce a new generation of wheat varieties with higher yields and improved sustainability to meet the demands of a growing world population in a changing environment."
Majority of households partly monitoring diet
Sixty percent of American households contain at least one member who says they are restricting some nutritional component from their diet, according to The Harris Poll, which polled 2,234 adults via an online survey in March 2014.
"With six in ten American households having at least one member restricting certain foods from their diet, this raises important implications for the food industry as a whole," said Todd Hale, senior vice president consumer insights for Nielsen. "We've seen that a restriction for one, especially in the case of allergens and other health risks, can turn into a household ban. This can present both a challenge and an opportunity for retailers and food manufacturers."
Sugar and salt share the top spot in the list of limited ingredients, with 36% of respondents saying they or a household member restrict or monitor them, followed by dairy (13%), meat or meat products (13%), and lactose (11%). The percentage restricting gluten has nearly doubled since the 2011 poll, up from 6% then to 10% in 2014.
When it comes to what customers consider when making a food or beverage purchase, perceived freshness was the most important factor, with 89% of respondents considering it important. Fiber (80%), whole grains (77%), calories (75%), and fat content (73%) round out the top five. In terms of diet and/or weight management considerations, 82% of those surveyed ranked protein as important, followed by calories (78%), whole grains (76%), saturated fat (75%), and sugar (74%).
Health Canada finds BPA safe in food packaging
Dietary exposure to Bisphenol A (BPA) does not pose a health risk to the general population, including infants and young children, according to a study conducted by Health Canada that was published in the July issue of Environment International.
Calling the results of the study— which tracked phthalate and BPA exposure among pregnant Canadian women—significant, Health Canada wrote that "they provide much-needed information on the levels of phthalates and BPA present in one of our most susceptible subpopulations, pregnant women, as well as a basis for continued monitoring."
Canada was the first country worldwide to ban BPA in baby bottles, but its position on the use of BPA in food packaging has softened over time. The results of this study are also consistent with those of a study conducted by the U.S. Food and Drug Administration earlier this year.
--- PAGE BREAK ---
Reviewing research on bread staling
Bread staling contributes to food waste worldwide, in part because the reasons for it haven't been fully explained. Significant research has gone into this subject over the last decade, though, and the authors of a recent article in Comprehensive Reviews in Food Science and Food Safety reviewed work being done around ingredients, processing factors, and measurement methods as they relate to reducing staling.
In terms of ingredients, most research has focused on the use of waxy wheat flours, which do not contain amylose, but some researchers have explored the potential of including other kinds of flour, such as oat, high ß-glucan barley, soy, flaxseed, and minor/ancient cereals and pseudocereals. The authors also delve into the role various types of hydrocolloids, modified and damaged starches, dextrins, maltooligosaccharides, and lipids and shortenings play in retarding staling, as well as the effect of adding enzymes to bread formulations.
On the processing side, the authors touch on how storage temperature, the use of sourdough fermentation, baking time and temperature, and high-hydrostatic-pressure processing can affect staling. Finally, the writers discuss the range of measurement methods that have evolved over the last 10 years, including thermal analysis, x-ray crystallography, electrical impedance, and colorimetry. The authors conclude that though there is still much to learn about bread staling, the work of the last decade has both confirmed existing theories and shed new light on the factors that cause it.
The article, "Bread Staling: Updating the View," appeared in Comprehensive Reviews in Food Science and Food Safety doi: 10.1111/1541-4337.12064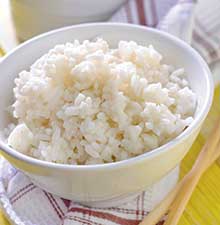 UN caps levels of arsenic in rice
The United Nations' food standards body, the Codex Alimentarius Commission, which is jointly run by the UN Food and Agriculture Organization and the World Health Organization, recently adopted guidelines that said no more than 0.2 mg per kg of arsenic should be allowed in rice. According to a news release, long-term exposure to arsenic can cause cancer and skin lesions, and it can also damage the nervous system and the brain.
The Commission's decision came during its annual meeting, which was attended by representatives from 170 countries and the European Union, as well as 30 international governmental and nongovernmental organizations. Codex standards serve in many cases as a basis for national legislation and provide the food safety benchmarks for international food trade.
---
What's new with food companies
• Agropur agreed to acquire the dairy-processing assets of Davisco Foods International. Its ingredients business, Agropur Ingredients, also began expansions to its La Crosse, Wis., plant.
• American Custom Drying Company, which manufactures milk proteins in Burlington, N.J., has been certified as a USDA National Organic Facility.
• Juice company Apple & Eve LLC has agreed to be acquired by Lassonde Industries Inc.
• Archer Daniels Midland Co. entered the flavors market when it acquired WILD Flavors, which specializes in natural ingredients. ADM Milling, a subsidiary of the company, also completed the expansion of its wheat processing plant in Beech Grove, Ind.
• ASTM International announced a proposed new standard, ASTM WK22268, Guide for Two-Sample Acceptance and Preference Testing with Consumers, which would be the first standard guide to cover issues considered in hedonic product testing.
• Danone will acquire a 40% stake in Brookside Dairy, East Africa's largest dairy manufacturer.
• Ferrero Group, maker of Nutella, has acquired Turkey-based Oltan Group, a worldwide leader in the procurement, processing, and marketing of hazelnuts.
• General Mills opened its first innovation and technology center in China.
• Hain Celestial Group Inc. announced that it has acquired the remaining 51.3% of Hain Pure Protein Corp. that it did not already own.
• Hormel Foods is set to acquire CytoSport Holdings, the maker of protein beverage Muscle Milk.
• Kancor Americas opened its new 31,000 sq ft technical application center at Rutgers University.
• Kansas State University broke ground on its new 13,000 sq ft Bulk Solids Innovation Center in Salinas, Kan.
• Lindt & Sprüngli announced that it will acquire Russell Stover Candies Inc.
• Made In Nature and Pacific Northwest Kale Chips have formed a joint venture—Pacific Superfood Snacks—to offer new healthy snack products.
• Morton Salt opened a new food lab at its R&D center in Elgin, Ill.
• Nestlé USA partnered with Keurig Green Mountain Inc. to create the first-ever single-serve cartridge to combine coffee and creamer in one pack. It also sold its Juicy Juice business to private equity firm Brynwood Partners.
• Ritter Sport purchased 2,500 hectares in Nicaragua to create a cocoa plantation that will provide 30% of its supply.
• Ruiz Food Products Inc. announced the Phase II expansion of its Denison, Texas, manufacturing facility.
• TreeHouse Foods Inc. will acquire Flagstone Foods, which manufactures private label healthy snacks.
• Unilever sold a majority stake in its Slim-Fast business to middle market private equity firm Kainos Capital.
• WhiteWave Foods received Leadership in Energy and Environmental Design certification for its 325,000 sq ft beverage production facility in Dallas, Texas.

Melanie Zanoza Bartelme,
Associate Editor
[email protected]