When shoppers see the organic label on a food or beverage product, many consumers know that it was produced without chemical fertilizers and pesticides. But even among organic enthusiasts, most are probably not familiar with the term "regenerative agriculture." However, a group of nonprofit associations and food manufacturers—including Danone, Ben & Jerry's, and Annie's—are working to change that.
Last year, The Carbon Underground organization, California State University–Chico, and the Regenerative Agriculture Initiative—which includes more than 150 companies, organizations, and scientists as signatories—created a definition for regenerative agriculture. As they define it, regenerative agriculture "describes farming and grazing practices that, among other benefits, reverse climate change by rebuilding soil organic matter and restoring degraded soil biodiversity—resulting in both carbon drawdown and improving the water cycle."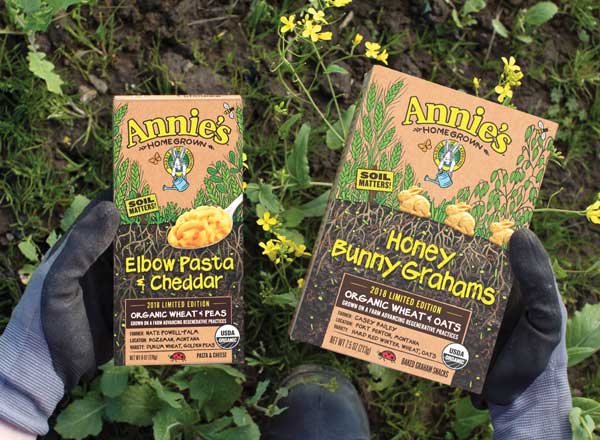 Through its Annie's brand, General Mills has taken a step to not only begin the process of implementing regenerative agriculture practices but also help educate the public as to what that means and how important it is to the sustainability of soil health. Just recently, Annie's released two limited-edition products that tout on-pack that the ingredients were "grown on a farm advancing regenerative practices." The packaging for the Honey Bunny Grahams and Elbow Pasta & Cheddar depicts a cross section of soil and crops with a "Soil Matters!" sign staked in the ground.
"We hope that these products enable a conversation about why food choices matter," said Shauna Sadowski, senior sustainability manager at Annie's. "We want to empower people to make a positive impact by choosing foods grown in ways that restore and regenerate natural resources and communities. Beyond sparking dialogue through information included on-pack, we also engage with and educate consumers through our #soilmatters social media campaign, which includes quizzes, giveaways, and even a short film featuring the farmers who grew the ingredients for our limited-edition products."
In addition to Annie's, other General Mills' businesses are investing in regenerative agriculture. Earlier this year, Cascadian Farm announced a five-year $125,000 contribution to Grain Millers to support soil health research on oat farms in the upper Midwest United States. Epic, a maker of animal protein snacks, supports restoration of grasslands through its partnership with the Savory Institute.
The next goal for The Carbon Underground and its partners is to develop a global verification standard for food grown in a regenerative manner. "The goal of this new standard is not simply to restore soil, but to do it quickly," said Larry Kopald, president and co-founder of The Carbon Underground. "The windows for avoiding catastrophic climate change and complete top soil loss are projected to close in decades, not centuries."
But to get farmers on board with changing their agricultural practices, they need incentive from the industry, and the industry needs consumer buy in. Ultimately, it's about increasing awareness among consumers and on-pack labeling could very well be the way to do that.
"We plan to scale our support of regenerative agriculture across our business—at the same time as we connect consumers to the people and places that grow their food," said Sadowski. "Our limited-edition products are proofs of concept for a new way of partnering directly with farmers advancing regenerative agriculture."
Sadowski notes, however, that it will take time to scale. Given that organic food makes up only 5% of the United States' total food sales, the question that remains is whether it's possible to scale up at the rate needed to change soil health before it's too late.
IFTNEXT is made possible through the generous support of Ingredion, IFT's Platinum Sponsor.

Kelly Hensel
Senior Digital Editor
[email protected]