Once the world's wealthiest person, billionaire Bill Gates now spends much of his time and money trying to make the planet a better place—by helping to eradicate diseases such as malaria and polio in Africa, attempting to improve educational standards in the United States, and, more recently, personally investing in competing plant-based meat alternative companies Beyond Meat and Impossible Foods as well as in egg substitute developer Hampton Creek.
As he makes clear in his blog, GatesNotes, Gates remains an omnivore and his goal is not to persuade people to become vegan. Rather, he hopes individuals in wealthy countries such as the United States will reduce their meat consumption for environmental reasons to ensure that there will be enough animal- and plant-based protein to feed a global population the United Nations projects will reach 9.8 billion by 2050 (Gates 2015).
While Gates believes that improving the availability and verisimilitude of plant-based animal product analogs will help feed the planet, other investors in meat, seafood, and dairy alternatives—including the U.S. and Canada's largest meat processing firms—see commercial potential in what they call "sustainable protein." This past December, Tyson Foods increased its investment in Beyond Meat by an undisclosed amount in a $55 million fundraising round, adding to the 5% ownership stake Tyson took in the privately held company in October 2016 (Tyson 2017).
Similarly, Maple Leaf Foods, Canada's largest meat processor, acquired U.S.-based vegan meat and cheese producer Field Roast Grain Meat Co. for $120 million in January (Maple Leaf Foods 2018). To gain a foothold in "the $600 million U.S. plant-based protein market," as the company described it, Maple Leaf previously purchased Lightlife Foods, a producer of meatless hot dogs, chicken, and other products, for $140 million in early 2017 (Maple Leaf Foods 2017).
Globally, the meat substitutes market is estimated at $4.6 billion in 2018 and forecast to reach $6.4 billion by 2023, according to MarketsandMarkets (MarketsandMarkets 2018).
Not surprisingly, Dirk Leister, the Germany-based technical marketing manager for Thermo Fisher Scientific, reports a substantial increase in interest in this company's benchtop laboratory-scale extruders used in the research and development phase of creating plant-based meat and poultry analogs. "We have a lot of universities and companies approaching us," he says. "People who are in the R&D stage don't want to use too much of the materials, and they like to do a lot of trials and try different recipes without wasting too much time."
Given the data released in the past few years by several market research firms, it's no wonder that interest in plant-based protein is surging. In a 2017 global consumer study, The Nielsen Co. found that 39% of Americans and 43% of Canadians are "actively trying to incorporate more plant-based foods into their diets." This indicates that the market for plant-based options is many times larger than the 3% of American consumers and 2% of Canadian consumers who follow vegan diets, Nielsen noted (Nielsen 2017) (Figures 1 and 2).
In its Plant-based Proteins—U.S. report published in January, Mintel Group points out that 5% of U.S. adult consumers eat plant-based animal protein substitutes three times or more a week and 11%, one to two times a week. Mintel suggests that Millennials, and Hispanic Millennials in particular, represent a robust market with significant potential (Mintel 2018a).
Emphasizing the global nature of the plant-based food movement, Innova Market Insights in 2017 reported a 14% compound annual growth rate (CAGR) for meat substitute launches worldwide between 2012 and 2016 (Innova 2017). Although veganism is rising in Western countries, especially among young European consumers, according to Mintel—with 12% of consumers between the ages of 16 and 24 identifying as vegan in France and 10% in both Germany and Poland—most of the market growth for plant-based analogs of meat, seafood, and dairy products comes from flexitarians, who limit meat consumption but don't completely avoid it (Mintel 2017).
It is flexitarians and more diehard meat eaters that companies are targeting with increasingly realistic replicas of the appearance, taste, texture, mouthfeel, nutritional properties, and other characteristics of animal-derived products.
Replicating the Iconic American Burger
Impossible Foods with its Impossible Burger and Beyond Meat with the Beyond Burger have garnered much media attention by creating analogs that mimic the cooking properties, juiciness, and even the bleeding of ground beef as well as its taste and aroma.
Debuting at David Chang's Momofuku Nishi in New York City in the summer of 2016 and now served in more than 700 restaurants across the United States, the Impossible Burger went through an R&D phase of several years, with Impossible Foods founder Patrick O. Brown and his team first using gas chromatography-mass spectrometry to analyze the thousands of compounds that contribute to ground beef's aroma and taste.
After determining that hemo-globin is a critical component of ground beef's performance and flavor, the company sought out a plant-based source of heme, finding it in soy root nodules. Instead of harvesting soy roots, the company inserted a snippet of the soy DNA that codes for heme into a standard yeast strain. Today, fermentation tanks containing the proprietary yeast produce red heme that tastes like blood (Jacobsen 2016). Besides heme, the Impossible Burger contains a blend of textured wheat protein, coconut oil, potato protein, and other natural flavors plus a small amount of ingredients such as yeast extract, salt, soy protein isolate, konjac gum, and xanthan gum (Impossible Foods 2018).
"Our goal for our first product, the Impossible Burger, is to create a world-class burger that surpasses any other burger—made from plants or animals—in taste, nutrition, and sustainability," says Jessica Appelgren, vice president of communications at Impossible Foods.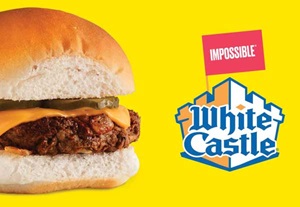 Since opening its first full-scale manufacturing plant last year, Impossible Foods has expanded quickly in the foodservice realm. But many restaurants still price the Impossible Burger at around $15. "As we continue to increase production capacity and as our company grows, the price will decrease significantly, and we'll be able to supply the Impossible Burger to retail outlets," Appelgren says. "Our goal is to be available anywhere you can find meat from animals."
The Beyond Burger, in contrast, is more widely distributed, with Beyond Meat founder Ethan Brown focusing on retail from the beginning and now making significant inroads in the foodservice sector. After clinching a deal with Ahold Delhaize USA, which owns several East Coast grocery banners, Beyond Meat reported last December that the Beyond Burger would soon be carried by some 5,000 supermarkets across the country. And as of January, the vegan burger has been added to the Burger Bar menu of all of TGI Fridays' more than 450 locations nationwide (Beyond Meat 2018).
Retailed in a package containing two 4-ounce patties, the Beyond Burger is intended to be placed in the meat case rather than in a store's vegan section. The main ingredient in the burger, which has 20 grams of protein, is pea protein isolate, with beet juice added to simulate bleeding. Other ingredients in the patties include vegetable oils, yeast extract, plant fiber, binders, and natural flavors.
Beyond Meat also recently launched Beyond Sausage, a plant-based analog containing primarily pea, fava bean, and rice protein to approximate the unique texture of pork sausage. A trace amount of beet juice contributes a meaty red color, while coconut oil provides juiciness, according to the company. The sausage is wrapped in a 100% plant-based casing made from algae.
Getting the color right is critical to the development of appetizing, realistic plant-based burgers as well as analogs for pork, chicken, and seafood, notes David Tuescher, a special projects chemist with Sethness Products Co., a producer of caramel colors. "Caramel colors are fairly unique," he says, explaining their versatility. "In a very low concentration, you get a yellowy tone. As the concentration goes up, you get more of a reddish tone. And up from there, you get into the brown tones."
Tuescher points out that Sethness has many caramel colors suitable for vegan products, such as minimally processed, non-GMO project verified, and certified organic liquids and powders.
"On any kind of meat substitute, caramel color is an excellent source of those black grill-mark effects," adds Terry Geerts, a Sethness application chemist.
Celebrating Simplicity
While they might induce meat lovers to eat less meat, plant-based analogs that aim to simulate all of meat's sensory properties tend to be unappealing to vegans, observes Cecilia Wittbjer, vice president of marketing for Parabel, which makes duckweed-derived Lentein. "We feel that most people who are vegan—as well as flexitarians who are trying to adopt a healthier, more sustainable plant-based diet—don't really want highly processed products."
Wittbjer finds it odd that companies would go to great lengths to bioengineer plant-based products that taste and appear to bleed like meat. "If their products are made of plants, they should be proud of it," she says.
Dan Staackmann, the owner of Upton's Naturals, echoes the perspective that vegan burgers should not be highly processed. All of the company's vegan meat analogs, which are made from seitan (wheat gluten) or jackfruit, are clean label and consist of a limited number of simple, natural ingredients, he says.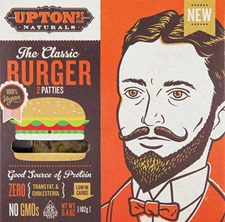 Upton's Naturals' latest plant-based meat substitute, called The Classic Burger, consists of seitan, tofu, and eggplant. "There are a couple of different kinds of seitan in there, so it creates a somewhat realistic mouthfeel because there is a shift in texture when you bite into it," he explains. "But that's as far as we went in terms of trying to go after a sort of realistic feeling."
To break up the dense texture of the seitan, Upton's Naturals added tofu and then eggplant to the formulation. "The eggplant provides a ton of unique flavor, giving the burger a little bit more of a smoky taste," Staackmann says.
No Evil Foods, another plant-based meat start-up, devotes much of its website to explaining why people should consume plant meat instead of animal protein, beginning with this statistic: "One calorie of animal protein requires 11 times as much fossil fuel as one calorie of plant protein." The company offers several meat and poultry substitutes, including Comrade Cluck, faux chicken strips made with wheat gluten, shoyu, chickpea flour, nutritional yeast, and organic garlic powder and onion powder, and The Pardon, a seasonally available turkey substitute containing wheat gluten, organic white beans, chickpea flour, extra-virgin olive oil, Celtic sea salt, organic white miso, and organic herbs and spices.
With a strong animal welfare as well as sustainability mission, No Evil Foods donates $1 to the Full Circle Farm Sanctuary in Warm Springs, Ga., for every purchase of The Pardon. The company's products, which come in 100% compostable packaging, are sold online and at certain Whole Foods Market stores and food co-ops (No Evil Foods 2018).
Emerging Technologies
Owned by Philippine firm Monde Nissin, United Kingdom–based Quorn greatly expanded its U.S. presence last fall, when 1,500 Kroger and subsidiary banner stores began carrying the brand. Quorn meat alternatives are made with mycoprotein, a single-cell protein derived from the fungus Fusarium venenatum (strain PTA-2684), which was originally discovered in the 1960s growing naturally in the soil in a field in Marlow, Buckinghamshire, England (Quorn 2018). Today, Quorn developer Marlow Foods produces the mycoprotein in large tanks using a continuous fermentation process fed with oxygenated water, glucose, and other nutrients.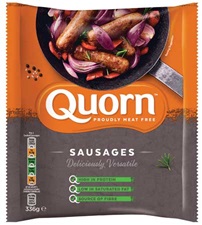 Fifteen Quorn products are available in the United States, including three new refrigerated items: Meat-free Chicken Strips, Meat-free Italian Sausages, and Meat-free Chicken & Apple Sausages. While Quorn products have a taste and mouthfeel that come close to meat, the brand has been criticized for being highly processed, not having enough vegan items (many contain egg white as a binder), and causing allergic reactions and digestive problems in some people.
Another firm experimenting with fungal ingredients is U.S.-based MycoTechnology, a start-up company that uses fermented Shiitake mushrooms as a protein source. MycoTech raised $42 million from investors in its latest fundraising round this past October.
Besides the ingredients, the production techniques used to make meat and poultry analogs have a big impact on their performance, says Thermo Fisher's Leister, who notes that the two best-known production methods are extrusion and fiber spinning. Adapted from the textile industry, fiber spinning is effective at forming a meat-like fiber structure in plant-based materials but is so technologically difficult and expensive that it has never caught on commercially.
Extrusion is a process that has undergone refinement over the years. Leister points out that Thermo Fisher offers a twin-screw extruder with a special die head that cools the extruded protein down in a long flow channel to generate the desired fibrous structure. "Controlling the temperature makes the proteins solidify in a way that they really resemble the texture of meat," he says.
Wageningen University & Research in The Netherlands, however, has developed a new shear-cell technology that the university says can transform vegetable protein into layered fibrous structures that closely resemble the appearance and texture of meat. A public-private partnership called Plant Meat Matters plans to commercialize this innovative technology, which has the capability of producing larger cuts of plant-based meats.
Sustainability Driving Seafood Alternatives
One of many sustainability arguments made against animal agriculture is that it doesn't use valuable land resources efficiently because too much farmland is devoted to producing livestock feed. "Growing and feeding our crops to animals is inherently inefficient," insists Alison Rabschnuk, the director of corporate engagement at the Good Food Institute, noting that beef cattle use the vast majority of their food for day-to-day metabolism and for developing blood, bone, and brains, as opposed to meat that humans will actually consume. Other environmental concerns include greenhouse gas emissions, water pollution from animal waste run-off, enormous water and energy usage, and deforestation in developing countries for the raising of livestock.
While plant-based diet proponents bring up all of these concerns, the most urgent environmental imperative right now is arguably depletion of the oceans, an issue driving the development of new plant-based seafood analogs. Because of ongoing over-fishing, experts predicted more than 10 years ago that all commercial species of fish could be extinct by 2048.
"Wild fishing is devastating the oceans, but farmed fishing is even more destructive because wild fish are being fed to the farmed fish and, as a result, more fish are being harvested," notes David Benzaquen, the CEO of Ocean Hugger Foods. His company aims to help solve the crisis by producing plant-based fish analogs, the first of which is Ahimi, a vegan substitute for the raw tuna that is used in sushi. The name of the product is derived from the Japanese words "ahi," which means "tuna," and "mi," which means "the spirit or essence of."
Ahimi is made with just two primary ingredients, tomatoes and water, plus a little sugar and some soy sauce to make it more like sushi, "so it's very clean label," Benzaquen says. His company spent five years developing a special proprietary non-extrusion mechanical process that transforms the ingredients into "the fatty, chewy texture of fish," as he puts it, while removing the tomato flavor.
Debuting at the National Restaurant Show last year, Ahimi attracted the interest of two of the largest U.S. seafood distributors, Benzaquen says. "The sushi chef at one of the companies came over and tasted it and asked, 'What kind of fish is this?'" he remembers. "That was a dream for us. We can make the greatest impact when we're working alongside the industry, which is really recognizing now that times are changing."
Today, Ahimi is sold in a number of restaurants and in some Whole Foods sushi bars. Ocean Hugger Foods will soon launch two other vegan seafood products: salmon made out of carrot and eel made out of eggplant.
Concerns about sustainability also drove chef Chad Sarno, vice president of culinary at Good Catch Foods, to enter the seafood alternative market. "If you look at the environmental impact that the seafood industry is having on our oceans, it's astronomical," he says. "In addition, the public is starting to understand the harmful effects that mercury has. It's in shellfish and tuna and other species."
That said, there haven't been many enterprises producing plant-based seafood analogs—a gap that Sarno and the company's other co-founders consider a huge opportunity.
A well-known vegan chef, Sarno prioritized flavor and texture during the R&D phase of Good Catch Foods' first products: shelf-stable fish-free tuna in three varieties and frozen plant-based fish patties and crab cakes.
"We wanted to create something that was culinary-driven, so taste was first and foremost," Sarno shares. This makes sense given that Mintel recently reported that taste is the No. 1 reason consumers who eat plant-based protein choose to do so (Mintel 2018b).
"But with seafood, texture is also such an important piece," Sarno continues. "One reason there haven't been many seafood alternatives is that the flaky texture of fish is difficult to achieve with extrusion."
Sarno explains that the high-gelling beads typically used in extrusion to create animal product analogs tend to produce a product that has the mouthfeel of chicken or beef. So Good Catch Foods spent a year of trial and error to come up with a formulation that yielded the flakiness, or "dry protein bite," of fish, as he describes it.
The final formulation consists of a proprietary combination of pea, soy, chickpea, lentil, fava bean, and navy bean protein. "Having a clean label product has also been really important to us," Sarno adds. "At this point we're not using added flavors—just natural, real ingredients."
The vegan tuna product, which comes packaged in pouches instead of cans, contains 13 grams of protein per serving, somewhere between the protein content of skipjack and albacore tuna, according to Sarno. Introduced in March at Natural Products Expo West in Anaheim, Calif., the fish-free tuna will be available commercially later this year, followed by the frozen vegan fish burgers and crab cakes.
There is room for so much more product innovation in the legume-based seafood analog space, Sarno says. "There are over 800 legumes on the planet that are edible and are used across the world," he observes. "We're only just scratching the surface of innovation."
Surge in Dairy Stand-Ins
The dairy alternative space, in contrast, is overflowing with innovation. Although still dominated by soy milk and almond milk, many new vegan milks such as pea, oat, and barley—as well as plant-based yogurt drinks and yogurts—have recently entered the marketplace.
In June 2017, Innova reported that the global market for plant-based dairy alternative drinks is expected to reach $16.3 billion in 2018, up from $7.4 billion in 2010. Innova also noted that worldwide dairy alternative launches grew at a CAGR of 20% from 2012 to 2016 (Innova 2017).
Backed by a $44 million investment from Google and Silicon Valley venture capitalists, Ripple Foods, which makes a brand of milk alternative products made from yellow peas, has been generating a lot of buzz. Created by Adam Lowry and Neil Renninger, two entrepreneurial "disruptors" who've had successful ventures in nonfood industries, the Ripple brand aims to provide better-tasting, more nutritious and more ecologically friendly vegan dairy products (Krader 2017).
Ripple Foods has developed a technology that can "separate the good stuff from the peas from all of the stuff that kind of gives it that off-flavor and color," Lowry told FastCompany.com (Peters 2016). The resulting milk alternative contains all of the protein but none of the flavor and color of the peas and requires much less water to make than almond milk or soy milk.
Currently, Ripple's milk alternative line consists of five products: original, unsweetened original, vanilla, unsweetened vanilla, and chocolate. The company's newest line is a Greek-style yogurt alternative in five varieties: original, vanilla, strawberry, blueberry, and maple (Ripple 2018).
Although Good Karma Foods launched its first Flaxmilk products a few years ago as an allergen-free dairy alternative, the company has expanded the brand with a Flaxmilk + Protein line, which contains 8 grams of added plant-based protein per serving, and a new shelf-stable Flaxmilk Omega-3 + Protein line that delivers a similar amount of protein per serving, according to Breanna Littlepage, the firm's marketing director. "The new line delivers an unmatched mighty nutritional bundle of vitamin A, vitamin D, calcium, and plant-based protein, with up to half the sugar of dairy-based offerings per serving (for flavored varieties) plus a daily dose of omega-3 healthy fats," she says.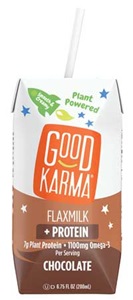 Good Karma also has a line of Flaxmilk-based yogurt in plain, vanilla, blueberry, strawberry, and raspberry flavors as well as a line of probiotic drinkable yogurt alternatives in plain, blueberry, strawberry, and "good greens and pineapple."
The coffee creamer and cappuccino market segments are also ripe for dairy alternative product launches and expansion. Introduced to the United States in March 2017, Oatly! is a trending albeit 25-year-old oat milk product developed by the Swedish company Oatly, which is pilot-testing the milk substitute in American coffeehouses. The company's founder, food science professor Rickard Oste, developed the technology that uses enzymes to liquefy oats into a rich milk that preserves the oats' digestion-promoting fibers.
Used in more than 1,000 U.S. coffeehouses to date, the barista edition (whole milk-equivalent) of Oatly! has been outperforming other plant-based milk alternatives that have been used in coffee drinks. "We had tried soy, almond, hemp, coconut, and nothing worked with coffee," Caroline Bell, the co-owner of Café Grumpy in New York City, told Time. "With some varieties, you couldn't taste the coffee; with others, the milk would curdle." The oat fibers and added rapeseed oil in Oatly! provide this vegan milk with a thicker consistency, which helps it produce a better-quality foam in cappuccino and latte drinks (Time 2018).
In the dairy alternative category, certain companies are boosting their sustainability credentials by innovatively using plant-based waste products from other vegan food processing operations. U.S.-based Canvas, a start-up backed by Zx Ventures (a division of Anheuser-Busch InBev), makes dairy-free Barley Milk from beer waste known as "spent grain." Approximately 8 billion pounds of this leftover fiber and plant-based protein are produced around the world each year, according to the company.
Canvas Barley Milk comes in five flavors—original, cocoa, cold brew latte, matcha, and turmeric chai—and has 11 to 15 grams of dietary fiber and 11 grams of plant protein per single-serving bottle.
Other companies have started to use aquafaba, the leftover brine from chickpeas sourced from hummus manufacturers. Fora Foods will soon launch FabaButter, a nondairy butter made primarily of aquafaba. The ingredient is also used in Unilever's Sir Kensington's Fabanaise, an eggless mayonnaise alternative.
Just Beginning
Despite all of the activity in the plant-based protein realm, there is much space for growth and creativity, notes Eddie Yoon, founder of Eddie Would Grow. A business growth strategist, Yoon sees great potential in creating plant-based alternatives for meat that are higher in quality than ground product but not as upscale as steak, the sort of cuts used in many different ethnic cuisines. "The opportunity is in the middle," he says.
Given the rise of multiculturalism and Millennials' penchant for international cuisines, Yoon believes that vegan versions of the meat used in Mexican and Asian dishes—such as shredded pork (carnitas) and the thinly sliced marinated beef used in Korean barbecue—could have the potential to become mass market products.
Plant-based animal protein alternatives will continue to grow in acceptance as their production increases and more people try these products, observes the Good Food Institute's Rabschnuk. "People who are eating plant-based foods today know how great the best ones taste," she says. "This is important because the vast majority of people make their food choices based on taste, price, and convenience. As companies are able to produce plant-based products at scale, price and convenience will also improve."
As Rabschnuk points out, "Animal meat is as good as it can get. But plant-based meat will continue to get better and diversify."
REFERENCES
Beyond Meat. 2018. "In the Fastest Test-to-Table Launch in TGI Fridays' History, The Plant-Based Beyond Burger Is Joining the Menu Nationwide." Press release, Jan. 2. Beyond Meat, El Segundo, Calif. beyondmeat.com
Gates, B. 2015. "Is There Enough Meat for Everyone?" https://www.gatesnotes.com/Books/Should-We-Eat-Meat.
Impossible Foods. 2018. "What Are the Ingredients of the Impossible Burger?" https://www.impossiblefoods.com/faq.
Innova. 2017. "Global Plant Milk Market to Top US $16 Billion in 2018." Press release, June 13. Innova Market Insights, Arnhem, The Netherlands. innovadatabase.com.
Jacobsen, R. 2016. "The Biography of a Plant-Based Burger." Pacific Standard, Sept. 6.
Krader, K. 2017. "For One Silicon Valley Startup, This Vegetable Is the Future of Milk." Bloomberg.com, Sept. 11. https://www.bloomberg.com/news/articles/2017-09-11/yellow-peas-not-almonds-are-driving-one-startup-s-milk-recipe.
Maple Leaf Foods. 2017. "Maple Leaf Foods Completes Acquisition of Lightlife Foods." Press release, March 10. Maple Leaf Foods, Mississauga, Ontario, Canada. mapleleaffoods.com.
Maple Leaf Foods. 2018. "Maple Leaf Foods Closes Acquisition of Field Roast Grain Meat Co." Press release, Jan. 29.
MarketsandMarkets. 2018. "Meat Substitutes Market worth 6.43 Billion USD by 2023." Press release. MarketsandMarkets Inc., Northbrook, Ill. markets and markets.com.
Mintel. 2017. "Germany Hosted the Highest Number of Vegan Launches Worldwide in 2016." Press release, March 24. Mintel Group, London. mintel.com.
Mintel. 2018a. Plant-Based Proteins—U.S. January.
Mintel. 2018b. "Taste Is the Top Reason U.S. Consumers Eat Plant-Based Proteins." Press release, Feb. 15.
Nielsen. 2017. "Plant-Based Proteins Are Gaining Dollar Share Among North Americans." Press release, Sept. 22. The Nielsen Co., New York, N.Y. nielsen.com.
No Evil Foods. 2018. "Why Plant Meats?" and "Products." https://www.noevilfoods.com.
Peters, A. 2016. "This Pea-Based Milk Is Healthier Than Almond Milk, And Actually Tastes Almost Like Milk." FastCompany.com, April 18. https://www.fastcompany.com/3058722/this-pea-based-milk-is-healthier-than-almond-milk-and-actually-tastes-almost-like-milk.
Quorn. 2018. "Frequently Asked Question." https://www.quorn.us/faqs.
Ripple Foods. 2018. "Products: Greek Yogurt Alternative." https://www.ripplefoods.com/greek-yogurt.
Time. 2018. "How Oat Milk Could Change the Way You Drink Coffee." Time.com, March 8. http://time.com/5190977/how-oat-milk-could-change-the-way-you-drink-coffee.
Tyson Foods. 2017. "Tyson Foods Makes Additional Investment in Beyond Meat." Press release, Dec. 7. Tyson Foods, Springdale, Ark. tyson.com.