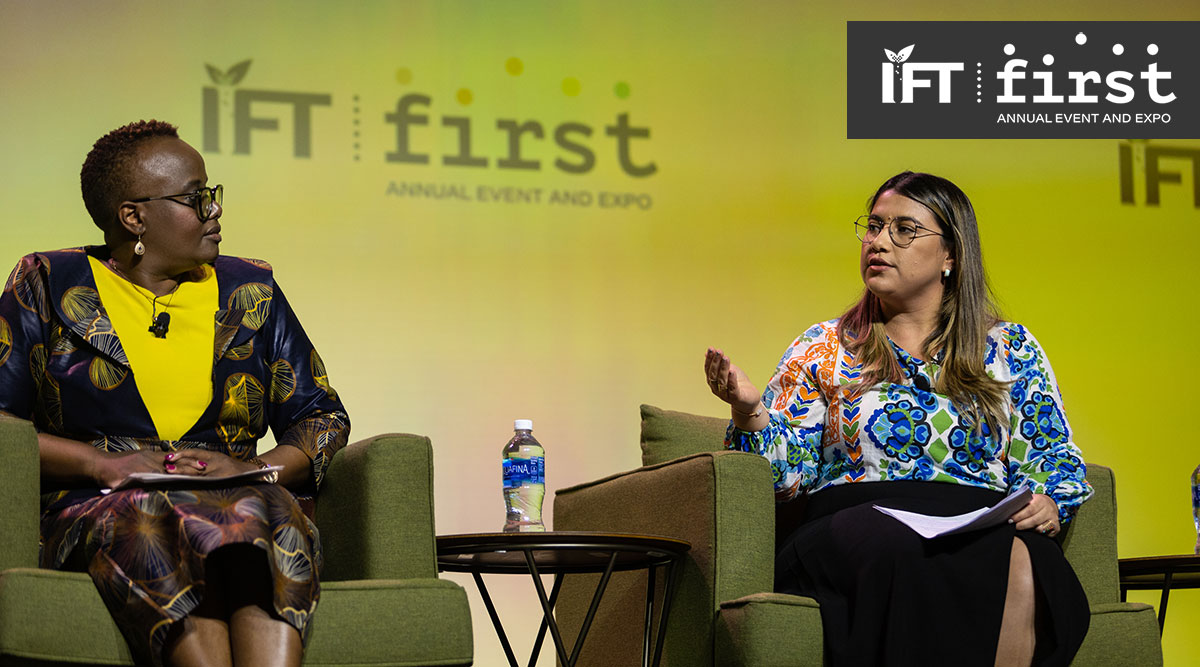 According to United Nations estimates, the world's population will soar from its current 8 billion to 9.7 billion by 2050, so finding ways to keep the global population fed is critical.
A Monday afternoon featured session at IFT FIRST discussed what food science professionals can do to advance health, nutrition, and related solutions to this challenge.
As it stands now, one in 10 people worldwide already suffer from hunger, noted moderator Edith DeVita, global vice president, scientific and regulatory affairs at Mars Wrigley.
Climate change is a big challenge for producers in Africa, as is access to water and technology, particularly for small farmers, said Cândida Chamussa, director of Southern Africa at QuantumHeights GmbH of Mozambique.
Providing opportunities to these farmers by giving them access to open markets will allow them to profit and invest profits in more technology to increase yields, Chamussa observed.
In Latin America, where food insecurity has been rising, increasing production and acceptance of processed food can be a vitally important tool to combat hunger, said Ana Maria Quiros, professor and researcher at CITA-University of Costa Rica.
"Without processed foods, we cannot feed the population," explained Quiros. "In our region, some countries have this misconception about processed food and food processing—that is it very bad. But it could be good food that provides good nutrition. We feel we have to change the conversation."
Food loss and waste must also be addressed if we are to prevent hunger, Quiros expressed, and this includes making use of byproducts that would otherwise be discarded. The technology to prevent loss and waste must also be made affordable, she added.
In Africa, drying crops helps to halt production losses while ensuring they retain their nutritional value, Chamussa noted.
Another important challenge is educating children and adults about nutrition so that they can avoid malnutrition and diet-related diseases.
In a country where food is everywhere, it is still surprising that there are areas in the United States where healthy food is inaccessible, observed Sheldon Gordon, director of nutrition, education, and technical assistance at the U.S. Department of Agriculture's Food and Nutrition Service (USDA-FNS).
Gordon, who specializes in child nutrition and the national school lunch program, explained that the program is about much more than feeding youngsters, it's about educating them about nutrition and health in the classroom. And oftentimes, children take that knowledge home to their parents, he shared.
We know diet-related illnesses are on the rise, said Stephanie Goodwin, director, nutrition policy and government affairs at Danone. "What are we going to do about it? There's no one single answer. (It's about) making sure at the end of the day that the food tastes good, but also has good nutrition."
Food scientists can come up with solutions to reduce added sugar and sodium and still produce food that tastes good, especially to kids, she added. "Let's work together. We don't want (nutritious food) to be in the trash cans at the schools. We want to feed the kids."
Chamussa relayed a story about an effort to battle hunger among African schoolchildren by feeding them nutrition bars that had been formulated with some locally produced honey to make them appealing.
"That day was magic," she said. "The children were very excited. We started to tell them, when we test this, you must tell us when you are happy. The children were happy, because the bars were really good."