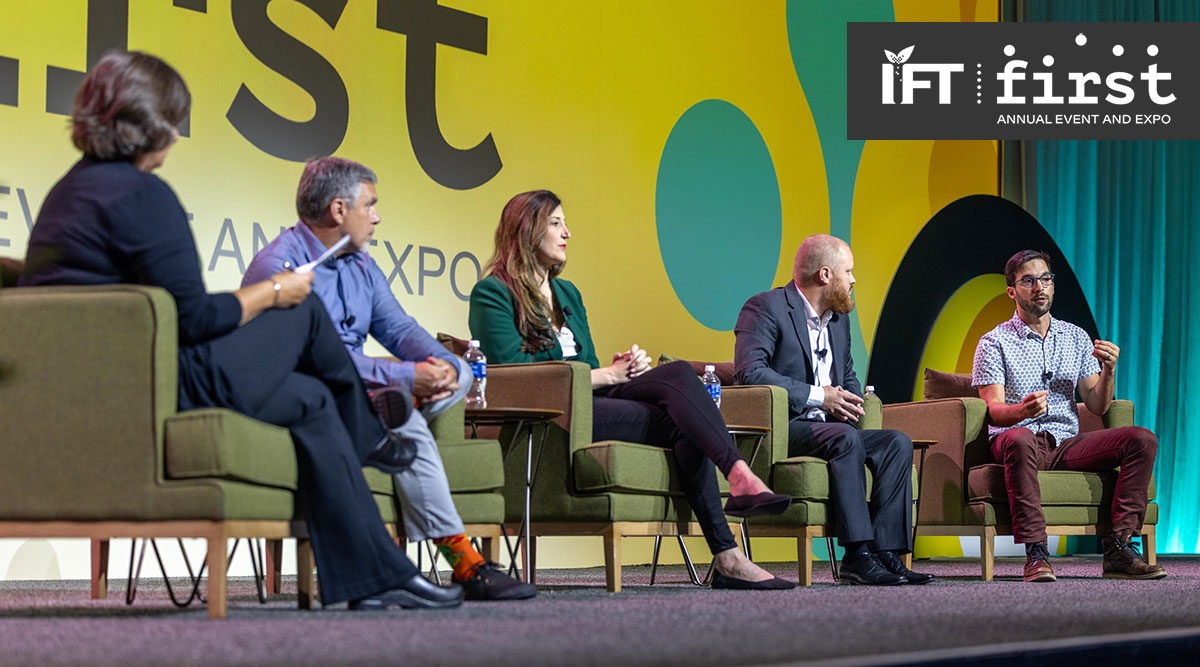 Byproducts of agriculture and food processing written off as "waste" and unthinkingly dumped into landfills can be profitably and sustainably reused as other food products for either humans or animals, or repurposed in industries like packaging, cosmetics, and pharmaceuticals, according to panelists at a featured session on Monday at IFT FIRST, titled "Reimagining Food Waste to Put the 'P' in Profit & Loss."
Christine Moseley, founder and CEO at Full Harvest, noted that food waste has become the No. 1 driver of climate change, that 25% of the produce grown worldwide never even comes to market, and that 90% of the food industry is literally offline from connections to potential reuse opportunities, for which her company helps to make digital connections.
"'Food waste' is not a great term," she said. "It is really food loss. We're losing valuable, edible food. Sometimes, it's fresher because it comes directly from the source. In general, we aren't thinking enough about how we can leverage it. … It's tied to a powerful ESG claim."
Moseley added that digital connections create instant traceability and transparency to connect disparate markets. "Going online can solve a myriad of problems," she said. "You're shifting the supply chain from reactive to proactive. … We have to start that transition as soon as possible." Part of succeeding in that endeavor will involve debunking myths that "it's not going to taste good, or you're not going to be able to process it."
Chuck Templeton, senior managing director at S2G Ventures, said making these connections would reduce economic and environmental pressure. While the amount of food waste in the United States and globally has grown every year for decades, greater awareness of the environmental and nutritional benefits of reuse has increased the desire for innovation in the space.
"Food waste is the wrong term," he agreed. "How do we call it a resource? We need to figure out the right language, and the right message for consumers, to get it across in a way that's positive. … The problem is too big to ignore anymore. The opportunity is so large that there are curious organizations and food scientists starting to dig into it more. Companies who figure it out first are going to have an opportunity."
Kyle Parker, a trader in procurement for MGM Marketing, which resells food byproducts for use in animal feed and industrial applications, said the consistency of byproduct supply is key. "When you have an unexpected situation, that's where there's this breakdown," he said. "A lot of these applications [to solve such disconnects] already exist, the problem is, they're not connected." That too often results in "taking the easy path: going to the landfill," he added.
Diverting to a higher path requires aligning sometimes competing agendas, particularly in larger, more siloed corporations, Parker said. "On the one hand, you have the green initiatives you pledged to honor. On the other hand, you have your quality people. You have obviously the legal aspect," he said. "We try to thread that needle by getting everybody into a single audience: 'This is your goal as a company, and this is how we address that goal.' We try to address the concerns, and reasons not to do something."
Dan Kurzrock, CEO at Upcycled Foods, which "specialize[s] in closing the loop," believes "the market has failed to produce best outcome for the planet: that we're eating all the food we're growing." Food companies do an excellent job at sourcing ingredients, developing products, and getting those products to market, he said.
"But, if you look downstream at the waste product, we need to optimize the value that is still left," he said. "One food company considers [a byproduct] waste because it's outside their core focus. That's an opportunity for input for another company. Maybe there's a value-added process that can create a ripple effect across the rest of the food system. … I want to see more companies collaborate across sectors and across the value chain."
Kurzrock agreed with others that to the extent byproducts are recycled for other human consumption, language is important. "You don't want to 'yuck someone's yum' by calling it waste," he said.