If you've got your health, you've got just about everything. That's the most lucrative and challenging brass ring that consumers have ever dangled before the American food industry. Check it out.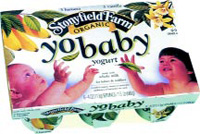 Last year, 158 million Americans—85%—used a dietary supplement (Prevention, 2000). Whether to simply maintain health, or manage/treat a condition, nine out of ten shoppers prefer naturally nutritious foods to supplements (FMI/Prevention, 1999; HealthFocus, 1999a). Nearly two-thirds of grocery shoppers report that their purchase decisions are driven by their desire to either reduce the risk of, or manage, a specific health condition, as shown in Fig. 1 (FMI/Prevention, 1999). Ninety-eight million adults have high cholesterol, 143 million are overweight, and 104 million favor immune-boosting measures to maintain their health—nearly twice the size of the U.S. children's market (STS, 1999). Those shoppers specifically trying to reduce the risk of, or manage a specific condition, are also more likely to purchase foods that are naturally nutritious as tools, rather than supplements (Table 1).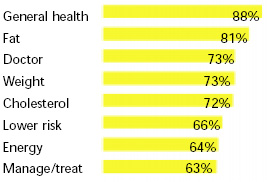 Conventional supermarkets are now the primary shopping channel for energy bars, nondairy beverages, meat substitutes, and tofu (NMI, 1999). Last year, half of the shoppers who entered a grocery asked for health and nutrition information. In-store natural experts and pharmacists were consulted, when available, more frequently than home economists or nutritionists (FMI/Prevention, 1999). It's time to get serious about functional foods.
The Self-Care Opportunity
The desire to ensure overall good health (88% of respondents), rather than balanced nutrition or even lower fat (81%), is now the No. 1 factor that motivates healthy food purchase decisions (Fig. 1). In 1999, 55 million (57%) grocery shoppers were highly/moderately involved in maintaining their own health, up from 51% in 1998. Well over half reported that health concerns greatly affected their food purchases, 88% at least somewhat (FMI/Prevention, 1999).
Foods are an integral part of the self-care movement. In fact, nine out of ten shoppers now believe that healthy eating plays a key role in disease prevention and that only little changes in diet can reap big rewards for health. Two-thirds of the nation's shoppers say they are eating more fortified foods, one-third consume more organic foods, and more than half are purchasing food products specifically for the health benefits they provide (FMI/Prevention, 1998, 1999).
One in three Americans—74.4 million—are now more likely to treat themselves than a year ago (Prevention, 2000). Moreover, one-third of all grocery shoppers turn to natural remedies like herbal teas, cranberry juice, and honey, before conventional medications to treat minor illnesses. And, for the first time, foods are rivaling over-the-counter (OTC) drug preparations as treatment options for some conditions. For example, nearly as many shoppers used foods that are naturally good sources of nutrients (61%) and fortified foods (59%) as used OTCs (70%) to treat a cold; 68% used nutritious foods to prevent a cold (Fig. 2). Generation Xers (39%) are most likely to try natural remedies first (FMI/Prevention, 1999).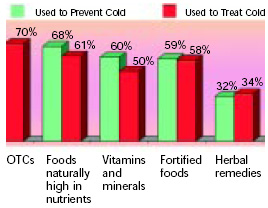 --- PAGE BREAK ---
The self-care movement provides a key opportunity for food retailers as well. Looking to capture the $42 billion "do-it-yourself " health market segment and capitalize on the unprecedented demand for easy access to health solutions, products, and services, supermarkets are creating in-store "Whole Health Centers" and positioning themselves as key providers of health and wellness information (GMDC/FMI, 1998). Cross-merchandising of foods with the pharmacy, solution-selling, and multi-category kiosks are all part of the Whole Health Marketing movement.
Functional foods are an information-driven business. Last year, one-third of shoppers turned to in-store displays or handouts for information, and 10% sought information from grocery store personnel (FMI/Prevention, 1999). As the line between nutrition and health continues to blur, highly accessible in-store pharmacists will emerge as the most trusted source of nutrition and health information and have a dramatic impact on food purchasing decisions (Gallup, 1997).
Perhaps the most attractive marketing attribute of functional foods—next to the sheer size of the market and the high margins—is its sustainability. First, despite talk of increased indulgence, healthy behaviors abound: about 60% of Americans use multivitamins, 42% use supplements for specific needs, and about 33% use herbals (HealthFocus, 1999b). Fifteen percent of all college students are vegetarians, and 71% of all shoppers are trying to eat more fruits and vegetables (Yee, 1999; FMI, 1999a). Weight training has increased by 68%, aerobic exercises by 64%, and walking by 44%; moderate exercise activities for women are up 23%; and participation in sports by kids ages 6–11 has jumped 86% for girls and 57% for boys (NSGA, 1999; Fitness Products Council, 1998). The more-than-100-years-old Non-Prescription Drug Manufacturers Association has even changed its name to the Consumer Healthcare Products Association!
The functional foods segment is also driven by the health-directed, financially well-off, aging Baby Boomers, who are expected to dominate the United States market for the next 30 years, growing in number from 92 million today to 145 million—42% of the population—by 2030. Within the next five years, the 50–64 Boomer age range is expected to experience a >30% increase in the incidence of stress, lack of energy, high cholesterol, high blood pressure, heart disease, cancer (especially prostate), and digestive problems (Gallup, 1998). Generations of children who already have risk factors for serious health conditions will continue to fill the pipeline. Last, but not least, as the media continue to educate Americans about the latest medical opportunities associated with fresh foods and botanicals, it will accelerate Americans' desire for more-natural treatment alternatives and healthier foods. More than 40% of Americans have already tried alternative therapies (Eisenberg, 1998). And, with the severe side effects of many of today's wonder drugs, consumers will likely continue to look for effective, natural solutions.
Market Makers
Despite the complexities of market maturation and ongoing segmentation, today's functional foods arena offers marketers a solid but diverse hierarchy of product opportunities (Sloan, 2000a). The risk of entry has been lowered. Traditional manufacturers can now participate in this truly new generation of "healthy foods" by taking advantage of existing Food and Drug Administration health claims that provide access to major markets related to diseases such as heart disease and cancer by simply incorporating such familiar foods as whole grains, soy protein, oat bran/beta-glucan, psyllium, dietary fiber, or even fruits and vegetables. On the other hand, nutrition-experienced marketers may opt for added appeal via expanded fortification profiles or enhanced "nutrient" bioavailability.
With a higher risk, but also a higher return, marketers can pursue a wide range of individual performance-enhancing, risk-reducing, alternative treatment or even disease intervention platforms, depending on the type of regulatory classification (food, dietary supplement, or medical food) or claim (health vs structure/function) for which their product qualifies (Sloan, 2000a). Even though the winds may shift, recent actions—such as the landmark December 1999 Pearson v. Shalala dietary supplement labeling decision, FDA final regulations on structure/function claims, a redefinition of disease by FDA, and a bill pending for food stamps to cover dietary supplement purchases—indicate a more favorable regulatory environment. The Office of Alternative Medicine is now a separate government organization, and the National Institutes of Health has endowed an Office of Dietary Supplements.
--- PAGE BREAK ---
"Functional foods" is not a formal regulatory category, but rather a descriptive internal industry term virtually transparent to shoppers, who know them simply as health-promoting foods. Only 24% of shoppers are familiar with the term functional foods (compared with 75% who claim to know what an antioxidant is), and only 10% are familiar with the term nutraceutical (FMI/Prevention, 1999). While definitions vary, this article will define a functional food as a food or beverage that imparts a physiological benefit that enhances overall health, helps prevent or treat a disease/condition, or improves physical or mental performance via an added functional ingredient, processing modification, or biotechnology. Therefore, fortified foods are included in this definition. Clearly, the size of the functional foods market depends on the specific definition and the categories incorporated into the mix (Table 2).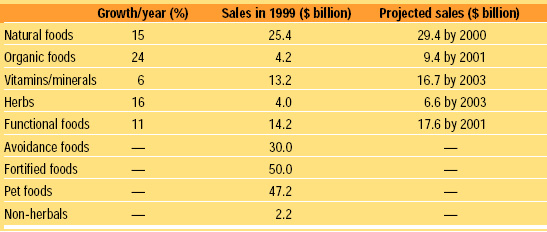 Recognizing the long-term strength of the market—despite a few recent pullbacks with new cutting-edge functional product concepts—industry activity is skyrocketing. Some major food companies are ensuring their entry into this explosive marketplace by aligning with traditional health and natural food manufacturers. Focused on soy products alone, Kellogg bought Worthington Foods, Worthington, Ohio, Dean Foods bought a share of White Wave, Boulder, Colo., and Heinz teamed up with Hain Pure Foods, Uniondale, N.Y. DuPont's Protein Technologies International and General Mills are collaborating to develop and market soy foods. Danone purchased a stake in Lifeway Foods; General Mills bought Small Planet Foods, Sedro-Wooley, Wash., owner of the Cascadian Farm and Muir Gen brands; and Kraft latched onto Balance Bar, Carpinteria, Calif., and Boca Burger. McNeil Specialty has an agreement with Neose Technologies to develop and market novel enzymatic technology. Others—like ConAgra, Kellogg, McNeil, and Campbell—have established nutraceutical divisions or full-scale research centers.
The remainder of this article will discuss the top ten trends indicative of the opportunities awaiting functional food and beverage marketers, ingredient manufacturers, and support services. References will be made to a number of products to further describe the trend. Because of the lack of a formal definition, some of the products will fall under the legal definition of "dietary supplements" and a few even "medical foods," now a $5.41-billion market (Frost & Sullivan, 1999). However, they are presented in the spirit of offering contemporary health benefits.
Trend 1: Nutrient Horsepower
Today's shoppers continue to pursue an aggressive dual strategy for managing their health through foods: 81% select foods or beverages because they contain healthy ingredients or offer health benefits they consider important, such as antioxidants, calcium, or cholesterol-lowering properties; and 75% choose fortified foods. At the same time, however, despite the apparent disinterest in fat content, 78% are still cognizant of avoiding undesirable ingredients, selecting products that are also lower in fat, calories, etc. Clearly, both macro- and micronutrients will remain essential parameters for developing functional foods.
• Positive Eating Au Naturel. Whether the objective is to maintain health, manage a condition, or reduce risk, shoppers prefer naturally nutritious foods to supplements or fortified foods (FMI/Prevention, 1999). With nine in ten believing that fruits, vegetables, and grains contain "naturally occurring substances that can help prevent disease" and that these foods are a good source of vitamins, minerals, and dietary fiber, they not surprisingly lead the list of foods most frequently purchased for their health benefits. For example, 61% buy bananas for their potassium content, 65% buy citrus juices/fruits for vitamin C, and 36% buy apples for fiber (FMI/Prevention, 1999). 
Calling out naturally high levels of nutrients on labels and conducting media campaigns based on the health-promoting properties of inherent phytochemicals will continue to grab mass market attention. Lipton/Unilever's tea advertising campaign, "How Would You Like Your Antioxidants? Sliced?" is one very effective example. Likewise, commodity campaigns are extremely effective: the International Kiwifruit Organization's nutrition campaign, "Bite for Bite the Most Nutrient Dense Fruit," tripled sales. Blueberries and strawberries are well recognized for their antioxidant properties, sweet potatoes for "Bursting with Beta Carotene," and red wine and almonds for lowering LDL cholesterol. And flagging those products that contain a full day's serving of the fruit and vegetable group is as appealing as a low-calorie claim (Gilbert, 1998)!
--- PAGE BREAK ---
More than half of grocery shoppers regularly buy foods for their health benefits: 48% purchase oatmeal to reduce cholesterol and broccoli (53%) or soy (27%) to reduce their risk of cancer (FMI/Prevention, 1999). Although virtually no phytochemicals have currently reached mass-market awareness themselves, advertisements like Heinz Ketchup print ads touting "America's Favorite Source of Lycopene" will quickly help to educate consumers (TrendSense, 2000). The availability of lycopene and lutein as food ingredients will escalate industry use. As phytochemicals continue to approach mainstream status, watch for fruit powders and vegetable extracts—naturally high in a wide diversity of nutrients and phytochemicals—to bridge the gap between "natural goodness" and good health (Anonymous, 1999a).
• No Aisle Left Unfortified. At present, fortified foods represent the largest segment of the functional foods market. Together, new and traditionally fortified foods such as milk and ready-to-eat cereals total more than $50 billion (STS, 1999). And they're destined to stay strong, with "Gen X" leading the list of fortified food users (73%, compared to 68% for "Boomers" and 60% for "Matures") and three-quarters of adults considering fortified beverages convenient (FMI/Prevention, 1999; Gallup, 1998).
With the percentage of consumers trying to include more fortified foods in their diet up from 56% in 1997 to 66% in 1999, it's no wonder that food marketers are subtly upgrading familiar foods and introducing new fortified line extensions (Gallup, 1998; FMI/Prevention, 1999). Campbell's Plus! soups provide 10–30% of the Daily Value for vitamins A, B-1, B-2, B-6, B-12, C, and E, and Kraft's Taste of Life™ salad dressings provide 50% of the DV for vitamin E. Mega dairy producer Suiza Foods extended its value-added "Milk Made Better" program with Kidsmilk™, a reduced-fat milk fortified with 67% more calcium and 50% more of the 11 vitamins found in regular milk, and Lifemilk™, a low-fat milk fortified with extra calcium. Farmland Special Request Skim Plus Milk offers 40% of the DV for calcium (Thompson, 2000).
With 78% of women and 55% of men not getting the Recommended Dietary Allowance for calcium, it didn't take long for calcium to become the focus of industry-wide food fortification (USDA, 1998). Nearly 150 calcium-enriched products were introduced last year, triple the amount that debuted in 1998 (New Product News, 1998). Light n'Lively™ offers a cottage cheese with twice the natural level of calcium (20% of the DV). Hershey has fortified its American Beauty and Skinner pastas. Kellogg's Eggo™ waffles have 300 mg of calcium—equal to a glass of milk—and nine nutrients. An EggoPlus™ high-fiber variety is available, too. Horizon Dairy, Boulder, Colo., created organic calcium–fortified juices. Nutri-Grain Bars have 20% of the DV for calcium. Even Del Monte Prune Juice got calcified.
If RTE cereal manufacturers have anything to say about it, B-vitamins will be the next wave. With the addition of calcium and folic acid to Total™ cereal, the brand grew 8% in 1999. Kellogg has fortified 16 of its cereals with 100% of the DV for folic acid and vitamins B-6 and B-12, so they may be even "healthier for your heart." Overall, however, the A, C, E antioxidants remain the most desirable additions for general nutrient fortification (Sloan, 2000b). Both beta-carotene and folic acid have rebounded from slumps and have already surpassed their earlier popularity levels (TrendSense, 2000; Fig. 3). The latter's popularity is due mainly to its positive effect on blood homocysteine levels and its role in the prevention of heart attacks and strokes. Likewise, the B vitamin category is also enjoying renewed popularity.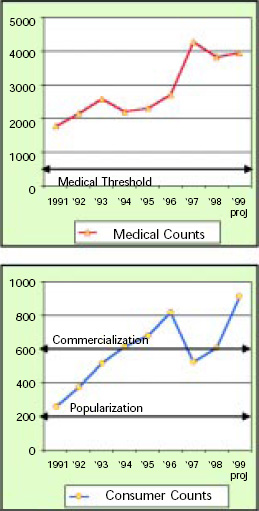 For various reasons—the success of the Atkins Diet notwithstanding—both protein and amino acids are moving into the consumer spotlight (TrendSense, 2000). With two major studies (Durham VA Hospital and the Atkins Center for Complementary Medicine) confirming Atkins' low-carbohydrate dieting theories about to be published, high-protein options will continue to soar (NMI, 2000). The high-profile Atkins Advantage™ bars, Naked Juice's Protein Zone™ and PowerBar's ProteinPlus bars with antioxidants, B-vitamins, and amino acids are some recent examples. Whey protein is also getting attention for a one–two punch of functionality and nutritional benefits.
--- PAGE BREAK ---
Bioavailability of traditional nutrients is the next opportunity racing mainstream (TrendSense, 2000). Food marketers are quickly mimicking the success the dietary supplement industry has had with adding complementary ingredients that enhance nutrient utilization. For example, Mead Johnson Nutritionals' Viactiv™ Calcium Soft Chews introduced in March 1999 also contain vitamin K and D to improve absorption and reduce the risk of hip fractures. American Marketing Team, Bloomfield, N.J., is importing Familia C.M.D. cereal with calcium, magnesium, and vitamin D.
At the same time, other creative food marketers are finding more natural ways to improve the health-promoting properties of familiar foods. Eggsplus™, Eggland's Best, and OmegaTech's Gold Circle Farms brands have created eggs that deliver higher vitamin E and omega-3 contents by feeding chickens a feed containing a variety of healthy ingredients such as flax seed, menhaden oil, antioxidants, and grains. Goodhabits DHA-enriched Foods (American Nutriceuticals, Cincinnati, Ohio) are producing eggs, beef, and chicken with up to 20 times the normal level of DHA, 7 times the normal level of vitamin E, and 6 times the normal omega-3 content of their traditional counterparts. Some fruit companies are enhancing nutrient content by soaking fruits in nutrient solutions, and others through biotechnology. Melissa's, Los Angeles, Calif., is offering maroon carrots, developed at Texas A&M University, with 170% of the RDA for vitamin A and 26% calcium.
Trend 2: The New Youth Market
With America's 72 million children facing the nation's first long-term kid's health crisis and an emerging health and performance consciousness among teens, savvy food marketers are eyeing a new "Youth Market" and future generations to fill the pipeline for functional foods and beverages. By 2005, America's "Baby Boomlet"—destined to start off on an unhealthy foot—will be equal to the size of the influential "Baby Boomer" segment, 76 million (U.S. Census Bureau, 1998).
Today's proactive moms are also demanding more "fortified" weapons in their fight to maintain their family's health. With 80% of children not getting the recommended levels of calcium, zinc, iron, and B vitamins, it's not surprising that marketers have expanded fortification of kid's products, too (Song, 2000). RTE cereals and fortified beverages set the pace. General Mills and Kellogg added calcium to their presweetened and family RTE cereals last year with great success. For example, sales of General Mills' 60-year-old Kix™ brand are up 17% through the first six months as a result. Kellogg launched its K-Sentials™ initiative, labeling with a K-Sentials logo products enhanced with calcium or B-vitamins, nutrients needed for optimal growth and development for children. Although "Big Kids" love them too, Procter & Gamble's Sunny Delight™, Minute Maid's Hi-C™, Ocean Spray Cranberry, and Campbell's V-8 Splash™ drinks also boast added calcium. And, with lunch boxes and backpacks in mind, Tropicana's Pure Premium with Calcium and V-8 Splash with Calcium now come in 6-packs of 8-oz cartons.
What's next? With French fries and potato chips accounting for 25% of kids' and 30% of teens' vegetable intakes, expect food marketers to catch the global trend to highly fortified high-fiber drinks and snacks (Champagne, 1999; Anonymous, 1999b).
With experts cautioning that feeding young children like mini-adults can lead to crucial shortfalls in calcium, iron, and zinc, fortified toddler foods are another fast-emerging category. Mead Johnson Nutritionals offers a line of EnfaGrow™ nutritional toddler foods, including snacks such as Cracker Bites and Cookie Bars, oatmeal in kid-friendly flavors, and milk flavorings. The snacks and cereal provide 14–18 nutrients and up to 60% of the DV for calcium when served with milk. Highly fortified liquid meal replacements for kids are also proliferating. Ross Products Div. of Abbott Laboratories introduced Pediasure™ complete balanced liquid nutrition for children 1–10 years old. Balance Bar offers Kids Balance, with 25% of 24 nutrients, soy, and fiber for "growing kids," and P&G launched NutriDelight™, a fortified orange powder drink for children that contains a patented source of iron, vitamin A, and iodine for better growth and to boost mental alertness and performance. Gerber Graduates offers 100% pure juice with 30% of the DV for calcium in 6-oz sizes.
--- PAGE BREAK ---
Other marketers are breaking new ground by providing more aggressive health benefits and natural self-treatment options for babies. Yo Baby™ (StonyField Farm, Londonderry, N.H.) is the first organic yogurt created especially for infants and toddlers, with six live active cultures—including Lactobacillus reuteri—to enhance digestion and boost the immune system. L. reuteri, a probiotic health-promoting bacterium, also inhibits the growth of harmful bacteria such as Escherichia coli and Staphylococcus, as well as the yeast Candida. It also has a therapeutic effect on both viral and bacterial diarrhea, the leading cause of infant hospitalization. L. reuteri produces reuterin—a broad-spectrum antimicrobial Other marketers are breaking new ground by providing more aggressive health benefits and natural self-treatment options for babies. Yo Baby™ (StonyField Farm, Londonderry, N.H.) is the first organic yogurt created especially for infants and toddlers, with six live active cultures—including Lactobacillus reuteri—to enhance digestion and boost the immune system. L. reuteri, a probiotic health-promoting bacterium, also inhibits the growth of harmful bacteria such as Escherichia coli and Staphylococcus, as well as the yeast Candida. It also has a therapeutic effect on both viral and bacterial diarrhea, the leading cause of infant hospitalization. L. reuteri produces reuterin—a broad-spectrum antimicrobial—and conjugated linoleic acid, a chemoprotective agent.
Ross Products offers Pedialyte™, an oral rehydration product providing critical electrolytes for young children to help with the complications of infantile diarrhea. Pedialyte Frozen Pops are also available, in addition to the beverage. PediaSure™ is a high-fiber complete nutritional beverage for children ages 1–10 years. At present, the traditional healthy-infant food market is still dominated by natural/organic positionings such as Gerber's Tender Harvest and Beech-Nut's Naturals. However, with children's supplements sales up 46.5% and child homeopathic remedies up 35.5% in mass channels last year—compared to only 6.4% for the total baby needs market—the infant segment will surely remain a highly desirable target for functional food and medical food marketers (Donegan, 1999a).
In the near future, our current generation of surprisingly unhealthy children will spawn a new functional foods segment aimed at reducing risk factors in children and teens. Already, 27 million Americans under age 19 are plagued by high cholesterol levels, and 2 million under age 16 have high blood pressure (AHA, 1999). One in four children (12.5 million) in grades K-12 are overweight, and 36% get no exercise at all (President's Council, 1999). While kids' risk-reduction products have yet to hit super-market shelves, the growing concern for childhood obesity will undoubtedly put an increased emphasis on calorie and fat control, and reduced physical activity may well adversely impact the kids' sports bar and beverage segment.
Our desire for optimal performance is generating other newfound child-directed functional food segments. With 60% of children feeling tired during the day and 15% admitting to falling asleep at school, energy-enhancing products will eventually be welcomed by the younger set (NSF, 2000). Likewise, mental performance and cognition have drawn unprecedented attention from educators, parents, and corporate executives alike. In addition to stressing the importance of breakfast, a significant body of evidence now links the A, C, E, and B vitamins, beta-carotene, omega-3 and -6 fish oils, DHA, and EPA to improved cognition. Nearly 80% of students say breakfast helps them learn; 87% think they pay attention better after eating; and 85% feel "more awake and smarter" (Post Cereal Survey, 1999).
Behavioral issues are also becoming fair game for functional foods. Attention Deficit Disorder (ADD) and attention deficit hyperactivity disorder (ADHD) are estimated to affect as many as 5–10% of school-age children children (Breslin, 1999). Metabolic Response Modifiers' Attention! Bar and AquaCuisine's (Campbell, Calif.) salmon franks and burgers with mega omegas are two food products designed for behavioral issues.
In the future, it's clear that moms will no longer be the only target for functional foods. More and more teens are becoming aware of what they put in their bodies and recognizing the advantage of some healthy alternatives, such as fruit, raw vegetables, and yogurt. Teens directly influence the sales of sport drinks, breakfast bars, salty snacks, cookies, carbonated beverages, cereals, and frozen foods (Channel One Network, 1999a). In fact, 37% of high school students said they look forward to trying energy drinks (37%) and blended coffee drinks (36%), more than diet soda (32%) and flavored teas (24%) (Wishna, 2000).
For the first time in decades, the number of teens is growing. With teens spending $5.2 billion each year on after-school snacks and influencing $50 billion of family grocery spending, concentrating on teen's transitioning health and performance attitudes will be worthwhile (Channel One Network, 1999b).
--- PAGE BREAK ---
Trend 3: Upgrading of Fun and Favorite Foods
For too long, manufacturers have been saddled with the impression that there was a disconnect between healthy and fun foods. One thing is clear: Americans don't want to give up their favorite foods in their quest for health. Only 44% are willing to cut out fat from their diet, and only 49% said they would give up junk food to improve health. For example, 65% would eat their favorite foods enriched with soy protein to improve health. However, the majority hoped soy would be added to some foods not traditionally considered healthy, such as cheesecake, pizza, or snacks (PTI/BGR, 1999).
• Drink to Your Health. Body Zoomers, Shen, Jing and Qi, LifeO2, and Fire, Sun, Rain are just some of the most recent entries into the exploding fortified beverage market. Sales of fortified juices have nearly doubled in the last year, and major players such as Tropicana, Minute Maid, and Ocean Spray are now firmly rooted in the territory once called "New Age." In the meantime, New Age players like SoBe, Arizona, and Snapple are pioneering herbals, with echinacea and ginseng being the strongest sellers in both the tea and juice segments. As an indication of the strength of the category, SoBe (South Beach Beverage Co., Norwalk, Conn.) grew from $13 million in sales in 1997 to more than $200 million in 1999 (Wellman, 1999). These "trendy" manufacturers are offering supermarkets variety and single-serve counterparts to the industry-wide move to family-size packaging.
In the functional tea market, green tea has been one of the hottest mainstream sellers, jumping from one-half million pounds in 1995 to 3 million in 1999 (Schutt, 1999). Along with a wide variety of fortified iced teas, chai is also enjoying great success. While mega manufacturers are still poised on the fringes of the healthy tea market, more aggressive marketers like Celestial Seasonings and Traditional Medicinals offer a wide array of health-centered products, including DietPartner, Detox A.M., and LaxaTea. Tea is the second most popular drink in the world, after water. Today, healthy waters, such as Near Waters and Fruit Essences, promise everything from heart health to extra oxygen and are an exploding segment of the $1.8-billion bottled water segment. There seems to be a fashion element to functional beverages these days: what would you like to be seen drinking?
• Candy Is Dandy! With 1998 sales topping $23 billion, the confectionery category keeps getting sweeter, and functional candies are no exception! For the year ending December 5, 1999, 10.7% of non-chocolate SKUs and 1.7% of chocolate SKUs fell into the functional foods category (NCA, 2000). Datamonitor reports that functional candies—$4 billion in sales worldwide—are getting even more attention overseas, with 1998 European sales ranging from slightly more than 1% of total confectionery sales in the United Kingdom and Italy to 7.3% in Germany; and predicts that the category's share will grow to 4.2% in Italy and 12.1% in Germany by 2003 (Donegan, 1999b).
In the U.S., candies fortified with vitamins A, C, and E and calcium, such as Farley's Fruit Snacks (Fruity Bears), Brach's Hi-C candy, and Odwalla's Fruity C Monsters—are still the most prevalent functional treats. Super-calcified chewy confections are not far behind. Functional candies that offer an energy boost or enhance mental alertness—such as Brain Gum, High Gear gum, or Buzz gum with guarana—are also coming on strong. Caffeine is everywhere. The caffeine in Java Joint's candies is equal to the amount in two cups of coffee! More-aggressive manufacturers are attempting to boost immunity and provide fun options for soothing sore throats. Get Better Bear Pops, Rhino Echinacea Pops, and Smith Brothers Fruitrients cough drops (vitamin C + fiber) are a few examples.
• Dental, Diabetic, and Weight Control. As functional candies gain increased attention, low-calorie and diabetic candies continue to keep pace, increasing 11% in 1998 (NCA, 1999). With 800,000 new cases of diabetes per year and 105 million Americans overweight, a renewed focus on low-calorie sweeteners is not surprising. Just in time, FDA approved Splenda™ brand sucralose, the first low-calorie sweetener derived from sugar, for all-purpose use last year. RC Diet Cola is now using a combination of Sunnett (acesulfame potassium, Ace-K) and sucralose in its diet soft drinks. The herb stevia is also enjoying unprecedented popularity as a natural low-calorie sweetener.
With our nation's 16 million diabetics taking more hands-on control of their condition, foods designed to help control glucose blood level are moving center stage. Ross Products' Ensure's Glucerna line, Nite-Bite™, which is designed to be eaten before bed, and Choicedm are just a few of the products on the market to help prevent low-blood-sugar episodes.
Dental and oral health concerns are also a target for today's functional foods. In fact, "promotes healthy teeth" is the third most desirable health claim in the UK and Germany (Leatherhead, 1999). XyliFresh now has 7% of the Japanese gum market. Internal breath fresheners are a big mover in the candy category worldwide. BreathAsure Inc., Westlake Village, Calif., manufacturer of the all-natural BreathAsure™ and Oro-Blast brands, is one of the first companies to merchandise in both the candy and dental aisles of most mass-market outlets. BreathAsure Dental Gum is supported by clinical studies showing that chewing two pieces for 20 minutes after a meal reduces plaque buildup by 35%. New milk-derived Recaldent™-based gums—Trident™ Advantage and Trident Sugarless Gum for Kids—are clinically proven to remineralize and strengthen teeth. Both claims are prominently displayed on the label. Watch for plant extracts to work for oral health, too. An American Dental Association study has shown that cranberry extract kept plaque from sticking to teeth!
--- PAGE BREAK ---
Trend 4: Tailor Made
Unquestionably, the trend with the most long-term potential for functional foods is customization. While 73% of the "Fortune 500" CEOs listed "customized products and services" as the most successful business strategy for the 21st century, nowhere is its application more appropriate than in the health and nutrition arena, where everyone's needs are different (Fortune, 1997). "Just for you" personalized vita-packs, supplements, and retail dietary services—such as Rite-Aid's "Ask the Pharmacist"™ nutrition program—are enjoying widespread success.
Male and female directed products are leading the mass market for personalized functional foods. Kellogg's Special K-Plus™ is the first breakfast cereal developed for women. It provides 60% of the DV for calcium, 90% for iron, and 100% for folic acid and vitamin B-12. Luna™, the Cliff Bar for Women (Cliff Bar Inc., Berkeley, Calif.) and True Rhapsody Bars (Leiner, Carson, Calif.) are also formulated for women. Mead Johnson Nutritionals' female-directed Viactiv Soft Calcium Chews, introduced in March 1999, have already achieved a 10% share of the calcium supplement market. The Viactiv brand will be expanded to include Energy Fruit Smoothies, Hearty Energy Bars, Energy Fruit Crispettes, and Energy Fruit Spritzers, with a burst of caffeine. The line is fortified with calcium, vitamins C, E, B-6, and B-12. Pharmavite™ (Mission Hills, Calif.) also offers Nature Made Cal Burst, a chewable calcium supplement.
With 47 million women either menopausal or perimenopausal, providing phytoestrogens, calcium therapy, and symptom relief naturally through foods, rather than prescription medication, has become a highly appealing option. In recent focus groups, women ages 40–60 knew more about herbal medicines and supplements than they did about estrogen (ACOG, 1998). With menopause ranking very high as a self-treatment area, and more than half of women falling into the category by 2015, pioneer products such as Menopausitive™ (Natural Vitality, Chico, Calif.) nutritional supplement beverage, which contains 100+ mg of soy isoflavones, plus herbs and nutrients, are grabbing women's—and retailers'—attention. With 85% of women not using prescription hormone therapy and 75% suffering from at least one symptom, products such as isoflavone bread for women, with 40 mg of phytoestrogens (French Meadow Bakery, Minneapolis, Minn.), and Soy Sensations (TwinLabs, Hauppauge, N.Y.) beverages and energy bars with 15 g of soy protein and 60 mg of isoflavones in lemon cake, chocolate fondue, and crunchy peanut flavors could become everyday alternatives.
With nearly half of all women extremely concerned about both breast cancer and heart disease, and more FDA-approved options for pursuing heart and cancer prevention claims, expect a wider range of female preventive products to shortly emerge. Proteins International is introducing Isis, a women's protein supplement that combines soy and whey and is aimed not only at reducing the symptoms of menopause but at reducing cholesterol and the risk of breast cancer and heart disease as well. Although men's concerns haven't gotten the same amount of product development attention, nearly half of adult men are extremely concerned about prostate cancer and heart disease, and product developers will clearly follow suit for men (HealthFocus, 1999a).
Another strategy to customization is "ingredient bundling"—targeting products toward preventing/treating a specific condition, addressing a particular concern like heart health, or targeting individual population segments that have specific deficiencies or needs for specific nutrients. A different approach involves fortified products that complement major categories of "block buster" prescription drugs that deplete the body of much-needed nutrients, such as heart medication which depletes the body of a wide variety of nutrients, including potassium, magnesium, etc. Jenny Craig—in partnership with Balance Bar—offers Nutritional Meal Bars designed to provide the specific nutrients most often depleted during dieting. The ultimate is Balance Outdoor™, a line of sustained-energy bars geared to withstand the temperature variations of the outdoors! Recent varieties are specially formulated to address cholesterol levels, diabetes, memory, weight loss, lactose intolerance, or the muscle soreness, fatigue, and oxidative stress caused by exercise. They even offer an SKU for diabetics!
--- PAGE BREAK ---
• Taking the Strains. One of the most sophisticated approaches to customizing health benefits is occurring in the area of probiotics, health-promoting bacteria that aid not only in improving digestion and stemming diarrhea, but also in boosting immunity, controlling pathogenic organisms in the gut, and improving the bioavailability of nutrients. Cutting-edge companies like Danone, Nestlé, and Chr. Hansen in Europe are linking specific bacterial strains to individual health benefits. For example, in addition to traditional benefits, Danone's Lactobacillus casei imunitass strain is particularly effective at reducing the severity of diarrhea in children; Nestlé's Lactobacillus johnsonii (La1) blocks adhesion of E. coli and ulcer-causing Helicobacter pylori; while ProViva's oat-based, plant-derived Lactobacillus plantarum 299 acts best on irritable bowel. Nutrica has site-directed mixtures focusing on pathogenic organisms that tend to colonize the anaerobic part rather than those such as staphylococci and rotaviruses present in the aerobic part. In 1998, Stonyfield Farm initiated claims of "America's only yogurt with 6 live, active cultures," featuring L. reuteri's role in aiding digestion, lactose intolerance, calcium absorption, immunity, and cancer prevention. Danone, which recently purchased a 20% equity stake in Lifeway™ Foods, has test marketed Actimel with L. casei imunitass in Arizona and Colorado (Anonymous, 1999c).
Perhaps most interesting of all is the "do-it-yourself " approach to customized health benefits. Sitia-Yomo SpA (Italy) offers symbiotic mixtures (prebiotics + probiotics) directly to consumers to add to their own foods. Likewise in the U.S., Coromega omega-3 fish oil is packaged in individual packets for incorporation into favorite foods and drinks. Last but not least, creative marketers like Menu Direct™, Piscataway, N.J., that use mail order and targeted kiosks to market food products to specific population groups like renal patients and those suffering from celiac sprue will bridge the interface of customization and the Internet to support a wide range of health-driven food services, maybe even very personal weight-loss services.
Trend 5: Living Well
The desire to improve one's quality of life, physically and emotionally, is a key driver of the wellness movement. As our population ages, stress levels and time pressures increase, and our sedentary lifestyle becomes a way of life, functional food developers will face an ever-evolving series of markets based on performance (energy, sleeplessness, anxiety, etc.) and quality of life (joint pain, menopause, immunity, vision, etc.). The incidence of managing or treating specific conditions in terms of shopper households is presented in Fig. 4.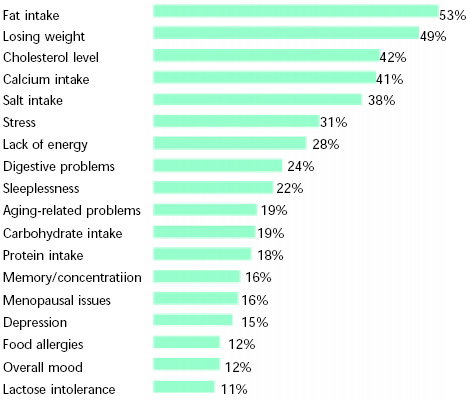 • Energy. Sports and energy products are the most established segment of the functional foods market. Even pets enjoy them! Sports ($2.5 billion) and energy ($300 million) beverages and bars ($500 million) topped $3 billion in sales last year (Sicher, 2000; ACNielsen/SPINS, 2000). Quaker, Coca-Cola, and Pepsico dominate the mass sports beverage market, while Kraft's entry thru Balance Bar™ and Quaker Oats' launch of a Gatorade™ bar will bring unprecedented competition to the bar segment of more than 70 brands.
While 75% of adults (144 million) are concerned about energy loss and fatigue, 35 million suffer from conditions related to loss of energy—nearly 9 million daily (Gallup, 1998). One in three shoppers report that someone in their household is trying to manage/treat this condition (NMI, 1999). By 2005, the incidence of fatigue/energy will increase 8% in the general population and more than 32% among those ages 50–64 (Gallup, 1998). Other conditions related to a lack of energy, such as sleeplessness, stress and emotional problems, etc., will also become more prominent (Sloan, 1999a).
From Arizona's ginseng-laced Iced Tea to Coca-Cola's Surge™ and Quaker Oats' new Propel™ and Torq™, energy products proliferate. One of the fastest-growing segments is mental energy stimulators: 29% of men and 36% of women are concerned about mental acuity/alertness. While still primarily the purview of dietary supplements, confectionery giant M&M/Mars, on the basis of studies in the Netherlands and the UK, repositioned its Mars™ bar in Europe, claiming that it improves mental cognition and reduces stress, while mega-marketer Wrigley's Stay Alert™ chewing gum keeps Americans at the top of their game!
Since 51 million adults are frequent exercisers, its not surprising that the ingredient-driven, high-margin sports and performance market remains strong (SGMA, 1999). Without bars and beverages, sports nutrition products still total $1.4 billion (Richman and Witkowski, 1999b). The emergence of a milder mass market form of exercise, a dramatic increase in equipment-directed activity, and increased participation by the age 50+ segment will open new fertile markets for performance products. What is in greatest demand, however, are nonthreatening—in terms of both formal promises and the ingredients they contain—mass-market energy products for everyday use.
--- PAGE BREAK ---
• Weight Loss. When consumers were asked what they would like a magic pill or food to do for them, the first response was "more energy" and the second "lose weight" (STS, 1998). Nearly 105 million adults over age 20 (52%) are over-weight and 42.5 million obese (AHA, 1999). Nearly half of all shoppers said someone in their household was trying to manage/treat their weight, while 73% said this influenced their grocery purchase decisions (NMI, 1999; FMI/Prevention, 1999). At any given time, about one-third of adults are on a diet—62 million for general weight control, 84 million for health purposes, and some for both. By 2005, the number of health-directed dieters is projected to jump by 8.3 million and weight-loss-directed dieters by 5.8 million (Gallup, 1998). With dieting back to the high level of the late 1980s, it is disappointing that except for low-calorie foods and "fat burning beverages/bars," the market is virtually devoid of mass-market weight-loss options. It's time to breathe new life into the weight-loss market, and dieting for health reasons represents a new approach.
• Immunity. Foods and beverages that "boost the immune system" appeal to more than three out of four (104 million) Americans (HealthFocus, 1998). After all, vitamin C is the No. 1-selling vitamin, and echinacea the top herb. With 108 million cases of the flu and 61 million of the common cold reported every year, it is not surprising that products that aid in "cold" prevention have been the focus of the first round of immunity-based foods. For example, Kitchen Prescriptives™ chicken soup (Hain's Pure Foods) contains echinacea, while "Goodypops" Lollipops (Nature's Answer, Hauppauge, N.Y.) provides a sweet treat and echinacea and vitamins as well (NCHS, 1999).
The natural immune-boosting properties of probiotics and prebiotics will most likely form the basis for the next widespread immune-directed product movement. In addition to the publicity surrounding "live active yogurt cultures," Dannon's Actimel and Stonyfield Farm's six-strain yogurts, both Lifeway's ™ and Helios's kefirs are positioned to address this super-hot issue. one-third of consumers are already trying to eat more yogurts to reduce their risk of disease, and 54% are interested in more information on active cultures (Health-Focus, 1998). Proventra™ (Galagen, Arden Hills, Minn.) will provide another effective tool for functional food manufacturers. Glutamine also holds a great deal of promise, especially for young children (Wilmore and Shabert, 2000).
• Vision. Vision is the latest newcomer to the functional food world. Nearly nine out of ten adults are concerned about maintaining healthy eyesight, and 28% of households have a member actively managing or treating a vision problem (NMI, 1999; Sloan, 1999a). More than 60 million people are nearsighted, 14 million suffer from macular degeneration—the nation's leading cause of irreversible blindness—and 6.4 million have cataracts (ACO, 1999). Phytochemicals such as lutein, anthocyanins, xeaxanthin, and other carotenoids play key roles in eye health and prevention of these dreaded conditions. A Harvard University study found that a diet high in carotenoids can reduce the risk of developing AMD by 43%. America's largest-selling brand of supplements, Centrum™ and Centrum Silver™, recently added lutein to their multi-vitamin formulations. Lutein and other carotenoids are now readily available as a reliable and standardized food ingredient.
Trend 6: Plant Performers, Sea Urchins, and Flowers 
If we had to give a product development award for functional food innovation this year, "Mother Nature" would win! Whole grains, soy protein, omega-3s, herbals, lycopene, lutein, and more!
Last July, RTE cereal manufacturers jumped for "dollars" when FDA approved a health claim that allowed whole-grain foods to join dietary fiber, oat bran, psyllium, and fruits/vegetables in the dietary arsenal to fight heart disease and certain cancers. In the first 11 weeks, volume for General Mills' wholegrain cereals jumped 7%! Additionally, a University of Minnesota study linking Cheerios™ to lowering cholesterol helped the 57-year-old brand post an 11% increase last year and a 6% volume gain for the first half of fiscal year 2000 (General Mills, 2000). General Mills' "Spoonful of Hope" program is now donating to the American Cancer Society 50 cents per box of whole-grain cereal sold, drawing even more attention to whole grains. Kellogg, which had 24 cereals and 21 convenience products qualify for the claim, has posted a whole-grain seal on all relevant products.
--- PAGE BREAK ---
Bread—still America's favorite whole-grain food—may well be the sleeping giant in the functional food category, especially since dietary fiber intakes are low for children and adults (Auld, 2000). In Europe, prebiotic, highfiber, and heart-healthy breads are gaining major momentum, and European executives predict that the bakery segment will be second only to the dairy section in short order (VK Muhlen Food Service GmbH, 2000; Anonymous, 1999d). An excellent example is the award-winning Burgen Soy-Lin bread and Linseed Loaf containing phytoestrogens and omega-3s and offering a wide variety of health benefits, including those related to menopause and heart health (Jorgensen and Suter, 1999) Likewise, wheat germ may also hold a great deal of promise as a functional food ingredient (Anonymous, 1999e).
Since FDA's approval of a heart-related health claim for soy, more than 1,000 new soy-containing products are expected on the market, and soyfood sales are expected to increase from $2.1 billion to $3.57 billion by 2002 (SoyaTech, 1999). Growing by more than 30% in 1999, meat substitutes, which lead the soyfood category in sales, topped more than $500 million (SoyaTech, 1999). Nearly three-quarters (71%) of Americans perceive soy products as healthy, up from 67% in 1998 (USB, 1999). With two out of three Americans saying they would eat their favorite foods enriched with soy protein as a way to help improve their overall health, no wonder manufacturers are encouraged (PTI/BGR, 1999)!
Kellogg's Smart Start™ soy protein cereal with 100% of the DV for 10 nutrients is one of the first new mass-market soy products to emerge. Ironically, because milk and soy milk are at odds and soy milk will cannibalize regular milk sales, dairy giant Suiza Foods was quick to market its new SunSoy soy milk, and Ross Products launched Health Source™, a soy protein powder shake, providing 55 mg of isoflavones, 20 g of soy protein, calcium, and vitamin D, too. Soybean oil is also being perceived as a healthy alternative among commonly available vegetable oils—89% said soybean oil was very healthy, compared to 87% for olive and canola oil. And if you like your beans straight-up, try dry-roasted and salted SoyBeans (Now, Bloomingdale, Ill.) in a zip-lock resealable bag!
With 30% of consumers never having tried soy, expensive sampling requirements, heavy competition, and fairly low awareness of soy's components among the mass market, capturing this market segment will be a challenging task (USB, 1999).
• Prebiotics: The New Dietary Fiber?
While the Europeans and the Japanese have traditionally focused more attention on inulin and oligosaccharides, the U.S. has relied more heavily on dietary fiber. Since Americans are more familiar with fiber than with "good-for-you" live organisms, prebiotics may well have advantages over probiotics in capturing the more than $4-billion U.S. "gut-health" market. Prebiotics—most commonly fructooligosaccharides (FOS) and inulin—stimulate growth of bifidobacteria, ensuring gut health, keep harmful bacteria in check, and boost immunity. They improve mineral absorption, lower triglycerides/cholesterol, and, as a dietary fiber, decrease fecal transit time, increase stool weight, and prevent constipation. Low in calories and suitable for diabetics, they may well be a major asset for detoxification products as well.
Prebiotics have been added to a wide range of products in Europe and Japan, including bars/confections/candy, cookies/biscuits, pasta, brioche, puddings, cheese, teas, sausages, luncheon meats, and breakfast drinks. Actisucre™ (Beghin-Say, France) is a unique new sugar with FOS. Prebiotic breads—Cult, Wonderwit, and Prokorn blond—could well become a staple within the functional foods market, matching the success of the yogurt segment. Prebiotic cereals—Bran Musli, Crusli, Kinder-Flakes, and Pro Muesli—also have enormous potential stateside. And last, but not least, symbiotic breakfast drinks—like Mueller's orange Procult and Spain's Hero's first symbiotic fruit juice named Bienestar (which translates as well-being)—would make an ideal addition to these multi-billion-dollar U.S. markets. Maple Grove Farms' Sundried Tomato dressing with roasted garlic is one of the first U.S. products to tout its inulin-derived health benefits.
--- PAGE BREAK ---
• Herbals. Although herbal sales were down 10% last year, echinacea (7.9% of total herbal sales as of September 1999), gingko biloba (6.1%), St. Johns wort (5.5%), garlic (4.4%), and aloe (3.7%) remain the top supplement sellers, according to Richman and Witkowski (1999a). Unfortunately, according to TrendSense (2000), only three herbs have reached mainstream status: echinacea, garlic, and ginseng. Olive leaf, kava kava, St. John's wort, saw palmetto, and horse chestnut were named as the top up-and-coming herbs (Richman and Witkowski (1999a); for non-herbals, colostrum, SAM-e, IP6, CoQ10, and MSM topped the list. Although a few functional food manufacturers have added herbs to their products, the current medical backlash and the concern over assuring proper bioactivity and appropriate dosage will make widespread herbal supplementation unlikely.
• Mega-Omegas. Ever since the famous Eskimo studies in the early 1970s, scientists have been singing the cardio-protective praises of omega-3 fatty acids. Yet, despite having reached mainstream status and become one of the most successful market segments in the dietary supplement world, omega-3s are one of the most overlooked opportunities in the functional foods world today. The time is ripe for fortification. Several countries, including the UK, Japan, the Scandinavian countries, China, and Canada, have established recommended dietary intake values for omega-3 fatty acids. In Europe, their use in baked goods and dairy products is expanding rapidly.
Omega-3s contain DHA and EPA. DHA is known to be important for the development of the central nervous system, while EPA is the precursor of all the activities in immune defense and a power tool for heart protection. With consumers' escalating interest in triglyceride and LDL lowering, omega-3s and -6s will most assuredly be in high demand. In addition to fish, flaxseed is also a rich source of omega-3s. Omega-3s are now featured in Mellina's Healthy Kitchens pasta sauces and Naked Juices' Tidal Wave. Nestlé and Parmalat added omega-3s to their shelf-stable milks in Europe. OmegaPure now offers a dried super-concentrated omega powder. Watch as other products from the sea, such as chitosan and green algae, grow in popularity (Anonymous, 1999g).
Trend 7: The Rx/OTC Interface
As shown in Fig. 5, America's 55 million self-care shoppers are using a variety of products to maintain health and are actively seeking alternatives to OTC and prescriptions whenever possible. Slightly more than half now believe foods can replace some drugs (HealthFocus, 1999a). Thirty-nine percent of Generation X shoppers try natural remedies before contacting a physician or using a traditional OTC source. In fact, the use of prescription drugs by Generation X shoppers dropped from 62% in 1998 to 46% in 1999 (FMI/Prevention, 1999). While 63% of consumers feel that direct-to-consumer TV advertising of prescription drugs helps them make their own decisions about prescription medicines, it also is making them more aware of some of the detrimental side effects (Prevention, 2000).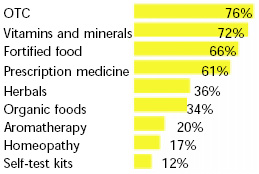 Functional food marketers have an unprecedented opportunity to develop natural, nonthreatening alternative food and beverage options to Rx/OTC products that offer symptom relief, risk factor reduction, or aid in disease management. Perhaps the success of the Ocean Spray cranberry urinary tract infection claim is the most notable example of successful marketing at the OTC interface. More than 30 million women and men suffer from urinary tract infections each year.
• Digestive Upsets. Antacid, anti-ulcer, and digestive-tract-specific medications are the largest-selling prescription drug category in the world (IMS Health, 1999). With 121 million Americans popping antacids, more than 70 million suffering from digestive problems, and $9 per capita spending on digestive aids, consumers will surely embrace functional foods that offer symptom relief and prevention longer term (NIDDK, 1999). By 2005, the number of adults ages 50–64 afflicted with digestive problems is expected to increase by 35% (Gallup, 1998). After headaches, digestion is the second most common self-treatment area (APA, 1997).
--- PAGE BREAK ---
Products that aid digestion—probiotics, prebiotics, and symbiotics—are already an integral part of the global functional food market. European executives rank probiotics (84%), after antioxidants (86%), as the most important functional ingredient for the next five years (Leatherhead, 1999). In Japan, 80% of FOSHU claims involve "gut health" (Anonymous, 1999c). Several new European probiotic strains have been shown to destroy H. pylori, the organism responsible for peptic ulcers. At present, however, probiotics and prebiotics are 1–1½ years away from mainstream status without aggressive promotional support (TrendSense, 2000).
• Cholesterol/Triglyceride Reduction. Prescription cholesterol reducers—projected to reach $10 billion by 2003—are the second largest prescription drug category in the world (IMS Health, 1999). With 42% of shoppers reporting that someone in their household was actively trying to manage or treat cholesterol, 27% hypertension, and 15% heart disease, it's not surprising that multinational pharmaceutical giants have pursued cholesterol-lowering foods (NMI, 1999).
With nearly 100 million American adults and 27 million children having high cholesterol levels, no wonder Lipton/Unilever's Take-Control™ and Mc-Neil's Benecol™ lines received a great deal of attention during the past year. Most recently, Novartis launched Aviva™ Life Foods in the UK and Switzerland, based on NovaCalcium (calcium with magnesium and zinc), NovaDigest (FOS and Benefiber™), and NovaCol (oat betaglucan, soy isoflavones, and vitamins E and C) ingredients. The initial products in the line include muesli, orange juice, cereal snack bars, biscuits, and hot-chocolate drinks. In the next few years, the reduction of three risk factors—LDL cholesterol, plaque, and triglycerides—will gain enormous momentum. Nearly two-thirds (64%) of all adults are now aware that some of the cholesterol in their body is good and some is bad (Gallup, 1998).
The Heart Bar™ (Cooke Pharma, Belmont, Calif.), containing L-arginine, is the first medical food to aid in the dietary management of coronary artery disease and blood plaque reduction. While hypertension has not received much functional food attention, Davisco Foods International, Eden Prairie, Minn., developed a hydrolyzed whey protein that has been proven in preliminary studies to reduce angiotensin and therefore reduce hypertension. Likewise, prebiotics, omega-3s, coenzyme Q10, and chitosan will all play important roles in the heart-related marketplace.
• Joint Pain/Bone Strength. One-third of Americans say someone in their household is trying to manage or treat arthritis or joint pain (NMI, 1999). Category sales for joint-support supplements are approaching $750 million annually in the U.S., while anti-inflammatory medications remain on the Global Rx "Top Ten List" (Decision Research, 1999; IMS Health, 1999).
More than 80 million people in the U.S. suffer from joint discomfort. Half of these are afflicted with one of the many forms of arthritis, while the other half are victims of over-ambitious exercise, sports injuries, and accidents. With more than one million new cases per year, by 2020 60 million Americans will suffer a form of arthritis. Nabisco's NutraJoint™ is one of the few functional food products currently on the market aimed at joint support. With glucosamine, chondroitin sulfate, and gingerols exhibiting anti-inflammatory success, functional food and beverage marketers would be well-advised to add joint support to their list of bone health, after osteoporosis. Likewise, those currently directing calcium products at osteoporosis can easily broaden into bone strength, rejuvenation, and helping to prevent fractures with claims such as those made by Viactiv Soft Calcium Chews by combining other complementary bone-enhancing ingredients.
• Allergies and More. Anti-allergy claims have become increasingly common in both the U.S. and Japan in the nonfoods market. Recently, a number of Japanese companies have introduced anti-allergy claims on chewing gums, candy, and soft drinks. Techna, a type of Chinese tea, and perilla, a member of the mint family, are the major ingredients aimed at curbing pollen allergies. Lotte's anti-allergy gums and Kabaya's Kafun Chuiho anti-allergy candy with techna are two such examples. With 40 million Americans regularly suffering from allergies, functional foods may be a vehicle for ingredients that sensitize and reduce the symptoms of this uncomfortable condition. With the National Institutes of Health currently studying a number of botanical ingredients for sleeplessness, stress, anxiety, and depression, in the not so distant future functional foods may be able to address an even greater array of physiological conditions. After all, putting America to sleep with sleepy-time teas, warm milk and cookies, or cereal and milk could be a highly desirable option!
--- PAGE BREAK ---
Trend 8: Retail Reorganization
The retail "Whole Health Movement" involves store-wide programs and destination centers that bring together health-enhancing product categories under a single marketing umbrella—healthy foods and fresh produce, vitamins/supplements, herbal/natural remedies, healthcare devices, and over-the-counter and prescription medicines—not necessarily controlled by the same supermarket purchasing department (GMDC/FMI, 1998). Ukrops, Stop & Shop, Wegman's, Jewel-Osco, Topps', Giant Foods, Pratt Foods, and Lucky are just some of the dozens of traditional and natural foods retailers that have Whole Health Programs underway (Veiders, 1999). For example, Lund's Food Holdings' new "Living Wise Whole Health Centers" offer more than 20 categories of center-store products, such as pasta, cereal, sauces, and canned soups (Veiders, 1999).
• An Information-Directed Business. Information is a powerful marketing tool when it comes to the sale of healthy foods. Last year, every other shopper who entered a grocery store at some point actively sought health/nutrition information: 70% read an in-store pamphlet, 36% sought information from a store employee, and 4% used an electronic kiosk. Three-quarters used an in-store healthy recipe, while 55% attended sampling/healthy cooking demonstrations, 44% health seminars, and 36% health screenings. Four in ten shoppers made use of a health-directed toll-free number and 14% an Internet service (FMI/Prevention, 1998).
While fat (56%) still topped the list of topics consumers inquired about, followed by fiber (43%), herbal products (43%), appropriate calorie content (38%), protein benefits (37%), and reducing salt intake (32%), 21% asked about distinguishing whole grain products, 20% hydrogenated vegetable oils, and 20% soy. Nine out of ten consumers said they would use more health information if it was posted right next to the product (FMI/Prevention, 1999). As a result, many retailers have set up in-store resource centers with magazines, books, kiosks, in-store health lectures and tours, personalized counseling programs, and health fairs. Ukrop's has even developed its own whole health magazine with well-known health publisher Rodale Press, Emmaus, Pa. (Veiders, 1999). Clearly, in-store product-oriented and generic educational materials, health-directed programs, and sampling demonstrations will be mandatory elements in any functional foods marketing program.
• The Food–Pharmacy Interface. Since 65% of shoppers feel comfortable asking the pharmacist for information on nutrition, these easily accessible health professionals will emerge as a major influence on food purchase decisions(FMI/Prevention, 1998). Both food retailers and healthy-product marketers are recognizing their professional hands-on value. For example, Giant Foods took out full-page ads in the Baltimore Sun and Washington Post stating that its 550 pharmacists have gone through extensive training on vitamin supplementation and nutrition. Major companies such as P&G, Bayer, McNeil, Mead Johnson, and SmithKline Beecham are aggressively supporting the "Whole Health Initiatives for Retail Pharmacists Program," participating in seminars and continuing-education programs which include nutrition and disease management components (White, 1999).
With well-trained health professionals in place, the lines between food and pharmacy continue to blur. Almost 40% of supermarket companies offer disease-state-management programs in at least one of their stores. About half of the stores that offer such programs use merchandising efforts to make a direct connection to foods. Diabetes (78%) is the most prominent program, followed by asthma (43%) and hyperlipidemia (16%). Of the 65% of stores surveyed that offer consumer health programs, 95% provided blood pressure testing, 43% tested cholesterol levels, 40% provided blood glucose monitoring, and almost 30% provided osteoporosis screenings (FMI, 1999).
At the same time that retailers are designing their formal whole health centers, creative marketers and merchandisers are providing multi-category kiosks and creative displays and executing cross-merchandising programs to capitalize on the merging of pharmacy and food. For example, at Stop & Shop, Quaker Oats put together a program featuring in front of the supermarket's pharmacy department a rack display of oatmeal—"A Smart Start to a Healthy Heart"—containing recipe cards and information about oats. The pharmacists were also educated and were prepared to answer customer questions and make recommendations. Oatmeal sold in the pharmacy in the middle of June faster than it did in the cereal aisle in the middle of winter.
--- PAGE BREAK ---
For the Citrus Association, all it took was a simple sign in the dairy case reminding—or in some cases informing—customers that orange juice is rich in calcium as well as vitamin C. And when Frito-Lay's Olean™ and Wow! Chips debuted, they too targeted the pharmacy, seeing specific opportunities with customers concerned with hypertension, cholesterol, or diabetes (Kruger, 1999).
Other marketers are capitalizing on the need for simplicity, information, and convenience by developing individualized health kiosks and multi-category display units. For example, during cold season, P&G ran idea-inspiring trade ads and provided retailers with "Cold Remedy" kiosks, with products ranging from Sunny Delight™ fortified orange drink to vaporizers, OTC cold medication, and tissues. Likewise, Diabetes Life Center (Fleming Co., Milwaukee, Wis.) is executing the concept of "Diabetic Centers" containing everything from information to test kits to foods. This type of "Solution Selling" involves taking a new look at product adjacencies and grouping items based on customer needs rather than operational convenience.
According to Leiner Health Products, the largest U.S. manufacturer of dietary supplements, shelving supplements together by categories or benefit rather than in alphabetical order by brand resulted in a 24–33% increase in total vitamin sales, up 40% when store brands were integrated (Veiders, 1999)! While many chains initiate their whole health programs near the produce department or pharmacy, others are very satisfied to offer mini–frozen food sections, such as Albertson's baby foods featuring The Well Fed Baby and Earth's Best frozen food lines.
One thing is clear: retailers are very receptive and will ensure in-store destinations for the marketing of health-directed and functional foods and beverages. However, functional food marketers must do their part by providing retailers, pharmacists, and shoppers with the necessary information and creative merchandising to drive intelligent and sustainable product decisions.
Trend 9: International Trades
It's a different world today, and it's going to offer some very lucrative opportunities for functional food manufacturers. On the one hand, American companies have a unique opportunity to globally market cutting-edge weight loss, energizing, heart-directed, and other products geared to a fast-paced and unfortunately unhealthier lifestyle, quickly becoming the norm worldwide. On the other hand, they have the luxury of adopting a wide variety of "pre-tested" creative products, ingredients, and proprietary processes from a diversity of countries and cultures.
Early this century, coronary vascular disease (CVD) will overtake infectious diseases and malnutrition as the world's leading cause of death and disability (WHO, 1997, 1999a; Husten, 1998). While motivated consumers worldwide are taking action to reduce risks, a surge in life expectancy and CVD risk factors in underdeveloped countries ensures that they will also be part of this global epidemic(WHO, 1997, 1999a). European manufacturers ranked CVD No. 1 (49%) in terms of conditions having a "very" great influence on the functional food market, followed by cancer (37%), obesity (37%), osteoporosis (27%), gut health (21%), and immunity (17%) (Leatherhead, 1999).
With the exception of China, cholesterol and blood pressure levels have also soared worldwide (WHO, 1999a). Today, 125 million Europeans have high cholesterol levels, and "lowers cholesterol" is the second most desired food product health claim in France and fifth in the UK (McNeil Consumer Nutritionals, 1999; Leatherhead, 1999). Japanese serum cholesterol levels are 15 mg/dL higher than 10 years ago, and CVD drugs are now Japan's fastest-growing pharmaceutical segment (Ikegami, 1999). Globally, this market is growing by more than 20% per year (IMS Health, 1999).
Obesity—no longer restricted to highly developed countries—is also skyrocketing. Global sales of weight-control products and services will jump from $64 to $77 billion by 2002 (Marketdata Enterprises, 1999). Almost one-third of Western Europeans are overweight, and one in ten is obese (WHO, 1999b). Obesity levels range from 5% to 22% in Western Europe and approach 40% for women in Eastern Europe and the Mediterranean countries (Rossner, 1998). European shoppers say obesity is the top health condition controllable via diet, followed by tooth decay, cholesterol, and CVD (Leatherhead, 1999). Although only 1.8% of Japanese men over age 20 and 2.6% of women over age 20 are obese, male obesity has doubled since 1982. One in three Japanese men in their 30s are at least "slightly overweight." The incidence of obesity in women age 20–29 has risen by 1.8 times since 1976. Japan is also facing a crisis in terms of the number of overweight children who are taller and heavier than earlier generations (Japan Echo, 1999).
--- PAGE BREAK ---
With more women working and stress levels rising, it is not surprising that "gives energy" is now the most preferred health claim in the UK and France and fourth in Germany. Energy levels, physical appearance, and absence of illness are the top criteria for judging one's state of health (Leatherhead, 1999). "Boosts immunity" (the most desired claim in Germany and the second in France); "promotes healthy bones" (second in the UK and Germany); and "reduces the risk of breast cancer" (fourth in the UK) are also "ready" mega international markets (Fig. 6). Likewise, the desire for products that are organic, vegetarian, and free of genetically modified organisms (GMOs) continues to accelerate.

• Idea Exchange. With soy and cholesterol control on the front burner, there is a wealth of new ideas to import. For example, Finland's Huittestern Lihapojat has created cholesterol-lowering meat products—frankfurters, sandwich meats, sausages, and meatballs—containing a patented rapeseed oil product high in omega-3 and -6 and nine polyunsaturated fatty acids (PUFAs). Norwegian Mills DA has added Liquid Vita™, a cholesterol-lowering PUFA oil, obtained from sunflower and rapeseed oil, for commercial bread mixes; it lowers cholesterol by 14% and LDLs by 13%. FCP Phytrol—a wood sterol–derived ingredient with cholesterol-lowering properties—was licensed to Novartis.
And there are other up-and-coming, highly translatable functional food categories and ingredients. "Near Water"—functional, fortified, and fruit waters—is now a $1.82-billion market in Japan, while fortified soft drinks are making great gains in Europe (Yamaguchi, 1999). Lactoferrin—best known for its antimicrobial, immune-boosting, iron-transport, and cellular functions, is now being added to yogurts, sports formulas, beverages, pet foods, and infant formula in Europe and Japan. Beta-1,3- and -1,6-glucans, derived from yeast and mushrooms, are being utilized for their immune-stimulating properties. Oats are the integral component of hot new products from Milk Milk™ to ProViva™ to functional breads and beverages.
Although 75% of Americans believe that biotechnology will provide benefits for their family in the next five years, it is likely that the global anti-GMO movement will soon cross the "Pond" (Wirthlin, 1999). In the UK, both food retailers and restaurateurs face stiff fines (up to 5,000 £) for not disclosing GMO ingredients. A European Consortium was formed to ensure that even supermarket private-label products are GMO free. In a survey of 11 European nations, 61% of shoppers tried to avoid GMO products (Donegan, 1999b). With the Grocery Manufacturers of America reporting that up to 60% of products on U.S. supermarket shelves contain GMOs, clearly this trend will have a major impact on our food industry. At this point, the mainstreaming of the GMO movement is still at least six months away (TrendSense, 2000).
Trend 10: Delivery
Despite a highly desirable health benefit, functional foods, like any other food product, must "deliver" on the promise of great taste, active and effective ingredients, ease of use, and quality/value for the dollar. Clearly, the demise of "fat free" has taught us that consumers are not as willing to trade off great taste for improved health as they were just a few years ago. Less-than-optimum taste, high prices, and complicated dosage requirements and usage regimens undoubtedly were all contributing factors in the disappointing sales of earlier mass-market functional products. Unlike traditional foods, functional foods can often benefit from being aligned with alternative distribution channels such as natural food stores or even physicians' offices.
With consumers shopping a multitude of channels for healthy products, functional foods can often benefit from being aligned with these alternative distribution channels (Fig. 7). As a result, functional food "go-to-market" strategies should be designed with multiple channels in mind, with distribution emphasis changing depending on the nature of the product category and the strength or even relevance of the brand. For example, 84% of consumers shop most often for non-dairy beverages in traditional grocery stores, 68% energy bars, 80% meat substitutes, and 75% tofu (NMI, 1999).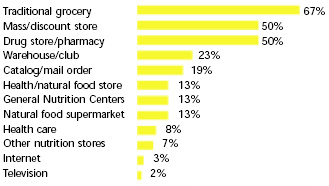 --- PAGE BREAK ---
Natural product stores are no longer a niche. While 28% of the general population has shopped in a health/natural food store and 17% in a natural food supermarket, about half have been doing so for less than one year, driven in by their desire for more-sophisticated healthy products and information (NMI, 1999). Nearly two-thirds of natural/health food retailers reported that sales volumes had increased over 1998, with the average customer transaction totaling $24.36 for traditional stores and $33.96 for supplement-focused stores. Among the top product categories bringing in the most new customers were supplements, diet aids, soy-based foods, sports nutrition products, herbal tea, and vegetarian meat substitutes (Gallup, 1999).
Other less-traditional channels will soon become a more prominent part of the nutrition-directed distribution mix. For example, $6.4 billion of natural food products were sold through the Internet, multi-level marketers, mail order, and health practitioners last year (Raterman, 1999). Supplement and natural food sales through health practitioners are approaching $1 billion, and Internet sales are expected to reach $500 million by 2001 (Anonymous, 1999f). With physicians topping the list of the most influential and frequently consulted sources for nutrition information by grocery shoppers—65% ask physicians about nutrition—it's not surprising that functional food producers, such as McNeil, producer of Benecol, are focusing on physician recommendations and support (FMI/Prevention, 1999).
Direct-mail sales are the fastest-growing alternative segment. Interestingly, for those who, when given a choice, opt to continue receiving our national average of 350 direct-mail pieces every year, 31.7% want more food offers and 31.6 % more vitamins and health food, higher than airline offers and kitchen accessories (Polk, 1999; Darko, 1999).
Setting the Standards
As natural supplements and ingredients continue to gain in popularity, so too grows the need to ensure the consistency, safety, and effectiveness of ingredients and raw materials. Many efforts are underway to establish standards, as well as provide endorsements and "seals of approval" to assure the effectiveness of biological preparations.
For example, the American Herbal Pharmacopoeia was formed to produce authoritative, peer-reviewed analytical, quality control, and therapeutic botanical monographs. Rutgers University established the Nutraceutical Institute, and the University of Illinois its Functional Foods Programs. Likewise, the Institute for Nutraceutical Advancement, the American Botanical Council, and others are all actively pursuing quality standards and evaluating active biological ingredients (Wilson, 1999). Kellogg has the W.K. Kellogg Institute for Food and Nutrition, and Campbell Soup Co. the Campbell Center for Nutrition and Wellness.
Consumers currently use four criteria to choose supplements, and these criteria will most likely be translated to functional foods: quality, potency of ingredients, price, and brand. In a Decision Analysts survey (Richarme, 1999), brand finished just ahead of product benefits. Well-recognized, respected, and "triedand-true" brand names and trusted images like Campbell, Kellogg, "Big G," Heinz, and even Betty Crocker will prove to be invaluable and most likely allow major manufacturers to gain category share in the functional foods arena quickly.
--- PAGE BREAK ---
For example, when Celestial Seasonings extended its brand equity to include supplements, wellness teas, and green teas, within a year it had 34% of the green tea market. The brand name appeared to work well for green tea, as it stands for flavor and quality but also for a special moment in the day (Wagner, 1999).
In the supplement and health food arena, only 40% of consumers can name the brand they will purchase (Hartman Group, 1999a). In fact, the largest share of the vitamin and mineral segment, 23%, belonged to store brands (Hartman Group, 1999a). The larger the category in the healthy arena, the more important brands were to consumers (Richarme, 1999). In addition, branded ingredients are gaining in consumer popularity, as they are perceived as an endorsement of quality and confirmation of proper bioactivity.
And as food manufacturers explore the world of functional foods, they must be careful not to go too far too fast. As shown in Fig. 8, while today's health-conscious consumers seem most comfortable with fortified foods, such as orange juice with added calcium, and well-known branded products that attempt to help them manage/self-treat individual problems and conditions more naturally, they are not quite ready for willy-nilly applications of health ingredients (Hartman Group, 1999b).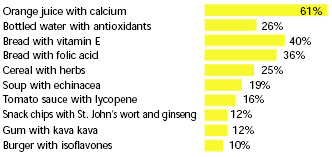 During the past two decades, selling "healthy" foods to otherwise healthy people has spawned some of the most lucrative markets the food industry has ever seen, with "fat-free" peaking at $43 billion and "low-calorie/lite" at $33 billion. Today's shoppers have gone way beyond basic nutrition, the Basic Four, and the Food Pyramid, seeking products that aid them in disease prevention, self-treatment, and risk reduction. The beauty of this market is that opportunities already exist all around. It's simply a matter of showcasing, selecting, and marketing them effectively.
When Hippocrates suggested, "Let food be your medicine and medicine be your food," he obviously had much more insight into the future of functional foods than he could have dreamed. It's time to get serious about functional foods!
by A. ELIZABETH SLOAN
CONTRIBUTING EDITOR
The author, a professional member of IFT, is president, Sloan Trends & Solutions, Inc., P.O. Box 31946, Palm Beach Gardens, FL 33420-1946.