They say that everything is big in Texas. Well, IFT's 2000 Annual Meeting & Food Expo in Dallas, Tex., June 10–14, was no exception! More than 17,500 registrants attended; more than 1,300 papers were presented; and nearly 800 companies exhibited in nearly 2,500 booths.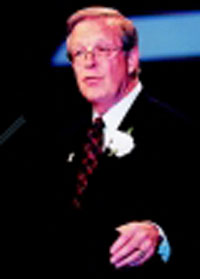 The Mayor of the City of Dallas, Ronald Kirk, proclaimed the week of June 11, 2000, as National Food Science and Technology Week in Dallas, Texas, and Governor George W. Bush sent a letter congratulating IFT on observing National Food Science and Technology Week in Dallas, saying that the Annual Meeting & Food Expo provides a great opportunity for scientists and professionals to meet, share ideas, and advance knowledge. 
Opening Event
At the Opening Event on Saturday evening, IFT Executive Vice President Daniel E. Weber [1] thanked the General Arrangements Committee, chaired by Terry Thomas, and volunteers from the Longhorn Section who helped coordinate this year's Annual Meeting. 
Charles H. Manley [2], IFT's 60th President, reviewed some of IFT's accomplishments this year: Subscribers can now access Journal of Food Science and Food Technology on line. We have also developed a portal to more than 2,200 databases and information sites throughout the world. We have joined with the International Union of Food Science and Technology to create an international information Web site called the "World of Food Science," which will make timely and critical information available to food science professionals all over the world. We have opened an office in Washington, D.C., to enhance our abilities to communicate with lawmakers, regulatory groups, and the media. We completed our first project for the Food and Drug Administration, providing a scientific review on a nonthermal process for food preservation. We are also working on two other projects with delivery dates in 2001. We are sponsoring a conference on food safety and quality in Orlando, Fla., in November. We had two successful video conferences this year, one on Nonthermal Processes for Food Preservation and the other on Biotechnology. And several expert panels are reviewing the use of genetic modification and will issue white papers on the benefits and risk, labeling issues, and safety (see pp. 124–136). 
Enrique Guardia [3], chair of the IFT Foundation, announced two recent major donations to the Foundation's scholarship/fellowship program: $200,000 from Kraft Foods and $50,000 from McCormick & Co. He said the goal for the Foundation is to raise $12 million by 2002, and he encouraged participation by all IFT members. 
Michael Real, chair of the IFT Awards Committee, presented the newly elected Fellows of the Institute [4] and this year's Achievement Award winners (see pp. 76–82 and 84–94). Shown from left in [5] are Michael Real; George Inglett, winner of both the Babcock-Hart Award and the Industrial Scientist Award; and Bruce Stillings, Past President and chair of the Babcock-Hart Award jury. 
The North Carolina State University student chapter was announced the winner of this year's Student Chapter of the Year Award. Student Association President Justin Shimek, at right in [6], accepted the award on behalf of the NCSU student chapter. 
--- PAGE BREAK ---
Charles Miller Smith, CEO of Imperial Chemical Industries PLC, presented the keynote address (see sidebar below). 
Manley presented a plaque to Past President Bruce Stillings [7] and introduced Mary Schmidl [8] as the next President of IFT. She briefly described an updated IFT Strategic Plan known as Vision 2020 and invited all IFT members to participate in this shared vision. She then introduced IFT's President-Elect No. 2, Philip Nelson, who will become IFT President in September 2001. 
Manley closed the Opening Event by thanking his employer, Takasago International Corp., for the opportunity to serve IFT as President and introducing the Kobushi Taiko Drummers [9], who presented a short concert of an international art form from his company's homeland. 
From left in [10] are Executive Vice President Weber, Past President Stillings, President Manley, President-Elect Schmidl, and President-Elect No. 2 Nelson after the Opening Event.
Technical Program
The Technical Program began on Sunday morning and continued through noon on Wednesday. It featured 1,358 papers on all aspects of food science and technology and its related disciplines.
· Symposia. There were 48 symposia on subjects ranging from hand washing to genetic modification. Joe Regenstein [12] spoke on kosher foods during the symposium on "The Industrial Perspective on Kosher and Halal Foods"; Steve Taylor [13] spoke on assessment of the allergenicity of genetically modified foods during the symposium on "Safety Assessment of Genetically Modified Foods"; Yao-wen Huang [14] spoke on traditional Chinese functional foods during the symposium on "Ethnic Foods and Ingredients as Complementary or Alternative Medicine." Art Guenter [15] spoke on container flexibility for aseptic filling of low- and high-acid food products during the symposium on "Aseptic Packaging to Extend Refrigerated Shelf Life."
· Hot Topic Sessions. Three Hot Topic sessions were held on the subjects of obesity, biotechnology, and trend makers (see pp. 70–75). During the session on "Obesity: The Rhythm Method of Girth Control," panel member Steven McNamara [16] presented a lawyer's viewpoint.
· Special Forums. There were 13 Special Forums on undergraduate curricula, functional foods, health claims, biotechnology, USDA research grants, the global marketplace, and other topics. Past President Richard Hall [17] spoke during the Fellows forum, "A Retrospective on the Future from the Perspective of Fellows' Experience."
· Division Lectures. Five Division Lectures were presented this year on industrial sustainability, seafood allergens, the future of food microbiology, soybean oils, and kosher and halal certification. Past President Owen Fennema [18] spoke on industrial sustainability as the International Division Lecturer.
· New Products & Technologies Sessions. Two New Products & Technologies sessions were presented, one on ingredients and the other on analytical and processing. W. Soucie [19] discussed development and applications of an oxidatively stable, high-oleic soybean oil.
· Oral and Poster Papers. There were 24 technical oral sessions and 35 poster sessions. More than 58% of the papers were presented in poster sessions [20].
--- PAGE BREAK ---
Continuing Education Programs
Eight concurrent educational programs and workshops were presented on the Friday and Saturday preceding the Annual Meeting. They covered product and process development; food laws and regulations; antimicrobials and preservatives; fats and oils; food sanitation and GMP compliance; designing for food safety; functional foods; and translating consumer needs into a strategic business plan. Monoj Gupta [21] discussed fats and oils; James Vetter [22] discussed food laws; Katherine Swanson [23] spoke on food safety to an attentive audience [24]; and Ellen Bradley and Gordon Fuller [25] cochaired the short course on successful product development.
Student Association's 25th Anniversary
IFT's Student Association celebrated its 25th Anniversary during the Annual Meeting. In the 25 years since full status was granted to students, these future food scientists have become a driving force within IFT. Student Association representatives actively participate in Regional Section programs and bring the student perspective to IFT Standing Committees and Divisions. 
The Student Association sponsored many activities at this year's Annual Meeting, including the Student Association booth [26]; the undergraduate and graduate research paper competitions; the Product Development Competition and poster session; a symposium on "School-to-Work Transition"; an open forum for food science clubs; and the Welcome Assembly & Food Technology College Bowl Competition.
· Student Chapter of the Year. The North Carolina State University student chapter of IFT was named Chapter of the Year for the second year in a row and the fourth time in five years for its contributions in public service, fundraising, and IFT involvement. Chapter president Mark Cullison [27] proudly announced "We're No. 1" at the chapter display at the Welcome Assembly/Mixer. The chapter operated a concession stand at the North Carolina State Fair, selling ice cream made by their own dairy plant and donating the proceeds to help victims of Hurricane Floyd. In 15 area schools and organizations, the chapter promoted careers in food science. The chapter also participated in the IFT College Bowl and Product Development competitions, and seven of its members are active leaders within IFT. The Chapter of the Year competition is sponsored by the IFT Student Association and General Mills, Inc. Rutgers University and Cornell University student chapters were named second- and third-place winners at the Student Association Welcome Assembly. Other finalists were Purdue University, University of Arkansas, and University of Wisconsin-Madison. Competition chair Tracy Tuler said that a total of 15 chapters entered the competition this year.
· Distinguished Chapter Awards. At the Student Association's Welcome Assembly on Monday night, nine student chapters received Distinguished Student Chapter Awards. The noncompetitive award was established to recognize chapters that strive for a healthy organization, increase awareness about food science, and promote participation in the Student Association. To receive the award, a student chapter must have fulfilled seven of 15 activities. The nine chapters, announced by award program committee chair Purbita Ray of the U. of Minnesota, were Louisiana State U., North Carolina State U., Ohio State U., Rutgers U., U. of Arkansas, U. of Minnesota, U. of Nebraska-Lincoln, U. of Tennessee, and U. of Wisconsin–River Falls.
· Achievement Awards. At its Welcome Assembly, Student Association Membership Chair Irene Luna Guzman announced that Achievement Awards [28] were being given to 21 student chapter members who have made outstanding contributions to the success of their food science student chapter. The awards, sponsored by Campbell Soup Co., consist of a framed certificate and $20 toward Annual Meeting registration. Recipients were Anthony Blake, Washington State U.; Mark Cullison, North Carolina State U.; Suresh DeCosta, Chapman U.; Stephenie Drake, Mississippi State U.; Nicole Fitch, U. of Minnesota; Adrianna Heywood, Iowa State U.; Courtney Hopper, Ohio State U.; Heide Hromadka, U. of Wisconsin; Michelle R. Koehler, Texas A&M U.; John Koontz, Virginia Polytechnic Inst. & State U.; Jennifer Ann Mitchum, Oklahoma State U.; Helen Mu, Rutgers U.; Cathy E. Skopec, Cornell U.; Melanie Smith, Alabama A&M U.; Jill Stankiewicz, U. of Delaware; Alberto Sun, North Dakota State U.; Aaron Uesugi, U. of California-Davis; Kirsten Veit, Purdue U.; Teresa Walker, U. of Arkansas; Robert Williams, U. of Tennessee; and Emily Zwez, Louisiana State U.
--- PAGE BREAK ---
· College Bowl. The North Carolina State University team [29] won this year's Food Technology College Bowl on Monday evening. Chaired by Andrea Hale of Utah State University and moderated by Lisa Schroeder of General Mills, the event drew a large audience [30]. The NCSU team beat the University of Minnesota team in the final round.
· Product Development Competition. The University of Illinois at Urbana-Champaign team [31], from left Terry Moros, Glinda Lofton, Lynn Magden, Jennifer Grady, Nicole Romero, and Maureen Cheng) won this year's Product Development Competition, competition chair Valerie Carter of California Polytechnic State U. announced at the Welcome Assembly Monday night. The team won for its development of Coffee Capps, a frozen dairy creamer that froths when coffee is added. 
The second- and third-place winners were, respectively, the U. of Wisconsin team, which created Chomp, a complete breakfast in a bar, a crunchy blend of puffed corn, whole-grain rolled oats, and freeze-dried raspberries and blueberries held together with a binder made from milk; and the Utah State U. team, which developed Whey Krunchers, an extruded high-protein, low-carbohydrate snack made with whey protein and cornstarch that is targeted to weight lifters and bodybuilders. Runnerups were the U. of Arkansas at Fayetteville team, for Cobbler Sensations, a hand-held dessert product consisting of creamy ice cream, fruit, and crunchy crumb topping, and the U. of Minnesota team, for Brownie Swirls, sweet dough and brownie put together "cinnamon roll-style" with chocolate chips. The competition, organized and conducted by the Student Association and sponsored by M&M/Mars, drew 23 entries this year. The finalists presented their products at an oral session on Sunday morning and in a poster session on Monday morning. Judges sampled the products in a closed session on Monday afternoon.
· Paper Competitions. Winners of the Student Association undergraduate and graduate paper competitions, as well as other paper competitions sponsored by the IFT Divisions, were announced during the Phi Tau Sigma Honorary Society breakfast on Wednesday (see pp. 96–98).
· Welcome Assembly. Students mingled with familiar characters [32] at the Welcome Assembly on Monday evening.
· Career Fair. Twelve companies and more than 300 students participated in this year's Career Fair [33], where students had the opportunity to informally network with companies to discuss employment opportunities. 
Food Microbiology Division's 25th Anniversary
IFT's Food Microbiology Division also celebrated its 25th anniversary during the Annual Meeting. As part of the celebration, the division featured a Division Lecture by Theodore Labuza [34]. He discussed how food microbiology has evolved over the past 25 years and shared some of his thoughts on the future of food safety. 
The division also established a Distinguished Service Award to honor outstanding division members who have made substantial contributions to IFT, the division, and the field of food microbiology. The awards were presented during the division's technical oral session to P. Michael Davidson, University of Tennessee; Peggy Foegeding, retired from North Carolina State University; and Samuel Palumbo, USDA/ARS.
--- PAGE BREAK ---
Other Awards
Several other awards were announced at the Annual Meeting. Barbara Blakistone received the Food Packaging Division's Riester-Davis Award during the Division's business meeting (see p 161). Four journalists were honored for excellence in food science reporting in IFT's annual science journalism competition. Barbara Durbin, food writer for the Oregonian, was the winner in the newspaper category for her story, "A New Hit on Caffeine," published on June 15 and 22, 1999. Sue Ellin Browder, freelance writer, was the winner in the consumer magazine category for her story, "The Best Fruits & Vegetables for Your Health," published in the May 1999 issue of Reader's Digest New Choices. Jeanne Antol, producer, and Diana Gonzalez, news reporter, NBC 6, WTVJ in Miami, were the winners in the television category for "Cancer Fighting Foods," which aired on WTVJ on Miami Television Network on February 17, 1999. 
Food Expo
Food Expo [35] featured 793 companies exhibiting in 2,452 booths, compared to 641 companies exhibiting in 1,617 booths in 1991, the last time the meeting was held in Dallas. Several exhibits featured chefs [36], while others showed equipment [37], ingredients [38], and other products and services. New to Food Expo this year were the International Pavilion [39], the Nutraceuticals/Organic Food Pavilion, and a Health Pavilion. Returning this year were the Belgium Pavilion and the England Pavilion. Some of the more interesting products exhibited at the Food Expo are discussed elsewhere in this issue. 
Annual Meeting attendees were able to find the companies, products, and services they were seeking by using the Expo Scan™ Navigator touch-screen computer terminals [40] placed throughout the Dallas Convention Center. 
Representatives from the International Union of Food Science and Technology [41] manned a booth promoting the 11th World Congress of Food Science and Technology, which will be held in Seoul, Korea, on April 22–27, 2001. 
Committee and Other Meetings
The Executive Committee and the IFT Council met on the Friday and Saturday prior to the Annual Meeting. At the Executive Committee meeting, Herb Stone [42] discussed the new IUFoST/IFT international food science and technology electronic news magazine, The World of Food Science (www.worldfoodscience.org), while Mary Schmidl, Daniel Weber, and Chuck Manley (with IFT staff seated behind them) and other members of the Executive Committee listened [43]. Manley presented plaques to the outgoing members of the Executive Committee who had served on the committee for the past three years: Aurora Hodgson, Ronald Richter, C. Ann Hollingsworth, Richard Stier, and Justin Shimek. 
At the Council meeting [44 and 45], a proposal to change the qualifications for Professional Member of IFT was defeated. 
IFT's President-Elect Schmidl, President Manley (standing), President-Elect No. 2 Philip Nelson [46] and other IFT leaders met with delegations from the Chinese Institute of Food Science and Technology and the Hong Kong Food Science and Technology Association to discuss mutual interests and potential collaborations [47]. 
The Phi Tau Sigma Honorary Society held its annual breakfast meeting, at which the winners of the student paper competitions were announced (see pp. 96–98). Phi Tau Sigma executive secretary Juan Silva [48] served as master of ceremonies; Mary Ellen Camire received the gavel as next Phi Tau Sigma president from current president O. Robert Noyes [49]; and Daniel Y.C. Fung [50] received plaques for serving as president for 1997–98 and 1998–99. 
About 70 chief research officers of companies and heads of university food science departments got a first look at three draft white papers on biotechnology at the third annual CROs meeting, titled "Partnership for Growth, Biotechnology and Our Food—Where Does the Future Lie?" on Sunday morning. The papers (see pp. 124–136), the result of the IFT Task Force on Biotechnology in Food, headed by IFT Past President Bruce Stillings, were prepared by three working groups. They concluded that crops modified by modern molecular and cellular methods pose risks that are no different from those modified by earlier methods for similar traits, and noted that the new methods provide better specificity of modification. The meeting ended with a luncheon speech by Congressman Frank Lucas (R-Okla), who noted that IFT serves a critically important role, providing information that can be trusted by legislators to be useful and truthful. Lucas at center in photo [51], posed with, from left, IFT President Manley, IFT Vice President of Science, Communications, and Government Relations Fred Shank, President-Elect Schmidl, and Past President Stillings after the meeting. 
--- PAGE BREAK ---
In addition, most IFT committees and Divisions met during the Annual Meeting. Other meetings included a workshop for new IFT committee members, a workshop for new Regional Section and Division officers, and a workshop, sponsored by the IFT Foundation, on estate planning. 
The International Lounge [52] was busy as usual throughout the Annual Meeting. 
The World of IFT
The World of IFT Resource Center combined the IFT Store [53], the IFT Internet & Technology Café [54 and 55], and other booths providing information about professional development and continuing education programs [56], Science, Communications, and Government Relations activities [57], and the IFT Foundation [58].
Annual Meeting Publications
The IFT Publications staff published three types of Annual Meeting publications.
· The IFT Today daily newspaper [59] was distributed to attendees as they entered the Dallas Convention Center on Sunday through Wednesday. The 32-page newspaper included news and articles prepared by the IFT publications staff and other contributors. Food Technology Senior Editor Neil Mermelstein (seated) and Design & Production Manager James Baran put the finishing touches on the next day's IFT Today [60], while Betsy Baird, Assistant Editor, checked copy [61].
· The Annual Meeting Program & Food Expo Exhibit Directory [62] went from digest size to full size this year.
· A Century of Food Science [63], a publication designed to highlight the achievements of food science and technology during the past 100 years, was given given free to each Annual Meeting attendee paying full registration. Developed by the IFT Research Report Task Force appointed last year by President Manley, it described the products, companies, and research that played a role in the 20th century.
Sponsorships
Several companies sponsored various activities at the Annual Meeting & Food Expo, helping to support IFT activities. They included Cargill Foods (badge lanyards), Takasago (shuttle bus signs), ISP Alginates (ExpoScan), International Food Information Service (IFT Internet & Technology Café), Balchem Corp. and Dairy Management Inc. (Student Association Mixer), Carmi Flavors (Annual Meeting/Food Expo Web sites), Nutrinova (International Division luncheon), and Cargill Foods (International Lounge). 
The following companies sponsored Student Association activities: Campbell Soup, General Mills, Gerber Products, Lab Support, M&M/Mars, McCormick & Co., PepsiCo, and Taco Bell. 
Texas Party
Annual Meeting attendees enjoyed an evening of Texas-style fun at Dallas' Fair Park on Sunday evening [64]. They enjoyed an authentic Texas barbecue dinner [65] and rodeo, and danced to Country & Western music. President Manley (at right in [66]) and his wife (at left) welcomed the IFTers to the rodeo on horseback, and Student Association representatives [67] invited everyone to attend the Student Association activities during the Annual Meeting.
New Orleans Next Year
IFT's 2001 Annual Meeting & Food Expo will be held in New Orleans, La., on June 23–27. Plan now to attend!
--- PAGE BREAK ---
Keynoter says companies must adapt to survive
"To face the challenge of the coming years, the food industry is going to have to adapt, and where better to start than to learn from its recent experience?" 
With this message, and others, in his keynote address during the IFT Annual Meeting Opening Event, Charles Miller Smith [11], Chairman of Imperial Chemicals Industry (ICI), London, England, discussed food and strategies for growth. He reflected on how far the field of food science and technology had come over the past 100 years and ventured a few guesses as to where we'll go from here. 
Miller Smith has had an impressive international career in the food industry, having spent 25 years with Unilever, serving in senior roles in meat, tea, oils and fats, and ice cream, before his appointment as ICI Chairman in April 1999. Some of his best predictions for new-millennium technology include the fact that, in the developed world, people no longer have time to spend hours preparing meals, but at the same time they are much more interested in cuisine. Comfort foods, such as Grandma's meatloaf, are still popular, he said, but there is also a quest for the "exotic adventure" offered by fusion cuisine and authentic ethnic foods. Foodservice is advancing at mach speed. Americans now spend more than 50 cents of every food dollar in foodservice, while in Europe 35 cents of every dollar goes to foodservice. Clearly, he said, people want to get out of the kitchen, although tomorrow's kitchen will network appliances and provide all kinds of intelligence and efficiency through microprocessors. 
Convenience, pleasure, reduced calorie intake, health and weight consciousness—all these factors go into determining future food trends. An increasing number of consumers look to food as having medical benefits. He said that genetic research will have a profound effect on how we view our bodies and change the relationship we have with our food, and there will also be shifts in sensory experience. The global food industry is about to enter a tidal wave of consolidation, but competitive realities in the global marketplace have permanently changed—now instead of predictability, global competition is unpredictable, intense, and unruly. 
But the big message is that the industry must achieve a better grasp of the way information is changing the shape of business around the globe. The old economy was founded on hunting and gathering physical resources; the new economy is founded on discovery of knowledge and its application to physical resources. These days, consumers are better informed and harder to please, and e-business is changing the business world by increasing the speed of transactions; redefining every business process; changing conventional concepts and rules about strategic alliances, industry specialization, and customer relationships; creating a wealth of information which enables businesses to anticipate and satisfy individual needs with pinpoint precision; blurring the lines between industries; and challenging every business to reinvent itself. He stated that when e-business is embedded, the boundaries between industries will start to disappear. 
Miller Smith concluded that the companies that can expand their imagination to see a wider range of possible futures will be the best positioned. The winners will be marked by their ability to imagine the shape of things to come; knowing their competitors; beginning to know that which is not known; and increasingly thinking from the future into the present. The losers will not adapt to our bright new world. "What does the future hold?" asked Miller Smith. "It depends on how you interpret the information!" 
—Betsy Baird, Assistant Editor, Food Technology
--- PAGE BREAK ---
Food Donated to Feed the Needy
Every year, at the close of Food Expo, IFT works with a local hunger-relief organization that accepts food donations for the needy from our exhibitors. After Food Expo closed at 12:30 p.m. on Wednesday, exhibitors donated 18,575 lb of food to the North Texas Food Bank, a not-for-profit food depository which has worked since 1982 to feed the hungry in North Texas with food that would otherwise go to waste. This is an increase from 8,100 lb in 1997, 11,776 lb in 1998, and 17,009 in 1999. IFT's general contractor, Freeman Decorating Co., worked closely with the food bank to orchestrate a timely transfer of leftover food as the Expo closed [68 and 69]. 
The following exhibitors donated to the food bank this year:
Activ International Inc.
André Klein AG
Archer Daniels Midland
Balchem Corp.
Barry Callebaut U.S.A. Inc.
Bartek Ingredients Inc.
BASF Corp.
Beatrice Cheese
Bell Flavors and Fragrances, Inc.
Buderim Ginger America, Inc.
California Date Commission
California Fig Advisory Board
California Natural Products
Central Soya Co., Inc.
Cherry Marketing Institute
Chiquita Brands International
Dahlgren & Co., Inc.
Dairy Farmers of America
Danisco Cultor
David Michael and Co., Inc.
Flavors of North America, Inc.
Flow International Corp.
Fortitech Inc.
Glanbia
Glucona America Inc.
Graceland Fruit Inc.
Grande Custom Ingredients Group
Green Valley Pecan Co.
Griffith Laboratories
H.B. Taylor Co.
Hazelnut Council
Heller Seasonings & Ingredients Inc.
IDSA USA Inc.
Inland Empire Foods, Inc.
ISP Alginates, Inc.
Kelatron Corp.
Kellogg's Specialty Ingredients
Kerry Ingredents
Knouse Foods Co-op, Inc.
Kraft Food Ingredients
Land O' Lakes, Inc.
MBI International
McCormick Flavors
Metarom USA Inc.
Mitsubishi InternationalCorp.
Miyako Oriental Foods Inc.
Modern Mushroom Farms
Monarch Wine Co.
Mooney Farms
Morton Salt Co.
Nabisco
National Starch & Chemicals Co.
National Sunflower Association
Nitta Gelatin NA Inc.
Northland Cranberries Inc.
Novo Nordisk
Nutrical S.A. de C.V.
Nutrinova Inc.
Orafti
Organic Commodity Products Inc.
Original Nut House Brands
Ottens Flavors
Paramount Farms
Pecan Deluxe Candy Co.
Penford Food Ingredients
Peter's Chocolate
Pinahs Co., Inc.
Remy Industries N.V.
Robertet Flavors Inc.
Roche Vitamins Inc.
Sargento Foods Inc.
Scholle Corp.
Sesmark Foods Inc.
Colorado Office of Economic Development
Sunsweet Growers, Inc.
Superior Quality Foods
SupHerb Farms
Texture Technologies Corp.
Thiel Cheese, Inc.
Timber Crest Farms
United Soybean Board
USDA-ARS
Virginia Dare
Vitusa Products, Inc.
Watson Foods Co.
Williams Foods, Inc.
Wixon Fontarome
by NEIL H. MERMELSTEIN
SENIOR EDITOR