--- PAGE BREAK ---
The 1999 World Food Prize, considered the "Nobel Prize for Food," has been awarded to British-born veterinarian Dr. Walter Plowright for his development of a safe, economic vaccine to eliminate rinderpest, or cattle plague. This deadly virus has caused havoc since the 4th century, most recently decimating the economy of certain developing countries in sub-Saharan Africa. Plowright has devoted a distinguished career to researching such destructive animal diseases, both in Kenya and in England. He is the 16th recipient and the first animal specialist to receive the prize.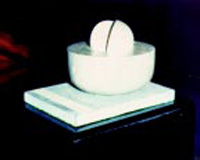 The World Food Prize has been awarded annually since 1987 in recognition of work that has advanced human development by improving the quality, quantity, and availability of the world's food supply. Plowright was recognized as the 1999 Laureate last summer at the Royal Society of London, subsequently at the World Veterinary Congress in Lyon, France, and on October 12, 1999, at an international press conference in Washington, D.C. He was presented the prize, consisting of $250,000 and a sculpture by Saul Bass, at the official award ceremony which took place on October 14 before a packed house at the Hoyt Sherman Auditorium in Des Moines, Iowa. Speakers included Elizabeth Dole, member of the World Food Council of Advisors; Norman Borlaug, 1970 winner of the Nobel Peace Prize and founder of the World Food Prize; John Ruan, Iowa businessman and philanthropist who has sponsored the prize since 1990; and Plowright, who expressed his appreciation for such recognition of his work and the work of his associates.
About Walter Plowright
In 1944, after graduating from the Royal Veterinary College in London, England, Plowright was commissioned an officer in the Royal Army Veterinary Corps. His wartime postings brought him to Kenya through 1947, and he became very fond of this region. In 1948, he began two years as a junior lecturer at the Royal Veterinary College, but in 1950 he decided to enter the Colonial Veterinary Service in Africa. He was posted to Kenya as a Veterinary Research Officer, where he began research on several animal diseases, including rinderpest. This research was interrupted during 1954–55 while he spent 20 months at Nigeria's Federal Veterinary Laboratory in Vom, but once back in Kenya he resumed his research at the Muguga Laboratory for the East African Veterinary Research Organization, where he spent the next 15 years (1955–70). It was at Muguga where the development of cell-culture vaccine and its widespread application to field use took place. The vaccine has now proven its value for nearly 40 years.
In 1971, Plowright returned to England, where he served until 1978 as Chair and Head of the Department of Veterinary Medicine of the Royal Veterinary College, London; and from 1978 to 1983 as Head of the Department of Microbiology, Institute for Research on Animal Diseases, in Compton, Newbury. Since 1983, he has headed a number of research committees on virology and dangerous pathogens, most recently as Chairman, Scientific Advisory Group, Equine Virology Research Foundation (1986–1999). Considered one of the most prominent veterinary scientists in the world, he has received a number of awards and honors for his work.
--- PAGE BREAK ---
About the Vaccine
The old methods of testing vaccines were costly, since they required the use of small animals difficult to procure in developing countries. There were also difficulties in isolating the animals to determine whether they were free of previous infection with the rinderpest virus. Plowright reasoned that these problems and others could be resolved by developing methods for growing viruses in monolayer cultures of cells on glass (methods already in use for human disease research), and he began a series of studies on cell cultures.
The resulting tissue-culture rinderpest vaccine, or TCRV, provided many advantages. It was not only effective on a deadly disease, but it was safe, economical to produce, easily standardized, genetically stable, stable when freeze-dried, and free of significant clinical reactions. Animals of any age or breed and cattle in varying conditions of health, including pregnant cows, could be inoculated, and inoculated cattle were immune for at least ten years, if not for life.
The economic, technical, and humanitarian benefits derived through use of this vaccine are immense, because reduced mortality in cattle means more milk and meat available to fight hunger. The Food and Agriculture Organization of the United Nations, for example, estimated that additional production in India from 1965 to 1998 amounted to $289 billion, and estimates for Africa during the same period were $47 billion. These are just two examples. In contrast, one outbreak of rinderpest in Nigeria during the early 1980s proved responsible for hundreds of deaths and more than $2 billion in losses. The protection of cattle in sub-Saharan Africa, the Middle East, and Asia has brought food and food security to these regions while increasing income for small farmers and others; diminished famine caused by rinderpest epidemics; and reduced socioeconomic upheaval because of impoverishment.
The Symposium
On the day following the award ceremony, a symposium was presented on the theme, "Logistics of Food Security." This theme was chosen as a natural out-growth of the 1998 symposium, which focused on the rapid rate of urbanization occurring in many developing countries and the demands such changes will place on existing food products and delivery systems.
Among the speakers and panel discussants were Peter Hazell, Director of the Environmental Division of the International Food Policy Research Institute (IFPRI), who gave an overview of the logistics of food security; Catherine Bertini, Executive Director of the World Food Programme, who discussed the social dimensions of the logistics of food aid; Hans Binswanger of The World Bank; George Abalu of the Economic Commission for Africa; Iain MacGillivray of the Canadian International Development Agency (CIDA); and Charles Riemenschneider of FAO, who discussed the role of organizations in improving the logistics of food security. The luncheon key-note speaker, Gordon Conway, President of the Rockefeller Foundation, talked about the logistics for a "doubly green revolution" (see the Back Page column on p. 146 of the November 1999 issue of Food Technology).
Laurence Cockcroft, Consultant with the Gatsby Charitable Foundation of the United Kingdom, led off the afternoon with a discussion of building a support system with Africa's farmers. This question was elaborated on by discussants Cyrus Ndiritu of the Kenya Agricultural Research Institute (KARI); Joseph Hulse of the M.S. Swaminathan Research Foundation; Thomas Jayne of Michigan State University; and Frank Tugwell of Winrock International.
At the end of the symposium, Alex McCalla, Rural Development Director of The World Bank, summarized the issues and options offered throughout the day. He was joined in this task by previous Laureates Hans Herren (1995), Nevin S. Scrimshaw (1991), and John S. Niederhauser (1990). Among the conclusions reached were the following: The world food problem is more a problem of distribution and lack of a viable infrastructure system, and less of an actual worldwide food shortage. Solving this problem will be a huge organizational challenge. Where will the investment come from?
There needs to be more stability and less mistrust between public and private sectors. Building a reliable infrastructure will be necessary, but at huge cost. Once built, there is the ongoing question of adequate maintenance. Companies need to be involved in international trade, and organizations must operate at the subregional level.
It is obvious that any solution toward alleviating poverty and lack of food in the African countries must include the people of Africa on a local level. They need a voice in whatever plans and decisions are made involving them. Issues at this level include income-producing projects, poverty reform, more efficient farming methods, less waste and more efficient storage methods, better processing methods, more and better education. Perhaps there should be less emphasis on grains and more income-producing alternatives such as beekeeping or potato farming. The survival of the small farmer and the growth of urbanization are concerns.
--- PAGE BREAK ---
AIDS, for example, is rampant in Africa, and there is no vaccine. Only behavior modification, allied with education, can improve that situation.
Plowright felt there was too much discussion on agriculture and not enough on the importance of animals. He stated that better nutrition depends on animal products and security depends on disease control. The cost of animal disease is enormous and pervasive; can we afford to ignore the importance animals play in the food security of developing countries?
The challenges are complex and the solutions are immeasurably costly, but much has been learned. Until now, there have been more failures than successes, but it seems that the balance is shifting. There is continuing hope for food security in developing countries.
The World Food Prize
The World Food Prize has been sponsored since 1990 by Iowa businessman John Ruan, who recently endowed a multimillion dollar gift to the World Food Prize Foundation to fund the prize in perpetuity. Given annually in October since 1987, the prize emphasizes the importance of a nutritious and sustainable food supply for all people and is based solely on individual achievement with no consideration of nationality, ethnic origin, political persuasion, religious beliefs, sex, or age.
The World Food Prize Foundation is guided by a Council of Advisors composed of such prominent individuals as Elizabeth Dole; former U.S. President Jimmy Carter; Robert S. McNamara, former head of the World Bank; IFT Past President A.S. Clausi, and others.
Deadline for receipt of nominations for the 2001 World Food Prize is December 31, 2000. Nomination forms may be obtained from The World Food Prize, Office of the Secretariat, David G. Acker, College of Agriculture, Iowa State University, Ames, IA 50011-1050 (telephone 515-294-2883, fax 515-294-9477, E-mail: [email protected]). A nomination form may also be found on the World Food Prize Web site at www.wfpf.org.
---
World Food Prize Foundation ALSO ADDRESSES STUDENTS
In 1994, the World Food Prize Foundation created the Youth Institute to increase awareness among Iowa youth of critical issues relating to food security throughout the world. The Institute provides an educational opportunity for Iowa youth to interact with Prize Laureates and other world leaders on these issues. It also attracts and motivates students to consider careers in food, agriculture, and natural resource disciplines by sponsoring the World Food Prize Youth Institute Summer Internship Program. The program offers students an opportunity to work at research centers around the world for an eight-week period. This year, five Iowa students completed internships in India, Mexico, and the Philippines, and two in Kenya.
The 1999 World Food Prize Youth Institute was held at the Iowa Farm Bureau in Des Moines, Iowa, on Saturday, October 16. Students and teachers attended from 41 high schools throughout Iowa to hear presentations made by World Food Prize Laureates, members of the World Food Prize Council of Advisors, and notable food and agricultural experts from around the world. Lisa Ahrens, the 1998–99 President of FFA and a junior at Iowa State University in Ames, also was a featured speaker at the Institute.
by BETSY BAIRD
ASSISTANT EDITOR