Encapsulation and microencapsulation are fascinating and versatile technologies that offer many opportunities for food processors and formulators. In general, encapsulation means the enclosing or capturing of one substance by another. The core or base may be a liquid or solid, and the coating or matrix may be a polymer, carbohydrate, or other material.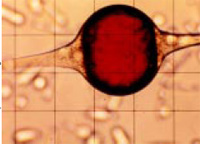 The purpose may be to protect the core from the environment (moisture or oxygen), protect it from other ingredients, mask flavor or odor, make a liquid into a flowable powder, control release of the core, or create unique effects.
Microencapsulation was originally developed by Barrett K. Green of the National Cash Register Corp. (NCR), according to Ronald J. Versic (phone 937-439-4497), President of Ronald T. Dodge Co., Dayton, Ohio. Green invented a process called coacervation, in which a soluble polymer, such as gelatin, is induced to come out of solution and form a shell around dispersed droplets of an oil in a water medium. The gelatin shell is hardened by the addition of glutaraldehyde, and the microscopic beads are collected and dried.
In the original application, the oil contained a colorless reactive dye and the beads were coated on one side of paper sheets. The facing side of a second sheet was coated with acidic clay. When the beads were burst by the pressure of writing, the dye reacted with the clay to form an image. This is the principle of carbon-less copy paper. Today, the beads usually use urea-formaldehyde polymers rather than gelatin.
Versic has written a number of papers describing microencapsulation in general and coacervation in particular, some of which have been published by the American Chemical Society and are available on Dodge's Web site (www.rtdodge.com). Dodge is a custom encapsulator, working with customers to identify the appropriate technology and materials for their applications.
The technologies Dodge offers include coacervation, in-situ polymerization, vapor-phase deposition, Wurster coating (named for its inventor, otherwise known as bottom-spray fluidized-bed coating), interfacial polymerization, pan coating (like jelly beans), matrix/entrapment, and some that are proprietary. Combining so many techniques with a wide variety of materials gives literally thousands of possible microcapsules.
Core materials have included acids, antioxidants, adhesives, bases, bleaches, catalysts, cosmetic ingredients, cosmetic oils, dietary supplements, dyes, dye solutions, highly reactive materials, flame retardants, flavor oils, fragrance oils, herbicides, lubricating oils, metal powders, moisturizing oils, oxidizers, peroxides, pesticides, pigments, preservatives, salts, solvents, and vitamins.
Sometimes the microcapsules are dispersed in an ink so they can be applied to paper, as in scratch-and-sniff strips for advertising inserts.
Pharmaceutical ingredients are enclosed in coatings that may have a distribution in thickness so that the ingredients are released over a range in time. Sometimes the coating is designed to survive the stomach environment and be released in the lower gut (see, for example, "Improving Probiotic Survival Rates" by Patricia Suita-Cruce and Jacques Goulet, Food Technology, October 2001, p. 36).
The acidic component of baking powder can be protected so that it is only activated after the dough or batter reaches a certain temperature, preventing premature release of the leavening agent.
In matrix encapsulation, the core material is dispersed within another material which may dissolve or erode to release the active ingredient. One special example of this approach is Fuisz technology, now practiced by Nutravail of Chantilly, Va. According to Tommy Chau (703-222-6340), Senior Director of Product Development, the Fuisz approach uses a molten matrix which is sprayed from a spinning nozzle, somewhat like cotton candy, but instead of long threads, very small beads are produced. Various carbohydrates may be used. Several years ago, Sunkist developed a similar technique for encapsulating citrus oils and flavors.
Nutravail focuses on pharmaceutical ingredients, especially for tableting. Chau described one interesting food application to encapsulate gums used for thickening, which can be hard to hydrate and form "fish eyes" when dispersed in water. The microcapsules disperse quickly in water and may permit smaller quantities of gum to be effective. Nutravail has equipment that can produce 500–1,000 lb/hr. The microcapsules contain 10–50% of active material.
Southwest Research Institute (SwRI) has a long history of research into microencapsulation, according to Research Engineer Niraj Vasishtha (210-684-5111). As with the other organizations mentioned, SwRI works with clients to identify the best combination of core and shell to achieve the desired effect. The institute has a unique process using coextruded jets which naturally break up because of hydrodynamic instabilities. To control particle size, the jets can be vibrated.
One typical application described in the institute's literature is encapsulation of sodium bicarbonate in fat for delayed release in baking. SwRI is equipped to make research quantities of microcapsules, but larger quantities are typically made either by users or by other custom processors.
One typical, self-sufficient manufacturer is the Wright Group of Crowley, La. According to Lee Wright (337-783-3096), Vice President of Operations, the company has long been in the business of premixing vitamins and minerals for tablets, nutrition bars, and other applications. Its customers found that such mixtures needed protection against moisture and oxygen that could survive the sometimes rigorous conditions of heating and mixing. They also needed to mask the flavors of the enrichments.
The company has developed a number of proprietary techniques, including batch fluidized-bed coating, spray drying, and others. Wright described fat coating as "older and less expensive" technology which often is adequate. Newer, more durable coatings are also more expensive but may be required for more demanding applications, such as nutrition bars. Wright does not do complex coacervation, but does many other forms of encapsulation. Because almost every microcapsule is customized to the application, the company works closely with customers and clients to develop the correct combination of material and technology.
An interesting specific application of encapsulation, described in a paper found on the Internet (www.chemeng.utoronto.ca) by L.L. Diosady and M.G. Venkatesh Mannar of the University of Toronto, is the double fortification of salt with iron and iodine, using dextrinen-capsulated potassium iodate to prevent chemical reaction between the iron and the iodine. It has been routine to fortify salt with iodine to combat goiter. The thought was that salt is a good vehicle with which to combat anemia by adding iron to the diet. However, the iron and iodine, if unprotected, react and discolor the salt. The researchers found that microencapsulation by spray drying with dextrin, once the correct particle size was established, protected the iodine from reaction.
There are many industrial applications of microcapsules beyond foods. In fact, foods are a relatively minor application. For example 3M of Canada, London, Ontario, applies a variety of techniques for its own use and for outside customers, but none are currently for foods, according to Grant Oliver (800-265-1840 x4357), Business Development Manager. The typical applications are pesticides, insect pheromones, and fragrances, using nonedible polymer coatings.
Much of the technology for microcapsules is now in the public domain, older patents having expired. All the practitioners caution that there is still much art in achieving the desired result. Most of the processes produce a range of particle sizes and coating thicknesses. Sometimes this is positive, as when a range of release times is sought. In other cases, release over a narrower period is the target, so a more narrow size range is preferred. Dispersing in an ink or carrier may be easier if the size range is narrow.
Obviously, for food applications, both the core and matrix must be safe and approved for food use. This is why many such coatings are based on dextrin, fat, gelatin, or sugar.
The cost of microcapsules has relatively little to do with the materials. It costs about the same to encapsulate mineral oil as it does some rare fragrance. This is because production rates are relatively small, there are many delicate operations (dispersing, coating, recovery, and drying), and there is much skilled labor involved. Thus, it is not a solution to every formulation problem. However, in many cases, it may be the only way to incorporate reactive ingredients, such as minerals and vitamins, or highly volatile but critical flavors and aromas.
The technologies that have evolved may also inspire other creative thoughts. An old example might be Pop Rocks, which could be considered encapsulated carbon dioxide in sugar, resulting in both a novel confection and an ingredient. Pan-coated candies are larger-scale versions of one technology; microcapsules are small-scale versions of that familiar art. Where else could change of scale produce such an interesting result?
PRODUCTS & LITERATURE
Forming Machine can portion beef, pork, poultry, fish, veal, lamb, cheese, and vegetables at up to 5,000 lb/hr. The Model 745 machine combines accurate weight control with minimum leakage and quick change-overs. The vane pump uses a rotating spiral to gently move product to the rotor and feeds directly to the mold plate cavity. The mold plates can be changed quickly and easily. For more information, contact NuTEC Manufacturing, 908 Garnet Ct., New Lenox, IL 60451 (phone 815-722-2800, www.nutecmfg.com).
Production of Flavored Milk Drinks is discussed in 4-p brochure 40FA1. It describes the process, problems involved when using agitators and conventional powder/liquid blending systems, and how the problems can be overcome by using the company's high-shear mixers. Also available are videos demonstrating the use of the mixers, including changing of the mixers' workheads, creation of stable oil-and-water emulsions, uniform blending of products through a wide range of viscosities, dispersion of gums and thickening agents, and customization. For a copy of the brochure or more information about the videos, contact Silverson Machines, Inc., 355 Chestnut St., East Longmeadow, MA 01028 (phone 800-204-6400 or 413-525-4825, fax 413-525-5804, www.silverson.com).
Food Safety Video, "A Recipe for Food Safety Success," gives food processing employees an overview of critical food safety topics, including the food supply chain, consumer expectations, regulatory requirements, HACCP, foodborne illness, personal hygiene, cross-contamination, sanitation, time and temperature controls, pest control, and foreign material. For more information about the 25-min video, contact J.J. Keller & Associates, Inc., P.O. Box 368, Neenah, WI 54957-0368 (phone 920-722-2848, www.jjkeller.com).
Surface Decontamination of fruits and vegetables destined for further processing—such as fresh juices, cut fruit, and fruit concentrates—is accomplished by the ThermoSafe™ process. The process provides a 5-log or greater reduction in microbial level and can also be used to sanitize production equipment, parts, and containers. It uses time and temperature settings, based on the commodity, to facilitate the desired microbial intervention step. The thermal process is engineered to automatically end upon completion of the steaming cycle. For more information, contact BioSteam Technologies, Inc., 1919 Oakwell Farms Pkwy., Suite 265, San Antonio, TX 78218 (phone 210-317-7300, fax 210-497-7918, www.biosteamtec.com).
High-Pressure Processing Systems are available in 10-L laboratory units and 25-L production units. They are manufactured from decommissioned cannons (howitzers) built at the Watervliet Arsenal and can be used for preservation of such products as tomatoes, avocados, and orange and apple juices at 85,000 psi or higher. The average throughput of the production unit is 400 L/hr. For more information, contact Elmhurst Research, Inc., 60 Loudonville Rd., Albany, NY 12204-1513 (phone 800-545-5521, www.elmhurstresearch.com).
Antimicrobial Inks and Coatings in the No-Tox® AM line use AgION™ antimicrobial compound No-Tox AM to directly address a growing concern over microbial growth on the inside surface of packaging films and other commonly used substrates. The AgION antimicrobial delivery system provides continual slow release of silver, a natural antimicrobial compound, ensuring packaging longevity and integrity. On June 9, 2000, FDA listed the compound for use in all food-contact polymers. The compound, a product of AgION Technologies, a Boston- based biotechnology company, can be used in a wide range of materials, including plastics, metals, and fibers used in the manufacture of biomedical, industrial, commercial, and consumer goods. Colorcon, a Division of Berwind Pharmaceutical Services, Inc., has filed for a patent application for the line. For more information, contact Colorcon, No-Tox Products, 415 Moyer Blvd., West Point, PA 19486-0026 (phone 215-661-2652, fax 215-661-2626)
by J. PETER CLARK
Contributing Editor
Consultant to the Process Industries
Oak Park, Ill.