This month's Ingredients section will look at some of the different ways that ingredient developments are updating or transforming the traditional dairy case. Before we turn to these developments, however, I would like to discuss another issue that I feel not only needs further examining, but also may have some relevance to this month's topic. The issue deals with the promotion of health concepts and to what degree—if any—they should be trademarked.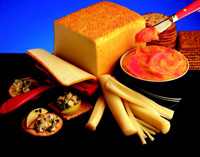 As I was searching my files for potential dairy ingredients to discuss, I came across a news story in the Cheese Reporter (Vol. 127, No. 30, January 31, 2003) which caught my attention. If you will recall, the dairy industry had recently initiated a campaign, "3-A-Day for Stronger Bones," which was created to encourage consumption of three servings of dairy foods daily, per the U.S. Dept. of Agriculture's dietary recommendations.
This campaign—seemingly noncontroversial—actually stirred quite a bit of debate, sort of like poking a stick into a hornet's nest. According to the article, members of the fruit and vegetable industry—along with a number of health, consumer, and farms groups—have criticized the initiative, partly because the logo—and probably the campaign itself—is very similar to the "5–A–Day for Better Health" trademark, which is promoting a 10-year government health initiative urging people to eat at least five daily servings of fruits and vegetables to prevent cancer, heart disease, and other illnesses. The 5-A–Day trademark is held by the National Cancer Institute and backed by several government agencies, including USDA.
Frankly, while I think I understand the position of the opponents of the dairy campaign, I nonetheless find the implications behind it somewhat disturbing. Encouraging people to eat a recommended number of servings from a particular food group should not be a patented or trademarked concept, but rather, in my opinion, should fall into the "public domain"—i.e., what's best for the health of the human race. This is especially important because that same human race has a tendency to underconsume things that are good for its overall health.
Furthermore, as many, many studies have shown, a variety of foods—and food ingredients—can provide potential health benefits. In the light of this ongoing research, it is probably much more misleading to trademark one specific campaign and force the others to the wayside.
Ironically, the dairy industry's commercial Got Milk? recently celebrated its 10-year anniversary. As I wrote this introduction—some would probably call it an editorial—I couldn't help wondering how the dairy industry feels every time its famous campaign is copied. And keep in mind that there have been many, many "got something or others" since that famous campaign was initiated 10 years ago. These have ranged from Got Jesus? to Got Beer? Just recently, I saw on a billboard a giant dog with sad, appealing eyes and a slogan that read Got Hugs? Considering those events, it is sort of ironic that the dairy industry is being criticized for its 3-A-Day campaign when its own Got Milk? trademark received the sincerest form of flattery many times—it was copied over and over again.
--- PAGE BREAK ---
Perhaps some day even a segment of the fruit/vegetable industry (let's say carrots, for example) might come up with the slogan, Got Carrots? (Somehow, that doesn't sound quite right, though. Let's make it Crunch Carrots instead.) That slogan should be perfectly acceptable, especially for those individuals who want to maintain their eyesight. But please no beta-carotene mustaches. That would be going too far.
A representative from the dairy industry noted—and I think he was right on target—when he said that studies show that most people do not take in enough calcium, which is needed to strengthen bones. He then added that the dairy council and 5-A-Day supporters should join forces to promote healthy diets rather than battle over a trademark.
Unfortunately this is not always easy, especially in a competitive world. For years, my Ingredients sections have been advocating closer relationships—even joint ventures—between the soy and dairy industries. And, as we have seen in the past, that is not always possible. But then there is always hope.
Furthermore, as this recent controversy has demonstrated, taking sides not only can miss the big picture, but stir up a certain amount of ugliness as well. A representative from a consumer group (warning 101 to the fruit and vegetable industry: having such an ally is not necessarily a plus) noted that the dairy initiative was actually a heart disease promotion campaign in disguise. (Yeah, and Elsie the Cow is actually Bullwinkle the Moose on a fun weekend.) Beyond the fact that many studies have shown the health benefits of dairy ingredients, I kind of doubt that health problems such as obesity and heart disease are the direct result of the consumption or overconsumption of dairy products. As I noted earlier, the human species has a tendency to underconsume nourishing foods, whether they be fruits and vegetables or dairy products.
Anyway, let's get back to the "spirit of cooperation" idea reflected by the observation of that dairy representative. Whether that approach is universally practiced or not, it is certainly the ideal, especially in matters related to health, as well as in areas related to new product development.
Think about it for a moment. Imagine the number of novel ways that fruits and vegetables can be used as ingredients or flavors in traditional dairy products, as well as emerging ones.
At the 2002 IFT Annual Meeting & Food Expo®, I remember seeing cheese products injected with blueberry flavors, for example. And, of course, at the recent FMI show, I saw milk in a variety of different flavors, such as strawberry or banana or blueberry. And I bet that at this year's Food Expo you saw a wide array of dairy products made with ingredients from other industries, ranging from bakery inclusions to fruits and vegetables.
Not only are these kinds of developments helping to create new products for both children and adults, but also by working together different industries can help deliver to consumers the health benefits they need but frequently don't get enough of. This cooperative spirit is essential, especially because the world's marketplace is so competitive.
With brings us back to this month's ingredients topic: the different ways that ingredients, such as proteins, cheeses, flavors, probiotics, herbs, and others can add new dimensions to dairy applications, whether by overcoming technical challenges, adding functionality or novelty, providing nutritional benefits, or delivering nutraceutical properties.
Let's look at some of these ingredient developments that may have impact in the formulation of traditional and future dairy products:
--- PAGE BREAK ---
Updating the image of milk. The California Milk Processor Board was established in 1993 to make milk more competitive and increase milk consumption in California. And as we all know, the registered trademark, Got Milk?, become one of the most effective promotional campaigns ever created, it has been licensed nationally since 1995, and is still going strong. The other night in a book store I happened to notice on the outside back cover of a magazine a full page advertisement featuring the Incredible Hulk with—you guessed it—a milk mustache.
Of perhaps greater significance is that on the tenth anniversary of this campaign, innovative efforts to update the image of milk still continue by the dairy industry. In fact, Dairy Management Inc., recently held an innovation forum which addressed the continued need for reaching ever-increasing innovation levels. The forum gathered industry input and utilizes it to guide the organization's research priorities.
Here are some examples of recent innovations:
A wide range of new flavors are being created for milk, including "very vanilla," dulce de leche, double chocolate, cookies and cream, orange creme, and many others, including an assortment of flavored milkshakes. According to marketing studies, these flavors have experienced a remarkable growth, especially among teenagers and children.
A special delivery system, Flavor Straws, is an easy way to add flavored milk to a restaurant's menu. The straws flavor white milk with chocolate, strawberry, or caramel flavorings as the children drink through them. At Denny's restaurants, a flavoring straw proved to be very popular with children.
The milk industry also offers milk in newly designed single-serve milk containers that include eye-catching graphics that are appealing to a range of consumers.
More information about these developments can be obtained from the Milk Processor Education Program, 1250 H St., NW, Ste. 950, Washington, DC 20005 (phone 202-737-0153; fax 202-737-0156).
Cheese solutions for Mexican cuisine. Pasteurized cheese products evoking the tastes of Mexican cuisine have been introduced by Kraft Food Ingredients, 8000 Horizon Center Blvd., Memphis, TN 38133 (phone 901-381-6500; fax 901-381-6628; www.kraftfoodingredients.com).
Mexican-style Cheese Spread contains both Monterey Jack and Cheddar cheese varieties, and offers processors a 6-month shelf life. Imparting a distinctive, piquant flavor, the product works well in sauces and spreads, fillings, baked goods, and hors d'oeuvre.
Restricted Melt Cheese Sauce with Jalapeño Peppers lends itself to vegetable side dishes, hand-held sandwiches, meat, poultry, and deep-fried appetizers. An alternative to Pasteurized Process Monterey Jack Cheese, this sauce ingredient is designed for use in applications where pumpability at refrigerated temperatures or melt restriction is desired.
Pasteurized Process Monterey Jack Cheese with Jalapeño Peppers gives an authentic Tex-Mex zest to various recipes such as stuffed meat products and pocket sandwiches.
--- PAGE BREAK ---
Cheese blend provides partial replacement for Neufchatel. A soft, uncured cheese blend offering the flavor and mouthfeel of real Neufchatel and cream cheese is a recent addition from Kraft Food Ingredients, 8000 Horizon Center Blvd., Memphis, TN 38133 (phone 901-381-6500; fax 901-381-6628; www.kraftfoodingredients.com). 
Called Kraft® Neufchatel Cheez Blend, the product contains one-third less cholesterol and saturated fat, and is specially formulated to replace Neufchatel on a one–for–one basis in both sweet and savory recipes. Exhibiting improved blending capabilities with other ingredients, it requires little or no reformulation in most applications.
Competition demonstrates innovative dairy ingredient uses. A Brazilian-styled cheese bread, developed by students from the University of Minnesota, earned the "Best Overall" award in the Fifth Annual Discoveries in Dairy Ingredients, a dairy contest funded by U.S. dairy farmers. Fiesta Rolls, premium frozen Parmesan cheese rolls influenced by traditional Brazilian bread, consists of 37% dairy ingredients, providing 25% of the RDA for calcium in one serving. The product was praised for its nontraditional approach to dough, which was said to be more reminiscent of cheese than bread.
Other winning entries in the competition included Cheezzlers, a fruit-flavored string cheese which earned a "Most Creative" award for Washington State University, and FroYum!, a freeze-dried yogurt cereal, which merited a "Most Marketable" mention for Cornell University.
A panel of top food industry representatives, including food technologists, judged entries on use of dairy ingredients, originality, product appeal, marketability, and feasibility. The content is designed to demonstrate the versatility and functionality of dairy ingredients and provide future food technologists with practical experience.
Furthermore, major food companies might pick up these innovative entries and investigate their marketplace potential.
More information about these winning entries can be obtained from Dairy Management, Inc., 10255 W. Higgins, Rosemont, IL 60018 (phone 847-803- 2000; fax 847-803-2077; www.doitwithdairy.com).
Smaller cheese pieces help provide identity. New shelf-stable cheese pieces for giving identity to food products have been developed under the name Cheese Crumbettes by Commercial Creamery Co., 159 S. Cedar St., Spokane, WA 99204 (phone 509-747-4131; fax 508-838-2271; www.cheesepowder.com). According to the manufacturer, the cheese ingredient is said to be smaller than shelf-stable Cheese Chunkettes and is produced using a different technology.
The new ingredient will work in a variety of food products where a smaller cheese piece is desirable, such as in pasta salads, potato dishes, salad dressings, and snacks. It is said to be especially attractive in breads, biscuits, and other bakery products.
--- PAGE BREAK ---
New probiotic cultures offer yogurts a number of benefits. A new generation of probiotic yogurt cultures have been launched under the name Yo-Fast 20 by Chr. Hansen, Inc., 9015 W. Maple St., Milwaukee, WI 53214 (phone 414-607-5700; fax 414-607-5959; www.chr-hansen.com). This latest yogurt cultures are said to offer the dairy industry a number of benefits.
According to the manufacturer, the product's very mild flavor and texturizing properties make it possible to reduce or even replace the use of stabilizers, gelling agents, and other such additives. Furthermore, minimal post-acidification ensures longer shelf life of yogurt products.
Unlike many traditional cultures, this new generation of culture is said to provide low-fat products with a high mouthfeel and creaminess. If so, and in light of increasing coverage over the obesity epidemic, these attributes may lead to the development of new yogurt products and other low-fat cultured products.
The new yogurt culture contains several probiotic strains including Lactobacillus acidophilus and Lactobacillus casei.
Artisan cheeses offer ingredient opportunities. An informational Web site for new or established cheese and dairy artisans has been launched by the Wisconsin Dairy Artisan Network. The site, www.wisconsindairyartisan.com, is designed to provide advice and information to Wisconsin dairy producers, but is also intended to be wider in scope and provide services for surrounding states.
I mention this item here because there may be growing opportunities for ingredient suppliers in this area. While cheeses such as American and Mozzarella are mass produced in the U.S., designer cheeses—products that have their own special niche and which can offer special flavors, textures, and other attributes—may increasingly have a greater impact, offering a wider variety of alternatives. The concept of artisan cheeses has been compared by some experts to microbrewed beers which offer distinctive-tasting beers as well as new alternatives to traditional products.
Studies which have shown that Americans are eating more cheeses may help fuel this concept along. If so, trends, such as a desire for a wide variety of flavors, emphasis on different levels of heat, and the creation of novel products for children for extending the shelf life of nutrition bars has been developed by Glanbia , 523 6th St., Monroe, WI 53566 (phone 608-329-2800; fax 608-329-2828; www.glanbianutritionals.com).
Called Barflex, the whey protein is said to significantly improve the texture, allowing increased shelf stability and increased consumer acceptability. The dairy-derived ingredient may be used as a sole protein or as part of a blend.
Technology introduced to European cheese market. A new mozzarella cheese manufacturing technology was introduced to the European cheese market by Glanbia Cheese, Ltd., reportedly Europe's leading manufacturer of pizza cheese. The technology was developed and patented by Leprino Foods, 1830 W. 38th Ave., Denver, CO 80211 (phone 303-480-2600; fax 303-480-2605; www.leprinofoods.com) which, with Glanbia plc, jointly owns Glanbia Cheese.
The technology, which involves producing mozzarella cheese in ribbon format rather than in traditional block format, is well established in Leprino's plants in the U.S. Glanbia Cheese has exclusive rights to introduce this patented technology to the European market.
--- PAGE BREAK ---
Venture extends dairy protein business. A joint venture for the production, sales, and marketing of whey protein isolates has been formed between Trega Foods (formerly Weyauwega Milk Products, Inc.), a manufacturer of cheese and dairy-based ingredients, and Proliant, Inc., 2325 N. Loop Dr., Ames, IA 50010 (phone 515-296-7100; fax 515-296-7110; www.proliantinc.com).
The joint venture reportedly unites Proliant's worldwide sales, marketing, research and development, and application research with Trega's state-of-the-art manufacturing capabilities. Furthermore, the joint venture is expected to extend and build upon the success of Proliant's existing dairy protein business, offering additional dairy ingredients and new proprietary manufacturing capabilities.
Proliant's ingredient portfolio includes whey protein isolates, whey protein hydrolysates, whey protein concentrates, specialty proteins, and lactose. These dairy ingredients offer nutritional value attributes, diverse functional properties, and flavor improvements for a variety of applications.
Most recently, the company has introduced a line of whey protein isolates marketed under the name Iso-Chill™. More information about this product line is forthcoming.
Expanded dairy line with new applications highlighted. A range of dairy ingredients have been expanded by DairiConcepts L.P., 3253 E. Chestnut Expressway, Springfield, MO 65802 (phone 877-596-4374; fax 417-829-3401).
The company has added Manchego-, Cotija-, and Queso Blanco–flavored cheese ingredients to its flavors line, and has developed new Cheddar, Parmesan, and Romano high-flavor cheese powders that deliver more flavor at lower use levels. Other ingredient additions include milk protein concentrates, customized powders, hard grated Italian cheeses, and other products.
Latest applications were highlighted at the 2003 IFT Food Expo. These included a Cajun Alfredo sauce which combined powders and grated Parmesan cheese, organic white Cheddar seasoning, chipotle ranch seasoning, and pepper Cheddar sauce. The first domestically-produced milk protein concentrate was demonstrated in a cheese application. Flavor products were incorporated in a feta-style dip and Hispanic-influenced flavors were used in a Queso Blanco dip.
Alliance specializes in dairy ingredients. A wide array of specialty dairy ingredients is available through an alliance between Hoogwegt U.S., Inc., an international trading company specializing in the marketing of dairy and food ingredients, 724 Florsheim Dr., Libertyville, IL 60048 (phone 847-918-8787; fax 847-918-9189; www.hoogwegt.com) and Bluegrass Dairy and Food LLC, 606 W. Main St., Springfield, KY 40069 (phone 859-336-7643; fax 859-336-5218; www.bluegrassdairy.com).
Core ingredients produced by Bluegrass include cheese powders, cream powders, bakers cheese, cultured buttermilk powder, cultured nonfat powder, yogurt powders, enzyme-modified butter powder, and shortening powders. In addition to dry products, the company can also provide fluid condensed skim milk, fluid cream, enzyme-modified butter, and an array of commodity dairy products.
--- PAGE BREAK ---
Italian specialty cheeses offered. Italian specialty cheeses for retail, foodservice, and industrial applications is available from Chianti Cheese Co., 207 Hanover St., Pemberton, NJ 08068 (phone 609-894-0900; fax 609-894-4188). Custom blending and formulations are also offered.
Products available from the company include Parmesan, Romano, Parmesan and Romano, Paisano Mio Grated Italian Topping, and Pecorino Romano. A variety of different forms of cheeses are offered, including freshly grated, shredded, and topping.
Reduced-fat product gives American cheese flavor. A reduced-fat cheese has been introduced by Land O Lakes, P.O. Box 64101, St. Paul, MN 55164-0101 (phone 651-481-2061; fax 651-481-2525; www.landolakesfid.com).
Land O Lakes® Reduced Fat Process American Cheese is said to contain 50% less fat per serving compared to a traditional version, but gives a full-flavored American cheese taste. The cheese can be used cold and melts easily for hot applications as well. It can be shredded, cubed, sliced, and diced.
Dairy ingredients focus on nutraceuticals market. A number of dairy ingredients are being tailored for the functional and wellness food market. Many of these have already been covered in previous Nutraceutical sections and were highlighted at the 2003 IFT Food Expo. Here are a few notable examples:
• Whey proteins offering functionality and potential health properties are produced by Grande Custom Ingredients Group, 301 E. Main St., Lomira, WI 53048 (phone 920-269-7188; fax 920-269-1445; www.grandecig.com).
Derived from fresh, white, pure Italian cheese whey, the proteins offer such functional properties as flavor enhancement and quality improvement. They also can be used for protein fortification in beverages, bars, and meal replacement products in the sports, nutrition, and weight management industries.
Nutritional whey proteins, marketed under the name Grande Ultra™ include Grade A, Agglomerated, Hydrolyzed, and Low-Lactose products.
• A bioactive whey fraction containing health-promoting components was developed by Glanbia, 523 6th St., Monroe, WI 53566 (phone 608-329-2800; fax 608-329-2828; www.glanbianutritionals.com). Marketed under the name Salibra 700, the fraction contains a number of components including immunoglobulins, lactoferrin, and growth factors, that work together to promote a healthy intestine as well as provide support to the immune system. It is produced using a selective membrane transfer system.
• A whey protein isolate which reportedly has been shown to reduce hypertension is produced by Davisco, 11000 W. 78th St., Ste. 210, Eden Prairie, MN 55344 (phone 952-914-0400; fax 952-914-0887; www.leadingthewhey.com). The ingredient is marketed under the name BioZate.
• A probiotic Bifidobacterium longum is available from Japan-based Morinaga Milk Industry Co. Ltd., through Mitsubishi International Corp., 520 Madison Ave., New York, NY 10022 (phone 212-605-2425; fax 212-605-1810; www.micusa.com). The probiotic has beneficial effects on the intestinal environment and the immune system.
• Health-promoting dairy colostrom and natural milk minerals have been added to a portfolio of dairy ingredients including milk proteins by Erie Foods International, Inc., 401 7th Ave., Erie, IL 61250 (phone 309-659-2233; fax 309-659-2822; www.eriefoods.com). The company offers custom processing alternatives in agglomeration, extrusion, grinding, particle coating, and blending at its two domestic facilities. It has also opened a new distribution center at its Rochelle, Ill. custom processing facility.
--- PAGE BREAK ---
Although the Hulk sporting a milk mustache was certainly a "big" story (it's hard to miss some big green guy smashing brick walls in any case), there have been several other attention-deserving news developments that may have an effect on formulating future dairy products.
Proteins, of course, will continue to play an important role. At the 2003 IFT Annual Meeting, an entire symposium focused on the expanding uses of whey-derived ingredients, including textured whey proteins, extruded whey proteins, whey protein edible films, and whey-starch polymers. Extruded textured whey proteins are suitable as meat extenders and replacers, allowing reduction of fat while maintaining the texture and mouthfeel of a higher-fat content. The ingredient may also be used in such nontraditional applications as snack chips, crisp inclusions, and chewy bits. Furthermore, it is possible that a modified whey protein may be created that delivers a thickening performance similar to pregelatinized starch, the functional ingredient in medical thickeners. The work revealed that the thermal gelation of a low-pH whey protein solution could yield a dried powder with starch-like characteristics. The similar rheological properties and stability of the whey ingredient with those of pregelatinized starches may prove to open the possibility of a protein thickener used in lieu of modified starches in a range of applications.
The biological role of milk proteins, milk-derived peptides, and amino acids related to muscle metabolism, bone health, weight management and food intake, hypertension, and antibacterial properties currently is being explored.
For example, new research from the University of Illinois at Urbana-Champaign is seeking to explain how and why a moderately high protein diet may be the best for losing weight. The new findings suggest that eating more high-quality protein from foods such as dairy will increase the amount of leucine, an amino acid, in the diet, helping a person maintain muscle mass and reduce body fat during weight loss. Maintaining muscle during weight loss efforts is essential because it helps the body burn more calories.
These health-related studies are also being accompanied by new developments in processing techniques used in the manufacture and application of whey protein concentrates, isolates, and other bioactive fractions.
Other ingredient developments that I think we will be seeing more of in the near future is the use of enzymes to increase yield in cheese production; development of new taste variations; improved texture in fermented dairy products; the launching of new probiotic bacteria cultures which can promote consumer health by enhancing the immune system; ingredients that will help create shelf-stable dairy products; modifying or developing techniques to improve the shelf life of Hispanic-style cheeses; the use of nontraditional flavors and herbs in dairy products; and many others.
Products from around the world may also give us some indication of the kinds of developments that we may someday see. For example, in Japan, Otsuka Pharmaceutical has launched a Calorie Mate jelly beverage. Each squeeze pouch is said to be a balanced nutritional supplement containing 6.7 g of whey protein. Jelly beverages have been on the market for nearly a decade in Japan, but recently have become more popular among younger consumers. In the United Kingdom, an organic functional milk called Slumber Bedtime has been developed by Red Kite Farms. The product is positioned as a sleep aid because it contains higher levels of melatonin, a hormone that helps people sleep at night by regulating their body clock. And in the United Kingdom, Farm Produce Marketing produces Orchard Maid organic yogurt beverages that come with an innovative straw that dispenses measure doses of probiotic culture with each sip. The LifeTop straw was developed by BioGaia Biologics of Sweden and is co-marketed with the COE Nutritionals unit of Tetra Pak International.
Finally, I began this article with a brief look at an issue that sparked some controversy and possible ill feeling. I would like to end this article with one more positive development. A probiotic fruit juice Pro Viva, which is marketed by a Swedish dairy company in Sweden and the United Kingdom, has become very popular, leading to extensions in dairy products and sports drinks. The products use patented probiotic lactic acid bacteria strains developed in a joint venture between Canada-based Institute Rosell and Probi, a science-based company based in Sweden. Again, I think this is a good example of cooperative spirit as well as a reflection of how dairy products are evolving.
by DONALD E. PSZCZOLA
Senior Associate Editor