In those long-forgotten days when all things were better—or perfect, as some of our elders would tout, compared to today's chaos—food products when packaged were in one and only one form. Every historian knows that Coca-Cola was in a 6-oz wasp-waisted green glass bottle with crown closure; Hershey's chocolate bar was 1 oz in dead-fold foil inside a chocolate-brown paper sleeve; and water was obtained from faucets in our kitchens or bathrooms. And everyone was happy with this paucity of choice.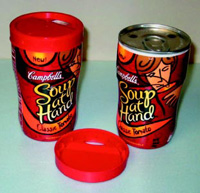 Tomorrow, if we believe the pundits, all food products will be customized for our demographics, pychographics, and flavographics. It will be as if Emeril or Prudhomme or Sato were our own private chef working exclusively for us individually, harvesting freshly ripened veggies from our own hydroponic garden and converting them into delicious, nutritious meals on demand. And, in that future era, all women, men, and children will have no recall of kitchens or packaged foods, or of food engineers. Since we now design our own homes, automobiles, and clothing, why not food? Don't we already have designer food?
Today, we have an unprecedented array of food—and packaging electives for these foods, with the range widening with each passing issue of Food Technology. If food product development offers nearly 20,000 new products annually, it follows that more packaging options are offered to contain and communicate those new foods.
It seems that every food must be in the most diverse array of packaging possible, just in case there is a target market niche that the marketer or marketing researcher happened to overlook somewhere. No longer can a food be offered in one package: it must be in enough different packaging to accommodate each distribution channel, market segment, price point, and technology ever devised, including, unfortunately, many in which no fit is apparent.
I recall not too many moons ago when one of our university agricultural administrators was astonished to learn that 56 salsas were on his local supermarket shelf—a statistic suggesting that his research was conducted in a small retail outlet. Count the number of different Coca-Cola (and, by extension, Pepsi-Cola) package offerings for the same product on your local supermarket shelf: 12-oz aluminum can, 8-oz aluminum can; 6-oz glass bottle; 20-, 24-, and 32-oz and 2- and 3-L polyester bottles, in 6-, 12, and 24-count multipacks, in plastic ring, paperboard wraparound, paperboard basket, paperboard carton ("Fridge Pack"), and . . . but why go further? The number of combinations and permutations is about 15, and that does not include diet, diet caffeine-free, caffeine-free, cherry, vanilla, etc., versions.
Those familiar with Marketing 101 know that the era of mass marketing—the concept of one product in one package aimed at a homogeneous consumer population—is archaic. This country's 270 million consumers may be segmented into dozens, hundreds, or even thousands of different groups, each different in age, culture, education, social value, income, geography, cohort designation, and interests at any given time.
To reach each measurable, sizable, and potentially profitable group, and to minimize potential losses to substitutes, such as bottled water, juice, milk, coffee, lemonade, iced tea, beer, or tap water, or to competitors, such as Pepsi-Cola, Schweppes, Dr Pepper, Seven-Up, or private-label products, carbonated soft drink manufacturers attempt to offer something that fits each group, sometimes all on the same shelf.
Even within the same organization, internal competition is often fierce, as Sprite fights Fresca or Pepsi vies with Pepsi Blue, Mountain Dew, or Code Ten. And each offering is broadened not just with product, but with packaging suitable for the target markets being addressed.
Coca-Cola's objective in filling the retail channels with a staggering multiplicity of products and packages is not as daft as it appears on initial glance. The purpose is to be almost certain that the product/package combination for you is present when your mind and mouth think "drink."
From a marketing perspective, it is relatively simple to enumerate all of the alternatives and issue requests for them to materialize—until the product and packaging professionals counter with such influences as cost, shelf life, inventory, equipment, secondary packaging, and retailer response. The product emerging from a two-piece aluminum can after three months in distribution is different from that poured from a 20-oz polyester bottle after the same length of time. And the product consumed from the mainstream 2-L polyester bottle is different after three weeks from that spilling from the 2-L bottle that has been opened and held in your home refrigerator. During this era of indispensability of maintaining quality that is so readily perceived by target consumers, how does a beverage manufacturer reconcile the overt differences in carbonation or sweetness levels in the various packages?
Alternative Packages
With this brief dissertation on principles, we may now plunge into the examples that support the thesis of alternative packages for the same product that pepper our food processing and packaging operations and distribution channels. And, of course, by mention of pepper, we might cite unground and ground pepper, in metal cans (yes), paperboard cartons, flexible pouches, glass jars, plastic jars, and, for those not intimate with the varieties, peppercorns in glass with their own built-in grinder for those whose kitchens do not include a pepper grinder.
• Roasted and Ground Coffee. Without even driving to our nearest Starbucks or examining our own supermarket shelves for the alternatives for containing and protecting this most oxygen-, moisture-, and flavor-scalping-sensitive of products, let us count the ways:
Whole-bean coffee in flavored and unflavored versions are packaged in greaseproof paper bags, vacuum pouches, oxygen-barrier-film-lined paper bags with carbon dioxide release valves built into the wall, and, for bulk buyers, aluminum foil lamination pouches.
Roasted and ground coffee appears in the classic steel can in 1-, 2-, and 3-lb sizes, vacuum packed and now with carbon dioxide release valves in the closure. And for the alert, some cans are bright pack with shrink film labels. And for those whose sensibilities avoid rigid cans, there are vacuum pouches, plastic-lined paper bags with and without the release valves and with and without reclosure features, and hermetically sealed composite paperboard cans. And, of course, lots of coffee beans for the consumer to grind and package manually, allegedly for cost and flavor savings.
• Instant Coffee. In this category, we can find the classic glass jar in many different sizes (and you thought that glass was passé) and occasionally polyester jars or individual aluminum foil lamination pouches. In the exploding flavored instant coffee category, consumers may find their coffee or coffee-flavored dry beverage in spiral-wound composite paperboard canisters, extrusion-blow-molded plastic bottles and jars in every imaginable shape with reclosure and, invariably, shrink film labels gracing the exterior, with and without an internal measuring and dispensing spoon.
• Liquid Coffee. Coffee also comes as a liquid concentrate in plastic squeeze bottles and as a single-strength, ready-to-drink version in glass that has been thermally sterilized after filling and in plastic that has been aseptically filled and distributed under refrigeration.
All this is enough to reverse the 1990s trend of declining coffee consumption and to satisfy the desires of any and all consumers, isn't it? If you believe this "prediction" as you sleep, Mr. Van Winkle, your sisters and brothers are conspiring to deliver more and newer packaging options which will appear this year and next, and the next after that.
• Peanut Butter. That staid old peanut butter product that your children smear on white bread with jelly is now packaged in polyester instead of glass jars, but you knew that, and in high-density polyethylene (HDPE) jugs for larger sizes, but you knew that, too. But did you know that it is also packaged in individual-portion-size pouches paired with jelly pouches for side-by-side squeezing onto crackers? Or in long, narrow pouches engineered for squeezing by little fingers into little mouths, with and without jelly and chocolate? Or in simulated inverted toothpaste tubes with slot-shaped openings to facilitate dispensing?
Or in individually wrapped slices with and without jelly coextrusion? Can you imagine the technologies required to match the water activities and viscosities and to protect against water loss or gain during distribution? They may look like sliced cheese, but they are layers of peanut butter intended for ease of placement on slices of bread.
All this, even as some have described peanut butter as an agricultural commodity whose passing we were witnessing because of allergenicity, calories, and quality deterioration due to susceptibility to oxidation from dissolved, occluded, and permeating oxygen.
• Candy. As those who read this column on a regular basis know, candy packaging is undergoing major change. The classic flow wrap for bars is now horizontal form/fill/seal in polypropylene film in a host of sizes to fit fingers, hands, mouths, and appetites, from full size to miniatures to bite size, individually wrapped and multipacked in standup flexible pouches and paperboard cartons . . . and on and on. M&M's milk chocolate candies have been offered in so many different variations that only their computer knows how to enumerate them. But perhaps the most intriguing is the miniaturization of the sugar-shell-coated chocolates into flip-top open-and-close polypropylene vials with shrink-film labels and shrink-film tamper-evident bands.
• Breakfast Cereals. Breakfast cereals are perceived to be in a variety of packages—all paperboard cartons. The classic bag-in-box packaging is thought to be necessary for consumer credibility and, of course, cost, since so much is price promoted. The volume of breakfast cereals and their variants is so large as to attract every conceivable packaging technology. Look carefully at the internal primary packages surrounded by paperboard shells: coextruded moisture-barrier film, waxed paper (yes, Virginia, some of that material still exists), aluminum foil lamination, double package maker fabricated and vertical form/fill/seal pouch.
Breakfast cereals are also in thermoformed HDPE tubs with heat-sealed flexible material closure and paperboard-sleeve injection-molded polypropylene tubs for unit portions; and standup lamination and pillow flexible pouches for family size. And who can forget the attempts to launch cereals in gable-top polyethylene-coated paperboard cartons or internal polypropylene film–lined standup paper pouches or spiral-wound composite paperboard canisters? Or, in the distant past: glass jars, metal cans, and polyester jars?
• Other Products. As we review the alternatives, we may begin to realize that the phenomenon is hardly confined to just a few product classes. The intensity of reaching out beyond the basic packaging pervades almost every food product: fresh-cut produce in pouches and trays; beer in cans and in glass and plastic bottles; cured meats in vacuum and inert gas-flushed packages; "canned" fruit in metal cans with metal and plastic ends and in all-plastic tubs; fluid milk in gable-top paperboard cartons, HDPE bottles, polyester bottles, and shrink-film-labeled plastic bottles; cheese; soft bakery goods; pasta sauces; fruit beverages in steel and aluminum cans, polyester bottles, and multilayer plastic bottles; soups in metal and multilayer plastic cans and glass and plastic jars. An entire issue of Food Technology could be devoted to this listing of alternative packaging and the technical challenges for each.
The Challenge
As responsible food scientists and technologists perform their research on food, they are beginning to realize that the products emerging from their laboratories and pilot plants are not identical to those reaching consumers. Although "packaging" is engineered to protect the product through distribution channels, the larger the variety of the same products offered to consumers, the greater the number of different packages to meet target consumer needs and desires. And the more different "packaging" is in terms of size, surface-to-volume ratio, material gage, etc., the greater the problem becomes in trying to protect the contained product.
We depend on packaging, but as we expand our mix and lines, we confront exponentially increasing issues to ensure that the packaging performs the functions that the ingredients, formulations, and processing cannot. Thus, we must intensify our efforts to match the packaging to the need—to deliver quality and safe products to our target consumers.
by AARON L. BRODY
Contributing Editor
President and CEO, Packaging/Brody, Inc.
Duluth, Ga.