Dietary fiber has been shown to aid in cardiovascular health, gastrointestinal health, cancer prevention, and weight management. Yet Americans fall short in their consumption of this important nutrient. The American Dietetic Association (ADA) recommends consumption of 20–35 g of dietary fiber/day, but the average American currently eats only 12– 17 g. Since about one-fourth of this is soluble fiber, the average American is only consuming 3–4 g of soluble fiber/day, below the recommended 5–10 g. This is a shame, because a growing body of research supports fiber's various health benefits.
• Cardiovascular Health. Soluble fiber has been proven to reduce blood cholesterol levels, thus helping to reduce the risk of heart disease. The heart-health benefits of fiber are acknowledged in the Food and Drug Administration's approved health claim for the relationship between dietary fiber and cardiovascular disease, which is applicable for beta-glucan in oats and psyllium husk.
• Gastrointestinal Health. Fiber increases stool weight and improves laxation, maintaining regularity. Dietary fiber also functions as a prebiotic, increasing the number of beneficial microflora in the gut and enhancing the gastrointestinal system and immune system.
• Weight Management. Fiber-rich meals are processed more slowly, and nutrient absorption occurs over a greater time period. This aids in the feeling of satiety. In addition, a study on more than 74,000 female nurses in the United States (Liu et al., 2003) showed that those with the greatest increase in intake of dietary fiber gained an average of 1.52 kg less than did those with the smallest increase in intake of dietary fiber. Women in the highest quintile of dietary fiber intake had a 49% lower risk of major weight gain than did women in the lowest quintile.
• Cancer. Fiber has been associated with preventing certain types of cancer, such as bowel and breast. A study published last year (Bingham et al., 2003) examined the association between dietary fiber intake and incidence of colorectal cancer in 519,978 individuals age 25–70 years taking part in the European Prospective Investigation into Cancer and Nutrition study. Dietary fiber in foods was inversely related to the incidence of large bowel cancer. The authors concluded that in populations with a low average intake of dietary fiber, an approximate doubling of total fiber intake from foods could reduce the risk of colorectal cancer by 40%.
To obtain these benefits, it is clear that people need to consume more fiber. "Modest increases in intakes of fruits, vegetables, legumes, and whole- and high-fiber grain products would bring the majority of the North American adult population close to the recommended range of dietary fiber intake of 20–35 g/day," stated ADA in its position on dietary fiber (ADA, 2002). The majority of consumers, however, do not have balanced diets, resulting in inadequate fiber consumption.
This is where fiber-fortified foods can help. Food formulators can use gums, polydextrose, inulin, fructooligosaccharides, and resistant starch to create foods that offer another option for consumers to get more fiber. Here's a run-down of some ingredients that contribute to a food's dietary fiber content.
--- PAGE BREAK ---
Inulin
Inulin is a plant-derived carbohydrate with the physiological benefits of soluble dietary fiber. It is not digested or absorbed in the small intestine, but is fermented in the colon by beneficial bacteria. Functioning as a prebiotic, inulin has been associated with enhancing the gastrointestinal system and immune system. In addition, it has been shown to increase the absorption of calcium and magnesium, influence the formation of blood glucose, and reduce the level of cholesterol and serum lipids.
"When used as an ingredient in food products, inulin can be measured and added to foods as a source of dietary fiber," said Bryan Tungland, Vice President of Scientific and Regulatory Affairs at Sensus America, Monmouth Junction, N.J. (646-452-6140). "The entire inulin molecule, due to its solubility in the 80% alcohol step in some older AOAC methods (985.29; 991.43, etc.), has resulted in the requirement to use newer AOAC methods (997.08 and 999.03) to measure the total amount of inulin in a food or food product," he explained. "I should note that the AOAC method 999.03 does not measure fructooligosaccharides (FOS) appropriately and should only be used for inulin of plant origin," he added.
"Using either 997.08 or 999.03 accurately measures inulin's contribution to fiber in various foods," he said. "A total dietary fiber measurement in a food containing inulin can be accomplished by first measuring the food using the standard AOAC method 991.43 and using a specific enzyme to destroy the inulin, and then running the food for total inulin by either of the two specific methods. Totaling the two results provides a measure of the total dietary fiber, including the inulin content."
Sensus America offers Frutafit® and Frutalose® inulin and FOS for use in a wide variety of foods and beverages. "Many applications of inulin as a health ingredient are related to its properties as a soluble, prebiotic fiber: in developing fiber-enriched and low-carbohydrate foods, improving calcium uptake in the body, and promoting a healthy microflora and immune function in the colon," said Tungland. Frutafit inulin, depending on the product of choice, contributes at least 90% dietary fiber and as much as 99.5% on a dry-weight basis.
Last year, the Dutch Public Health Ministry approved a "healthy colon" claim for Frutafit inulin in breads baked by Bakkerij Veenhuis, a unit of Royal Ahold. The breads are currently marketed in the Netherlands under the brand Vitaalbrood® (Fig. 1). The claim states that a daily consumption of three slices of the bread with 5 g of inulin/100 g of bread creates a well-balanced intestinal flora composition, which then leads to optimal colon functioning by selectively stimulating the growth of bifidobacteria.
In May last year, FDA stated that it had no objections to the Sensus claim that inulin is Generally Recognized As Safe (GRAS). The U.S. Dept. of Agriculture also approved it for nonstandardized meat applications. "This certainly is an important step in bringing Americans closer to the many physiological and functional benefits that inulin offers," said Tungland.
Another commercial form of an enriched inulin, Raftilose® Synergy1, manufactured by Orafti Active Food Ingredients, Malvern, Pa. (610-889-9828). According to Orafti, it has been shown to improve calcium and magnesium absorption in post-menopausal women (www.orafti.com/orafti/OraftiGr.nsf/Home?openform). The study was conducted by Anne Friedlander and colleagues at the Palo Alto VA Health Care System in California. The study involved 15 healthy post-menopausal women and used a randomized crossover design. Calcium and magnesium absorption were measured at baseline and 6 weeks after each treatment period. The study showed that the enriched inulin could enable post-menopausal women to increase both their calcium and magnesium uptake by as much as 20%. Orafti said that this research confirmed previous studies which have shown the positive effects of the ingredient on mineral absorption.
Orafti also offers the Raftiline® family, which consists of two main groups of products: those based on native chicory inulin (ST, ST-Gel, and GR) and those with a longer chain length for high performance applications (HP, HP-Gel, and HPX). In addition, the Raftilose family consists of a group of liquid and powder products composed of oligofructose and the natural sugars glucose, fructose, and sucrose in varying combinations.
--- PAGE BREAK ---
Fructooligosaccharides
FOS are natural constituents of a wide variety of fruits, vegetables and grains, and can be produced in commercial quantities. They have shown positive effects on laxation, attenuation of blood cholesterol levels, and blood glucose levels. These prebiotics have found successful use in yogurts, such as Mountain High Naturally Nutritious Yogurt, offered by Mountain High, Englewood, Colo. The product contains NutraFlora®, a short-chain FOS (scFOSTM) from GTC Nutrition, Golden, Colo. (800-522-4682).
Mountain High states that the fiber enhances calcium absorption. In addition, the company's Web site informs customers that "Scientific studies show that 3 grams of NutraFlora dietary fiber per day provide a measurable effect on improving intestinal health." Two 4-oz servings of the yogurt provide 3 g of the dietary fiber.
Colorado-based Horizon Organic also offers Baby Yogurt and Yo-Yo's, its kids yogurt enriched with the dietary fiber to enhance calcium absorption. The company's Web site states, "As a prebiotic, NutraFlora increases the level of good bacteria in your digestive system and promotes overall digestive health."
NutraFlora is 95% pure scFOS, meaning that the molecular structure of the fiber is always glucose terminated (important for beneficial fermentation) and has a chain length no longer than 5. Other forms of FOS may not always be glucose terminated and can have chain lengths up to 10, explained Linda Chamberlain Douglas, Manager of Scientific Affairs at GTC Nutrition. "NutraFlora is a prebiotic fiber that consists of a specific, defined composition, so it consistently provides significant health and functional benefits at low doses. It is derived from sugar cane or sugar beets using a natural fermentation process," said Douglas.
The main benefits of scFOS include improving intestinal integrity and function, increasing calcium and magnesium absorption, modulating intestinal immune response, supporting a healthy cholesterol metabolism, and increasing isoflavone absorption. According to GTC Nutrition, a lowering effect on total and low-density-lipoprotein (LDL)-cholesterol has been demonstrated in people receiving 8 g of scFOS/day. Other studies have shown scFOS to affect the bioavailability of the soy isoflavones genistein and daidzein. For example, in ovariectomized mice, scFOS increased the bioavailability of isoflavones, leading to cooperative positive effects on bone mineral density (Ohta et al., 2002).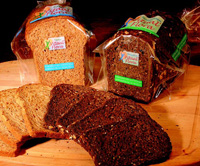 "We believe that in 2004, an increasing number of innovations with scFOS will be realized in the market. In particular, there may be more dairy formulations and nutritional foods, such as bars and shakes, that include prebiotic fiber for its health-enhancing properties," stated Douglas. "Using scFOS in dairy foods presents great opportunity for innovation due to a number of positive synergies, such as increasing calcium absorption. For cultured dairy products, such as yogurt or kefir, the synergy between probiotic cultures and prebiotic fiber results in a maximum potential for optimized health."
GTC also introduced CalciLife™ in 2003. This unique ingredient is a combination of calcified sea plants rich in calcium, magnesium, and trace minerals and scFOS. "The trend we are seeing is that food companies are interested in fortifying a variety of foods with calcium and want to increase their ability to make bone health claims by using the calcium–scFOS blend," said Douglas.
--- PAGE BREAK ---
Arabinogalactan 
Arabinogalactans are water-soluble polysaccharides found in plants, fungi, and bacteria. Dietary intake of arabinogalactans comes from foods such as carrots, radishes, tomatoes, pears, and wheat. Arabinogalactan derived from the larch tree is commercially available as a fiber ingredient and is considered a nondigestible soluble dietary fiber. It is also thought to stimulate the colonic growth of such bacteria as bifidobacteria and lactobacilli.
One commercial form of larch arabinogalactan, FiberAid®, from Larex Inc., White Bear Lake, Minn. (800-386-5300), is currently being used in several products on the market as a source of fiber. Affinta, Belmont, MA, sells DelightFull™ snack bars (Fig. 2) that "help consumers eat less." The bars contain FiberAid and other fibers, which, according to the company, are lower-glycemic-index carbohydrates that cause consumers to feel full longer. Each bar offers 2.5 g of dietary fiber. Jamba Juice, San Francisco, Calif., also uses FiberAid in the power boost in its smoothies.
Gums
Gums such as guar and arabic also contribute to a food's dietary fiber content. Both provide more than 85% soluble dietary fiber on a dry basis, according to TIC Gums, Belcamp, Md. (800-221-3953).
Guar gum has been shown to provide important health benefits because of its soluble fiber content. Numerous studies have shown that the consumption of guar gum lowers serum LDL cholesterol and triglycerides and increases glucose tolerance. TIC Gums said that in one recent study, rats fed guar gum as a part of their diet showed a 25% decrease in plasma cholesterol. TIC Gums offers Pre-tested ® GuarNT® Bland, which is specially formulated to have low odor properties in addition to its thickening capabilities.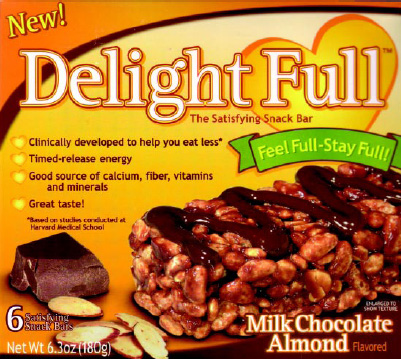 Gum arabic (also known as acacia gum) is derived from the acacia tree. It is water-soluble and contains arabinogalactan. TIC Gums offers an array of Pretested Gum Arabic systems to address specific food, beverage, pharmaceutical, and cosmetic functions. Because of its low viscosity, gum arabic can be used to boost fiber levels in a food or beverage without drastically altering the finished viscosity. According to TIC, studies have shown that gum arabic, as a source of soluble dietary fiber, may provide important dietary benefits such as maintaining healthy LDL and total cholesterol in healthy men, speeding oral rehydration, and acting as a prebiotic.
Another form of acacia gum, Fibregum™ has been studied for its bifidogenic properties. It contains more than 80% soluble fiber (AOAC method). According to the supplier, Colloides Naturels Inc., Bridgewater, N.J. (800-872-1850), a single-blind study of ten healthy volunteers studied the bifidogenic nature of the ingredient by measuring its stimulating effect on fecal concentrations of bifidobacteria and lactobacilli. The study was conducted in the Human Nutrition Research Center of Nantes, France, in 1999. An increase in fecal concentrations of bifidobacteria and lactobacilli was observed at both dose levels of 10 and 15 g/day.
--- PAGE BREAK ---
Resistant Starch
Resistant starch from corn functions as insoluble dietary fiber. Depending on how it is processed, it can be labeled as maltodextrin or cornstarch. "The portion of resistant starch that measures as dietary fiber can be included within the total dietary fiber content on the Nutrition Facts box," said Rhonda Witwer, Business Development Manager of Nutrition at National Starch and Chemical Co., Bridgewater, N.J. (800-797-4992). "For instance, the 60% portion of Hi-maize™ 260 that measures as dietary fiber is labeled as dietary fiber. We recommend to our customers that our Hi-maize branded ingredients be identified as cornstarch (Hi-maize brand) or cornstarch (low glycemic) or simply cornstarch. Our Novelose 330 is identified as maltodextrin."
National Starch offers Hi-maize 240 and 260 resistant starch ingredients (previously known as Novelose 240 and 260, respectively). As a better-for-you carbohydrate, resistant starch is used to add dietary fiber, lower the glycemic response ("net" carbs) when used as a substitute for flour, improve insulin sensitivity, and promote digestive health in foods. As a prebiotic fiber, resistant starch increases the population of beneficial bacteria within the large intestine and decreases the population of pathogenic bacteria. More than 120 published studies demonstrate the health benefits of resistant starch, ranging from reduced risk of colon cancer, restoring or healing the lining of the large intestine, to positive improvements on insulin sensitivity and the immune system, said Witwer.
For example, a study by Le Leu et al. (2003) showed that resistance starch increased the programmed cell death in intestinal cells damaged by a carcinogen. Once cells within the large intestine are damaged, they can be repaired, be killed, or progress to cancerous growth. This study showed that dietary consumption of the resistant starch increased the body's ability to kill the damaged cells by up to 30%, explained Witwer. The authors concluded that high-amylose starch may protect against the progression of mutated clones.
A human study confirmed systemic benefits from fermentation of resistant starch (Robertson et al., 2003). Two groups of people were fed diets that had the same amount of carbohydrates. The test group received 60 g of resistant starch, and their insulin sensitivity was measured a day later. The group that had consumed the resistant starch had significant increases in insulin sensitivity and lower impact on glycemic response to the test meal. "There is something about the fermentation of Hi-maize that impacts the body's metabolism of glucose," Witwer commented. "As reduced insulin sensitivity is a biomarker for Metabolic Syndrome (the combination of risk factors leading to increased risk of heart disease, obesity, cancer and other major health conditions), increases in insulin sensitivity are hugely important. Insulin sensitivity may also contribute to appetite control and weight loss benefits."
Another study (Morita et al., 2003) showed increases in immune biomarkers and a greater capacity of the large intestine to prevent a liver toxin from passing out of the large intestine into the blood and to the liver when resistant starch was ingested. It confirmed that a leaky gut allows toxins to damage other parts of the body and that restoring the health and strengthening the mucosal lining of the large intestine can have systemic health benefits.
Resistant starches can help create foods for the children's and carbohydrate-conscious markets and foods that offer digestive health benefits, said Witwer. For example, adding dietary fiber to white bread gives children who do not like whole-wheat or whole-grain bread another option to obtain fiber's benefits. For the carbohydrate-conscious market, substituting the resistant starch for flour significantly increases the dietary fiber content, lowers the "net" carbohydrate count, and lowers the glycemic response of a baked good, she said. "We have demonstrated that a bread containing 20% Hi-maize lowers the glycemic response in humans by approximately 45–50%. Scientific studies are showing that moderating the glycemic impact of food results in numerous benefits. Greater appetite control is a great benefit for the weight-control market."
--- PAGE BREAK ---
Lignins
Plant lignins, which are phytoestrogens, have beneficial effects on heart health, bone health, prostate health, and some forms of cancer. For example, a study by Horn-Ross et al. (2003) linked lignins to a reduced risk of endometrial cancer, the fifth most common cancer among women worldwide. The researchers evaluated the associations between dietary intake of seven specific compounds representing three classes of phytoestrogens (isoflavones, coumestans, and lignins) and the risk of endometrial cancer in a case-control study of women age 35–79. Consumption of isoflavones and lignins, but not coumestans, was associated with a reduced risk of endometrial cancer, particularly among postmenopausal women.
Flaxseed boasts a high concentration of lignins, particularly secoisolariciresinol diglucoside (SDG). In 2002, Acatris Inc., Minneapolis, Minn. (952-920-7700), a division of the Dutch Royal Schouten Group, introduced LinumLife™, a concentrated form of flax lignins marketed for prostate health.
This past January, the company added a more concentrated extract, LinumLife Extra. It is standardized to contain 20% SDG. The concentrated phytoestrogens in the extract are thought to be capable of balancing natural hormone levels in the body and therefore have a positive role in testosterone production. The extract can be used in capsules or tablets and is also suitable for flax oil enrichment and cosmetic applications. To support existing studies showing the positive effects of flax and lignins on health, Acatris has established a clinical study program to research the extract.
Polydextrose
The polydextrose content of food is measured by AOAC method 2000.11 and can be added to the fiber determined by other methods, according to Danisco Sweeteners, Ardsley, N.Y. (800-255-6837x2521). The company markets a fiber ingredient, Litesse®, manufactured from polydextrose. According to the company, 17 human, in-vitro, and animal published studies have demonstrated the fiber properties of polydextrose. Its prebiotic effects such as enhancing the growth of bifidobacteria, have been reported with consumption as low as 4 g/day (Jie et al., 2000).
FDA has approved Litesse for use in frozen dairy desserts, sweet baked goods and mixes, confections and frostings, salad dressings, gelatins, puddings and fillings, hard and soft candy, chewing gum, fruit spreads, peanut spread, sweet sauces, toppings, and syrups. The ingredient provides just 1 kcal/g; that is 25% of the calories of sugar and 11% of the calories of fats. It is non-glycemic, so it can be incorporated into a wide variety of foods with a reduced glycemic index.
For More Information
There are still more types of dietary fiber that the food industry can utilize in products such as baked goods, pasta, nutrition bars, beverages, and other products. For an extensive listing of dietary fiber types and suppliers, visit www.ift.org and click on the link for IFT's Nutraceutical & Functional Food Buyer's Guide, or see the December 2003 issue of Food Technology.
--- PAGE BREAK ---
Going with the Grains
Nutritionally speaking, grains are a powerhouse of nutrients. They are a source of fiber, antioxidants, phytoestrogens, and omega-3 fatty acids. Whole grains have been linked to a reduced risk of heart disease and certain forms of cancer, such as lung, colon, and stomach. They have even been linked to aid in weight loss. Here are some nutritious grains to keep an eye on.
• Amaranth seed is high in protein (15–18%) and contains respectable amounts of lysine and methionine, two essential amino acids that are not frequently found in grains, according to information from the Wheat Foods Council. It is high in fiber and contains calcium, iron, potassium, phosphorus, and vitamins A and C. The fiber content of amaranth is three times that of wheat, and its iron content is five times more than wheat.
• Barley provides soluble fiber that has been shown to improve several cardiovascular risk factors. Kay Behall and colleagues at USDA Agricultural Research Service Diet and Human Performance Laboratory in Beltsville, Md., are investigating whether eating barley and oats can reduce the body's glycemic response and hyperinsulinemia, independent of weight loss.
• Flaxseed has been linked to a reduced risk of both prostate and breast cancer. In 2002, researchers from Duke University Medical Center showed that a diet rich in flaxseed appeared to reduce the size, aggressiveness, and severity of tumors in mice that have been genetically engineered to develop prostate cancer (http://news.mc.duke.edu/news/article.php?id=6041). In 3% of the mice, the flaxseed diet kept them from getting the disease at all.
A study in Minnesota among 28 postmenopausal nuns in a convent, chosen primarily because of their strict dietary practices, looked at the effect of flaxseed on breast cancer (Slavin, 2001). Consumption of 5 or 10 g of flax significantly decreased blood levels of certain types of estrogen that may increase a woman's risk of developing breast cancer.
• Oats were the subject of a study which found that the risk of obesity is lower for kids who eat oatmeal regularly compared to those who do not. According to the study by researchers from Columbia University and Quaker Oats who presented the results at Experimental Biology 2003, the number of 2- to 18-year-olds who are overweight or at risk of becoming overweight is almost 50% lower in oatmeal-eaters than in children who do not consume oatmeal. In addition, children who eat oatmeal are about twice as likely to meet fiber intake recommendations, with fiber intakes 17% higher than for those who do not eat oatmeal.
• Rice is another nutritious grain. One-half cup of cooked white rice provides 0.3 g of dietary fiber, while one-half cup of cooked brown rice provides 1.8 g. The bran layers of brown rice are rich in minerals and vitamins, especially the B-complex group, according to the USA Rice Federation. The protein in rice is considered high quality and well balanced because all eight essential amino acids are present and in proper proportion. Therefore, rice is a unique cereal grain.
by LINDA MILO OHR
Contributing Editor, Chicago, Ill.
[email protected]