Although the aquatic foods industry has recently completed a major step in development of a program of "preventive food safety" with the initiative of a mandatory Hazard Analysis Critical Control Point (HACCP) program throughout the industry, another potential major food safety program requirement has come to the attention of not only processors but also consumers and governments worldwide.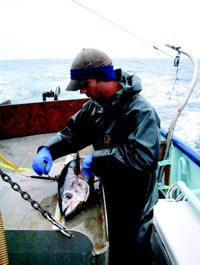 With the continuing focus on food safety and the periodic occurrence of food scandals and foodborne illnesses, a worldwide attention to the need for a quick and reliable traceability system for identifying the sources and content of aquatic foods, as well as even the species of fish involved, has been growing. But is traceability really an unnecessary economic hardship being placed on processors and consumers?
Many seafood processors—and even many countries who have had their food safety enforcement agencies conduct studies to determine the feasibility of collecting and verifying the authenticity of traceability data on aquatic foods—feel confident that it is scientifically possible and close to practical. Seafood processor organizations, seafood research laboratories, and government regulatory agencies already have on-going studies on the practical application of full traceability on Northwest albacore, Australian-captured fresh fish for the Japanese market, and captured fish for the domestic market in Denmark.
According to a report in the October 2003 issue of Global Aquaculture Advocate by Michael Morrissey of Oregon State University, Astoria, and Michael Thompson and Gil Sylvia, both of the Hatfield Marine Experiment Station in Newport, Ore., "Traceability is defined as the ability to trace the history, application, or location of an entity by means of recorded information. . . . Within the food industry, traceability translates to the ability to trace and follow food and food-producing animals through all stages of production and distribution."
Several worldwide aquatic experts thoroughly covered the topic in a symposium entitled "Traceability of Aquatic Food Products" during the 2003 IFT Annual Meeting in Chicago, Ill., last July. They pointed out that traceability problems requiring solution may originate through consumer claims of product dissatisfaction or from industry or government tracking of foodborne illness outbreaks. Examples of the former might be the substitution of other seafood sources for real scallops and improper labeling of the source and content of surimi. The latter threat, of course, brings to mind the unexpected recent outbreaks of "mad cow disease" in Canada and the United States.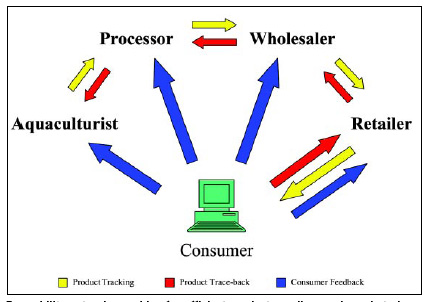 Morrissey summarized this cause-and-effect reasoning for the development of a sophisticated tracking system for aquatic products. "There's no question that traceability will have a major effect on the seafood industry," he said. The main driving force at this point is the European Union (EU) General Food Law regulation mandating traceability in food and seafood by January 2005. However, at this point in time, it is unclear what the required traceable elements will be. Nonetheless, companies are gearing up and looking at ways traceability may be implemented. Smart companies will be set to go and look for new market opportunities that will be opened by traceability regulations."
--- PAGE BREAK ---
At the IFT symposium, Torger Borreson of the Dept. of Seafood Research at the Danish Institute for Fisheries Research, Lyngby, Denmark, indicated that several definitions for the term traceability have already been developed. The ISO definition that relates to both origin and distribution is most frequently used. The EU has also recently supported studies that developed specification of standards for applying traceability of captured fish vs farm-raised fish. In the U.S., processors prefer that the use of traceability be confined to food safety issues. However, consumer demands and concerns about seafood quality may persuade U.S. processors to institute voluntary traceability systems throughout the entire food chain.
Software Aids Traceability
Many software designers have already developed or are continuing to develop and test currently available software programs for their ability to track seafoods from sea to processor to consumers. Computers today have the ability to track and collect data from all steps in the processing of seafoods. Identification of content and/or species through DNA testing allows comparison of characteristics from the original species sources to the finished seafood products. A traceability information system could also provide "added-value" information on selected species to international buyers of fish stocks for their own use or for channeling to consumers.
A recent report by Michael Thompson, Graduate Student at Oregon State University, demonstrates how advanced the commercial business software for "digital direct marketing" already is for tackling the traceability measurement and verification of authenticity of seafood products. Here is a short summary of his report regarding traceability of tuna in the marketplace:
The following commercially available software packages offer business tools for small to large companies. With many different modular options and levels of customization, they offer small firms the ability to vertically integrate their entire operations, including purchasing, sales, accounts receivable, accounts payable, general ledger, and inventory control. Some offer lot and sub-lot tracking for complete traceability through processing and sales and integrate with bar code printers, scanners, and grading scales. With Open Database Connectivity offered on most of these programs, exporting of data to common spreadsheet programs like Microsoft® Excel®/Word®/Access®, Crystal Reports®, Lotus®, and Infomix® allows data transfer to different operating tracking data in the heterogeneous tuna industry.
--- PAGE BREAK ---
• The Astra System by Astra Information Systems, Inc. This is a fully integrated modular business software package with the ability to be modified for the specific needs of the user, designed primarily for larger companies with complete vertical integration. It offers complete tracking and virtual network computing, which allows complete data access via handheld computers. More information is available at www.astrainfo.com.
• WiseFish™ by Maritech International. This is a fully integrated system of software modules for the entire fishing industry, It allows full vertical integration from vessel catch to retail sales. Maritech is an integral part of a 24-company/institute TRACEFISH consortium working on complete traceability of fish products for European Commission. The software system Integrates with Navision Financials and currently offers complete traceability through processing and distribution. Maritech also markets FarmControl software for aquaculture. More information is available at www.wisefish.com.
• Net.Yield™ by Lan Infosystems, Inc. This is a complete business software solution for the seafood industry, primarily for processors, distributors, and traders. It offers complete integration of data throughout all modules. Designed for small and large operations, it provides lot tracking and integrates bar codes and scanners. More information is available at www.laninfo.com.
• SeaSoft by Computer Associates, Inc. This is a complete modular business software package for processors and distributors that provides full integration. Designed for small to large operations, it provides cost-free upgrades and links with Navision Financials and Management tools. Users can turn on and off individual applications within the program for complete customization. The software allows complete data transfer between modules, has lot tracking, and integrates with bar codes, scanners, and scales. More information is available at www.caisoft.com.
• QualTrace by QualTrace International. This is a fully integrated modular business system, with Enterprise Quality Management, designed for small to large seafood processors. With individual customization, it offers complete traceability from raw seafood to ingredient intake to sales, complete manufacturing tools, and lot and sub-lot tracking. More information is available at www.qualtrace.com.
--- PAGE BREAK ---
• ParityPro™ Food Enterprise System™ by Parity Corp. This is a complete modular business package designed specifically for mid-sized food processors and distributors. It offers complete management and financial tools and can be customized for individual needs. It allows complete vertical integration with ability to trace lots and sub-lots through processing, breakdown processing, and distribution. A fish purchasing package allows the user to enter dates and location of catches traceable back to the specific vessel. More information is available at www.paritycorp.com.
• FishMonger™ Seafood Software by Disc Design & Data. This is a complete software solution for seafood distributors, brokers, and traders, including accounting. Designed for the seafood industry with complete customization, it includes lot tracking and interfaces with bar code printers, scanners, and integrated scales. More information is available at www.fishmonger.com.
More information about Thompson's report, as well as current studies on traceability of aquatic foods, is available from Michael T. Morrissey, Seafood Laboratory, Oregon State University, 2001 Marine Dr., Astoria, OR 97103-3427 (phone 503-325-4531, [email protected]).
Take Advantage of Systems
Aquatic food processors throughout the world's seafood markets must soon decide whether to accept or adopt full-cycle or chain traceability from fish sources to processors to markets to consumer, or to trust a partial traceability system that is sufficient to assure they will not have a food safety problem in the future. The latter choice assumes that processors, distributors, and marketers will develop an information bank that will assure consumers and regulatory agencies that the seafood industry is providing safe foods and can quickly identify and stop the spread of any unexpected illness outbreak from aquatic food products.
Despite an expected increased cost to all parties, processors must be aware that reliable tracking and information storage systems are already solving the problem and that those who do not get involved will surely miss future marketing opportunities.
by DEAN DUXBURY
Contributing Editor
Consultant, Oak Brook, Ill.
[email protected]