In 2004, health became the key driver of the world's fastest-growing food and beverage categories, fresh fruit and salads made the "Top 10" of the fastest-growing foods ordered in restaurants, and heart-helping foods mainstreamed onto supermarket shelves. Fair-trade coffee became the number-one coffee brand, "sustainable " farming practices became a new marketing term, and sales of nitrite/nitrate-free meats, "wild-caught" fi sh, and almost anything organic continued to soar.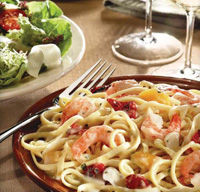 Greater time constraints, an emerging desire to "self reward," and a need to be "coddled and cared for" have ignited a new generation of upscale take-out foods and premium gourmet specialties and triggered new restaurant segments such as Fine Casual and Family Casual dining. Chefs are traveling ever deeper into local regions at both home and abroad, introducing more local and exotic ingredients at the same time, while the transition from a low-carbohydrate diet strategy to a low-carb lifestyle has spawned an exciting array of carbohydrate-compromised foods. 
And the transition of the Baby Boom generation from "with children" to "empty nests" will reorient the entire worldwide food industry, rekindling interest in home food preparation and "cooking for two" and fueling markets for beer, wine, spirits, and pet food as youth-oriented markets continue to stall.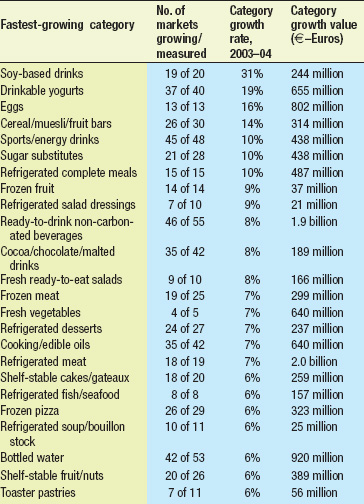 Health, convenience, and private label—in that order—were the three major drivers of the global food industry in 2004. ACNielsen (2004a) which monitored 89 food categories in 59 countries, reported that soy beverages and drinkable yogurts were the top two growth categories last year; they were also among the fastest-growing categories in a similar study in 2002 (Table 1). Six of the seven categories that enjoyed double-digit growth offered health or weight-loss benefits.
Worldwide consumer interest in high-protein/low-carb diets, particularly in more-developed markets, was also a major factor in category growth. Collectively, meat, fi sh, and poultry saw the fastest growth rate overall, while bread, pasta, cereal, and other non-sweet carbohydrates experienced the slowest gain (2%) in 2003–04. Chocolate, cocoa, and malted drinks are currently being promoted in Japan as healthy because of their antioxidant/polyphenol content—sales skyrocketed 14% in Japan and 8% worldwide.
Five fruit and vegetable categories—frozen fruit, refrigerated salad dressing, fresh ready-to-eat (RTE) salads, fresh vegetables, and shelf-stable nuts and fruits grew 6–9% worldwide. Other staples, including frozen meat and bottled water, have shown strong gains since 2002. Two cooking basics were also dramatically infl uenced by health: sugar substitutes grew 10% and cooking oils 7%, with a number of countries reporting the move toward healthier but higher-priced oils.
In the United States, consumers' efforts to manage weight, chronic conditions, and general well-being through diet drove sizeable food, drug, and mass merchandiser (FDMx) dollar sales gains—low-carb 144%, low-calorie/light 7.1%, and low-fat/lean 3.2% (IRI, 2005a). With 94% household penetration, the natural/ organic segment has become mainstream and is enjoying continued strong dollar growth at 9.5%. The more-specialized organic products subsegment grew 15.9% in dollar sales. While repeat rates for the segment as a whole were very high, repeat buying rates for organic products (65%) have room for improvement.
--- PAGE BREAK ---
1 Quick Fix
With women working on average 7 hours a day and men 8, one in fi ve adults bringing work home regularly, and women spending 3.5 hours a day on household chores, time pressures on food preparation continue to rise (BLS, 2005). Easy to prepare has a "strong infl uence" on 62% of Americans' food purchase decisions, re-sealable packaging 41%, freshness dating 35%, easy to clean-up 30%, easy to open 27%, and pre-cooked 16% (Yankelovich, 2004).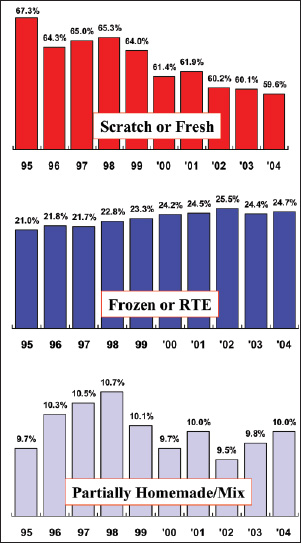 Similar to the past three years, 77% of all dinners were eaten in the home in 2004. Although meal preparers continue to simplify dinner preparation by limiting the number of side dishes and requiring less "assembling" of the main dish, 60% of all in-home dinners are still made fresh or from scratch, 25% contain a frozen or RTE item, and 10% are partially homemade or made from a mix (Fig. 1; NPD, 2005a).
Nearly half of consumers (49%) say they plan to cook more meals at home from scratch in 2005, 29% say they plan to eat more freshly prepared meals that just need to be heated, and 25% say they plan to cook more meals at home using prepared ingredients (Lempert, 2004a). But the dynamics of the convenience market are changing, and savvy marketers must follow suit.
As fresh tops the list of the most-desirable food attributes, fresh refrigerated entrees and meal components—which enjoyed a 23% jump in unit sales last year—have the greatest potential to penetrate the scratch/fresh cooking category. As healthy and diet trends continue to clash with convenient solutions, fresh, healthy, and convenient products such as Morey's Marinated Asian Sesame Ginger Shrimp, Chili Lime Tilapia and Teriyaki Salmon—complete with a pop-up timer—will likely be in high demand. IRI (2005a) reports mixed success for meal solutions in 2004, with shelf-stable dry dinner mixes hard hit by diet concerns falling 6.3% while refrigerated salads/cole slaw, which combine intrinsic health benefi ts and convenience, climbed 8.1%. Kraft Foods' Macaroni and Cheese with "double the calcium" is one clever way to add appeal.
Culinary approaches such as Smithfi eld Foods' refrigerated Flavore's Brand Southwestern Meatloaf in Chipotle Sauce and Healthy Choice's Grilled Basil or Tuscany Chicken will offer some stiff competition to today's comfort food brands. Marketers will need to fi nd more affordable and trendier products such as Stouffers' Grilled Lime Chicken Southwestern Dinners to attract young adults. And as home entertaining continues to grow, interest in fresh prepared convenient foods suited for dinner parties or family get-togethers—such as Jennie-O's Oven Ready Flavored Freezer to Oven frozen turkeys that cook right in the bag with pop-up timers—will accelerate (Sloan, 2005a).
Super-quick foods like Steak-umm Express Cheese Steaks with Cheese and Onions in microwavable pouches and Tyson's Ready-to-Serve Hickory Smoked Bacon are right on target. New aseptic microwavable pouches, such as those used by Rice-A-Roni's Express Heat & Serve Side Dishes, are ready in 90 seconds. Babylicious has introduced in the UK Babylicious snap-frozen baby food, displayed in its own free-standing freezer case. Products that keep perishable foods on hand, like Sabra's fresh-frozen 100% natural herbs in frozen cubes, and frozen unbreaded basics, like seafood/fi sh (up 25% in unit sales in 2004) and ground meat (up 14%), will enjoy brisk sales.
And as Boomers transition to "Empty Nesters," it will be important to monitor sales and optimal product mix in convenience meal categories targeting hectic families (e.g., frozen pizza and frozen breakfast foods), since they will face a drop in sales in the next fi ve years. Demand will surge again as the Echo Boomers increasingly start families, but the major impact will not be felt for 10 years (IRI, 2005b). Marketers need to focus on capturing a greater share of a smaller base of Gen X families and Boomers and Empty Nesters to keep sales strong.
At the same time, NPD (2005a) reports that Empty Nesters/Boomers increasingly prepare homemade meals with their newfound time. Since they were raised on convenience products, those products that make scratch cooking easier—such as Clearbrook Farms' Keylime Fruit-Tart ready-to-use tart fi lling and Pillsbury's new "unroll, fi ll and bake" pie crusts—will fi nd a receptive audience. And convenience products designed for "cooking for two"—such as Unilever's Bertolli Shrimp Scampi & Linguine and the company's other restaurant-quality skillet meals and General Mills' Cooking for Two dinner line—are perfectly positioned for the fi nancially well-off Empty Nesters.
--- PAGE BREAK ---
2 Drive & Go
While nearly all major categories of food preparation have remained virtually fl at, take-out at full-service restaurants has increased 8% annually for the past three years (Technomic, 2005a). And it's being driven by a lot more than time.
Life stresses and a new feeling of "entitlement"—particularly after working hard all day—are driving consumers to reward themselves with more upscale foods to bring home or by giving themselves permission to eat away from home. Just over four in ten (43%) of consumers agree, and 32% somewhat agree, that being overwhelmed by their everyday responsibilities has caused them to eat out or pick up food to take home, resulting in an average of 28 more restaurant visits per person per month among those who strongly agree; 19 more visits for those who somewhat agree.
And a big market it is. Take-out sales from full-service restaurants reached $14 billion in 2004, just shy of 10% of sales. More than half of Americans take advantage of full-service take-out or delivery during the week. Despite the higher cost, those under age 35 are the most frequent users—61% of them use full-service take-out at least once a week, compared to 54% among those age 35–54 and 45% among those age 55 and over. Consumers report that four out of fi ve of their most recent take-out occasions replaced meals they would have eaten at home, not in the restaurant. Pizza, burgers, and Chinese remain the top choices of all types of take-out foods, not just full-service (Technomic, 2005a). However, Asian foods, pizza, pasta, Mexican food, and shellfi sh were the "Top 5" most ordered for take-out across the casual dining channel last year (NPD, 2005b). Most important, more than half of patrons feel that full-service restaurants need to do more to improve their take-out offerings, including better packaging and higher-quality fi sh and seafood.
Casual-dining chains, such as Applebee's, Chili's, Outback Steakhouse, and Ruby Tuesday, have added or extended their "curbside to go" programs. NPD (2005a) reports that restaurant orders from a car grew from 17% of all restaurant meals in 1990 to 20% in 2004.
But a recent deluge of new healthy and upscale menu items are giving once-reluctant consumers permission to use fast-food restaurants, too. In the past two weeks alone, Subway introduced an Applewood Smoked Wild Alaskan Salmon sub in limited markets, Papa John's a Sicilian Meats Specialty Pizza, and Carl's Jr. a Spicy BBQ Six Dollar Burger paired with Texas Toothpicks, batter-fried slivers of onions and jalapeños. Innovative Jack-in-the-Box added Bruschetta Chicken and Classic Chicken Sandwiches on Italian-Style Ciabatta Bread, Wendy's a bold and spicy Chicken Temptations line, and Red Robin a new Turkey Club Burger. Chick-Fil-A unveiled The Trim Trio, a fresh fruit cup, Chargrilled Chicken Sandwich, and Dasani water; Luby's offered Sweet Pepper Salmon, Parmesan Crusted Tilapia, and Tempura Fried Fillet; and Red Lobster's low-carb, -calorie, and -fat Light House added Grilled Shrimp LobsterChops™ and Roasted Tilapia in a Bag.
And it's all paying off. McDonald's system-wide sales increased 12%, and Jack-in-the Box reported a 76% rise in 2nd-quarter net income. When consumers were asked to rank restaurants' in terms of their response to health, Subway ranked No. 1, with 95% of consumers satisfi ed with its healthy/nutritious offerings, followed by Applebee's with 90% satisfi ed, Boston Market 89%, Olive Garden 88%, and Outback 87% (Technomic, 2005b).
3 Inherently Healthy
Consumers have a new sound-and-simple health strategy—opting for natural goodness—and they're increasing consumption of products they consider inherently healthy, like fruits, vegetables, salads, grains, nuts, and yogurt.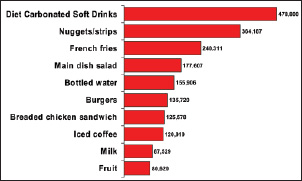 More than half of consumers plan to eat more fruits and vegetables in 2005, and apples, oranges, bananas, and broccoli top their list (PMA, 2005). Per-capita pineapple consumption grew 10% last year, fresh-cut veggies 12%, and fresh-cut fruit 15% (Pellegrini, 2005). Fruit is now America's second-favorite snack—making the "Top 10" list of the fastest-growing "most ordered" restaurant foods in 2004—and salads ranked fourth (Fig. 2; NPD, 2005a). With Wendy's new Fresh Fruit Bowl & Cup with dipping yogurt, McDonalds' Wrap it Up lettuce wraps, and major chains offering fruit substitutions for fries in kids' meals, the potential for produce is enormous (Sloan, 2005). USDA projects that fruits—especially citrus—vegetables and fi sh will be the fastest-growing food categories through 2020 (Blisard, 2004).
--- PAGE BREAK ---
Premium frozen fruits and dried fruits are also enjoying skyrocketing sales. Fruits are fi nding their way into baked goods such as Cape Cod Provisions Harvest Sweets Fruit Truffl es and Nantucket Off Shore's Simple Apple Martini drink mix. Classic fruits, such as Meyer lemon and Fuji apple, or those from an exotic location, such as Brazilian plum, are also increasing in popularity.
ACNielsen (2005b) reports that sales of pre-cut fresh salad mix reached $2.4 billion in supermarkets in 2004, up 7.5% last year; fresh herbs rose 12.7%, and—with dipping in mind—fresh caulifl ower jumped 12.5% and celery 7.4%. Birds Eye Foods' Table Toppers™—a complete line of all-natural, precleaned and -cut vegetables ranging from Fresh Sweet Mashed potatoes to crinkle-cut Squash Medley to Fresh Fries—will create a new generation of fresh-cut produce. The 80%-cooked French fry can be prepared in 3–4 minutes.
With Asian menu items growing 27% in the Top 200 chain restaurants last year (Technomic, 2004b), expect Asian varieties such as bok choy and Chinese long beans to move center stage. Interest in petite produce—such as fi ngerling potatoes, baby pineapples, and mini Bell peppers—will continue to grow with Frieda's new Waterbabies™ personal-sized watermelons.
New premium varieties of potatoes, such as Potandon/Green Giant Fresh's Klondike Rose Red Skin Golden Potatoes and microwave-ready Seven Minute Bakers, are bringing back this carb-clobbered category. Florida's farmers are banking on "spud light," a low-carb potato, while caulifl ower, parsnips, and ruta-baga have found a new role as a frequent substitute for mashed potatoes and spaghetti squash as a substitute for pasta noodles during the low-carb movement.
Packing a powerful nutrient and heart-health punch, sales of snack nuts, seeds, and "corn nuts" made the Top 10 list of the fastest-growing food categories across all channels and increased 26% over the past two years (IRI, 2004). Classic nut butters, toppers like Fishers Salad Buddies in Slivered Almond and other varieties and The Peanut Shop of Williamsburg's King-Sized Decadent Peanut Butter Cups have helped make nuts a favorite food. The Almond Board of California is promoting whole almonds as a take-along heart-healthy snack by packaging them in little "breath mint" tins for cardiologists to promote the heart-healthy quality of nuts to their patients.
4 Fancy That!
Everybody is after the premium foods market, which is projected to grow by 30% to $94 billion in 2008 (Datamonitor, 2004). For example, Bumble Bee is marketing Prime Fillet Albacore Steaks, Chicken of the Sea has Premium Crab, Carl's Jr. offers a Pastrami Burger, and Rubio's Fresh Mexican Grill serves Lobster, Shrimp, and Mahi Mahi Burritos.
And today you can't say fancy without saying fi sh, especially lobster and crab. Yankee Trader Seafood makes restaurant-style seafood easier than ever with its New England Scallop Cakes, Lobster Ravioli, Lobster Rangoon (crispy wonton appetizers fi lled with lobster and cream cheese), and a Home-Made Lobster Spread. Sea-Bear Smokehouse has put Raging River Ready-to-Eat Wild Salmon in a pouch and Smoked Pacifi c Oysters in square gourmet cans. Mas Portess has taken tuna upscale by packing its White Tuna in extra virgin olive oil.
Maple Leaf Farms' Rotisserie Style Roast Half Duck, Alexian's Duck Rillette, and patés for appetizers and Mountain States Rosen Co.'s Gourmet Premium, Restaurant-Style Lamb and Veal packaged dinners allow consumers to easily upgrade to more-exotic protein sources. VLR's Foods Corp.'s Jonathan T's Spanakopita Spinach and Cheese Filos and Good Wives, Inc.'s Thai Scallop Spring Sticks are making appetizers classier, too.
With the U.S. on the verge of becoming the world's largest consumer of wine (accounting for 25% of all wine by 2008) and champagne shipments to the U.S. up for the 3rd year in a row, it's not surprising that cooking with wine, using Todhunter Foods Monarch Wine Co.'s Culinary Wine Reductions and other specialty wines, are on the rise. Wine has found its way into crackers, such as American Vintage Crackers in Chianti, Oregano & Crushed Pepper and other fl avors. Starbucks is marketing Starbucks' Coffee Liqueur, and Voyant's Chai Cream Liqueur is a new Chai-fl avored spirit that fi ts with the tea trend.
--- PAGE BREAK ---
Products for cocktails are hot. Urban Accents offers Drink Rimming Kits in seven tasty fl avors, and Salem Baking Co. has Cocktail Companion savory biscuits in Sun Dried Tomato Pistachio and other fl avors. North Aire Market's Kitchen breaks new ground with its Dancer Cheese Ball Mixes. And now there's fre, a new line of alcohol-free "wines" from Sutter Home, in Chardonnay, Merlot, Zinfandel, and Brut versions.
Sales of natural cheese jumped 13.9% in 2004 (IRI, 2005a). Interest in homestead, farmstead, and artisan raw milk sheep and goat's cheeses continues to explode, and cheese toppers like Brickstone's Cheese Pleasers in Apricot and Jalapeño and Maple Syrup and Walnut versions are all the rage. Anything artisan is great, including Williams & Bennett Fine Foods' Artisan Oreos Drenched in Belgian Chocolate.
With the wholesale market for tea tripling in the last 15 years, tea innovation continues. Examples include Numi Artisan Teas (hand-sewn white, green, and black teas that unravel into breath-taking shapes when steeped); the Republic of Tea's Full-Leaf Tea Bags; and Te Teas' new whole-leaf Tea Sachets. Tea Tech has introduced Instant Green Tea, and Gavina's Old Havana Espresso also comes in pods.
Drinking chocolate is also moving center stage. Examples include Best Friends Cocoa's Fat Free Hot Cocoa and Schokinag Chocolate N. America's Schokinag European Drinking Chocolate. There's even Fudge Fatale's Dark Chocolate Espresso Sauce!
But even true gourmet cooks crave ease of use. Italian Foods Corp. offers dried Italian Risotto kits, Xcell International Corp. markets Crème Brulee Quick Mixes, and Sacla has Italia Olive & Tomato Spoon & Serve Sauce toppers.
5 Farm-Friendly
Foods that are closer to the farm—referred to by such terms as homestead and farmstead; organic and natural; sustainably grown, free range and grass fed; air-cooled poultry; grown from heirloom seeds; produced with respect for the land, animals, and workers—continue to capture premium food and beverage markets worldwide.
In the U.S., sales of organic foods grew 18% last year to reach $10.9 billion, with consumers increasingly opting for organic packaged foods over natural, according to the Natural Marketing Institute (NMI, 2005a). Just about half of consumers purchased organic foods within the past six months, unchanged from three years ago (FMI, 2004). Fruits and vegetables remain the largest category, with the most recent growth coming from the dairy case. Organic meats and poultry appear to have the most potential.
In Restaurants & Institutions' 2005 Organic Study, half of all restaurant operators said they use at least some organic products; in fi ne-dining restaurants, 69%. Among those who ordered organic, 85% ordered vegetables, 60% fruits, 43% meats, 42% grains/pasta, 40% cheese, 25% canned/frozen, and 23% baked goods (Perlick, 2005).
Perhaps most exciting is the introduction of natural chicken in four sandwiches and salads by Panera Bread in January. Panera positioned the products as a better-tasting bird and announced its intention to sell only natural chicken long-term. Chipotle Grill has also switched to natural beef and chicken in some areas and to free-range pork. Parent McDonald's has asked its suppliers to stop using antibiotics as growth promoters in their chicken. Arby's is also testing its All Chicken Chicken—poultry that has not been injected with water, salt, or phosphates—and plans to sell it nationwide by late 2005.
At the same time, ethical trade practices are getting increased attention. Fair-trade products in the UK grew 40% last year, overtaking Switzerland as the world's largest fair-trade market. Fair-trade coffee is the fastest-growing segment of the specialty coffee business in the U.S.
Chocolate is expected to be the next major U.S. Fair Trade category, following coffee and tea, with credible industry standards of certifi cation for cocoa farming expected to be completed by July 1, 2005. Rainforest Alliance–certifi ed Plantations Arriba Chocolate bar is among the fi rst fair-trade chocolate bars introduced into the U.S. Companies like Endangered Species Chocolate Co., which not only grows its organic chocolate responsibly but also contributes to protecting endangered species, with bars designed for rhino, wolf, and tiger protection, are setting the pace for things to come.
--- PAGE BREAK ---
6 Flavorizing
The trend to "layering" foods and fl avors is continuing and sending sales of specialty cheeses, condiments, fl avored basic ingredients, and ethnic foods soaring.
Coupled fl avors—especially fruit and tangy ones like The Perfect Pear's Pear Chipotle Grill Sauce and sweet and spicy combinations like Private Harvest's Mustard Maple and Mango Chili Finishing Sauces—exemplify the move to lighter and less burning but zesty fl avors. Exotic fruit fl avors—such as starfruit and dragonfruit; varietal fruit fl avors such as Meyer lemon, Kaffi r lime, and Fuji apple; and those with a naturally tart fl avor like black current and cranberry—continue to grow.
Aged vinegars, such as Sesame Balsamic Vinaigrette from World Art Foods, are creating another tartness trend, imparting fl avor in nontraditional places, such as in Salem Baking Co.'s Almond Fig and Balsamic Vinegar Biscuits. Mint is also providing unexpected fl avors to Sauces 'N Love Inc.'s Mint Pesto. With low-carb curbing America's sweet tooth, watch for spices reminiscent of baking—such as vanilla, ginger, and cinnamon—to get more attention.
With "true barbecue" menu items growing 13% in chain restaurants last year and at-home grilling and crock pot usage at an all-time high, savory, smoked, grilled meat, and hearty meatier fl avors just won't go away. McCormick (2005) includes annatto, sage, and "pickling spices" in its 2005 Flavor Forecast, and Packaged Facts (2005) adds even more chilies, mustard, turmeric, peppercorns, and traditional spice mixtures from India (garam marsala), North Africa (Chermoula), and Ethiopia (Berbere).
With interest in fi sh and seafood exploding, fi sh-specifi c condiments—such as Ashman Manufacturing Co.'s "fi sh coded" sauces Salmon Citrus Wasabi, Shrimp Scampi, and Mango Key Lime for Rockfi sh and Flounder—will be in high demand. Watch for wine-fl avored dressings, dessert sauces with Chardonnay, and spirit-spiced foods such as Robert Rothschild Farm's Vodka Pasta Sauce. Mustards are fl avored with cilantro or lemon grass; cardamom has become popular due to its use in chai; and "scents" like lavender and lemon, fresh herbs, and fl owers have become part of a "new age" fresh-fl avoring category.
Chefs are drizzling warm fl avored oils onto French fries, salads, and fi nished entrees and using specialty oils for dipping, such as Tulocay's and Co.'s Garlic Parmesan Dipping Oil with Capers. And, with the Olive Garden Italian Restaurants beginning to promote its oil selections, fl avored specialty oils will be a strong long-term trend. Look for foods and condiments to stay closer to home. American-grown vegetable relishes, such as corn, mushroom, and zucchini; and fruit chutneys are rising in popularity. Dave's Gourmet offers Red Heirloom and Golden Heirloom Pasta Sauce.
Sea salt is the focus of Vermont's Butter & Cheese Co.'s Vermont Cultured Butter with Sea Salt Crystals and Blue Crab Bay's Sea Salt Nuts.
With Asian menu offerings rising 27% in chain restaurants last year—"Chinese" the third-most-common take-out food overall, and 40% of young adults ranked it as their favorite fare—chefs will dive deeper into the cuisines of Viet Nam, Thailand, Indonesia, Korea, Japan, and the Polynesian Islands. Ken's Thai Peanut and Mandarin Orange Sesame Ginger sauces are indicative of the lighter Asian-style fl avors coming into vogue. Expect fi sh, oyster, hoisin, and plum sauces to grab the spotlight as trendy hot wasabi wanes.
At the same time, interest in everything Latin continues to grow, with the cuisines of Spain, Brazil, Argentina, Cuba, local Mexican regions, and, most recently, Central America moving center stage. Also, watch for Greek salads and gyros and calamari and bruschetta as they fl ood onto menus.
While the upscale culinary world is presently focused on the cuisines of India, Africa, Morocco, and the Middle East, it is unlikely that these cuisines will go mainstream any time soon. However, foods that can easily replace familiar fare are likely to crossover quickly. Examples include Indian street foods such as samosas; warming spices like curry and cardamon; Middle Eastern and Indian fl at breads; Indian doassas (crepe/pancake); and spreads such as hummus. Among the top sellers in the specialty channels are Indian and vegetarian frozen meals and sauces such as Sable & Rosenfeld's Coconut Curry and Cashew Chicken (Sloan 2004b).
But food marketers must be careful not to take a "one-size-fi ts-all" approach to fl avor. Packaged Facts (2005) reports that those age 25–44 are the only population segment that indexed signifi cantly higher for preferring spicy foods, while only those age 18–34 really prefer foreign foods. For a detailed culinary and fl avor trend analysis, see Sloan (2004a).
--- PAGE BREAK ---
7 Grazers
There's a race for grab-and-go value in fast foods. It's a veritable "Garden of Eatin'" for grab-and-go grazers, with Rubio's Fresh Mexican Grills' $1 Street Tacos, McDonalds' Dollar Menu, and Wendy's Super Value Menu; 7 million vending machines in the U.S., with 100 million users per day and now armed with healthier fare; and cookies and snacks packaged in even more cup-holder friendly forms, 100-calorie packs, and single-serve cake slices like Schwan's Bakery's Sweet Expressions Takeaway Treats.
Expect new fl avored waters from the major players to add another $800 million in sales by 2009 to the bottled water category (BMI, 2005). Carbonated waters, like Pepsi's Aquafi na Sparkling and FlavorSplash, and naturally fortifi ed mineral waters are also fl ooding onto markets. Ice is another emerging theme, refl ected in products like Le Nature's Ice Water with a Natural Squeeze of Lemon or the Spaghetti Factory's new Italian Ice Cocktails.
Energy drinks jumped another 56% in sales in the mass market last year, as new entries like JavaFit sought to combine high-energy, fat-burning, and gourmet coffee qualities (IRI, 2004). WP Beverage Partners' Wolfgang Puck brand is offering fl avored ready-to-drink coffee in self-heating cans. Sales of fl avored milk rose 6.8% last year. Bravo Foods' new Slammers in MilkyWay, 3 Musketeers, and Starburst Fruit & Crème Smoothie fl avors are another blockbuster entry. Soymilk sales fell 1% in mass channels last year.
IRI (2004) reported that low-carb hit the snack category hard during the past two years, with sales of cookies in all channels falling 5%, ice cream 5%, cold cereal 2%, and crackers 1%; bread/rolls stayed level, and salty snacks and chocolate were up only 2%. The only major snack segments posting real gains were mini sizes; reduced sugar, like Tastykake's Sensables sugar-free line and Kellogg's reduced-sugar ready-to-eat cereals; organic and natural snacks; premium specialty products; new forms, like Frito-Lay's Doritos Rollitos; and those that address gourmet nutrition—smaller but satisfying portions of higher-quality treats, like Pepperidge Farms' Sugar-free Milano Cookies. Diet candy jumped 62% in sales last year while nutrition bars climbed another 13%.
Mintel (2004) projected that sales of standard cookies will fall 24% by 2009. At the same time, fi nding a welcome market are premium products like Moravian's Cranberry Orange and Black Walnut Cookies, Elsa's Story Designers Collection of Brown Sugared Butter Cookies, and premium convenience products like North Siare Market's Mousse Mixes that make diffi cult chores easier.
Healthy gourmet versions of crackers, like Venus Wafers' 8 Grain Crackers with no trans fats and Wildly Delicious Fine Foods' Bloody Mary/Caesar Cocktail Biscuits, are right on target. And even though the number of households with kids is falling, health-oriented fun snacks for kids, like "Baked not Fried" Chex Mix for Kids, will be well received.
Other important directions are frozen appetizers, like Schwan's Red Baron Stuffed Pizza Slices; Sargento's Cheese Dips with Cheddar Cheese and Buttery Pretzels; Tyson's Ticklers Chicken Skewers for foodservice; Pizza Hut's Dippin' Strips Pizza; and Hye Roller's Hye Quality Soft Cracker Bread for roll-ups and wrap-ups. And La Bruite's new self-heating meals, offered in a variety of fl avors, including Beef Stew with Vegetables, are kosher, single-portion meals that can go anywhere.
8 Low, No, and Not-so-Much-of
As Americans concoct their own low-carb lifestyles and interest in low-carb dieting continues to wane, it's not surprising that they have returned to watching their fat and calorie intakes (Sloan, 2005). NMI (2005b) reports that 71% of consumers most frequently check the label for fat, 70% calories, 57% sugar, 45% sodium, 40% total carbs, 30% fi ber, 25% trans fat, and 25% vitamins/minerals. FMI (2004) said that 63% of shoppers in 2004 purchased products promoted as low-fat—once again the most infl uential food label claim—55% low in saturated fat, 52% low-calorie, 48% low-sodium, and 40% low-carb.
--- PAGE BREAK ---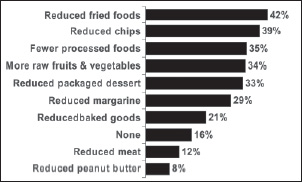 With mandatory trans fat labeling on its way, new Dietary Guidelines for Americans, and 77% of U.S. households trying to prevent heart disease or cancer, it's not surprising that marketers are moving quickly to develop trans-free products. ACNielsen (2004c) reports that sales of U.S. products bearing a "no trans fat" claim totaled $6.4 billion in 2004, up from $4.8 billion in 2000; appearing in 133 of the 635 categories ACNielsen monitors. Eating less fried products and high-trans chips are the top consumer strategies for cutting trans fats from foods (Fig. 3; Hartman, 2004).  
Frito-Lay has removed trans fats from all its snack products; Kraft Foods from Triscuits and Oreos; Campbell Soup Co. from its Goldfi sh and SpaghettiOs; and Gorton from all of its frozen seafood products. JM Smucker Co. has developed Crisco shortening with "0" trans fats; Wise is offering chips with 70% less fat and 0 trans fat; and Unilever markets trans-free Promise Margarine. Au Bon Pain has added more sandwiches to its trans-fat-free line, and Wilbur Candy Co. has launched Zero Trans Cinnamon Drops.  
At the same time, Heinz's Weight Watchers has introduced new breads, cereals, chocolate candies, ice cream treats, muffi ns, and snack cakes; Lean Cuisine has introduced low-calorie frozen soups; and Hershey plans to retool its line of sugar-free products with more fi ber and a different taste in 2005. well-positioned for long-term growth are low-calorie and light juices, like Tropicana's Light 'n Healthy, which just sported Weight Watcher Points, and Coca-Cola Co.'s Minute Maid Light; light cheeses, like Laughing Cow's Light Creamy Swiss Bites; and 8th Continent's Light soymilk.
With a tripling of high blood pressure in children over the past 10 years and more than 100 million American adults affected by hypertension or pre-hypertension, salt and sodium content are back in the hot seat. The Center for Science in the Public Interest's recent suit to force the Food and Drug Administration to regulate salt content is drawing unprecedented media attention to the issue.
With 19% of consumers reporting that a household member is allergic to milk, 16% seafood or tree nuts, 15% peanuts, 14% wheat, 8% egg, and 6% soy or fi sh, and with new regulations for mandatory allergen labeling, products such as Ian's Chicken Nuggets, Fish Sticks, and Alphatots are already carrying allergen-free claims (Lempert, 2004b). IRI (2005a) reports that 4.2% of consumers are on a food allergy diet compared to 17.6% on low-fat, 13.0% low-salt, 12.8% low-sugar, 11.8 low-carb, and 10.8% low-calorie. Caffeine, candy, sugary foods, soda, high-fat foods, artifi cial sweeteners, and high-fructose corn syrup top the list of foods that moms are trying to restrict their children from eating (MSI, 2003a).
9 Do-It-Yourself Doctoring
Last year, 65% of grocery shoppers tried to manage or treat a condition through diet, and heart concerns were the focus of their efforts for 72% (FMI, 2004). More important, 65% of the shoppers addressing heart health were attempting to treat both high blood pressure and high cholesterol. With FDA's approved heart-health claims for whole grains and soy protein and qualifi ed health claims for omega-3 fatty acids, monounsaturated oils such as olive oil, and nuts—and a new dietary guidance message from FDA on bean packages, saying that "diets including beans may reduce your risk of heart disease and certain cancers"—interest in heart-healthy products continues to climb.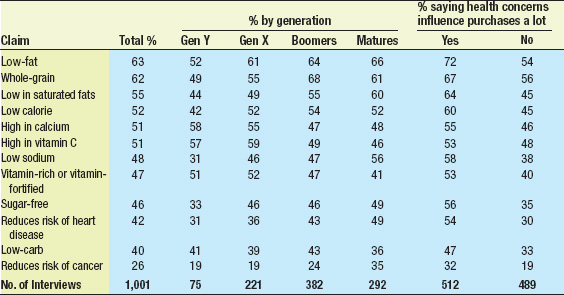 Next to low fat, whole grain is now the second most infl uential food label claim, positively infl uencing 62% of primary grocery shoppers (Table 2; FMI, 2004). Of those very concerned about cholesterol levels, 60% consume whole-grain breads regularly, 31% olive oil, 44% oat cereals, 30% other whole grains, 10% soymilk, and 9% oat bran (MSI, 2003b).
General Mills solidifi ed its seriousness about health by making all of its Big G cereals from whole grains. Sara Lee has created premium products in the bread aisle with its Heart-Healthy loaves; Interstate Bakeries, the maker of Wonder Bread, markets its whole-grain Baker's Inn line; and Pepperidge Farm's offers 100% Whole Wheat English Muffi ns. Other important whole-grain bakery products include EarthGrains' Extra Fiber bread and Brownberry's Natural Oatmeal and 12 Grain Breads.
--- PAGE BREAK ---
Monterey Gourmet Foods introduced a fresh whole-wheat pasta line, including tortellini and ravioli; Pizza Pizza Restaurants is offering a new pizza crust with whole-wheat multigrain dough containing omega-3s; and Noodles and Co. added whole-grain fettuccine to its menu.
With certain whey peptides playing a new role in blood pressure–reducing beverages in Europe and with the positive role of dairy foods in weight reduction becoming clearer, yogurt and other dairy products are quickly grabbing the spotlight from whole grains (Sloan, 2004c).
General Mills' Yoplait Healthy Heart is the fi rst cholesterol-lowering yogurt with plant sterols for U.S. consumers, while the traditional products sport a weight-control claim. Emmi Cheese has also introduced MiniCol, a cheese alternative clinically proven to lower cholesterol that can be used like cheese because of its excellent meltability. Kellogg's Smart Start breakfast cereal is making a powerful claim of "lowers both blood pressure and cholesterol." Quaker Oats' Take Heart Instant Oatmeal also helps to lower cholesterol and manage hypertension, with 50% more soluble fi ber from whole-grain oats to help lower cholesterol and enough potassium to reduce the risk of blood pressure; B vitamins plus antioxidant vitamins E and C are also added. In Spain and Portugal, Valio Ltd. markets a functional dairy drink—Evolus—that claims to lower blood pressure via bioactive peptides and minerals.
Chocolate and Mars' heart-healthy Cocoa Via candy bars and chews—which contain at least 100 mg of cocoa fl avanols—are being sold in the U.S. via the Internet. Frito-Lay's Heartzels pretzels are another heart-healthy snack. Martek signed a DHA license with Kellogg to develop DHA-containing foods. The Centers for Disease Control and Prevention launched a new folic acid promotion program. Willamette Valley Vineyards has asked for the fi rst federal government approval of resveratrol as an antioxidant in wine. McNeil Nutraceuticals' Calcimilk™ has twice the calcium of regular milk, and Viactiv™ calcium chew now comes in a multi-vitamin variety.
At the same time, products to help manage blood sugar, such as LowCarb Specialties, Inc.'s ChocoPerfection, continue to come onto the market (Sloan, 2005). Nutrition 21, the makers of chromium-based ingredients, which have been associated with a positive role in diabetes, insulin resistance, weight loss, and, perhaps, heart disease, reported a 12.8% sales increase in 2004.
10 Global Gangbusters
It's getting to be an even smaller world out there, with many of the same issues and opportunities creating enormous multinational markets in both the traditional food and beverage and functional food arenas.
Convenience and ready meals continue to accelerate as mega trends worldwide, and rank second only to sauces and condiments in terms of new global product introductions in 2004, according to Innova (2004a). While 22% of new ready meals/meal components were launched in the U.S., 12% were marketed in Japan and 11% in the UK. The big difference is that fresh chilled ready-to-eat products—still emerging in the U.S.—dominate the UK market, making up 25% of the food market there, excluding beverages, in 2003. Health and time are now the major market drivers, with 50% of British consumers eating their main meal alone and one-person units making up 39% of all British households (Innova, 2004b). Leggo's Pasta meals from Simplot Australia provide premium shelf-stable Italian meals ready in the microwave in just two minutes (Innova, 2004c).
In Europe, more and more products are being sold in squeezable pouch format—fl exipacks with reclosable lids—that fi t easily into a pocket, handbag, or sports bag (Innova, 2004d). Coolish from Lotte in Japan is packaged in a similar pouch and has been advertised as "ice cream that you drink," allowing the product to be eaten at times when ice cream would normally not be consumed.
And what about take-out and fast foods around the world? Nine of the top 10 "fast-food/take-out" markets are Southeast Asia—led by Hong Kong, Malaysia, the Philippines, and Singapore—where more than half of consumers eat take-away at least once a week, compared to 41% in the U.S., although much of it in Southeast Asia is from local vendors (ACNielsen, 2004d). Although 20% consumers say they are eating breakfast away from home more often in the U.S., 27% think that breakfast food at fast-food restaurants is not appealing and 26% avoid breakfast foods they think are unhealthy or too high in calories (Technomic, 2005c). A recent survey in the UK found that 78% of British consumers didn't actually enjoy the fi rst meal of the day, indicating a huge potential for breakfast menu innovation worldwide.
--- PAGE BREAK ---
Belgian dairy company Inex has taken an innovative step by introducing boxed packaging for milk. It consists of a bag in an eye-catching box which looks like a Holstein cow with a spout as the udder, and it fi ts nicely on a refrigerator shelf.
Droplets—gel-wrapped liquids—are another new European trend (Innova, 2005), and Wrigley's soon-to-be launched Airwaves Drops uses this technology to provide a two-phase breath-freshening effect. Consumer interest in dissolvable strips continues to be strong, with popular strips providing vitamin C, multivitamins, and most recently, weight-control agents such as Trim Strips. Bel Maredsous, Belgium, offers the fi rst pasteurized cow's-milk cheese—Fagotin, sold in a hand-held 180-g baton—to eat as you go (Innova, 2004b). Unilever Best Foods Deutschland is causing a revolution in the dry mix market. Its Modamin Pancake Mix is sold dry with a shaker bottle, for consumers to just add milk, shake, and pour (Innova, 2004b).
Heart disease and cancer appear at or near the top of the most common health concerns from China and Oceania to Europe and Latin America—followed by some combination of tiredness, stress, overweight, allergies, eye health, and Alzheimer's (HealthFocus, 2004). The World Health Organization reports that more than 1.3 billion people are overweight or obese worldwide, 600 million have high blood pressure, and 150 million have diabetes and that more people in India and China have coronary heart disease than all of the other developed countries combined (WHO, 2004).
Asia is becoming obsessed with weight loss, even though people there are not as overweight on average as other cultures. ACNeilsen (2004e) reported that more than two-thirds of Asia-Pacifi c consumers are currently trying to lose weight, when only half say they're overweight—in Korea, for example, 91% of people said they tried to lose weight last year but only 51% thought they were overweight.
McNeil Nutritionals has launched Benecol Smart Chews in Europe (Innova, 2004e). Le Campina has launched a new meat alternative, Valess, in Dutch supermarkets. The product is prepared from low-fat milk and natural fi ber and has a fi rm texture similar to that of meat or chicken. In the UK, Prospect Beverages Ltd.'s Vitsmart drinks designed to combat the junk food culture with vitamins, minerals, and essential extracts come in Defense, Regenerate, Relax, and Calorie Controller versions. Healthia Swiss has launched a fi ber-based, reduced-calorie sweetener for baking, cooking, and table use with 60% less calories; one sachet contains 1.4 g of Orafti's Raftilose Synergy 1 ingredient. And Unilever has taken a bold move toward improving health in the Netherlands to promote its cholesterol-lowering Becel Pro Activ products, which will feature stamps that may be redeemed at the end of the year for a maximum of 40 Euros.
With health in the forefront and the population aging, it's clear that things in the food world will never be the same. Multinational marketers like Nestlé have announced plans to tailor diets to the health needs of each individual. Kraft and PepsiCo are curtailing their advertising to kids and putting "healthful" symbols on their packs. and Kellogg is pioneering innovative free programs to help Americans check their health. Subway can now help consumers formulate their menu selections based on the Dietary Guidelines. Whole Foods Market has gone "gluten-free." And UK consumers are choosing less salt.
And dramatically different demographics will change product needs, too. Kid-targeted food introductions have already fallen by more than 10%; Boomers are cooking again; and on-the-go healthy and convenient foods will continue to dominate consumer demand worldwide.
by A. Elizabeth Sloan,
Contributing Editor