A line of whole-grain breads fortified with vitamin D, folic acid, and fiber was recently launched in United States groceries by Sara Lee Bakery Group, Inc., St. Louis, Mo., a leading producer of packaged bakery products in fresh, refrigerated, and frozen bakery segments. Marketed under the name Earth Grains Extra Fiber, the breads were developed to provide a source of important nutrients that Americans are underconsuming, while delivering a good taste. Three varieties are available: 100% Whole Wheat, 100% Whole Wheat Made with Honey, and 100% Multi-Grain.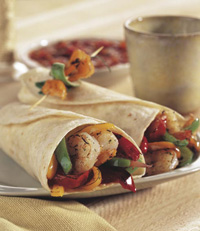 "These new breads, and more to come soon, were developed based on nutrition research and science to address consumer needs as outlined by the 2005 U.S. Dietary Guidelines Advisory Committee and other experts," said Frances Coletta, Sara Lee's Director of Product Nutrition. "It is more important than ever for bread companies to play a role in helping consumers overcome deficiencies in their diets. Bread has always been the foundation of a healthy diet, and by offering products that have multiple nutritional benefits without sacrificing taste, we can give people the food choices they require in order to heed the advice of nutrition experts."
According to the company, two slices of these breads (3 oz of whole-grain food) are said to provide 35% of the recommended daily value of fiber; 30%, calcium; 20%, vitamin D; and 20%, folic acid.
Sara Lee's new bread line will probably be followed by a wide range of other such products from food manufacturers, as they anticipate and/or respond to the upcoming revision of the Dietary Guidelines for Americans by the U.S. Depts. of Agriculture and Health and Human Services, and the modification of the Food Guide Pyramid.
In addition to new bread products appearing in the marketplace, another area worth watching will be tortilla products. According to the Tortilla Industry Association (TIA), among Americans in 2002, tortillas trailed white bread by only 2% as the most popular bread. The growth of tortillas continues at more than 9% per year. For 2004, it is estimated that U.S. tortilla sales will total $6 billion.
Significantly, while the consumption of tortillas may be fueled in part by Hispanic consumers, their growth is not limited to Mexican food entrees; rather, they have found their place in the mainstream by becoming an alternative to bread in "wrap" sandwiches. At the 2004 Joint Meeting with the American Association of Cereal Chemists, TIA released a new study which finds tortilla foodservice usage on the rise. According to the study, 62% of both commercial and noncommercial businesses reported using prepared tortilla products in their operations. Wraps and soft tacos were reported to be the most popular flour tortillas and enchiladas the most popular corn tortillas. Low-carbohydrate tortilla wraps, flavored wraps, and sandwich wraps topped the list of new tortilla products recently adopted by foodservice operators.
--- PAGE BREAK ---
When looking at trends related to breads, tortillas, and other bakery products, inevitably the term "low carb" has to be stirred into the mix. As other Ingredients sections have noted, that term is somewhat restricting, suggesting a craze that pundits have argued will eventually run out of gas. I think that there are already clear signs though that the term "low carb" may be, as one supplier put it, "morphing" into a more overall healthier message, one that implies a number of areas such as obesity, blood sugar levels, diabetes, digestive health, energy intake, and so on. If this is the case, then low carb, as it loses its restricting tag name, will have a major influence on the reformulation of foods, including breads and other baked goods.
This month's Ingredients section will be focusing on several innovative ingredient developments that are playing an important role in the formulating of dough-based products. More than anything else, I think, these developments are reflecting the changing needs (or kneads, excuse the pun) of consumers—as well as manufacturers—and the attempts by ingredient suppliers to meet these evolving needs in the bakery area, especially in breads and tortillas.
Let's now look at some of the functionality benefits that these ingredients offer:
Whole grain flour becomes more "refined."A whole-grain flour which combines the nutritional benefits of whole grains with the taste, texture, and finished baked quality of refined flour was introduced at the International Baking Industry Expo by ConAgra Food Ingredients, P.O. Box 3500, Omaha, NE 68103-0500 (phone 800-537-4819; www.conagrafoodingredients.com).
Called Ultragrain™ White Whole Wheat, the ingredient is produced by the company's Ultrafine™ milling technology applied to Platte White Wheat, a grain which has a mild, sweet taste. The resulting flour reportedly has a uniform particle size comparable to that of refined flour; a reduced visibility of whole-grain bran specks, often noticed in other whole-wheat flours; and a lighter color and a softer, smoother texture than other whole-wheat flours. While delivering the texture and sensory properties of refined white flours, the milling technique is also said to retain all of the important whole-grain nutrients.
"This is the first time a sweeter, milder whole-grain wheat has been ground to the consistency of white flours," said Greg Heckman, President and Chief Operating Officer. "Ultragrain is an ideal ingredient for a number of different foods that generally use refined flour—from breads and bagels to pasta and pizza dough and even pastries. Ultragrain provides whole-grain nutrition without changing the texture or sacrificing the taste of the foods."
This ingredient can "deliver the best of both worlds," noted Heckman. It can provide the freshness, taste, and smoother mouthfeel associated with refined flour products while offering all the nutritional advantages of whole-grain flours: increased phytonutrients, lower starch content, and four to five times the levels of nutrients, including minerals, B-vitamins, and fiber, found in refined flour.
These properties can help this flour appeal to several markets:
--- PAGE BREAK ---
For example, according to a recent Gallup poll, a majority of mothers surveyed said their kids preferred white bread to whole-wheat or wheat bread. The development of this new ingredient can provide the taste and texture that children prefer while providing enhanced nutritional value.
The ingredient may also appeal to adults who, though they recognize the benefits of whole grains, might not prefer the taste and texture of whole grains or may have been limiting their overall intake of carbohydrates. The National Bread Leadership Council recently reported that 40% of people surveyed are eating less bread than one year ago. Such an ingredient development may help boost the consumption of bread.
Since whole wheat and multigrain product categories have seen dramatic growth over the past year, as noted by Information Resources, Inc., this ingredient development can also appeal to those consumers who already favor those kinds of grain products. Furthermore, its use can spur other product developments in these areas.
The new flours are available in a variety of specially selected wheats, including platte white wheat, durum, hard wheat, soft wheat, and spring wheat.
The ingredients declaration on the package reads whole wheat flour.
Name change reflects future directions. As of January 1, 2005, the Food Products Div. of National Starch and Chemical Co. has changed its name and identity to more accurately reflect its offerings to the packaged and prepared foods industry. The food business of the company will now be known as National Starch Food Innovation—the name reflecting both the equity the company has built in the industry and its future direction and commitment to its customers.
Interestingly, from this article's perspective, the name change is extremely timely because many of the company's new developments have a relevance in the bread and baked goods area, and these developments reflect how suppliers, such as National Starch, are trying to meeting the changing needs of their customers and the consumers who buy the finished products.
For example, Hi-maize resistant starches (formerly called Novelose®.) earned the company IFT's 2003 Food Technology Industrial Achievement Award. Derived from high-amylose corn, these starches can increase the fiber content of breads, baked goods, pizza, pasta, and other grain-based low- and moderate-moisture products without compromising taste or texture.
--- PAGE BREAK ---
As an insoluble fiber and nondigestible carbohydrate, the natural, granular resistant starch offers a new ingredient option for replacing rapidly digestible carbohydrates, such as flour, and turning processed high-glycemic foods into moderate- and low-glycemic alternatives. Numerous scientific studies have shown that this ingredient can promote digestive and bowel health; help manage weight, energy, and blood sugar; and provide other health benefits. The ingredient is classified as a type-2 resistant starch (RS2), and because it is not chemically modified it can be designated as "starch" on food labels.
A brochure, "Natural Hi-maize: The Vital Fiber," is available from the company, describing the functionality, health, and labeling benefits of the ingredient in a number of applications, including, of interest here, bread and baked goods. Within the past year, the ingredient reportedly has been formulated into many low-carbohydrate foods because of its ease of use, its natural identity, and its strong clinical support.
"While the industry continues to monitor the highly dynamic low-carb market growth prospects and sustainability, there appears to be one clear outcome already—this market phenomenon has increased consumers' awareness about the dramatic impact carbohydrates have on health and well-being," observed Jim Zallie, Senior Corporate Vice President, Natural Polymers Group. "There will be opportunities to leverage this higher awareness in the next generation of carbohydrate-rich foods that are better for you. Many of our customers already recognize that Hi-maize's proven health-related benefits open new possibilities beyond just 'high fiber' and low carb' and lead to a new class of better-for-you-carbs."
In the 2004 December Ingredients section, I discussed an encapsulated fish oil that was the result of an alliance between National Starch and Omega Protein Corp. This free-flowing dry powder, called Novomega, will offer health and functionality benefits in a number of food products, including the bakery area. More information about the novel technology that is used to produce this ingredient will be available in future issues of Food Technology. Suffice to say that this new development reflects the innovation in technology and product formulation that the company's new name is referring to.
For more information about these developments, write to National Starch Food Innovation, 10 Finderne Ave., Bridgewater, NJ 08807 (phone 800-787-4992; fax 609-409-5699; fax 609-409-5699; www.foodinnovation.com).
Techniques improve quality and shelf life of tortillas. New methods for improving the quality of tortillas and increasing their shelf life are being developed by food researchers at Texas A&M University, College Station, Tex.
The researchers, led by Ralph Waniska, Professor of Soil and Crop Sciences at the university, have discovered several innovative techniques which can lead to the production of tortillas with enhanced color, size, consistency, nutrition, and shelf life. For example, tortillas high in fiber, made with no trans fatty acids, or low in carbohydrates are all possible while maintaining the fundamental characteristics of the tortilla, such as stability, diameter, opacity, and flavor.
--- PAGE BREAK ---
In particular, Waniska has been studying ways to keep unrefrigerated flour tortillas fresh for more than a month. By changing the structure during baking, he believes he can greatly improve on the two-week shelf life of typical flour tortillas. The techniques are unrelated to the chemical preservatives already used to curb microbial growth and prevent tortillas from spoiling; rather, they are designed to alter the structure of tortillas to make them less susceptible to turning stale.
One technique that the researchers developed involved a dough conditioner that improved retention of air bubbles during processing. It was determined that by lowering the amount of sodium bicarbonate, the tortilla would exhibit a longer shelf life.
A second technique uses certain wheat-flour proteins to improve the overall quality of the tortilla. This method involves the novel application of a common enzyme used to produce high fructose corn syrup. The enzyme is said to make proteins in tortilla dough function more effectively, helping the structure hold up longer. Like the first technique, this one reportedly improves shelf life by 50% without sacrificing quality. Furthermore, combining the wheat flour proteins and oxidizing agents allowed once-unsuitable flours to be used in tortilla production.
With a third technique, the researchers found that the timing of the functionality of sodium bicarbonate in tortillas permitted more retention of air bubbles, and the tortillas exhibited longer shelf life.
According to Waniska, any of the three techniques alone can make fresh flour tortillas last up to 40 days, and he and the other researchers are currently studying the effects of combining the techniques. He is also involved in a separate collaboration with scientists from Iowa State University to produce flour tortillas that can last four years without refrigeration, while retaining fresh-like rollability and taste.
The above research is said to have interested the National Aeronautics and Space Administration, which would like to pack longer-lasting tortillas for lengthy voyages. NASA has been sending flour tortillas into space since the first days of the Space Shuttle in the early 1980s, primarily because they produce few crumbs to float around in zero gravity and get sucked into ventilators and other systems. Also, one would think that the military might be interested in such innovations.
While consumers generally prefer a fresher tortilla, the techniques may still have an impact on the broader marketplace because they do not compromise the characteristics of the tortilla. Furthermore, with the growing popularity of the tortilla, research can lead to customized solutions, such as the already mentioned no-trans tortillas or fiber-enriched products. And, as Waniska puts it, "there is always room for improvement."
The Texas A&M System Technology Licensing Office is currently seeking one or more industrial partners to facilitate commercialization of these technologies. For more information, phone 979-847-8682 or email [email protected].
--- PAGE BREAK ---
New enzyme improves flour. A new enzyme which is not affected by the inhibitors naturally present in wheat flour has been developed by Danisco USA, Inc., P.O. Box 26, New Century, KS 66031-1113 (phone 913-764-8100; fax 913-764-5407; www.danisco.com). Marketed under the name Grindamyl®. PowerBake, the enzyme reportedly makes the baking process easier and allows bread of high and uniform quality to be produced.
Industrial bread production requires high and standardized flour quality to ensure uniform quality. Because of factors such as different weather and growing conditions, the composition of flour varies from region to region and from year to year. To standardize the varying qualities and, at the same time, ensure high-quality flour, the enzyme xylanase is often added to the flour. The natural presence in the flour of the so-called xylanase inhibitors has limited or undermined the positive effect of the enzymes. Because the new enzyme development is not affected by the natural content of inhibitors in wheat flour, this problem has been solved.
The enzyme is said to provide a number of functionality benefits, including increased dough strength; improved processing tolerance; minimized weakness caused by mechanical abuse; increased bread volume; excellent appearance such as shape and a bold split; and improved product quality.
To meet a variety of requirements, it is available in such forms as microgranulated powder and easy-to-scale tablets, and it can be combined with oxidants such as ascorbic acid and Azodicarbonamide (ADA) or blended with diacetyl tartaric acid ester of monoglyceride (DATEM) for superior dough strength.
A new product, PowerBake Advance, is also available, which reportedly offers improved power over other strengthening systems.
In a related story, an enzyme called Grindamyl™ PowerSoft was developed for cake production by the company. Launched at the 2004 International Baking Expo, the enzyme is said to double the shelf life of cakes, allowing them to keep their soft mouthfeel without becoming dry or sticky. The use of enzymes to extend shelf life in bakery applications that contain higher levels of sugar and fat has traditionally been less effective than in bread and bun applications. This enzyme, however, is said to provide excellent crumb softness and resiliency without imparting gumminess or an overly moist texture. It is easy to formulate into a variety of sweet-good applications because of its flexibility in use level, whereas other amylases may require exact use level.
Emulsifiers in stable alpha-gel form offer breads improved functionality. Stable alpha-gel emulsifiers for use in breads and bakery products are available from Aromatic Inc., 120 Post Rd. West, Ste. 302, Westport, CT 06880 (phone 203-341-0400; fax 203-341-0002; www.aromatic.se).
Most commercial emulsifiers exist in beta crystal form which is very stable and moderately functional. When an emulsifier in a beta crystalline form is heated to a specified temperature in the presence of water, the hydrocarbons melt/soften and water penetrates between the polar head groups of the surfactant to form an alpha crystalline "liquid crystal" structure. On cooling below the specified temperature, the hydrocarbon chains form a regular lattice-like structure—an alpha gel—of alternating surfactant and water layers.
--- PAGE BREAK ---
Traditionally, this alpha gel has been found to be less stable than the beta crystal but much more functional. Aromatic reportedly has developed techniques to convert the emulsifier to the alpha crystalline form under controlled conditions and to stabilize the crystal form. Its technologies are said to effectively stabilize emulsifiers in the active alpha crystalline gel form for at least 12 months.
One of the company's major products is Aromatic 305, a synergistic blend of molecular distilled, saturated monoglycerides of fatty acids and DATEM. The emulsifier blend in a stable alpha gel form has the consistency of a creamy white soft paste, and is said to provide superior dough conditioning and shelf-extension properties.The functionality of the DATEM component is said to be optimized in the stable alpha gel form.
The product offers a variety of benefits in the formulation of yeast-raised baked goods. It is an excellent anti-staling agent, since the monoglyceride component in the alpha phase has ability to inhibit starch retrogradation, leading to superior softness and freshness. It also has a unique ability to hold moisture in the water-emulsifier bi-layer structure, which further helps extend the shelf life of bread and other yeast-raised goods. In breads such as whole-wheat or high-fiber, it helps improve dough-handling characteristics, as well as gives superior gluten complexing, resulting in breads having better volume and texture.
Frozen doughs are gaining increasing usage in in-store baking. However, the freezing and thawing of free water has been reported to damage the protein and starch components as well as the yeast. Frozen doughs may have reduced gas formation and gas retention potential. In some instances, use of less dough water has been recommended to minimize free water. This can adversely affect rheology and machinability of the dough. The emulsifier in the alpha gel state can overcome these functionality problems. It inhibits water migration, improves water distribution in the dough, and improves the stability of frozen dough.
According to the manufacturer, the product is recommended for use in white bread and buns at a level of 0.5%–1.0% based on the weight of flour. It may be used in low-carbohydrate, whole-wheat, and high-fiber bread as well as sweet yeast-raised goods at a level of 0.75%–1.25% based on the weight of flour.
At the 2004 AACC/TIA Joint Meeting, I was able to have an informal talk with Roy Silva, President of Aromatic, who explained the properties of alpha gels, and how they might be used to benefit low-carb breads, whole-wheat breads, high-fiber breads, and so on. He also noted some of the commercial products that are using the alpha gels, as well as a major fast-food operator who uses the ingredient in its buns.
--- PAGE BREAK ---
Wheat-based ingredients improve texture of doughs. A line of wheat protein isolates for enhancing taste and texture of bread, tortillas, baked goods, thin-crust pizzas, weak flours, and other products has been launched under the name Prolite by Archer Daniels Midland Co., 4666 Faries Pkwy., Decatur, IL 62526 (phone 217-424-5200; fax 217-451-2233; www.admworld.com).
According to the company, the wheat-based ingredients may be used to stimulate dough relaxation without the use of enzymes; improve sheeting tolerance in weak flours; enhance freeze-thaw stability by controlling water migration; replace egg whites; extend shelf life; and provide reduced water absorption compared to vital wheat gluten.
The addition of wheat protein isolates can help improve the taste, texture, and quality of frozen and par-baked goods by developing a tight cell structure and forming a film that traps moisture, preventing migration during the harsh freeze cycle. Furthermore, of growing importance to the changing needs of food formulators, the functionality benefits they offer can help improve dough development in low-carbohydrate formulations. Traditionally, dough can be very stiff in these kinds of formulations as well as take a longer time to develop.
The new product line includes two specialty wheat protein isolates: Prolite 100 is designed to reduce mix times and increase dough extensibility in high-protein formulations. The product works very well in wheat-based formulations and maintains a clean flavor profile. Prolite 200 is a functional wheat protein that reportedly offers a "relaxed" vitality compared to traditional wheat gluten. This attribute is essential for developing the proper texture in high-protein formulations.
The wheat protein isolates are the newest additions to ADM's extensive line of protein ingredients, including textured vegetable protein, soy protein isolates, and soy protein concentrates.
White bread contains omega-3 fatty acids. A formula for white bread enriched with long-chain omega-3 fatty acids has been developed by Ocean Nutrition, 101 Research Dr., Dartmouth, Nova Scotia B2Y 4T6 Canada (phone 888-980-8889; www.ocean-nutrition.com). Containing 221 mg of the ingredient, the bread reportedly has no perceptible difference in taste, texture, or quality compared to the control. Depending on packaging, the bread has a shelf life of 5–10 days.
The bread is made with Omega-3 Powder, a fine, free-flowing, pale-cream-colored product that tolerates all processes, including high-shear mixing, proofing, baking, freezing, frying, and extrusion. A highly concentrated source of omega-3s, EPA and DHA, the ingredient consists of refined fish oil (anchovy, sardine, and mackeral), gelatin, sodium polyphosphate, sodium ascorbate, soybean and/or canola oil, natural flavor, tocopherols, and citric acid.
The bread—as well as other baked goods—can be made by replacing as little as 0.5% of flour with the powder or as high as 3% (based on flour weight). The manufacturer recommends pre-blending the powder with flour or other dry ingredient.
--- PAGE BREAK ---
Tapioca starch provides high fiber, reduces total net carbs. Resistant starches derived from tapioca were highlighted under the name ActiStar™ RT at the International Baking Industry Exposition 2004 by Cargill Food and Pharma Specialties, 15407 McGinty Rd. West, #46, Wayzata, MN 55391 (phone 319-399-6690; fax 319-399-6123; www.cargillfoods.com). Functioning as a replacement for flour with about 80% total dietary fiber, the ingredient is especially useful in reducing the total net carbs in typically high-carb foods such as breads and cereals.
"The baking industry has been hit particularly hard by the low-carb craze," noted company president, R. Creager Simpson. "We're excited about helping food formulators use ActiStar™ RT to improve current products and develop new ones that will satisfy consumers with lower net-carb products that also contain healthy levels of fiber."
The ingredient has a low water-holding capacity, permitting high levels of inclusion with few formulation changes and a non-gummy texture. Since tapioca is the blandest of all starches, it doesn't detract from the desired taste, texture, or appearance of finished products.
Also available is ActiStar™ RM (resistant maltodextrin) which promotes digestive health with 50% resistant starch without affecting the texture of baked goods. It has a very fine particle size and a pleasant, non-sandy mouthfeel, making healthy baked goods, such as cookies, muffins, and brownies, more palatible and appealing.
Encapsulation process helps spice up breads. Specialty breads containing a mix of spices are becoming increasingly popular. To meet this trend, encapsulated mixed spices for use in the formulation of specialty breads, biscuits, bagels, and muffins are available from Taste Tech Ltd., Wilverley Industrial Estate, 813/815 Bath Rd., Brislington, Bristol BS4 5NL, United Kingdom (phone +44 0 117 971 2719; fax +44 0 117 972 0052; www.tastetech.com). The range of mixed spices enables manufacturers to deliver individually tailored blends such as cinnamon, clove, and nutmeg.
The process works by microencapsulating the essential oils and oleoresin extracts of the spices within a microfilm of hardened vegetable oil, to create a free-flowing powder that can be mixed with other ingredients. The microencapsulation process allows manufacturers to mix ingredients that are normally incompatible. The controlled-release mechanism ensures that flavors are only released from the encapsulate when required, whether this is during processing, cooking, or eating.
Cinnamon, for example, forms part of a tasty mix for a bagel. However, when the yeast in the bagel is activated, the cinnamon is no longer compatible in the product, and can quickly retard yeast activity. The company's technology ensures total control over the time at which both the yeast and cinnamon are released.
According to Roger Sinton, Managing Director, the spices are up to seven times stronger than plated or ground equivalents, meaning less is required. The mixed spices will provide a valuable option for manufacturers seeking new or reformulated recipes for their breads and other baked goods.
--- PAGE BREAK ---
Bakery mixes are gluten free. Gluten-free bakery blends called Maizing™ have been developed by Corn Products, a business unit of Corn Products International, Inc., 9 Westbrook Corporate Center, Westchester, IL 60154 (phone 800-443-2746; fax 708-551-2700; www.cornproductsUS.com).
The bakery mixes, available in four versions, were originally produced for traditional Colombian pastries but can also be used for other fried and baked goods. Expandex™ modified starch, the main ingredient in three of the bakery mixes, reportedly helps create a moist and expanded crumb in final products. In gluten-free applications, the modified starch replaces nearly all the flour and enhances leavening agents. It also allows the structure to remain stable in the absence of gums.
The gluten-free bakery mixes are ready-to-use blends that can be used for a wide variety of applications. These blends complement various flavor/taste combinations and are easy to prepare.
At the 2004 IBIE, the company highlighted the bakery blends in several Colombian applications. For example, Gluten-Free Bakery Mix 163201, which produced an off-white, smooth, pliable dough with firm texture and buttery aroma, was used to create Buñuelos (a traditional fried Colombian cheese bread) as well as apple fritters, pizza crust, yeast dinner rolls, and muffins. Gluten-Free Bakery Mix 163202, which produced a light yellow, fluffy, airy dough with firm texture and buttery aroma, was used to formulate Almojabana (a traditional baked Colombian incheese bread). Gluten-Free Bakery Mix 163203, which produced a light-cream-colored, firm dough with soft texture and characteristic aroma, was used to make Pandebono (a traditional baked Colombian cheese bread).
Blend produces superior leavening. A sodium bicarbonate blend which reportedly provides better control of leavening of tortillas is available under the name Tortilla Blend™ from Church & Dwight Co., Inc., 469 N. Harrison St., Princeton, NJ 08543 (phone 800-221-0453; www.ahperformance.com).
Tortillas have traditionally been leavened with conventional baking powder, a premixed combination of sodium bicarbonate and acid salts that allows only limited control of leavening. This new blend of special sodium bicarbonate granulations can produce leavening reactions at different stages in the production process. It can be used in combination with conventional or innovative leavening acids.
In the first stage, some sodium bicarbonate is solubilized early for uniform gas cell distribution throughout the dough. In the next stage, more sodium bicarbonate is solubilized later within the dough prior to the press and oven, producing more gas cells that join existing cells. In the third stage, in the oven, complete solubility of the sodium bicarbonate occurs and all gas cells expand for optimally leavened tortillas.
Tortillas made with the blend are said to have improved height and overall volume; reduced translucency; soft, tender, bready texture; small, evenly distributed blisters; brown toast points; and good flavor and aroma.
--- PAGE BREAK ---
Polydextrose helps formulate low-carbohydrate tortillas. Polydextrose may be used to replace about 10% of the flour system in low-carbohydrate tortillas while providing many of its functional properties. Called Litesse®, the low-glycemic ingredient is manufactured by Danisco USA, Inc., 440 Saw Mill River Rd., Ardsley, NY 10502 (phone 913-764-8100; fax 914-674-6542; www.daniscosweeteners.com).
According to the company, the ingredient can be used effectively to develop tortilla-style flatbreads that have a reduced glycemic load and are lower in net carbohydrates. It has the benefit of providing only 1 kcal/g and adds fiber without affecting mouthfeel. It also helps with moisture retention and is easy to process. Tasty flour tortillas formulas made with the ingredient are available from the company. The formulas can also be modified for other flatbread applications.
Almond ingredients replace flour. Use of almond skins to replace flour in tortillas and other bakery applications was the subject of a poster delivered at the AACC meeting by the Almond Board of California, 1150 9th St., Ste. 1500, Modesta, CA 95354 (phone 209-549-8262; fax 209-549-8267; www.almondsarein.com). The incorporation of almond forms such as skins (bran) in bakery applications can help reduce carbohydrates and saturated fat while increasing the protein content. For example, a formulation of almond skins with almond flour can reportedly reduce wheat- or oat-based flour by 21% in a bakery application.
Almond skins are by-products of the blanching process and currently have little commercial use. Bran contains 52% fiber, and recent research has shown that it has high levels of phenolic compounds that have strong antioxidant activity.
According to Karen Lapsley, Director of Scientific Affairs at the Almond Board of California, U.S. food processors increased almond usage in various forms for cereal, snack, and bakery applications. This has contributed to almond consumption increasing more than 20% in the U.S. over the past two years. With the recent low-carb trend, there is also greater interest in innovative almond usage, and how they might complement or augment existing bakery formulations. The presentation provided new qualitative and quantitative data on macro-, micro-, and phyto-nutrients in almond skin, defatted almond meal, and alpha-tocopherol-rich almond oil. Since almonds are by nature high in dietary fiber, protein, and mon-unsaturated fatty acids and low in sugars and starch, these nutrient ratios can play an important role in making the existing bakery formulation healthier.
The poster presentation showcased several application concepts, including use of low-carbohydrate almond flour in breadings for chicken and shrimp; use of almond bran and almond flour to produce a high-fiber, reduced-carbohydrate snack; and use of almond meal to replace a portion of the semolina in low-carbohydrate pasta.
--- PAGE BREAK ---
Ingredient blend improves dough strength. A dough strengthener for use in low-carbohydrate bakery products has been developed under the name Carb-Aid™ 10 by Lallemand Advanced Baking Solutions, 1620 Prefontaine, Montreal, Quebec H1W 2N8, Canada (phone 832-338-8753; fax 815-333-0743; www.lallemand.com).
The ingredient blend, consisting of natural flavors, glucomannan, yeast, DATEM, sodium stearoyl lactylate (SSL), ascorbic acid, and enzymes, is said to improve dough strength, crumb structure, and flavor. When it is used at a 10% level, some baked products can easily be produced with a net carbohydrate level of 5 g per 28-g serving size.
The manufacturer recommends that for most applications, the ingredient blend should be used at 10% based on the combined weight of flour, gluten, and fiber. When using a higher ratio of gluten to fiber, an increased addition should be tested.
Wheat starches enhance breads with fiber. Wheat-derived resistant starches for enhancing breads with fiber are available under the name Fibersym™B from MGP Ingredients, Inc., 1300 Main St., Atchison, KS 66002-0130 (phone 913-367-1480; fax 913-367-0192; www.mgpingredients.com). Formally called MGPI FiberStar™, this family of functional resistant starches contain total dietary fiber ranging from 70% to 80%. They possess a neutral flavor, white color, and smooth texture.
These resistant starches are said to possess low water-holding capacity and can be used to partially or completely replace flour in food formulations. Applications include breads, tortillas, muffins, waffles, breakfast cereals, cookies, nutrition bars, snack products, and other foods that are not typically associated with high fiber levels.
The company also produces Arise™ wheat protein isolates that are designed to enhance the production of dough in all systems—fresh, parbaked, refrigerated, and frozen.
Lipid-based inclusions provide sensory properties. Lipid-based inclusions—called Sensory Effects™ —may be used to provide flavor, color, aroma, and texture to breads and other baked goods. The ingredient is available in a variety of shapes and sizes from Loders Crocklaan, 24708 W. Durkee Rd., Channahon, IL 60410 (phone 800-621-4710; fax 815-730-5202).
Concentrated to form a burst of flavor or formulated with its own melting profile, the pieces blend easily and evenly in bakery applications. It can be used in ready-to-bake doughs, dry mixes, and scratch recipes.
A variety of sweet or savory sensations are suitable for use in bread. These might include Italian Cheese, Tomato Oregano, Cheddar Garlic, Jalapeño, Honey, Cinnamon, Blueberry, and other profiles. Products may also be customized to meet a customer's flavor or flavor combination.
--- PAGE BREAK ---
Banana powder imparts flavor and aroma to bread. Banana powder, providing breads, cookies, and muffin mixes with flavor and aroma in a convenient form, is offered by Van Drunen Farms, 300 W. 6th St., Momence, IL 60954-0009 (phone 815-472-3100; fax 815-472-3850). The free-flowing drum-dried fruit powder blends easily with other dry ingredients in the formulation, while offering all the nutritional benefits of the fresh product without the processing difficulties inherent in handling fresh fruit ingredients. The product is also shelf stable and economical to use.
The company, in addition to its banana powder, has a complete line of fruit powders that can enhance cake, cookie, and bread mixes, as well as icings and fillings
A whole-grain flour that has the sensory properties of a refined flour. Resistant starches derived from wheat, tapioca, corn, and other grains that provide increased levels of fiber. New methods for enhancing the quality of tortillas. Stabilized emulsifiers offering improved functionality. Dough strengtheners that improve low-carbohydrate products. These are only some examples of ingredients discussed in this article that demonstrate how ingredient suppliers are trying to meet the changing needs of their customers.
Many of these ingredient developments were influenced, at least in part, by the recent low-carbohydrate emphasis. Equally true, the successes and failures of some of the existing bakery products in the marketplace were impacted to some degree by the health trend. For example, the Krispy Kreme doughnut chain reported a quarterly loss of $3 million, compared to a profit of $14.5 million a year ago. The driving factors in the loss were store closing costs and slower sales. On the other side of the coin, in 2004, Minneapolis-based General Mills' Pillsbury launched Carb Monitor™ frozen dinner rolls and Crusty Wheat frozen dinner rolls to take advantage of the trend.
Furthermore, since the low-carb focus has had some negative effect on the consumption of traditional bread products, it becomes that much more important to improve the quality of existing or new bread products, especially if they are not targeted toward the low-carb trend. General Mills recently created improved products aimed for the microwave. It recently launched Pillsbury Microwave Biscuits and Dinner Rolls, a line of frozen breads specifically designed for the microwave. The frozen breads go from freezer to microwave and heat in 20–25 sec. As a result of patent-protected formulas, the breads come from the microwave warm, soft, and ready to eat, and they stay soft, unlike when microwaving conventional breads.
However, as mentioned earlier, the low-carbohydrate trend is itself evolving, encompassing a number of other health areas, as well as probably assimilating—or morphing into—the larger practice of reformulating foods to make them healthier, tastier, and more functional.
As such, ingredient suppliers need to be aware of these changes so that they can continue to meet the changing needs of their customers. And like dough, these ingredient suppliers must rise to meet all the challenges involved.
Next month's Ingredients section will look at the broadening applications of soy-based ingredients.
by DONALD E. PSZCZOLA
Senior Associate Editor
[email protected]