There's going to be a whole new food world out there, and for the most part, its direction is well beyond our control. Ongoing demographic changes are dictating a dramatic reorientation of the food supply, resetting consumer priorities, flavor preferences, and new product criteria while spawning a windfall of new marketing opportunities—and issues—for the food and foodservice industries.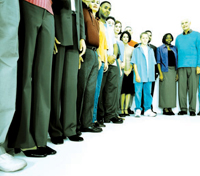 From the Matures to the Millennials, each generation's rules will be different and their requirements unique. Note: Unless otherwise mentioned, all demographic data are referenced to the U.S. Census Bureau (USCB, 2005).
Mature Market Makers
With 49 million Americans already age 60 and over and the Baby Boomers now age 41–59, catering to the food preferences of older consumers will become an essential marketing strategy. In five years, 96 million Americans will be age 50 and over, 107 million by 2015.
Representing the vast majority of the workforce and 27% of the population, Boomers far outspend the average consumer—including $6 more per person than the average $98.40 spent on groceries per week (FMI, 2005). With 54% of Boomers intending to work beyond retirement, the Boomers will shift to the higher end of the wealth range long-term. When the last Boomers turn 65 in 2030, they will control 40% of America's disposable income (Lempert, 2004).
• "Low" and "No" Foods. While interest in health and nutrition is accelerating across all age groups, including children and teens, older consumers are the most likely to take action for health. More than half (57%) of Boomers and 67% of Matures are making a lot of effort to eat healthier—significantly higher than their younger Gen X (45%) and Gen Y (33%) counterparts. Health has a lot of impact on about half (51%) of Boomer shoppers' selections and 59% of those of Matures, compared to 43% for Gen Xers and 42% for Gen Yers (FMI, 2004a).
NMI (2005a) reports that nutrition slowly takes priority over taste and experience during our 40s. For example, the percentage of consumers who say they eat what tastes good regardless of nutrition is 23% higher for those under age 40 than those age 60 and higher.
The vast majority of Boomers (84%) believe they can manage many of their health issues through diet/nutrition (NMI, 2005a). During the past 30 days, 46% of Boomers used low/fat-free foods/beverages, 39% sugar-free, 36% low-calorie, 33% low/reduced-sugar, 29% low-carb, 24% natural, 17% organic, 16% soy-based, and 12% vegetarian items. More than half (56%) of Matures purchased a low-sodium product, compared to 47% of Boomers and 46% of Gen Xers (FMI, 2004a).
Dannon's Light 'n Fit with Fiber yogurt and Amy's Kitchen's Light in Sodium Lasagna are perfectly positioned to attract an older audience. Shelton's Naturally Delicious Home-style Entrees made with all-natural, antibiotic-free, free-range poultry signal a new generation of healthy, nostalgic foods sure to appeal to the environmentally and socially responsible Boomers.
• Condition-Specific Foods. With Boomers at an age when they are most likely to experience a chronic illness for the first time, along with another 49 million older Americans, the timing for condition-specific and risk-reducing foods and beverages is now. Four out of ten (40%) Boomer food shoppers report they already have high blood pressure (HBP), 37% high cholesterol, and 20% diabetes. Two-thirds (62%) of Mature shoppers have HBP, 46% high cholesterol, and 29% diabetes. Boomers account for 43% of all obese food shoppers, Matures 33% (FMI, 2004a).
--- PAGE BREAK ---
IRI (2005a) projects that the condition-specific and dietary needs segments—e.g., low-sodium, gluten-free, and low-glycemic foods (Sloan, 2005a)—will see marked growth as younger Boomers reach age 50 and will continue to escalate as they age. From 2003 to 2013, the incidence of coronary heart disease (CHD), cancer, prostate problems, diabetes, and HPB in men is projected to rise by more than 20%; and among women, osteoporosis is expected to increase by 20%; CHD and cancer 19%; HPB, high cholesterol, and diabetes 18%; and arthritis 17% (MSI, 2003).
Marketers should initially target older Boomers (age 50 and older), as they are more likely than younger Boomers (age 40–49) to suffer from chronic health conditions (Table 1, HealthFocus, 2005) and to purchase risk/disease-directed products (IRI, 2005a). Nature Valley's Healthy Heart Chewy Granola Bars containing plant sterols and Planters' NUT•rition Heart-Healthy Mix are new heart-healthy products.
• Rx-Centric Marketing. IRI (2004a) has observed that 56% of consumers who fill a prescription at a supermarket pharmacy also purchase related "connector" products while in the store. For example, low-calorie soft drinks, supplements, antacid tablets, and skim/low-fat milks are among the items most frequently purchased with a heart-related prescription. IRI estimates heart-connector products to be a $71-billion untapped supermarket opportunity, connector products related to muscular/joint pain $40 billion, gastrointestinal reflux $21 billion, menopause $16 billion, diabetes $14 billion, and arthritis $14 billion.
• Health-Directed Weight Loss. Boomers have the highest proportion of shoppers (69%) who want to lose weight, followed by Gen Yers (56%), Matures (54%), and Gen Xers (53%) (FMI, 2004a). More important, 43% of all dieters, primarily Boomers and Matures, are trying to lose weight for health reasons—a segment growing at 2½ times the rate of appearance-driven dieters (NMI, 2005b). Last year, HBP became the No. 1 reason for health-directed dieting, while those motivated by diabetes nearly doubled (MSI, 2004a). Products that address more than one risk factor will have strong appeal; e.g., 73% of those with diabetes also have HBP (ADA, 2005). Quaker Oats' Heart to Heart cereal is well suited for weight control, cholesterol lowering, and HBP management.
• Lifestyle Enhancers. The desire for extra energy is highest for those age 65 and older (25%) and Boomers (22%) and represents a virtually untapped opportunity (MSI, 2004b). According to IRI (2005a), younger Boomers are particularly high users of energy drinks and, along with older Boomers, heavy consumers of ready-to-drink tea/coffee. Organic Milling Corp.'s Nutritious Living 40•30•30 natural cereal and Living Essentials' 5-Hour Energy beverages are right on target.
Older adults are less-frequent snackers. Only 15% of those age 50–64 snack three or more times a day (MSI, 2004b). Along with ethnic groups, those over age 55 are also the least-frequent users of energy/snack bars, offering a new market for nutrition bars with middle-age appeal (IRI, 2004b). Those age 50–64 are the most likely to have eaten a low-calorie/sugar-free snack food in the past three months (MSI, 2004b).
As Boomers confront lifestyle issues associated with middle age, they will look for foods and beverages that help with digestive ailments. NMI (2005b) reports that 30% of households have a member managing/treating acid reflux, 19% indigestion, 14% constipation, and 12% lactose intolerance. With one-third of younger female Boomers and one-fourth of older female Boomers going through menopause, women will seek foods and beverages that aid in symptom relief. Sleep-enhancing beverages such as Cricketer Farm's Night Time melatonin milk and relaxation beverages such as Danone's Zen yogurt drink, will also grab Boomer attention.
--- PAGE BREAK ---
Empty Nesters: Living Large
"Empty Nester" households—married couples with no children under age 18 at home—are now the dominant household unit, followed by one-person and married-with-children households. Only 15% of older Boomers still have children under age 18 at home. Younger Boomers' children are also getting ready to leave the nest—32% of the younger Boomers have kids age 12–17. As the Boomer's children leave home, they're having a dramatic impact on their Empty Nester parents' lifestyles and food and beverage demands.
• Portioned for Two: Developing and repackaging products for the one-third of households now "cooking for two" is a very big idea. Although nine in ten Boomers (89%) enjoy cooking at least occasionally, they are very convenience-minded. More than two-thirds of Boomer women (69%) say that easy to prepare has a strong influence on their food-purchase decisions, 42% re-sealable packaging, 28% easy to clean up, and 27% individual portion sized packaging (Yankelovich, 2004). Three-quarters (74%) use at least some prepared foods when making a meal.
Hain Pure Foods' all-natural European Recipe Vegetable Mixes, portioned for two, and Hain's new refrigerated, prepared, all-natural meats, such as Pork Carnitas, are right on target for today's health-conscious Empty Nesters. North Shore Greenhouses' Living Herbs, with the roots attached, help make Boomers' fresh home-prepared meals tastier and easier.
Delizza's frozen Belgian Cream Puffs and Mini Éclairs are poised to meet Boomers' demands for fancier but smaller-portioned desserts. Empty Nesters are also including healthier and pricier foods on their shopping lists, such as Seafood America's Dockside Classic fully cooked, refrigerated entrees.
With more money and free time and fewer mouths to feed, Boomers will boost sit-down restaurant meals, restaurant catering for home entertaining, and more sophisticated take-out food sales. Technomic (2005a) reports that 45% of those over age 55 use full-service restaurants for take-out at least once a week.
• Partying Hearty. With more time for relaxation and entertaining, Boomer spending on wine and spirits is significantly higher in Empty Nester households, helping to drive spirits consumption up 4.1% in 2004 to a level not seen in more than a generation (IRI, 2005a).
Although younger Boomers tend to be heavier beer consumers, beer consumption traditionally falls with age. Flavored, premium beers like Anheuser-Busch's Budweiser Select, light beers, and beers designed for women are hoping to boost sales (Lempert, 2005). High-end flavored alcoholic beverages such as Absolut's APeach peach-flavored vodka and light spirits like Bacardi USA's Island Breeze rum are expected to show strong gains. Willamette Valley Vineyard's '02 Vintage Selection Pinot Noir—the first wine to receive government approval to label resveratrol content—will find a welcome market among health-concerned Boomers.
• Youth & Family Foods. As the transition to Empty Nests continues over the next 5–10 years, the youth market will become more reliant on Gen Xers' smaller pool of children, softening the market for convenience meal categories aimed at busy families, children, and teens. Frozen appetizers/snack rolls, frozen breakfast foods, frozen pizza, and dry packaged and shelf-stable dinners will likely be especially hard-hit. Youth-targeted products, including refrigerated luncheon kits, dried fruit snacks, sports drinks, aseptic juice, toaster pastries, and, to some extent milk, will also feel the pinch (IRI, 2005a).
Long-term prospects appear much more promising, as both larger ethnic families and Gen Yers begin to increase the number of children. In the meantime, marketers will need to increase their share of market among Gen X households, find products that Gen Xers will pay a premium for, and establish a strong relationship with Gen Y adults (IRI, 2005b).
--- PAGE BREAK ---
Gen X Premium Family Markets
With Gen Xers having the largest household size and yet to realize their income potential, it's not surprising that value for the money and what their family will eat joins taste as the most infl uential factors in their food selection (FMI, 2005).
• Healthy Convenience Foods. With half (51%) of Gen Xers having children under age 18 at home and 81% employed full or part-time, they're the prime target for convenient meal solutions. According to HealthFocus (2005), when children are present in the household, women are twice as likely to choose healthy foods. Four in ten moms (40%) are willing to pay a slight premium for health.
Gen Xers prepare more meals at home than Gen Yers and, along with the Boomers, are strong targets for value-added ingredients and fresh-cut produce. Two-thirds (68%) of Gen X women say that easy to prepare has a strong influence on their food purchases—although Gen X moms seem to prefer some meal assembly to help assuage their guilt (Yankelovich, 2004).
Just over half of Gen Xers want their store to offer more healthful prepared foods (FMI, 2004a). The use of fast-food restaurants as the main source of take-out/take-home meals is most prevalent among Gen X (52%; FMI, 2005).
Two-thirds (65%) of parents are interested in healthy convenience foods, and 65% are interested in healthy foods/beverages that can be eaten on the go (NMI, 2005b). R.W. Knudsen's new juice boxes fortified with vitamin C and calcium and Sunkist's Fun Fruit line of fresh-cut fruit are new healthy options from which parents can choose.
More than half (54%) of households with kids are concerned about the negative side effects of artificial sweeteners, 36% prefer to not serve artificially sweetened foods, 31% look for no sugar added, and 19% use only natural sugars like honey and raw sugar (NMI, 2005b). Stonyfield Farm's MOOve Over Sugar yogurt, with 50% less sugar, is right on target.
• Fortified Foods. Gen Xers are the highest users of fortified foods and beverages (NMI, 2005b). Fortified foods are also important to moms, especially of young children. More than one-third (36%) of moms with kids age 1–5 say they usually or always choose fortified foods/beverages, 24% with kids 6–12, and 21% with kids 13–18 (HealthFocus, 2005). Fresh (61%) and a good source of calcium (44%) are the top two label claims that are extremely/very important to moms. Helps reduce the risk of heart disease (36%) and helps maintain healthy cholesterol levels rank 4th and 5th.
• Organic and Natural. Along with Gen Y, Gen Xers have a penchant for purchasing organic foods. Many parents are already substituting in their kids' diet organic staples such as Horizon Organic's dairy products; Cascadian Farm's Organic French, Oven, and Shoe String Fries; and Ragu's new Organic Sauces for pasta; 44% of parents occasionally buy organic (Ragu, 2005).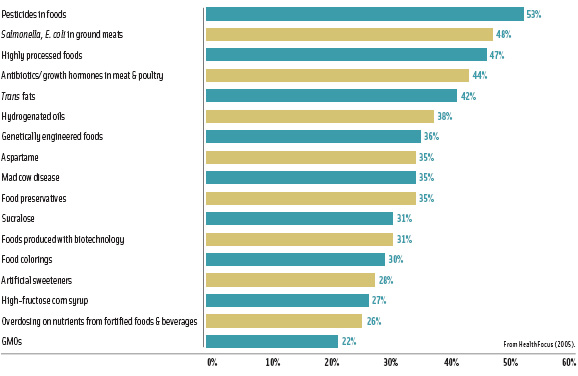 Processed foods and antibiotics/growth hormones in meat and poultry appear for the first time in the list of things moms are extremely/very concerned about (Figure 1), with processed foods ranking third (HealthFocus, 2005). Applegate Farms' all-natural meats that contain no nitrite/nitrate, antibiotic/hormone, or chemical preservatives will find a welcome market.
Gen Y: Dancing to a New Beat
Gen Yers will have the most dramatic impact on the food industry. Understanding Gen Y adults—the 43 million age 18–28—is critical, as they will set the pace for the 29 million younger Gen Yers. These young adults are entering the workforce, having children of their own, and becoming food/household consumers in their own right. (For a detailed look at kids, tweens, and teens as consumers, see Sloan, 2005b).
• Catering to the Culinary-Savvy. Gen Y adults are the most culinary-aware generation in history. For them, restaurants have been—and will always be—a way of life. Gen Yers purchase food from restaurants almost once a day and eat away from home more than any other segment. Those age 16–27 averaged 24 restaurants visits per month in 2004, compared to 22 by Gen Xers, 19 by Boomers, and 16 by consumers age 59–71; they visit fast-food and casual-dining restaurants most frequently and are heavy users of full-service and upscale take-out (Technomic, 2004, 2005a).
--- PAGE BREAK ---
Young adults age 18–24 are far and away the most likely to want to eat gourmet, and those age 25–34 most enjoy experimenting with food. These two age groups also rank highest as wanting to try new foods (Packaged Facts, 2004a, 2005a).
Gen Yers are most interested in ethnic foods. Along with singles, Gen Yers are also most likely to shop at an ethnic specialty store—more than double any other segment—gourmet shop, or natural/organic store (FMI, 2004b). Chinese (40%), Mexican, Japanese, Italian, and Indian top the list of their favorite cuisines (Packaged Facts, 2004a).
• Contemporary Criteria. Gen Yers have little interest in cooking and eat the fewest homemade meals. They spend the least on groceries, make the fewest shopping trips, and shop for food in drug stores, discount stores, and convenience stores—anywhere that is cost efficient and convenient (FMI, 2005).
Gen Yers are the most-frequent snackers, grazers, and indulgence/pleasure-seeking segments. Despite weight concerns, 81% eat indulgent desserts or snacks most or some days (MSI, 2004b). Pepperidge Farm's Whims Crispy Wave mini snacks fit right into their eat-and-run lifestyle.
With grab-and-go a way of life, it is not surprising that Gen Yers are among the heaviest users of drive-thru's, convenience stores, vending machines, and hand-held frozen foods, now a $1.02-billion market (Bregenzer, 2005).
• Socializing & Sharing. Along with singles, Gen Yers have a need to feel connected and have strong ties to family and friends. They view restaurants as a place to meet people or "hang out" with friends, and sampling and sharing are part of the scene. With half (48%) of all kids age 6–17 reporting they choose foods that they can share with their friends, the future for bite-sized morsels looks strong (Yankelovich, 2004). Gen Y males are also driving a new late-night fast-food eating occasion and sending sales of appetizers and bar foods soaring (Sandalman, 2005).
Over the next decade, 40 million new legal drinking-age Gen Y adults will enter the beer, wine, and spirits market. Spirits are the most popular drink among those 21–27 years old, up 10% since 2003. Although 44% of white males age 21–29 say they drink beer regularly, their consumption has fallen 5% since 2001 (Lempert, 2005).
Gen Yers embrace individuality. They are used to setting their own style and making choices that "work for them." Not surprisingly, customized foods—such as the recent ReMix craze or Cold Stone Creamery's success with ice cream mix-ins—will find a welcome market with Gen Yers. Even Burger King has gone back to its Have It Your Way strategy.
• The Healthy Generation Gap. Quite different from the Boomers, Gen Yers are looking for weight-friendly, performance-driven, and simply healthier, fresher, and more-natural foods. NMI (2005c) reports that Gen Yers have significantly increased their usage of low-carb, low-calorie, low-fat, fat-free, and vegetarian foods. They are also the highest consumers of functional foods and beverages and are the most likely to perceive themselves as deficient in calcium.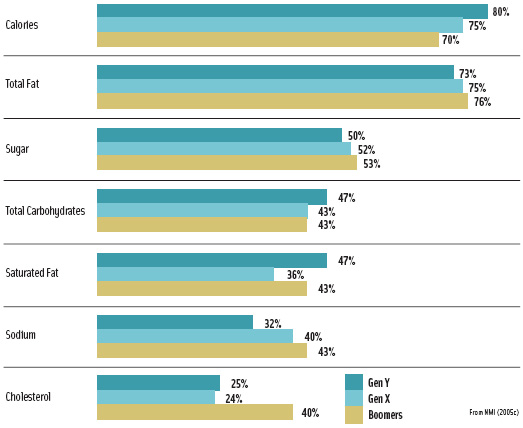 The No. 1 reason why Gen Y adults made a dietary change, went on a nutrition regimen, or added a food/beverage to their diet was to increase performance (63%), followed by weight management (50%) (MSI, 2004c). Just about six in ten (58%) Gen Y adults are making an effort to manage their weight (NMI, 2005c). The vast majority of Gen Yers read labels for calories and fat, most likely for weight-control purposes (Figure 2).
--- PAGE BREAK ---
Gen Yers will also drive a surge in the sports, performance, and energy market: 44% of those age 18–25 use energy/sports drinks, 20% sports nutrition bars, 18% protein powders, and 11% sports supplements (NMI, 2005c). Set to revolutionize the energy category are Living Essentials' 5-Hour Energy drink and FuelBars' Organic Fuel Bar.
Gen Yers will also drive interest in vegetarian foods. Aramark (2004) reports that 27% of all college kids want vegan food options on the menu. NMI (2005c) reports that 27% consider themselves occasional vegetarians; 38% feel it is important for their store to have vegetarian foods. Perfectly positioned for Gen Y are Gardenburger's Wraps and Fairfifield Farm Kitchens' Moosewood vegetarian organic soups.
Other Demographic Drivers
Time-starved, wealthier, and ethnically diverse, today's restaurant-spoiled generations are redefining convenience foods, shifting food staples, and reinventing the role of restaurants.
• Time. With the number of working women projected to rise from 65 to 77 million by 2010 and single-parent households up another 7% to 18 million in 2010, saving time will remain a key food selection factor. With only 73 minutes a day spent on eating/drinking, an average workday commute of 25 minutes, restaurant ordering from cars at an all-time high, and more than half of Americans picking up full-service take-out every week, convenience foods will need to be refocused (Technomic, 2005a, 2004).
More than half (55%) are doing things other than eating on their lunch hour, spawning a need for heartier hold-me-over snacks, prepared adult brown-bag items, and more-substantial morning grab-and-go fare. Four in ten workers (40%) "stay in" to catch up on their work during lunch, driving a fast-emerging market for desk-side dining and for fast-food restaurants to offer "to-be-assembled" lunch kits during the early morning day part.
• Income and Education. One-quarter of all U.S. households have an annual income greater than $75,000, and 11% have an income greater than $100,000. Americans are splurging on more-expensive foods while cutting back on others, and sales of premium foods and beverages continue to explode. And with Americans more educated than ever before, expect more emphasis on higher-quality, premium convenience products, a greater variety of foods, and more exotic and unusual fare (Sloan 2005b, 2004).
Today quality is defined by freshness, and the top three identifiers on restaurant menus are freshly baked, cooked/made to order, and made-on-premise (Technomic, 2005b). Not surprisingly, foods touting "restaurant quality," like Campbell's Select Gold Label soups, will find a welcome market.
Also expected to enjoy increased consumer demand are upscale organic and ethnic convenience meals, such as Fairfield Farm Kitchens' Organic Classics beef entrees; hand-made products, such as Eduardo's all-natural pasta; artisan foods, like bionaturae's Organic Pear Nectar; locally produced foods, such as Specialty Wisconsin's Anejo Enchilado cheese; fair-trade products, like Wholesome Sweeteners' Fair Trade Certified Sugar; and gourmet ingredients, such as Lotus Foods' exotic rices.
• Diversity. America's ethnic diversity will create a virtual goldmine for marketers who offer authentic products that capitalize on the hybrid flavors, cuisines, and ingredients that result from merging cultures.
--- PAGE BREAK ---
USDA (Blisard, 2004) projects that America's diverse population will eat more fruit, nuts and seeds, eggs, and fish by 2020. A greater percentage of Hispanics and Asians will reduce consumption of dairy products slightly and create a preference for rice over potatoes. While beef consumption will increase only slightly, Asian-American preferences for fish and Hispanics' traditionally higher consumption of poultry will spur substantial growth in these categories. Packaged Facts (2004b, 2005b) discusses the Hispanic and Asian markets.
Greater Rewards Ahead
As ethnic mixing escalates, the population continues to age, and young adults set a new pace for food and beverage preferences and priorities, the food supply as we know it will never be the same. But with 37 million more Americans to feed by 2020, those marketers who keep pace with America's changing appetite and lifestyles will have the opportunity to reap rewards far greater than we've ever seen before.
---
Generations at a Glance
Surprisingly, there is no formal U.S. Census Bureau definition of the inception and closing dates, age span, or specific names currently being popularized to describe the major demographic age classifications, with the exception of the post World War II Baby Boomers, quantified by being born between 1946 and 1964.
As a result, the age breaks for other population segments and labels have been left open for interpretation by demographers and often are inconsistent across a variety of sources.
For purposes of this report, and to make the best and most accurate use of available data, the generations have been defined as follows:
• Matures. Born in 1945 and earlier, the 49 million Matures are currently 60 years of age or older. They have the highest percentage of women (57%) and the lowest percentage of minorities (13%). Those age 60–73 are often referred to as the Swing Generation.
• Boomers. Born between 1946 and 1964, the 76 million Baby Boomers are now age 41–59. They represent the majority of the workforce, spend more on food than other generations and have the most disposable income.
• Gen X. Born between 1965 and 1976, the 46 million Gen Xers are currently age 29–40. This generation is 35% smaller than the Boomers and 32% smaller than Gen Y.
• Gen Y. Born between 1977 and 1994, Gen Yers, also known as the Echo Boomers after their Boomer parents, are now age 11–28. One in four is non-Caucasian.
• Millennials. The 43 million age 10 and under are referred to as the Millennials, although this term has been applied haphazardly to a variety of segments under age 28.
Author Sloan, a Food Technology Contributing Editor and a Professional Member of IFT, is President, Sloan Trends, Inc., 2958 Sunset Hills, Escondido, CA 92046 ([email protected]).