When one thinks of spices and seasonings, images of the holidays quickly come to mind. This, of course, makes the timing of this article very appropriate, even celebratory in nature. And with thoughts of holiday foods ranging from turkey with cranberry to pumpkin pie—as well as the number of limited-edition products that are released during this festive period (last year's Pepsi's Holiday Spice, for example), spice manufacturers certainly must look forward to the number of opportunities that present themselves at this time of year.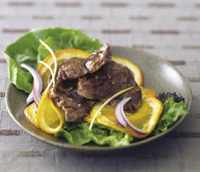 However, that aspect is only one small part of the evolving tale of spices and seasonings and their impact on product development. In fact, these ingredients are moving in a number of new and non-traditional directions that go well beyond their seasonal use.
A few years ago, I wrote an article, entitled, "2001: A Spice Odyssey." (See the January 2001 issue of Food Technology.) Playing off the title of a classic sci-fi movie about man's evolution, I described a number of spices and seasonings—both traditional and emerging—and how they are offering limitless possibilities to product developers. Nearly five years later, this month's Ingredients section serves as a continuation of that story, focusing, in particular, on where spice and seasoning developments have gone since then.
Some of these directions have been truly innovative, opening up additional opportunities for spice manufacturers and product formulators, and possibly, in the process, making us rethink our definitions of spices and seasonings and what role they play in product development.
For example, while spices and seasonings are helping to broaden our "appetites" for different cuisines, some of them previously unknown to us, they are also being used to transform mainstream dishes, giving them new dimensions in flavor, texture, and visual appeal. Take ConAgra Foodservice's new Lamb-Weston Supreme® Jalapeño Cheddar Redskin Mashed Potatoes, with its creamy, cheesy taste and zesty hint of jalapeño. In addition, the company introduced such varieties as Tuscan-Style Redskin, which delivers an authentic northern Italian taste with a mixture of Parmesan cheese, roasted garlic, and basil, and Bistro-Style Redskin, featuring a blend of roasted garlic, white pepper, Parmesan cheese, and parsley for colorful appeal.
With flavor profiles created which are bolder and more reflective of international cuisine, it should not be too surprising that, according to the American Spice Trade Association, spice consumption is up more than 100% since 1983. Companies such as seasonings expert McCormick & Co., Hunt Valley, Md. (phone 410-527-8753; www.mccormick.com), are well aware of this fact and the potential that spices and seasonings have on product development.
--- PAGE BREAK ---
"As Americans' interest in international flavors and bold tastes grows, so does their desire for herbs, spices, and seasonings," said Laurie Harrsen, McCormick's Director of Public Relations. "In fact, spice consumption has doubled during the past 20 years, to more than one billion pounds in 2003, and we project that figure will continue to increase."
Every year McCormick releases its Flavor Forecast which defines the top trends in taste for that year and beyond, and provides excellent background for any discussion of spices and seasonings. For 2005, the top flavors were allspice, annatto, cardamom, cinnamon, curry, ginger, mint, pickling spice, sage, and vanilla. The report also examined such trends as the development of food products that feature flavors, colors, aromas, and textures that provide a true multi-sensory experience; the use of locally grown ingredients and those from specific locations for the ultimate in freshness and premium taste; the combining of one or two global ingredients with familiar foods to give a "mini flavor adventure"; the use of flavor to make healthful dishes enjoyable; and the reinvention of classic favorites to reach new heights in flavor.
Spices and seasonings are certainly playing an important part in these trends, which subsequently create opportunities for spice manufacturers and the product formulators that use them. Furthermore, as researchers continue to study the potential benefits of spices and seasonings, in terms of their functionality, health benefits, and technological advancements, additional opportunities are created.
Taken together, such developments give us a clear idea on how spices and seasonings are evolving, and what lies beyond for these ingredients. Furthermore, these developments may also modify the way we perceived spice manufacturers or companies that supply spices and seasonings in the past, and based on the products they are introducing, how we will perceive them tomorrow.
As this article hopes to show, today's spice manufacturers are expanding their role, as they look at ways to lower cholesterol, enhance salty perception, treat illnesses such as diabetes, promote antioxidant and antimicrobial activities, expand mainstream cuisines, help reformulate foods and even reshape food categories such as the snack area, incorporate non-traditional components such as chocolate into seasoning blends, create more sophisticated blends that help differentiate products in the marketplace, and change our view of traditional, mainstream, or comfort foods.
Sounds like the stuff of science fiction, right?
Well, as I noted in my previous article, there is one important difference between the movie 2001: A Space Odyssey and this story of spices. For all its greatness, the movie still remains science fiction. But there's nothing science fiction about the following spice developments and the benefits they offer.
--- PAGE BREAK ---
Exploring Cholesterol-Lowering Properties
At a recent food show, I came across a plant-sterol-containing ingredient that lowers cholesterol. Because of the specific health property involved, it would be reasonable to assume that a nutraceutical company was launching the product. Which is why I was initially surprised when I saw that the company was a major manufacturer of spices, mustards, capsicums, and blended seasonings—Baltimore Spice, Inc., Owings Mills, Md. (phone 800-365-3229, www.baltimorespice.com).
The ingredient, marketed under the name Diminicol®, was developed by a Finland-based company, Teriaka, which is focused on finding and investigating cholesterol-lowering agents and antioxidant components from herbs, spices, and other plants. The addition of this ingredient to Baltimore Spice's existing line of products would provide the company with a number of opportunities, including penetration into the expanding functional food market, especially products relating to heart health.
The use of this ingredient can give a physiologically functional dimension and character to a number of applications, including sausages, snacks, salad dressings, dairy products, bakery and confectionery fillings, and beverages. Furthermore, in reformulating these applications, the ingredient can also be combined with the flavors of spices and seasonings to create new tastes and textures to accompany its potential health properties.
The production process used to create the ingredient relies solely on heating, mixing, and cooling, as opposed to any chemical esterification. Consisting of 30% plant sterols or stanols, 65% food-grade fat, and 5% water, the resulting ingredient is a semi-solid mass having a chemically and physically stable microcrystalline structure. Unlike other plant sterol products which have low solubility in fats and oils and total insolubility in water, this homogeneous ingredient can be easily added to various food products. It is white or off white, has a smooth texture and a butter-like structure, and provides a neutral taste.
According to the manufacturer, it has been clinically proven that Diminicol can significantly reduce LDL-cholesterol by as much as 12% with as little as 1.5 g ingested daily. Other benefits include increased leavening in breads, thickening in soups and sauces, and reduction of overall fat levels and calories from fat.
In winter 2003 the ingredient received Generally Recognized as Safe (GRAS) status from the Food and Drug Administration. On December 12, 2003, it received a favorable statement from the Standing Committee (on food chain and animal health) of the European Union.
--- PAGE BREAK ---
Enhancing Salty Perception
Since it is estimated that a significant level of sodium in the diet is derived from salt added in food processing, manufacturers are looking for ways to reduce those levels without affecting the taste of the product. One possible solution to this challenge, Amplify™ Salt Flavor Enhancement Technology, was recently introduced by Spicetec, a ConAgra Food Ingredients Co., Omaha, Neb. (phone 800-537-4795, www.conagrafoodingredients.com).
At first, this new development struck me as a little out of the ordinary for a leading specialist in natural savory flavors and the third largest largest supplier of industrial seasonings in the U.S. With consumers seeking bolder, truer tastes and ethnic profiles, much of Spicetec's energy is dedicated to developing flavor solutions that meet these expectations. Remember, for example, some of the applications that the company highlighted at the 2005 IFT FOOD EXPO® included Chicken Bayou LaFouroche with Andouille Tarragon Cream and Creole Sausage and Biscuits.
However, in tackling the challenge of reducing sodium without decreasing salty flavor perception, the company applied the expertise it uses to create customized solutions for flavors, seasoning blends, and spices. Also, in developing this technology for enhancing salty perception, the company follows a similar approach, taking into account specific application needs including knowledge of product bases, processing conditions, interaction with other ingredients, and ingredient restrictions.
Instead of replacing salt, the system draws on proprietary peptide technology to enhance salty perception, achieving a level of saltiness higher than would be expected for the amount of salt that the product contains. It is suitable for a wide variety of processing methods and applications, including high-temperature retort conditions, and is effective in both low- and high-pH foods systems. Because the product is offered in liquid or dry forms, as well as in culinary bases, it can readily be integrated in the formulation. Natural flavor label declarations are possible.
According to Elaine Tecklenburg, Marketing Director, ConAgra Food Ingredients, the technology gives manufacturers a more comprehensive approach to formulating lower-sodium foods that is based on individual needs, goals, and constraints. As a customized solution, Amplify works in synergy with other ingredients in the food formulation to reduce sodium levels while delivering well-balanced and full-flavored products. It is highly compatible across a full range of savory food applications.
Tecklenburg adds that prototypes show that in savory applications it is possible to reduce salt by up to 50%. Some applications that can make use of this system include soups, sauces, frozen entrees, pizzas, dinner mixes, and snack foods.
By developing this new salt flavor enhancement system, the company is addressing the concern that American intake of sodium is estimated at almost 3,375 mg per day or nearly 50% more than the USDA recommended maximum of 2,300 mg. Furthermore, the finished application emphasizes both taste and lower salt levels, and, in proactive fashion, meets consumers' evolving needs for such products in the marketplace.
--- PAGE BREAK ---
Spicing Up Health Benefits
Spices have had a long history—and folklore—regarding their value in health. Anti-clotting action, antimicrobial activity, blood sugar control, antioxidant activity, brain-boosting function, anti-inflammatory activity, and gastrointestinal relief are only some of the benefits that have been attributed to them. According to Donna Tainter, a food technologist and author, "there have been many recent studies validating the historic habit of using spices for health benefits."
A few years ago, a number of studies were looking at the antimicrobial properties of spices (as well as smoke flavors) and how they can be positioned as providing additional food safety hurdles. It was found that allicin and other sulfide compounds in garlic could suppress organisms. Spices, such as clove, sage, and oregano also contained compounds that could do the same.
Since then, especially as concerns over obesity, diabetes, cancer, and other diseases grow, research studies have broadened and been fueled by these dietary concerns and trends.
For example, as the incidence of type II diabetes grows, researchers are looking at the potential of cinnamon in alleviating the disease. Cellular and molecular studies are finding that the spice may help by playing the role of an insulin substitute.
"Cinnamon itself has insulin-like activity and also can potentiate the activity of insulin," said Don Graves, Adjunct Professor of Molecular, Cellular, and Developmental Biology at the University of California, Santa Barbara (UCSB). "The latter could be quite important in treating those with type II diabetes. Cinnamon has a bioactive component that we believe has the potential to prevent or overcome diabetes."
The healthful effects of cinnamon on mice with diabetes are being studied in a joint project at the UCSB and the Sansum Diabetes Research Institute in Santa Barbara. The researchers have been studying the effects of cinnamon on obese mice, which have been fed water laced with cinnamon at Sansum's laboratory, according to Graves, who is running the project with Lois Jovanovic, Sansum's research director. Using nuclear magnetic resonance and mass spectroscopy, researchers obtained results which allowed them to describe the chemical structure of a molecule with "insulin-like" activity in cinnamon. Graves and others reported earlier that this compound, a proanthocyanidin, can affect insulin signaling in fat cells.
Another researcher, Richard Anderson of the U.S. Dept. of Agriculture, recently completed a human study in Pakistan that used cinnamon. Promising results were obtained by 30 test subjects with type II diabetes after 40 days of taking cinnamon. They had a significant decrease in blood glucose, triglycerides, LDL, and cholesterol. The researchers hope that a human trial may begin in the U.S., using cinnamon and its water-soluble extract to treat type II diabetes.
Over the past year, there have been several other studies looking at the possibility of spices treating specific diseases. Researchers from The University of Texas M.D. Anderson Cancer Center found that curcumin blocks a key biological pathway needed for development of melanoma and other cancers. The UCLA Alzheimer's Disease Research Center is determining whether the yellow pigment in curry spice inhibits the accumulation of destructive beta amyloids in the brains of Alzheimer's patients.
These studies are, of course, ongoing, and much more research needs to done before conclusions can be reached. Dosage levels, how they are processed, potential interactions, and comprehensive human clinical studies (as opposed to preliminary studies with mice) will all have to be carefully considered before verdicts can be reached. However, spice manufacturers should be aware of these studies, the specific health areas they are addressing, and the progress that is being made.
--- PAGE BREAK ---
Encapsulating the Holiday Cheer
Traditional spices such as cinnamon, nutmeg, allspice, and cloves have long been associated with holiday foods. A controlled-release microencapsulation method which can help manufacturers with the production of these foods is available from United Kingdom–based TasteTech Ltd. (phone 44-0-1179712719, www.tastetech.co.uk).
Using this technology, a range of spices offers reportedly seven times the strength of plated or ground spice equivalents. Only the essential oils or oleoresin extracts from plants are used, ensuring that all the volatile top notes are sealed in and retained until the precise moment they are needed. According to the manufacturer, the microfilm of vegetable oils that encapsulates the spices acts as a barrier, guarding the spices from premature reactions and any wastage.
A number of new and traditional products can be prepared with the flavor of the spices maintained through the cooking process. For example, breads containing spices may be served with the holiday meal. Blends such as cinnamon, clove, and nutmeg, can be created. By microencapsulating the essential oils and oleoresin extracts of the spices within a protective microfilm, free-flowing powders can be created that easily mix with other ingredients. The controlled-release mechanism ensures that flavors are only released from the encapsulate when required, whether this is during processing, cooking, or eating.
Appetizers such as flavored crackers served with a dip can be formulated with sweet and savory spices encapsulated to withstand high-temperature baking. The technology protects the flavor and ensures it is not released in the baking process until a desired temperature of 60–65°C is reached, encouraging flavor retention and resulting in a tastier product.
"Seasoning crackers and savory biscuits is particularly awkward because they have large surface areas and are baked at high temperatures where steam evaporation and distillation of flavor often occurs," said Roger Sinton, Managing Director of TasteTech. "As a result, cracker manufacturers have to over-compensate the amount of flavor they use in the baking process to get the desired result. Our encapsulation process basically solves the problem of flavor retention and makes it really easy for manufacturers to bake-in any combination of flavors." Flavors for crackers can include sun-dried tomato, cheese and onion, and Mediterranean herb.
Encapsulated spices can find use in potato dishes. Roast potatoes can be created with ingredients such as garlic, cumin, paprika, chili, and thyme. Creamy mashed potatoes may be another holiday favorite.
Other possible applications include spiced puddings, Christmas cakes, turkey with stuffing, spiced punches, pumpkin pie, seasoned vegetables, sauces and gravies, and condiments such as cranberry sauce.
--- PAGE BREAK ---
Appealing to Chocolate Lovers
Recently 20 new cocoa flavorings were introduced by McClancy Seasoning Co., Fort Mill, S.C. (phone 800-843-1968, www.mcclancy.com). Because of the company's expertise in seasoning blends and spices, my reaction was similar to the one I had when Baltimore Spice highlighted its cholesterol-lowering ingredient or when SpiceTec featured its salt flavor enhancement technology. However, the time certainly may be right for these new flavorings—although they can be used in beverages and sweet applications, they might also present some interesting possibilities when paired with savory spices.
I'm not sure if that was the intention of these flavors, but in light of the growing number of applications that combine chocolate with savory spices, and considering the number of chocolate lovers out there, it's certainly something worth thinking about. After all, the Aztec emperor Montezuma was said to drink every day 50 golden goblets of hot chocolate flavored with honey and chili peppers.
Interestingly, a press release from The Hershey Co., "Pass the Cocoa," went one step further and tried to associate cocoa with spices and seasonings. The release read: "Move over salt and pepper—there's another ingredient appearing in America's restaurant across the nation: Hershey's Cocoa! Restaurateurs are discovering new ways to utilize cocoa in recipes and menu selections to accommodate Americans' healthier eating habits. Cocoa is being added to old favorites as well as innovative new dishes—from fresh fruit to salmon to chili."
The press release adds that, according to chef and author Curtis Aikens, "the possibilities are endless when incorporating cocoa into a menu which will allow businesses to expand their options. It enables the restaurant community to spice up dishes and create new innovative and healthy culinary cuisines for the conscious consumer."
Whether chocolate is actually a seasoning is somewhat debatable, I suspect, as it depends on how broad your definitions are; however, one thing can't be argued—there is an ever-increasing number of prototypes that demonstrate how chocolate combined with spices and seasonings are indeed "spicing up" meals.
For example, Choco-potle Chicken Thigh Strips—a combination of dark chocolate and dark chicken spiced with chipotle pepper in the mole tradition of southern Mexico—was offered by Kerry Food Ingredients. A Bread Pudding with Chili Chocolate Sauce was available from ADM, Decatur, Ill. (phone 217-424-5200, www.admworld.com). And a variety of Mexican-influenced dishes are using mole, a sauce consisting of chilies, garlic, tomato, and spices with a small amount of chocolate.
And some chocolate confectioners are also taking advantage of the alliance between chocolate and spices. L.A. Burdick, a New Hampshire company, specializes in chocolates mixed with exotic herb and spice blends. And a visit to a Fancy Food Expo will find a number of chocolate products made with jalapeño peppers and other ingredients that generate heat, proving once again in the world of flavors that there are no strange bedfellows.
--- PAGE BREAK ---
Promoting Antioxidant Activity
Spice research has focused on the antioxidant activity of spices and their essential oils. One example, rosemary extract, has been shown to enhance flavor and to inhibit oxidative deterioration in foods, fats, and oils. The extract may be used as a natural antioxidant in such products as sausage, fresh ground poultry, and frozen entrees.
"Rosemary is a hot antioxidant right now. It's real popular," said J. Scott Smith, a food chemistry professor at Kansas State University, where he is researching the extract for a Food Safety Consortium project. Smith's experiments sought to find out how much heterocyclic amines (HCAs)—compounds linked to various cancers—can be reduced in grilled ground beef patties after the patties are fortified with rosmarinic acid and carnosic acids, two natural antioxidants extracted from rosemary. The results showed that two HCA compounds were reduced at cooking temperatures of 375 and 400°F, but two others were not. More studies are being conducted to determine if temperature adjustment might make a difference with the compounds that weren't reduced.
"We're going to continue this line of research and try to narrow down some of the chemicals in some of the spices because they're loaded with antioxidants," Smith said. He explained that many spices containing antioxidants are now being used on some meat products for better color stability and flavor stability. In addition to rosemary, research over the years has looked at other sources, such as oregano and sage, for their potential antioxidant behavior.
At KSU, Smith is also evaluating the effects of added spices on the production of acylcyclobutanones (ACBs) in irradiated ground beef. These compounds may also be carcinogenic. At some point in the future, Smith expects there to be increased government concerns about HCAs in meat with a strategy developed to reduce them. Spices, such as rosemary, may offer one potential answer.
Several companies offer rosemary extract as a natural antioxidant. By itself or in combination with other antioxidants such as tocopherols, rosemary has been promoted as offering a natural alternative to synthetic preservatives. As such, it continues to offer spice manufacturers opportunities in the marketplace.
For example, Kemin Food Ingredients, Des Moines, Iowa (phone 866-253-9579, www.kemin.com) makes available the Fortium line of products, including one of its newest additions, R10 Dry natural rosemary extract. Applications include processed meats and seasonings. The Fortium line consists of tocopherol/rosemary blends which are heat stable.
Oxy'Less ® and StabilEnhance, brand names for products extracted from rosemary, are available from Naturex, Inc., Mamaroneck, N.Y. (phone 914-381-5995, www.naturex.com). They are standardized in carnosic acid, the major phenolic compound of this plant with antioxidant properties. The phenolic compounds trap free radicals produced in the first stage of oxidation, which delays the racidity product. The shelf life of food products can be extended in a natural way by adding these extracts.
--- PAGE BREAK ---
Combining Spices and Nutrients
A new concept combining spices with vitamins and other nutrients provides a convenient way to add both flavor and good-for-you attributes to a variety of foods. Called Grainy™ Seasonings, the line of products are manufactured and distributed by Double K, LLC, Springfield, Va. (phone 703-455-6595, www.grainy.net).
The seasonings are produced by blending assorted grains (including oat bran, barley wheat bran, whole millet, whole wheat, and rice), with legumes, garden vegetables, fruits, soy products, proteins, and herbs. Spices are also added for a mild Mediterranean taste.
Since the formulations are in powdered form, they can maximize absorption while retaining optimum nutritional value. Products in the line include Fiber, Soy & Protein, Vegetable, Fruit, Nutritional Salt, Nutritional Pepper, and Vitamin Plus. Depending on the formulation, the seasonings contain such spices and herbs as pure oregano, mint, rosemary, basil, anise seed, fennel seed, garlic, sea salt, pepper, thyme, parsley, cloves, nutmeg, cinnamon, and others.
Potential applications for the seasonings include appetizers, sauces and dips; frozen, fried, or grilled foods; pizza; pastas; salads, desserts, snacks, and a range of other products.
Expanding Mainstream Cuisines
How many times have we used phrases like, "Let's do Italian tonight" or "I feel like Chinese" or "How about Mexican"?
But in recent years, consumers are becoming familiar with a wide range of other cuisines, such as Indian, Caribbean, Vietnamese, Brazilian, and African. Furthermore, even the more traditional cuisines are evolving or broadening to include other cuisines. Italian, for example, has become Mediterranean. Hispanic has become even more complex, associated with such cuisines as Tex Mex, authentic Mexican, and Latin American. As chefs prepare different dishes, they are also borrowing from different cultures in terms of preparation and usage of ingredients.
With such an array of choices, the word "ethnic" has become somewhat passé, even misleading as it does not quite capture the emerging cuisines that encompass the traditions of other cuisines, both related or not related. For that reason, I personally prefer words such as "global" or "international" to describe how cuisines are evolving and, of particular relevance to this article, the role that spice developments are playing in their formulation.
And indeed, this expansion of cuisines provides another new opportunity for spice manufacturers to take advantage of. For example, at the 2005 IFT Food Expo, Chef Paul Prudhomme's Magic Seasonings Blends, New Orleans, La. (phone 504-731-3590, www.chefpaul.com) introduced 10 new blends of herbs and spices—Citrus Herb, Caribbean, New Orleans, Salt Free, Chipotle, Little Italy, Hot & Sweet, Pueblo, South of the Border, and "Just Plain Good." These blends work well on chicken, turkey, pork, beef, seafood, and vegetable recipes as rubs or sprinkle-on applications.
Companies such as Symrise, Teterboro, N.J. (phone 201-462-2389, www.symrise.com) are developing a library of new savory flavors and seasoning blends that capture the latest trends in international fare. These creations can include Mediterranean, Asian, South American, Indian, Caribbean, and classic American tastes associated with the Deep South. These seasoning blends are suited for use in sauces, dressings, soups, side dishes, and a wide range of entrees.
Let's now briefly look at some of these areas from around the globe.
--- PAGE BREAK ---
• Asian. When thinking about Asian cuisine, Chinese and Japanese traditionally come to mind, although as sushi lovers know, both are very different. In recent years, other cuisines such as Thai, Philippine, and Vietnamese are moving into the mainstream. Flavors such as garlic, ginger, coconut, lemongrass, mushroom, sesame, soy, and teriyaki abound.
We're also seeing more exotic sauces. A traditional Thai hot sauce, Sriracha Chili Sauce, was recently introduced by Lee Kum Kee (USA), Inc., City of Industry, Calif. (phone 626-709-1888, www.LKK.com). The ground dried chili- and garlic-based sauce, known for its quick heat, may be used in condiments, marinades, barbecue sauces, soups, and entrees, as well as mainstream applications ranging from salad dressings to Buffalo wings to frozen pizzas.
A line of authentic Asian sauces, including Hoisin Sauce, Thai-Style Chili Sauce, Plum Sauce, and Black Bean Sauce has been developed by Kikkoman International, Inc., San Francisco, Calif. (phone 415-956-7750, www.kikkoman-usa.com). For example, the addition of Hoisin Sauce to vinaigrettes, sauces, and marinades can help provide an Asian twist while Plum Sauce gives a sweet-savory appeal to prepared noodles and rice bowls.
Wasabi Seasoning is also gaining in popularity. A new company, Real Wasabi LLC, Hilton Head Island, S.C. (phone 877-492-7224, www.realwasabi.com), debuted a line of sauce and marinade products made with the ingredient from the Wasabi japonica plant. The company has been successful in growing the plant native to Japan in the mountain streams of western North Carolina. Authentic wasabi offers a pungent heat on the back of the tongue that quickly dissipates, leaving a sweet aftertaste.
• Hispanic. Mexican cuisine is becoming increasingly mainstream, its growth influenced, in part, by the rising Hispanic population in the U.S. What is particularly interesting (and exciting if you're a spice manufacturer) is the number of territories or product development directions that Hispanic cuisine is encompassing. This can be easily seen if you travel from north (southwestern U.S.) to south (South America), giving new meaning to the phrases, "North of the Border" and "South of the Border."
For starters, there's Tex-Mex, which combines the cultures of Texas and Mexico, providing an Americanized version of Mexican food. Prototypes, such as Chamoy Seasoned Potato Chips, Pico de Gallo Spiced Tortilla Chips, Crunchy Picos de Pollo with Salsa Verde and Salsa Roja, and Aztec BBQ Tacos with Choice of Salsa Verde, Salsa Roja, or Crema Ranchero were highlighted at IFT Food Expo by Griffith Laboratories USA, Alsip, Ill. (phone 708-239-2402, www.griffithlaboratories.com).
And then there's the different regions of Mexico whose dishes have been popularized by chefs such as Rick Bayless. Authentic dishes rely on different varieties of chile peppers which are used raw, roasted, fried, or pickled. Garlic, onions, epazote, cilantro, oregano, cumin, salt, pepper, cinnamon, cloves, and allspice are used as well.
And, more recently, the term Nuevo Latino is being used to describe a cuisine that blends ingredients, flavors, and cooking techniques from Latin America with classical American cuisine. As it evolves, it is encompassing cuisines such as Caribbean, Venezuelan, Brazilian, and Peruvian, creating a broader range of hotter, bolder, and sweeter tastes. Characteristics include the use of dry peppers, annatto seeds, cumin, and cinnamon as rubs and dry marinades; the combination of sweet and spicy notes; and the use of spices, liquors, and other ingredients in unique preparation methods.
--- PAGE BREAK ---
• Mediterranean. Mediterranean cuisine, which includes, of course, Italian, uses such ingredients as cucumber, garlic, leek, onion, Italian spice, sovlaki, oregano, olive oil, lemon, and pesto herb. Feta, Mozzarella, and Parmesan are among the cheese flavors in this group. Various health properties have been attributed to this type of diet. That combined with the flavors that these ingredients offer provide a range of opportunities for spice manufacturers.
Pasta dishes, for example, can be further transformed by incorporating chilies and nontraditional spices. Because of the popularity of the Mediterrean diet, consumers may become more familiar with authentic Greek foods, which are characterized by aromatic olives, lemons, and seafood accented with cardamom, fennel, cinnamon, honey, and cumin. Also, foods from Spain may entice consumers. At Food Expo, Wild Flavors, Inc., Erlanger, Ky. (phone 859-342-3600, www.wildflavors.com) highlighted a prototype, Spanish-Style Marinated Pork Tenderloin with Saffron-Tomato Aioli, that blends the flavors of pork, red wine, olive oil, garlic and smoked paprika. A complementary aioli balances pungency of garlic with mellow tomato undertones.
• Indian. Indian cuisine, which is emerging in popularity and may become the next hot cuisine, is represented by flavors such as cilantro, curry, garlic, and green chile. Garam masala, an authentic-tasting Indian spice blend combining black and green cardamom, cloves, mace, cinnamon, cumin, coriander, fennel seeds, peppercorn, and fenugreek seeds, is offered by Symise Flavors. Kerry Ingredients, Beloit, Wis. (phone 608-363-1200, www.kerryamericas.com) developed a natural East Indian BBQ flavor that it adapted for a pizza application, Chicken Tikka Pizza.
Differentiating Coatings
The October 2005 Ingredients section discussed the number of ways that batters and breadings are adapting to today's health-conscious, flavor-driven marketplace. Spices and seasonings are playing an important role here, as they help to differentiate coatings in the marketplace by providing them with a wide range of taste combinations.
Spices can provide coated foods, especially appetizers and other hand-held convenience foods, with an international flair. The Spanish call these appetizers tapas—referring to traditional foods that are bite-sized and flavorful. A prototype that fits this description could be Mexican Country Pasta Bake with Peppers, Corn, and Black Beans, formulated by Kraft Food Ingredients. Imagine eating a traditional food such as macaroni, but flavored with jalapeños and served in a bite-sized form. Another example from Kraft might be Thai-Style Caramel Glazed Fried Chicken Nuggets.
Several breading systems that reflect international cuisines have been developed by Southeastern Mills, Inc., Rome, Ga. (phone 706-291-6528, www.semills.com). For example, Grecian-Style Breading is a richly flavored Mediterranean system, with tomato, garlic, lemon, and bell pepper flavors lending their complex notes to a crispy flour-based breading. Another Mediterranean example is Rustic Italian Herb Breading—its traditional Italian flavors make it well suited for appetizers and Italian sandwiches. Ole Mexican Breading is a zesty, spicy system for chicken, beef, or pork. Other examples from the company include Tequila-Lime, which combines savory spices with citrus and tequila for appetizers such as crab bites; and Tandoori, which contrasts sweet and brown spices with the heat of red peppers for pork-based appetizers.
--- PAGE BREAK ---
Dipping Into New Snack Possibilities
Today's snacks call for more sophisticated, complex flavors. These flavors or flavor combinations frequently impart an international flair as well as more authentic profiles. Furthermore, with a growing emphasis on whole grains, low-glycemic index, and weight management, snacks are being formulated that provide good-for-you benefits as well as exciting flavors to attract snack lovers. Consequently, snacks can present a broad range of opportunities for spices and seasonings which can help meet these requirements.
A variety of snack seasoning blend concepts that illustrate these potential marketing opportunities have been developed by Kerry Americas, Beloit, Wis. (phone 608-363-1515, www.kerryamericas.com). Here are a few examples:
Mediterranean Organic Seasoning features extra virgin olive oil, onion, tomato, green bell pepper, Italian herbs, and Parmesan cheese. The organic seasoning, influenced by the northern Mediterranean area, is used on a multigrain chip formulated with soy ingredients to yield a low-glycemic index product.
Spicy Citrus Natural Seasoning imparts a complex blend of guajillo chili pepper and zesty spices, with a balancing hint of orange and lime, on organic 5-grain yellow corn tortilla chips. The natural seasoning was adapted for the North American palate from an original formula by Kerry de Mexico.
Black Pepper Vinaigrette Natural Seasoning features a tangy balsamic vinegar flavoring balanced with ground black pepper and hint of Italian herbs. The acidic taste aids mouth watering while the black pepper provides a fresh-ground taste. The seasoning is used on multigrain chips made with soy ingredients that yield a low-glycemic index product.
Burgundy Wine and Herb Natural Seasoning provides potato chips with a robust wine flavor with a hint of herbs and cheese.
The Emerging Spice Child
In the movie 2001: A Space Odyssey, the term "Star Child" referred to man's evolution from primitive ape to space traveler to a new, more advanced species. As can be seen from this article, spices and seasonings are also evolving in a number of ways, offering a wider range of benefits and a corresponding rise in opportunities.
A few years ago, if I mentioned a cholesterol-lowering ingredient, a salt enhancer, a component that treats diabetes, an antioxidant that can lessen carcinogenic compounds, a product that incorporates vitamins, and a line of chocolate flavors, I doubt that anyone would associate these developments with spices and seasonings or with products offered by major spice companies. Furthermore, a few years ago, if I wrote about these developments in a spice article, I would probably be safety tucked away in places where food writers go after experiencing extreme fatigue.
--- PAGE BREAK ---
And, of course, some of the prototypes discussed in this article, would not help me make a case for sanity 10 years ago. Jalapeño in a spiced cider drink? A spicy citrus seasoning? A pizza with an East Indian barbecue flavor? A bread pudding with chocolate chili sauce. Well, you see what I mean.
But today the perception of spices and seasonings—as well as the perception of companies that make them—are changing. Even tried-and-true definitions seem to be breaking down some. For instance, Hershey suggests that chocolate can be used to spice up foods. Which brings up the question asked at every table: "Salt? Pepper? Chocolate?" Or, as another example, When nutrients are added to seasonings, is it still a seasoning or a functional food?
Spices and seasonings are also finding new ways to leave the home kitchen. Consumers, when they visit upscale coffee shops, find spices available for use in their drinks, much like they would find sweeteners and creamers. And, of course, if you order a meal with eggs and hash browns, your server will bring to the table hot sauces, along with the ketchup.
There is little doubt of it: Spices are evolving, their blends becoming more sophisticated, their applications broadening, their value increasing. Spices and seasonings are, as McCormick might phrase it, "elevating the basics," reinventing classic favorite to reach new heights in flavor and, as this article hoped to demonstrate, other benefits as well in terms of health, functionality, and technological advancements.
And, as you finish this article, should you hear strains of Richard Strauss' "Thus Spake Zarathustra," don't be too surprised. What you're about to see, I suspect, is the emerging spice child of the future.
Next month's Ingredients section will look at the role that processing aids, ranging from phosphates to release agents, play in product development.
---
Chilies: A Universal Seasoning?

When thinking of a universal seasoning or flavor—an ingredient that is commonplace in a variety of cuisines—a number of possibilities come to mind—salt, pepper, onion, garlic, vanilla, and so on. But as the infant 21st century advances, chilies are certainly aspiring to the title.
Consider the number of cuisines that require the use of chili peppers to add flavor and pungency: Asian dipping sauces, Mexican salsas and moles, Caribbean jerk dishes, Indian curries, and even Texan chili all need the kick of hot peppers to add authenticity. (With abated breath, I'm still waiting though for pierogis to come out with hot peppers.)
--- PAGE BREAK ---
Comfort foods such as macaroni or meat loaf can be transformed by the addition of chili peppers. And even beverage prototypes can make innovative use of them. At the IFT Food Expo, a prototype Cranberry Cider with a Chipotle Splash was introduced by Vegetable Juices, Inc., Bedford Park, Ill. (phone 708-924-9500, www.vegetablejuices.com). The chipotle puree and spice blend are used at very low levels but still help to tone down the tartness of the cranberry juice. The company highlighted the use of its line of chile pepper juices, purees, dices, and sauces in more traditional ways as well.
Spicy hot chili peppers, including jalapeño, habañero, Anaheim, and serrano varieties, are available from Van Drunen Farms, Momence, Ill (phone 815-472-3100, www.vandrunenfarms.com). The IQF hot peppers are easy to use and retain their just-picked fiery flavor and bright red color.
Gilroy Foods Controlled Moisture Vegetables from ConAgra Food Ingredients, Gilroy, Calif. (phone 800-289-5060, www.conagrafoodingredients.com) are produced by a process which reduces the amount of water in the vegetables, delivering a finished product with intense flavor, color, and nutrition. Since the process removes 30–50% of the water, there will be less water loss to a finished product and more nutrition per pound. The line of products includes jalapeño peppers (diced) green chilies (diced) and bell peppers (stripped and diced).
---
Lactic Yeast Extracts Provide Flavor Enhancement

A new line of lactic yeast extracts may be used as savory flavor enhancers in seasonings and other applications. Marketed under the name
Saporesse,
the product was introduced by Synergy Flavors, Inc., formerly U.S. Flavors & Fragrances (USF&F), Wauconda, Ill. (phone 847-487-1011;
www.synergytaste.com
).
The flavor enhancers are produced from a proprietary process where the yeast is grown on lactose, but contains no lactose. The extracts have been shown to achieve 30% salt reduction in snacks and 50% salt reduction in sauces. When added to cheese or cheese-containing products, the lactic yeasts magnify the cheese flavors without boosting calories or fat levels.
--- PAGE BREAK ---
USF&F became a member of the Irish-based Carbery Group in 2002, and in 2004 sold its fragrance business. The name change to Synergy comes as the company aligns itself with Carbery Group's other flavor-related businesses. Synergy will encompass U.S. Flavors & Fragrances (U.S.), Synergy Flavors (U.K.), and Customblend Ingredients (U.K.), as well as the Carberry line of savory flavors and enhancers.
---
Seasoning Helps Translate New Flavors

Traditionally, foods such as creamy soups, meaty-tasting gravies, cheesy sauces, and stewed entrees need hours of stewing and roasting to draw out their flavor and aroma nuances. Now, a well-balanced profile, rich mouthfulness, and a mature, long-lasting taste perception associated with foods such as these can be achieved by a savory seasoning,
Koji-Aji,
from Ajinomoto Food Ingredients, Chicago, Ill. (phone 773-714-1436,
www.ajiusafood.com
).
According to the manufacturer, the product's name comes from the Japanese word "kokumi," which is used to express the concept of deliciousness, a blend of initial flavor impact, continuity, and roundness. The seasoning provides the kokumi sensation, which goes beyond the five basic taste sensations.
The product can benefit a wide variety of meat and poultry applications, seafoods, fermented foods, vegetables, oils, and spices. In spices, for example, it can increase flavor notes of pepper, ginger, mustard, basil, and thyme, providing a greater and longer-lasting impact. It can also mimic the flavor and texture of full-fat products.
by Donald E. Pszczola,
Senior Associate Editor 
[email protected]