Functional foods have evolved beyond vitamin or mineral fortification. Thanks to advances in research and innovations in ingredient product development, consumers now find foods and supplements touting nutraceuticals such as conjugated linoleic acid, green tea, and dairy peptides.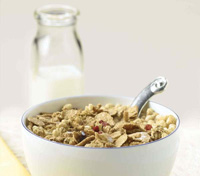 Here is a brief rundown of some of the novel nutraceutical developments targeting the health concerns of many consumers.
Heart Health
Functional foods targeting heart health commonly carry label claims about lowering cholesterol, due to the presence of such ingredients as oat bran, soy protein, fiber, and phytosterols.
Omega-3 fatty acids have been in the limelight recently because of the health claim linking them to a reduced risk of cardiovascular disease. In March, Source Food Technology Inc., Research Triangle Park, N.C., announced that it had licensed proprietary technology from Brandeis University that allows its proprietary omega-3 fish oil, OmegaSource™, to be infused with specially processed phytosterols, resulting in a synergistic effect on heart health. According to the company, studies at Brandeis showed that when groups of gerbils were given either phytosterols or OmegaSource alone, their cholesterol levels decreased by over 30%. However, when a third group was given the new, specially processed formulation, their cholesterol values were depressed more than 50%. Additional studies are planned to evaluate the response in humans.
An immunoglobulin protein isolate, ImmunoLin from Proliant Health Ingredients, Ankeny, Iowa, was also shown to have a potential role in lowering cholesterol, a benefit extending beyond its immune enhancement properties (Earnest et al., 2005). Carried out at the Cooper Institute in Dallas, participants with moderately high cholesterol took a 5-g dose of ImmunoLin every day for six weeks. Results showed that men and women with moderately high cholesterol had a 6% drop in total cholesterol after three weeks. In addition, low-density-lipoprotein cholesterol decreased by 7% while high-density-lipoprotein cholesterol remained constant.
In addition to lowering cholesterol, heart-healthy functional foods are now beginning to focus on lowering blood pressure, with potential nutraceuticals such as milk peptides. Dairy peptides marketed by Japan-based Calpis were recently shown to assist in the prevention of hypertension in people with blood pressure above normal (Mizuno et al., 2005). The study, conducted among 131 subjects with high-normal blood pressure and mild hypertension, found that volunteers consuming a daily 1.8-mg dose of isoleucine-proline-proline and valine-proline-proline saw a significant decrease in systolic blood pressure at six weeks.
In July of this year, Unilever launched a blood pressure-controlling dairy beverage under the Becel brand in Portugal containing Calpis' AmealPeptide. The ingredient is produced by the enzymatic hydrolysis of casein that creates the tripeptides.
Another milk peptide, developed by Dutch dairy ingredients firm DMV International, was also shown to reduce blood pressure in people with hypertension (Townsend et al., 2004). The casein peptide, called C12, reduced systolic pressure in 10 hypertensive participants by an average of nine points, while diastolic pressure fell an average of six points.
--- PAGE BREAK ---
Cancer
Green tea has several reported benefits, including weight management and anti-cancer properties. A potential mechanism behind its anti-cancer properties was revealed in a study at the University of Rochester Medical Center (Palermo et al., 2005). According to researchers, green tea appears to protect against cancer by affecting a "promiscuous" protein that pharmaceutical experts are already targeting in an effort to develop a new drug to stop the disease.
The team found that a green tea extract, epigallocatechin gallate (EGCG), binds to a chaperone protein known as HSP90. Other research has shown that many cancer cells have an increase in the level of HSP90 compared to healthy cells, and that when HSP90 is blocked, levels of proteins that make cancer cells grow drop. When the protein and EGCG bind, HSP90 no longer turns on the aryl hydrocarbon receptor, stopping the cascade of events that would lead to the activation of several harmful genes.
Taiyo International Inc., Minneapolis, Minn., expanded its Sunphenon® line of green tea extracts in May with the addition of new ingredients, including a 95% pure EGCG extract. The company introduced four green tea base and green tea beverage ingredients: Sunphenon 30S, Sunphenon 30LB, Sunphenon 30R, and Sunphenon MK-1.
DSM Nutritional Products, Parsippany, N.J., introduced a natural green tea extract with a minimum of 94% EGCG on a dry-weight basis, in the United States this year. At the IFT FOOD EXPO® in July, the company announced that it had launched an innovative marketing campaign to communicate the important health benefits of its self-affirmed GRAS Teavigo™. To make consumers more aware of Teavigo and seek products fortified with the ingredient, DSM's marketing campaign will consist of magazine and radio advertising, plus point-of-purchase materials.
According to DSM, EGCG acts as an antioxidant and scientists believe it may also enhance metabolism and be beneficial in weight management. The company is conducting clinical studies in this area.
Synbiotics were shown to potentially reduce the risk of colorectal cancer in an EU-funded project this year (Orafti, 2005). Eighty volunteers were divided into two groups: those who have suffered from pre-cancerous lesions, and those who have been treated previously for colon cancer. Half of each group took a placebo and the other half a synbiotic every day for 12 weeks.
The synbiotic ingredients combined a prebiotic, Raftilose® Synergy 1 from Orafti Active Ingredients, Malvern, Pa., with two probiotics, Lactobacillus LGG and Bifidobacterium BB12. Intestinal biopsies as well as blood and stool samples were taken at the start and finish of the trial.
Results showed that by taking a synbiotic each day, the damage to cell DNA can be significantly reduced. Cancer patients receiving the synbiotic treatment had a dramatic reduction in levels of DNA damage—60% less than the damage found in the placebo group. The study also highlighted that cell proliferation rates or rates at which (damaged) cells multiply were also significantly reduced, down to levels found in non-cancer or low-risk individuals. Raftilose Synergy 1 is an enriched inulin composition that contains a specific distribution of carefully selected chain lengths of inulin and oligofructose.
--- PAGE BREAK ---
Stress and Mental Alertness
Nutraceuticals, such as conjugated linoleic acid and alpha-lactalbumin, may benefit stress and mental alertness. This past August, a patent was awarded to PharmaNutrients, Gurnee, Ill., for its conjugated linoleic acid, CLA One®, and the attenuation and/or prevention of stress catabolic response. "During the course of our research at Penn State, we discovered CLA One could reduce pro-inflammatory cytokines," stated Susie Rockway, Director of Research and Development. "By modulating specific hormones and inflammatory molecules such as cytokines and eicosanoids before or at time of stress, CLA One can influence those physiological processes associated with catabolic stress response." Working by effectively reducing the expression of IL-1, IL-6, PGE2 and TNFα, CLA One minimizes the stimulation or propagation of the stress response.
A commercial form of bovine alpha-lactalbumin, BioPURE Alphalactalbumin™ was recently shown to help improve morning performance in people with sleep complaints (Markus et al., 2005). The research, carried out by Davisco Foods International Inc., Eden Prairie, Minn., tested whether evening consumption of alpha-lactalbumin with an enriched tryptophan content of 4.8 g/100 g protein increased the ratio of plasma tryptophan to the sum of the other large neutral amino acids (Trp:LNAA) and improved alertness and performance on the morning after sleep, particularly in subjects with sleep complaints.
The study found that evening alpha-lactalbumin intake caused a 130% increase in Trp:LNAA before bedtime and reduced sleepiness and improved brain-sustained attention processes the following morning. In poor sleepers, this was accompanied by improved behavioral performance.
Weight Control
A new appetite suppressant, PinnoThin™, was introduced by Lipid Nutrition, Channahon, Ill., in May. Derived from small seeds of the Korean pine-nut tree, it is believed to suppress appetite by stimulating the release of the hormone cholecystokinin (CCK), which results in the feeling of satiety. The active component is pinolenic acid, one of the major fatty acids present in Korean pine-nut oil.
According to the company, independent research conducted by TNO Food and Health showed that in a group of 18 women, PinnoThin significantly increased the amount of CCK hormone. Capsules were used containing 3 g of PinnoThin and a placebo containing 3 g of olive oil. Satiety score and blood parameters linked to satiety like CCK were monitored in the research. The data showed that the amount of the CCK hormone significantly increased and the desire to eat and the prospective food intake scores were less after 30 min of PinnoThin consumption.
Diabetes
In August, the Food and Drug Administration issued a favorable response to a qualified health claim petition filed by Nutrition 21, Purchase, N.Y., recognizing chromium picolinate as a safe nutritional supplement that may reduce the risk of insulin resistance and possibly type 2 diabetes. The company markets Chromax® chromium picolinate.
In a letter to the company, The FDA's Center for Food Safety and Applied Nutrition concluded that there is credible evidence to support the following qualified health claim:"One small study suggests that chromium picolinate may reduce the risk of insulin resistance, and therefore possibly may reduce the risk of type 2 diabetes. FDA concludes, however, that the existence of such a relationship between chromium picolinate and either insulin resistance or type 2 diabetes is highly uncertain."
The study cited by FDA was conducted by William Cefalu, Chief of the Division of Nutrition and Chronic Diseases at the Pennington BioMedical Research Center, Louisiana State University System (Cefalu et al., 1999). "Emerging research suggests that 200–1,000 mcg of chromium as chromium picolinate may play an important role in carbohydrate metabolism," said Cefalu.
by Linda Milo Ohr,
Contributing Editor,
Denver, Colo.
[email protected]
References
Cefalu, W.T., Bell-Farrow, A.D., Stegner, J., Wang, Z.Q., King, T., Morgan, T., and Terry, J.G. 1999. Eff ect of chromium picolinate on insulin sensitivity in vivo. J. Trace Elements Exp. Med. 12: 17-83.
Earnest, C.P., Jordan, A.N., Safi r, M., Weaver, E., and Church, T.S. 2005. Cholesterol-lowering eff ects of bovine serum immunoglobulin in participants with mild hypercholesterolemia. Am. J. Clin. Nutr. 81: 792-798.
Markus, C.R., Jonkman, L.M., Lammers, J.H.C.N. Deutz, N.E.P., Messer, M.H., and Rigtering, N. 2005. Evening intake of alpha-lactalbumin increases plasma tryptophan availability and improves morning alertness and brain measures of attention. Am. J. Clin. Nutr. 81: 1026-1033. 
Mizuno, S., Matsuura, K., Gotou, T., Nishimura, S., Kajimoto, O., Yabune, M., Kajimoto, Y., and Yamamoto, N. 2005. Antihypertensive eff ect of casein hydrolysate in a placebo-controlled study in subjects with high-normal blood pressure and mild hypertension. Brit. J. Nutr. 94(1): 84-91. 
Orafti. 2005. Raftilose® Synergy1 shown to protect against colon cancer. Orafti Active Food Ingredients press release, April 14. 
Palermo, C.M., Westlake, C.A., and Gasievicz, T.A. 2005. Epigallocatechin gallate inhibits aryl hydrocarbon receptor gene transcription through an indirect mechanism involving binding to a 90 kDa heat shock protein. Biochemistry 44: 5041-5052. 
Townsend, R.R., McFadden, C.B., Ford, V., and Cadée, J.A. 2004. A randomized, doubleblind, placebo-controlled trial of casein protein hydrolysate (C12 peptide) in human essential hypertension. Am. J. Hypertension 17: 1056-1058.