A stroll down any aisle at this year's IFT Food Expo provided a glimpse of current and upcoming trends in functional foods and beverages. From the growing popularity of barley and omega-3 fatty acids to the increasingly sophisticated ingredient applications showcased by suppliers, there were insights to be gained by everyone.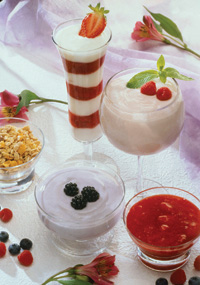 For example, growing evidence shows that the increasing popularity of berries and berry flavors in recent years is now extending to other, less-well-known superfruits, such as pomegranate, mangosteen, açai, and noni, which are marketed on their antioxidant content and associated health benefits, according to Netherlands-based Innova Market Insights. At its Taste the Trend pavilion, the company predicted that new exotic fruits poised to follow the popularity of pomegranate include acerola, goji, seabuckthorn, and the pulp of the baobab tree. Other Innova insights included the continued strength of portion-control packaging, the embracing of whole grains, and the potential of barley's following oats as the next staple whole-grain food.
The following is a sampling of other healthy insights provided on the show floor.
Prototypes Growing in Sophistication
It used to be that nutrition bars and beverages were the main applications in which nutraceutical ingredients were showcased. Not only have bars and beverages improved in flavor, texture, and fortification, but the variety of novel applications for nutraceutical ingredients has increased as well. Attendees feasted on sophisticated prototypes like fortified ice creams, yogurts, breads, pastas, candies, and more.
Fortitech, Inc., Schenectady, N.Y. (phone 518-372-5155, www.fortitech.com), focused its sights on Baby Boomers, who account for more than 70 million Americans. Three types of chocolate clusters sampled at the booth addressed specific health-related issues: brain health, heart health, and bone heath. Brain-healthy chocolate clusters were packed with 16 different nutrients, including a complete antioxidant profile, calcium, and iron for improved cognitive function. The heart-healthy chocolate clusters supported good cardiovascular health and wellness by providing lycopene, coenzyme Q10, vitamins B-12 and B-6, vitamin C, and folic acid. A bone-healthy chocolate cluster was packed with calcium, vitamin D, and magnesium. Other healthy options for active Baby Boomers included a low-carb, high-protein, white-chocolate-chip energy bar with vitamins A, E, C, B-1, B-2, B-6, and B-12.
Cargill Health & Food Technologies, Wayzata, Minn. (phone 952-742-2185, www.cargill.com), organized its booth by category with innovative, delicious food prototypes for sampling in each area. These included yogurt with Oliggo-Fiber® inulin and SBIfidus Batl-ram probiotic cultures; a dark-chocolate bar with Cargill™ Fiber Crisp; a high-fiber bun with Oliggo-Fiber inulin, ActiStar™ RT resistant starch, and WheatSelect™ white spring whole-wheat flour; a cranberry-pomegranate smoothie with CoroWise™ water-dispersible sterol esters, Prolisse® soy protein isolate, and Oliggo-Fiber inulin; and a high-fiber extruded cereal with MaizeWise™ whole-grain corn flour and MaizeWise corn bran.
--- PAGE BREAK ---
Wild Flavors Inc., Erlanger, Ky. (phone 859-342-3600, www.wildflavors.com), featured novel prototypes, including an immunity dessert, weight-loss water, skin-health water and juice, and a heart-health bar. The company showcased its Health Ingredient Technology & Solutions® (H.I.T.S.) line of health ingredients, which includes CoQ10, vitamins A and E emulsion, water-soluble vitamins A and E, lutein, lycopene, grape seed extract, green and white tea polyphenols, apple polyphenols, theaflavins, taurine and other amino acids, herbs, glucosamine, chondroitin, isoflavones, and omega-3 fatty acids.
Archer Daniels Midland Co., Decatur, Ill. (phone 217-424-5200, www.admworld.com), announced the launch of the Aspire™ Food Systems, a service designed to help snack food formulators bridge the gap between indulgence and healthy eating. Among the options included are customized formulations for nutrition and energy bars. Some of the featured applications were a nougat pecan roll with Fibersol-2™ digestion-resistant maltodextrin; an Aspire PB nougat bar with Pro-Fam® soy protein isolate, Arcon® soy protein concentrate, and CardioAid® plant sterols; an Aspire Crunchy Cajun Bar with Prolite™ wheat protein isolate; an orange-mango soy beverage with Pro-Fam® soy protein isolate; and a crunchy salmon wrap with CardioAid plant sterols.
HortResearch, Auckland, New Zealand (phone +001-530-574-5261, www.hortresearch.com), highlighted its research and development capabilities in fruit and food science. Packed with health-promoting antioxidants and anthocyanins, a red-fleshed apple juice beverage offered increased mental acuity and alertness. Another new beverage concept, the "Belli" fruit shot was based on the company's baby kiwifruit, and was designed to improve gut health and enhance the body's natural defenses.
Solae Co., St. Louis, Mo. (phone 800-325-7108, www.thesolaecompany.com), showed a pomegranate-blueberry heart-healthy smoothie, which delivered 7 g of soy protein. It was formulated with Supro® XT 40, which provides optimal stability and flavor performance in acidic beverages. Sqwiggles, a healthier snack food for children that provides 8 g of protein, was formulated with Supro 670, a low-viscosity soy protein isolate (90% protein) that promotes expansion and enables an airy texture in extruded applications.
Purac America Inc., Lincolnshire, Ill. (phone 847-634-6330, www.purac.com), invited attendees to its Enhanced Water Bar, allowing visitors to select and mix the mineral mix and flavor of their choice. Puracal® calcium and mineral lactates and gluconates were featured.
Kerry Ingredients, Beloit, Wis. (phone 800-334-4788, www.kerryamericas.com), showcased a number of product prototypes designed for health and wellness. A superfruit bar with açai puree and pomegranate fruit powder contained encapsulated omega-3 fatty acids and delivered 500 mg of omega-3/50-g bar. A soy biscotti contained functional soy powder, low-fat soy grits, and soy nuts. A 65-g serving delivered a good source of protein and fiber for enhanced energy and satiety. A calcium chocolate shake contained Ultranor HT-10 Calcium Milk Protein Concentrate and delivered 80% of the RDA for calcium.
--- PAGE BREAK ---
Joint Ventures and Company News
Several company announcements exemplified suppliers' commitments to provide high-quality ingredients and technical expertise. Whether companies were joining forces or expanding their capabilities, functional food manufacturers can expect to find more assistance in their product development endeavors.
Wright Group, Crowley, La. (phone 337-783-3096, www.thewrightgroup.net), and Puleva Biotech, Granada, Spain, announced a joint venture aimed at creating new products and markets for omega-3 fatty acids based on Wright's formulation and marketing expertise and Puleva Biotech's fish oils. Wright will create a new product line of stable fish oil powders based on its proprietary SuperCoat® and Smart™ microencapsulation technologies.
"This partnership is a natural extension of our already strong relation-ship with Puleva Biotech," said Sam Wright, CEO of Wright. "We are totally in sync on issues of quality, technology, marketing strategy, and customer care." At its booth, Wright offered a complete menu of prototypes that contained omega-3 fatty acids. A salad featured SuperCoat Omega 3™ vinaigrette salad dressing. Signature pizzas were made on a thin crispy crust fortified with SuperCoat Omega 3. Marinara sauce on pasta was fortified with omega-3 fatty acids as well.
Cognis Nutrition & Health, La Grange, Ill. (phone 800-328-6199, www.cognis.com), and Wild signed an agreement to jointly develop innovative flavor systems with health benefits. Cognis also announced that it had acquired Napro PharmaAS, a Norwegian manufacturer of omega-3 fish oils for the nutrition industry. Finally, the company introduced an expanded line of Vegapure® phytosterols. An orange sherbet fortified with new Vegapure F40 WDP E non-GMO sterols was featured at the company's booth. The company's range of nutritional ingredients was also showcased in an açai-flavored juice drink with Vegapure 95FF sterol esters, Covitol® 700WD natural-source vitamin E, and Xangold® 30% OLV natural lutein esters; cake bites with Xangold 10% natural lutein esters; and an immunity-booster drink with Covitol Natural Source Vitamin E and Tonalin® CLA conjugated linoleic acid derived from safflowers.
ADM announced the formation of a joint venture with Matsutani Chemical Industry Co., Ltd., and Matsutani America, Inc., Forsyth, Ill. (phone 217-875-9819, www.matsutaniamerica.com). The joint venture supports the worldwide sales and marketing of Fibersol-2™, a soluble dietary fiber ingredient.
--- PAGE BREAK ---
GTC Nutrition, Golden, Colo. (phone 303-216-2489, www.gtcnutrition.com), launched its Building Nutrition Solutions for Life™ campaign, which will reach consumers in the growth, performance, and vitality stages of life and address the need to improve and maintain bone, digestive, glycemic, heart, and immune health. It will include partnerships with key customers, co-branding opportunities, and consumer outreach. The company's ingredients include NutraFlora® short-chain fructooligosaccharides prebiotic fiber, Aquamin™ natural calcified mineral source, CalciLife™ prebiotic mineral formulation, and Natureal™ oat bran concentrate. In addition, Corn Products International Inc., GTC's parent company, celebrated its 100th anniversary by showcasing its ingredients in a range of prototype products. The company produces dextrose, starch, high-fructose corn syrup, and glucose.
LycoRed Ltd., Fairfield, N.J. (phone 877-592-6733, www.lycored.com), announced its entry into the vitamin and mineral premix market in the United States and the extension of its Lyc-O-Mato® product line. As a lycopene source, non-GMO Lyc-O-Mato Red delivers three times more lycopene than ordinary tomato paste. The company showcased its tomato lycopene in a variety of applications, from soy hot dogs and nutrition bars to breakfast cereal flakes and a fruit-flavored dairy smoothie.
--- PAGE BREAK ---
Expanding Omega-3 Applications
Omega-3 fatty acid suppliers used a variety of prototypes to highlight the fact that omega-3 ingredients have grown in versatility. As consumers continue to accept omega-3's health benefits, they will find an increasing number of omega-3-fortified products, from infant foods to beverages and baked goods.
Ocean Nutrition Canada Ltd., Dartmouth, Canada (phone 902-480-3200, www.ocean-nutrition.com), displayed several products showcasing the versatility of its omega-3 fatty acid, MEG-3™. Yogurt, orange juice, a crepe filled with cream cheese and blueberry, cookies, and chocolates were among the products featured.
Omega Protein Inc., Houston, Tex. (phone 877-866-3423, www.omegapure.com), discussed how its long-chain omega-3 OmegaPure® benefits heart health, behavior, eye function, ADD/ADHD, mood, weight, and cognitive function in children. Applications on display included omega-3-fortified green tea ice cream, lemon biscottis, chocolate truffles, and banana nut muffins.
Martek Biosciences Corp., Columbia, Md. (phone 410-740-0081, www.martekbio.com), discussed results from its national survey, which showed that in the U.S. most mothers of children under the age of three said that they would purchase foods that help promote children's brain development. A DHA ingredient, Martek DHA™, made from algae, is a vegetarian source available as a highly purified oil or microencapsulated powder.
--- PAGE BREAK ---
Barley's Bright Future
Barley ingredients were more evident at this year's show, thanks in part to the Food and Drug Administration health claim linking barley to a reduced risk of heart disease.
ConAgra Food Ingredients, Omaha, Neb. (phone 800-851-9618, www.conagrafoodingredients.com), showcased its Sustagrain® barley flour in a chocolate chipotle smoothie. This ingredient is a proprietary, identity-preserved waxy, hulless barley variety. With dietary fiber making up more than 50% of its carbohydrates—and 40% of that in the form of cholesterol-lowering soluble fiber—it can be a potent tool for heart health.
Barley Fermentation Technologies, Inc., Fukuoka, Japan (phone +81-92-283-1771, www.b-fermentation.com), introduced its fermented barley products, including Fermented Barley Extract. This is a natural food product rich in amino acids/peptides, oligosaccharides, dietary fiber, nucleic acids, polyphenol, gamma-aminobutyric acid, and citric acid. Other products include Fermented Barley GABA and Fermented Barley Fiber.
DKSH, Baltimore, Md. (phone 410-385-1666, www.dksh.com), highlighted Barley Balance™, a naturally concentrated barley beta-glucan, which lowers cholesterol, reduces blood sugar, and can promote weight loss with proper diet changes. It is made entirely by a dry milling and separation process.
New Ingredients Introduced
Enhanced functionality of ingredients, new emerging ingredients, and expanded ingredient lines were just some of the new ingredient trends observed at this year's show.
Watson Inc., West Haven, Conn. (phone 800-388-3481, www.watson-inc.com), introduced Clear-E, a fine, free-flowing form of vitamin E spray dried within a modified starch matrix. When mixed into solution, the ingredient forms a micellar dispersion, producing a clear solution. It is intended for beverage applications where optically clear products are desired. At the booth, Clear-E was showcased in fortified water. Other novel prototypes included a fruit, nut and granola bar, which was formulated with a comprehensive Watson Premix of vitamins and minerals. An Apple-a-Day Fruit Snack showcased nutraceutical blends containing vitamins, minerals, amino acids, and botanicals. The blend of vitamin C, zinc, echinacea, rose hips, ginger, and L-lysine was specially formulated to be effective against both bacterial and viral infections.
DSM Nutritional Products Inc., Parsippany, N.J. (phone 800-526-0189, www.nutraaccess.com), showcased its newly expanded line of branded ingredients, which included Hidrox® hydroxytyrosol, a powerful olive polyphenol; All-Q™ CoQ10; redivivo™ lycopene; Ropufa® LC-Omega-3; Optisharp™ zeaxanthin; FloraGlo® Lutein; and Teavigo™ pure and natural EGCG extract from green tea. The company also launched a new lutein-beadlet, Lutein 5% CWS/S-TG. It is the latest addition to the company's portfolio of animal-free products, including beta-carotene, vitamin A, vitamin E, vitamin D-3, All-Q and Optisharp.
--- PAGE BREAK ---
Kaneka Nutrients L.P., Pasadena, Tex. (phone 291-291-4489, www.kanekaq10.com), highlighted numerous applications of KanekaQ10 brand of CoQ10 now also available as a water-soluble powder. Kaneka Q10 EP40AN contains 40% of Kaneka Q10 and is kosher, non-GMO, and food grade. CoQ10 is a powerful, fat-soluble, vitamin-like substance found naturally in all forms of animal life and is vital in the production of energy.
Gold Coast Ingredients, Inc., Commerce, Calif. (phone 800-352-8673, www.goldcoast.com), introduced a comprehensive line of certified organic flavors, including liquid and powdered versions of the company's popular flavors. Custom organic flavors can be developed for virtually any application.
Gadot Biochemical Industries Ltd., Buffalo Grove, Ill. (phone 888-424-1424, www.gadotbio.com), introduced a new patent-pending calcium potassium citrate compound, Gadocal K, for soy milk and milk drinks. Its chemical composition and physical characteristics enable the creation and maintenance of a stable suspension without a gritty mouthfeel.
Ingredients that Maintain Weight
The weight issue is one that will not go away. Suppliers showcased a variety of ingredients that will help formulate foods that aid consumers in the battle against the bulge.
DSM Food Specialties, Delft, Netherlands (phone +31-15-279-3474, www.dsm-foodspecialties.com), highlighted Fabuless™, a weight management ingredient that triggers the natural appetite control mechanism to reduce calorie intake. It is a patent-protected combination of oat and palm oils, which are both naturally occurring dietary lipids. Other ingredients shown included the Lafti® probiotic range and PeptoPro®, a protein hydrolysate that can help replenish muscle energy reserves and protect muscle tissue.
Almond Board of California, Modesto, Calif. (phone 209-549-8262, www.almondsarein.com), reviewed epidemiological data showing that nut eaters have a lower body mass index. These findings led to clinical trials that tested how almonds affect weight loss and maintenance. Initial results suggested that almonds play a satiating role in a mixed diet, counterbalancing caloric intake with dietary compensation from the energy in almonds.
Golden West Nuts Inc., Ripon, Calif. (phone 209-599-6193, www.goldenwestnuts.com), also highlighted the health benefits of California-grown almonds at its booth. The company is a handler and processor of in-shell and shelled California almonds.
--- PAGE BREAK ---
Artemis International Inc., Fort Wayne, Ind. (phone 260-436-6899, www.artemis-international.com), displayed two beverages, BerrySlim™ weight-loss drink and BerryForce™ athletic performance drink. The weight-loss drink contained puree from kokum and purple corn, two ancient medicinal plants that contain anthocyanins and hydroxycitric acid. The athletic performance drink was offered in two flavors: elderberry-pomegranate and elderberry-cranberry-orange.
Dairy Management Inc.™, Rosemont, Ill. (phone 800-248-8829, www.innovatewithdairy.com), highlighted research showing the emerging health benefits of whey. For example, whey protein may have an influence on satiety and food intake regulation. In addition, the consumption of whey protein in exercise-trained individuals is associated with an increase in lean body mass without a change in fat mass.
InterHealth Nutraceuticals Inc., Benicia, Calif. (phone 707-751-2800, www.interhealthusa.com), showcased its weight management ingredient, Super Citrimax®. It is a patented calcium/potassium-hydroxycitric acid that has been shown to control appetite, burn fat, and promote healthy body weight. Another ingredient, ChromeMate® is a patented oxygen-coordinated, niacin-bound chromium complex that plays an important role in proper insulin function, maintenance of healthy blood sugar, normal energy production, and promotion of lean body mass.
United Soybean Board, Seattle, Wash. (phone 206-270-4522, www.talksoy.com), featured kettle chips that had been fried in low-linolenic soybean oil and contained 0 g of trans fatty acid. According to its 2006 13th Annual National Report, consumers continue to recognize soybean oil as one of the healthiest oils. Those consumers who are aware of soybean oil's specific health attributes say it contains less total fat and contains unsaturated "good" fats.
Qualisoy, Seattle, Wash. (phone 206-270-4634, www.qualisoy.com), a collaborative effort of the soybean industry, works to identify seed traits that will improve the fatty acid profile of soybean oil, making it more stable for baking and frying applications and reducing or eliminating trans fatty acids. For example, low-linolenic soybean oils are now commercially available for food companies that want to reduce or eliminate trans fatty acids from products. Research on and the development of mid-oleic and high-oleic soybean oils is being conducted.
--- PAGE BREAK ---
Fiber and Whole Grains
Fiber and whole-grain ingredients have proven to be healthy mainstream ingredients. Their benefits in heart health, weight maintenance, and immunity add to their wide consumer appeal. Suppliers showed that these ingredients have wide-reaching applications and versatile functionalities.
National Starch Food Innovation, Finderne, N.J. (phone 908-685-5000, www.foodinnovation.com), showcased several ingredient lines, including Hi-maize® flours and meals and Nutriose® soluble fibers. The Hi-maize product line includes two corn flours and two corn meals with total dietary fiber ranging from 20% to 50% in resistant-starch form. A Brazilian corn cake that featured Hi-maize Corn Flour 150 was a "good source" of dietary fiber while a candied ginger-orange muffin featured Hi-maize 260 Resistant Starch. The Nutriose soluble fiber, made from corn and wheat, was featured in a "good source of fiber" lemonade and a curried apple bisque with minted Greek yogurt.
Lonza Inc., Allendale, N.J. (phone 201-316-9200, www.lonza.com), highlighted FiberAid®, a larch arabinogalactan. This natural, water-soluble polymer provides benefits in health and sports beverages, and it has a high fiber content and low viscosity.
Wacker Chemical Corp., Adrian, Mich. (phone 517-264-8671, www.wacker.com), showcased Cavamax® W6, a new colorless natural dietary fiber that is heat stable even under acidic conditions and stable in carbonated beverages. The company also introduced Cavamax CoQ10, a powder that disperses easily in aqueous systems.
Creative Research Management, Stockton, Calif. (phone 209-938-0900, www.crmcorp.net), showcased GrainLife™, a line of patent-pending ingredients with one-of-a-kind functional properties that enable food manufacturers to add whole-grain nutrition to products such as beverages, frozen desserts, and even frosting. The RiceLife, OatLife, and WheatLife ingredients contain all the components of the corresponding cooked whole grain. The GrainLife process technology results in whole-grain concentrates and powders with highly desirable functional properties.
Riviana Foods, Houston, Tex. (phone 713-529-3251, www.rivianaindustrial.com), highlighted its extensive line of instant and regular rice products. Its line of brown and white IQF rice offers the ultimate in convenience. Its Crisp Rice products are uniquely processed to hold up under hot syrups or chocolates.
AmeriFlax, Mandan, N.D. (phone 701-663-9799, www.ameriflax.com), highlighted the benefits of flaxseed as a source of omega-3 fatty acids, lignans, and fiber. Research is ongoing surrounding the health benefits of flaxseed in areas such as prostate cancer and the incorporation of flax in food systems such as yogurt, milk, and pasta.
Looking forward to seeing what's in store for next year's show in Chicago!
by Linda Milo Ohr

Contributing Editor
[email protected]