Food professionals learned about the latest research in food science and technology and viewed the latest developments in ingredients, nutraceuticals, analysis, processing, packaging, and food industry services at the Institute of Food Technologists' 66th Annual Meeting + Food Expo in Orlando, Fla., June 24–28, 2006. The event attracted 16,111 attendees from 75 countries and featured many new approaches in addition to its traditional technical presentations, exhibits, meetings, short courses, and social events. Here are some highlights.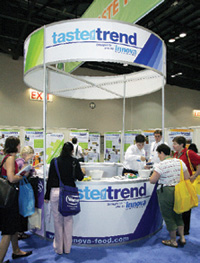 Awards Celebration & Networking Reception
At the Awards Ceremony on Saturday evening, after a brief welcome by Executive Vice President Barbara Byrd Keenan (1), IFT President Margaret Lawson (2) reviewed IFT's accomplishments during the past year, specifically mentioning IFT's cultivating sound science leadership through publication of scientific research reports; collaborating with domestic and international organizations on such programs as the IFT/Discovery Education career guidance initiative, the Global Food Safety and Quality Conference immediately following the Annual Meeting, and a forthcoming Food Summit in China; IFT's contracts with the Food and Drug Administration resulting in the Food Terrorism Awareness Program and its Food Defense Awareness Workshops; and enhanced technical programming at the Annual Meeting.
Lawson presented plaques to this year's 9 newly elected Fellows and 14 Achievement Award winners for their outstanding achievements and contributions to the field of food science and technology (see story on page 62). George Inglett (3) received IFT's highest honor, the Nicholas Appert Award.
Lawson then presented a plaque to immediate Past President Herbert Stone (4), thanking him for his service to IFT over the past three years, and introduced Dennis Heldman (5), who will take office as President in September. After receiving a gavel donated by the Student Association and the traditional rotating copy of Roberts' Rules of Order, Heldman described his goals for his term as President: establishing the structural framework for IFT to develop and deliver high-quality continuing education programs, including technical and nontechnical courses; stabilizing the current IFT membership decline, creating an appropriate environment for membership recruitment and retention, and enhancing membership satisfaction; increasing the visibility and understanding of the food science profession through an organized marketing program; strengthening strategic alliances among organizations with interests in food; and becoming proactive in communication of food science information to multiple audiences.
Heldman then introduced John Floros, who will take office as IFT President in September 2007, and concluded the Awards Celebration by inviting everyone to the Networking Reception immediately following (6).
After the Awards Ceremony, IFT dignitaries posed for a photo. From left in (7) are President-Elect II Floros, President-Elect Heldman, President Lawson, Past President Stone, and Executive Vice President Keenan.
--- PAGE BREAK ---
Keynote Session
At the Keynote Session on Sunday morning, President Lawson welcomed the attendees to the varied offerings at this year's event.
Alton Brown (8), the Food Network's "Good Eats" guru known for challenging traditional models for cookbooks and cooking shows, presented the keynote address to a large and enthusiastic audience.Saying "I'm relatively certain that I'm the dumbest guy in this room, but that doesn't mean I'm stupid," he emphasized the need for the food science community to learn how to communicate outside the community. He made his points in a very humorous, yet serious manner that was very entertaining.
Executive Vice President Keenan introduced a video presentation about the IFT/Discovery Education career guidance initiative. She said that multimedia educational and career guidance materials developed by IFT's Career Guidance Committee and Discovery Education were distributed to 18,000 public high schools nationwide in January. The materials reached an estimated audience of 9 million students plus 38,000 guidance department chairs and counselors and 95,000 science department chairs and teachers.
John Ruff (9), Senior Vice President of Global Quality, Scientific Affairs and Nutrition at Kraft Foods and Chair of the IFT Foundation, described IFT's new A Taste for Science campaign and spoke about the value of donations to the IFT Foundation, citing the Discovery Education project as one of the Foundation's success stories.
Keenan presented a crystal commemorative to former Ambassador Kenneth Quinn (10), President of the World Food Prize Foundation, in honor of the 20th anniversary of the World Food Prize. Quinn thanked IFT Past President Al Clausi for his efforts in establishing this "Nobel Prize for food," then announced that this year, for the first time, the prize is being awarded to three winners—Alysson Paolinelli, Edson Lobato, and A. Colin McClung—for implementation of soil science and policy implementation in Brazil. He said that the award ceremony will be held in Des Moines, Iowa, on October 18–20, 2006, and will feature a symposium, "Replicating the Green Revolution," that will include, among other speakers, IFT Past President Mark McLellan.
Lawson presented a crystal commemorative to Food and Drug Administration representative Robert Brackett (11) in honor of FDA's 100th anniversary.
After the keynote session, Brown signed copies of his book, I'm Just Here for the Food, at the IFT booth (12). The scheduled signing was supposed to last one hour, but in response to the large number of attendees who purchased his book on site—more than 700—he signed books for more than three hours.
--- PAGE BREAK ---
Pre-Meeting Programs
IFT's Knowledge & Learning Center, celebrating the 35th anniversary of IFT's continuing education courses, conducted six two-day continuing education programs on the Friday and Saturday preceding the Annual Meeting: "Ingredients and Applications for Promoting Healthy Foods," "High-Potency Sweeteners," "Food Powder Technology," "Approaching Product Design Systematically and Strategically," "Incorporating Food Safety into New Products," and "Food Plant Sanitation." P.C. Vasavada (13) lectured on foodplant sanitation.
Technical and Nontechnical Programs
The Technical Program, which began on Sunday afternoon and continued through Wednesday morning, featured 1,627 presentations on all aspects of food science and technology and its related disciplines. There were 71 symposia with 350 speakers, 23 oral technical sessions with 192 speakers, 44 poster sessions with 1,046 presentations, 4 New Products & Technologies sessions with 39 presentations, 6 Division Lectures, 4 video theater sessions, and 2 late-breaking sessions. Poster presentations (14 and 15) represented 64% of the total presentations. Audio CDs of the oral technical sessions are available (see page 123).
New to the Technical Program this year was themed programming on four timely and significant topics—food allergens, bioterrorism/food defense, globalization, and functional foods. The themed sessions featured a variety of innovative formats and interactive exercises, including a Socratic session, a mock Codex meeting, combined oral and poster sessions, a food allergen test kit demonstration, and others. Robert Brackett (16) answered a question from the audience (17) in one of the Food Defense sessions. Fereidoon Shahidi (18) discussed nanotechnology as a nutraceutical delivery method in a Functional Foods–themed symposium on Tuesday.
Several nontechnical programs designed to help attendees improve their skills and abilities were also presented. They included a first-timers orientation, a project management skills workshop, a teambuilding skills workshop, a wine seminar, a retirement planning session sponsored by the IFT Foundation, and a session on negotiating with vendors and suppliers. Steve McCombs (19) of SkillPath explained how to approach negotiations. 
Special Programs
At the session, "IFT's Recent Science Reports," on Monday morning, IFT announced the release of its latest Expert Report, "Antimicrobial Resistance: Implications for the Food System" (see article on page 22); reviewed the recent Scientific Status Summary on mycotoxins; previewed the upcoming Scientific Status Summaries on food nanotechnology, packaging, and organic foods; and presented findings from IFT's Food and Drug Administration project on manufacturing practices to control allergen cross-contact.
--- PAGE BREAK ---
On Monday morning, IFT's Career Guidance Committee's workshop, "Teaching Science with Food," showed local middle and high school teachers how to conduct three food science experiments that they could use in their schools. The experiments are part of the IFT/Discovery Education initiative (for more information, see http://school.discovery/foodscience).
IFT held its 9th annual "Partnership for Growth" meeting for senior food officials from industry, government, and academia on Sunday (see sidebar on page 44).
Food Technology magazine's program on market trends, "Trending Toward Tomorrow: Mega Market Experts Look Ahead," moderated by Food Technology Contributing Editor A. Elizabeth Sloan on Tuesday morning, featured representatives from NPD Group, Inc., Mintel Menu Insights, the Natural Marketing Institute, and ACNielsen (see article on page 52).
At the "Point Counterpoint: Where Science Meets Funding" program on Tuesday afternoon, representatives of the National Science Foundation, U.S. Dept. of Energy, U.S. Dept. of Agriculture, Environmental Protection Agency, and National Institutes of Health discussed federal funding sources for food science research (see sidebar on page 39).
Two late-breaking sessions were added to the technical program: a session on the Women's Health Initiative on Monday afternoon and another on avian influenza on Tuesday afternoon (see sidebar on page 47).
IFT's 5th Global Food Safety & Quality Conference was held on Wednesday in conjunction with the IFT Annual Meeting. The morning session, cosponsored by the Latin American and Caribbean Association of Food Science and Technology (ALACCTA), addressed the impact of food safety in Latin America on global trade, and the afternoon session addressed making food safety decisions when the science is incomplete. Shown in (20) is Arpad Somogyi explaining to the audience (21) Europe's precautionary principle.
IFT also cosponsored an International Food Nanotechnology Conference with the U.S. Dept. of Agriculture's Cooperative State Research, Education, and Extension Service and the Dutch Embassy, on June 28–29 immediately following the IFT Annual Meeting.
Food Expo
The 3-day Food Expo (22) showcased 935 companies exhibiting in 1,968 booths in 211,780 sq ft of space. About 100 of these companies exhibited at Food Expo for the first time this year. The exhibitors demonstrated advances in ingredient technology, analytical testing, processing systems, packaging machinery and materials, and services for the food industry. A 2½-hour break between the morning and afternoon technical sessions allowed attendees to visit the exhibits without missing the technical presentations they wanted to attend.
--- PAGE BREAK ---
By the end of Food Expo, 591 companies had already contracted for more than 80% of the exhibit space for next year's Food Expo in Chicago, Ill.
After Food Expo closed at 5:30 p.m. on Tuesday, 18 exhibiting companies donated 1,980 lb of product to the Second Harvest Food Bank of Central Florida. That brings the total donated from Food Expo exhibitors over the past nine years to 109,535 lb. The following companies donated products: ACH Food Companies Inc., American Society for Quality, Ariake USA, Inc., Fuchs North America, Carl Zeiss SMT Inc., Cereal Ingredients, Inc., Cherry Marketing Institute, Cognis Nutrition & Health, David Michael & Co., Golden West Nuts, International Fiber Corp., Kemin Food Ingredients, Leprino Foods, Mantrose/Agricoat, MLG Enterprises Ltd., Ogawa & Co. Ltd., Specialty Minerals, Inc., Valley Research, and Wolf Canyon Foods, Inc. Freeman Companies and Sullivan Transfer donated their time and labor to collect and transfer the food items donated.
Special Pavilions
At the IFT/RCA Culinology Demonstrations (23 and 24) on the Food Expo floor, food scientists and chefs from the Research Chefs Association explained how they collaborated to develop one "grab & go" culinary innovation each afternoon of Food Expo (see article on page 59). Three teams of food scientists and research chefs, assisted by students, formulated and prepared innovative products for this market trend.
At its Global New Products Pavilion each afternoon Sunday through Tuesday, David Jago (25) and Lynn Dornblaser of the market research firm Mintel discussed flavor trends, impact of consumer groups on new product development, and health and wellness trends/fortification. Afterward, attendees viewed and tasted new products illustrating the latest products from around the world (26).
At its Taste the Trend Pavilion each afternoon Sunday through Tuesday, market research firm Innova (27 and 28) showcased hundreds of trend-setting prepared foods from around the world. Visitors to the pavilion learned about key ingredient, flavor, packaging, and food technology trends that are shaping new product development, viewed examples of recent and upcoming new product launches, and had the opportunity to taste products.
Other special-interest pavilions showcased exhibitors in several important and emerging industry areas—the Healthy Food Ingredients Pavilion (29), Organic Food Ingredients Pavilion, Food Safety & Quality Pavilion, and Food Ingredients (Fi) International Pavilion. The China Pavilion (30) also focused attention on ingredients and products from that country.
Meetings and Social Events
At its meeting on Friday, the Executive Committee (31) approved the budget for 2006–07, approved the selection of Chicago as the site for the 2013 Annual Meeting + Food Expo, and announced that IFT and the Chinese Institute of Food Science & Technology will hold their third cosponsored summit, "Food Summit in China 2006—The Globalization and Innovation of Traditional Food," on November 5–8, 2006, in Xiamen, Fujian Province, China (for more information, see www.foodsummit.cn).
--- PAGE BREAK ---
At its meeting on Saturday, the Council approved the proposed revision of the Constitution and By-Laws for ratification by the IFT membership and approved in principle the recommendation of the Task Force on Governance that the Council in its current form be eliminated and replaced by an annual Future Focus Forum and Town Hall Meetings that would increase the opportunity for involvement of more IFT members in dialogue about the direction of the organization.
At its meeting on Monday, the IFT Foundation Board (32) approved the Foundation budget and gave awards to IFT Past Presidents Al Clausi and Bob Smith for their service to the Foundation and for their efforts in fundraising for the Foundation's A Taste for Science initiative. 
At the Section & Division Officers Workshop on Tuesday, current and incoming officers and others interested in becoming leaders within IFT Sections or Divisions heard brief reports about IFT programs by President Lawson and President-Elect Heldman and presentations by IFT staff on electronic communication and its benefits.
At the Past Presidents Dinner on Sunday, 12 past presidents of IFT (33) met with President Lawson and Executive Vice President Keenan to socialize and learn about IFT activities. They were enthusiastic about the IFT/Discovery Education project and the IFT Foundation's role in funding it.
Nearly 3,200 visitors from 74 countries outside the United States attended the Annual Meeting, and many of them took advantage of the International Lounge (34) to meet with friends and acquaintances and learn more about the activities of the International Division.
The Refrigerated & Frozen Foods Division celebrated its 35th anniversary with a luncheon on Monday, followed by a symposium, "A Historical Perspective on Freezing & Refrigeration," with Food Technology Contributing Editor A. Elizabeth Sloan as guest speaker on "Future Global Trends in Refrigerated & Frozen Foods."
The Aquatic Food Products Division celebrated its 25th anniversary with a reception on Tuesday evening. And the International Division celebrated its 15th anniversary at its luncheon on Monday, with guest speakers Miguel Jimenez, this year's IFT Bor S. Luh International Award recipient, and Karen Hulebak, Vice President of the Codex Alimentarius Commission. Antonio Martin, at center in (35), received the Division's Outstanding Member of the Year Award from Division Chair Yao-Wen Huang (right) and Past Chair Huub Lelieveld.
--- PAGE BREAK ---
Miscellany
The Hall of Honor in the convention center lobby featured descriptions of IFT's achievement awards, photos of the 2006 award recipients and newly elected Fellows, a listing of Section and Division Outstanding Members, and lists of past award winners. The Fellows were also honored at the Fellows Reception on Saturday afternoon.
The Employment Bureau was busy as usual during the Annual Meeting. Companies and job seekers had the opportunity to schedule onsite interviews before the meeting via the virtual employment bureau that debuted online in April. As a result, 254 job opportunities were posted, 387 job seekers visited the onsite employment bureau, and hiring representatives from 62 companies conducted one-on-one interviews. The online employment bureau is accessible year-round through IFT's Career Center at www.ift.org.
The IFT Foundation held a drawing each day among those attendees who filled out a short survey, and Thanh Le of the U. of Nebraska-Lincoln, Judy Klus of JSK Consulting, and Mallory Kelly of Michigan State U. each received a $100 American Express gift card.
Publications distributed at the Annual Meeting included the IFT Annual Meeting & Food Expo Program and Exhibit Directory and the Book of Abstracts, plus the 36-page IFT Today newspaper that attendees received as they entered the Convention Center each day.
Sponsoring organizations for many of the activities this year included ADM, Ajinomoto Food Ingredients, Almond Board of California, American Egg Board, Bunge North America, Corn Products U.S., Devansoy, DSM Food Specialties, Florida High Tech Corridor, FMC BioPolymer, Grain Millers, Inc., Griffith Laboratories, GTC Nutrition, Kforce Scientific Staffing, Kraft Food Ingredients, Martek, MicroThermics, Inc., Mitsubishi International Food Ingredients, Naturex, Paul N. Gardner Co., Inc., Quantum Foods, Silliker, Inc., Spectra Technology Integration, Tetra Pak, Inc., TIC Gums, Inc., United Soybean Board, and Virginia Dare. Other companies and organizations also sponsored student activities.
Networking Approaches
IFT Central, the IFT booth on the show floor (36), highlighted IFT's varied benefits and services for members. IFT staff members, identified by red golf shirts, were on hand to discuss IFT's services, publications, and activities and answer questions. The booth also featured tables and comfortable seating of all types for attendees who wanted to rest or discuss things with friends and colleagues.
--- PAGE BREAK ---
IFT's new networking tool called IFT Connect allowed attendees to identify online prior to the Annual Meeting other attendees they would like to meet with at the Annual Meeting to discuss topics they were interested in.
At the new Conversation Café (37) on the show floor, attendees could meet with other attendees at tables dedicated to informal discussion of specific topics, such as food allergens, functional foods, food defense, and others.
Student Activities
Students used the Student Association Booth as a central location at which to learn about student activities at the Annual Meeting, learn about the Student Association itself, and enjoy the oranges and candy provided there.
At the Chapter Presidents Workshop on Saturday, Sunday, and Tuesday, incoming student chapter presidents (38) met with IFT Student Association President Clint Stevenson (39) and other officers, IFT Foundation Chair Ruff, and IFT President-Elect Heldman to gain insights about the Student Association and IFT Foundation programs.
At the 6th annual Fun Run (40) on Monday morning, 216 early risers gathered to raise money for the IFT Foundation's Scholarship and Fellowship Fund. The 5-K run or 1‑mile walk, sponsored by the IFT Student Association and the IFT Foundation, drew 181 runners and 35 walkers. The event raised more than $37,000.
Winners among the male runners were, from left in (41), Jon Rowe first, with a time of 19 minutes and 47.25 seconds, Jason Herst second at 19:54.77, and Brad Dettman third at 21:04.25. Winners among the female runners were, from left in (42) were Sarah Muhleradt first at 19:49.02, Rachel Prososki second at 19:54.94, and Julie Wankowski third at 21:11.01. The oldest and youngest participants in the race (43) were Daniel Farkas and Brian Heldman, son of President-Elect Heldman.
Plaques and certificates were awarded to the winners, and all participants received a t-shirt designed by the IFT Student Association. Jaime Rudolf of the U. of California-Davis received a round‑trip airline ticket as the event's top fundraiser. Jessica Rose Hof of Cornell U. was chair of this year's Fun Run.
Gold Level sponsors were Kraft, David Michael & Co., GTC Nutrition, and Michael Foods. Silver Level sponsors were IFT's Chicago Section, ConAgra, General Mills, and IFT's Food Laws & Regulations Division. Bronze Level sponsors were IFT's Southern California Section and Tragon. Additional sponsors/donors included Wal-Mart, Disney, and the Florida Fruit & Vegetable Association.
The Student Association and the International Food Information Service on Monday cosponsored a symposium, "Information for Food Scientists: The Road Map," designed to help attendees make use of the growing number of information resources now available. The symposium also covered the importance of peer review and copyright.
--- PAGE BREAK ---
The SpeedNetworking Session on Monday evening allowed each participating student to spend 5–10 minutes in an informal interview with an industry representative, then move down the line to the next one.
The Mixer, sponsored by PepsiCo on Monday evening, included tabletop displays of Student Chapter of the Year finalists, product samples and gifts from the company, and the opportunity for students to mingle with other students and IFT members.
At the Welcome Assembly following the Mixer, the Student Association leaders were introduced, and Excellence in Leadership awards were presented. Each student chapter had been invited to nominate an undergraduate student and a graduate student for excellence in leadership, and representatives of Campbell Soup Co. selected the winner in each category. The competition was sponsored by Campbell Soup and coordinated by Student Association Membership Chair Shari Baxter of the U. of Maine. The awards consisted of a plaque and $1,000. The graduate winner was Rachel Prososki of the U. of Wisconsin-Madison, and the undergraduate winner was Michael Livingston of Pennsylvania State U.
The Student Association Party at Downtown Disney's Pleasure Island-BET Soundstage on Tuesday evening gave students another opportunity to network and have fun.
Competitions
The Student Association sponsors or cosponsors several competitions each year, and the winners were announced at the Welcome Assembly and are listed below. The IFT Divisions also sponsor student paper competitions, and the winners (see sidebar on page 43) were announced at the annual breakfast meeting of the Phi Tau Sigma Food Science Honorary Society on Friday morning.
• Product Development Competition. The U. of Maine team won this year's competition for its development of YoBon Berry Bites (44) described as bite-sized frozen bonbons of luscious dark chocolate and creamy blueberry yogurt that provide a powerful punch of antioxidants and flavor. Team members, shown from left in (45), were Jennifer Jordan (captain), Kristi Crowe, Shari Baxter, James Perry, and Jason Bolton.
North Carolina State U. came in second for its development of Spudmarines, frozen fish sticks of Alaskan pollock fillets coated in golden potatoes, fortified with calcium and fiber, and processed with infrared technology to achieve the crunch and flavor of fried food without the high oil absorption. Team members were Stelios Viazis (captain), Paula Anne Schneider, Stephan Jonathan Lillard, Yifat Rahel Yaniv, Adam Edward Croissant, Tristan Kendricks Berry, Mallorye Deloris Lovett, Joy Anne Simpson, Andrea Jean Krause, Grace Louise Cramp, Jim Nestor Canavos, and Megan Elizabeth Whitson.
California State Polytechnic U. came in third for its development of Mega Bites, shelf-stable miniature cereal bars made of fruit filling surrounded by a chewy whole-grain crust with freeze-dried fruit piping on top, providing an allergen- and gluten-free kids' snack with 20% of the Daily Value of calcium and 10% of the DV of dietary fiber. Team members were Maria Botero Omary (captain), Monica Benyamin, Greg de la Cruz, Hortensia Martinez, Jamie Peguero, and Imelda Ryona.
--- PAGE BREAK ---
The competition is cosponsored by the IFT Student Association, which awarded a plaque to the 1st-place team, and Masterfoods USA, which provided travel grants of $1,000 for each of the six finalist teams and awarded $4,000, $2,500, and $1,000 to the 1st-, 2nd-, and 3rd-place winners, respectively. Rachel Prososki of the U. of Wisconsin-Madison was the competition chair.
• Chapter of the Year Competition. This award is given to the student chapter that has the most active participation at local and national levels. The North Carolina State U. chapter (46) was named Student Association Chapter of the Year, Rutgers U. took second place, and Cornell U. took third place.
General Mills presented a plaque and $1,000 to the 1st-place winner and certificates and $500 and $250 to the 2nd- and 3rd-place winners, respectively. Pennsylvania State U. was named Most Improved Chapter and received $150 and a certificate. Christina N. (Stam) Dock of North Carolina State U. was the competition chair.
• College Bowl Competition. This competition (47 and 48), a highlight of the student activities at the Annual Meeting, always draws large crowds. Finalist teams from universities in each of the six geographical areas of the Student Association competed in a preliminary round on Monday morning, and the subsequent rounds were held on Monday evening. In the final round of the 22nd Annual Intercollegiate Food Science and Technology College Bowl Competition, the U. of California-Davis team (49) of Patrick Noonan, Ferlinda Kowara, Kit Meyers, Michelle Danyluk (captain), and Jon Hutchinson beat the Iowa State team of Michele Haegele, Sheue Lei Lock (captain), Meg Smith, Kate Gilbert, Jovin Hasjim, and Emily Boge.
General Mills, Inc. provided $1,000 travel grants for each finalist team, as well as an award of $1,000 to the winning team and $750 to the runnerup. Andrew P. Neilson of Purdue U. was the competition chair; Joe Regenstein of Cornell U., Roger Clemens of the U. of Southern California, and Pam Vaillancourt of TIC Gums (from left in 50), were the judges; and Lisa Povolny (51) of General Mills was the moderator.
• Undergraduate Research Paper Competition. In this competition, Elaine Fan of Cornell U. took 1st place, Dan Michelle Wang of Cornell U. 2nd place, and Stephen O'Brien of the U. of Arkansas 3rd place. Shown in (52) are Fan and O'Brien.
The competition was cosponsored by the Student Association, Phi Tau Sigma, and E.&J. Gallo Winery. Gallo provided a $300 travel grant to each finalist and $500, $350, and $250, to the 1st-, 2nd-, and 3rd-place winners, respectively. Mark Corey of Pennsylvania State U. was the competition chair.
• Graduate Research Paper Competition. In this competition, Manoj Kumar Mohan Nair of the U. of Connecticut took 1st place, Annegret Mannig of Ohio State U. 2nd place, and Elizabeth M. Grasso of Ohio State U. 3rd place. Shown in (53) are, from left, Kumar, Mannig, Grasso, Vishal Jain of the U. of Arkansas (runnerup), and Stephanie Drake of North Carolina State U. (competition chair). The competition was sponsored by the Student Association and Phi Tau Sigma. The Student Association provided a $500 travel grant and a plaque to each finalist and $1,000, $750, and $500 to the 1st-, 2nd-, and 3rd place winners, respectively.
Next Year in Chicago
The 2007 IFT Annual Meeting + Food Expo will be held in Chicago, Ill., on Thursday, July 26, through Monday, July 30. Plan to attend!
--- PAGE BREAK ---
Funding Food Science Research
In a June 27 session at the 2006 IFT Annual Meeting + Food Expo called "Point CounterPoint: Where Science Meets Funding," representatives from the National Science Foundation, U.S. Dept. of Agriculture, U.S. Dept. of Energy, National Institutes of Health, and Environmental Protection Agency participated in a discussion with IFT members on the funding of food science by their respective agencies. This was the first time food scientists were able to hear about funding opportunities from these agencies in one location, and all at the same time.
The program had two goals: increase awareness among federal science agencies of competitive food science research and highlight funding opportunities for food scientists that these agencies offer.
Paired with each agency representative was an IFT member who had a grant from that agency. Gary Foley, Director, National Center for Environmental Research, EPA, was paired with Jochen Weiss of the University of Massachusetts. Valerie Sarisky-Reed, Products Team Leader, Office of Biomass Programs, DOE, was paired with Sharon Shoemaker of the University of California–Davis. Anna Palmisano, Deputy Administrator, Competitive Programs, USDA, was paired with Devin Peterson of Pennsylvania State University. Lenore Clesceri, Program Director, Biochemical Engineering and Biotechnology, NSF, was paired with Sudhir Sastry of Ohio State University. John Milner, National Cancer Institute, NIH, was paired with Connie Weaver of Purdue University. As part of the discussion, these IFT members had five minutes each to discuss their success and how they approached the grant proposal process with the agency.
Those in attendance had unfettered access to each agency representative and IFT speakers during an hour-long discussion panel moderated by IFT Past President Gilbert Leveille, Executive Director of the Wrigley Science Institute. The agencies covered the nuisances associated with applying for grants to the types of research the agencies focus on. All of the agencies highlighted past and present food science grants as examples of the type of research that has received funding. Each agency representative encouraged food scientists to pursue multidisciplinary proposals and to partner with other science departments and universities.
IFT members should look for a similar program next year with many of the same agencies. IFT plans to also invite the National Oceanic and Atmospheric Administration for 2007. This program was developed and run by IFT's Government Relations Committee. For more information on this program, contact committee chair Martha Roberts at the University of Florida or incoming chair Andy Vestal of Texas A&M University.
Ted Cartwright, IFT Director of Science & Government Relations
--- PAGE BREAK ---
Division Competition Winners
The following were the winners of this year's paper competitions sponsored by IFT Divisions:
Aquatic Food Products Div. Paper Competition: 1st place ($500), Rosalee Rasmussen, Oregon State U.; 2nd place, tie ($350), Jiaqi Huang, U. of Alaska and David Mantilla, U. of Florida; 3rd place, tie ($250), Yavuz Yagiz, U. of Florida and Jiraporn "Jill" Chantarachoti, U.
Biotechnology Div. Poster Competition: 1st place ($300), Sunita Macwana, Oklahoma State U.; 2nd place ($200), Mark Lehman, Ohio State U.; 3rd place ($100), Sam Nugen, Cornell U.
Dairy Foods Div. Manfred Kroger Oral Competition. 1st place ($750), Lydia Ong, U. of Victoria (Australia); 2nd place ($500), Julia Fritsch, Cornell U.; 3rd place ($250), Janet Webster, Virginia Tech.
Dairy Foods Div. (John Bruhn Poster Competition): 1st place ($500), David Schroeder, Purdue U.; 2nd place ($250), Stephenie Drake, North Carolina State U.; 3rd place ($100), Sofia Erazo-Castrejon, U. of Wisconsin.
Food Chemistry Div. Poster Competition: 1st place ($750), Jerome Diaz, U. of California, Davis; 2nd place ($500), Liwen Chen, U. of Georgia; 3rd place ($250), Julieta Ortiz, Purdue U.
Food Engineering Div. Paper Competition: Winners ($500), Priyank Tulsiyan, Ohio State U., and Rebecca R. Milczarek, U. of California, Davis.
Food Microbiology Div. John C. Ayres Poster Competition: 1st place ($300), Li-Chun Lin, U. of Georgia; 2nd place ($200), Jamie Isonhood, Schreiber Foods, Inc.; 3rd place ($100), Mina Kim, North Carolina State U.
Food Microbiology Div. Z. John Ordal Oral Competition: 1st place ($300), Hoan-Jen Eunice Pang, Rutgers U.); 2nd place ($200), Mohan Nair Manoj Kumar, U. of Connecticut; 3rd place ($100), Thomas M. Taylor, U. of Tennessee.
Food Packaging Div. Poster Competition: 1st place ($500), Laura Ann Pallas, U. of Georgia; 2nd place ($300), Maria Alejandra Rojas Graü, U. de Lleida; 3rd place ($150), Young Jae Byun, Korea U.
Fruit & Vegetable Products Div. Poster Competition: 1st place ($400), Tiffany Hager, U. of Arkansas; 2nd place ($300), Lisbeth Pacheco, U. of Florida; 3rd place tie ($100), Sarah Valois, Cornell U. and Thao Ngo, Oregon State U.
International Div. George F. Stewart International Research Paper Competition: 1st place ($700), Indrawati Oey, Katholieke U. Leuven, Belgium; 2nd place ($500), Yu Zhang, Zhejiang U., Hangzhou, China; 3rd place ($200), Ruimin Zhong, South China U. of Technology.
Muscle Foods Div.: 1st place ($900), Ghadeer Mehyar, U. of Manitoba; 2nd place ($600), Marie Antoniewski, Ohio State U.; 3rd place ($300), DaeKeun Shin, Texas A&M U.
Nonthermal Processing Div.: 1st place ($700), Stelios Viazis, North Carolina State U.; 2nd place ($500), Hyun-Wook Choi, Kyung Hee U.; 3rd place ($300), Aaron R. Uesugi, Cornell U.
Nutrition Div. Mark L. Bieber Graduate Student Competition: 1st place ($700), Darlene S. Williams, Alabama A&M; 2nd place ($500), Mallorye Lovett, North Carolina State U.; 3rd place ($300), Rajitha Sunkara, Alabama A&M U.
Product Development Div.: 1st place ($500), Janette Saidu, Louisiana State U.; 2nd place ($300), Luciana Soler, Louisiana State U.; 3rd place ($100), Amporn Sae-Eaw, Louisiana State U.
Refrigerated and Frozen Foods Div. Alfred P. Schwan Poster Competition: 1st-place ($300), Ibrahim Gulseren, Pennsylvania State U.; 2nd-place ($200), Jelena Stojanovic, Mississippi State U.
Sensory Evaluation Div. Rose Marie Pangborn Memorial Competition: 1st place ($500), Stacey Kappes, U. of Illinois at Urbana-Champaign; 2nd place ($300), Lisa E. Annett, U. of Alberta; 3rd place ($200), Darryl L. Holliday, U. of Louisiana.
Toxicology & Safety Evaluation Div. Poster Competition: 1st-place ($300), Fariba Ameri, Kansas State U.; 2nd-place ($150), Chiu Hui Kaw, Chiu Hui Kaw. Burdock Group Travel Awards ($500) went to Hudaa Neetoo, U. of Delaware, and Joy Dubost, Pennsylvania State U.
--- PAGE BREAK ---
Senior Food Officials Discuss Regulatory Matters
IFT held its 9th annual "Partnership for Growth" meeting on June 25 during the 2006 IFT Annual Meeting + Food Expo in Orlando, Fla. More than 115 invited senior food officials from industry, government, and academia attended.
William Franke (shown in photo), Associate Director of the Center for Advanced Food Technology at Rutgers University and Chair of IFT's Senior Food Officials Committee, moderated the "Washington Update" session.
Robert Brackett, Director of the Food and Drug Administration's Center for Food Safety and Applied Nutrition, discussed progress made by FDA in food defense, food safety, and nutrition. Protecting the nation's health is 60% of what FDA does, he said, although FDA's resources and personnel are becoming fewer and its responsibilities are growing. Avian influenza and terrorism threats are two priority issues with positive budget considerations. Other programs may not fare as well in the future if budget cuts must be made. Brackett stated that CFSAN's credibility lies with the science and scientists behind it, and that CFSAN would rather be the gold standard on fewer things than mediocre on all things.
John Bode, Principal with Olsson, Frank, and Weeda, provided an update on "The Current Legislative Scene." He summarized major food legislation and congressional activities, including the Food Labeling Uniformity Bill, the Common Sense Consumption Act, and the 2007 Farm Bill and suggested establishing a "blue ribbon committee" to address CFSAN resources.
Luncheon speaker Brian Wansink, John S. Dyson Professor of Marketing and Director of the Food and Brand Lab at Cornell University, spoke on "De-Marketing Obesity and Marketing Nutrition: One Coin, Two Sides." He noted that many food companies may now need new advertising and positioning of products to de-market obesity and market nutrition. A descriptive label can improve ratings from consumers and may make consumers more likely to purchase the product, he said. Different messaging should be used for different groups of consumers. Healthy, innovative, and competitive consumers are most likely to try new products, but each group needs messages specifically targeted to them.
In the "Functional Foods" session, Fergus Clydesdale, Distinguished Professor and Head of the Dept. of Food Science at the University of Massachusetts, provided the audience with an "Overview of IFT's Functional Foods Expert Report." He touched on IFT's definition of functional foods, the seven steps for functional food products to successfully reach market, and the use of Generally Recognized As Efficacious (GRAE) panels to streamline the process.
--- PAGE BREAK ---
Gilbert Leveille, Executive Director of the Wrigley Science Institute and Past President of IFT, discussed "Recommendations and Future Actions Based on the IFT Functional Foods Expert Report." The recommendations include expanding research on biomarkers and offering incentives to companies conducting research; using GRAE panels for data review; modifying the definition and application of "nutritive value;" and altering health claims so that truthful claims such as "reduces cholesterol" can be made without triggering drug classification, based on the weight of the scientific evidence with an indication of the degree of scientific certainty.
Diane McColl, Director of Food Law at Hyman, Phelps, and McNamara, PC, discussed "Scientific Substantiation of Health Claims." She reviewed what qualified health claims are and how to petition for them. She discussed the ranking system used by FDA, where A represents the highest amount of significant scientific agreement, followed by B, C, D, or E qualified health claims. She reviewed types of studies, study quality aspects, and evidence that may lead to the various classifications.
Ken Lee, Professor and Chair of the Dept. of Food Science and Technology at Ohio State University, moderated the final session, "Case Study—Lycopene Health Claim."
John Erdman Jr., Professor and Nutrition Research Chair at the University of Illinois, Urbana-Champaign, provided an "Overview of the Science on Lycopene." He said that 80% of lycopene comes from tomato products, which also provide many other carotenoids and important dietary components. These carotenoids appear to contribute to a reduced risk of prostate cancer, the most prevalent cancer in the United States in 2006 and the third leading cause of death in the U.S. He reviewed numerous studies that show the benefits of lycopene in the diet, including cancer prevention, and discussed the science supporting it as an anticarcinogenic agent.
F. Kerr Dow, consultant for H.J. Heinz Co., provided "Evidence Industry Presented and Action Requested by FDA." While at Heinz, Dow led a coalition of organizations to submit a qualified health claim petition to FDA relating to consumption of tomato products and prostate cancer risk. He said that of 177 references cited in the petition, 43 were studies, of which 22 had significant positive results and none had negative results. FDA only awarded the proposed claim a D classification. Since then, further research on lycopene has been reported, and consumer awareness of lycopene and its benefits has increased, which has stimulated consideration of resubmitting a petition.
Kathleen Ellwood, Assistant Director for Nutrition Science Communications in CFSAN's Office of Nutritional Products, Labeling, and Dietary Supplements, addressed "FDA's Scientific Review of the Health Claims." She reviewed the elements of a health claim, why qualified health claims came about, the ranking system for scientific data in health claims, and the types of studies that FDA will consider. She looked specifically at the two lycopene and cancer petitions that FDA received and discussed FDA's assessment of the conclusions that could be drawn from the studies presented.
Sarah F. Davis, R.D., Program Specialist, Dept. of Science and Communications, IFT, Washington, D.C. ( [email protected] )
--- PAGE BREAK ---
Late-Breaking Session Addresses Avian Infuenza
The Centers for Disease Control and Prevention's perspective on avian influenza (AI) was presented in a special late-breaking session on Tuesday afternoon during the IFT Annual Meeting by Richard Schieber, M.D. (shown in photo), senior advisor on policy and budgets to the White House, U.S. Dept. of Homeland Security, and U.S. State Dept.
He began the session by pointing out the shared vision of IFT and CDC with regard to maintaining the safety of the food supply and promotion of the scientific approach to solving food-related public health issues.
He said that H5N1, the current strain of AI, has similar characteristics to the virus responsible for the Spanish Flu of 1918–19. He pointed out that since most of the fatalities then resulted from two complications—disseminated intravascular coagulation (DIC) and acute respiratory distress syndrome (ARDS)—that remain deadly today, advances in medicine since that time will not necessarily improve our chances against the current threat. When asked if the events of 1918 could be repeated by H5N1, he stated that the honest answer remains "I don't know" but went on to say that there are indeed many commonalities suggesting that it is possible.
For a virus to become pandemic, it must mutate to emerge in humans, transmit from person to person, and be highly virulent. There are two mechanisms by which the virus can mutate. The first, referred to as antigenic DRIFT, is due to a copying error during virus multiplication and is a continual process that causes seasonal flu epidemics in both poultry and humans. The second, referred to as antigenic SHIFT, is due to replacement of either the hemaglutinnin (H) protein or both the H and neuraminidase (N) proteins on the viral surface. Replacement of both produces a new subtype, which can be readily transmissible and extremely dangerous because we have never been exposed to this new form. Such a shift is sporadic and can, but does not always, cause a pandemic.
Spread of avian influenza has occurred via transmission from wild fowl to wild fowl, wild fowl to poultry, and poultry to people (in a relatively small number of instances). This spread has occurred as a result of migratory bird flyways, disposal of dead animals, poor (or complete lack of) biosecurity practices, wet markets, cock fighting, and people and livestock living in close proximity (common in developing countries). In an even smaller number of cases, the virus is thought to have passed from one human to another; however, this has not been enough to make it pandemic because to do so it must be able to sustain and continue transmitting among humans, and to date it has not.
As of the day of the presentation, 129 of 227 persons in 10 countries who were diagnosed with H5N1 flu had succumbed to the virus—a 57% mortality rate. The virus is droplet spread and can remain active up to 24 hours on hard surfaces and 15 minutes on a tissue. Approximately half of those exposed will be infected and shed the virus; of those, about half will exhibit symptoms and about 2% die. So Schieber described the potential "worst case" scenario as 2% of 3 billion people or 60 million deaths worldwide.
Schieber used the following information to demonstrate our lack of readiness. Per 1,000 United States residents, a mild pandemic would call for 0.58 hospital beds and a severe pandemic 6.59; there are 2.69 available. A mild pandemic would require 0.07 ventilators and a severe one 0.84—we have 0.33. A mild situation would call for 0.14 intensive-care-unit beds and a severe situation 1.70; there are 0.27 available. Also, production of an egg-based vaccine requires 6–9 months, and the current U.S. supply is 4 million complete doses, with production capacity at 14 million—obviously much less than the 300+ million we would need if H5N1 becomes pandemic.
CDC's response to this potential crisis consists of three components: predict, prepare, and respond. The prediction component relies mainly on mathematical modeling to provide CDC's experts with some basis for the preparatory component. It includes planning among local and state health departments, buildup of the strategic national stockpile (a 95-component kit that includes pharmaceuticals, ventilators, personal protective equipment, etc.), foreign health aide, testing reagent distribution, planning for quarantine stations, and so on. The third aspect, response, includes ensuring that communication channels are in place to react should a pandemic arise.
Schieber concluded by emphasizing the issues that apply to the food industry. He pointed out that there are no specific food preparation issues and that proper handling (washing hands for 20 seconds before preparation and using clean cutting boards) and cooking (to 165oC) are enough to prevent spread of the virus. He said that companies should be prepared to deal with high absenteeism, sudden drops in demand, workplace health issues, and high medical costs. He commended the U.S. poultry industry for the high standards it has set for handling the AI issue and stated that he has great confidence in the industry's ability to handle introduction of high-pathogenic AI to U.S. flocks.
Cory M. Bryant, Research Scientist, IFT Dept. of Science and Technology Projects, Washington, D.C. ([email protected])
---
by Neil H. Mermelstein, a Professional Member of IFT, is Executive Editor of Food Technology magazine ([email protected]).