In the area of functional foods and beverages, this year's IFT Annual Meeting + Food Expo® will not disappoint in educating attendees on the latest trends, research, and healthy ingredient innovations. The technical sessions run the gamut from the latest academic research on health benefits of whole foods and food components to regulatory updates on health claims. On the exhibit floor, suppliers will be showcasing everything from ingredients that help lower cholesterol and hypertension to ingredients that enhance mental health and energy levels. Three key segments are being targeted.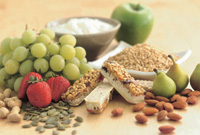 Baby Boomers
With Baby Boomers making up a large portion of the population, it is no wonder that today's functional foods and beverages focus on their health.
• Antioxidants. Beta-carotene, vitamin E, and lycopene are some of the favorites among consumers. But Baby Boomers are now more educated and seek other sources as well. An example is the growing interest in antioxidant-rich juices like pomegranate and mangosteen. While a variety of antioxidants will be showcased on the exhibit floor, the technical sessions reveal that we may soon see other sources joining them. These include blueberries, green tea, cranberries, herbal teas, and persimmon.
• Heart Health. Heart-healthy bars and beverages will be featured, containing ingredients such as phytosterols, fiber, and omega-3 fatty acids. The technical sessions will complement this by highlighting research around up-and-coming heart-healthy ingredients. For example, whey protein hydrolysates, as well as fish protein hydrolysates, have shown antihypertensive activity. Pearled barley has potential to inhibit oxidation of human low-density lipoprotein, and dairy and soy yogurts enriched with fruit phytochemicals may help manage hypertension and type 2 diabetes.
• Brain Health. This includes areas such as memory, alertness, and cognitive function. Ingredients like phospholipids and some botanicals are believed to enhance brain health. More about these can be found on the show floor. In addition, a scheduled formal lecture (symposium) will focus on mental energy, presenting an overview of work being done to define and develop the science base for mental energy and review issues related to the regulatory status of ingredients.
Women's Health
Women's health revolves around conditions such as heart health, osteoporosis, and cancer. Ingredients targeting these health conditions include soy protein, soy isoflavones, dietary fiber, and calcium. Exhibitors will be showcasing these and more.
Several technical sessions will discuss women's health, in addition to addressing a very specific segment of the female population, perinatal nutrition. One symposium will focus on three key perinatal nutrients: calcium, docosahexaenoic acid, and folic acid. In another session, experts on women's health will address the impact that functional foods have or may have on several gender-specific health-related issues.
--- PAGE BREAK ---
Weight Management
A widespread concern that crosses all ages, races, and genders is weight management. Ingredients that have an effect on the glycemic index or blood sugar levels have arisen as a possible tool in weight-management foods and beverages. This trend will not go unnoticed at Food Expo. It will be evident in ingredient offerings such as fiber, sweeteners, and resistant starch.
The technical sessions will complement this growing trend, showcasing potential ingredients that may have an effect on blood sugar levels and ultimately conditions such as weight, diabetes, and heart health. These ingredients include peptides, resistant starches, chromium, and oat beta-glucan.
Much to See
There is much to be seen, discussed, and learned about at this year's Annual Meeting + IFT Food Expo. The following pages will provide brief descriptions of some of the technical papers and exhibits. See you in Orlando!
NUTRITIONAL ANTIOXIDANTS
Smoothie highlights lycopene
A premix containing 33% of the recommended daily intake of an array of vitamins and minerals plus 5 mg of lycopene for fortification and coloring will fortify a tasty smoothie.
This innovative product is an outgrowth of the company's new approach to creating healthier foods through fortification and coloring with two novel natural tomato lycopene ingredients: Lyc-O-Mato® Powder and Tomat-O-Red®
Lycopene is the powerful heart-healthy antioxidant found in tomatoes. Recent studies demonstrate that natural tomato lycopene complex, containing lycopene and other antioxidant tomato phytonutrients, has significant advantages over synthetic lycopene. The synergy between the other tomato phytonutrients and the lycopene enhances lycopene's ability to fight free radicals. LycoRed, www.lycored.com, Booth 1570
Berry phytonutrients exhibited in prototypes
BerrySlim™, a weight-loss drink with kokum (includes naturally occurring HCA), BerryForce™ Athletic Performance drink, and Berry Bites™, a great tasting antioxidant fruit chew for kids (and adults) will be featured.
The company provides berry phytonutrient ingredients for nutraceutical and food applications, including fruit extracts (bilberry, black currant, blueberry, chokeberry, cranberry, elderberry, purple corn), fruit powders, dried fruits, juice concentrates, and Finished Goods solutions.
Artemis developed its Phytosolutions™ line of proprietary formulas to meet targeted heathcare needs, utilizing its clinically validated bioactive compounds. Products are used for their antioxidant, antiviral, anti-inflammatory, and antimutagenic properties. Artemis International Inc., www.artemis-international.com, Booth 738
--- PAGE BREAK ---
Extracts provide a boost
Three unique ice cream toppings made with Nutrifood® fruit and vegetable extracts will be sampled on premium ice cream. The toppings not only look and taste great but also provide the goodness of eating standardized amounts of anthocyanins and carotenoids.
Nutrifood products provide a variety of benefits, including specific phytonutrient levels, ORAC value, and inherent standardized color. Made from a wide range of fruits and vegetables, which are processed only with water, the products can bring added value to numerous types of products, including beverages, snack bars, and healthy confections. GNT USA, www.gntusa.com, Booth 3026
New company announced
Kemin Industries Inc., announced the formation of its newest company, Kemin Food Ingredients Inc. (KFI), a global company providing superior shelf-life solutions to preserve the freshness and enhance the quality of human food. KFI will introduce a "Functional Food Ingredients" platform in 2006, and the first entry will be FloraGLO® brand lutein, marketed to the food and beverage industries. Kemin Food Ingredients Inc., www.kemin.com, Booth 2586
MAINTAINING HEALTHY BLOOD SUGAR LEVELS
Oat bran beta-glucan has glycemic effects
Studies have shown that intake of dietary fiber from cereal significantly reduces the risk of developing type 2 diabetes. Oats, which are a good source of dietary fiber, including the soluble fiber beta-glucan, are dispersible in water, highly viscous, and nondigestible in the small intestine.
These characteristics of dietary fiber have been associated with slower digestion of carbohydrate and fat, which promote nutrient absorption more distal in the intestine, and are also associated with blunting of the glucose and insulin response to a carbohydrate load. High-beta-glucan oat bran has a glycemic response about one-fifth that of glucose.
In addition, beta-glucan from oat bran can lower by approximately 20% the glucose and insulin areas under the curve induced by pure glucose given at the same time. The end result is better glycemic control and prolonged satiety which may lead to reduced food intake, as well as prevention of weight gain and the onset of type 2 diabetes. GTC Nutrition, www.gtcnutrition.com, Paper 83-06 and Booth 2554
Bioactive peptides play role in blood sugar levels
DSM's research has identified bioactive ingredients that can play a role in nutritional intervention for people with Metabolic Syndrome, more specifically for people with too-high blood sugar levels. A screening program can identify natural ingredients intended to overcome the body's lack of responsiveness to the insulin produced.
DSM is currently working on the development of natural food-grade peptides, which significantly improve the absorption of blood glucose into the cells of the body. These new bioactive peptides will be particularly suitable as ingredients for functional food products and dietary supplements intended to help people manage their blood glucose levels.
A four-year scientific program of nutritional-intervention trials in healthy people and people with type 2 diabetes is currently being performed. The results of the first three human trials on postprandial glucose disposal are very positive. DSM Food Specialties, www.dsm-foodspecialties.com, Paper 83-05 and Booth 2015
--- PAGE BREAK ---
Resistant starch helps manage blood sugar levels
Sixteen published human clinical trials have demonstrated that when resistant starch from high-amylose corn replaces flour or other digestible carbohydrates, it moderates the impact on blood sugar. Twelve published human studies have also demonstrated that it moderates the impact on blood insulin. In addition, two published human studies have shown that natural resistant starch from high-amylose corn increases insulin sensitivity in healthy individuals when it is added as a supplement to the diet. National Starch Food Innovation, www.foodinnovation.com, Paper 83-03 and Booth 2151
DAIRY
Whey protein offers formulation solutions
A full line of whey ingredients offers nutritional fortification, flavor enhancement, and quality improvement benefits. The product lines include Grande WPCrisp®, a new ingredient line of whey protein crisps. The crisps are perfect for healthy and nutritional products and can be customized in size, shape, color, flavor, and protein levels from 25% to 80%. Grande Bravo® functional whey proteins are ideal in multiple product types, including creamy sauces, soups, dressings, and meats. The proteins offer a broad spectrum of flavor, viscosity, and gelation properties functional in cold- and heat-activated systems. Grande Gusto® is a natural ingredient that reduces sodium while enhancing flavor. It is effective in a variety of food formulations, such as adding savory flavors to meats, soups, and sauces. Product samples will be available for tasting. Grande Custom Ingredients Group, www.grandecig.com, Booth 3714
Natural protein aids in bone health
Found in trace amounts in bovine milk, milk basic protein, MBP, has been shown to work directly and/or indirectly on bone cells to form healthy bones and increase bone density. In December 2005, a human study published in Osteoporosis International showed that MBP supplementation increased bone mineral density in healthy adult menopausal women. It is self-affirmed as GRAS and can be added to various types of foods, including functional foods and meal-replacement/supplement drinks. Snow Brand Milk Products Co. received IFT's 2005 Food Technology Industrial Achievement Award for development of MBP.
In 2004, Snow Brand Milk Products established a joint venture company called Intellectual Asset Service (IAS) with Itochu Corp. a trading company in Japan, to develop MBP business overseas. Recently, IAS concluded a licensing agreement with General Nutrition Centers Inc., commercializing Women's Ultra Mega Bone Density, a synthetic supplement in tablet shape containing MBP, vitamins, and minerals.
The company also signed a licensing agreement with Itochu, which launched sales of two MBP supplements under the brand name Bijin Bon (Beauty Born) in April 2006. These new products will be the first launch of MBP supplements in tablet and jelly-drink form in Japan. Snow Brand Milk Products Co. Ltd., www.snowbrand.co.jp/mbp/english/index.html, Booth 1761
Whey protein adds nutrition
Learn about the very latest in whey protein nutrition research and applications at a symposium sponsored by Dairy Management Inc.™ The symposium, "Whey Protein: Physiological Effects and Emerging Health Benefits," will review recent findings on whey's influence on muscle metabolism after exercise, muscle and body composition in seniors, weight management, satiety and food intake regulation, and milk protein's ability to enhance immunity. Dairy Management Inc., www.innovatewithdairy.com, Session 47 and Booth 3231
--- PAGE BREAK ---
NUTRACEUTICAL TECHNOLOGIES
Process produces slow-burning carbohydrate
The CarboStar™ Method is a food processing technique that increases the resilience and nutritional value of foods made from processed corn, wheat, potato, or rice. It strengthens the starch cell wall by adding FDA-approved plant extracts to the food as it is being made, turning regular carbohydrates into slow-burning carbohydrates. While this process does not alter the taste of the food, the nutritional value increases. Specifically, the process increases the amount of dietary fiber, reduces the number of calories, and reduces the glycemic impact. The method can be applied to a wide range of processed starch products, including regular, whole-wheat, and multigrain pastas, tortillas, and pizza crusts. Saatwic Foods, www.saatwic.com, Booth 1680
Research addresses bioavailabilty and weight
An in-vitro methodology can predict the bioavailability of bioactive compounds in different types of dairy products, using folate as a model ingredient. The results were validated with a clinical study, using the same products and folate concentrations. The folate concentration in blood could be predicted within a false margin of 5%. The methodology increases our understanding of bioavailability mechanisms in a very detailed way. In the area of weight management and obesity, the company has developed a novel cell-based assay for induction of satiety, based on release of CCK-8. It is useful in prescreening the satiating potency of ingredients prior to studies with human volunteers. For studying weight management and obesity/type 2 diabetes, the company offers a number of unique mouse models. The APOE-3 Leiden mouse is a transgenic animal that has a similar VLDL and HDL profile to that of humans and mimics the human lipid metabolism very well. This mouse model has been used successfully for evaluation of the effects of various nutritional compounds on lipid metabolism. TNO, www.tno.nl/food, Paper 20H-40 and Booth 1272
Nanoemulsion provides encapsulation
An award-winning, patent-pending nanoemulsion technology, NutraLease™ was listed on Forbes Magazine's "Top 10 Nanotechnologies List for 2005." The encapsulation technology delivers beneficial nutraceutical ingredients to clear oil- or water-based beverage and dairy applications.
The technology improves solubility, enhances bioavailability and absorption, protects ingredients from oxidation and enzymatic reactions, allows for slow release or targeted release of the ingredient, and provides heat stability to pasteurization and low-pH stability. PL Thomas & Co., www.plthomas.com, Booth 942
HEART HEALTH
Orange juice may help lower blood pressure
High blood pressure (HBP), smoking, abnormal blood lipid levels, obesity, and diabetes are risk factors for coronary heart disease, the leading cause of death in the U.S. Lifestyle modifications such as engaging in regular physical activity, quitting smoking, and eating a healthy diet (limiting intake of saturated fat and sodium and increasing consumption of fiber, fruits, and vegetables) are advocated for the prevention, treatment, and control of HBP. As multiple factors influence blood pressure, the effects of each factor are typically modest, yet the combined effects can be substantial.
Nutrition plays an important role in influencing blood pressure. This presentation will focus on how Florida citrus juices should be included as part of any low-sodium diet and/or any blood pressure–reducing eating plan, as they are sodium free and fat free and can help meet recommended levels of potassium intake that may contribute to lower blood pressure. Paper 57-01
--- PAGE BREAK ---
Cardio muffin supports heart health
Many Americans are concerned about heart health. Cardio muffin is a great way to get the nutrition that supports good heart health into the daily diet. The prototype muffin is a soft, moist blueberry muffin that has been fortified with a Watson premix containing L-arginine, antioxidants (vitamins A, C, and E), oleic acids, omega-3 fatty acids, and calcium. The company also incorporated a special blend of its ultra-fine bran and fiber. This allows the muffin to make a whole-grain claim while still having the look and mouthfeel of a traditional muffin.
Other items will be sampled at the booth. Energy Beverage from Shasta Beverages uses a Watson premix of vitamins, minerals, and botanicals. Veggie Pro is a vegetable-based meal-replacement beverage that has it all: the equivalent of more than 2 cups of vegetables and a full complement of vitamins and minerals, as well as protein and fiber. It is naturally fat free and has no added sugars.
The company's custom formulated Vitamin and Mineral Premix rounds out the nutrient profile naturally occurring in vegetable juice. The premix provides vitamins A, C, and E, as well as calcium, iron, thiamin, riboflavin, niacin, vitamin B-6, vitamin B-12, iodide, magnesium, zinc, selenium, copper, manganese, chromium, and molybdenum. The company will also show a variety of nutrition bars fortified with its premixes. Its microencapsulated vitamins in the premixes allow the consumer to not taste the flavor of the vitamins. Watson Inc., www.watson-inc.com, Booth 2189
DIETARY FIBER
Resistant starch provides multiple health benefits
Since the beginning of 2005 alone, there have been 15 studies published on the health benefits of natural resistant starches around the world. The primary type of starch used in these studies has been from a special variety of corn naturally high in amylose.
Studies have shown that different classes of resistant starch are digested and/or fermented differently and thus must be considered individually. Several studies with high-amylose corn (RS2), show that RS2 starches contribute specific health benefits. These include maintaining healthy blood sugar levels, maintaining healthy weight and healthy body composition, reducing the glycemic and insulin impact of foods, and promoting intestinal/colonic health through its action as a prebiotic fiber. This substantial body of data provides a high level of confidence that numerous benefits are possible through the consumption of Hi-maize® RS2 resistant starches. National Starch Food Innovation, www.foodinnovation.com, Booth 2151
Barley beta-glucan helps lower cholesterol and blood sugar
Recently, the health benefits of barley beta-glucan were recognized by the Food and Drug Administration with a health claim for reducing risk of heart disease. Barley Balance™ is naturally concentrated barley beta-glucan from PolyCell Technogies, distributed by DKSH North America, Inc. This concentrate has more than 23% beta-glucan content, which is six or seven times higher than that found in typical barley or oat ingredients. Since only small amounts of Barley Balance are necessary to provide benefits, beta-glucan can be added to more food and beverage products to give them functional properties.
Clinical studies using barley beta-glucan have shown remarkable effects on lowering total cholesterol and LDL cholesterol by as much as 20%. In addition to lowering cholesterol, the ingredient is effective in lowering and balancing blood sugar peaks and extending glycemic cycles, and can promote satiety and weight loss in conjunction with healthy diet changes. DKSH North America Inc., www.dksh.com, Booth 963
--- PAGE BREAK ---
Inulin fiber promotes health trends
Inulin is a natural dietary fiber that is growing in popularity. Frutafit TEX, a long-chain inulin extracted from chicory roots, is a GRAS food ingredient. Compared to the native inulin (average DP = 10), it has a higher inulin content (99.5% vs 97% for native inulin, dry basis) and a lower glycemic index (5 vs 14 for native inulin), and is sugar free (less than 0.5% sugar vs 8% for native inulin). Most important, it offers better gel-forming and water-binding capabilities than the native inulin. In conjunction with high-intensity sweeteners, the long-chain inulin can be used as an innovative fat replacer to develop low-fat, low-GI, and sugar-free products. Based on these unique technological characteristics, Sensus has developed new prototype concepts for spreadable, aerated, and fermented dairy products. Sensus America LLC, Booth 1983 and Paper 69-08
Oligosaccharides and dextrin provide prebiotic effects
Oligosaccharides are a class of short-chain carbohydrates with unique chemical structures that allow them to pass through the human digestive system without being broken down or absorbed. These sugar molecules enter the colon unaltered and are readily fermented by "friendly" intestinal bacteria such as bifidobacteria. A comprehensive review of prebiotic effects of commonly recognized oligosaccharides will be presented. Process technology, applications, regulatory status, and nutritional claims of oligosaccharides will also be discussed.
A dextrin ingredient obtained from corn or wheat starch, Nutriose® FB06 is not completely hydrolyzed and absorbed in the small intestine, due to many α-1-6 linkages and the presence of nondigestible glucoside linkages (e.g., α-1-2 and α-1-3). Multiple studies on this prebiotic ingredient have been carried out in both humans and rats to test its health attributes. Results of these studies indicate that short-chain fatty acid (SCFA) production increases with the dose, thus decreasing fecal pH. The product was well fermented, resulting in an increase in lactobacilli and α- and β-glucosidases and a decrease in the fecal pH. A trend in decrease of clostridia was also observed. No negative effects were found on gastrointestinal parameters as SCFA production was enhanced. These studies confirm the fiber status of Nutriose FB06. Roquette America Inc., www.roquette.com, Booth 1357 and Papers 107-03 and 107-04
Isomaltooligosaccharides function as prebiotics
Prebiotic isomaltooligosaccharides with a degree of polymerization from 2 to 7 were produced using Leuconostoc mesenteroides B-742 (ATCC 13146) fermentation. These oligosaccharides were readily catabolized by bififobacteria and lactobacilli, but were not readily utilized by either Salmonella or Escherichia coli. They also increased cecal Bifidobacterium population in young broiler chickens and reduced an inoculated Salmonella typhimurium marker strain in chickens grown with an isomaltooligosaccharide diet. These studies indicate that isomaltooligosaccharides have potential as prebiotics. Paper 107-08
NUTRITIONAL NUTS
Paper updates health benefits of almonds
Almonds have been studied in the context of heart health, diabetes, protein quality, and body weight. Epidemiological data show that nut eaters have a lower body mass index, BMI. These observational findings led to several clinical trials with nuts, specifically almonds, focusing on weight loss and maintenance. Both short- and longer-term human clinical results that will be reviewed in a presentation suggest that almonds play a satiating role in a mixed diet, whether consumed in one sitting or over several eating occasions.
--- PAGE BREAK ---
Current research at Purdue University shows that consumption of 300 kcal of almonds daily did not increase body weight, due to dietary compensation from the energy in almonds. Almonds' macro-, micro-, and phytonutrient content may also contribute to satiety.
Almonds are the most nutrient-dense nut and have been recognized in the 2005 Dietary Guidelines for Americans as an excellent source of vitamin E and magnesium. They contain up to 20% protein and 10% of dietary fiber and have a low glycemic index, all factors now generally recognized to improve insulin sensitivity and blood lipids and facilitate weight loss. Almond Board of California, www.almondsarein.com, Paper 29-04 and Booth 1776
Session highlights health aspects of tree nuts
Recent epidemiological and clinical studies have provided evidence that frequent nut consumption is associated with favorable plasma lipid profile and reduced risk of coronary heart disease, cardiovascular disease, and other chronic disorders. Most recent recognition of nuts as "heart-healthy" foods by the Food and Drug Administration has provided a major boost to the image of tree nuts. A recent survey indicates that 72% of Americans are aware of the health benefits of nuts and 66% plan to increase their consumption of nuts.
The benefits of inclusion of tree nuts into the human diet are mainly related to their fat components, most of which are rich in monounsaturated fatty acids, tocopherols, and phytosterols. In addition, there may be a number of fat and non-fat constituents in tree nuts that may elicit antioxidant, free-radical scavenging, anticarcinogenic and antimutagenic activities, and cholesterol-lowering and cardioprotective properties. In this respect, phytochemicals in nuts may be implicated in possessing multifunctional properties in preventing several diseases. This symposium will highlight the latest developments in nutraceutical and phytochemical components and health aspects of tree nuts and their by-products. Session 29
OMEGA-3 FATTY ACIDS
Ingredient overcomes limitations of fish oil
The major limitation for the incorporation of eicosapentaenoic acid (EPA) and docosahexaenoic acid (DHA) into food products has been instability and quick oxidation, resulting in a fishy taste and smell, limiting the usefulness of fish oil as a food ingredient. The MEG-3® food ingredient has enabled food companies to create nutritionally dense foods containing EPA and DHA from fish oil without affecting its sensory properties. Ocean Nutrition Canada produces highly concentrated omega-3 powders that have been successfully incorporated through their patented micro-encapsulation technology, Powder-loc™, into a wide range of food products, including bread, milk, yogurt, frozen dairy desserts, nutrition bars, and dry-mix drink products.
At the booth, a chef will be cooking various food items with the MEG-3 food ingredient, providing attendees with the opportunity to taste food items that provide the goodness of fish without the taste or smell of fish. Ocean Nutrition Canada Ltd., www.ocean-nutrition.com, Paper 13-05 and Booth 335
--- PAGE BREAK ---
Balanced meal highlights new omega-3 ingredient
SuperCoat Omega-3™ powder will be featured in a balanced meal at the Wright Solutions Café. Utilizing the proprietary Smart™ microencapsulation technology, SuperCoat Omega -3 is a tasteless, odorless, ready-to-use functional dry powder with excellent process properties that can be used in a range of bakery products, functional food, and nutritional supplements. It is available as two different powders. One is formulated to deliver a 2:1 ratio of EPA to DHA, and the other emphasizes the benefits of DHA on cognitive health by delivering a 2:1 ratio to EPA.
The café menu will include Wright Salad with omega-3 fortified salad dressing; signature pizzas made on a thin and crispy crust fortified with omega-3 and topped with a blend of cheeses; enriched whole-wheat pasta served with omega-3 fortified sauces; and freshly baked Wrightdough™ bread fortified with omega-3. Beverages include SuperCoat Omega-3 Yogurt Smoothie, water, and fresh juices. A low-fat oatmeal cookie fortified with omega-3 rounds out the menu. The Wright Group, www.thewrightgroup.net, Booth 2179
DHA added to nutrition products portfolio
With the acquisition of the DHA-business from Nutrinova, a subsidiary of Celanese Corp., Lonza has expanded its portfolio of nutrition businesses. Lonza's DHA is a vegetarian source of DHA, an essential long-chain omega-3 fatty acid derived from naturally occurring microalgae. The company is offering the following forms of raw material: Lonza DHA FO— a food oil for use in food applications and Lonza DHA CL—a clear oil specially developed for use in dietary supplements. Lonza Group, www.lonza.com, Booth 2165
SOY NUTRITION
Interactive exhibit provides soy protein experience
Attendees are invited to an interactive learning experience where they will receive the latest application information, technology, nutrition, and consumer insights regarding the Solae Co.'s soy protein ingredients for today's health-driven market opportunities. Visitors will see how soy protein meets consumer needs in weight management, kids' nutrition, health and wellness, and performance nutrition. Each interactive station in the booth will help attendees understand the technology and nutrition benefits that make soy protein a perfect fit with these emerging opportunities. Nutrition bars, beverages, and healthier meat/meat-free concepts will be featured. Additionally, the company will debut new, innovative technology in meat applications that offer meat processors the opportunity to improve profitability and access new market opportunities. The Solae Co., www.solae.com, Booth 2028
Technology yields certified organic isolated soy protein
A unique environmentally friendly processing method has been successful in developing the first certified organic isolated soy protein, Soy-N-Ergy® ISP 90, and Soy Protein Crisps/Nuggets. The company states that its new products are produced without hexane or other chemical solvents, differentiating it from all other isolated soy protein products on the market originating from soymeal extracted with these chemical solvents. The company is also producing a non-organic, non-GMO, medium-priced alternative called ISP 90-NH, using the same non-hexane technology. Soy-N-Ergy ISP 90 is 90% protein and <1% fat, and is said to give all the same functionality benefits and characteristics as standard isolates. It has a clean, bland flavor and smooth mouthfeel, allowing inclusion rates as needed for ease in meeting formulation and soy protein health claim goals. American Health & Nutrition, www.organicharvest.com, www.soy-n-ergy.com, Booth 2092
Soy helps meet demand for 'on-the-go nutrition'
With consumers' lives becoming increasingly busy, it's no wonder that one of the hottest snack markets today is healthy, on-the-go bars. For a decadent, but nutritious option, ADM has created a peanut butter nougat bar enhanced with NutriSoy® soy protein, peanut powder, and peanut crisps, NuSun® and Ultralec® lecithins, and Ambrosia® chocolate coatings. For the beverage segment, CardioAid™ plant sterol esters, Fibersol-2™ and protein-enhanced NutriSoy organic whole soybean powder can be used to create a creamy, low-fat raspberry smoothie. For an exotic vanilla chai tea meal replacement that's packed with protein and fiber, the company uses its Novasoy® isoflavones, CornSweet® crystalline fructose, NutriSoy soy protein, and Enova™ oil. ADM, www.admworld.com, Booth 2514
--- PAGE BREAK ---
WELLNESS
Samples focus on Baby Boomers
Several exciting and surprising functional food samples offered at Food Expo meet the Baby Boomers' growing desire to improve their health, but in a much more fun and appetizing way. Different kinds of fortified chocolate will be available from Fortitech. One is a delicious, smooth, and well-rounded chocolate, blended with more than 15 essential vitamins and minerals.
Three types of chocolate clusters will address specific and important health-related issues: brain health, heart health, and bone heath. Brain-healthy chocolate clusters are packed with 16 different nutrients, including a complete antioxidant profile, calcium, and iron for improved cognitive function. Heart-healthy chocolate clusters provide lycopene, coenzyme Q10, vitamins B-12, B-6, and C, and folic acid. Bone-healthy chocolate clusters are packed with calcium, vitamin D, and magnesium.
Fortitech will also offer a vitamin–mineral dairy beverage that comes in chocolate and strawberry flavors. It is made with 2% milk and fortified with 7 essential nutrients, including calcium, vitamins A, D, E, B-12, B-6, and niacin. Another healthy option for active Baby Boomers is a low-fat energy bar with vitamins A, E, C, B-1, B-12, B-2, and B-6. This bar is also a good source of biotin, zinc, iron, copper, folic acid, and niacin. Performance oriented, it is made from all-natural ingredients and is specifically formulated to deliver sustained energy for achieving peak performance. Fortitech Inc., www.fortitech.com, Booth 2826
Healthful ingredients provide delicious treats
Indulge in delicious treats that make good health synonymous with good taste. Cognis supplies ingredients that enhance health and add value and function to a broad range of food and beverage applications. The company will showcase its expanded line of Vegapure® natural phytosterols now that they are GRAS for a broader range of food products. Sample products will include healthy yet tasty dark chocolate mini-bars, vanilla wafers, sherbet, and an acai beverage, all made with the natural plant sterols and sterol esters to help lower cholesterol.
To meet the booming demand for natural nutrients with health benefits, the company will feature new ingredients tailored for specific food and beverage applications. Try products made with user-friendly, dispersible powders including Vegapure sterol esters and Xangold® natural lutein esters. Boost your immune system with a smoothie made with Tonalin® CLA, Betatene® natural mixed carotenoids, and Covitol® natural-source vitamin E.
Ask for a complimentary fact sheet summarizing key studies in immune health—a tool Cognis is providing to help companies develop innovative, science-based products. Cognis Nutrition & Health, www.cognis.com, Booth 2971
GRAINS
Whole grains become easier to swallow
Whole grains have become a lot easier to swallow, thanks to an innovative patent-pending procedure that separates, processes, and recombines all the constituents of whole grains such as wheat, oats, and rice to produce a totally unique line of functional whole-grain ingredients. GrainLife™ may be used to deliver whole-grain nutritional benefits in products which have not traditionally been grain-based. For example, imagine a smooth, delicious frozen dessert that tastes like premium ice cream but contains a serving of cooked whole brown rice. Candy bars, beverages, and dairy-free yogurt are other examples of foods that can be enhanced with significant amounts of whole grains without sacrificing sensory characteristics. GrainLife ingredients can also be used in grain-based products such as cereals and baked goods, thus qualifying them to carry the Whole Grains Council's Excellent Source or Good Source stamp. Available in liquid or dry form, the ingredients are certified organic and kosher. RiceLife™ is produced on dedicated lines which are not used to process any of the eight major allergen categories. Creative Research Management, www.crmcorp.net, Booth 1770 and Paper 69-01
--- PAGE BREAK ---
Flaxseed grows in popularity
Product launches of flaxseed-fortified foods bearing an omega-3 label more than doubled from 2003 to 2005, according to Datamonitor, an online consumer tracking service from New York, N.Y. As recorded in Datamonitor's omega-3 report released in 2005, "Simply putting omega 3 on a label virtually guarantees a level of consumer interest." Pizzey's Milling will be showcasing several product applications for its MeadowPure Quality flaxseed ingredients at Food Expo. A varying array of food products, including breads, tortillas, and pastas, fortified with flaxseed make perfect vehicles for omega 3. Pizzeys Milling, www.pizzeys.com, Booth 1361
Nutrient-dense whole-grain foods close the gap
This paper will define whole grains and provide an overview of the science documenting the additive and synergistic components of whole grains that convey protection for public health. Shortfall nutrients and nutrients of concern, including calcium, folate, and vitamin D, will be identified. The history of how fortified grains, like bread, have been and continue to be effective carriers of nutrients will be discussed. The speaker will highlight the need for nutrition professionals, government, and industry to partner in helping consumers meet their shortfall nutrients while staying within their calorie needs and meeting whole-grain recommendations. Paper 4-01
Extrusion produces fortified rice
Rice is the staple food of more than half of the world's population. Although a good source of dietary energy, rice contains very limited quantities of micronutrients needed for optimum human health. VitaRice is manufactured using a novel extrusion technology in which broken rice kernels or rice flour is converted to nutritionally fortified whole kernels. The technology produces kernels with good keeping and textural qualities and the same size and shape (with lighter color) as conventional polished white or brown rice kernels.
The advantage of this fortification technology over conventional rice fortification is its ability to add micronutrients evenly distributed throughout the kernel in virtually any amount and combination, and to incorporate a significant amount of insoluble and soluble fibers to a health-promoting level not present in any existing rice type. Paper 7-02
Education may increase whole-grain consumption
Regular consumption of whole-grain foods may reduce the risk of several chronic diseases and help control weight. Although the 2005 Dietary Guidelines for Americans recommends three or more servings of whole-grain foods/day, most Americans consume less than one.
A survey was conducted to obtain baseline data on consumers' knowledge of whole-grain foods and their usual intake and to compare attitudes and behaviors before and after an educational mail intervention. Only 44% of subjects knew the recommended daily number of servings, and 83% did not know that whole-grain foods are associated with a lower risk of diabetes. There was also considerable confusion about the terms "multigrain" and "enriched."
The data suggest that educating consumers about whole-grain foods and providing practical information on how to identify and prepare these products may positively affect attitudes and ultimately result in greater consumption. The results also confirm previous studies suggesting that a lack of knowledge and misconceptions about whole-grain foods may contribute to currently low intake levels. Paper 20D-01
--- PAGE BREAK ---
Study shows antioxidant potential of amaranth extract
Amaranth (Amaranthus cruentus) is a robust crop native to South America and Asia, with excellent nutritional quality. It is a rich source of squalene and tocotrienols, nutraceuticals with many beneficial effects in human health. Squalene is anticarcinogenic, hypolipidemic, antioxidant, and a sink for xenobiotics in animal and human models. Tocotrienols are effective antioxidants, pro-apoptotic agents, and inhibitors of HMG-CoA reductase. A study measured the retention of squalene during conventional processing methods for amaranth and compared the antioxidant capacity of the oil-rich fraction of amaranth. Preliminary results suggest that the excellent processing stability of squalene in amaranth will help to promote squalene as a nutraceutical and amaranth as a value-added grain that can be blended with corn or wheat to improve their nutritional quality. Paper 3E-10
---
• Grape seed extract,
Activin
®, now has increased phenolic content and higher ORAC values. It is produced using the patented
ActiPure
process, an all-natural, solvent-free, 100% food-grade water extraction.
San Joaquin Valley Concentrate,
www.activin.com
, Booth 1876
• Carotenoids (beta-carotene and lycopene), vitamins (A, B, C, D, E, K), and polyunsaturated fatty acids are available, along with technical support and industry-specific formulation expertise. BASF, www.basf.com/usa, Booth 2864
• Water-soluble and oil-soluble beta-carotene and a carotenoid mixture containing lutein, zeaxanthin, and other carotenoids in liquid form will be introduced. The company also produces citrus bioflavonoid blends; polyphenolic antioxidants from citrus fruits and berries; defatted rice bran; high-protein green pea and golden pea fibers; vitamins D-2 and D-3; and natural, edible coatings made from zein. Freeman Industries, www.freemanllc.com, Booth 740
• New and unique polyphenols targeted at supporting the immune and cardio health will be featured. LesstanoL® Policosanol, Cowcium® Natural Milk Calcium, Foamex™ yucca/quillaja extracts, pea fiber, HeliFOS™ Jerusalem artichoke flour, and ProtiGERM™ defatted wheat germ are also offered. Garuda International, Inc., www.garudaint.com, Booth 879
• β-Apo-8'-carotenal is a carotenoid that will be marketed as Altratene Apocarotenal. It allows food manufacturers to enter into the red color territory with a very potent, healthy, and nature-identical colorant. Initially, the company is offering three formulations: an oil suspension and two different solutions. Allied Biotech Corp., www.altratene.com, Booth 3363
• Chromium picolinate, Chromax has been the focus of more than 20 clinical studies investigating its functional efficacy in carbohydrate/glucose metabolism and maintaining healthy cholesterol levels. The National Institutes of Health has funded 4 clinical studies using Chromax that involve insulin resistance, a health issue affecting 95 million Americans. The ingredient is affirmed as GRAS and secured this status at clinically effective doses. It won't impart off-flavors or off-odors and is highly stable under typical food and beverage processing conditions. Nutrition 21 Inc., www.chromax.com, Booth 1057
• Nutritive sweeteners with slower digestion rates have been developed. The sweeteners have altered sugar linkages that slow down digestion rates by human intestinal enzymes and cause a smaller rise in blood glucose and insulin levels than traditional sweeteners. Sucromalt and isomaltulose are the first products introduced in the slowly digestible sweetener family. Both are ideal for most food applications, offering slowly released energy and glycemic control. Cargill, www.cargill.com, Paper 13-03 and Booth 1939
• Protein ingredients exhibited include sodium caseinate, calcium caseinate, potassium caseinate, cost-saving edible casein, soluble micellar casein, hydrolyzed milk proteins, hydrolyzed whey proteins, milk protein isolate, and milk protein concentrate. American Casein Co., www.americancasein.com, Booth 2298
--- PAGE BREAK ---
• Milk protein ingredients offered include caseins, whey proteins, colostrums, lactoferrin, milk calcium, glycomacropeptides, and milk protein concentrates. Erie Foods International Inc., www.eriefoods.com, Booth 2931
• Research in peptides has discovered important knowledge of the elements in milk and practical ways of applying that knowledge to make food even more functional. Lactoferrin is known to exert an immuno-stimulatory effect. Bifidobacterium longum (BB536) is offered as powder and frozen concentrate for applications in yogurt and a variety of other dairy products. Through its efforts and cooperation with other major international food manufacturers, Morinaga offers consumers a range of food products that help provide constantly improving standards of nutritional content, well-being, and satisfaction. Morinaga Milk Industry Co., Ltd., www.morinagamilk.co.jp, Booth 874
• Whey protein products and cheese ingredients deliver nutrition. Whey protein ingredients can create a fat barrier in coatings, emulsify in high retort processes, or promote even gelling. Leprino's team works to increase the nutritional value, manage ingredient costs, and display improved functionality in your end product. Leprino Foods, www.leprinofoods.com, Booth 1979
• A high-potency beta-carotene beadlet, BetaTab® 20% S, and a lutein beadlet, Lutein 5% CWS/S-TG, expand DSM's Nutritional Products' animal-free ingredients portfolio for the direct compression and dietary supplement market. The extensive portfolio includes a complete line of water- and oil-soluble vitamins, carotenoids, and other novel nutraceuticals. Lafti probiotics focus on efficacy, stability, and safety. Teavigo contains up to 94% EGCG. A patented extraction technology purifies EGCG from green tea leaves, producing a natural compound of superior consistent quality. DSM Nutritional Products, Inc., www.nutraaccess.com, Booth 2020
• Highly soluble patented calcium, Gadocal Extreme, is designed to provide calcium fortification of syrups and concentrates. It dissolves instantly without causing any calcium sedimentation at any practical level of fortification and provides high bioavailability. Gadot Biochemical Industries, Booth 1448
• Supplement ingredients include vitamin C and derivatives, taurine, folic acid, biotin, B-vitamins, aspartame, acesulfame K, and sucralose. Helm New York, Inc., www.helmnewyork.com, Booth 1141
• Fully digestible hydrolyzed collagen, RHC, is pure protein. It is widely used as a protein source in functional foods, low-fat, and low-carbohydrate products. Collagen hydrolysates are tasteless and odorless and have exceptional clarity. Suggested applications include sports drinks for increasing viscosity and added protein, nutrition bars for binding and added protein, and a binder for tablet operations. Rousselot, Inc., www.rousselot.com, Booth 3923
• A life sciences company, Forbes Medi-Tech is dedicated to the research, development, and commercialization of innovative products for the prevention and treatment of cardiovascular disease. Its vision is to develop and market products along a treatment continuum that cardiovascular disease consumers, healthcare professionals, and specialized cardiovascular disease research and healthcare institutions will identify, recommend, and seek. New products include Reducol™; Reducol Dark Chocolate, Sugar-Free Truffles; Reducol Dark Chocolate, Sugar-Sweetened Truffles; Forbes Tall Oil Sterol Ester; and Vivola Oil. Forbes Medi-Tech Inc., www.forbesmedi.com, Booth 3176
--- PAGE BREAK ---
• Structured lipids and Neobee® medium-chain triglycerides are offered. Kosher and halal certified Neobee MCTs contain no trans fatty acids and provide a readily absorbed, low-calorie source of fat for use in foods designed to have nutritional benefits. Stepan Co., www.stepan.com, Booth 2136
• Phytosterols and omega-3 fatty acids are among the ingredients offered. The product line includes Olean®, a fat-free cooking oil or shortening, Nutraphyl™ Phytosterols, medium-chain triglycerides, and a full line of food-grade fatty acids. P&G Food Ingredients, www.pgfoodingredients.com, Booth 4722
• Achieve therapeutic efficacy through controlled-release actives. Deliver superior taste while fortifying. Achieve omega-3 therapeutic differentiation with Vitashure Choline. Balchem Encapsulates, www.balchem.com, Booth 1954
• Improve food freshness and nutrition with EnhancedNaturalFibers™. The company holds an exclusive worldwide license for patented bioprocessing technology developed at the University of Minnesota. This technology can be used to open and expand the tightly bound cell structure of virtually any natural plant material. This change in physical structure enables the development of novel new products having distinctly unique and highly desirable functional characteristics. Fiberstar Inc., www.fiberstar.net, Booth 1839
• High-fiber oat bran and flour products in the OatWell® line provide up to 22% soluble fiber (beta-glucan) and up to 44% total dietary fiber. Nutritional attributes are focused on cardiovascular health, cholesterol reduction, energy balance, moderation of glycemic index, and weight management. OatWell Oat Bran Ingredients are in compliance with FDA standards for oat- and fiber-based health claims and may qualify for product claim statements as soluble fiber from foods such as oat bran. Oat Ingredients LLC, www.oatingredients.com, Booth 1872
• Functional fibers being exhibited include powdered cellulose and others. Solka-Floc® brand powdered cellulose is composed of beta-1, 4-glucan units, is white, odorless, and flavorless, and has varying particle sizes. JustFiber® is more than 99% total dietary fiber—some of the dietary fibers available in this line include cottonseed fiber, white wheat fiber, and bamboo fiber. Fibrex® is a natural, non-GMO, organic dietary fiber with an excellent composition of soluble and insoluble fiber, has unique water-holding capacity, and is gluten free. International Fiber Corp., www.ifcfiber.com, Booth 2135
• A readily dispersible, tasteless source of dietary fiber, Fibersol-2 has many beneficial physiological properties. It is perfect for beverages, including sports drinks and fortified waters, processed foods, baked goods, dairy products, dietetic foods, fiber supplements, and functional foods. And when it comes to functionality, it has some very impressive characteristics, including acid and heat stability, low viscosity, clear solution, prebiotic, and high solubility. Matsutani America Inc., www.matsutaniamerica.com, Booth 1885
• A high-dietary-fiber corn line is available in a variety of packaged sizes as well as in bulk truck and railcar. The company also offers soy and vegetable oil products, corn grits, corn meal, corn cones, corn flour, corn soy blends, pregelatinized corn flour, and soy flour. Didion Milling Inc., www.didionmilling.com, Booth 4131
--- PAGE BREAK ---
• Health, nutrition, food safety, government standards, and government regulation information will be provided by the International Tree Nut Council. The organization endorses activities that provide its membership with new opportunities for increasing global consumption of almonds, Brazil nuts, cashews, hazelnuts, macadamias, pecans, pine nuts, pistachios, and walnuts, as well as dried fruits and peanuts. International Tree Nut Council, www.treenuts.org, Booth 1683
• High-oleic roasted peanut splits, chopped peanuts, and peanut butter are produced from high-oleic peanuts. The products offer up to four times the shelf life of conventional peanuts without any penalty in taste and texture. Nutrin Corp., www.nutrin.com, Booth 3523
• Hazelnut information on emerging trends, research, consumption statistics, growing facts, and hazelnut uses and recipes will be provided by the Hazelnut Council. Members include the hazelnut industries of Turkey and Oregon as well as hazelnut importers. Hazelnut Council, www.hazelnutcouncil.org, Booth 4531
• Unique hazelnut products include whole kernels, raw, blanched or roasted, chopped, sliced or diced, pastes, and flours. The company supplies a complete line of conventional, natural, and certified organic dried fruit, nuts, and seeds. Bedemco Inc., www.bedemco.com, Booth 1775
• Partially defatted roasted peanut flours, roasted aromatic peanut oil, roasted peanut extract, and raw shelled peanuts are offered. Peanut flour containing either 12% or 28% fat can be used in nutrition bars, confections, baked goods, and sauces/dressings/marinades, along with high-protein and low-carb foods. Golden Peanut Co. LLC, www.goldenpeanut.com, Booth 4614
• A new DHA oil product has more of a semi-solid characteristic. When tested in numerous food products such as yogurts, low-fat butter spreads, cheeses, processed meats, and nutrition bars, very good sensory and stability results were obtained. New microencapsulated Martek DHA™ powders have improved ability to resist oxidation. Martek Biosciences, www.martekbio.com, Papers 13-04, 109-02, and 109-03 and Booth 1765
• Heart-healthy fish oil, OmegaPure™, is a tasteless, odorless, organic, and kosher product developed specifically for use as a direct food ingredient to add omega-3 fatty acids to a variety of products. It provides excellent performance in applications such as baked goods, beverages, candy, gum, cereals, condiments, dairy products, desserts, fish and meat products, fats and oils, pasta, snack foods, and sauces. Omega Protein Inc., www.omegapure.com, Booth 3926
• A stabilized omega oil powder, OmegaDry® 1510 is a gamma-cyclodextrin inclusion complex of menhaden fish oil (GRAS) with food grade gamma-cyclodextrin (GRAS). Menhaden oil itself, however, has poor stability against oxidation. In this product, the omega-3 fatty acids are protected by the cavity of gamma-cyclodextrin and highly stabilized against oxidation and temperature. OmegaDry 1510 is a shear-stable, compressible white powder designed for use in food and nutraceutical products. Wacker Chemical Corp., www.wacker.com, Booth 1528
--- PAGE BREAK ---
• Soy peptide, Hinute, offers exceptional digestive absorption and well-balanced blend of essential amino acids to promote excellent energy metabolism. It is also ideal as a source of amino acids for immediately after exercise. Both low-antigenic and low-allergenic, it can be safely used as a functional ingredient in sports drinks, beverages, and health foods. Fuji Oil Co. Ltd., Booth 1761
• A collaborative effort in the soybean industry, Qualisoy™ is promoting the availability of trait-enhanced soybeans and soybean oil. Low-linolenic soy oils are now commercially available to reduce or eliminate trans fat from products. They do not require hydrogenation, but perform like partially hydrogenated oils. Stop by to hear about enhancements being made to soybeans, such as mid- and high-oleic varieties, and sample snacks fried in a trait-enhanced soybean oil. Qualisoy, www.qualisoy.com, Booth 340
• New products for beverage and nutritional applications are Soy Protein Isolate 6340 and Milk Protein Isolate 5000. The soy protein isolate, made from non-GMO raw materials, offers maximum dispersability, improved viscosity, and clean flavorand has 80% less sodium than similar products. The milk protein isolate is ultrafiltered and produced by a proprietary water filtration process utilizing farm-fresh skim milk protein. Protient, Inc., www.protient.com, Booth 3392
• Nutrition program, "Nutrition Solutions for Life," invites a broad industry and consumer audience to learn more about how GTC's line of novel, natural ingredients—found in functional foods, beverages, and supplements—provide unique benefits for bone, digestive, glycemic, heart, and immune health. Visitors are welcome at the sampling bar to enjoy a customized ice cream creation that tastes great while benefiting health, and can also learn more about the company's areas of expertise. GTC Nutrition, www.gtcnutrition.com, Booth 2554
• GRAS-affirmed functional food ingredients, Essentra® and OptiNutrin® will be shown in two beverage concepts developed with strategic partner Flavor and Fragrance Specialties, Mahwah, N.J. Essentra will also be featured in a triple-chocolate high-protein nutrition bar developed by strategic partner Kerry Ingredients, New Century, Kans. OptiNutrin supports natural immune defenses to help maintain good health and well-being. Essentra is a "lifestyle-enhancing" ingredient whose functional food claims are related to stress reduction, mental clarity, enhanced energy, and heart health. Essentra Trim™ functional food claims are related to weight management and blood sugar balance. NutraGenesis, www.nutragenesisnutrition.com, Booth 1682
• Flaxseed producers and processors are represented by the trade association AmeriFlax. Taste roasted flaxseed or products made from ground flaxseed and pick up copies of new recipes, the Flax Facts nutrition brochure, and a list of flaxseed suppliers. AmeriFlax, www.ameriflax.com, Booth 1575
• Whole-wheat flour, Ultragrain Flour, combines the nutritional advantage of whole grains with the processing benefits and finished baked quality of refined flours, thanks to patent-pending Ultrafine™ milling technology. Sustagrain Barley is a whole-grain product that is naturally high in dietary fiber and low in starch, making it one of the lowest-glycemic-index grains on the market. ConAgra Food Ingredients, www.conagrafoodingredients.com, Booth 2531
• Crisp rice, extruded particulates, rice flours and blends, soy protein crisp rice, and specialized functional grain-based ingredients are offered. PGP International, www.pacgrain.com, Booth 2579
--- PAGE BREAK ---
• A full line of organic oat ingredients and oat fiber are new this year. The company offers a full line of oat, barley, and wheat products, including regular rolled oats, whole oat flour, steel-cut oats, coarse and fine oat bran, white wheat flakes, barley flakes, and barley flour. La Crosse Milling, www.lacrossemilling.com, Booth 4922
• New extruded healthy snack pellets are made from whole grain and enriched with omega-3 fatty acid. The company is a producer of snack pellets and a dry corn miller. Products are produced using whole-grain corn, wheat, rice, oat, soy, and other grains. J.R. Short Milling Co., www.shortmill.com, Booth 765
• Rice product information kit from USA Rice Federation, the national trade association for the rice industry, includes information on types and forms of rice; functional, nutritional, textural, and flavor characteristics; a list of suppliers of U.S.-grown rice and rice products; and more. USA Rice Federation, www.usarice.com, Booth 759
• Brown and white IQF rices, quick-cooking rices, milled and parboiled rices, wild rice with cook times of 20–60 min, value-added quick-cooking wild rices, crisped rices, and an extensive line of rice flours for food manufacturers, export markets, foodservice, private label, and retail applications are available. Riviana Foods Inc., www.rivianaindustrial.com, Booth 1725
• Veggie granola packed with eight different vegetables will be featured, along with a tropical Orange N Orange trail mix with almonds and orange bits and a Banana Berry trail mix, packed with bananas, berries, and yogurt pieces. Granola and granola-based products, cereal inclusions, toasted oats, and dessert toppings are also available. Blue Planet Foods, Inc. www.blueplanetfoods.net, Booth 1251
by Linda Milo Ohr,
Contributing Editor,
Denver, Colo.
[email protected]