Red pepper was one of my first introductions to how an ingredient could be used to provide an ethnic flair to a traditional dish—I'm referring, of course, to pizza. By sprinkling on that seasoning, I added some heat to the formula and made the eating experience more of an adventure.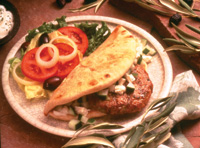 This "exploration" was actually quite a mild one compared to the exotic culinary excursions that are available today. Trips to India, Greece, Southeast Asia, Morocco, Japan, Russia, and South America are all possible without ever leaving the table. And like a virtual game of football where you can combine in one lineup the best players that ever lived, dishes can be created that blend the best culinary traditions of different countries, making possible trips to lands that do not actually exist on the map—places like Mexico India or Caribbean Morocco.
Today's food formulators are actively involved in "globalizing"—a word I'm going to be using several times in this article. By it, I mean that ingredients, flavors, preparation styles, and concepts from around the world are being used to reformulate traditional foods and beverages so that they have an international taste or quality. For example, a mainstream food such as chicken soup can provide a very different eating experience if cooked in the Thai way, using chicken, coconut milk, lime, lemongrass, mushrooms, chilies, green onions, and fish sauce. Likewise, a Greek turkey burger (shown in photo), made with feta cheese, olive oil, pimento-stuffed olives, ground cinnamon, sour cream, and cucumbers, and wrapped in a pita bread, can provide a unique experience.
In the United States marketplace, an ever-broadening range of new product launches are reflecting this approach. Here are just a few examples. Kettle Cuisine, Inc., Chelsea, Mass., a manufacturer of refrigerated soups, stews, and chowders, recently introduced four new soups to its Global Adventure lineup: Cuban Black Bean Soup with Chorizo Sausage, Thai Chicken Soup with Red Curry, Asparagus & Brie Soup, and Mulligatawny (an Indian classic made with chicken stock, onions, garlic, ginger, peppers, Granny Smith apples, and coconut milk). A simple tuna sandwich will never be the same with G'Day Gourmet, Ponte Vedra Beach, Fla., a supplier of canned fish, offering flavored skipjack tuna in six varieties—Chili, Lemon Pepper, Mild Indian Curry, Tomato Basil, Tomato Onion, and Tomato Salsa. And for those interested in easy-to-prepare rice dishes that reflect contemporary versions of authentic recipes from Latin America and the Caribbean, Nuevo Latino Natural Foods, Boulder, Colo., introduces Tambobamba, a new line consisting of Jamaican Rice and Peas, Caribbean Rice Pelau, and Cuban Black Beans and Rice.
--- PAGE BREAK ---
And expect more of these products in the future. According to the Hartman Group, a consulting and market research firm based in Bellevue, Wash., "Foods once appearing ethnic…to older generations are now commonplace in the daily lives of our younger generations…Today's teenage consumers, for example, are as comfortable indulging in Japanese candy or…cooking Pad Thai for dinner as they are meeting their friends for Dim- Sum on a Saturday afternoon." The research firm further added that food manufacturers would be well advised to understand the global nature of such preferences when plotting strategies for the future. "Tomorrow's consumer will never be content with conventional staples such as potato chips, cookies, gum, or soda—or the typical flavor extensions common to those products."
In the September 2006 Ingredients section, I noted how the use of chocolate as an ingredient will play an important role in globalizing formulations. From Hershey's Food Service (phone 877-772-3556, www.hersheyfoodservice.com), a number of innovative recipes demonstrate this, including Latin-Style Pot Roast with Hershey's Cocoa and Hershey's Special Dark® Chocolate Chips.
This article will look at the number of other ways that formulators globalize foods and beverages, taking into consideration factors such as functionality, flavor, texture, health, and emerging trends. It is always important that formulators stay on top of things, but when using this approach, it is especially important that they stay on top of the world if they are to be successful.
Open, Black Sesame
When it comes to globalizing traditional foods and beverages, spices and seasonings quickly come to mind. The flavors that these ingredients provide can be influenced by their type or variety, their source, or even their incorporation with other flavors to create unique combinations.
Let's look at how two examples—sesame seeds and paprika—can help open the doors to new opportunities in the marketplace. Both of these ingredients were included among the top flavors for this year by the McCormick® Flavor Forecast 2006, released by McCormick & Co., Hunt Valley, Md. (phone 410-527-8753, www.mccormick.com).
--- PAGE BREAK ---
According to the report, paprika is a traditional flavor among Baby Boomers, while sesame is more familiar with Generation X-ers. The following observations about these two ingredients are based on McCormick's definitive report.
In the past, sesame seeds have chiefly been used in bakery products, such as breads, rolls, and bagels. However, this is rapidly changing, as its use extends to include both savory and sweet dishes. A key ingredient in Asian, Middle Eastern, and Mediterranean cuisines, sesame may be used in or added to such foods as stir-fries, sushi, meat and poultry products, crusted fish, vegetables, rice, cookies, candies, cakes, salads, and crème brulee.
The growing recognition of black sesame seed, once regarded as a culinary secret, is helping to fuel this popularity in the U.S. Sourced from India, black sesame seed adds a striking color to the application, as well as texture and flavor. It has earthy characteristics compared to white sesame seed which has a nutty, sweet aroma with a milk-like, buttery taste. It can also be combined with its white counterpart to give products a more exotic, colorful look. Perfect partners for sesame are said to include beef, chicken, chocolate, garlic, ginger, green onion, honey, olive oil, orange, pork, rice wine vinegar, soy sauce, tuna, vegetables, and wasabi.
When I think of paprika, images of deviled eggs come to mind. But this ingredient is used in a range of cuisines including Spanish, Portugese, Latin, European, and Southwestern. Part of the Capsicum family of chile peppers, paprika has a rich, red color; provides minimal heat; and comes in many varieties, each with its own distinct flavor and color. It works well with a variety of ingredients including basil, butter, cheese, chicken, chorizo, cream, garlic, marjoram, oregano, pork, potato, rice, salmon, shrimp, and tomato.
Smoked paprika, in particular, is adding a new dimension to formulations, as it imparts a unique taste that is said to be very different from its traditional counterparts. When dried over wood planks, sweet Spanish paprika peppers get a distinctive, smoky flavor that is said to be reminiscent of chipotle chile peppers without the heat. Like black sesame seed, this ingredient was primarily used by chefs, but offers increasing potential to food developers interested in "globalizing" their formulation. Potential applications for its unique taste include Tex-Mex chili, Southwestern ribs, Spanish empanadas, Moroccan stews, garlic-roasted shrimp, grilled chicken, barbecue rubs, sauces, and, of course, deviled eggs.
Recently, McCormick added Black Sesame Seed and Smoked Paprika to its Gourmet Collection® line of premium spices and herbs. These new offerings also allow home cooks to experience the flavors.
--- PAGE BREAK ---
Other top flavors described in McCormick's report include anise, marjoram, caraway, chai (cardamom, cinnamon, cloves, and pepper), and saffron. Like black sesame seed and smoked paprika, these spices and herbs will play an important role in globalizing traditional applications. The report also emphasized that food developers should be very aware of demographics when globalizing. For example, members of Generation Y (born 1977-1994) are the most culturally diverse of the generations. They prefer cuisines such as African, Central American, Indian, Korean, Middle Eastern, Moroccan, and Vietnamese. By understanding their different preferences and the different flavors and ingredients that are involved in that particular cuisine, food developers have a better chance of finding the right key that will appeal to these consumers in the marketplace.
The Different Languages of Ice Cream
We all scream for ice cream. That's true, but in what language? Each area of the world brings its own unique tastes to this traditional favorite. Some of these special tastes, along with any adaptations that occur along the way, are finding their way into the U.S. market. Take, for example, Haagen-Dazs' Mayan Chocolate Ice Cream which combines the flavors of dark chocolate and cinnamon, and Palapa Mexican-style sorbets flavored with coconut.
Global influences on frozen dairy desserts were discussed by Skip Rosskam, President & Chief Operating Officer of David Michael & Co., Philadelphia, Pa., (phone 215-632-3100, www.dmflavors.com), in a presentation he delivered at the 2006 IDFA Ice Cream Technology Conference. His talk looked at how global flavors and trends are affecting the U.S. marketplace, focusing, in particular, on how the influences of Europe, Latin America, and Asia can impact the flavors of ice cream products.
"In Europe, newest trends seem to be toward translating popular pastries into ice creams," said Rosskam. "Fraisier, a French sponge cake with strawberries, and Black Forest Chocolate cake are currently very popular flavors. Other popular flavors include coffee, white chocolate, and toffee." Examples of prototypes developed by David Michael that demonstrate these European influences are Blueberry Lavender Gelato, which illustrates how florals and herbals can complement sweet and savory flavors, and Pain d'epices Ice Cream, which captures the flavors of the specialty gingerbread recipe from France. 
In Hispanic regions, which can include Mexico, the Caribbean, and Central and South Americas, flavors can include tamarind, mango, banana, green apple, and watermelon, noted Rosskam. Horchata ice cream, chili-fruit sorbets, and peanut-flavored ice creams are popular in this area of the world. Examples of prototypes that demonstrate these influences are Chocolate Horchata and Mango-Chili Water Ice.
Consumption of ice cream in China and Japan is currently very low, but it has been on the rise. Their flavors tend to be more spice and savory. Popular flavors include bean (adzuki, kidney, and mung), mango, blackcurrant, sesame, and jasmine rice. Asian-influenced prototypes created by David Michael include Sesame Ice Cream, Green Tea Ice Cream, and Rose Saffron Ice Cream.
"Consumers today have more of a tendency to try new things without losing sight of tradition," said Rosskam. "They are traveling more, increasing their exposure to different cultures and foods. There is also a greater diversity within the population." Trends such as these continue to fuel an interest in gourmet, ethnic, and origin-specific foods, as well as the exotic or nontraditional ingredients that they consist of. Ice cream is obviously included in the melting (or freezing) pot of different cultures.
--- PAGE BREAK ---
A Meal Reflecting Worldly Tastes
"We're all aware of how small the world seems to be getting in terms of culture and trade," said Jessica Jones-Dille, Industry Trends Analyst for Wild Flavors, Inc., Erlanger, Ky. (phone 859-342-3600, www.wildflavors.com). "If 'globalization' isn't a term your business embraces, you're going to be missing out on a world of possibilities."
To stay on top of trends, ingredient companies must think globally, not just ethnically, Jones-Dille maintained. "There is so much coming out of the world of flavors that goes deeper into typical 'ethnic' flavor groups, like Mexican and Italian. Many of these flavors are from regions and cultures yet to be enjoyed by the overall public." She cited the Mediterranean trend, which involves flavors from all sides of that region, including Greek, Lebanese, and Moroccan.
According to Jones-Dille, one trend that has been a major player in the flavor world is the "crossover concept," whereby a flavor normally associated with one type of food group is introduced into another. For example, wasabi has been popping up in dessert-oriented foods such as ice creams. Besides producing new flavor combinations, the crossover trend can spice up a traditional category and reinvigorate a stagnant product line—a point of particular interest for this month's article.
"Our country, along with many others, is increasingly becoming a true melting pot of different races and ethnicities," she emphasized. "Trend spotting doesn't occur on a two-way street, but more on a busy network of roads. For example, a particular European flavor might migrate to Asia, or a flavor could travel from New Zealand to India." That's why it's very important for ingredient suppliers, no matter what their home country is, to monitor very carefully different trends and where they're coming or going, she said.
Wild Flavors has developed a number of flavors that may be used in traditional foods so that they reflect a more worldly taste. Let's create a global meal, starting with soup. We've already mentioned chicken, so we'll begin with another popular variety, tomato. In the hands of Wild, such a dish becomes Chilled Moroccan Tomato Soup served with yogurt and lemon pepper chips. After soup, there usually a Garden or Caesar salad. Instead, let's try a Lentil Salad that includes dried fruits and nuts, shredded coconut, and an Indian Garam Masala vinaigrette. For the main course, we have a couple of choices. The Spanish-Style Marinated Pork Tenderloin blends the flavors of Spain such as red wine, olive oil, garlic, and smoked paprika. The Caribbean Seafood Ceviche is especially refreshing today, consisting of shrimp and scallops, diced watermelon and pineapple, jalapenos, onions, lime juice, cilantro, mint, ginger, and cayenne pepper. For dessert, there's a low-fat ice cream made with purple carrot, vanilla, and chai, and chocolate truffles with red wine and peppercorn flavors.
And no, I didn't forget about the drinks. Beverages served with this meal have all been globalized as well. Take your choice: Mango Lassi, an Indian beverage that combines 20% juice with mango flavor and creamy yogurt notes; a Mexican-style Horchata blending 24% juice with tamarind flavor in a creamy dairy base; Orange Basil Rooibus Tea Spritzer, an effervescent tea with light orange and basil flavors; a punch combining pumpkin and pineapple flavors; and a water beverage flavored with apple and the essence of rose petals.
--- PAGE BREAK ---
The Pick of the Garden
Vegetable and herb blends in Asian, Latin, and Mediterranean flavor profiles can add a distinctive international character to any application calling for fresh, frozen, dehydrated, or frozen vegetables. The blends are the latest additions to the Gilroy Foods™ GardenFrost® Puree line from ConAgra Food Ingredients, Omaha, Neb. (phone 800-851-9618, www.ConAgraFoodIngredients.com).
Each puree has its own fresh, clean flavor, with the Latin blend characterized by the bite of peppers, cilantro, cumin, and lime; the Asian blend marked by a burst of lemongrass and green onion; and the Mediterranean blend defined by a mix of Provencal herbs and olive oil. Other products in the line include fire-roasted jalapeno and fire-roasted tomato varieties, garlic and roasted garlic, onion and roasted onion, ginger, and roasted sweet red bell pepper.
The purees are said to utilize Softfrozen™ freezing technology to lock in vegetable and herb flavor. The resulting purees are easy to use, taste fresher than traditional purees or vegetable bases, and thaw four times faster than their frozen puree counterparts.
The purees may be used to transform a variety of traditional applications, such as sauces, salsas, dips, pizzas, and salad dressings. Some examples of prototypes that the company highlighted at the 2006 IFT Food Expo were Asian Shrimp with Roasted Pineapple Rice (Asian blend), Antipasto Salad (Mediterranean blend), Ceviche Served with a Seven Spice Wonton Crisp (Latin blend), Roasted Vegetable Gazpacho with Roasted Red Pepper Sorbet (red pepper), and Garlic and Tomato Focaccia Bread (roasted garlic).
New Directions on the Culinary Compass
In the past 20 years, trade relations between Southeast Asia and North America have dramatically improved, opening up the borders of Tibet, Vietnam, the Yunnan Province of China, Myanmar (Burma), Laos, Cambodia, and Thailand. As a result, the West is becoming more familiar with the cuisines of these countries and the ingredients and flavors that encompass them.
Although the people of the Mekong (the name comes from the river that runs through this region) have a common palate and approach to food characterized by hot, sour, salty, and sweet flavors, the ingredients and methods of cooking are distinctive among these countries. Popular flavors and ingredients include star anise, lotus, garlic, onion, galangal, lemongrass, coconut, chilies, tamarind, curry, mint, sesame seeds, peanuts, cinnamon, fish sauce, and many others.
--- PAGE BREAK ---
From Griffith Laboratories, Alsip, Ill. (phone 708-371-0900, www.griffithlaboratories.com), the "Flavors of Southeast Asia," is a new line of seasoning blends and marinades that reflect the culinary traditions of this region. Beef, pork, chicken, and seafood dishes may be made with a Basic Southeast Asian Marinade (a building-block base note with hints of soy, ginger, and garlic) and topicals such as Aromatic Thai (lemongrass, sweet, sour, salty, and hot), Spicy Chinese (orange and lemon citrus notes with fiery chilies and ginger), Aromatic Vietnamese (sesame, lemongrass, and red chilies), and Cooling Five-Spice (clove, fennel, Szechuan pepper, anise, and cinnamon).
For noodles, rice, and sauces, ingredients include Red Curry Mix (ginger, garlic, sesame, and heat), Green Curry Mix (melon, coconut, lemongrass, and heat), Southeast Asian Table Sauce Mix (sweet, sour, salty, and hot), Vietnamese Noodle Seasoning (citrus, pepper, anise, and ginger), Fragrant Yellow Rice Seasoning (floral, lemongrass, and ginger), and Pad Thai Seasoning Mix (lemongrass, ginger, cilantro, and heat).
The U.S. consumer is becoming more familiar with the cuisines of other parts of the world as well. For example, when thinking about the Mediterranean, Italian cuisine (North and South) quickly comes to mind. But, as we saw with Southeast Asia, several countries collectively form that region and these countries have their own distinctive ingredients and cooking methods. For example, Innova, a Griffith Laboratories company, Oak Brook, Ill. (phone 630-928-4811, www.innovaflavors.com) recently launched its new line of Robust® Ultima™ meat flavors in a variety of prototype dishes taken from Spanish and Moroccan regions. This type of cuisine makes use of such ingredients as olive oil, fresh vegetables, and lean meat, and is often thought of as being healthier for you.
Fruit Flavors of Southeast Asia
Previously, we looked at some of the seasoning blends that reflect the flavors of Southeast Asia. But that region is also known for its distinctive fruits.
Taste of Southeast Asia is the name for a new line of exotic tropical fruit flavors from Robertet Flavors, Inc., Piscataway, N.J. (phone 732-981-8300). Authentic flavor profiles of fruits from this region are created for use in beverages, ice creams, yogurt, sorbet, syrups, and other products.
One example of a flavor from the line is Green Coconut. Native to Malaysia, coconut palms are now found in tropical regions all over the world, including South America, India, Hawaii, and the Pacific Islands. Green coconut (also known as young coconut) is simply an immature coconut. At this stage in life, it contains about a cup or two of coconut water, which has a light and sweet refreshing coconut flavor. Since the meat of the green coconut hasn't fully formed yet, it's merely a thin, jelly-like coating on the inside of the shell. The tender meat possesses a mildly sweet coconut flavor.
--- PAGE BREAK ---
Another example is Mangosteen, which is dubbed the "Queen of Tropical Fruit." Originating in Malaysia, this fruit is now cultivated in Thailand, Indonesia, the Philippines, and Hawaii. Ripe mangosteen has a juicy, tender flesh which provides a flavor that is sweet-tart, floral, and refreshing.
Other profiles of fruits in this line include Calamansi, Dragonfruit, Guanabana, Guava, Jackfruit, Kaffir Lime, Longan, Lychee, Papaya, Persimmon, Pineapple, Pummelo, Rambutan, Red Banana, and Starfruit. All the flavors in the line are natural and available in a liquid, water-soluble form.
Fast Foods ala International
Sausages such as Polish, Italian, and bratwursts are popular, especially at any Midwestern sporting event. I mean what would an old-fashioned tail-gate party be like without this culinary dish?
But how about a more "globalized" alternative such as a Mango-Habanero Chicken Sausage? This prototype, developed by Kerry Ingredients, Beloit, Wis. (phone 800-334-4788, www.kerryamericas.com), is a lean sausage made from boneless, skinless thighs that features custom-blended meat seasonings and custom flavors, including habanero pepper, chipotle pepper, tropical fruits, and flavors associated with Caribbean and Hispanic cuisines. It is served with a cooling pineapple rum ice.
Wraps continue to be popular as well. Take, for example, McDonald's recent Snack Wrap, which consists of crispy chicken, cheddar jack cheese, lettuce, and ranch sauce wrapped in a soft flour tortilla. This tasty item is a far cry from your traditional chicken sandwich. Now try to imagine further opportunities inspired by international cuisines. Take, for example, Kerry's Baja Wrap with Creamy Chili Sauce made with a chicken analog that delivers the appearance and texture of whole muscle meat. The prototype is formulated with a bake-stable cheddar cheese powder, along with a medium-chain-triglyceride shortening powder, a sour cream powder, and a yogurt powder.
For pizza lovers, imagine an East Indian barbecue version. The prototype from Kerry demonstrates a flavor profile based on classic East Indian flavors tailored for a Western palate.
And for dessert, instead of the usual items found on traditional fast food menus, how about Kerry's Sweet Lavish, a sweet and crunchy treat based on Hispanic flavor profiles. The item, made with soy ingredients, caramel, and cinnamon crunchlettes, complements both sweet and savory flavor profiles and provides a variety of textures.
--- PAGE BREAK ---
Capitalizing on Varietal Differences
A range of ingredients, such as vanilla, chocolate, chilies, fruit flavors, coffee, and cooking wines can provide distinct flavor profiles or sensorial properties based on their specific origin and varietal type. This can be a very important factor when globalizing your food or beverage.
I think that point was illustrated several times in the presentation delivered by Virginia Dare, Brooklyn, N.Y. (phone 718-788-1776, www.virginiadare.com), at the recent IFT Annual Meeting (see August 2006 issue of Food Technology, pages 76-77). As you may recall, the company discussed the taste preferences of Hispanic consumers and the influence of traditional Hispanic flavors on mainstream food and beverage products.
The company created three mango flavors that showcased the varietal characteristics of this fruit. These flavors—Indian type, Mexican type, and Manila type—provide distinctly different flavor profiles. The type of flavor that is used can have a direct influence on the taste of the application (think, for example, an Indian-type mango-flavored ice cream or beverage whose taste would be decidedly different from other mango-flavor-containing applications).
The use of a particular variety can thus help differentiate the product in the marketplace and can also be chosen based on demographic considerations and its ability to successfully cross over into mainstream products.
Batter Up on the International Field
Batters, breadings, and coatings are an excellent way to incorporate an international flair into such formulations as meat, poultry, seafood, French fries, and vegetables.
One innovative example of a breading system is Namo Panko™, fresh Japanese bread crumbs from Hydroblend, Inc., Nampa, Idaho (phone 972-517-5240, www.hydroblendinc.com). The company can produce large quantities of the ingredient using traditional Japanese methods that preserve an authentic quality.
Because these breadcrumbs impart a special texture and appearance, they can help differentiate products in the marketplace while creating new concepts in product formulation. The texture of these Japanese bread crumbs is said to be significantly lighter and crispier, complementing the substrate rather than overpowering it. Furthermore, their particle size is larger, creating a dramatic visual appearance. 
--- PAGE BREAK ---
Getting Saucy with Flavors
In addition to coatings, another excellent way of providing mainstream foods with the flavors of the world is through sauces. Symrise, Teterboro, N.J. (phone 201-462-2389, www.symrise.com), for example, offers a library of new savory flavors and seasoning blends that capture the latest trends in international fare. The flavors, which may be used in internationally inspired sauces, include Mediterranean, Asian, South American, Indian, Caribbean, and classic American tastes associated with the Deep South.
From Lee Kum Kee (USA), Inc., City of Industry, Calif. (phone 626-709-1888, www.LKK.com) comes a traditional Thai hot sauce, Sriracha Chili Sauce, which is known for its quick heat. The sauce, consisting of ground dried chili and garlic, may be used to transform mainstream applications such as salad dressings, frozen pizzas, and Buffalo wings.
A line of authentic Asian sauces—Hoisin, Thai-Style, Chili, Plum, and Black Bean—have been developed by Kikkoman International, Inc., San Francisco, Calif. (phone 415-956-7750, www.kikkoman-usa.com). The addition of Hoisin Sauce to vinaigrettes, sauces, and marinades can help provide an Asian twist while Plum Sauce gives a sweet-savory appeal to prepared noodles and rice bowls.
A True Melting Pot
According to the Webster dictionary, a melting pot is a place where a variety of races, cultures, or individuals assimilate into a cohesive whole. Such a definition implies that these different segments bring to society their different heritages, which includes their distinctive cuisines.
I remember my grandmother had this very old cookbook, which, when she died, was passed down to my mother. This cookbook carefully described Polish recipes, what ingredients to use, how to prepare them, and even what to serve with them. I'm sure that Italian, German, and Irish grandmothers had their own very specific cookbooks—blueprints to their culture, if you will. To deviate from them in any way would be sacrilegious. I can just imagine the look on my grandmother's face if she ate a pirogi made with spices from the Caribbean.
--- PAGE BREAK ---
The dictionary also provided a second definition for melting pot: a process of blending that often results in invigoration or novelty. This article has included a wide range of concepts that demonstrate this blending or "globablizing." Such an approach can help differentiate a product in the marketplace as well as bring a new energy to a traditional product, which, in turn, may appeal to a broader range of consumers looking for something different or more flavorful.
As I close this article, I would like to get back to people like my grandmother. In somewhat paradoxical fashion, their purist views and passion for authenticity may not have been completely forgotten in an age of different fusions. In fact, they may have made some of the developments today possible. After all, in recent years, we've seen an emphasis on authentic ingredients; we've taken a closer look at the cuisines of countries not familiar to us; we've gained a better understanding of the religious and social significance that some of these ingredients may have; we've become more aware of the varieties and origins of certain ingredients or flavors and the different profiles they provide; we've modified our perceptions, realizing that Italian is not the only Mediterranean cuisine; and we've gained a better understanding of the culinary traditions of other countries.
It may not exactly be the way our grandmothers imagined it, but after all, isn't that understanding, in the end, the most important thing?
Next month's Ingredients section will look at different ways to reformulate snacks to make them heallthier.
---
Vinaigrettes Get a Dressing Up
A margarita vinaigrette? How about a banana-ginger variety? Or a honey vinegar?
The addition of new flavors has given vinaigrettes a makeover, helping to revive the traditional dressing. According to Mintel, a major resource on global trends, leading vinaigrette flavors on U.S. restaurant menus include balsamic, raspberry, red wine, Italian, and lemon. Among the emerging varieties are tamarind, black walnut, cranberry, salsa, shallot, and ginger.
In addition, varieties of vinaigrette are also increasing on U.S. grocery shelves, notes Mintel. From Unilever's Wish-Bone brand comes Light Asian Sesame, Light Balsamic and Basil, and Light Raspberry Walnut.
As can be seen, many of these varieties are reflecting an international inspiration and additional launches are expected.
--- PAGE BREAK ---
In a related story, the National Honey Board (NHB), Longmont, Colo. (phone 303-776-2337, www.honey.com) recently developed what it describes as the first balsamic vinegar made exclusively from honey. The product, Honey Balsamic Vinegar, consists of just two ingredients—naturally brewed honey vinegar (55%) and caramelized honey (45%). The product is said to deliver the deep, mellow flavors typical of traditional balsamic vinegars but ends with a distinctive sweet-tart finish, making it suitable for salad dressings, sauces, condiments, and relishes.
While honey vinegars can be found on European grocery shelves, purchasing options in the U.S. are uncommon, and none are balsamic varieties, notes NHB's Marketing Director Bruce Wolk. "Coupled with the widespread popularity of Mediterranean cuisines and ingredients, Honey Balsamic Vinegar is positioned for consumer approval." For example, the new vinegar adds a contemporary twist to panzanella, a classic Italian bread salad. The mellow vinegar punctuates the other ingredients with its appealing sweet-tart flavor.
The new honey vinegar was the result of NHB's product development program which utilizes honey's flavor and attributes to create new twists on familiar foods. The product was developed according to modern balsamic production, utilizing industrial acetator fermentation and rapid wood aging. NHB has taken the concept to the plant trial stage, and is offering product formulation and processes at no charge to any manufacturer interested in producing and marketing it.
---
From Russia with Love
A traditional Russian, nonalcoholic beverage—
Kvas
—is made from malt, rye or wheat flour, and boiling water. The lightly fermented sour-sweet beverage has a flavor somewhat resembling beer, and is suitable as an ingredient in soup and other dishes. There are also versions of
Kvas
in neighboring countries. For example, Polish make it with lemon juice, the Lithuanians add raisins; and cinnamon is a common flavoring in the Ukraine. Added flavors in Russia include caraway, mint, or blackcurrent leaves.
Recently, Denmark-based Danisco (www.danisco.com) developed a Kvas sorbet, based on that popular Russian beverage. The concept, one in a continuing series, is designed to help customers identify key trends within the frozen desserts market, as well as solve specific challenges that occur during the manufacture of frozen desserts.
by Donald E. Pszczola,
Senior Associate Editor 
[email protected]