Look, up in the air. It's a bird. It's a plane. No, it's Superfood! Disguised as a mild-mannered fruit or vegetable, it's able to deliver exotic flavors, natural functionality, premium status, and antioxidant and wellness benefits far beyond the common food.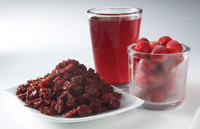 Now, I don't want to tug on anyone's cape so I'll let emerging research studies and the future marketplace determine how "super" these foods really are. But one thing does seem clear, even without the use of any x-ray vision: highlighting the special capabilities of these fruits and vegetables is one way of adding value to them. And hopefully, by doing so, make the idea of their consumption more attractive to consumers as well as increase their desirability as an ingredient in a broad range of applications.
Of course, there are many other ways that fruits and vegetables are being upscaled, as demonstrated by the number of products introduced into the global marketplace over this past year. Square watermelons, carbonated grapes, crisp roast garlic, apples that have the taste of Concord grapes, choclo or Peruvian corn, specially packaged bananas that stay fresh longer, and sauerkraut promoted for its antioxidant benefits are just a few examples. (See sidebar on page 49 for a closer look at these products.)
In the culinary realm, we're also seeing some interesting innovations as well. Take soup, for instance. While vegetables have always been a main ingredient in this dish, chefs are now finding creative ways to use fruits in both hot and cold offerings, observed Mintel Menu Insights, a resource that tracks national restaurant trends. Top fruit flavors used in soup include apple, Sultana raisins, pomegranate, mandarin orange, winter melon, lime, strawberry, and apricot. According to Mintel, "fruit was once reserved for chilled appetizers or refreshing dessert soups, but now chefs are experimenting with them as main centerpieces for their hot soup creations." Some examples are Warm Blackberry Passion Fruit Soup and Roasted Butternut Squash and Pear Soup. In the cold soup category, innovations include Chilled Soup Trio, (featuring cherry, papaya, and strawberry soups) and Chilled Melon and Ginger Soup.
--- PAGE BREAK ---
Expect in the near future to find new varieties of fruits and vegetables, as researchers are busy developing hybrids that are reportedly more resistant to disease while offering enhanced taste, convenience, and health benefits. At a recent seminar presented by U.S. Dept. of Agriculture and University of Florida researchers, a number of emerging citrus fruit varieties were discussed, such as a seedless Valencia orange and a seedless Fallglo tangerine.
Also, fruits and vegetables are not going unnoticed in annual forecasts for global flavor preferences. A new trends program, FlavourVision, from Givaudan, Cincinnati, Ohio (phone 513-948-8000, www.givaudan.com), highlighted guava, mangosteen, acai berry, and smoked paprika as ethnic or exotic flavors that will meet consumer desires for new, multisensorial eating experiences. The forecast also included flavors associated with a perception of a healthy mind and body, such as cucumber or watermelon; antioxidant berries and fruit; and olives, an important ingredient in Mediterranean cuisine.
According to the food and beverage database of Netherlands-based Innova Market Insights (phone +31-26-319- 0650, www.innova-food.com), an online international product development tracking tool, berries are the second most popular flavor (only behind chocolate) in new product launches. Fruits such as pomegranate, mangosteen, acai, and noni continue to be on the rise, with a new generation of hopefuls including acerola, goji, seabuckthorn, and the pulp of the baobab tree.
The above data seem to suggest a very promising future for the development of fruits and vegetables. Unfortunately, getting American consumers to eat more fruits and vegetables - or for that matter, just getting them to eat the recommended number of servings - is not always an easy task. While on some distant planet, the consumption of fruits and vegetables is done rather routinely without any kind of encouragement or subterfuge, here on the planet Earth it's a different story.
According to recent research by USDA and the National Cancer Institute, only 40% of Americans have been consuming at least five servings of fruits and vegetables per day. The study, published in the Journal of the American Dietetic Association (September 2006), also noted that current intake of dark green and orange vegetables and legumes were at less than a third of the recommended amounts.
--- PAGE BREAK ---
The news regarding children's intake sounds even worse. According to a new study published in the February 2007 issue of the American Journal of Preventive Medicine, only one in 10 U.S. children are eating the recommended levels of fruit and vegetables per day. This figure is said to be even lower that what was previously thought. The study analyzed the behavior of almost 900 children, ages 11-15.
Competing beverages, such as flavored bottled water, energy drinks, and sport beverages may also be drawing attention away from fruit and vegetable juices, especially among the younger crowd. Many of these products, however, only contain a fruit flavoring or a small percentage of juice.
Faced with these challenges, members of the fruit and vegetable industry are scratching their heads of lettuce, looking for new and innovative ways to spotlight the health and functionality benefits of their products and subsequently increase their consumption. This month's article will look at some of these different ways that fruits and vegetables are having value added to them, creating new opportunities for their use.
Cherry on Top
A consumer education campaign promotes the benefits of tart cherries in a variety of foods and beverages. The program was launched by the Cherry Marketing Institute (CMI), Lansing, Mich. (phone 517-669-4264, www.cherrymkt.org), at a media event held on February 6 in New York City's Town Restaurant.
Among the highlights of the event was the unveiling of the Cherry Nutrition Report, a compendium of cherry-related research that documents the antioxidant benefits of this fruit and its compounds. The CMI-commissioned report, which is available at www.choosecherries.com, looks at the potential of cherries in a number of areas, including arthritis and gout, heart health, cancer prevention, diabetes, and brain function.
--- PAGE BREAK ---
A group of panelists was also on hand to discuss various aspects of cherries. These included Russell J. Reiter, a cellular biologist at the University of Texas Health Science Center, who provided a scientific update on emerging cherry-related studies; Ellie Krieger, a registered dietitian and host of Food Network's Healthy Appetite, who compared the nutrient profile of cherries to other fruits and brainstormed ways to incorporate more cherries into the diet; and Bob Sutherland, owner of the Cherry Republic who, as a retailer of cherry products, gave his perspective on the value of cherries for food manufacturers and restaurateurs.
Traditionally, cherries have been perceived as a summer fruit or as an ingredient for pies and other desserts. But in recent years that has been changing as the possibilities for using dried and frozen cherries, as well as juices, keep increasing. According to Jeff Manning, Chief Marketing Officer for CMI, "There are currently hundreds of products on the market today, from salsas and barbecue sauces to chocolates and nut mixes, and we anticipate even more."
To demonstrate the versatility of cherries, a five-course cherry-themed meal was created by Executive Chef John Johnson for the media event. Items included Cherry- Lime Rickey Cocktail, Sweet and Sour Shallots Salad with Tart Cherries, Tartare of Blackfin Tuna and Cherries with Sweet Lime and Rosemary Olive Oil, Giannone Chicken - Steamed and Roasted with Pickled Mushrooms and Sour Cherry Barigoule, Loup de Mer - Simply Grilled with Shaved Artichokes and Cherry and Olive Tapenade, Passion Chiboust/Tart Cherry Consomme, and Cherry Financier and Chocolate Granola Tuilles.
CMI also makes available a variety of recipes using tart cherries. Some examples include Cherry Chili, Spinach Cherry Salad with Cherry Vinaigrette, and Roast Chicken Soup with Wild Rice and Dried Cherries.
CMI is funded by North American tart cherry processors and growers to increase the use of cherries through promotion, market expansion, product development, and research.
--- PAGE BREAK ---
Upscaling Down Under
A few months ago, I wrote about a red-fleshed apple (see the 2006 July Ingredients section) developed by a New Zealand-based research company, HortResearch (phone +11-44-161-925-4700, www.hortresearch.com). As you may recall, from the outside, it looks like any other apple, but bite or slice into it, and you'll find that its flesh, because of a high concentration of anthocyanin, has a rosy red coloring that can be found right to the very core.
Innovations such as this one may help redefine the way traditional fruits and vegetables are perceived as well as shape their future directions as an ingredient or product concept.
HortResearch has also been responsible for a number of other interesting innovations. For example, the company has created varieties of baby kiwifruit called kiwiberries (Actinidia arguta). The size of a large cherry, the fruit has a very sweet flavor and can be eaten whole like a grape. Based on this fruit, a prototype drink concept, the Belli Fruit Shot, was designed to improve gut health and enhance the body's natural defenses. Researchers are also looking at the positive effect of a variety of other fruit on probiotic bacteria, pathogenic bacteria, and on the gut itself.
The company is also working on developing new berry cultivars that will result in value-added products that have optimum phytochemical compositions for enhanced health, especially in areas such as cognitive function. The company created a beverage prototype, Einstein, which combines blueberry juice with omega-3 fatty acids.
Furthermore, researchers at the company claim that they have fine-tuned the science of gene discovery to such a degree that they can now accurately determine which genes create the individual flavors and fragrances found in fruits and flowers. This ability, combined with traditional biofermentation techniques, makes it possible for natural tastes and aromas of fruit to be recreated. For example, researchers have recreated a fruit compound called alpha-farnesene, which is responsible for the distinctive aroma of green apples.
Isolating genes that produce desirable flavor and fragrance compounds can open up new opportunities for high-quality, more healthful foods. "Researchers are finding ever greater number of foods and food compounds that can enhance human health and well-being. The trouble is, they don't always taste very good," said Richard Newcomb, HortResearch Industrial Biotechnology Scientist. "Adding natural flavors produced through bioproduction would be a huge advantage to the health industry."
--- PAGE BREAK ---
A Plum of a Confection
California dried plums may be used to replace fat in confectionery fillings and coatings. Containing a blend of soluble and insoluble fibers and high levels of naturally occurring sorbitol, the ingredient is said to mimic many of the textural characteristics of fat. In addition, dried plums also contain about 2% malic acid that has been shown to function as a flavor potentiator in these kinds of confectionery applications.
Confectionery formulations were developed to demonstrate the functionality of dried plum powder. For example, in a filling for a chocolate truffle, the ingredient was used at 12.67%. In a peanut butter cup, it was incorporated at a level of 7.64%. Recipes are available from California Dried Plum Board, Sacramento, Calif. (phone 916-565-6232, www.californiadriedplum.org).
Pairing Fruits with Other Flavors
Innovative flavor pairings that will define this year are explored in McCormickB. Flavor Forecast 2007, published by McCormick & Co., Inc., Hunt Valley, Md. (phone 410-527-8753, www.mccormick.com). Several of the 10 combinations highlighted involve fruits, and so have a special relevance for this article.
Clove and green apple are frequently used in the cuisines of Africa, Asia, and India. The floral, sour notes of green apple are balanced by a hint of sweetness. When teamed with the robust, aromatic clove, a whole new taste sensation is born. This flavorful pair helps bring apples out of the pie and into a range of fresh dishes, including fennel slaw, panzanella, salsas, and chutneys, or they can be combined with cooling vegetables such as jicama and cucumbers.
Clove and green apple can also be used to complement main dishes such as fish, pork, and poultry.
Thyme and tangerine complement the vibrant dishes of the Caribbean, Mediterranean, and Middle East. Thyme's minty notes match the fruity, sweet, and slightly sour tangerine. A light sauce or glaze made from tangerine juice and thyme can brighten the flavor of chicken, salmon, or shrimp. The pair is also suitable for braising and stews. While thyme has typically appeared in main dishes, tangerine's sweet notes allow the herb to play a major role in vinaigrettes, marinades, and desserts, such as sorbets, tiramisu, and tarts.
--- PAGE BREAK ---
Tellicherry black pepper and berry can add excitement to a variety of dishes. Whether tart or sweet, the full, fruity taste of berries mellows black pepper's mild heat and piney, citrus notes. Almost any kind of fresh berry can complement pepper's flavor. Berry preserves and black pepper may be used as a glaze for lamb, beef, or pork, or the combination can enhance the richness of cream-based dishes and cheese. A decadent ice cream topping may be created by a sauce of black pepper, mixed berries, red wine, and sugar.
Cumin and apricot are an example of the yin/yang nature of flavor pairings. The fruity, floral, sweet, and woody notes of apricot offset cuminb�0;0;0;19;s musty, earthy character. Apricots, a member of the rose family, are suited for use in both savory and sweet foods, and are available fresh, dried, canned, and in preserves. Cumin can be used in a variety of cuisines, including South American, North African, Indian, Middle Eastern, Southwestern, and Mexican, and when paired with apricot, can create interesting opportunities. The combination may be used with braised meat dishes, lamb, pork, poultry, couscous and rice, and glazes. Apricot chutney, for example, can complement Tandoori chicken or chicken korma, recipes that use cumin as a seasoning.
These flavor pairings, which cover such a span of different taste sensations, can help reshape the way fruit is perceived in formulating. When paired with different ingredients, familiar fruits such as apples or berries can become more adventurous, taking tastes to a new dimension.
Purple as a Tomato?
Traditional tomatoes, rich in the carotenoid lycopene, are not usually associated with anthocyanins, a phytochemical that functions as an antioxidant and is the source of color for berries, grapes, and some other fruits and vegetables. This may be changing as researchers from Oregon State University have created a purple tomato that contains anthocyanins.
The tomato variety was produced using traditional crossbreeding techniques. According to lead researcher Jim Myers, OSUb�0;0;0;19;s Baggett-Frazier Vegetable Breeder Professor, a domestic tomato plant was crossed with a genetic stock of tomato that included a gene incorporated from a wild relative bearing anthocyanin-containing fruit. Key to the development of this fruit was the characterization of the inheritance pattern of a little-studied gene in tomatoes called "anthocyanin fruit" or Aft.
--- PAGE BREAK ---
In addition to its enhanced levels of anthocyanins, the purple fruit will still contain lycopene, the carotenoid found in traditional red tomatoes. Boosting the flavor of the purple fruit is also being worked on, as well as addressing such issues as the bioavailability of the anthocyanins when the tomato is processed.
Although the finished fruit may not be in the market for at least a couple of years yet, such research could influence the development of new varieties of tomatoes with other nutrients, noted Myers.
In other breaking tomato stories, a research study from Ohio State University suggests that the lycopene content in orange (tangerine) tomatoes is more bioavailable in humans than the form of lycopene found in the red variety. Unlike red tomatoes where most of the lycopene is present as an all-trans isomer, orange tomatoes contain tetra-cis lycopene, a geometric isomer of all-trans lycopene. In the study, which will be published in the Journal of Agricultural and Food Science, the researchers examined the carotenoid absorption in humans consuming tomato sauces obtained from tangerine or high-beta-carotene varieties of tomatoes. Preliminary results demonstrated "the high absorption of lycopene when consumed predominantly as cis-isomers, suggesting the consumption of this variety could be a way to increase lycopene absorption and to benefit from its health-associated effects."
And in Germany, Nunhems BV, Bayer CropScience's vegetable seed business, has recently signed an agreement with Unilever to co-develop new tomato varieties with added benefits in taste, nutrition, and health. The agreement includes the formation of a shared research, development, and business platform for innovative tomato varieties as well as the acquisition of Unilever's tomato seed business by Nunheims. More information about this agreement can be found at www.newsroom.bayercropscience.com.
Juicing Up Beverages
In an age of bottled waters and energy drinks, ingredient companies are developing a variety of innovative beverage concepts that make use of fruits and vegetables.
For example, a new line of vegetable and fruit juice concentrates from Vegetable Juice, Inc., Natural Ingredient Solutions", Bedford Park, Ill. (phone 888-776-9752, www.vegetablejuices.com), is produced using a non-thermal processing method that preserves aroma and top notes for authentic flavor. The finished concentrates also retain a high level of vitamins, minerals, and antioxidants.
The concentrates, which can combine different fruit and vegetable juices, can help beverage manufacturers create new product concepts, such as Key Lime Vegetable, Tropical Vegetable, and other varieties that fuse a fruity taste with a savory one.
--- PAGE BREAK ---
"Vegetable Juices, Inc. has decades of experience manufacturing vegetable products," said Jim Hurley, CEO and President of VJI. "Now, the company is not only examining the concept of "super fruits," but is also reevaluating traditional garden produce to tap into the unused potential of these natural ingredients."
Watson, Inc., West Haven, Conn. (phone 800-388-3481, www.watson-inc.com), recently developed a vegetable-based meal-replacement beverage containing the equivalent of over two cups of vegetables. The company's custom-formulated vitamin and mineral premix rounds out the nutrient profile naturally occurring in vegetable juice.
An ingredient system from Tate & Lyle, Decatur, Ill. (phone 217-423-4411, www.tateandlyle.com), adds high levels of fiber, vitamins, and minerals to fruit-based drinks. The system, "Multi-Fruit Drink Enrich", is a source of prebiotic fiber and is also designed to work well with probiotic cultures. Other nutrients in the system include calcium, zinc, and vitamins A, C, and E. Beverages made with the system contain Splenda sucralose.
And just making its debut in the Canadian market is Coca-Cola's Minute MaidB. Fruit SolutionsB. Omega-3. The new Mango Orange Passion juice blend from concentrate is formulated with MEG-3B., an omega-3 EPA/DHA food and dietary supplement ingredient from Ocean Nutrition Canada Ltd., Dartmouth, Nova Scotia (phone 902-480-3200, www.ocean-nutrition.com). Each 250 mL serving is said to contain 50 mg of EPA/DHA from fish oil.
Currant News
A new range of berry flavors, Berrysense, are said to replicate the flavors of real fruit at various stages of ripeness. The flavors - strawberry, raspberry, blackcurrant, cranberry, blackberry, gooseberry, blueberry, and mixed berries - were developed by the flavors and fragrances business of Quest, a recent acquisition of Givaudan.
The flavors are based on a technology that preserves first-bite freshness. Products that can be made with the flavors, such as yogurt or beverages, will retain their original berry taste throughout shelf life without the development of any off flavors.
The technology used works at various levels. It delivers a vibrancy and realness to the flavors. The flavors capture the complexity of the real fruits, their aroma and flavor, as well as body and mouthfeel. And they offer enhanced performance in the application.
The new flavors may also be able to allow consumers to become more familiar with fruits such as gooseberries or blackcurrants that have a long history but in recent times have become overlooked.
--- PAGE BREAK ---
Providing a World of Difference
Vegetable and herb blends in Asian, Latin, and Mediterranean flavor profiles are the latest additions to the Gilroy Foods" GardenFrost Puree line from ConAgra Food Ingredients, Omaha, Neb. (phone 800-851-9618, www.conagrafoodingredients.com). These easy-to-use, convenient blends can help add a distinctive international character to any application calling for fresh, dehydrated, or frozen vegetables.
Each puree has its own fresh, clean flavor, with the Latin blend characterized by the bite of peppers, cilantro, cumin, and lime; the Asian blend marked by a burst of lemongrass and green onion; and the Mediterranean blend defined by a mix of Provencal herbs and olive oil. Other varieties in the line include Fire-Roasted JalapeC1o, Fire-Roasted Tomato, Garlic and Roasted Garlic, Onion and Roasted Onion, Ginger, and Roasted Sweet Red Bell Pepper.
The purees are made by a proprietary "Softfrozen" technology which locks in true vegetable and herb flavor. In addition to tasting fresher than traditional frozen purees or vegetable bases, they thaw four times faster and keep fresh for two years under frozen conditions.
It Takes Two to Tommango
A new sweet and tangy flavor from GSB & Associates, Kennesaw, Ga. (phone 770-424-1886, www.gsbflavorcreators.com), fuses tomato with mango. The product, Natural Tommango Flavor WONF #7941, may be used at 0.4% in a finished beverage. According to the company, this is the first of its new combo flavors, suggesting that perhaps more fruit and vegetable twists might be appearing.
Also developed was Natural & Artificial Chipotle Flavor O.S. #7611 for use on crackers. Crackers made with this spicy flavor may complement a beverage made with the new sweet and tangy flavor.
Carrots Don't Have to be Orange
Want to liven up the presentation of that frozen food application? Maybe try a brilliantly red-colored carrot.
The carrot, appropriately called Nutri-Red, was developed by Wm. Bolthouse Farms, Inc., Bakersfield, Calif. (phone 661-366-7305, www.bolthouse.com), and is available in a frozen form. It has the same taste and texture as typical orange carrots, but contributes high levels of lycopene, similar to those found in tomatoes. And like regular orange carrots, it is an excellent source of vitamin A.
No genetic engineering was involved in the development of the carrot, which is available year-round in a variety of forms, including died, smooth, sliced, bias sliced, and shoestring cuts. Its consistently rich color does not rub off, run, or fade, even during thawing or cooking.
--- PAGE BREAK ---
For manufacturers interested in taking it one step further, a tri-color blend of red, yellow, and orange carrots are also offered (see photo). That way you can get your xanthophylls along with your lycopene and your vitamin A. And you can do this while livening up the colors of your frozen entrC)e.
Passion for the Exotic
At the 2006 IFT Chicago Section Suppliers Night, Robertet Flavors, Piscataway, N.J. (phone 732-981-8300, www.robertetusa.com), showcased two beverage prototypes made with flavors that duplicated those of Guavadilla and Yuzu. And, yes, like me, you too probably would have stopped to find out more about these exotic fruits and sample the unique tastes that were based on them.
Guavadilla (Passiflora edulis var. flava) comes from the passion fruit family and is described as having a sweet-sour taste. Although it is native to South America, this plant has become common in many parts of South Africa. Robertet's Natural Guavadilla Flavor was featured in one of the prototype beverages.
Yuzu, a citrus fruit native to East Asia, has a tart flavor closely resembling that of the grapefruit, with overtones of Mandarin orange. The rind of the Japanese fruit has an aroma that is said to be distinct from Western citrus fruit. Robertet combined its Natural Yuzu and Natural Kiwi flavors to create its other prototype beverage.
Distilled from Strawberries
A clear distillate from Treatt USA, Lakeland, Fla. (phone 863-668-9500, www.treatt.com), imparts an authentic, fresh, fruity, and well-rounded strawberry flavor to many food systems. Strawberry Treattarome 9855 is the latest addition to the company's portfolio of FTNF (From the Named Food) clear distillates.
Wholly distilled from strawberries, the natural, water-soluble product is suitable for clear beverages, juices, alcoholic drinks, and dairy products. It can be used at varying dosage levels depending on the desired level of flavor intensity. At 0.10%, for example, an in-depth berry-like, fruity, tart character typical of strawberries predominates, while at lower levels, balanced, green, and estery notes are said to be in evidence.
The Treattarome range is produced using a short-duration, low-temperature distillation process, ensuring maximum flavor entrapment. The newest addition complements the company's existing portfolio of berry distillates, which include raspberry and blueberry varieties.
Tropical Fruits in Freeze-Dried Form
Freeze-dried tropical fruits from Van Drunen Farms, Momence, Ill. (phone 815-472-3100), are suitable for dried fruit snack mixes, energy or breakfast bars, cereals, and baked goods. They help enhance flavor and nutritional value, while providing product differentiation in the marketplace.
--- PAGE BREAK ---
The line of tropical fruits includes such varieties as acai, banana, kiwi, mango, papaya, and pineapple. Made by a freeze-drying process which retains the color, shape, and flavor of the fresh fruit, the ingredient is available in easy-to-use powders and diced pieces.
Special blends of these fruits can also be created to meet specific customer requirements. Tropical fruits, such as mangos and kiwi, can be combined with strawberries, blueberries, and other more traditional fruits for a colorful and flavorful fruit blend.
Frozen Fruits Add Value
An added-value line, Dole Frozen Fruits, offers an expanded selection of varieties, packs, and forms, including aseptic concentrates and purees. The industrial line features such popular ingredient choices as bananas, apricots, peaches, strawberries, pineapple, and more.
The new line is said to deliver quality, variety, and versatility. More information about available fruit supplies, product forms, and pack specifications can be obtained from Dole Food Co., Thousand Oaks, Calif. (phone 404-297-8478).
Heard It Through the Grapevine
A line of juices, extracts, and nutraceutical powders are derived from muscadine grapes, a rich source of antioxidants and ellagic acid. Muscadine Products Corp., Wray, Ga. (phone 229-468-7873, www.musprocorp.com), markets these phytochemically rich ingredients for use in natural juices, wines, botanicals, and nutraceutical products.
According to the company, recent research at the University of Georgia's Nutraceuticals Research Laboratory and other collaborating universities has shown that muscadine grapes, because of their rich phytochemicals, can help combat free radicals while possessing anti-inflammatory properties. The standardized ingredients may prove beneficial in cardiovascular and digestive health and relieving muscle and joint pain.
Dynamic Duos?
This article has shown different ways that fruits and vegetables are having value added to them to increase their consumption. Marketing associations, in particular - by collecting research and marketing information, developing promotional materials, issuing news releases, maintaining Web sites, and assisting growers and sellers - do an excellent job in spotlighting the benefits of the particular fruit or vegetable they represent.
However, I wonder if more cannot be done by ingredient suppliers to promote the benefits of fruits and vegetables in relation to each other, rather than individually or sometimes even at the expense of a competing fruit or vegetable. The possible problem with the "Superfoods" concept is that while it singles out certain fruits or vegetables for their benefits, it can also exclude other foods which might not be able to make that kind of claim but are still nutritious and valuable in the diet. Or, as happens in a competitive market, put pressure on other foods to try to make that claim, and as a result make the concept less clear or valid.
There are several reasons why taking a more encompassing approach could be effective in the long term. My guess is that individuals who are consuming the recommended number of fruit and vegetable servings are getting them from different sources within that group. And, as we have seen in the marketplace, juice products are frequently a blend of different fruits and vegetables, suggesting that other food applications are possible which can make use of different combinations. Also, studies are beginning to show the synergistic effects of fruits and vegetables in the diet. And, from a marketing perspective, attention on one emerging berry can sometimes reinvigorate the interest in other berries as well. If so, why not make more of a conscious effort for different fruit and vegetable sectors to work together to advance the consumption of not only their products but all fruits and vegetables.
--- PAGE BREAK ---
The U.S. Highbush Blueberry Council, Folsom, Calif. (phone 800-824-6395, www.blueberry.org), described an array of products in the global marketplace that combine blueberries with acai, wolfberries, camu camu, guava, elderberry, pomegranate, and others. Product applications included juice blends, teas, vinaigrettes, sauces, yogurts, and supplements.
Synergy may be a key property that can be taken advantage of by fruit and vegetable suppliers. Remember, not all Superheroes (or Superfoods) work alone. Perhaps fruit and vegetable products should trade in their "big S" and instead model themselves more after the Dynamic Duo.
Next month's Ingredients section will look at the different ways that formulators can add savory tastes to products.
---
Making Fruits and Vegetables More Tempting
Imagine Eve biting into that apple and tasting a grape. Or how about Adam eating a salad made of purple tomatoes, bright-red carrots, and crisp roasted garlic. And from what I hear, it was really antioxidant-rich sauerkraut that got them kicked out of Paradise.
Okay, so maybe the Garden of Eden was never quite like this. But today's food manufacturers are introducing into the global marketplace a number of fruits and vegetables that are designed to be more tempting. And they're doing it without any serpent.
Here are a few examples.
It may look like a regular Fuji apple, it may even crunch like one, but it has the taste of Concord grapes. That is because the product, GrappleB. Sweet Apple (Rainier Fruit Co., Selah, Wash.), has a concentrated grape flavor and pure water infused into it. The apple takes on no additional sugars or calories, and is not genetically altered in any way.
Don't shake that grape. A carbonated fruit, Fizzy Fruit Sparkling Fresh Grapes (The Fizzy Fruit Co, Portland, Ore.) provides a new taste sensation. A patented process infuses carbonation into the water already contained in the grape, giving the fruit a light and refreshing effervescence. The process does not alter the nutritional content of the fruit.
Crisp Roast Garlic (The Garlic Co., Bakersfield, Calif.) can be sprinkled in dips, soups, sauces, and marinades, or used on pasta, pizza, vegetables, salads, sandwiches, and eggs. The shelf-stable product captures the convenience of dehydrated garlic and the flavor of fresh roast garlic in an easy-to-use form.
--- PAGE BREAK ---
A square watermelon, introduced by British grocery store Tesco, will not roll around and can be sliced like a loaf of bread. The eye-catching melon is produced by a Japanese technique - wooden boxes are placed around the growing fruit so that it conforms to the surrounding shape.
Fresh & Ready Bananas from Chiquita are packaged in a plastic sealed tray that is designed to delay ripening. The fruit, which is kept fresh for up to four days longer, recently made its debut in the U.S.
Known as choclo in Peru and other South American countries, these corn cobs are said to have huge kernels and may be toasted or grilled. The corn can be eaten with mayonnaise, salty white cheese, or cayenne pepper. The corn is frequently white, but it can exist in virtually every color.
Sauerkraut is high in antioxidant compounds, fiber, vitamins, calcium, and minerals, according to Fremont Co., Fremont, Ohio, a leading producer of the fermented vegetable. Fermentation or curing of the cabbage actually enhances its protective effects. Kim Chee, a Korean form of sauerkraut, is said to be popular in some upscale restaurants.
---
On the Cutting Edge
A new method extracts lycopene from watermelon flesh and juice. A scientist at USDA's ARS South Central Agricultural Research Laboratory in Lane, Okla., found a way of doing this without damaging the chromoplasts that encapsulate the lycopene. The resulting nutrient is more stable, protected from degradation, and has a longer shelf life. It can be processed into a powder, paste, or liquid suitable for use as a nutritional supplement or food coloring.
In Australia, researchers recently discovered the gene that controls the red color of apples, according to an article in the November issue of Plant Physiology (www.plantphysiol.org). By focusing on master genes that were activated by light, the scientists were able to find the gene that controls the formation of anthocyanins in apples.
A gene from orange cauliflower could induce high levels of beta-carotene into food crops, says researchers at USDA's ARS Plant, Soil, and Nutrition Laboratory in Ithaca, N.Y. The gene, isolated in 2006, can promote beta-carotene in plant tissues that would normally not have carotenoids.
A new University of Illinois study shows that a combination of tomato and broccoli in a daily diet is more effective on prostate cancer than when the two foods are eaten alone. The results of the study, published in the January 15 issue of Cancer Research, were based on the feeding of laboratory rats that had been implanted with prostate cancer cells. The researchers believe that tomatoes and broccoli together provide a synergistic effect, with the compounds in each food working on different anti-cancer pathways.
A recent review examines findings on the anti-cancer properties of the cranberry and its phytochemical profile. The review, funded by the Cranberry Institute and the Wisconsin Cranberry Board, was presented at the International Research Conference on Food, Nutrition, and Cancer, hosted by the American Institute of Cancer Research in July 2006.
by Donald E. Pszczola,
Senior Associate Editor
[email protected]