Attendees gained much insight on trends and ingredient developments at the 2007 IFT Annual Meeting & Food ExpoSM. At the Taste the Trends Pavilion, Innova Market Insights, Duiven, Netherlands (phone +31-26-319-0650, www.innovadatabase.com), indicated that the dairy, probiotics, beauty foods, and children's nutrition are segments to watch. There was much more to take in at the Food Expo. Here are some additional highlights.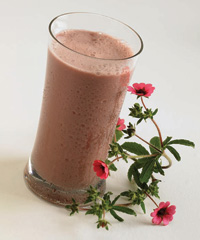 Immunity
New ingredients and application ideas were indicators that the immunity market offers great opportunities for food manufacturers. Biothera, Eagan, Minn. (phone 651-675-0300, www.biotherapharma.com), introduced Wellmune WGP, a natural, GRAS-recognized ingredient clinically proven to enhance key immune responses. Based on yeast beta 1,3/1,6 glucan, it improves the body's immune defense by enhancing the ability of white blood cells to fight bacteria, viruses, fungi, and parasites.
Another new ingredient, MycoFusions™, from NutraGenesis, Brattleboro, Vt. (phone 802-257-5345, www.nutragenesisnutriton.com), combines the antioxidant nutrition of high-ORAC grain (purple and black corn) with the powerful glyconutrients and beta-glucans of medicinal mushrooms. Using a patented fermentation process, the mushrooms are on a deeply pigmented nutritive grain substrate.
Immunity prototypes on display included soups, beverages, and snacks. Wild Flavors Inc., Erlanger, Ky. (phone 859-342-3600, www.wildflavors.com), showcased an Immunity Chicken Soup and Tropical Citrus Immunity Drink, both with vitamins C and E, zinc, and echinacea.
An 8-oz serving of an immunity booster beverage from Cognis Nutrition & Health, LaGrange, Ill. (phone 708-579-6188, www.cognis.com), contained 100% daily value (DV) of Covitol® natural source vitamin E, 1 g of Tonalin® conjugated linoleic acid (CLA), and 35% DV of vitamin A as Betatene beta carotene.
Energy
Novel energy-boosting applications showed that consumers can get an energy jolt from many different food and beverage products.
Fortitech Inc., Schenectady, N.Y. (phone 518-372-5155, www.fortitech.com), featured energy-fortified lollipops and jellybeans. The lollipops contained elevated levels of folic acid, biotin, niacin, pantothenic acid, iodine, zinc, choline, vitamins A, C, D-3, and E, and a complete B vitamin complex. The jelly beans contained a premix of vitamins B-12, B-6, coenzyme Q10, pantothenic acid, niacin, folic acid, biotin, taurine, D-glucoronolactone, and D-ribose.
--- PAGE BREAK ---
Univar USA, Redmond, Wash. (phone 425-889-3400, www.univarusa.com), featured Fresh Start, a "better for you" grapefruit energy drink that was low in calories and contained energy-enhancing ingredients such as taurine, inositol, caffeine, and D-glucuronolactone.
Bioenergy, Minneapolis, Minn. (phone 763-746-3913, www.bioenergy.com), featured D-ribose, a naturally occurring pentose sugar that enhances tissue energy and function. It is said to dramatically speed energy recovery, reducing fatigue, muscle pain, stiffness, and soreness.
Palatinit of America, Morris Plains, N.J. (phone 973-539-6644, www.isomaltusa.com), showcased multi-flavored sports, nutrition, and energy drinks; bars; meal replacers; and baking mixes that contained Palatinose™ (isomaltulose). This functional carbohydrate is a direct source of glucose energy, and it supports the mobilization and oxidation of fat.
Heart Health
From candies to beverages, suppliers demonstrated how heart-healthy ingredients can be incorporated in many different products.
Through its collaboration with Cognis, Wild Flavors showcased phytosterols in a tropical orange-cream beverage, heart-healthy gummies, and lychee lime red tea. At its own booth, Cognis offered a heart-healthy guava-flavored water, which contained 650 mg of Vegapure® plant sterol esters and 100% DV of Covitol® natural vitamin E. The company also introduced Vegapure F40 WDP, a free sterol water-dispersible powder.
An energy smoothie from Cargill Inc., Wayzata, Minn. (phone 952-742-7575, www.cargill.com) contained CoroWise™ plant sterols, Viable™ probiotic cultures, and Xtend™ sucromalt for balanced energy. The company announced that it has partnered with Kroger Co., one of the largest retail grocery chains in the United States, to develop and launch Active Lifestyle fat-free milk containing CoroWise plant sterols.
Watson Inc., West Haven, Conn. (phone 800-388-3481, www.watson-inc.com), offered a muffin that was fortified with the company's premix and contained L-arginine, vitamins A, C, and E, oleic acids, omega-3 fatty acids, and calcium. A special blend of Watson's ultra fine bran and fiber allowed the muffin to carry a whole-grain claim.
PL Thomas & Co., Morristown, N.J. (phone 973-984-0900, www.plthomas.com), featured MenaQ7 natural vitamin K-2 that has been linked to a significant inhibition of calcium accumulation in the arteries.
Golden West Nuts Inc., Ripon, Calif. (phone 209-599-6193, www.goldenwestnuts.com), invited attendees to learn about the health benefits of California-grown almonds, including their heart-health benefits. A Loma Linda School of Public Health study showed that those who consumed nuts five times/week had a 50% reduction in risk of suffering a heart attack.
--- PAGE BREAK ---
Weight Management
What makes the weight management category so unique is the variety of ingredients that are used to promote satiety, fat loss, muscle gain, and reduced fat absorption.
An innovative combination of oat and palm oils formulated in a novel emulsion, Fabuless™, from DSM Nutritional Products, Parsippany, N.J. (phone 800-526-0189, www.unlimitednutrition-na.dsm.com), prevents the digestion of palm oil droplets until they are relatively deep in the small intestine, triggering an "appetite satisfied" signal to the brain. Another ingredient, Teavigo®, a minimum 90% purified epigallocatechin gallate (EGCG) from green tea, is a potent antioxidant for weight management and heart health.
A new meta-analysis of human studies on the efficacy of Cognis' Tonalin® CLA and body composition added further evidence to its potential long-term health benefits. According to the paper, 15 of the 18 clinical trials included in the meta-analysis used Tonalin, suggesting that it could enhance overall health by effectively reducing body fat, and potentially prevent weight and fat regain commonly experienced by adults, especially yo-yo dieters.
Pharmachem Laboratories Inc., Kearny, N.J. (phone 201-246-1000, www.pharmachemlabs.com, www.phase2info.com), announced the launch of a national marketing campaign for Phase 2 Cr® with Foodbound™ chromium. An extract of the white bean, Phase 2 is the first weight control ingredient with two permitted structure functional claims: "May assist in weight control when used in conjunction with a sensible diet and exercise plan" and "May reduce the enzymatic digestion of dietary starches."
Two signature products from InterHealth Nutraceuticals Inc., Benicia, Calif. (phone 707-751-2800, www.interhealthusa.com), are key ingredients in drinks produced by FUZE Beverage LLC. Super CitriMax® is extracted from the South Asian fruit Garcinia cambogia, and has been clinically shown to suppress appetite and inhibit fat production. ChromeMate is a bioavailable chromium supplement that supports normal insulin function and healthy body weight.
A new study discussed by the Almond Board of California, Modesto, Calif. (phone 209-549-8262, www.almondsarein.com), showed the effect of chewing almonds on the availability of nutrients. Healthy subjects were asked in random order to chew one-half oz of almonds 10, 25, or 40 times before swallowing. The study found that subjects who chewed the almonds fewer times, or as they would under normal conditions, absorbed fewer calories compared to subjects who chewed the almonds 40 times.
Fiber
A Dry Mix Styx that is made with Cargill's Oliggo-Fiber inulin, contains calcium, and is easily dissolved in water makes it easier than ever for food and beverage formulators to help consumers get more fiber and calcium in their diets. The dry mix was available in raspberry-flavored and unflavored varieties. The instant beverage sticks are available to food and beverage manufacturers to label with their own brand names.
--- PAGE BREAK ---
Orafti Active Food Ingredients, Morris Plains, N.J. (phone 610-889-9828, www.orafti.com), produces Beneo™ inulin and oligofructose, natural food ingredients from chicory. Orafti stressed how Beneo can provide lifelong prebiotic nutrition starting with infants and moving through adulthood. In infants it is said to offer a reduced risk of infant diarrhea, constipation, and intestinal infections. In adults, the benefits of the ingredient center on improved digestive function, improvement of the body's natural defenses, enhanced mineral absorption, and an improvement in general well being and comfort.
NutraCea, Phoenix, Ariz. (phone 602-522-3000, www.nutracea.com), offers stabilized rice bran, an all-natural ingredient with vitamins, minerals, and antioxidants. The company's proprietary technology enables the creation of food products from rice bran, normally a wasted by-product of standard rice processing.
ADM, Decatur, Ill. (phone 800-637-5483, www.admworld.com), featured various items that help food manufacturers develop both parent-friendly foods for children and upscale products for Baby Boomers. Products formulated for school-age children included a chocolate microwavable muffin mix with new SmartBind™ natural wheat protein. A cinnamon and honey-flavored cereal snack, gelatin desert, fruit punch-flavored water, and strawberry-vanilla-flavored drinkable yogurt contained Fibersol®-2 dietary soluble fiber (digestion resistant maltodextrin). Products formulated for older adults included a cheese torte and citrus twist-flavored water made with Fibersol, and a raspberry low-fat smoothie made with CardioAid™ plant sterols.
Promitor™ dietary fibers from Tate & Lyle, Decatur, Ill. (phone 800-526-5728, www.tateandlyle.com), include Promitor Resistant Starch and Promitor Soluble Corn Fiber. A fiber-enhanced meal containing a total of 14–21 g of fiber featured prototypes using the corn fiber and resistant starch. A sandwich bun, puffed snack, and chocolate chip cookie contained the resistant starch and a barbeque sauce, pomegranate-flavored water, and chocolate pudding featured the corn fiber.
FiberAid® prebiotic from Lonza Group, Allendale, N.J. (phone 201-316-9200, www.lonza.com), is a soluble fiber composed of larch arabinogalactan. It is said to benefit gastrointestinal health and provide excellent digestive tolerance. It has a positive influence on the microflora, increases the production of short-chain fatty acids, and reduces ammonia in the gut.
National Starch Food Innovation, Bridgewater, N.J. (phone 800-797-4992, www.foodinnovation.com), featured a mango/passion fruit smoothie made with Nutriose soluble fiber. The beverage carried a "good source of fiber" claim. Trail Mix made with Dulce De Leche Glazed Whole Grain Cereal was made with Hi-maize® whole-grain corn flour in the cereal and Nutriose soluble fiber in the cereal glaze. The company also announced that a clinical study published in the March issue of the Chinese Journal of Preventive Medicine found that the consumption of Hi-maize resistant starch reduced weight as measured by BMI and increased insulin sensitivity in individuals with type 2 diabetes.
--- PAGE BREAK ---
Bone Health
A survey of parents of school-aged children conducted in July 2007 by Opinion Research Corp. for GTC Nutrition, Golden, Colo. (phone 303-216-2489, www.gtcnutrition.com), found that almost 60% of the parents do not know how much calcium their children need to consume on a daily basis. Snacks that are rich in calcium and contain prebiotics can help boost both the calcium in children's diets and the amount of calcium absorbed by their bodies. The company's NutraFlora® prebiotic fiber is said to act quickly and remain active during the peak time for calcium and mineral absorption, about four hours after food is ingested. NutraFlora short-chain fructooligosaccharides were approved by the National Organic Standards Board this past March for inclusion on the National List of non-organically produced ingredients that are allowed to be used in organic products.
Innophos, Cranbury, N.J. (phone 866-631-7394, www.innophos.com), featured Hi-Cal Instant Soy Beverage, a soy milk shake in an instant form fortified with VersaCal® MP, micronized tricalcium phosphate and soy fibers, allowing health claims for bone health and cholesterol reduction. VersaCal MP offers a controlled particle size of less than 10 microns to provide the benefits of calcium in the presence of phosphorus for improved bone health without grittiness.
Omega-3 Fatty Acids
There is no denying the popularity of omega-3 fatty acids. From unique applications to new omega-3 ingredients, there is still plenty of development involving this ingredient occurring. Ocean Nutrition Canada Limited, Dartmouth, Nova Scotia, Canada (phone 902-480-3200, www.ocean-nutrition.com), announced that Les Truffes au Chocolat Inc. is including Ocean Nutrition's MEG-3® brand Omega-3 EPA/DHA in the O Trois line of chocolate bars and chocolate fingers. Each 45 g chocolate bar and finger contains 100 mg of eicosapentaenoic acid/docosahexaenoic acid (EPA/DHA). Danone Canada Inc. expanded its Danino line to include a drinkable yogurt containing MEG-3.
Martek Biosciences, Columbia, Md. (phone 410-740-0081, www.martek.com), announced that Breyers Yogurt will introduce Smart!, a fruit-on-the-bottom yogurt enhanced by the brain-boosting properties of Martek's life'sDHA™. The ingredient is produced from microalgae and is a vegetarian source of DHA, with no risk of ocean-born pollutants. It is accepted by the Food and Drug Administration for use in U.S. infant formulas.
Wright Group, Crowley, La. (phone 800-201-3096, www.thewrightgroup.net), showcased a whole-grain pizza, probiotic soy yogurt smoothie, flour tortilla, meal replacement bar, and waffles that contained omega-3 fatty acid ingredients from its O-3 Complete™ line.
Hormel Specialty Products, Austin, Minn. (phone 800-956-0399, www.hormelingredients.com), introduced Eterna omega-3 fish oils. Using proprietary technology, Hormel eliminated all traces of fishy taste, odor, and impurities from the ingredients. The company featured its omega-3 fish oils in cookies, hot dogs, and nano-infused beverages.
--- PAGE BREAK ---
Pizzey's Milling, Gurnee, Ill. (phone 847-244-7133, www.pizzeys.com), added MeadowPure™ O3 Ultra, a new flaxseed-fish oil combination, to its line of MeadowPure™ milled flaxseeds. Food manufacturers can now offer consumers the benefits of all three omega-3s: alpha linolenic acid from flaxseed and DHA and EPA from fish oil.
Cognis unveiled its new Omevital™ omega-3 fatty acid ingredients. An oil developed for use in dairy products, spreads, and other fat-based applications, Omevital™ 1812 TG Gold has excellent stability and typical use levels of 100–250 mg/serving.
Qualisoy, St. Louis, Mo. (phone 314-579-1583, www.qualisoy.com), supports the development of soybean oils that have all the characteristics consumers desire while maintaining quality for ideal functionality and stability. One of the enhanced traits being looked at is developing a soybean that is richer in omega-3 fatty acid content, creating an affordable, land-based, renewable source of omega-3s.
Arista Industries Inc., Wilton, Conn. (phone 203-761-1009, www.aristaindustries.com), introduced Nutridan, a high-stability oil that contains omega-3, -6, and -9 fatty acids. The company supplies marine and vegetable oils including almond oil, borage oil, black currant seed oil, canola oil, grape seed oil, and sesame oil.
Denomega Nutritional Oils, Boulder, Colo. (phone 303-581-9000, www.denomega.com), supplies taste- and odor-free oils that contain omega-3 fatty acids. The company also markets its encapsulation technology that is suitable for both oil- and water-soluble nutrients. The Denomega 100 oil can be used in many applications such as dairy, bakery, and meats.
Protein
According to a new qualitative consumer study from Solae Co., St. Louis, Mo. (phone 800-325-7108, www.solae.com), the opportunity to deliver protein-enhanced, healthy, nutritious breakfast food and beverage options in a convenient, portable, quick-to-fix format has never been greater. The company unveiled results from a series of focus groups, including that:
• Protein, such as soy protein, is associated with a number of healthful benefits when included in foods consumed at breakfast time.
• Foods and beverages consumed in mid-morning are ways that food manufacturers can help consumers include protein in their diets. The research pointed to mid-morning as a separate and unique day opportunity for food marketers.
• Proteins meet consumers' needs for breakfast. There are seven "consumer need states" that appear to exist during the breakfast/morning hours that protein-enhanced foods are able to address. Solae's study details these seven specific needs, which include "tide me over", "help me gain control", "energize mix", and "help me achieve balance."
--- PAGE BREAK ---
The company demonstrated its soy protein ingredients in concepts designed for the breakfast/morning eating occasion. A Snack 'N Go cereal cluster contained crunchy low-fat clusters of oats, walnuts, almonds, and soy crisps. A protein-fortified PB&J Breakfast Cookie provided 5 g of protein. A dulce de leche meal replacement beverage packed 17 g of protein.
Dairy Management Inc., Rosemont, Ill. (phone 847-803-2000, www.innovatewithdairy.com), unveiled a mango-flavored green tea prototype fortified with whey protein, which provided 5 g of protein/8-oz serving. Other prototypes included a yogurt-coated caramel granola meal replacement bar that featured 8 g of whey protein and 40% DV of calcium, and a creamy peach yogurt meal replacement smoothie made with milk protein concentrate and low-fat milk that provided 9 g of protein.
Davisco Foods International Inc., Eden Prairie, Minn. (phone 952-914-0400, www.daviscofoods.com), promoted Protein with Purpose, a new generation of whey protein fortification exemplified in an alpha-lactalbumin rich Southern Snooze Milk. BioPure Alphalactalbumin contains a minimum of 90% alpha-lactalbumin, on a protein basis. Also showcased were fortified water containing BiPRO, a whey protein isolate, and dark chocolate hearts that contained BioZate 1 hydrolyzed whey protein, which helps maintain blood pressure levels that are already within the normal range.
Now Foods recently added DSM Nutritional Products' casein hydrolysate, PeptoPro®, to its new endurance and recovery drink, ElectroPro™. Recently conducted trials and research have shown that the ingredient aids muscle recovery after workouts.
Roquette America Inc., Keokuk, Iowa (phone 800-553-7035, www.roquette.com), produces a novel pea protein, Nutralys®, which is a concentrated protein source obtained from a water-only extract process, contains 85% protein, and has an excellent amino acid profile, rich in both essential and non-essential amino acids. Highly digestible, it works well in protein-rich formulations.
Kerry Ingredients, Beloit, Wis. (phone 608-363-1200, www.kerryamericas.com), introduced a high-protein crisp containing 70% protein from peas. The pea crisp joins Kerry's hot-extruded, high-protein portfolio of products currently based on soy, caseinate, whey, rice, and potato ingredients. A mango-melon sports recovery drink helped deliver increased protein levels while rejuvenating the body. It included Hyprol hydrolyzed proteins. A mangosteen high-fiber omega-3 smoothie contained enriched whey and a concentrated omega-3 emulsion.
Antioxidants
Antioxidants are associated with disease prevention, healthy overall living, and anti-aging benefits.
Watson provided water formulated with Clear-E, a fine, free-flowing powder form of vitamin E spray-dried within a modified starch matrix. When mixed into a solution, it forms a micellar dispersion, producing a clear solution. Beta-Clear is a free-flowing powder form of encapsulated beta carotene.
LycoRed Corp., Orange, N.J. (phone 973-882-0322, www.lycored.com), featured its new multi-carotenoid blend, BLT, in two health drinks, Summer Delight and Tomato on the Go. The ingredient is a ready-to-use mixture of natural beta-carotene from Lyc-O-Beta™, natural lutein from Lyc-O-Lutein™, and natural tomato lycopene from Lyc-O-Mato™ Red.
by Linda Milo Ohr, Contributing Editor, Food Technology ([email protected]).