Imagine you're outside and thirsty. You take out a stick-shaped package, open it, and pour out the powdered contents into your bottled water. Now you have a flavored water fortified with nutrients. While this is probably not a revolutionary concept, it does suggest in a simple way how a product can be convenient, as well as meet flavor and health considerations.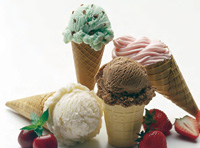 Today, more than ever, consumers are placing a greater emphasis on convenience foods and on-the-go eating. This, of course, is creating additional opportunities for food formulators as they try to come up with next-generation "foods on the go." Many of the food and beverage prototypes highlighted at this year's IFT Food Expo reflected these creative efforts and the ingredients being used to make these products possible.
How different will these products be from those convenience foods of past years? What are some of the qualities that will constitute tomorrow's on-the-go food? Well, since I was on the go myself throughout most of the Expo, I might be able to make a few guesses based on what I saw.
For starters, the term "fast food" may be somewhat misleading, as it suggests limited options— a hamburger and French fries or a sandwich and chips. Ideally, with the innovative use of flavors and healthful ingredients, along with creative packaging developments (when you're on the go, sloppy foods are a no-no), a much broader range of these convenience options will be available, going far beyond the traditional fast food. And even beyond that of the nutrition bar, another popular portable item.
Expect to see smaller portion sizes, as inventive snacks and hand-held foods are created in a bite-sized format. These mini products—more than just a convenient way for suppliers to showcase their ingredients at food shows—are likely to create exciting waves in the marketplace.
Furthermore, many of these products will be influenced by emerging flavors from around the world as well as novel ingredient pairings and combinations. Some examples seen at the show included mini-sandwiches nicknamed Little Cubans, Chipotle Corn & Cheso Bites, fruit shots, veggie trail mixes with different seasonings, and, perhaps my favorite, Cheesecake Lollipops. Convenient breakfast items can be created such as hash browns formulated with cheese and other dairy ingredients.
--- PAGE BREAK ---
Sauces and curries can provide a flavor impact that is especially desirable for convenience foods. Barbecue sauces, for example, are available in a variety of versions, which can provide a flavorful twist in nontraditional applications. An Oriental spring roll might be formulated with a hot barbecue sauce and eaten on the go. Curry sauces, such as Vindaloo, Garam Masala, Biryani, Berebere, Madras, Green Thai, and Red Thai may be incorporated into Italian dishes such as risotto. Or a pizza slice can be flavored with Thai seasonings. Or how about the creation of salsas in different flavors such as blueberry-bacon? Individual sized packages containing these flavored salsas and fiber-fortified chips would make for an interesting combination, again combining a triangular strategy: convenience, flavor, and health.
And, of course, when formulating future on-the-go foods, health will play an important part, especially when considering the obesity epidemic. Foods that are convenient to eat may also be lower in calories, fat, sugar, and sodium, as well as being high in fiber. Also, convenience foods may be a good way to deliver servings of fruits and vegetables lacking in the diet. With their nutrients intact, juices containing blends of fruits and vegetables may provide a valuable alternative. Like yogurt shots, fruit shots may gain in popularity.
Let's now look at the following ingredient innovations from the show and you can judge for yourself the role that these different concepts can play in the bigger picture. For my on-the-go readers, please remember to look up occasionally when reading—you don't want to run into anything.
Solutions for Portable Foods
Several hot trends today reflect consumers' desires for smaller portions. Much like appetizers served in restaurants or hand-held street foods, portable snacks are being influenced by emerging flavors and ingredient combinations. A variety of prototypes demonstrating this were highlighted by Kraft Food Ingredients Corp., Memphis, Tenn. (phone 901-381-6500, www.kraftfoodingredients.com).
KFIC's Executive Chef Justin Young noted that cheese is a common ingredient in ethnically inspired hand-held foods such as samosas and empanadas. Cheese can add flavor, texture, and functionality to these convenient, portable, bite-sized applications. At the Kraft booth, attendees sampled such hand-held prototypes as Little Cubans (mini sandwiches topped with Restricted Melt Swiss American Cheese Sauce) and Cheddar Cheese Sliders (mini gourmet burgers made with Hi-Melt Old English pasteurized process Cheddar cheese dices).
--- PAGE BREAK ---
Many appetizers gaining popularity this year feature a fusion of two or more ethnic styles. For instance, a traditionally Hispanic carrier such as a tortilla could be filled with Asian-inspired ingredients to form an Asian-themed burrito. As part of its IFT menu, Kraft offered Thai Barbecue Chicken Handheld Pizza to show customers how Restricted Melt Cheese Sauces perform in such applications. Available in a variety of cheese flavors, the ingredient can help maintain an appetizer's consistency at different temperatures while keeping the meat, vegetables, and other fillings from falling out of the carrier.
In addition to its cheese solutions, KFIC highlighted its proprietary line of Flavors of Cooking™ products. Through a combination of culinary expertise and technology, the authentic characteristics special to a specific cooking process can be captured. By replicating the culinary cooking methods of roasting, sautéing, frying, and grilling, this product line allows food processors to achieve authentic, consistent, savory flavors without increasing cooking and manufacturing times. Prototypes demonstrating these different flavor ingredients included Fire Roasted New York Strip, Cedar Planked Shrimp Vera Cruz, Woodfired Chipotle and Butternut Squash Bisque, Savory Chicken Tortilla Soup with Organic Grill Flavor®, and Savory Cheesecake Bites with Woodfired Hickory Cream.
Making its debut was a beef enhancer, the latest addition to the Flavors of Cooking line. This product, Savory-Edge™ Enhancer for Beef, is a natural flavor that has the ability to offset warmed-over beef flavor, as well as "livery-grassy" notes found in lower grades of beef. It does this by enhancing the desirable savory notes of beef.
"Meat from grass-fed cattle often has 'grassy' off-notes vs prime, corn-fed beef," said Susan Parker, KFIC Creative Flavorist. "Our patented product allows our customers to use grass-fed beef without sacrificing the authentic savory beef flavor of prime cuts." According to Parker, a multi-phase reaction process of oil, water, and air is used to create authentic flavor replications similar to culinary flavor layering. "Flavors are more intense, multi-dimensional, and distinct, and they do not meld together," she explained.
The new product can be used as a marinade with any cuts of beef, as well as with frozen beef entrees and slow-cooked beef applications. The flavor is kosher certified and is available in dry powder form.
--- PAGE BREAK ---
Prototypes with Flair
A free-style performance bartender shook things up a bit at the booth of Tate & Lyle, Decatur, Ill. (phone 217-423-4411, www.tateandlyle.com). With the same kind of flair, the company served up a number of innovative prototypes made with ingredients from its extensive portfolio, including Promitor™ Soluble Corn Fiber 60A, the newest addition to its fiber and wellness platform.
The new ingredient was featured in two flavored drink mix beverages, Goji Berry and Schizandra Passion Fruit. The beverages were highlighted in a convenient way—perfect for the on-the-go consumers. Simply pour a "stick pack" in eight ounces of water, give it a quick shake, and get a flavored drink that is a good source of fiber (providing 3 grams of fiber per 8-oz serving) and one that is sweetened with Splenda sucralose. The highlighted fiber ingredient is said to be even more dispersible and soluble than previous versions and offer the benefits of fiber with no impact on taste or texture. It can be used in a variety of dry mix products ranging from beverages and desserts to savory applications such as soups, sauces, and salad dressings.
Fruit shots in blueberry and cherry flavors were served up by the bartender. These applications, which paired Promitor soluble corn fiber and Splenda sucralose, offered an intense fruit profile along with an excellent source of fiber (5 g per 2-oz serving). A soft-serve chocolate and vanilla ice cream provided another pairing of the fiber and sweetener ingredients.
A sweetener optimization test challenged attendees to differentiate between two orange carbonated soft drinks: a full-sugar version and one containing a blend of sucralose and other sweeteners. The beverage containing sucralose had 32% less sugar and 27% fewer calories than the full-sugar version.
And while visitors enjoyed the drink applications, they could sample other prototypes including smoky chipotle hummus made with soluble corn fiber and a black bean chip with Promitor resistant starch.
American 'Bento Boxes'?
On-the-go eating occasions are creating new opportunities for food companies and ingredient suppliers. That was the message to take home from a press conference held by Virginia Dare, Brooklyn, N.Y. (phone 718-788-1776, www.virginiadare.com).
--- PAGE BREAK ---
"With today's hurried lifestyle, consumers are eating more and more of their foods on-the-go," said speaker Kevin Kimbell, CEO of TKO Consulting and a specialist in consumer research and marketing strategy. "This doesn't just mean food from fast-food restaurants—it takes in a much broader array of food choices and eating occasions."
Traditionally, on-the-go eating was perceived as a less healthy way to eat. But that may be changing as consumers consider foods choices that are healthier for them without giving up taste or convenience. Today, foods that are convenient to eat may be low in calories, fat, sugar, and sodium, as well as being high in fiber.
Kimbell provided several examples of how next-generation food products can take advantage of these considerations. Taking a lesson from Japanese "Bento boxes," a complete, shelf-stable meal can be created that includes a main entrée, side dish, and dessert. Sandwiches, wraps, and burgers can use seal-ended packaging that opens on one end, while sealed at the other end to prevent dripping.
Pastry snacks can be created in shapes and forms that are ideal for on-the-go eating occasions, he observed. Some examples might include pastry sticks in the form of "Twizzlers"; churros, a Spanish bakery stick; and sweet pastry pillows such as fried or baked ravioli with pie filling. Sweet snacks might include flour- or corn-based dessert potato chips in apple pie or pecan pie flavors, and pudding, gelatin, or yogurt in squeeze tubes.
Formulators interested in developing new on-the go beverages and snacks can work with Virginia Dare, which supplies a wide range of flavor ingredients. At its exhibit, the company showcased a number of prototypes made with these ingredients. For example, shortbread cookies featured such flavors as butter type, a green tea type, and tangerine. Also given a special twist, bread pudding was available in raspberry, Bananas Foster, and pomegranate flavors. Flavor types for nutrient-enhanced water included jostaberry, yumberry, pomelo, and nectarine.
Blazing the Trail Mix
Food and beverage concepts from Wild Flavors, Inc., Erlanger, Ky. (phone 859-342-3600, www.wildflavors.com), demonstrated how to turn trends into innovative products.
--- PAGE BREAK ---
For example, formulators are looking to develop products that can help consumers get more fruit and vegetable servings into their diet. Creole-Mustard Veggie Trail Mix provides ½ a serving of vegetables per 1-oz serving. The blend of crunchy freeze-dried vegetables, salty-sweet fruit pieces, and snack mix is seasoned with a Creole Mustard Seasoning. The formulation demonstrates the different ways that sweet and savory can be paired together today in a convenient snack.
Creamy and cool, Chilled Artichoke Bisque is topped with a crispy thick slice of okra and finished with a drizzle of balsamic glaze. The formulation contains Natural Vegetable Broth Type Flavor, Natural & Artificial Artichoke Type Flavor, and Natural Balsamic Vinegar Flavor WONF. Texture, appearance, and novel flavor combinations all work together to create this prototype.
Sweetened with organic cane sugar, Bayou Punch is made with Natural Berbere Punch Flavor WONF. (Berbere—a spice mixture consisting of chili peppers, ginger, cloves, coriander, allspice, and others—is a key ingredient in the cuisine of Ethiopa.) The formulation had a mild clean fruit juice taste with a strong heat finish. Black carrot color gave the product a reddish appearance, almost like that of a Bloody Mary.
The latest installment of the company's trends newsletter, Wildfire (third edition), summed it up well by noting, "Let's not forget that food and beverage trends travel beyond the flavor parameters—other product design characteristics such as appearance, consistency, and healthfulness have distinct attributes in whatever particular port they are positioned in. Revolutionary approaches in research and sensory testing on a broad level allows us to blend these aspects to maximize effectiveness and ultimately customers' margins."
Showcasing the Potential of the Bean
When it comes to food formulating, ADM, Decatur, Ill. (phone 217-451-5200, www.admworld.com), may literally be "right on the bean." Several of its prototype foods and beverages demonstrate the functionality and health benefits of ingredients derived from beans, soybeans, and cocoa beans.
A new line of natural bean powders and ground cooked beans, Vegefull provides a source of fiber and protein, as well as a serving of vegetables. Made from black, red, navy, and pinto beans, the ingredient may be used in such foods as baked goods, snacks, dips, and cereals, without affecting taste or texture. Prototypes containing the bean products included a blueberry-almond cookie and sausage and cheese Panini served with red beans and rice.
--- PAGE BREAK ---
NutriSoy protein crisps are now available at three levels of protein—60%, 80%, and 85%. While the 60% and 80% versions are made from soy, the 85% product is made from soy and wheat and offers one of the highest protein contents on the market. The selection of crisps provides customers several options for incorporating a range of protein levels into products. The crisps can be used in such applications as nutrition bars, granola bars, cereals, confectionery items, and as inclusions for baked goods and ice cream toppings, depending on the desired protein content. The crisps were highlighted in a cranberry-apple crisp bar. Other soy-based ingredients featured in formulations included organic whole soybean powder, isolated soy protein, isoflavones, and soybean oils.
The company also featured several prototypes made with its cocoa and chocolate products. Cocoa lovers were able to try new De Zaan® Huysman™ bright cocoa powders in milk. The line of vibrant red and brown powders enables manufacturers to visually distinguish products such as ice creams and baked goods. Other formulations included a chocolate microwavable muffin with Ambrosia® Cocoa Powder, Baking Chips, and Chocolate Bittersweet CC-1138; Chocolate Truffle with Merckens® Ivory White, Marquis Milk, and Yucatan Dark Chocolates; and Chocolate Chip Cookie with Blue Ribbon Bittersweet Chocolate.
Grain Innovations Inspire New Uses
The latest grain innovations from ConAgra Mills, a food ingredients brand of ConAgra Food Ingredients, Omaha, Neb. (phone 800-851-9618, www.conagrafoodingredients.com), can help inspire next-generation product development, as demonstrated by several prototypes.
For example, Southwestern Green Chile Chicken Quesadillas featured a 51% whole grain tortilla made with Ultragrain® and Ancient Grains 9-Grain Blend. Ultragrain, a whole-grain flour, provides the mild flavor, color, and texture of refined flour while maintaining the nutritional benefits of whole grain flours. Ancient Grains flours are considered 100% whole grain and are milled from such sources as amaranth, millet, quinoa, sorghum, and teff. Included in this line are different blends of grains, including the 9-Grain Blend. As demonstrated by the quesadillas, whole grains can play an important role in the formulating of hand-held foods, such as pizza, sandwiches, wraps, tortillas, and snacks, and as a result, can have an influence on shaping healthier directions for on-the-go eating.
--- PAGE BREAK ---
In addition, the quesadilla prototype contained flavor ingredients contributed by Gilroy Foods and Flavors, also in the ConAgra family. These include GardenFrost® Latin Puree, Controlled Moisure® Fire Roasted Grilled Pizza Blend, and Cajun Seasoning Blend with Natural Cajun Flavor.
Another prototype, Vietnamese Meatballs with Nuoc Cham, was made with ground sausage and hamburger with Sustagrain® Flour and Ultragrain Flour Coating. Sustagrain is a waxy, hulless barley variety that can boost the fiber content of the food application. It has dietary fiber making up more than 50% of its carbohydrates and 40% of that in the form of cholesterol-lowering soluble fiber.
Providing Saucy Ideas
Immerse yourself in the art of barbecuing. That was the gastronomical theme of a media event, hosted by Cattlemen's Barbecue Sauce supplier, French's Flavor Ingredients, Parsippany, N.J. (phone 973-404-2533, www.FrenchsFlavorIngredients). Mike Mills, an award-winning barbecue champion pit master, presented the latest in preparation techniques, along with information on the history of barbecuing, regional barbecue flavors, and new formulation strategies.
The versatility of different barbecue sauces was demonstrated by pairing them with applications not traditionally associated with these sauces. Editors had the opportunity to sample (with the appropriate wine) such formulations as Smoked Salmon, Capers on Crostini with Dijon Boursin; Oriental Spring Rolls with Mango and Hot Barbecue Sauce; Fresh Oyster Shooters with Bloody Mary Hot & Spicy Sauce; Andouille Risotto Cakes with Remoulade Classic BBQ; and Deep Fried Escargot Lollipops with Hot & Spicy Sauce.
According to a new brochure released by French's, nearly 70% of consumers are now more likely to order BBQ when eating out than in the past. In restaurants, barbecue has become the number one flavor on sandwiches, pork, and burgers, and is the second most popular flavor for other entrees. Furthermore, with the growing sophistication of consumers' palates, cuisines such as barbecue are becoming more authentic or regional.
In his presentation, Mills described eight authentic BBQ flavors, each representing a specific region, and the different Cattlemen's sauces that can be incorporated in them. For example, Memphis-Style BBQ can use Cattlemen's Sweet, a tomato-based sauce that provides sweetness with a hint of spice that seeps right into the meat. Using this style, meat is cooked low and slow over apple wood for a sweet, smoky flavor. The meat is sprinkled with a dry rub (Mills calls it "Magic Dust,") and finished with a light coating of the sauce.
--- PAGE BREAK ---
Carolina-Style BBQ, on the other hand, can make use of Cattlemen's Gold, a sweet and tangy sauce that provides tangy mustard notes with sugar, apple cider vinegar, natural hickory smoke, and aged red cayenne pepper. Meat is traditionally smoked over indigenous pecan wood and the sandwiches are topped with the mustard-based sauce. A spicier version of the sauce can be made by adding Frank's Redhot Sauce.
Other regional BBQ flavors include Kansas City Style (with zesty sweet flavor of Cattlemen's Classic), Texas Style (with the subtle hickory smoke flavor of Cattlemen's Smoky), St. Louis Style (with the tangy tomato flavor of Cattlemen's Original), Louisiana Style (with the cayenne pepper flavor of Cattlemen's Hot & Spicy), Kentucky Style (with the smoky molasses flavor of Cattlemen's Sweet and Bold), and Honey BBQ Style (with the sweet and tangy honey flavor of Cattlemen's Honey).
New Color Launches in 2008
A purple sweet potato colorant was launched by D.D. Williamson, Louisville, Ky. (phone 502-895-2438, www.ddwilliamson.com). The latest addition to the company's portfolio of natural colorants, it can be labeled as "vegetable juice color" or "colored with vegetable juice."
Like other anthocyanin-based colorants, purple sweet potato provides an appealing red hue in acidic conditions. Potential applications include beverages, fruit preparations, sherbet, salad dressings, and sauces.
"In our examination of colorants, purple sweet potato demonstrates an impressive stability compared to other red colorants," said Margaret Lawson, the company's Vice President of Science and Innovation. "It also gives our customers an alternative red when formulating new foods and beverages." Other anthocyanins in D.D. Williamson's portfolio include elderberry, red cabbage, and black carrot.
Earlier in the year, the company introduced a darker Class One caramel color. Caramel Color 570 measures 35% higher in color intensity than D.D. Williamson's Class One liquid caramel in North America. The new product is said to be the darkest Class One liquid caramel color in the company's global portfolio. D.D. Williamson transferred the technology for the new caramel color to its Louisville plant from its manufacturing operation in Europe, where the colorant is widely used in alcoholic beverages. Applications for this color in North America include flavors, cooked meat/poultry products, breakfast cereals, bakery/dessert toppings, and other food applications.
At the Expo, D.D. Williamson and colorMaker showcased a number of prototypes demonstrating the use of natural colorants. These included peachberry iced tea with elderberry and caramel color, mango iced tea with certified organic caramel color, cookies with frosting containing various natural colorants, and hard candies made with annatto extract, turmeric, and red cabbage colorants.
--- PAGE BREAK ---
New Maltodextrin Featured in Soft-Serve Dessert
Organic rice maltodextrin from Grain Processing Corp., Muscatine, Iowa (phone 563-264-4265; www.grainprocessing.com), adds body and texture to a variety of frozen dessert formulations without excessive sweetness or freezing point depression. Rice-based and hypoallergenic, Maltrin OR™ is the newest addition to the company's maltodextrin line. It was highlighted in a soft-serve frozen dairy dessert. Its bland flavor, low hygroscopicity, and high solubility makes it suitable for spray-drying flavors, colors, and fruit juices.
Also showcased was a baked snack made with a good source of fiber, TruBran™ corn bran. Made from yellow corn, the ingredient is available in two particle sizes and can increase fiber in a variety of snacks, cereals, baked goods, nutrition bars, and other foods.
And let's not forget about the gumbo, made with Pure-Gel® stabilized starches. These ingredients provide the New Orleans style dish with thickening and stabilizing properties.
Olive Oil in Potent Form
And you thought Popeye was strong. But this "olive oyl" may be even more potent.
This concentrated ingredient, an extra-virgin olive oil flavor, was developed by Butter Buds, Racine, Wis. (phone 800-426-1119, www.bbuds.com). Joining the company's portfolio of concentrated flavors (cheese, butter, cream, beer, and cocoa butter), Olive Oil Buds is made by a proprietary process that unlocks the full, natural flavor in extra-virgin oil and then encapsulates it in powdered form. The result is a concentrate that delivers potent flavor at low usage levels.
The concentrated olive oil flavor has application in hummus, coscous, paella, marinades, seasonings, pasta, and many other applications that call for a certain Mediterranean taste.
'Bites' of Information
Several formulations from Kerry Ingredients & Flavours, Beloit, Wis. (phone 608-363-1200, www.kerry.com), reflect the innovative directions that appetizers, snacks, and dessert foods may be taking in the future, as a greater emphasis is placed on convenience and on-the-go eating.
--- PAGE BREAK ---
For example, Loaded Campfire Potato Bites provide a classic "over the campfire" baked potato flavor in a crisp bite-sized snack. The convenient, portable snack features a potato skin breading, smoky bacon, creamy cheddar cheese and potatoes, bell peppers, and scallions with a hint of smoke flavor. It may be served with a convenient, ready-to-use rich, savory steak dipping sauce.
Chipotle Corn & Queso Bites consist of a spicy, smoky chipotle-infused blend of creamy queso cheese, corn, black beans, and bell peppers wrapped in a Latin-inspired corn tortilla and masa-flavored coating. The portable, hand-held product is designed for individuals interested in new snacking options seasoned with globally inspired ingredients. Its coating system provides a new texture that would differentiate itself in the marketplace.
Cheesecake Lollipops is an indulgent dessert that you can take with you. In a convenient, bite-size format, it features a bake-stable Neufchatel cheese filling, sweetened condensed milk powder for added creaminess and mouthfeel, real graham cracker crumb, a chocolate coating, and decorative sprinkles.
Mojo Tamales feature shredded chicken thigh meat marinated in a Latin blend of seasonings and flavors with hints of cumin and garlic, and infused with a citrus note. The chicken is cradled in a soft masa dough and gently steamed. Served with a ready-to-use Verde sauce for drizzling or dipping.
Buttery Maple Mini Croissants are mini treats baked with rich maple-flavored nuggets with classic buttery taste. The buttery, flaky, bite-sized croissants are suitable for breakfast or as a convenient mini-snack. A butter flavor may be used to replace up to one-fourth the level of real butter, maintaining the same flavor impact. A blend of enzymes and emulsifiers provide extended shelf life.
As Kerry demonstrated its innovative prototypes, it also announced its new reorganization, which will bring together its flavors and ingredients technology and application expertise under one name. The aligned organization, named Kerry Ingredients & Flavours (spelled with a "u"), is intended to provide customers with integrated solutions to meet their special challenges; better accessibility to the company's broad capabilities in technology, sensory and culinary expertise, and global outreach.
To help customers develop innovative business-building solutions, Kerry is constructing a 250,000 sq-ft, state-of-the-art customer innovation center in Beloit, Wis. Scheduled to open in early 2009, the new facility will house customer application suites, research and development laboratories, culinary facilities, sensory services, and a pilot plant for customer product commercialization.
--- PAGE BREAK ---
On-the-run Convenience?
How to conveniently incorporate whey protein as a functional ingredient into on-the-go food and beverage applications was demonstrated by Hilmar Ingredients, Hilmar, Calif. (phone 209-667-6076, www.hilmaringredients.com). For example, a "pixie stick," easily shaken into cold water, combines green tea, ginseng, and a highly dispersible whey protein isolate (Hilmar 9410). Along with the antioxidant boost from green tea, the beverage delivers 3 g of protein, fiber, calcium, and vitamins in a convenient mix n' go format.
And here's a prototype that is for consumers who are not only on the go, but literally on the run. Energy gels, a refueling shot for athletes, are becoming increasingly popular as on-the-run snacks. Attendees were able to sample a caramel-flavored protein gel with a special blend of whey protein and carbohydrates, and then "zoom off" to their next booth visit.
Getting More Fruits and Veggies
A new nonthermal processing technology, developed by Vegetable Juices, Inc., Bedford Park, Ill. (phone 708-924-9500, www.vegetablejuices.com), enables the creation of premium juice concentrates for beverages and food formulations. The nonthermal concentrates possess superior flavor and top notes, offer a luminous color, and retain a high level of vitamins, minerals, and antioxidants.
"Our proprietary processing methods allow us to create juice concentrates with high nutritional value out of non-traditional juice ingredients, such as cucumbers or cantaloupe," said Barry Horne, the company's Vice President of Sales and Marketing. "We can supply unique flavor profiles and blends to create stand-out niche beverages that attract attention."
The company highlighted beverages such as Orange Passion and Strawberry Mango, blends of fruit and vegetable juices that contain pumpkin, beet, sweet potato, carrot, and butternut squash juice. These blends supply two full servings of fruits and vegetables, including antioxidants A and C and beta carotene, in a single 8-oz serving.
Vegetable Juices, Inc., also unveiled a collection of wet, ready-to-use curry blends that can spice up a variety of applications ranging from pizza to cream cheese. These preblends include such exotic choices as Vindaloo, Garam Masala, Biryani, Berebere, Madras, Green Thai, and Red Thai. The Green Thai curry blend was incorporated in risotto, a rich and creamy Italian rice dish.
In addition, the company has overcome process challenges associated with lemongrass. A special cutting process creates a whole puree that "melts in your mouth." Three types of purees are offered. Prototype applications included a lemongrass apple cheese spread, coconut lemongrass chicken, and Thai soup Tom Kha Kai.
--- PAGE BREAK ---
Flavor Enhancers Provide Organic Label
A line of certified organic yeast extracts, Savorganic, provides flavor and flavor enhancement for use in organic products. These yeast extracts from Savoury Systems International, Inc., Branchburg, N.J. (phone 888-534-6621, www.savourysystems.com), which were demonstrated in a number of savory dishes, are available in powdered and liquid forms.
The company's portfolio features hydrolyzed vegetable proteins and a wide range of yeast extracts to improve food's body and add savory notes. Also available are flavor bases in chicken, beef, pork, turkey, bacon, and umami versions.
What Makes a Winning Cheese?
Techniques used to evaluate Cheddar cheeses of various ages and qualities were demonstrated by Land O'Lakes, Inc., Arden Hills, Minn. (phone 800-328-9680, www.landolakesingredientsolutions.com), at a press conference. Featured were Cheddars which received two gold medals at the 2008 World Championship Cheese Contest, hosted annually by the Wisconsin Cheese Makers Assn.
The cheeses, awarded first place in the Medium Cheddar and Sharp Cheddar categories, were produced by the company's Kiel-Wisconsin-based facility. Dale Schmidt, a Licensed Cheesemaker at the facility, described the criteria used to judge these cheeses, guiding the food media and other participants through a typical cheese tasting or grading procedure. Characteristics evaluated include flavor, body and texture, make up and appearance, and color.
"When assessing flavor, for example, the grader is looking for characteristic Cheddar flavors, appropriate for the age of the cheese," said Schmidt. "As the cheese ages, the intensity of the flavor—as well as the complexity of the flavors that should be developing—will change as enzymes from the rennet and starter bacteria start to break down the fats and proteins, forming flavor compounds."
Schmidt emphasized that "development of balanced Cheddar notes results from a variety of factors such as high milk quality, which is affected by what the cows eat and even the ambient temperatures the cows are exposed to each day."
The ideal Cheddar Cheese described in the U.S. Standards for Grades of Cheddar Cheese has a fine, highly pleasing flavor; it is firm; and it appears solid, smooth, compact, and translucent. The cheese will not possess appreciable color, finish, or appearance defects. To manufacture Cheddar Cheese of uniformly high quality, it is essential to use good quality milk, sanitary and properly operated equipment, uniformly active starters, standardized and proven manufacturing procedures, and controlled curing time and temperature.
--- PAGE BREAK ---
Participants were given the opportunity to compare the award-winning cheeses with others that have flavor and body/texture defects. Flavor defects might include bitterness, acid taste, chemical notes, aromatics associated with sulfurous compounds, fruitiness, and yeasty or brothy qualities. Body/texture defects could include coarseness, crumbliness, hardness or toughness, rubberiness, and short body.
According to Diane Kussy, Section Manager of R&D, "Land O'Lakes conducted a large study to determine the attributes that are critical to assuring high-quality aged Cheddar cheese. Only the cheeses that meet those stringent criteria are released by our licensed cheese graders for the manufacture of our cheese powders. The age and quality of the cheese is not only important for flavor delivery, but also for mouthfeel and flavor impact."
At the IFT Food Expo, the company highlighted a number of its ingredient solutions, including cheese and dairy powders, process cheese, butter blends, and seasoning blends. Also showcased were cheese powders in the following versions: trans fat free, calcium fortified, reduced fat, and reduced sodium.
New Rice-Derived Ingredients Function as Problem-Solvers
New rice-derived ingredient from Ribus, Inc., St. Louis, Mo. (phone 314-727-4287, www.ribus.com), may be used as a certified organic flow aid/anticaking agent. Made from the hulls of rice which contain natural silica, Nu-Flow can function as a replacement for silicon dioxide or anti-caking agents in all types of formulations. By using it in place of silicon dioxide, the formulator is able to declare "rice concentrate" on the label, as well have no maximum use rate, unlike the 2% maximum with synthetic additives.
Also highlighted at the show was Nu-Flac, a rice-derived ingredient which has application as a non-soluble substrate for flavors. Sourced from organic rice hulls, it is sized to carry flavors for use in tea bags. This prevents any negative flavor interactions that could come from applying flavors directly on the tea. Simply blend the tea leaves with the flavor (which has been applied to Nu-Flac), and fill the tea bags. The ingredient may be used in other flavor-plating applications where a fine particle size is necessary. By using it as a flavor carrier, the formulator has the option to reduce maltodextrin.
Crumbs of All Types
Graham and cookie crumbs from Richmond Baking, Richmond, Ind. (phone 765-962-8535; www.richmondbaking.com), provide bakery manufacturers with specific flavor, color, shortening content, sweetness level, and granulation size. With more than 100 custom formulations in its library, the company has the capacity to bake graham crumbs for any size user.
--- PAGE BREAK ---
Custom formulations are available in a variety of granulations sizes (fine, medium, and broken cookie); in trans fat free versions; and flavored products (dark or milk chocolate, cookies 'n cream, lemon, and strawberry).
The company also specializes in ice cream inclusions, coating systems, dry blends, cookies, and crackers. Introduced at the show were several organic ingredients.
Latest Gum Innovations
Several next-generation hydrocolloid developments from TIC Gums, Belcamp, Md. (phone 410-273-7300, www.ticgums.com), can help food and beverage manufactures develop and enhance products from the bench to the plant while maximizing efficiency and cost.
For example, a new stabilizer for low-fat ice cream allows for the smooth, creamy texture and taste associated with the "churn style" ice creams on the market today. Dairyblend IC EZ Churn, a blend of emulsifiers and hydrocolloids, is recommended for usage levels between 0.85 to 1.10%, based on the desired texture of the final product. It can be used in a variety of low-fat ice creams, with different flavors and mix-ins, in addition to churn-style and reduced-fat ice cream novelties.
A new emulsifier, TIC Pretested Saladizer® Max, can be used as a drop-in replacement for propylene glycol alginate in many salad dressings without any discernible differences in mouthfeel. Made using modified gum acacia technology, the ingredient can create regular and low-fat dressings and marinades that are both high-quality and consistent. It also allows for easy dispersion and rapid hydration because it has been agglomerated.
Also, a new gum system for emulsifying flavor oils was demonstrated in a lemonade drink. It can be used to maintain emulsion stability in high oil load beverages.
Know Your Bicarbonate
The application of bicarbonates as chemical leavening agents for baked goods is one of their best known uses. When reacted with an acid or heat, bicarbonates release carbon dioxide gas. This aeration causes batter and dough to rise, making for lighter biscuits, cakes, pancakes, cookies, and other products.
--- PAGE BREAK ---
Bicarbonates are an essential ingredient in baking powders, self-rising flours, and packaged baking mixes. The leavening function of bicarbonates is not limited to baked goods, but is useful in manufacturing hard candies as well.
Church and Dwight Co., Inc., Princeton, N.J. (phone 609-297-7274, www.ahperformance.com), is the manufacturer of Arm & Hammer brand sodium bicarbonate, ammonium bicarbonate, and potassium bicarbonate. Specialty blends are also available.
Thinking Outside the Hamburger
Many of the prototypes discussed in this article suggest, if nothing else, that a wide variety of convenience foods are possible. These different products can help redefine what eating on the go means—not just emphasizing convenience, but including other important perspectives, including functionality, health, and taste in the equation.
These emerging products will also demonstrate a variety of interesting fusions. For example, a Bayou Beignet Bread Pudding, combines two popular desserts. (Put a stick in it and suddenly you have a Bayou Beignet Bread Pudding lollipop.) Or perhaps you can pair your hand-held chicken tender with blueberry-bacon salsa. Anything is possible.
This thinking outside the box—or in this case, "outside the hamburger"—can lead to a variety of new opportunities for ingredients and flavors. And we'll see further evidence of these opportunities as ingredients coverage of IFT Food Expo continues with the next article.
---
Sampling the Expo
Make Mine a Salsa
Salsa up to the bar for a novel flavor experience. This salsa bar featured a variety of flavors not typically associated with the condiment. Try, for example,
Kiwi Tomatillo Watercress Salsa
, combining jalapeno and watercress flavors. Or perhaps
Blueberry Bacon Salsa
is more to your liking. Or how about
Acai Roasted Salsa
that pairs the flavors of tamarind and acai berry? Or
Salsa Classico
with cilantro flavor and a natural flavor enhancer. The prototypes were developed by Bell Flavors, Northbrook, Ill. (phone 847-291-8300,
www.bellff.com
), using its extensive library of flavors.
Paradise!
Luau Rubbed BBQ Pork from Griffith Laboratories, Alsip, Ill. (phone 800-346-4743, www.griffithlaboratories.com), brought the flavor of a traditional Hawaiian feast. The formulation uses Luau Seasoning #501-0688, which suggests the flavor of coffee with a sweet kick of tangy BBQ heat. As a finishing note, the sandwich was topped with cole slaw.
--- PAGE BREAK ---
Flavors That Work Their Mojo
New Orleans-inspired food and beverage prototypes featured flavor ingredients from Edlong Flavors, Elk Grove Village, Ill. (phone 847-631-6700; www.edlong.com). The company's "Foodoo Café" Menu included such specialties as Chicken Cakes with Alfredeau Sauce. A butter flavor amplifies the savory notes of the chicken while sour cream and other cultured flavors enhanced the mouthfeel and creamy flavor of the sauce.
The Blue Easy
Blueberry-containing foods such as ginger biscotti, cookies, and a snack bar were available for sampling from U.S. Highbush Blueberry Council (phone 800-824-6395, www.blueberry.org). With their burst-in-the-mouth flavor, color, healthy profile, and broad appeal, blueberries can be used as an ingredient in a broad range of applications, including salads, sauces, and meat dishes. As attendees munched, they were able to visit with blueberry growers and learn more about the different benefits of the blueberry.
Taking Flavors to the Mint
Andouille Sausage. Bourbon. Cajun Seasoning. Lemon Custard. Molasses. These were just a few of the more than 100 organic flavors showcased by Gold Coast Ingredients, Commerce, Calif. (phone 323-724-8935, www.goldcoastinc.com). And as you learn more about this extensive library of flavors, chew on mints made with special flavor blends such as green apple, lemongrass, coffee, and creamy vanilla.
Cheesy Hash Browns?
A hash brown casserole with aged Cheddar offers a convenient breakfast option that can be eaten at any time of the day. The prototype, which demonstrates the innovative uses of cheese and other dairy ingredients, was developed by Dairy Management, Inc., Rosemont, Ill. (phone 847-803-2000, www.innovatewithdairy.com). It contains Cheddar cheese, which offers taste, builds body and texture, and provides beneficial nutrients such as protein and calcium; sour cream for adding a flavorful, creamy taste with a rich body texture; and butter for a mild and desirable dairy flavor that blends well with other ingredients.
Jazzing It Up
If you happened to "order" a Double Bourbon and Cola at the booth of David Michael & Co., Philadelphia, Pa. (phone 215-632-3100, www.dmflavors.com), then you must have realized that things were definitely jazzed up. This sweeter version of the cocktail classic consisted of whiskey- and cola-flavored water ice swirled with vanilla ice cream, and featured vanilla extract and alcohol-free Natural & Artificial Bourbon Flavor. Smooooth! For an added southern treat, the company served up Bayou Beignet Bread Pudding, a fusion of two popular desserts. And to make it more decadent, it was served with sweet and savory sauces that included Jazzy Mango Coconut, which was tropical and fruity with a hint of Garam Masala flavor, and locally inspired Cajun Praline Vanilla.
Get Ready to Pucker
A water beverage combined the flavors of sour cherry and green tea for a refreshing experience. The prototype beverage is made with a flavor distillate, Sour Cherry Treattarome 9848, from Treatt USA, Lakeland, Fla. (phone 863-668-9500, www.treatt.com). Produced using a short duration, low-temperature distillation process, the aqueous distillate is derived from the named source. The beverage also contains True Taste Green Tea 200, sugar, and malic acid.
by Donald E. Pszczola is Senior Associate Editor, Food Technology magazine ([email protected]).