Ingredient companies are creating more-specialized ingredients that provide specific functionalities in food and beverage formulations. New-generations starches help to improve the texture of baked goods. Sweetener blends help food technologists to formulate products with the desired sweetness profile. But in some cases, the companies showcased their ingredients in unexpected prototypes. Flavors combined in unusual pairings excite the palate. Flavor modifiers add new dimensions to food products. Heat, sweet, and umami are popular taste sensations, especially in foods not associated with these sensations.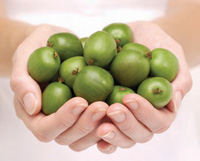 And there were plenty of prototypes at the 2008 IFT Food Expo® that featured these and many more ingredient developments. A cup of green tea ice cream, anyone? Or how about a lemon-and-cinnamon-flavored marshmallow?
In addition to developing and supplying these ingredients, ingredient companies are engaging in a number of business transactions to help them remain competitive, better serve customers, expand portfolios, and share technical knowledge and resources. Years ago, getting too cozy with a competitor was not the norm. While it still is not standard procedure for some segments of the food industry, many companies are realizing that alliances, acquisitions, and other transactions may result in more-competitive companies structured to better serve their customers.
What follows will highlight many of these developments, from the introduction of ingredients to the development of new business strategies.
Technology Produces Authentic Flavors
Blue Pacific Flavors Inc., City of Industry, Calif. (phone 626-934-0099, www.bluepacificflavors.com), and HortResearch, Auckland, New Zealand (phone +64-9-9257000, www.hortresearch.co.nz), signed an exclusive license agreement to launch hortRealfruit™ branded flavor technology to produce new authentic fruit flavors.
--- PAGE BREAK ---
Under the terms of the agreement, Blue Pacific will have exclusive ongoing access to HortResearch's entire database of volatiles and aromas produced by fruits from around the world. An example of this is Actinidia arguta, known as the kiwiberry, which is native to New Zealand.
Two of the several prototypes offered at the IFT Food Expo were made with new hortResearchfruit natural flavors: Oceania Pacifica Apple Juice Drink (made with hortRealfruit), South Pacific Gold Kiwifruit Granita (made with hortRealfruit), Strawberry Rhubarb Granita, Strawberry Shortcake Aerated Berry Dessert, and Yumberry White Tea Beverage.
HortResearch has research data on flavor chemicals, sugars, non-volatile acids, and plant pigments from diverse fruits and plans on adding research on polysaccharides from selected fruits for commercial flavors to the database in the near future.
"We have been using this database for a couple of years now to replicate flavors from our fruit-breeding programs for consumer sensory testing," said Ross Atkinson, Science Leader, HortResearch. "We have also looked to add new flavors to that base mix to examine consumer acceptance of potential new varieties, a model, if you like, to inform our breeders in their development programs."
According to the companies, the licensing agreement is the first of many products of this collaboration and will provide many commercial opportunities for both companies.
Feelin' Hot, Hot, Hot
This year marks 140 years that McIlhenny Co., Avery Island, La. (phone 337-373-6105, www.tabascoingredients.com), has been making Tabasco®, the quintessential pepper sauce made from red chili peppers that are aged in white oak barrels.
--- PAGE BREAK ---
The company offered several prototypes made with various Tabasco sauces to illustrate how the sauces can be used in different types of food products. For a sweet treat with a hot kick of habenero pepper, there was Spiked Carrot Cake Ice Cream. This carrot cake-flavored ice cream contained Tabasco brand Habenero Sauce and was topped with praline pecans and a cream cheese icing.
Two savory dishes featured Tabasco sauces and other flavorful seasonings. One prototype in particular, Cajun Crawfish Cakes with Tabasco brand Habenero Sauce and Monica's® Cajun Cream Sauce, showcased some of the familiar flavors of New Orleans. Spiced Chicken Breast Salad featured Tabasco brand Green Pepper Sauce and Monica's Southwest Cilantro Lime Dressing.
In addition to information about its sauces, the company also provided details about some of its other products such as dry flavorings, pepper pulp, and blends.
Symrise Integrates Flavor Business
Symrise, Holzminden, Germany (phone +49-5531-90-0, www.symrise.com), announced at a presentation held at the IFT Food Expo that it will fully integrate the Chr. Hansen seasonings and flavor business by the last quarter of this year. The company's acquisition of the business was finalized on April 25, 2008.
"We are focused on key growth categories for the next two-to-three years, combining our already established strengths in citrus, vanilla, and our health and wellness brand, taste for life®, with our newly acquired seasonings and dairy flavor technology assets," said Heinz Juergen Bertram, Global President, Symrise.
Emmanuel Laroche, Vice President of Marketing Services & Sensory Consumer Science North America, Symrise, discussed the company's expanded portfolio of flavors and flavor technology, gained through the substantial meat, snack, and dairy flavor expertise of the acquired Chr. Hansen business. Symrise's portfolio now includes enzyme-modified cheese flavors, dairy building blocks, starter distillates, and a wide range of milk, cream, and butter flavors, as well as an extensive line of flavor products and technologies for snack and meat products.
The company highlighted ingredients from key categories: citrus, flavor concepts for functional foods, vanilla, seasonings, and dairy flavors.
--- PAGE BREAK ---
Flavor Combos Delight the Senses
With the theme "Nature & Escape," Jean Niel Inc., Odessa, Fla. (phone 727-834-8855, www.nielaromes.com), emphasized its movement toward natural and essential aromatic notes of fruits and vegetables.
The company has the capabilities to combine familiar aromatic flavors with more original notes, and presented these under three lines: Fruity and Spicy, Waterfall of Superfruits, and Sheer Delight—Sweet & Savory.
Exotic and spicy flavors awake the taste buds in flavor combinations featured under the Fruity and Spicy group. Pineapple and four spices; coconut and curry; lemon and cinnamon; strawberry and ginger; and orange and cumin are just some of the possible flavor combinations. And while the company suggested using these ingredient combinations to flavor marshmallows, it said that the flavoring proposals can also be used in beverages, dairy products, ice cream, snacks, and more.
Flavor combinations featured in the Waterfall of Superfruits group would work well in beverages, from water or a cocktail to a cup of coffee or tea. But you can also use them in sauces for a sweet and savory mix. Suggested combinations included sour cherry and black raspberry; grapefruit and cranberry; strawberry and acerola; mangosteen and blueberry; and wolfberry and camu camu.
Finally, in the Sheer Delight—Sweet & Savory category, suggested flavor combinations such as pumpkin, banana, and cinnamon; mango, litchi, and corn; orange, banana, and carrot; peach, mint, and cucumber; and raspberry, red beet, and cocoa add an unexpected sweet–savory taste to fillings used in baked goods as well as snacks and entrees.
Texturizers Function in Baked Goods
Cargill Inc., Minneapolis, Minn. (phone 952-742-7575, www.cargill.com), recently added two new xanthan gum ingredients to its portfolio of texturizing ingredients. The ingredients, Satiaxane™ CX 800 and Satiaxane CX 801, help improve the volume, texture, and moisture retention of gluten-free baked goods as well as create a soft and fine crumb cake structure. One prototype that illustrated Satiaxane's texturizing properties was a Gluten-Free Cupcake. Gluten-free bakery products may often have a gummy or gritty texture. Utilizing applied statistical design to optimize starch gelatinization and protein denaturation in a model cake formula, food technologists at Cargill were able to learn about how ingredients interacted to affect the cake's texture. The CX 801 xanthan gum is a fine-mesh ingredient that offers rapid hydration for instant foods such as dry mix beverages, soups, dressings, desserts, and bakery mixes. The CX 800 xanthan gum is an 80-mesh ingredient that stabilizes, suspends, thickens, and improves textures and is suitable for use in dressings, sauces, mayonnaises, frozen desserts, dairy, fruit preparations, bakery products, syrups, and meat products.
--- PAGE BREAK ---
The cupcake also contained CreamGel® native tapioca starch, which provides structure and texture that is lost when gluten is removed.
Cargill featured other prototypes that contained various ingredients that affect texture. To help maintain a soft and chewy texture in a Breakfast Cookie, Gelogen™ Stabilizer Blend was used to control moisture migration and retain crumb moisture and softness. The cookie also included Topcithin® lecithin, which increases volume, strengthens gluten structure, improves moisture absorption capacity, and stabilizes dough systems, and Prolía® defatted soy flour, which improves crumb structure, improves dough machinability, and assists in moisture management.
The cupcake and cookie prototypes included Cargill ingredients to help create and maintain soft and chewy textures. The company also featured a crunchy prototype, Pistachio and Dark Chocolate Cluster. Cargill used technology available at its new Snacks and Cereal Product Innovation Center in Minneapolis to develop this prototype. An extruded crisp, Fiber Krunch™, has a neutral color and flavor and adds a crunchy texture to food products. Its crunch is maintained due to combining the fibers in ActiStar™ resistant starch and chicory. This sustainable crunch property makes the ingredient useful as an ice cream coating.
Cargill also showcased its SaltWise™ Sodium Reduction System in Reduced-Sodium Salsa. It has similar functionality as salt, helping it to deliver the sensory experience that consumers expect from full-sodium products. By using SaltWise, product formulators can reduce the amount of sodium by up to 50% and improve the taste in existing reduced-sodium products without increasing sodium. The salsa had 33% less sodium than regular salsa (160 mg of sodium/30 g serving vs 240 mg of sodium/30 g serving). It also contained Cargill sea salt to help intensify the flavors within the salsa.
Web Site Reviews All Things Maple
Bascom Family Farms, Alstead, N.H. (phone 888-266-6271, www.bascomfamilyfarms.com), recently launched a comprehensive Web site, www.maplesource.com, which provides maple information to food manufacturers, private label marketers, chefs, and the food industry.
--- PAGE BREAK ---
The Web site features grade and granule, packaging, shipping, and storage information; nutritional information and recipes; organic, kosher, and vegan certifications; private label packaging options; material safety data sheets; custom labeling capabilities; and current news about everything maple. The company will update the site regularly with updated crop reports, regional information, and new recipes and serving suggestions. Visitors can also sign up at the Web site to receive a quarterly e-newsletter that provides additional information about the maple sugar and syrup industry.
Commercial Creamery Celebrates 100 Years
Since 1908, Commercial Creamery, Spokane, Wash. (phone 509-747-4131, www.cheesepowder.com), has developed dehydrated dairy ingredients for use in seasoning blends, sauces, dressings, frozen foods, and baked goods. To celebrate its 100th anniversary, the company displayed photos showing how it has evolved. It also introduced organic cheese powders, including Parmesan, Cheddar, sauce mixes, and seasonings, as well as diacetyl-free butter flavors for use in seasonings, sauces, and baked goods.
Ingredients Improve Texture, Flavor
Briess Malt & Ingredients Co., Chilton, Wis. (phone 920-849-7711, www.briess.com), featured specialty ingredients that contribute flavor and texture attributes to food products and allow food manufacturers to meet specific label claims. Its Pregelatinized Pearled Barley Flakes require no soak or pre-cook because they are pregelatinized to have a quick cook time. As a result, the barley flakes can be incorporated directly into the dough, which saves processing costs and improves efficiency. With 4 g of soluble fiber/100 g, the flakes help processors achieve an FDA-approved "heart healthy" label claim. A Healthy Breakfast Cookie contained this ingredient.
Caramel candy featured BriesSweet™ Tapioca Syrup, an enzyme-produced syrup used as a 1:1 substitute for corn syrup. The syrup is available in several dextrose equivalents for varying degrees of sweetness and functionality and is non-GMO and USDA Certified Organic, allowing processors to achieve target label claims. In addition to delivering sweetness, tapioca syrups provide a variety of natural functionality, including body, binding, viscosity, humectancy, and prevention of sugar crystallization.
Briess recently re-opened its malthouse in Waterloo, Wis. The company decommissioned the malthouse five years ago but with the recent shift in supply and demand as a result of increased beer consumption and decreasing yields of malting barley on a global scale, it decided to re-open the facility.
--- PAGE BREAK ---
SAFC Expands Halal Offerings
SAFC Supply Solutions, St. Louis, Mo. (phone 314-534-4900, www.safcglobal.com, www.safcsupplysolutions.com), has added an additional 200 halal-certified food-grade products to its flavors and fragrances aroma chemicals product line. This addition expands the company's halal offering to a total of more than 550 products.
The halal qualification provides food companies with an additional degree of quality assurance, as SAFC materials provided under halal follow the Islamic Food and Nutrition Council of America standards for food additives.
Judy Pruss, Market Manager, said that the company worked closely with IFNCA to ensure that the products were up to compliance, something that is important in key Middle Eastern and Asian markets.
Variety of Meat Cuts Offered
To celebrate its 50th anniversary as a custom processor, Land O'Frost Inc., Lansing, Ill. (phone 800-323-3308, www.landofrost.com), introduced oven-roasted medallions, strips, and dices of turkey, chicken, pork, and beef. These whole-muscle ingredients can be used in entrees, pizzas, calzones, meal kits, salads, and other products. They are available in Oven Roasted, Glazed, and Grill Market styles, as well as in random or exact cuts. The company can customize flavor profiles and performance characteristics to meet specific product or process needs.
Campaign to Dispel Myths
To help "change the conversation" about high fructose corn syrup, the Corn Refiners Association, Washington, D.C. (phone 202-331-1634, www.hfcsfacts.com), launched a multi-media advertising and public relations campaign.
"There are so many myths, inaccuracies, and untruths associated with this sweetener that we felt it was necessary to set the record straight," said Audrae Erickson, President, Corn Refiners Association. "Scientific research continues to confirm that high fructose corn syrup is no different from other sweeteners. It is essentially the same as table sugar and honey, and has the same number of calories."
The campaign will share information about HFCS with consumers and opinion leaders; provide credible sources of information to support this information; and provide additional information and resources about HFCS and its role in a healthy diet. The target audience includes consumers age 25 and older, with a particular focus on mothers, and opinion leaders such as nutritionists, key health and scientific professionals, and the media.
--- PAGE BREAK ---
Erie, UDA Form EU Blending
Erie Foods International Inc., Erie, Ill. (phone 309-659-2233, www.eriefoods.com), and United Dairymen of Arizona have formed the EU Blending Company, Casa Grande, Ariz. The new business will expedite the manufacturing process for dry packaged ingredients in both domestic and international markets.
Erie Foods has operated since 1938, offering dairy ingredients such as casein, caseinates, milk protein concentrates, and bioactive dairy proteins.
At its booth, the company highlighted milk protein concentrate 40%, 56%, 70%, and 80%, acid/rennet caseins and caseinates, butter, and dairy blends. These ingredients can be used in a variety of dairy, bakery, and nutritional products.
DSM Acquires Valley Research
DSM, Heerlen, Netherlands (phone +31-45-578-8111, www.dsm.com), acquired Valley Research Inc., South Bend, Ind.
Valley Research is a privately held biotechnology company that offers a broad range of enzymes, and its ingredients are used in dietary supplements, dairy, juices, and wine. The company will become part of DSM Food Specialties.
The acquisition of Valley Research allows DSM to strengthen its product portfolio and also offer regional blending and solution-providing platforms to customers.
"Our sales in food enzymes have shown strong growth in recent years," said Stephan Tanda, a member of DSM's Managing board. "This acquisition of Valley Research will reinforce our leading global position in food enzymes and I expect Valley Research to generate additional value for our customers and shareholders."
According to the company, the market for food enzymes has grown in recent years, fueled in part by the growing interest in low-salt and low-fat foods, food safety, and convenience, as well as the need for natural ingredients.
--- PAGE BREAK ---
Flavor Modifiers Enhance Cuisine
Wixon Inc., St. Francis, Wis. (phone 800-841-5304, www.wixon.com), celebrated the cuisine of New Orleans with many different prototypes that featured the flavors of Cajun, Creole, and Southern cooking.
The company's corporate chef, Jud McLester, combined Wixon spices, flavors, and rubs, and flavor modifiers to prepare three creative applications that were served every day at the IFT Food Expo. The prototypes included Cajun Turducken with a Sweet Potato Crawfish Spread on a Hush Puppy Pancake; Roast Chicory and Cocoa Rub Steak; and Turkey Breakfast Sausage Wrapped in Maple-flavored Pancake with Cajun Strawberries & Cream. All three prototypes contained KCLean™ Salt, a salt substitute ingredient that has half the sodium of regular table salt. Using this ingredient made it possible to achieve sodium reductions of 38% (turducken), 27% (crawfish spread), 7% (hush puppy pancake), 39% (chicory and cocoa rub), and 33% (turkey breakfast sausage).
Other ingredients used in the prototypes included jambalaya, andouille sausage, and Cajun seasonings, grand marnier flavor, hush puppy mix, and Mag-nifique™ Mouthfeel, which is said to increase the full-bodied flavor perception of low- and reduced-fat and cholesterol products (Cajun Turducken with a Sweet Potato Crawfish Spread on a Hush Puppy Pancake); Chicory & Cocoa Rub Seasoning (Roast Chicory and Cocoa Rub Steak); and maple seasonings, strawberry flavor, and Wix-Fresh™ Miner and Wix-Fresh Max (Turkey Breakfast Sausage Wrapped in Maple-flavored Pancake with Cajun Strawberries & Cream).
Wix-Fresh Miner is a flavor modifier that improves the natural flavor and color of protein products, and Wix-Fresh Max masks iron, liver, and metallic notes in certain cuts of meats as well as inhibits oxidation.
Wixon also showcased other prototypes, including Reduced-sugar Bananas Foster Rice Crispy Treats, Reduced-sugar Hurricane Cocktail Sugar Cookies, Reduced-sodium Red Bean Seasoned Chips with Andouille Seasoned Dip, and Jambalaya-wrapped Andouille Sausage with Spicy Cajun Mustard.
Earlier this year, Wixon broke ground for a new culinary center to create and test food specialties and to develop new meat products. The Wixon Innovation Center for Culinary & Protein, which will be located at the company's headquarters in St. Francis, Wis., will feature a high-end culinary center complete with the latest professional appliances and a protein development section that will house advanced meat-related cooking, processing, and storage equipment. The 4,200-sq-ft facility is scheduled to open this fall.
Bunge Acquires Corn Products
Bunge Ltd., White Plains, N.Y. (www.bunge.com), in June announced that it will acquire Corn Products International Inc., Westchester, Ill. (phone 708-551-2600, www.cornproducts.com).
--- PAGE BREAK ---
The business move will add Corn Product's high-value starches and sweeteners to Bunge's product portfolio of agribusiness, fertilizer, edible oil, and milling products, enabling the combined company to serve growing global demand for agribusiness and food products.
Both companies already have an established presence in core geographies, including the United States, Brazil, and Argentina. The acquisition will allow for continued expansion in growing markets such as China, Mexico, India, South America, Southeast Asia, and Africa.
After the close of the transaction, which is expected in the fourth quarter of 2008, Bunge will have approximately 32,000 employees and operations in 40 countries, and Corn Products will become a wholly owned subsidiary of Bunge. Corn Products will also maintain its operational headquarters in Westchester, Ill., and continue to use the Corn Products brand name.
At the IFT Food Expo, Bunge North America Inc., Bradley, Ill. (phone 815-523-3571, www.bungenorthamerica.com), showcased its proprietary hydrogenation technology, which enables the reduction of trans fatty acids in partially hydrogenated fats and oils by more than 85%. At Corn Products' booth, stations featured sweeteners, starches, polyols, and functional ingredients. Some of the prototypes featured by the company were a Gluten-free Pecan Praline Cookie made with Expandex® modified tapioca starch, which helps create taste that is more like wheat-based products; Cranberry Almond Nutrition Bar that contained the company's customized sweetener system (Invertose® HF90, Enzose® 28 D.E. corn syrup); and packets of SweetDex™ Alternative Sweetener, combining nutritive and non-nutritive sweeteners.
National Starch Emphasizes Texture
National Starch Food Innovation, Bridgewater, N.J. (phone 908-685-5000, www.foodinnovation.com), in June opened its new state-of-the-art Texture Center of Excellence. The facility is devoted to the understanding and improvement of texture in prepared foods.
The Texture Center houses a culinary team as well as two other groups of experts who are developing scientific profiles of and practical applications for food textures. The sensory team works with trained descriptive panelists to translate consumers' basic descriptions of food textures (e.g., smooth, crunchy, creamy, rich) into a lexicon of technical terms that food formulators can use when developing new and improved foods. Material scientists and rheologists use specially engineered, robotic equipment, which will work at more than 10 times the speed of current development efforts, to measure the texture of various materials and design new functional systems.
--- PAGE BREAK ---
Food formulators and chefs will work with customers to develop prototypes, which can be evaluated by consumers in the Texture Center's testing booths or discussed for acceptability in the focus group facility. Customers can also use this facility to elicit consumer insights about foods and their textures through-out the development process.
National Starch showcased its snack texture capabilities by featuring baked crackers and fabricated chip prototypes. The crackers cover a range a textures from crispy to crunchy-shattering to crunchy-snapping, and they were formulated with the texturizers Crisp Film®, Eliane® SC160, and Ultra-Crisp® CS. The textures of the chips range from delicate and crispy to bold and crunchy textures, plus a new differentiated "in between" texture that the company calls Crinchy™. These chips contained the texturizers Bakasnak®, Ultra Crisp CS, and Eliane SC 160.
The prototype textures demonstrated how the scientists, technologists, and chefs have optimized the baking procedure so that the structure is set and the moisture is driven off to produce the desired texture in these low-moisture products. This collaborative work is also important when developing other types of products such as gourmet, functional, or those marketed as being "better-for-you" food choices.
"Quite often when formulating for a healthier product with reduced fat, texture and taste may be compromised," said Suzanne Mutz-Darwell, Marketing Manager–Texture. "Butter, fats, and oils make a large contribution to texture and flavor in crackers and chips. Cut back on those, and the product suffers."
National Starch also relaunched its Web site, www.foodinnovation.com, with new industry portals and a new product selector that will help visitors pinpoint the right ingredients from their formulations. The industry portals, which include dairy, bakery, soups/sauces/gravies, beverages, cereals, snacks, confections, and more, contain market facts, application summaries, industry challenges, leading National Starch products, links to new products, and industry news links specific to that industry sector.
NFL, CIA collaborate
The National Food Lab, Dublin, Calif. (phone 925-551-4266, www.thenfl.com), and the Culinary Institute of America, Hyde Park, N.Y. (www.ciachef.edu), recently held a collaborative session that combined NFL's product development and commercialization strengths and CIA's culinary expertise to create a culinary-driven concept development process. A cross-functional client team and specialists from both organizations brainstormed across different product platforms, created culinary prototypes, and designed commercialization punch lists. Consumers evaluated concepts and prototypes, and the results will be used to prioritize concepts for future product development.
--- PAGE BREAK ---
SAMPLING THE EXPO
Ice Cream Treat Features Green Tea
Beverage flavors such as tea have been popping up in many unexpected applications of late. Aiya America Inc., Torrance, Calif. (phone 310-212-1395, www.aiya-america.com), presented Matcha Green Tea Ice Cream and Smoothies made with Matcha green tea leaves. This tea, which has been part of the Zen Buddhist culture for more than 800 years, has a vibrant jade green color as well as a mild and naturally sweet taste due to its amino acids content. Suggested flavor pairings with this ingredient include chocolate, banana, peach, litchi, and traditional Japanese flavors like black sesame and red beans.
---
Leavening Agent Has Zero Sodium
ICL Performance Products LP, St. Louis, Mo. (phone 800-244-6169, www.icl-perfproductslp.com), showcased cornbread muffins formulated with Levona® Brio leavening ingredient with zero sodium. The ingredient is part of the Levona line of zero-sodium and calcium-enriched leavening agents that allow food technologists to formulate baked products that may be able to carry health messaging such as "low sodium" and "a good source of calcium." The Levona ingredients can be used in cakes, biscuits, muffins, and tortillas and are said to help improve the texture, flavor, and volume of these products.
---
A Meat Lover's Picnic
For those who love meat, Innova, a Griffith Laboratories Company, Oak Brook, Ill. (phone 800-246-9223, www.innovaflavors.com), did not disappoint. Its Ultra Clean Picnic featured two prototypes made with Ultra-Clean™ by Robust® Meat Flavors, beef flavors inspired by classic culinary cooking techniques. First out of the picnic basket was the Prime Rib Sandwich With a Shallot Cream Sauce. This was served with a beet salad and lingonberry citrus vinaigrette. The second dish was Bourbon Cola BBQ Charbroiled Brisket Sandwich served with bread & butter pickle-flavored potato chips. The flavors in the line do not contain anything artificial; are not formulated with chemical carriers, MSG, HVP, and AYE; and have a true flavor identity.
---
Sauces Add Umami Flavor
Kikkoman Sales USA Inc., San Francisco, Calif. (phone 415-956-7750, www.kikkomanusa.com), showcased its soy sauce and other specialty sauces to help food processors capture the appeal of popular Asian flavors. Umamioli Shiitake Mushroom Ravioli served with a shiitake soy-butter sauce delivered an umami-rich savory flavor. It featured Kikkoman Soy Sauce, Kikkoman Plum Sauce, butter, and other seasonings. A teriyaki-flavored mix that included Kikkoman Granulated Soy Sauce, sugar, onion and vinegar powders, and ground ginger was used to season UmamiYaki Sweet Potato Chips.
---
Spices Inspired by NOLA Cuisine
Two seasoning blends offered by Elite Spice, Jessup, Md. (phone 410-796-1900, www.elitespice.com), captured the flavors and aromas of New Orleans cuisine. Add flavor to a variety of protein- or starch-based dishes with Jammin' Jambalaya and Good Times Remoulade seasonings. Both are red-orange free-flowing powders with pieces of vegetables. The first, made with dehydrated vegetables (onion, red and green bell peppers, and garlic), salt, yeast extract, paprika, spices, and spice extractive, has a savory, slightly pungent flavor. The other blend, also slightly pungent in flavor, has salty, sweet, and citrus notes. Contributing to this flavor profile are dehydrated vegetables (onion, garlic, parsley, chive, and red bell pepper), salt, paprika, sugar, lime juice solids, natural flavors, and spice.
---
Dried Plums Enhance Texture, Flavor
Prototypes that were formulated with dried plum powders, purees, and juice concentrates demonstrated the ingredients' capabilities to improve the texture, flavor, quality, and value of such animal proteins as beef lifter steaks, pork loins, and roasting hen breasts. The antioxidant concentration in dried plums can limit the growth of bacteria and therefore extend the shelf life of the finished food product. The naturally occurring sorbitol, fiber, and malic acid found in dried plums helped to increase moisture retention, improve texture, and round out flavors in an Asian Plum Pork Loin and Buffalo Chicken Salad. California Dried Plum Board, Sacramento, Calif. (phone 800-729-5992, www.cdpb.org), also made available its technical bulletin, "Dried Plums Naturally Raise the Value of Underutilized Meats."
by Karen Nachay is Assistant Editor, Food Technology magazine ([email protected]).