With the beginning of each year, consumers look to improve some aspect of their lives, particularly their weight and overall health. It's no surprise that in writing this article around the end of 2007, I read two articles in consumer publications reporting on the health benefits of spices.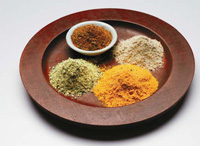 The November 2007 issue of Men's Journal listed ginger, garlic, and cayenne pepper as three natural remedies for gas, Athlete's foot, and a sore throat, respectively (Mathew, 2007). The November/December 2007 issue of Optimum Wellness, a publication distributed at King Soopers grocery stores, discussed how spices such as cloves, cinnamon, turmeric, and rosemary may have beneficial effects on health conditions such as digestion, glucose management, cancer, and memory (Rouse, 2007).
Here is a closer look at some of these spices.
Cinnamon
Research shows the beneficial relationship between cinnamon and blood glucose management. Mang et al. (2006) showed that an aqueous cinnamon extract had a moderate effect in reducing fasting plasma glucose concentrations in diabetic patients with poor glycemic control. They randomly assigned 79 subjects with diagnosed diabetes mellitus type 2 to take either a cinnamon extract or a placebo capsule three times a day for 4 months. The amount of aqueous cinnamon extract corresponded to 3 g of cinnamon powder/day. The patients were not taking insulin but were taking oral antidiabetics or eating a specific diet for diabetics.
Recently, studies have also linked cinnamon with weight management and blood pressure. Hlebowicz et al. (2007) showed that taking 6 g of cinnamon with rice pudding reduced postprandial blood glucose and delayed gastric emptying without affecting satiety. Fourteen healthy subjects were examined after an 8-hr fast to see if they had normal fasting blood glucose concentrations. Gastric emptying rate was calculated as the percentage change in the antral cross-sectional area 15–90 min after ingestion of 300 g of rice pudding or 300 g of rice pudding and 6 g of cinnamon.
--- PAGE BREAK ---
Preuss et al. (2006) examined the effects of dietary cinnamon on systolic blood pressure (SBP) and various glucose- and insulin-related parameters in spontaneously hypertensive rats. They gave cinnamon (8% w/w) to two groups of rats each fed a different diet. The cinnamon reduced SBP of the rats that consumed the sucrose-containing diet to virtually the same levels as the rats that consumed the non-sucrose-containing (only starch) diet. The effects of cinnamon on SBP tended to be dose-dependent. The researchers concluded that cinnamon may have additional roles in glucose metabolism and blood pressure regulation.
Two cinnamon extracts are commercially available for use in dietary supplements. Integrity Nutraceuticals International, Spring Hill, Tenn. (phone 800-479-8994, www.integritynut.com), offers Cinnulin PF®, a clinically tested proprietary water-soluble cinnamon extract that filters out toxins found in whole cinnamon, making it safe for everyday use. According to the company, it is the only extract standardized for double-linked type-A polymers, which clinical research has shown to have a host of health benefits, particularly those related to metabolic syndrome.
A.M. Todd Botanical Therapeutics, Logan, Utah (phone 800-827-4372, www.amtodd.com), distributes CinSulin®, a patented water extract of cinnamon that aids blood glucose management. According to the company, the cinnamon extract has been shown to lower triglyceride levels, improve insulin sensitivity, and aid cellular glucose uptake.
Chili Peppers
Capsaicin, which is found in chili peppers, is used in some skin lotions. "A common usage is smearing a capsaicin-based lotion on muscles after a work out," explained Karen Manheimer, Vice President, Natural Products Division, Mastertaste, Teterboro, N.J. (phone 201-373-1111, www.mastertaste.com). "The lotion acts as a topical analgesic so it numbs the pain and soreness. There have been studies where capsaicin is given to cancer patients in some form of candy. When some cancer patients go though chemotherapy, sores form in their mouth. These capsaicin candies go into the pain receptors on the tongue and help negate the pain."
Studies also indicate that capsaicin may be useful in weight management. Hsu et al. (2007) studied the effects of capsaicin on the induction of apoptosis and inhibition of lipid accumulation in 3T3-L1 preadipocytes and adipocytes. Results showed that capsaicin efficiently induced apoptosis and inhibited adipogenesis in the preadipocytes and adipocytes.
--- PAGE BREAK ---
Lejeune et al. (2003) investigated whether capsaicin assisted weight maintenance by limiting weight regain after a weight loss of 5–10% in 91 moderately overweight subjects. The subjects were given either 135 mg of capsaicin/day or a placebo during a 3-month weight maintenance period. The results showed that fat oxidation (g/hr) was higher in the subjects given capsaicin compared to those given the placebo.
Turmeric
This spice contains the yellow pigment curcumin, which has hypocholesterolemic and chemopreventive effects. Peschel et al. (2007) showed that treating a human hepatoma cell line with curcumin caused an up to sevenfold, concentration-dependent increase in LDLreceptor mRNA, whereas mRNAs of the genes encoding sterol biosynthetic enzymes were only slightly increased. The observed changes in genes were consistent with the proposed hypocholesterolemic effect of curcumin.
"Turmeric has gotten a lot of attention due to its potential as an anti-cancer agent," said Manheimer. "Studies being done in the cancer research community have claimed that some cancers can be caused by inflammation in the body, and turmeric is a good anti-inflammatory. On the market, you can purchase it in encapsulated form to take as a cancer preventative."
Wang et al. (2006) showed that curcumin inhibited a neurotensin-mediated activator protein that accelerates the growth of a variety of cancer cells. Li et al. (2007) reported that curcumin inhibited MDM2 (oncoprotein) expression. It has been suggested that the oncoprotein MDM2 can be used as a novel target for human cancer therapy.
--- PAGE BREAK ---
More in the Spice Rack
Several spices exhibit antioxidant activities that have a role in disease prevention. Rosemary and oregano, for example, which already function as natural food protectants, are known for their antioxidant properties.
Black pepper contains piperine, an active ingredient, said Manheimer. "It is said to increase the bioavailability of other materials, like turmeric, when ingested."
Mastertaste's new line of Ayurvedics extracts showcases the functional benefits of spices and other herbs. Some of the spice extracts in the line include black pepper, ginger, licorice, and turmeric. "We offer a range of oleoresins and extracts that are standardized on active ingredients including 95% curcumin (turmeric) and pure piperine powder," explained Manheimer. The company also offers flavoresins, which are liquid seasoning profiles that can contain capsaicin, turmeric, or black pepper.
Ho et al. (2007) showed that clove had protective abilities against peroxynitrite-mediated biomolecular damage. Peroxynitrite, a potent cytotoxic agent, can damage a variety of biomolecules such as proteins, lipids, and DNA, and is considered one of the major pathological causes of several diseases.
Garlic is said to benefit the cardiovascular system, potentially lowering total cholesterol, LDL cholesterol, and triglycerides, and increasing HDL cholesterol.
Ginger is often taken to alleviate motion sickness, nausea, and indigestion.
Tildesley et al. (2003) showed that sage enhanced memory in healthy young adults in two small trials. A 50 L dose of essential oil from sage significantly improved immediate word recall in both studies.
by Linda Milo Ohr,
Contributing Editor, Denver, Colo.
[email protected]
References
Hlebowicz, J., Darwiche, G., Björgell, O., and Almér, L.O. 2007. Eff ect of cinnamon on postprandial blood glucose, gastric emptying, and satiety in healthy subjects. Am. J. Clin. Nutr. 85: 1552-1556.
Ho, S.C., Tsai, T.H., Tsai, P.J., and Lin, C.C. 2007. Protective capacities of certain spices against peroxynitrite-mediated biomolecular damage. Food Chem. Toxicol. Oct 30. Epub ahead of print.
Hsu, C.L., and Yen, G.C. 2007. Effects of capsaicin on induction of apoptosis and inhibition of adipogenesis in 3T3-L1 cells. J.Agric. Food Chem. 55: 1730-1736.
Lejeune, M.P.G.M., Kovacs, E.M.R., and Westerterp-Plantenga, M.S. 2003. Eff ect of capsaicin on substrate oxidation and weight maintenance after modest bodyweight loss in human subjects. Brit. J. Nutr. 90: 651-659.
Li, M., Zhang, Z., Hill, D.L., Wang, H., and Zhang, R. 2007. Curcumin, a dietary component, has anticancer, chemosensitization, and radiosensitization eff ects by down-regulating the MDM2 oncogene through the PI3K/mTOR/ETS2 pathway. Cancer Res. 67: 1988-1996.
Mang, B., Wolters, M., Schmitt, B., Kelb, K., Lichtinghagen, R., Stichtenoth, D.O., Hahn, A. 2006. Effects of a cinnamon extract on plasma glucose, HbA1c, and serum lipids in diabetes mellitus type 2. Euro. J. Clin. Investigation. 36: 340–344.
Mathew, L. 2007. Kitchen cures. Men's Journal. 16: 102.
Peschel, D., Koerting, R., and Nass, N. 2007. Curcumin induces changes in expression of genes involved in cholesterol homeostasis. J. Nutr. Biochem. 18: 113-119.
Preuss, H.G., Echard, B., Polansky, M.M., and Anderson, R. 2006. Whole cinnamon and aqueous extracts ameliorate sucrose-induced blood pressure elevations in spontaneously hypertensive rats. J. Am. Coll. Nutr. 2006 25: 144-150.
Rouse, D. 2007. Spice up your life. Optimum Wellness. 3: 13-14.
Tildesley, N.T., Kennedy, D.O., Perry, E.K., Ballard, C.G., Savelev, S., Wesnes, K.A., Scholey, A.B. 2003. Salvia lavandulaefolia (Spanish sage) enhances memory in healthy young volunteers. Pharmacol. Biochem. Behav. 75: 669-74.
Wang, X., Wang, Q., Ives, K.L., and Evers, B.M. 2006. Curcumin inhibits neurotensin-mediated interleukin-8 production and migration of HCT116 human colon cancer cells. Clin. Cancer Res. 12: 5346-5355.