Economic pressures, a desire to better control the healthfulness of what they eat, and a belief that family meals can have a positive impact on a child's academic and social skills are driving Americans to eat more meals at home.
In a typical week in 2007, the mean number of dinners that were cooked and eaten at home was 4.8, eaten at a restaurant 1.1, from take-out or prepared food brought home 0.7, eaten somewhere else 0.3, and skipped 0.1. Two-thirds of families sat down together for dinner at home (GfK Roper, 2007).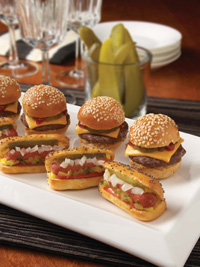 As gas prices skyrocket, consumers continue to cut back on their restaurant visits, averaging two fewer visits per person for the year ending (Y/E) May 2007 or nearly 600 million trips, according to the NPD Group (Glazer, 2007a). In November 2007, RBC Capital reported that 43% of consumers bought restaurant meals less often than six months ago, up another 4% since August. More important, 59% planned to eat out less over the next three months and only 20% intended to order appetizers, desserts, or higher-priced entrees (Anonymous, 2007).
For the quarter ending May 2007—the latest data available—traffi c at fi ne-dining restaurants and upscale hotels dropped 4%, midscale fell 1% after a 2% drop the previous quarter; casual dining was fl at, and quickservice restaurant (QSR) traffi c grew 1%, down from 2% the previous quarter (Glazer, 2007a).
With fewer than four meals out of ten being eaten in a restaurant, take-out is well ingrained in the American lifestyle (NPD, 2007a). In 2007, consumers ordered more from all of the top take-out food categories than they did two years before. Over half of those using take-out ordered pizza (53% vs 41% in 2005), Chinese (37% vs 22%), burgers or other sandwiches (35% vs 24%), steak (13% vs 4%), and "other Italian" (12% vs 6%), according to Technomic (2007a). In addition to pizza, younger adults under age 34 ordered more upscale items, e.g., steak, than their older counterparts.
Two-thirds of consumers ordered full-service restaurant (FSR)/curbside take-out at least once a month in 2007, up from 54% in 2005. Heavy users (more than once a week) nearly doubled to 21%. Heavy users are more likely to be males with no children, led equally by those age 35–54 and those under 34 (Technomic, 2007b).
But while restaurants captured 87% of visits from consumers looking for prepared meals and snacks for Y/E March 2007, the traffi c at retailers, e.g., convenience stores and supermarkets, grew faster than at restaurants. Retailers now rank a distant second to QSRs, which enjoy 64% of restaurant traffi c; retail foodservice accounts for 13%, midscale restaurants 12%, and casual-dining eateries 11% (Glazer, 2007b).
Convenience stores are now the retail channel most often used to purchase prepared foods, accounting for 54% of all foodservice retail traffi c; next in line are supermarkets (32%), discount stores such as Wal-Mart and Target, and price clubs (Glazer, 2007b). Technomic (2007c) reports that the number of consumers rating their prepared foods purchased from supermarkets and convenience stores in the past two years as excellent jumped 4% for both to 22% and 8%, respectively.
With 20% of consumers eating breakfast on-the-go at least three times a week in 2007, lunch 21%, and dinner 9%, according to Information Resources, Inc., it's not surprising that other grab-and-go eating venues are gathering steam (Wyatt, 2007).
--- PAGE BREAK ---
NPD reports that 24% of all restaurant meals were ordered from a car and 33 meals per person were eaten in a car in 2006 (NPD, 2007b, 2006a). Hamburgers top the list of foods consumed in a car, representing 42% of all meals/snacks eaten in a car; they were followed by other retail QSR items 24%, doughnuts 7%, gourmet coff ee/tea 6%, other sandwiches 5%, QSR Mexican 4%, and all others 12% (NPD, 2007c). On average, Americans now purchase 7.8 breakfasts a year from a restaurant to eat in the car, the highest level in history (NPD, 2007d).
Nearly 60% of offi ce workers in the United States spend lunch breaks at their desks (Sloan, 2007). Not surprisingly, savvy fast-food marketers like Hardees's have begun to target employees with coupons distributed in their paycheck envelopes. One-quarter of QSR customers come from work during the day and 22% from 10 p.m. to 5 a.m.; an average of 28 take-out restaurant meals per person are eaten at work annually (NPD, 2007e).
Home meal delivery is another fast-growing niche, with 28% of consumers having used this service. Having healthy, ready-to-heat meals delivered to their home is extremely appealing to 38% and somewhat appealing to 21%; home-delivered restaurant meals are very appealing to 47% and somewhat appealing to 28% (Technomic, 2007d).
What's Cooking?
Required little eff ort or easy to make was the top reason why 53% of consumers prepared the dish they made for last night's supper; followed by took little time/no planning 50%; made with foods that are on-hand 39%; everyone would like it 35%, and easily cleaned up 34% (NPD, 2006b).
Gallup reports that on a typical night in 2007, 89% of meal preparers made a dinner at home—57% prepared the meal from scratch primarly with fresh ingredients, no mixes; 24% prepared their "homecooked" meal with prepackaged foods that require some preparation; and 8% used only frozen or heat-and-serve pre-packaged foods (MSI, 2007). Those age 50 and older were signifi cantly more likely to make a meal from scratch and to use frozen or heat-and-serve foods, and those 18–49 to use prepackaged foods that require some preparation.
According to MSI (2007), a meat/poultry entrée was served by 61% of meal preparers during a typical week in 2007 and led the list of dishes served on weeknights, followed by vegetable side dishes 44%; rice, potato, stuffi ng, or pasta side dishes 39%; bread, biscuit, or rolls 29%; a green salad 28%; and dessert 18%. Ten percent served a sandwich, the food item posting the largest gains at suppertime compared to 2003. Pasta as a main dish, casseroles or one-dish meals, and appetizers were also served more frequently for dinner last year than in 2005.
Also according to MSI (2007), chicken/turkey was the food most frequently eaten for dinner in the past week, consumed by 54% of Americans, followed by hamburgers 46%, steak/beef roast 43%, pizza 41%, pasta 34%, pork chops/roast 31%, Mexican food 30%, hot dogs 30%, macaroni/pasta casseroles 30%, fi sh 29%, eggs 26%, sandwiches 24%, fried chicken 24%, soup 22%, lasagna 17%, Chinese main dish 15%, other seafood 14%, meat loaf 14%, stir-frys 13%, ham 12%, and chili 9%. Pork and lasagna posted the largest gains vs 2003; pizza and Chinese main dishes the biggest decline. Only 5% had a vegetarian main course during the week, and 4% had veggie burgers.
--- PAGE BREAK ---
Just under half (46%) of consumers usually plan their meals in advance, mostly rotating between meals that are part of the family repertoire and for which they have their preparation down to a routine (Yankelovich, 2007). Only 29% of meal preparers used a recipe at least once per week, and 19% at least once a month (Gfk Roper, 2007).
Not surprisingly, the average number of dishes served at in-home suppers continued to fall, to a new low of 2.96 dishes in 2006; more than half of dinners still included a side dish (NPD, 2006a).
Although the stove top is most frequently used for cooking, baking tops the list of the most-used meal preparation techniques, followed by microwaving, grilling, frying, broiling, boiling, and steaming (Yankelovich, 2007). Just 45% of consumers use their microwave to prepare dinner at least 3–4 times a week (Parade, 2007).
While fresh is still the most desirable food label claim according to HealthFocus (2007), well over half of what grocery shoppers buy are frozen (24%), packaged/processed (21%), or fresh prepared (13%) products; 42% are fresh (Yankelovich, 2007).
Frozen two-food entrees topped the list of largest sales increases in supermarket frozen food cases for Y/E 8/11/07 with unit sales up 60%, followed by frozen desserts 36%, Italian entrees 23%, Mexican entrees 29%, unbreaded seafood 15%, vegetables 12%, unbreaded fi sh 10%, and sauces/gravies 11% (ACNielsen, 2007a); frozen foods sales grew 2.1% in supermarkets overall.
As cost pressures escalate, canned and shelf-stable meal solutions are getting increased attention. Sales of shelf-stable Asian foods rose 12% for Y/E 2/24/07, shelf-stable entrees/side dishes 10%, canned lasagna 10%, Mexican specialties 4%, and canned corned beef and Mexican refried beans 2% (ACNielsen, 2007b). Although 37% of Americans use meal kits, e.g., Hamburger Helper, sales in mass channels continued to fall in 2007 (Mintel, 2007a).
Sales of canned soup in food, drug, and mass channels including Wal-Mart (FDMW) rose 5% to $3.2 billion for Y/E 8/16/07, in large part because of the introduction of new healthy and lower-sodium options (IRI, 2007a). High-end versions of pasta sauces are also getting renewed attention.
Hopefully, new restaurant-inspired heat-and-eat fresh dinners will bring renewed excitement to the refrigerated ready-meal category. IRI reports that dollar sales fell 5% for refrigerated dinners and entrees during the quarter ending 9/9/07. Over the previous year; frozen single-serve and multi-serve dinners were up 2.6% and 2.3%, respectively (Canning, 2007a).
Everyday Gourmets
Nearly three-quarters (73%) of all consumers purchased specialty foods in 2007, up from 64% in 2006 (Tanner, 2007). Young adults 18–24 and 25–34 are the most likely to buy gourmet foods/beverages; those 25–34 are the highest per capita spenders. Nearly two-thirds buy specialty foods for everyday use at home.
--- PAGE BREAK ---
Sales of gourmet, specialty, and premium food were estimated at $59 billion in 2007, up 11% over 2006, and are projected to grow to $96 billion by 2012 (Packaged Facts, 2007). Gourmet beverages remained the largest category at $21.5 billion, followed by pasta/grain $8.6 billion, fresh foods $7.4 billion, condiments/sauces $5.7 billion, ready-to-eat meals $5.3 billion, cheese/dairy $3.8 billion, and ice cream/frozen desserts $1.1 billion. They are projected to grow from 2007 to 2012 at a compounded annual growth rate of 11, 9, 5.5, 12, 10.8, 13, and 4%, respectively.
Five categories—cold beverages, coff ee/tea, chocolate, cheese, and olive oil/specialty oils—are purchased by more than half of specialty food consumers. Young consumers 18–24 are the highest purchasers of specialty chocolate, meat, barbecue sauces, cookies, pasta, salty snacks, and prepared RTE foods; those 25–34 of specialty beverages, cheeses, breads, salad dressings, frozen food, condiments, pasta sauce, crackers, salsa, spice rubs, and vinegars; and those 45 and over specialty oils and coff ee/tea (Tanner, 2007).
According to Simmons Market Research Bureau, 39 million adults or 18.2% try to eat gourmet food whenever they can; 5.7% or 12 million try a lot (Simmons, 2006).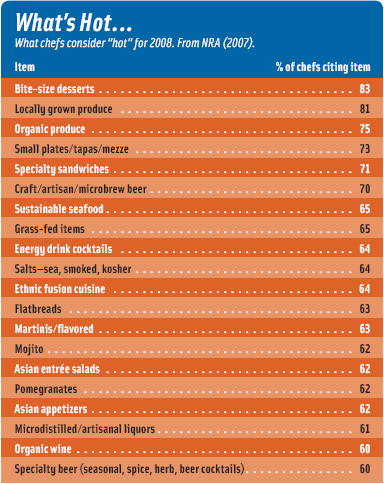 What's Hot on Restaurant Row
A survey of American Culinary Federation chefs by the National Restaurant Association (NRA, 2007) found that what's small will be big on restaurant menus for 2008—bite-size desserts and small plates, tapas, and mezze topped the list of trends chefs consider to be "hot" when it comes to courses.
Restaurant & Institutions' Menu Census, which surveys operators on the fastest-growing menu items, reports that dessert samplers/fl ights, crab cakes, mini burgers, and sweet-potato fries are among the new "small" rising stars on menus (Perlik, 2007). Breakfast sandwiches, grilled chicken breast, house signature salads, pot pies, pulled pork, rib-eye steak, smoothies, tilapia, and whole-wheat pasta also made R&I's "top 12" list. Recognizing this trend, Menu Inspirations off ers mini burgers, hot dogs, and pot pies to the restaurant industry.
Incorporation of ethnic cuisines, fl avors, and ingredients into restaurant menus continues as a strong trend with fusion ethnic cuisine, fl atbreads, Asian entrée salads, Asian appetizers, Latin American cuisine, ciabatta bread, and Mediterranean cuisines rated high on the list of up-and-coming menu trends. Curry, fajitas, fi sh tacos, lasagna, noodle bowls, pasta with shrimp, and quesadillas are some of the latest ethnic menu additions (Perlik, 2007).
Alternatively sourced ingredients, including locally grown produce, organics, sustainable seafood, grass-fed and free-range items, and alternative red meats (buff alo, ostrich, and venison) are another strong direction.
Barbecued pork ribs, chicken/meat pot pies, duck, salmon, tilapia, and turkey are other center-of-the-plate proteins mainstreaming onto menus (Perlik, 2007). Braising, steaming, poaching, and wood-burning ovens are the trendy cooking techniques (NRA, 2007). Asparagus, macaroni and cheese, mashed potatoes, mixed vegetables, polenta, and risotto are among the trendy sides.
Alcoholic beverages move center stage as a cooking ingredient and as a basis for an upscaled drink menu. Craft beer, energy-drink cocktails, fl avored martinis, mojitos, artisan liquors, organic wine, and specialty beer are getting unprecedented attention. Among non-alcohol beverages, fl avored/enhanced water leads over espresso/specialty coff ee (NRA, 2007). Watch for signature "house" waters as environmentally conscious chefs move away from bottled water.
--- PAGE BREAK ---
Fruit plates, oatmeal/hot cereal, organic cold cereals, lentils, salads, smoothies, and stir-fried vegetables are among the latest healthy menu additions. Conversely, apple pie, brownies, chocolate cake, cookies, cheesecake with fruit topping, ice cream and signature cakes are among the desserts being added to menus (Perlik, 2007).
Bruschetta, calamari, chicken tenders/wings, combination platters, and Mozzarella sticks are other appetizers growing in popularity (Perlik, 2007).
Burgers still top the list of the foods most frequently ordered at restaurants by men, followed by fries, pizza, breakfast sandwich, side dish salad, eggs, doughnuts, hash browns, Chinese, and a main dish salad; the foods ordered by women include fries, burgers, pizza, side dish salad, chicken sandwich, breakfast sandwich, main dish salad, and Chinese chicken nuggets and rice (NPD, 2006a).
Dynamic Dayparts
When it comes to dayparts, the morning meal (up 7% in traffi c from June through August 2007) and afternoon snacks (up 3%) continue to be the bright spots in the restaurant business, while lunch traffi c grew only 1% and supper traffi c fell 2% (NPD, 2007f).
• Breakfast. More than 70% of all breakfasts are still eaten at home, and there's more brown-bagging to work, too. Coff ee, RTE cereal, fruit juice, milk, toast, fruit, eggs, hot cereal, tea, and bacon are the items most frequently consumed at breakfast (NPD, 2006). Mass channel breakfast consumer product sales topped $18 billion for Y/E 8/11/07 (Lempert, 2007b). However, fi ve of the top breakfast foods—RTE cereals, fresh eggs, bacon, breakfast sausage, and hot cereal—showed volume declines.
More-convenient food forms—fresh muffi ns, frozen/refrigerated breakfasts, breakfast bars, granola, and natural cereal—have picked up the slack. Organic, natural, high-protein/fi ber varieties were the bright spots in the cereal market. The at-home frozen breakfast food market enjoyed an 11.7% sales increase for the quarter Y/E 9/9/07 (Canning, 2007b).
Omelets/frittatas, breakfast sandwiches, eggs, and yogurt rank 1 thru 4 on the increased-sales list for restaurant breakfast foods (Perlik, 2007). Bacon, Mexican items such as breakfast burritos, cereals, fruit plates, pancakes, French toast, and chicken sandwiches are also gaining in popularity on breakfast menus.
• Lunch. According to Technomic (2007e), lunch accounts for 25% of take-out orders from restaurants. In 2006, burgers, chicken sandwiches, tacos/burritos, deli sandwiches, sub sandwiches, hot dogs, wraps, and salads were the top take-out items. Nearly seven in ten (69%) prefer hot sandwiches, and 56% ate more of them in 2007.
Club, Philly cheese steak, Reuben, and turkey sandwiches are gaining on menus, along with the use of focaccia bread, paninis, and wraps (Perlik, 2007). Caesar and Cobb rank No. 1 and No. 2, respectively, as salad best-sellers in restaurants, but Capresse, house signature, Asian chicken, steak, and taco are coming on strong. Ranch and balsamic vinaigrette are the most-menued dressings.
--- PAGE BREAK ---
Turkey, ham, beef, salami, and bologna top the list in sales of deli meat varieties in supermarkets (IDDBA, 2007a). Consumers were most interested in buying supermarket deli sandwiches on ciabatta bread, followed by focaccia, white, rye, fl atbread (panini sandwich), bagels, and multi-grain breads. Goat topped the list of deli sandwich cheeses they'd like to order for their sandwich, followed by Gorgonzola, Brie, Havarti, Asiago, Feta, and Monterey Jack (IDDBA, 2007b).
• Snacks. According to IRI's 2007 Consumer Snacking Study, 55% of consumers snack in the evening, 48% in the afternoon, and 27% in the morning more than three days a week (Wyatt, 2007). Yogurt led growth in the consumer product snack industry with sales in FDMW up 7.9% in 2006, followed by snack/granola bars 5.7%, crackers 5.4%, frozen novelties 3.9%, salty snacks 3.7%, and chocolate candy 3.2%. Most sweet categories lagged the industry average growth rate of 3.2%, including cookies, ice cream, and non-chocolate candy.
IRI reports that healthier snacks grew at three times the rate of indulgent snacks in 2006 (Wyatt, 2007). Sales of baked cheese puff s jumped 34% in FDMW channels, low-fat crackers 26%, light ice cream 15%, and baked unfl avored tortilla chips 11%. Natural and organic snacks are also projected to maintain solid growth. More than one-quarter of consumers look for snacks with 100 calories or similar portions.
Snack occasions have been on the rise in U.S. restaurants and now account for 12.1 billion visits/year. The majority of the snack occasions occur in the QSR segment, which accounted for 94% of all snacking occasions or 11.4 billion visits in the year ending May 2007. The afternoon snack is the most popular snacking time, accounting for nearly half of all QSR traffi c growth in Y/E May 2007 (NPD, 2007g).
Healthy Does It
Consumers continue to shop for health, looking for more-specifi c claims and more healthy convenience products (Sloan, 2007b). In fact, when asked what factors were important in defi ning a convenience food, helps me maintain a healthy diet topped the list (very important to 48%), ahead of little or no preparation 34%, portable 20%, packaged as a complete meal 17%, and single serve 16% (GfK Roper, 2007).
Collectively, products aimed at reducing fat intake remained the largest healthy food category in FDM outlets excluding Wal-Mart for Y/E 7/14/07, according to ACNielsen's LabelTrends Service (Lempert, 2007b). Dollar sales of low-fat reached $14 billion, fat-free $9.5 billion, and reduced-fat $8 billion. While these segments grew 1, 2, and 4%, respectively, products claiming being free from a specifi c type of fat (e.g., trans fat, butter, animal fat, or lard) saw dollar sales leap 38% to $8 billion. Over the past four years, sales of products claiming absence of a specifi c fat grew 169%.
Products with weight-management benefi ts, including portion control, are also enjoying signifi cant growth. Products with a reduced-calorie claim jumped 6% in dollar sales to $11 billion in mass channels; "no calorie" at $6 billion remained flat.
Sales of portion-controlled foods jumped 42% in mass channels for Y/E 9/9/07, low-calorie/light increased 4%, and low-carb products fell 45% (IRI, 2007b). Light/low-fat soup experienced exceptional growth of 73%, light yogurt 7%, light ice cream 6%, and light/low-fat snacks 3%. Sales of products with a sugar-free claim jumped 6% to $5 billion and no-sugar-added foods/beverages also 6% to $3 billion (Lempert, 2007b). Both the bread and the pasta segments are challenged with declining sales as a result of the obesity issue (Mintel, 2007b,c).
--- PAGE BREAK ---
Consumers are actively avoiding products with harmful ingredients. Products carrying a natural claim reached $19 billion, up a whopping 8% in mass-market sales, according to ACNielsen's LabelTrends (Lempert, 2007b). Preservative-free products topped $10 billion, up 2%. Nutrition Business Journal projected that organic foods would grow another 12.7% in 2007 (IRI, 2007b). Organic fruits/vegetables were purchased by 44% of shoppers, organic dairy 30%, organic cereal, bread or pasta 29%, packaged foods 24%, meats/poultry 21%, eggs 16%, and soups 10% in 2006 (FMI, 2006).
Dollar sales of hormone-free products over the past year grew 25% in mass channels, GMO-free foods/beverages 26% (Lempert, 2007b). Datamonitor's ProductScan Online (Datamonitor, 2007) reported that in 2007 through November 26, 41% of new U.S. foods/beverages carried a natural or organic claim, 17% a fresh claim, 3.9% a reduced/low-sodium/salt claim, and 19% a "high-in" claim.
Sales of products with low-salt/sodium claims are also heating up, at $12 billion (up 3%); no-salt/sodium $4 billion (up 1%). Products carrying a cholesterol-free claim reached $10 billion (up 3%), according to ACNielsen's LabelTrends (Lempert, 2007b).
Americans have made an eff ort to include more whole grains and fruits/vegetables in their diets. Sales of foods/beverages carrying a whole-grain claim soared 9% in mass channels to $10 billion, calcium-touting foods up 3% to $9 billion, according to ACNielsen's LabelTrends. Sales of products fl agging antioxidants on their label were up 49% for Y/E 7/14/07, gluten-free 20%.
Compared to last year, consumers are spending signifi cantly more on fresh produce and buying more frozen vegetables and packaged products with the benefi ts of fruits/vegetables and a longer shelf life than fresh. IRI (2007a) reports that for Y/E 8/12/07, fresh produce sales grew 6.7%, three times the industry growth rate in mass channels excluding Wal-Mart, and frozen vegetables 7.9%.
Healthy foods for children also grew three times the rate of regular kids' foods (2006). With 63% of parents watching portion sizes for their children, 60% looking for snacks with nutrients, and 40% and 34%, respectively, wanting more low-fat and low-calorie snacks, the growth opportunities for healthier kids' products are unprecedented (IRI, 2007b).
A. Elizabeth Sloan, Ph.D., a Professional member of IFT and Contributing Editor of Food Technology, is President, Sloan Trends & Solutions, Inc., P.O. Box 46119, Escondido, CA 92046 ([email protected]).